Virtual Presentations: This is Why PowerPoint is Your Best Tool
Since working from home became the new normal, online meetings are an everyday thing. Now activities like team collaborations, project updates, and sales deals are done remotely. And a lot depends on how well you convey your ideas through the screen. Today, I'll show you why PowerPoint (still) is your best tool for presenting online and some best practices for virtual PowerPoint presentations. By the end, you'll learn how to use your PPT slides in a more interactive way so your messages can stand out in any remote meeting.
What's the Difference Between Regular Presentations and Online Presentations?
For starters, online presentations may seem like a simple transition from a conference room to a digital platform, but it implies new challenges for everyone involved.
According to a Microsoft study, the average human attention span equals 8 seconds. This means your audience is likely to shift their focus away from you multiple times – just in a regular setting. Now, let's move this to an online conference platform. It surely allows you to talk to people from anywhere in the world, but… are they paying attention? How do you know they are engaging with your ideas? Is it the same as presenting on a regular stage?
Just to start, a virtual presentation can involve more distractions for your viewers than a face-to-face one. For instance, a conference room is a controlled environment that you can arrange to ensure all the eyes (and ears) are on your presentation. But online platforms don't give you that option. Your audience can be anywhere from a noisy cafe in Paris to a comfy living room at home, and you're not able to see or dictate the surroundings of every attendee.
Plus, it's harder to rely on your body language to express yourself. And the same happens with your viewers. You see a wall of tiny faces (assuming they all have their cameras on) that doesn't give you enough cues to know if they're engaged or bored with what you're saying. And don't get me started on how easy they can receive a call or check their social media updates in the best part of your speech. Because let's be honest, multitasking becomes much more tempting behind a screen.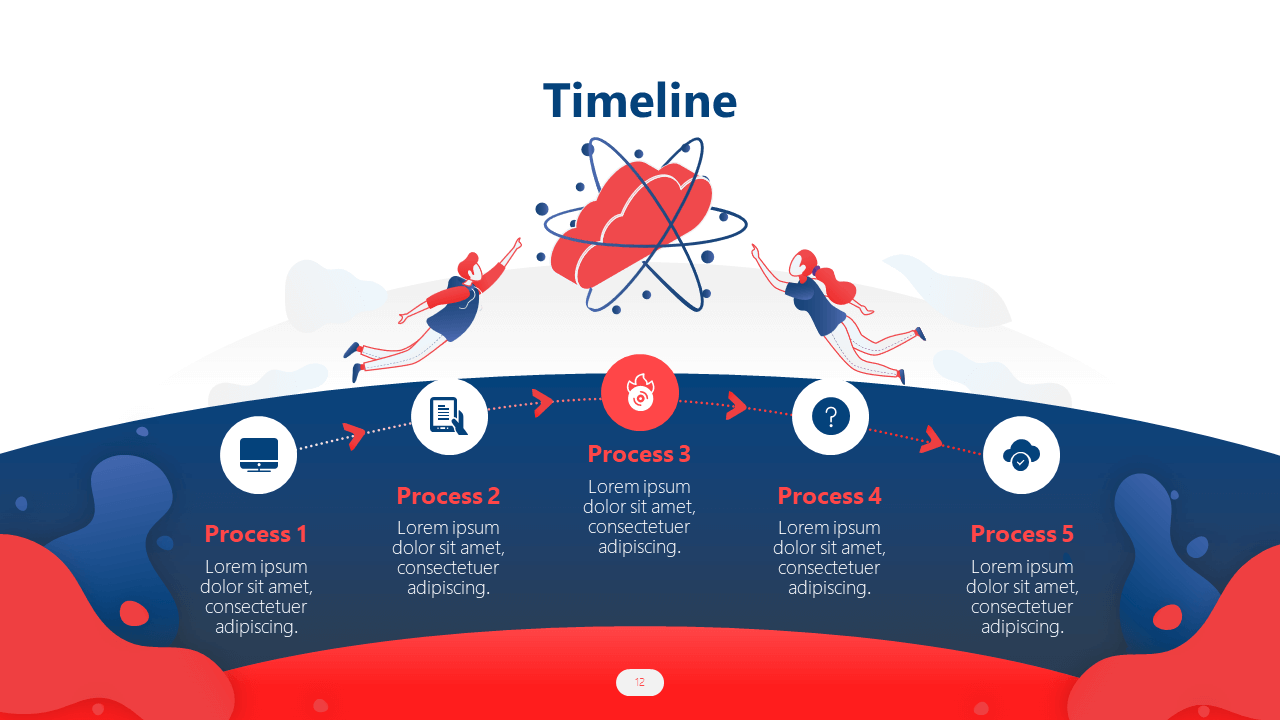 So, should we cancel online presentations?
Of course not! Done right, virtual presentations can help you create visual experiences and share valuable information with anyone in the world. They give your ideas more exposure by saving you time and resources in the process. It's just a matter of adapting the way you communicate your message to the demands of your digital audience.
The good news is that if you know how PowerPoint works (which I believe you do), you're already one step ahead. With over three decades in the market, PowerPoint has known how to evolve to meet the professional speakers' needs. And it stands as the complete package for creating presentations – including virtual ones. Keep reading to see what PowerPoint can bring to the table when it comes to doing online presentations.
What Makes PowerPoint Your Best Tool for Online Presentations?
I know what you're thinking: With all the new presentation tools in the market, why using PowerPoint? And I get it. PowerPoint has been around for quite some time already that it may seem like an outdated tool for the digital world. But it's quite the opposite! Its solid experience in the presentation industry gives this popular software some advantages over the recent cloud-based platforms. Here's why PowerPoint is one of your best tools for virtual presentations:
1.- Multimedia elements for a greater impact
Even the most avid reader will yawn if you present your ideas in chunks of text. That's because visual stimulation is key for holding your audience's attention. PowerPoint knows this very well and allows you to insert everything from images to video to animations and even audio files! This totally transforms any flat slide deck into a multimedia experience. Just think about it. What's better: A project report in Word or a PowerPoint presentation with pictures, customer testimonials, and interactive charts that show the value your project brought to the business?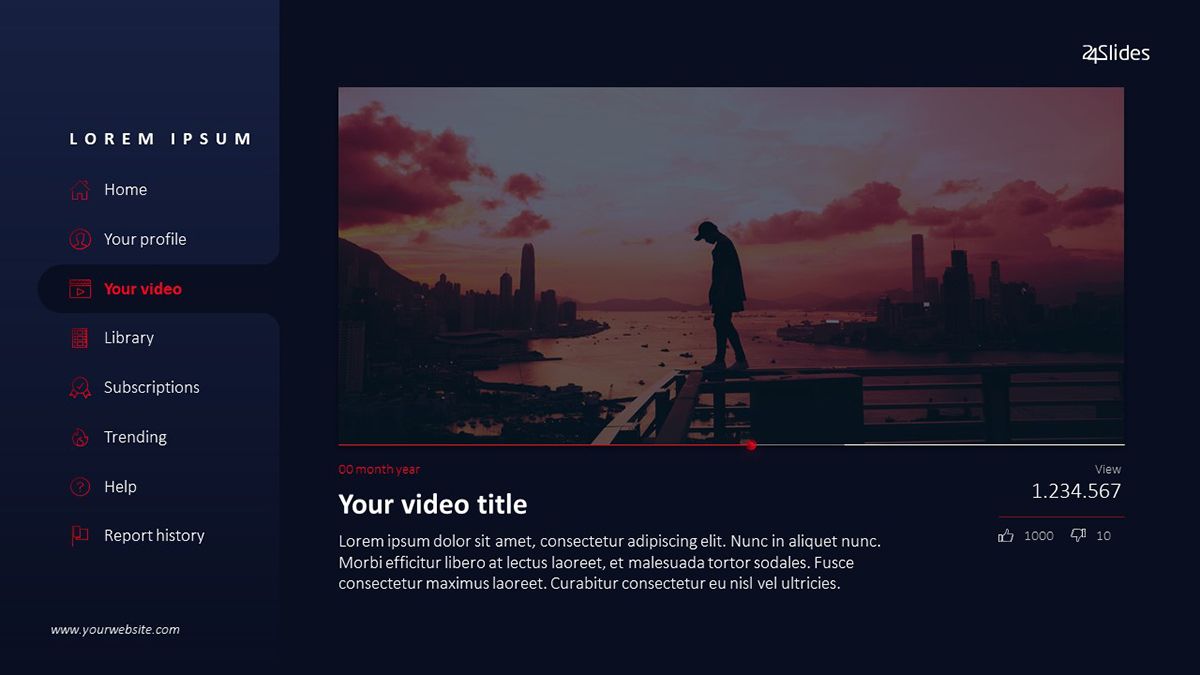 2.- Customizable for different audiences
PowerPoint slides are white canvases you can custom for whatever occasion. It gives you the freedom to unleash your creativity. But if you don't feel like designing, PowerPoint offers a wide array of templates to choose from. And I'm not talking about the themes featured on the program. There are thousands of PowerPoint templates available online, and most of them are free of charge. What does it mean for you? Well, unlike other presentation tools with limited template options (if any!), you'll always find a pre-designed PowerPoint theme that goes with your topic. So, instead of using the same old plain slides, you'll be able to wow your online audience from the start with the right design.
3.- Business-oriented look and feel
Another reason for using PowerPoint is that it comes with charts and diagrams most business professionals require for their presentations. Need a matrix? Roadmap? Pie chart? PowerPoint got them all and in different styles! On top of that, its predefined themes and color palettes allow for a more professional look than other alternatives. This means you'll get your business PowerPoint presentations on point to lead your online meetings confidently.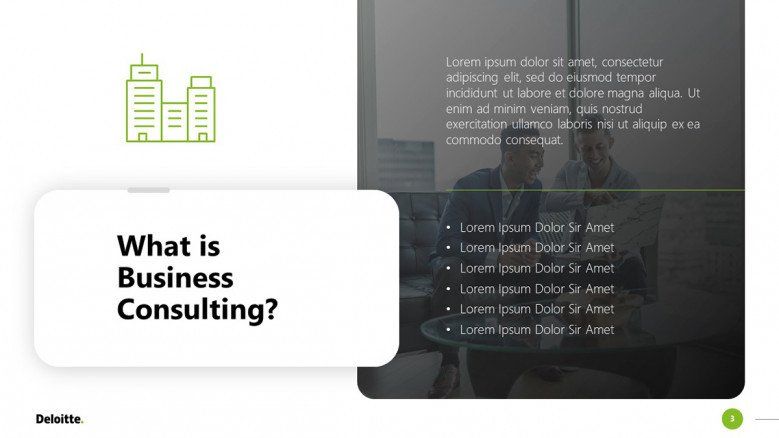 4.- Ready for use
Chances are you already have PowerPoint installed on your computer. And if not, you can easily access its online version. But that's not precisely what makes PowerPoint a "ready-to-use" tool; it's the user-friendly workspace and simple commands of the program. While other recent presentation tools have a steep learning curve, PowerPoint is your "reliable friend." You probably know how it works since high school, so there's no need to spend time figuring out the right commands. Sure, there could be some minor features you still don't know about, but it won't stop you from creating your slides right away.
5.- Easy integration with other tools
If you think PowerPoint is too old-school for keeping up with the new technologies, you better think twice. PowerPoint is the presentation design software by default, and video conference tools that came before based their features for presenters on PowerPoint. In other words, whatever video communication platform you use will always be compatible with your ppt file. And the same goes for external tools that can make your online PowerPoint presentations more interactive and fun – we'll see more of this later on.
Clearly, PowerPoint has solid reasons to be the design tool you pick for your next virtual presentation. But how to make the most out of it?
Best Practices for Virtual PowerPoint Presentations
The way we read messages and spark conversations online is not the same as in a face-to-face setting. That's why your usual presentation delivery needs some changes to get the response you want from the team, client, or any other professional on the other side of the screen. Check out these best practices for online presentations:
1.- Identify the objective of your meeting
What do you want to achieve in your next online meeting? Maybe it's closing an important sales deal, recruiting the best talents on a virtual fair, or getting approval for a project. Whatever it's, you need to be clear on your objective. This is crucial to know what to include in your virtual PowerPoint presentations. Plus, you don't want to load people with stuff that gets you nowhere. Make your precious minutes count giving every slide a purpose.
2.- Think of your Audience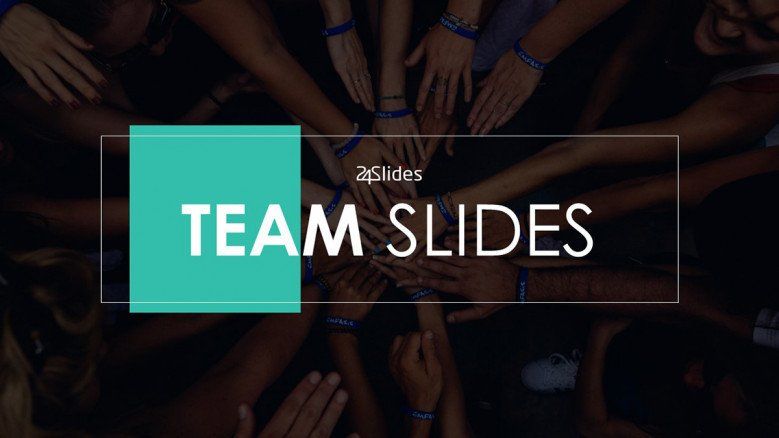 The second point on your list is being aware of who you'll be talking to. Remember how easy it is for people to get distracted, so it'd be wiser to include elements in your slides that appeal to your audience. For instance, if you'll do a webinar for architects, show the latest news from their industry as your presentation examples. Or, if you'll talk to youngsters (and the topic allows it), insert GIFs or memes to your slides. What I'm trying to say here is: Get to know your audience so you can use their language and make them feel more connected to your online PowerPoint presentation.
The good thing about online events is that you can have the profile of your audience beforehand. Most of the time, people need to sign up for a webinar or virtual conference. And if it's a business meeting, you're the one who sends the invite, so you already have a pretty good idea of who will attend. Use this in your favor while making your presentation.
3.- Plan ahead moments for interaction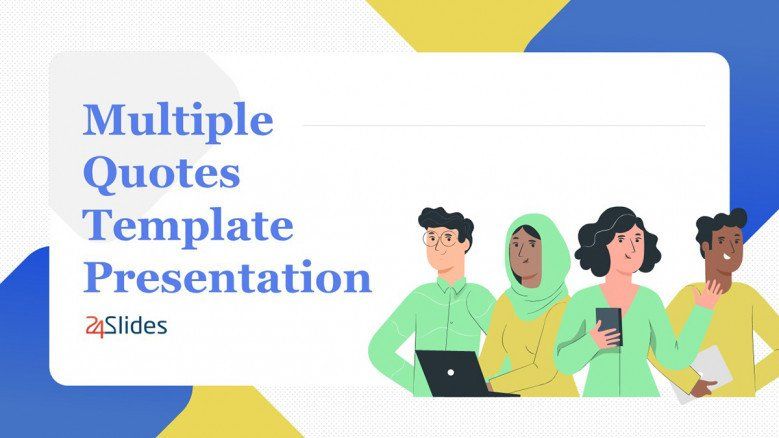 Traditional presentations are commonly seen as an event where you sit back and listen to an expert individual. But in the digital world, this way of attending a presentation feels kind of boring, doesn't it? Break the monologue approach and opt for a two-way interaction where you give your audience the opportunity to be seen and heard.
Most people use direct questions to interact with their audience, but I'll give you other ideas to try out in the next section. For now, think of strategic moments in your presentation that could be suitable for interaction. Let's say right at the beginning to catch people's interest or when you show complex data and don't want your audience to feel disconnected. Map out your speech structure and try to spot these golden moments.
4.- Get the spotlight on your audience
We've all attended an online conference or meeting where the enthusiastic speaker asks a question, and all he gets is *crickets*. That's one of the top fears in public speaking: Tough audiences. But luckily, there are plenty of tools that can help you encourage constant participation – even from the shyest on the call.
You've got external platforms like Mentimeter or Poll Everywhere, which let you create live polls, surveys, and interactive Q&As. Mentimeter, for example, gives you a code for your audience to type into their web, and then they'll be able to vote. The cool thing is that you can see the group responses and share the results in real-time.
Another alternative is using PowerPoint quizzes and polls. These are PowerPoint slides that creatively display your questions and options. A more traditional approach but equally entertaining if you know how to keep the conversation going.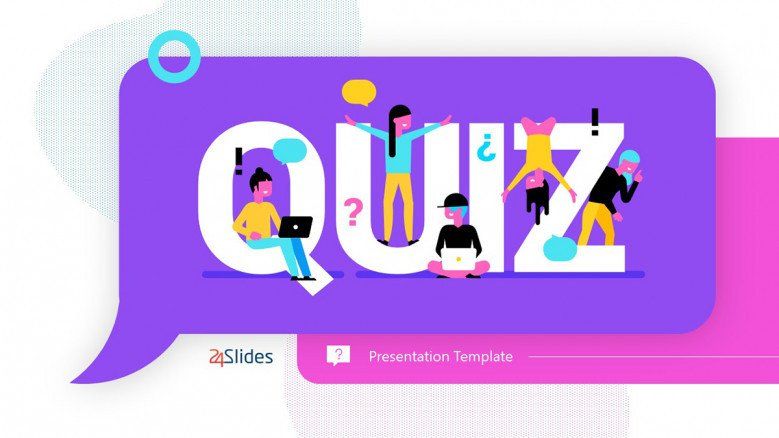 But these activities are not just for fun. You can gauge your audience's learning in training sessions, give every participant a voice during brainstorm meetings, or receive feedback from your team. All of this while promoting participation and improving your audience engagement.
5.- Communicate visually
Visuals speak louder than words, and if you don't use them in your online PowerPoint presentations, you're seriously missing out. Just to be clear, this is not an open invitation to fill your slides with pictures, but rather to show visually what you want to communicate. Elements you can use include icons, colors, distinctive fonts, shapes, illustrations… even videos. Ask yourself, how can you make your slides a visual experience that attracts your audience AND conveys your ideas effectively?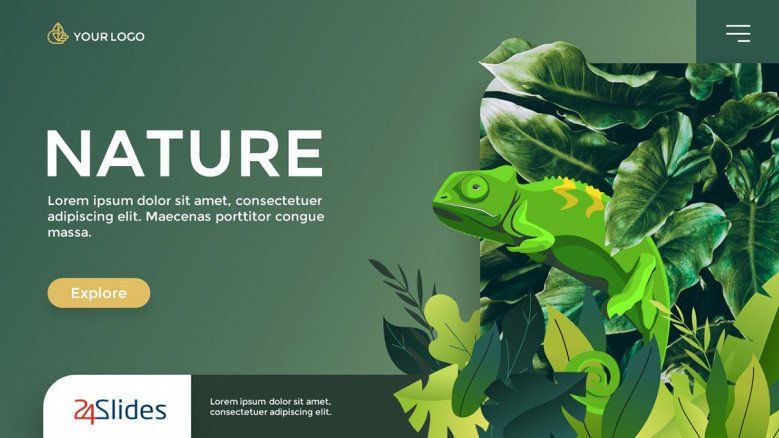 Some presenters know how to work their slides design; others look for PowerPoint templates that suit their message properly. There are also professionals who opt for outsourcing their presentation design. Whatever you choose, make sure the imagery communicates your ideas clearly and helps you get closer to your initial objective.
Free Templates for Virtual PowerPoint Presentations
Finding good visual assets is another common challenge for presenters, so I've picked some options from the 24Slides template hub that could help you out. If you like any of these PowerPoint templates for virtual meetings, just click on the image for a free download.
1.- Project Updates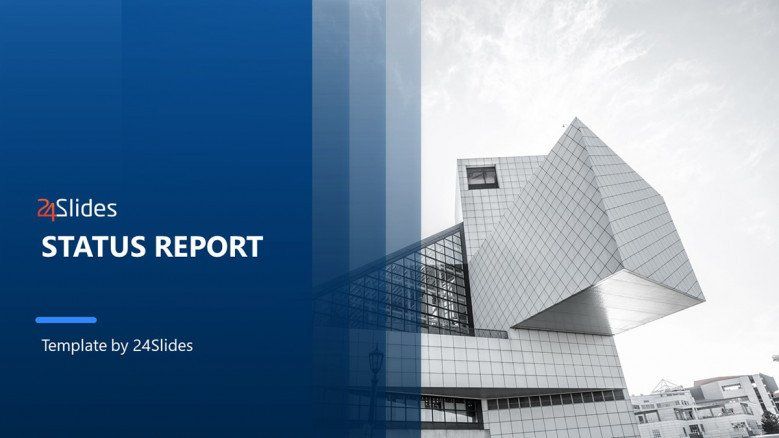 Be straightforward on how the project is going. These updates meetings are commonly held periodically, so you don't have to cover the project's general information. Go directly to the important points and what's new. For this, you can use a clean, well-organized slide for your conclusions. And if you want to make it more visual, use Gantt charts to document the project progress.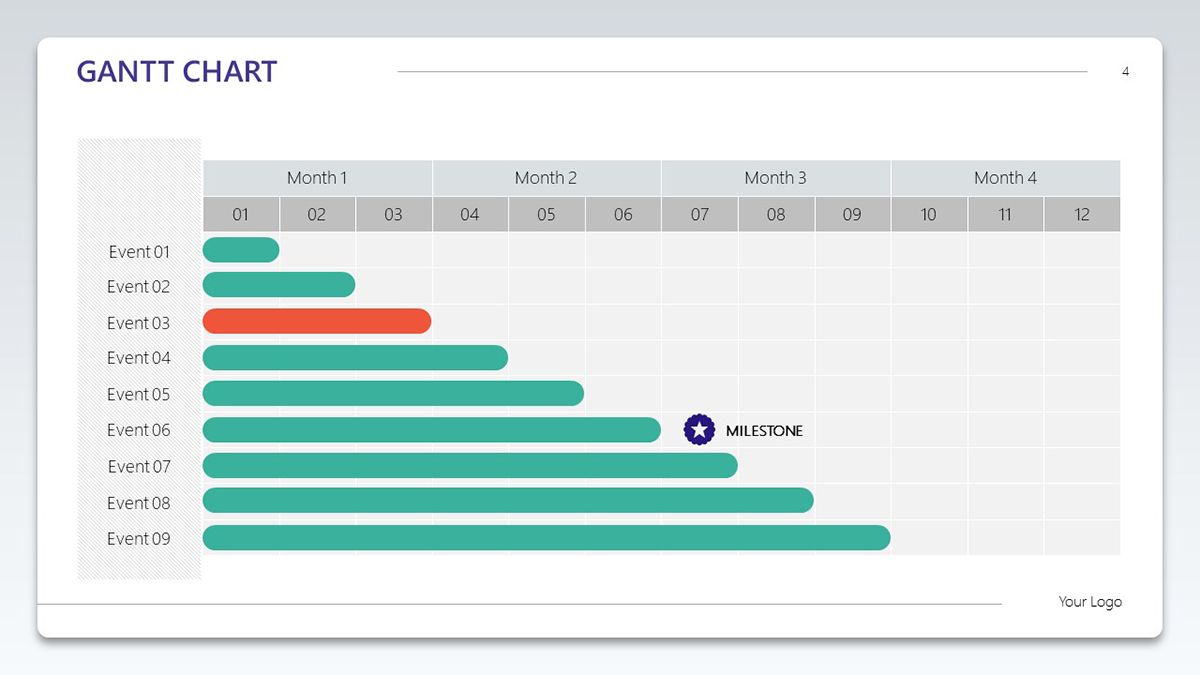 2.- Client Meetings
When talking to clients, your virtual PowerPoint presentations should prove that you came prepared and already have the perfect tailor-made solution. Go one step further and create a  plan proposal that shows exactly what your client can expect from working with you.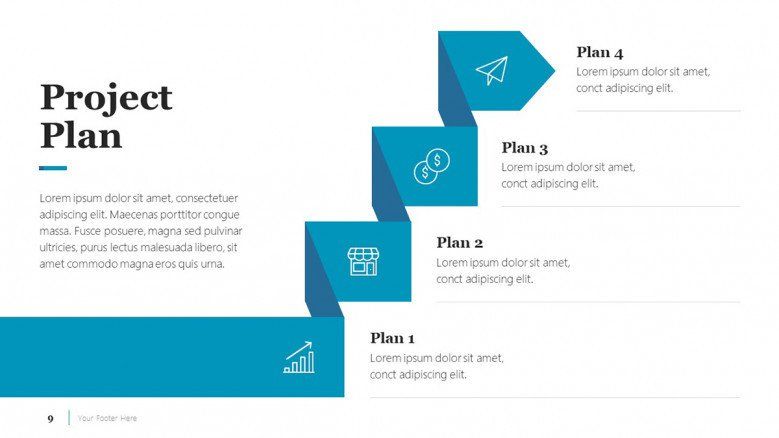 Another great slide to insert in your client presentation is a roadmap that displays how success looks like. After giving an overview of your proposed actions, set realistic goals for each one and show you're serious about meeting your client's expectations.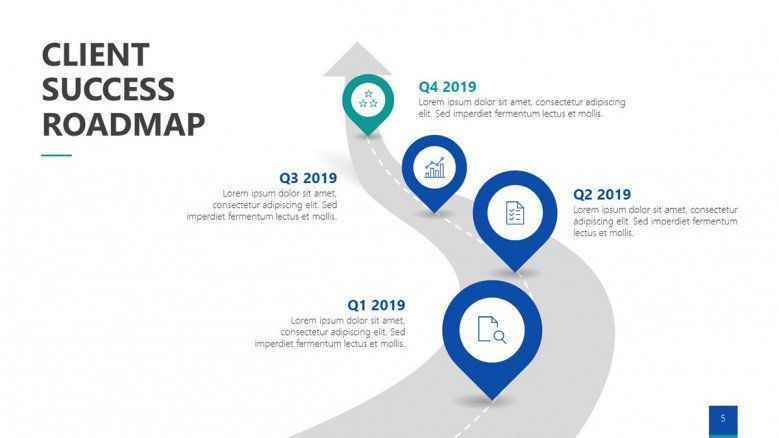 3.- Webinars
Webinars are another type of slideshow presentation that has grown in popularity as B2B companies use them for marketing purposes. If you need to prepare a webinar, don't forget to include a table of contents. This is an excellent way for your audience to know what they're in for.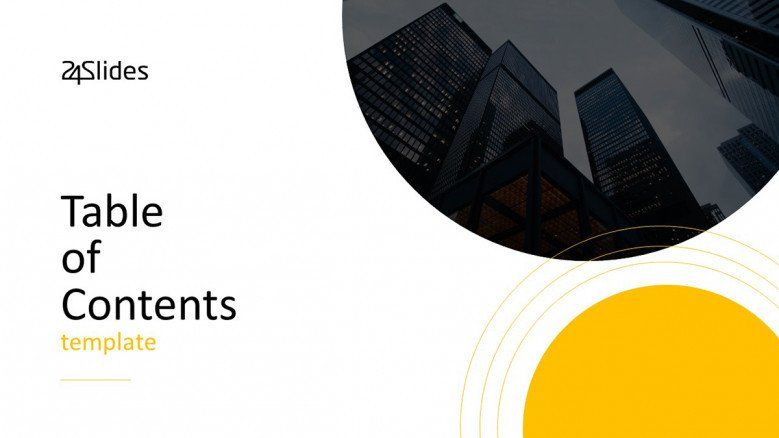 Webinars can be around any topic: Digital marketing, health, and wellness, technology, etc. It highly depends on your products and the industry you work in. If your company is preparing a webinar, here's a curated list of the best PowerPoint templates for webinars you can check out anytime.
Get a Fully Customized Presentation for Your Online Meeting
Nowadays, it's not uncommon to hear people complain that their calendars have filled up with online meetings. I know that it can be draining to jump from one topic to another all day. And on top of that, you need to create slides for each call. But hang in there! If this is your case, you might want to consider customized PowerPoint presentations.
Outsourcing your presentation design is a clever way to give your work the professional aspect it deserves – and save time and effort in the process. Tired of dealing with PowerPoint charts? Need to apply your brand guidelines to some slides? Want to refresh your everyday presentations? Send us your content and our professional designers will build the slide deck you need. We've got a 24-hour turnaround available, so you can have your presentation way ahead of time for your next online meeting.