Why it is important to do a Year End Report?
December is a complicated month for everyone. It can be extremely hectic because of the high demand for Christmas sales. Or, on the contrary, it can be a really slow month, with everyone's minds already focused on the holiday season. It's tempting to leave everything for next year and just let your future self handle it. But in order to really improve and start the new year with the right foot, it's vital to first give a good closure to the ending year. A Year-End Report is exactly what you need to do to not only finish a good year's work but also to plan ahead for the future.
Why Do a Year-End Review
A Year-End Review (or Report) is exactly what its name says: a report that accounts for how your company had developed throughout the year. There are a thousand things that a company can go through in the span of a year. Sales have probably gone up or down. Maybe the production process has been tuned and changed. You could have acquired different stakeholders and investors. Even things like the growth of the team, or a change in the hierarchy structure inside the company are worth giving an account for.
An End of year review allows you to give a complete and broad look at what the year has been like for the business. It gives you a bird's-eye view of how your business and company have evolved and allows you to see the process as a whole. This way, you'll not only understand better where you're standing at the moment but also how you got there.
Evaluate performance
The most obvious use for a Year-End report is to assess your business success throughout the year. Seeing side by side where you started and where you are now at the end of the year, can be extremely useful to understand your company's development. Sales growth is one of the aspects that is usually included in any year-end review. How much did you manage to sell this year? What percentage of growth this is compared to last year?
But there are more indicators for performance than just sales. For example, clickstream analysis is a great way to get to know your potential customers' behavior. You can also analyze how much you're reaching your target market, or how effective are your marketing campaigns.
To decide what things you should consider when you're evaluating your company's performance can be tricky. Looking at the mission and vision of your company can help you out with this problem. With these two in mind, you should ask yourself: what would it mean to be successful for my business? Once you have this crystal clear, you can start thinking indicators that can evaluate how close or far away you're from this objective.
Set new and more accurate goals
Another great reason to do a Year-End Report is to prepare yourself for the upcoming year. Knowing what you've already accomplished will help you know where you want to go next. If you think your company's growth as a several-step plan, knowing what you have already achieved will help you decide the next step.
Even more, evaluating your performance of the year can also help you set better goals for the future. Overestimating ourselves has probably happened to even the best of us. It's not unlikely that at the start of the year you're feeling hopeful and ready to take on the world. But this sometimes means that we bite more than we can chew. Going through the passing year and examining our achievements it's a good way to realize which goals are realistic and which ones are not. It's like setting the goal of reading 30 books in a year when you usually struggle to finish just 2.
Loading yourself with unrealistic goals is setting yourself for failure. It's important to keep them down to earth, so you can actually get the satisfaction of achieving them at the end of the year. Or, on the other hand, you can also be tempted to think too little of what you've achieved and set your next year's goals too low. A Year-End Report allows you to evaluate what you have achieved and learn in the year, so you can set you next year goals accordingly.
Evaluate micro and macro
The best thing about Year-end review is that you can do them at any level of your company. You don't have to be the CEO or the boss to do one. You can do them at your department level, for your team, or even just for your own work performance. In whichever level you choose, an end-of-the-year review will help you see your growth, your achievements, and what you still have to work on.
Whether it is for micromanagement, or for a macro view of the whole company, a Year-End Report will help you better understand the performance, development, and achievements that took place throughout the year. You'll be able to compare where you started to how you're ending the year and see how much you and your team have improved.
Inspire your team
Finally, it's important to do a year-end report to build on confidence and teamwork. Looking back at everything you've gone through in the year it's great to see how far you've come as a team. It's easy to get lost in everyday tasks and short term projects. That's why doing an end of year review, with all the ups and downs, can help your team appreciate their own work on a bigger scale. Highlighting the year's successes and lessons learned is a great way to inspire your collaborators and set a bright note for the upcoming year.
Year-end reports are also a great chance to bring the team closer. Sometimes, especially in bigger companies, coworkers tend to forget the bigger picture and think only about the part that concerns them. Showing the end-of-the-year review as a whole can also make them feel more connected. Seeing how you belong in the whole production process of the business and what you bring to the table is a great way for employees to feel more involved with the company and its goals.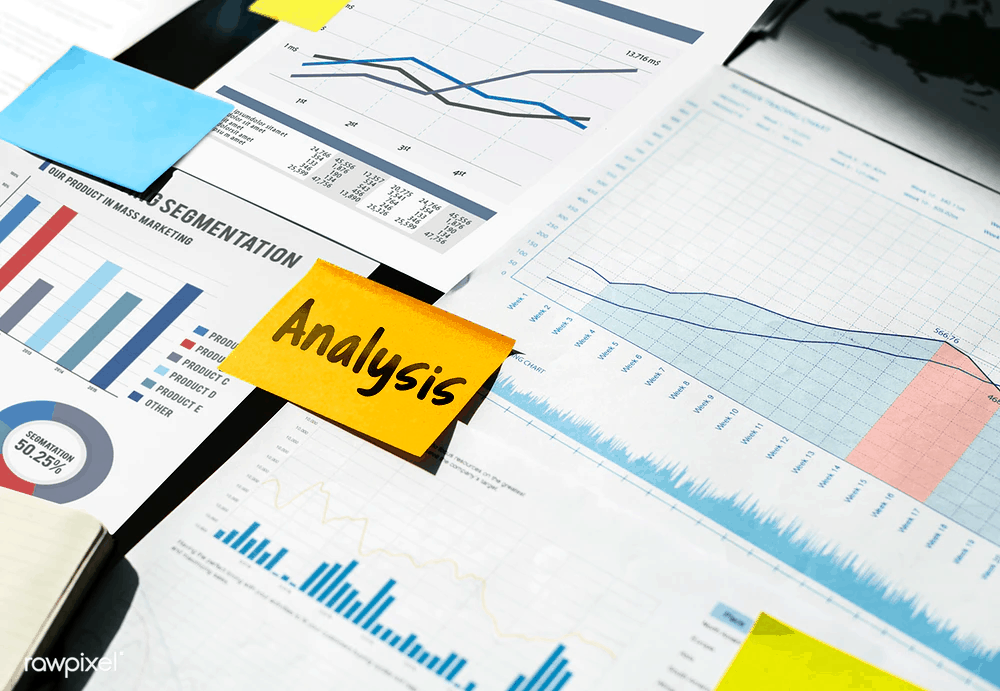 Ideas for a good Year-End Report
The thing about Year-End reports is that there's no one correct way to do them. Annual reports depend on your business and what you consider that is relevant for understanding its development. But here are some basic ideas of what you could ask in a traditional Year-End report.
-Finances: This one is a no-brainer. Sales is usually what determines if a business is a success or a failure. Growth graphs are great to show changes in your finances in a visual, easy to understand way.
-Marketing Strategy: If you do your marketing in-house, it's certainly a good idea to add it to your Year-End review. Analyzing it will help you know what worked and how you can become even better next year.
-SWOT Analysis: a great tool for both new and long-running businesses. It's important to know the context in which your company operates, so SWOT (or PEST analysis are always a good choice for a Year-End report).
-Competitors and market study: Your competitors probably have not just sat around and waited for you. They've probably also improved and evolved. Keep an eye on them and add them on your end of year review to take them into consideration when planning next year's strategies.
-Team growth: Has your team changed anything this year? It may be worth it to bring it up in your Year-End review. People feel appreciated when they're brought forward, and knowing you're happy to have them aboard can be the start of an amazing year for teamwork.
Best PowerPoint Templates for your Year-End Presentation
As said before, there isn't just one way to do a Year-End report. What you include on it depends on your company, the kind of business you're in, your goals and objectives, and so on. It's up to you to decide what is worth mentioning when doing a summary of your whole year. That's why there is no one big Year-end review presentation template. However, here you'll find some amazing slides that will help you share your end of year review with your team and start building for the future.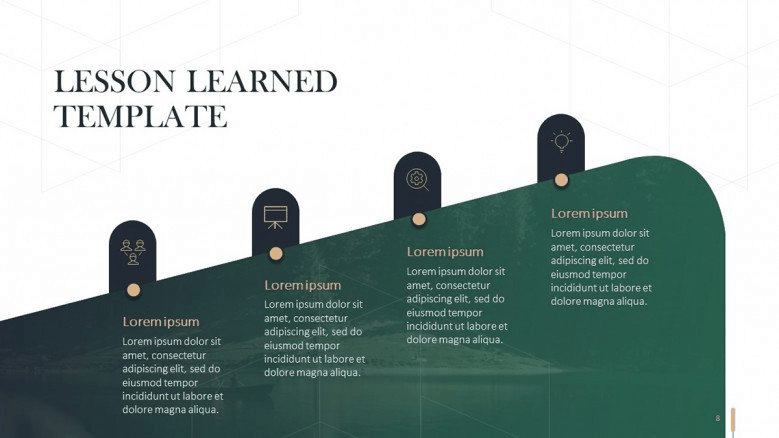 This PowerPoint template is ideal for any Year-end review. Whether it has been a good or a bad year, you can always learn something from what you've been through. These template will help you analyze how was your year and how to improve it. Its 10 slides will allow you to share what your findings with your team in a clear, concise way. It's an invaluable tool to learn from past mistakes, tune processes, and start the next year with the right foot .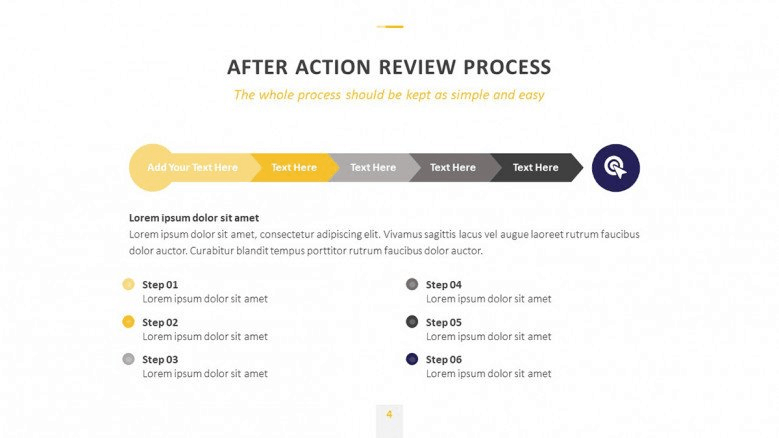 This PowerPoint template is similar to the first one, as it also focuses on learning from past experiences. The main difference is that this one is pretty much data driven. If you have some interesting quantitative information you can learn from, then this presentation template is for you! It will help you convey exactly What happened, why, and most importantly, how to make it better.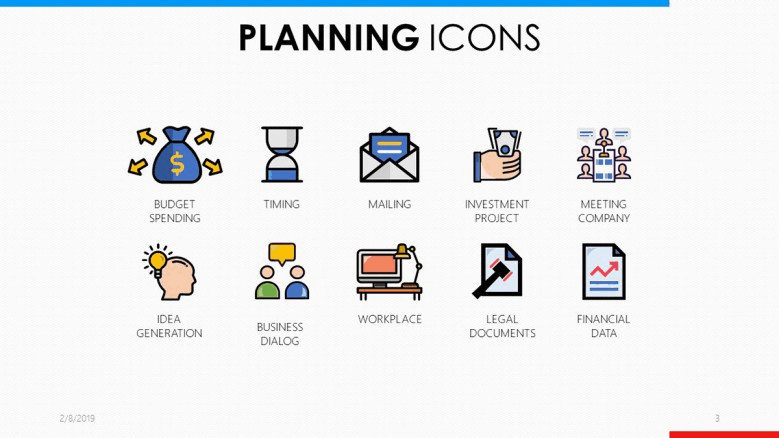 Trying to customize your own presentation for your Year-End review? You can change a plain and boring presentation with these great planning icons. In this template you'll find icons in different styles, depending on how formal or playful you want to make your presentation. Using these, you'll give your presentation visual unity and a more polished look, while still reminding your audience of the main topic.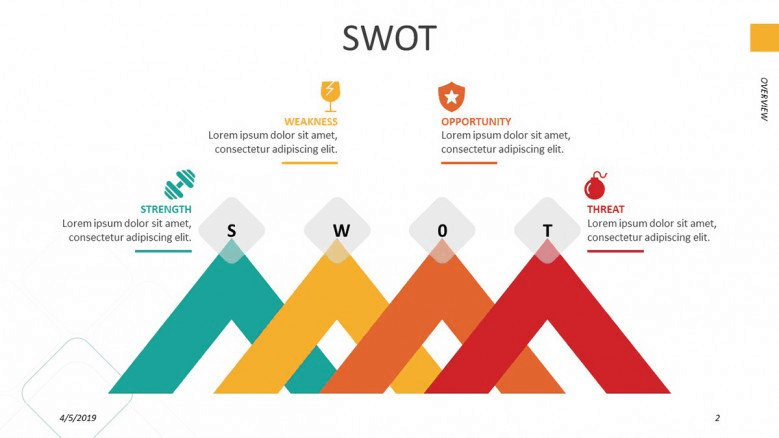 SWOT analyses are a great tool for any kind of business. They allow you to work on detail with the Strengths, Weaknesses, Opportunities and Threats of your business to create a better product. However, most people do just one SWOT analysis, in the early development stages of their business. But the conditions that may affect a company and the production process change constantly. It's important to stay on your toes, and what better tool than this one? A SWOT analysis is a great addition to any Year-End report. It'll allow you to see how the conditions that surround your product have changed. And it is a great start for any business strategies for the upcoming year.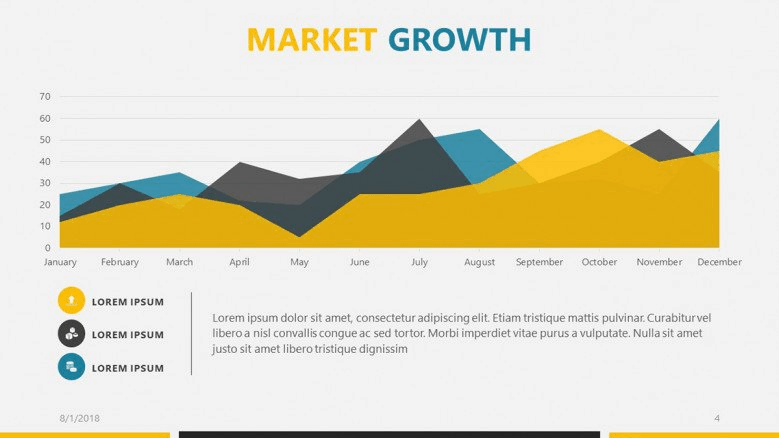 This template is a great option for giving your audience an overall look to your business. As such, it's a great, really complete option for a Year-End report presentation. You can use the roadmap to mark the milestones you have reached throughput the year. It also includes a mission and vision slide so you can build your presentation from the very start. It has several slides that will allow you to show your production process and figure out how to tune it and improve it. In short, everything you could need for your end of year review!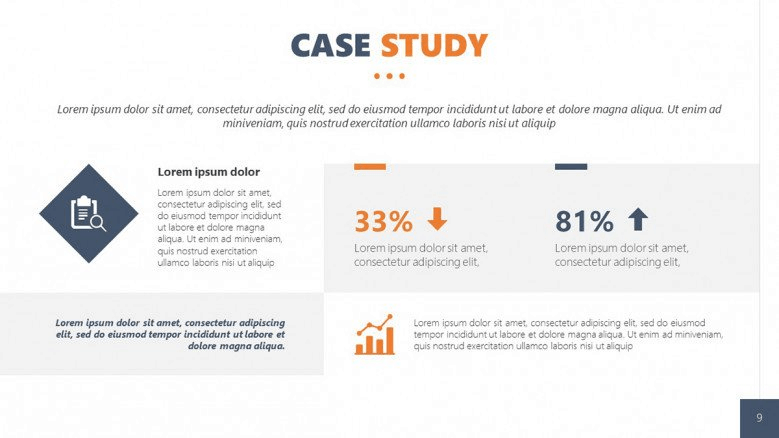 If your Year-End review is all about tuning in and bettering your production process, it might be a good idea to present a case study. Pick one that really represents your business and the way you do things, and it can become a great learning experience for other cases. This PowerPoint templates has 10 slides to do a detailed presentation about a client case. It has graphs and charts for your data, and a great summary slide. Show what you've learned and what you can apply to other cases including this template into your Year-End report.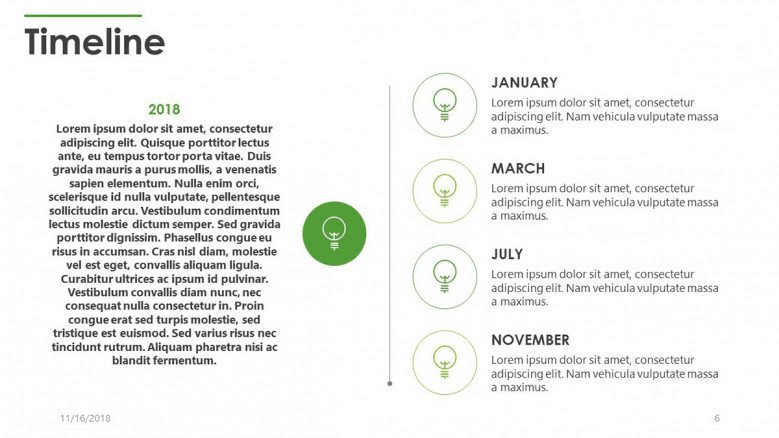 A great option when considering doing a Year-End review presentation is to do it in chronological order. This way, you and your audience will be able to see the events of the year as they happened, in their actual order. This is great for cause-and-effect analyses. And what better way to present a chronological order other than a timeline? In this template you'll find 8 different timelines that will help you share your year in a visual way. It can also help you take notice of things like seasonal changes, so you can take them into consideration in the future. Any of these slides will make a great addition to any end of year presentation!
This mega pack is great for traditional and corporate business. Its 26 slides will surely help you present the whole dimension of your company and your product, and what objectives and goals you've achieved this year. Is an all-in-one template that will be able to show in detail how was your year in every single front. It includes all kinds of graphs, charts, and maps for your data, as well as text slides. You'll be able to share as much information as you want with your audience in a clear, engaging way.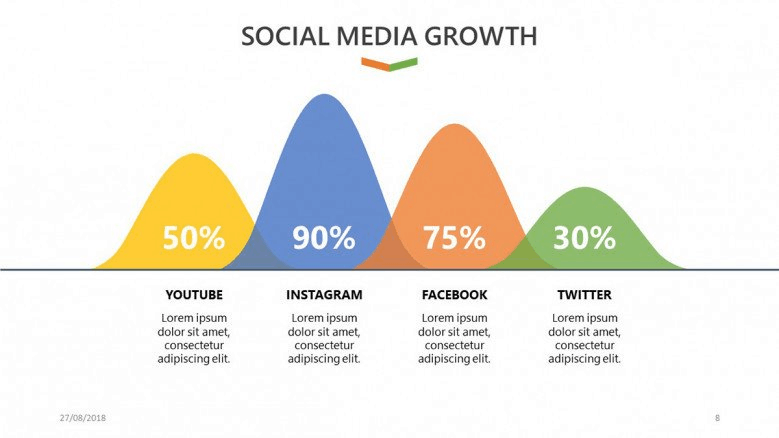 If Digital Marketing is an important part of your business strategy, then this is the template for you. I'll allow you to include in your presentation all the developments of your social media in your Year-End Review. Knowing what worked and what didn't it's vital to know how to update your marketing strategy next year. This template will help you show how much you actually reached your target market, your social media growth and how you're doing compared to your competitors.
It may seem tedious to do a Year-End report right now, when everyone is already thinking about holidays. But it is vital for understanding where you're standing and being able to start next year with the right foot. There's a lesson to be taken from every single experience, and a Year-End Review is an excellent first step towards a better year.