Your Top 8 Sites to Find Presentation Design Inspiration!
When creating a presentation, we often find ourselves at a standstill for design ideas. I've been in this situation many times and have found that online creative sources are a great way to get design inspiration. In this post, I've compiled the 8 best sites where you can find presentation design inspiration and finally get rid of the PowerPoint default themes.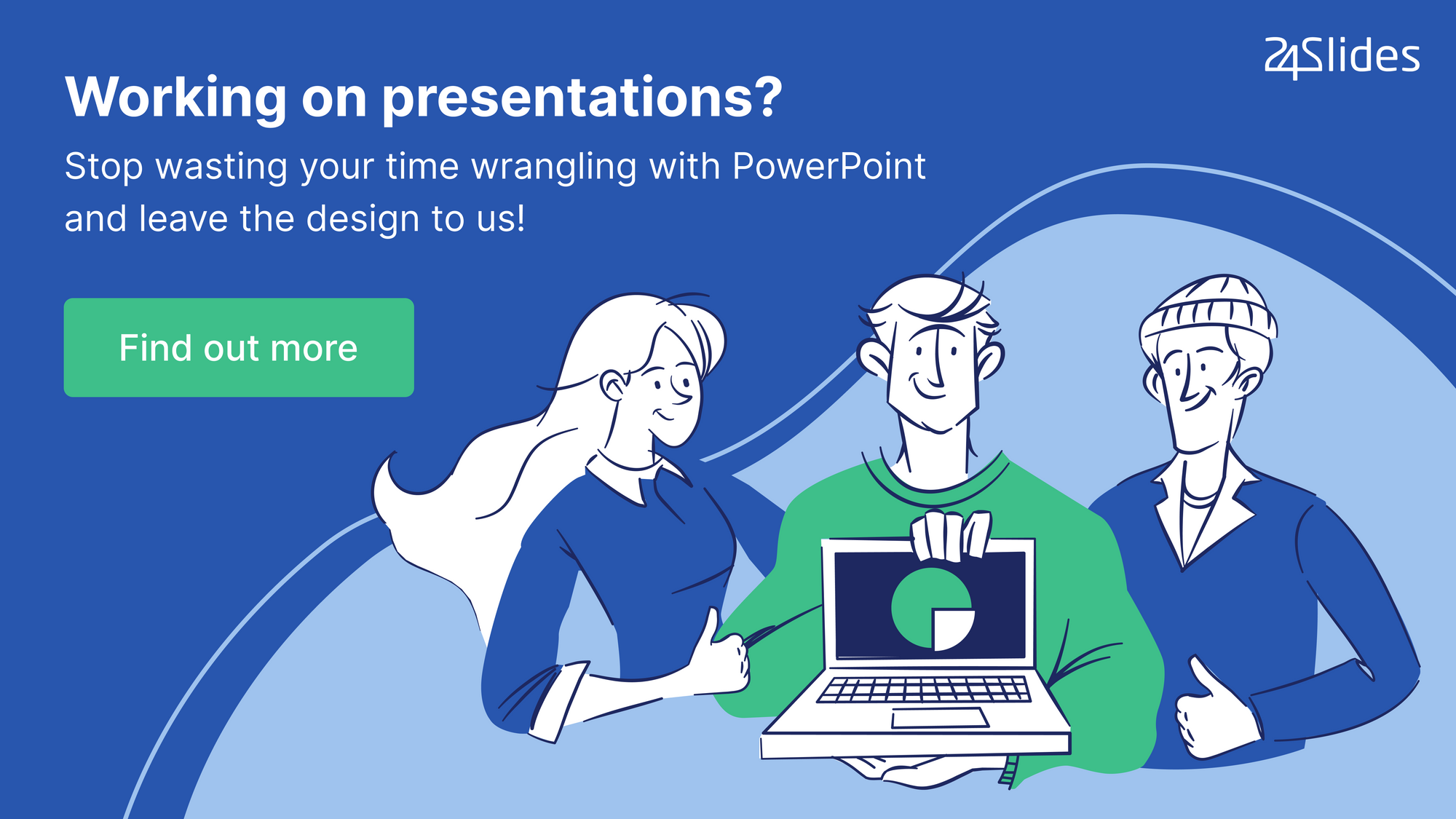 Where to Get Presentation Design Inspiration?
Even the most creative professionals get stuck every now and then. To help you out, here's a list of the best sites where you can discover PowerPoint design ideas and inspiration for your next project. It includes top recommendations from the 24Slides designers. They create over 2,000 slides every month for professionals and companies around the world so they pretty much know exactly where to look for presentation design inspiration.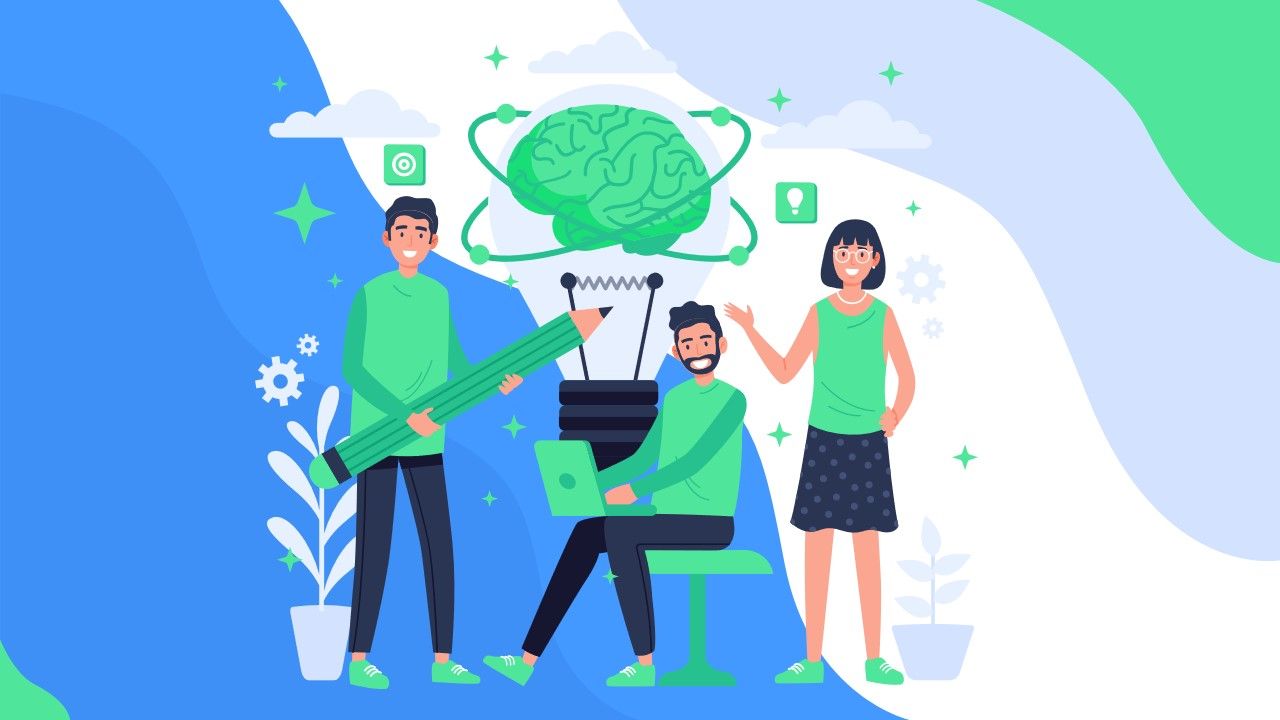 8 Design Inspiration Sites for Your Next Presentation
The following 8 websites offer design resources and examples that you can draw inspiration from. The great thing about these sites is that they are not limited to PowerPoint, they cover everything from web design, packaging, photography, colors, etc. This will allow you to get a full view of what others are doing in the field and come up with unique ideas for your presentation.

Let's start with one of the most popular sites: Dribbble. Considered the social network for creative talents, Dribbble hosts design portfolios from categories like animation, branding, illustration, product design, and many more.

But here's what makes Dribbble stand out: Not everyone can share their art on this platform and that's why it's so good for presentation design inspiration. Dribbble is an invitation-only site for talents in the design community so, rest assured, whatever you discover here comes from a professional designer.


Pinterest is another widely known design website - you've probably got an account already! I like to think of Pinterest as the visual Google because it has results for any topic you can imagine.
One may think that finding a design that inspires you is the best you can achieve here, but there's more to it. On Pinterest, you'll be able to spot new ideas AND save them in an individual customized board. And this is the real value of Pinterest! Their "boards are where you save, collect and organize your pins" (images from Pinterest) so you can come back later and explore everything that caught your attention.

What about a catalog of PowerPoint templates with thousands of designs to get inspired? Well, I've found exactly that for you. Templates by 24Slides is an online library with tons of PowerPoint templates and resources. And the best part is that you can download them all for free!
Templates by 24Slides provides valuable resources to the presentation community and showcases the incredible talent of the 24Slides designers. You'll find everything from business model PowerPoint templates to data charts, maps, and icons.

So now you have two options: Search this site for presentation design inspiration or download the PPT templates you like the most and use them - free of charge!

Since websites are a strong inspiration source for presentation design, here's an online site focused entirely on web design.

Awwwards is a competition platform that showcases the best innovative web design and development solutions. They pick amazing websites every day, week, and year so there's always something new to look forward to on the site.

You can filter the results by industry, software, awards, colors, or countries. And I find the last filter a strategic one if you want to spot the finest design trends. Just think about it: Awarded designs from around the world that inspire you to make a presentation more fitting for your international audiences. A great advantage for any professional right there!

If you're looking for a color palette to apply to your PowerPoint project, this one is for you.
Design-seeds is a color inspiration site that posts beautiful palettes based on aesthetic photos. Its multiple color schemes are inspired by seasons, nature, wander, slow lifestyle, and other concepts. You gotta see them for yourself!

Once you find the palette you like the most, you just have to copy the HEX color codes or use the featured image as the color reference in your design process.
Siteinspire has 12 years' worth of curated web design that you can't miss on! Here you'll find great examples of visual interface design you can draw inspiration from for corporate and creative presentations.

The best thing about Siteinspire is that it selects both very popular and small web pages, this means you get a peek at fresh and uncommon designs. There is also a wide range of categories for you to filter the results according to your own PowerPoint project.
Muzli by Invision is one of the most complete design inspiration sites. It offers a Chrome extension, curated design collections, a color palette generator, and a search engine for designers. All of them are very self-explanatory, but I'd like to expand a bit on the option that delivers more value in less time: Muzli Search.

"The web-wide search engine for design inspiration" pretty much sums up what this site is all about. You can insert any keyword, color code, style, or whatever you want on the bar search to obtain incredible PowerPoint design ideas from across the web. But that's just the start! You can sort the results by web, mobile, icons, logos, illustrations, fonts, and other categories. It also gives you the possibility to find color palettes at the top left on each content page.

Feeling adventurous? Click on the background image from the Muzli home page to discover random design ideas according to the color selected.



Last but not least, a design platform for creating mood boards and finding art, logos, photography, and web inspiration.
Aside from the "Popular" category, I find the best value of Designspiration on its "Topics" tab. There you'll discover curated content under titles like "vintage design", "annual reports", "gradients", or "workspaces". And if you want other collections more aligned with the topic of your presentation, you can go to the search bar, enter your keywords and then select "Collections". It has lots of examples selected by other users.

One more tip: In case you need images for your PowerPoint project, you can search them up on Designspiration too. Just make sure to click on "Stock Photos" right above your search results.

Transform your PowerPoint design ideas into an amazing presentation

I'm sure you've caught some great ideas from these design inspiration sites. Now it's time to reflect them into your presentation. Here are some recommendations:

Gather your PowerPoint design ideas and visualize them all together. This way you'll be able to compare and select which ones you want to keep for your project.

Create a folder or mood board with the images, color palette, and other design elements you liked. This will work as your "place-to-go" or document of reference during the design process.

If you want different results, do things differently. I invite you to explore your design program and try new commands. Be bold and take risks with your PowerPoint design. After all, that should the fun part.

In case grappling with PowerPoint is not your strong suit or simply don't have time for that, you can always outsource your presentation design!

At 24Slides, we manage different design styles to make sure you get the presentation that you envision. Pitch decks, data slides, marketing and sales presentations, webinar slides, and more! If this is what you're looking for, send your design ideas our way. We'll be delighted to create a unique presentation that showcases your work professionally and makes you stand out.