December is a time for reflection and celebration, but also a wonderful time for giving back. In that spirit, the 24Slides team decided to end 2021 with an initiative that brought us together to do good. We'd already had some great experiences fundraising for the victims of a forest fire in Indonesia or sharing the Christmas cheer with kids in Peru. So, we were ready to take our efforts to the next level, and we quickly realized that if we joined forces across our offices, we could help not only one but four charitable projects – one in each location we operate.
That's how our internal end-of-the-year campaign came together. Our teams in Denmark, Indonesia, Ukraine, and Peru selected local causes close to their hearts and started collecting funds. To honor the team's passion for giving back, 24Slides decided to match all the donations. This meant that for every dollar our colleagues raised, the company would give the same amount. Now, we could double the impact!
But who were we doing this for?
One global team, four local projects:
In Malang, Indonesia, the Yayasan Pembinaan Anak Cacat (YPAC) Foundation for children with disabilities needed our help. They were looking forward to opening a new classroom, but due to COVID-19, they ran out of funds and had to stop the construction. In Lima, Peru, the orphanage "Mercedes de Jesus", which we had visited before the pandemic, required the basics like formula, vitamins, and educational toys for kids as little as 1-month-old to 3 years old.
For our location in Kyiv, Ukraine, we wanted to support the orphanage "Nadiya". When we contacted them, they had no trustees and were in dire need of medicines and household items. Finally, in Denmark, we wanted to bring happiness to Morgencafe for Hjemløse, a local homeless shelter. As part of this activity, our colleagues would collect and donate warm clothes to help the people of the streets get through the cold Danish winter.
So with December right around the corner, we quickly put ourselves into action.
The Impact of Giving Back
From mid-November, we shared the stories of these charitable projects across our offices and made regular updates on how the fundraising was going. We aimed to raise USD 2000 together. However, after 2 weeks, the response was insane! We not only reached our goal but exceeded it by 70%. And now, thanks to our incredible team, we'll be able to make a difference for these important projects:
YPAC (Indonesia)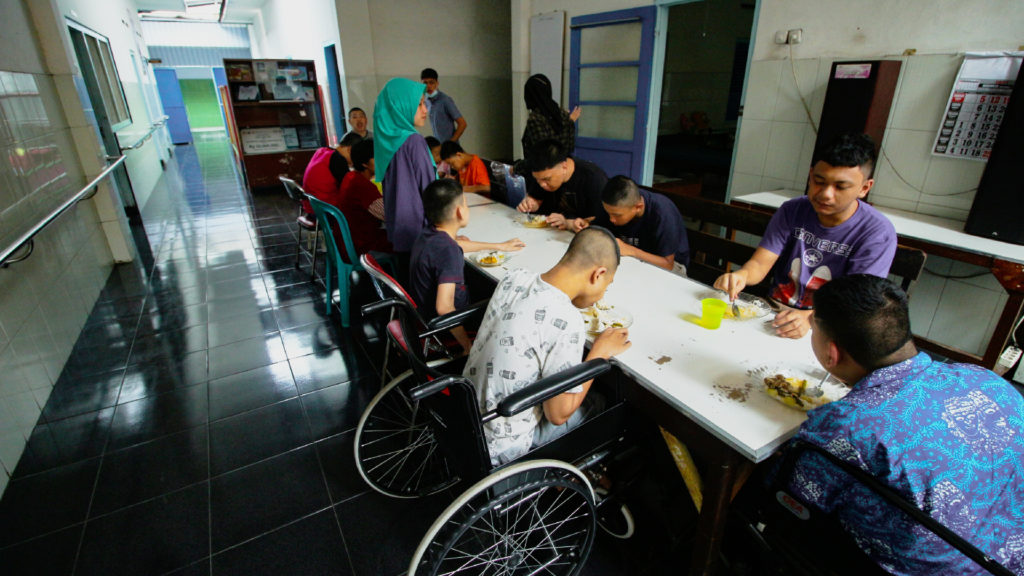 We're proud to share that the funds we collected will bring the YPAC foundation one step closer to building its long-awaited classroom. This new addition to the school is set to impact the lives of 48 disabled students.
"Participating in 24Slides charity campaign was such an incredible experience to remind me that whenever we're in a position to help someone, be glad and always do it because that's the Universe answering someone else's prayers through us", said Ciquita, 24Slides designer in Malang.
Mercedes de Jesus (Peru)
In Lima, our donation will support the orphanage for an entire year with everything they've asked for: Vitamins, baby formula, medicine, and other items for 22 children. Additionally, we are handing them funds to purchase Christmas treats and decorations.
"I like to make a positive impact on the life of someone, and with this initiative, I had the chance to do that," added Luzardo from 24Slides Peru.
Nadiya (Ukraine)
For Nadiya, we raised enough funds to support them with a whole year worth of medical supplies. On top of that, they'll receive a small donation for a Christmas Tree and decorations that get the 15 children that live there into the holiday spirit.
Jane from 24Slides Ukraine shared: "I'm really proud to be working with people who want to help and support. We can't solve all social problems, but we can try! Supporting initiatives for defenseless people, especially children, is something close to my heart. To me, it is important to support projects that are also an investment in a better future."
Morgencafe for Hjemløse (Denmark)
The Denmark office brought warm winter clothing to 70+ homeless people. Additionally, our colleagues have been supporting the shelter with video content and production to help raise awareness of their important work.
"I'm extremely proud of my colleagues at the 24Slides HQ for their engagement in this campaign. Being able to support the people of the streets in Copenhagen with warm winter clothing donations as well as transferring funds to our colleagues' important charity projects abroad is nothing less than amazing", expressed Louise Holk, Head of CSR at 24Slides.
As a Certified B Corporation, empowering people is ingrained in everything we do, and we're happy to see how our colleagues adopt this mission leading the way for change in their communities. What a wonderful way to end 2021!