This article was written by Louise, Head of CSR, Denmark, as part of 24Slides' Storyteller's Program.
The conclusion of my visit to Malang = I could go again tomorrow…
I want to start with the conclusion: Visiting our office in Malang, Indonesia, has only made me happier about my job with 24Slides. I've been around for about 10 months now, and I'm almost daily in contact with colleagues from our Indo office, however, it wasn't until a couple of weeks ago I got to meet some of them in real life. And whilst my impression was already good and I felt like our teamwork was definitely improving the more time we spent together online, nothing can compare to being physically eye to eye. It was wonderful not having to focus on whether you have a stable internet connection and have some time to get to know each other sitting in the same office. And this all happened while I was surrounded by a city buzz consisting of lots of motorcycles, ricey dishes, and pouring rain most afternoons. I've been to Indonesia before but never something nearly this local – and I loved it.
Getting back to Copenhagen I've spent a couple of weeks reflecting on my many new experiences and impressions, and I'm left with a feeling of joy and respect. The only thing I would have changed would be the time – because I definitely need to spend some more time in Malang.
To explain the feeling I'm left with, I would like to share with you some of the experiences I had.
Together with our People Success guru, Gabi, we spent the first couple of days in Bali. We had planned a trip to Nusa Penida (an island close by) with Joyce from the Bali Children Foundation to visit a charity project we recently supported. We visited two schools focusing on remedying education for children who have suffered difficulties during the Covid-19 lockdown. Getting face to face with some of the beneficiaries of our efforts makes it all worth it. Working with the company's CSR initiatives I have a fairly good understanding of how certain initiatives can change people's lives. However, being able to visit the schools and participate in some of the educational activities makes all the difference. It is not only a good way of understanding the impact of our donations but also a chance for me to get more educated. I got to learn that the impact is not just a vision and a strategic business goal anymore, but a reality for a lot of children – in this case, 148 of them. I get humbled when learning how little it takes to provide such a massive impact, and I am proud for having colleagues wanting to support initiatives like these.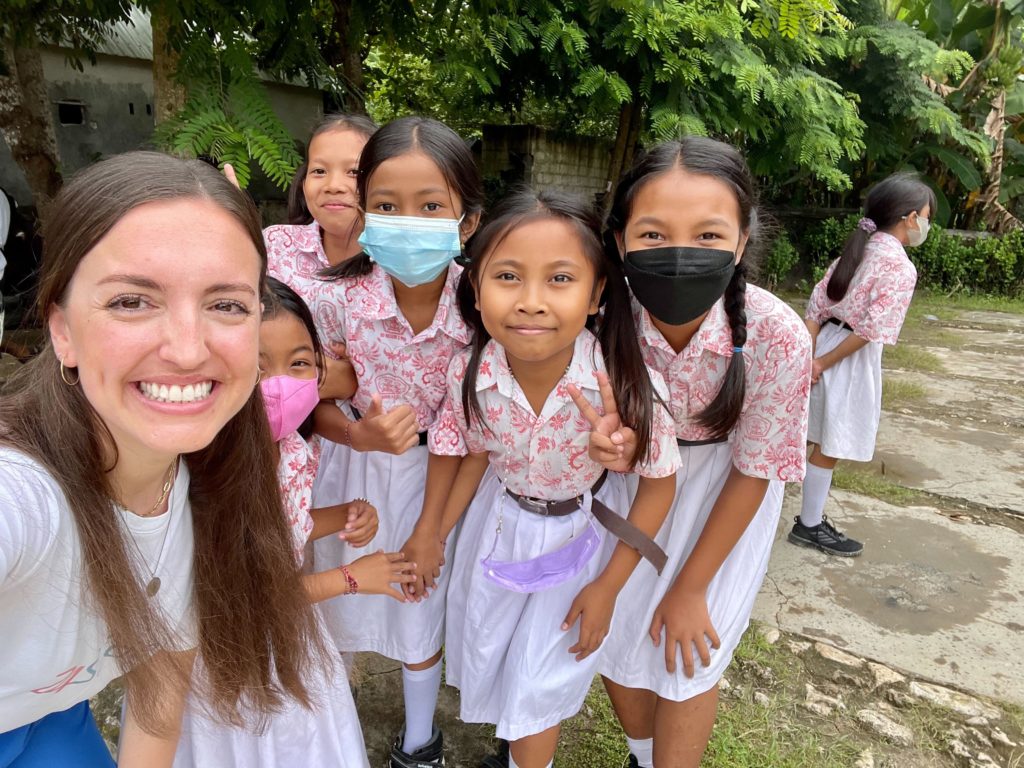 After having stayed briefly in Bali we arrived in Malang. And just as the rain started pouring, so did our volunteering gig for our Ramadan CSR activity. A group of our colleagues had gathered by a local food stall to pack and distribute meal packs to people in the streets, a very common activity during Ramadan. Wearing ponchos, we joined our colleagues and had lots of fun helping them by handing out meal packs. A total of 250 meal packs were handed out during our shift, which went by really fast and ended with a social Iftar, the meal you eat when breaking the Ramadan fast. It was a lovely way to arrive in the city and to get to give a little bit back to the community in which we have the biggest office – by far – in the company.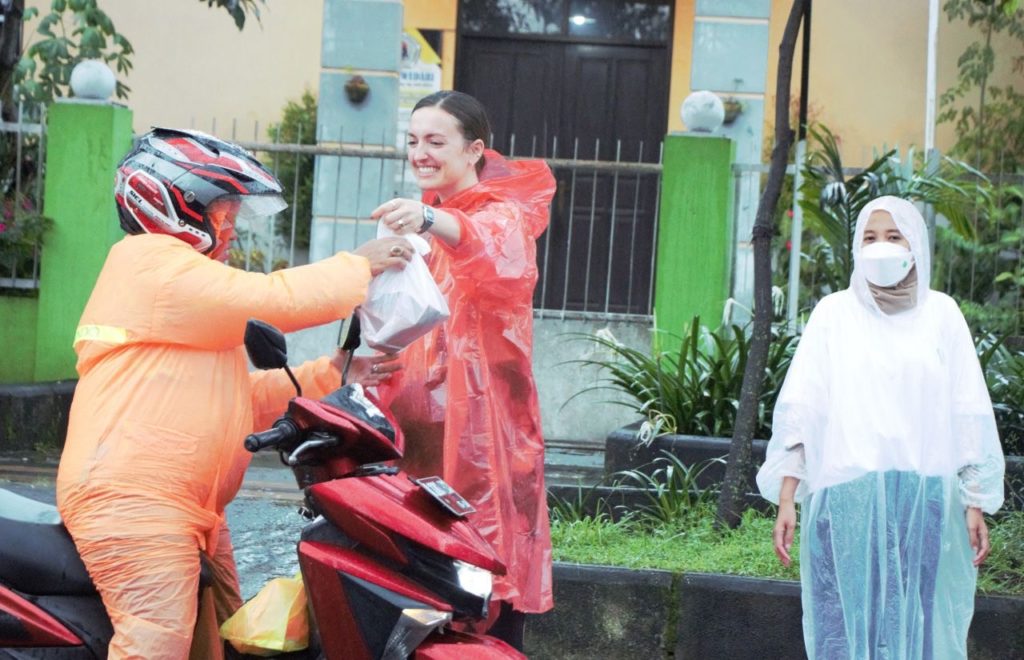 During the next few days, I was also fortunate enough to visit another project which we have supported a couple of times: YPAC, a school and dormitory for disabled children. Hearing the stories of the Headmistress and her dedication was amazing and inspiring. Mrs. Endang, the Headmistress, has been involved since 1989 and in 2013 she retired and dedicated her life and pension to lead YPAC. Meeting such selfless people and experiencing their kindness and willingness to share their stories was a big part of why I feel so strongly that we need to give our colleagues even more opportunities to get involved with local charity work.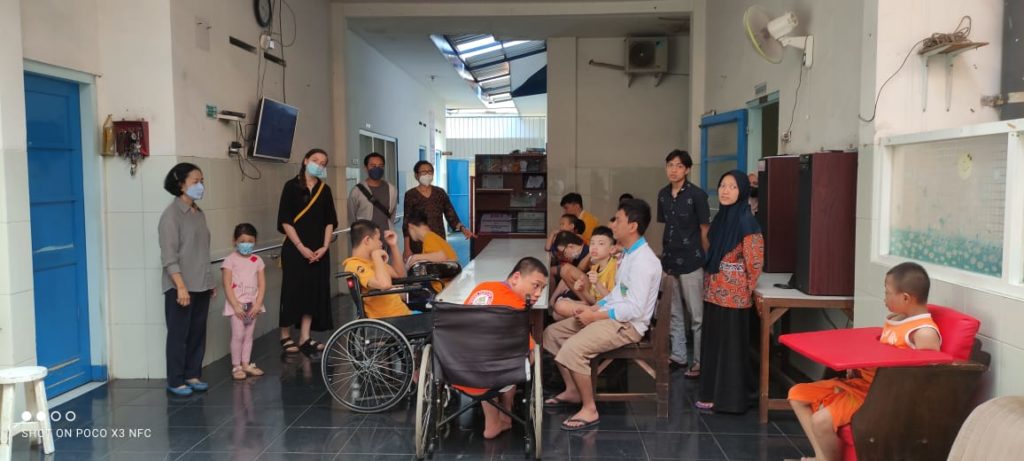 For that very same reason, we also visited a couple of potential projects. We wanted to learn how 24Slides can support other initiatives, both by providing donations as well as with pro bono services to help the charities boost awareness and attract more donors.
In between meetings I also got to experience some of Malang's beautiful scenery. The Rainbow Village, for example, was one that Gabi and I enjoyed visiting. We caught an hour of blue sky and lost ourselves to the beautifully painted houses. The story of the rainbow village is also an amazing one. The reason for the houses being decorated in all kinds of colors and beautiful street art was an idea that came from some students, who years ago wanted to help a slummed part of Malang to increase their income by making the area more attractive to tourists. When visiting the Rainbow Village you pay a little entrance fee which then goes towards supporting the local community living there. It is such a creative and visionary idea.
Then came the night we didn't sleep. Instead, we spent it driving in a jeep upwards and around lots of curvy roads, challenging my motion sickness. We made it however and got to experience the sun rise over Mt. Bromo. It was a beautiful sight that will never be forgotten. From the sunrise, we headed over to the crater where we climbed the stairs and got to see all of the smoke on one site, whilst the other was just a stunning scenery lightly being touched by the morning sun. This trip was definitely worth a worried stomach and skipping a night's sleep.
Besides the "must-see" places and the "must try" restaurants, the thing I probably love the most when traveling is visiting supermarkets. So this we did – a good couple of times. This is where I discovered all sorts of lovely spices, but more importantly, I got to stock up on caramelized popcorn, which is impossible to get in Denmark. Several people turned their heads when they noticed me emptying the shelves for the popcorn and I'm sure that the security people in the airport had a good laugh when seeing half my suitcase consisting of caramel popcorn. But I hold no regrets. I fully own being addicted to popcorn and I will cherish the last few bags I still have at home.
I feel like I could continue telling stories, like when we visited one of the most prestigious restaurants in the city only to find out that nothing on the menu was available, driving around on the back of a colleague's motorbike passing beautiful rice fields to and from meetings, or when I got to know my colleagues upside down, literally, in a yoga class. So many new experiences and so many memories to keep alive. I thank my colleagues for being so welcoming to us and I am excited to go back, hopefully in the near future.