At 24slides, Play Saturday is about stimulating and triggering our creativity. We're learning new and fun skills while spending a great time with the entire team. In this Play Saturday session, we combined a DIY activity with an exciting surprise mission.
The first activity was about crafting a cord keychain. The masterminds of this Play Saturday (Reza and Ardian) kicked off the day by giving us a brief tutorial on how to braid the cord and tie a knot with the fusion ties technique. Each of us got a key ring, a harness hook, and two different colored nylon cords, which were each a half meter long. We had the option to combine the colored cords as we wanted to. The basic color was black, which we could mix it with light blue, pink, or light brown.
After we got the instructions, the craft session began. We started by braiding our cords and hooking the first end of the rope to a key ring and the second one to a harness hook. For many of us, it was the first time we braided cords using the fusion ties technique. Since most of us were beginners, we decided to get some help from one of our experienced colleagues. She taught us how to make the knot and corrected us if we made mistakes along the way. Other team members preferred watching YouTube tutorials so they could follow the steps precisely. Crafting a keychain is not so difficult when you're familiar with the process. But, it takes consistency and patience until the keychain pattern starts to develop a shape.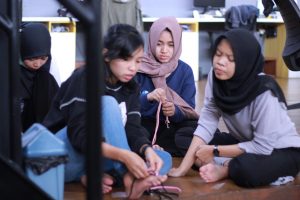 Within two hours, everybody got their own keychain. We had a great feeling of satisfaction while handcrafting our own keychains. We were happy to accomplish this simple activity because every big thing is the result of multiple simple things, right?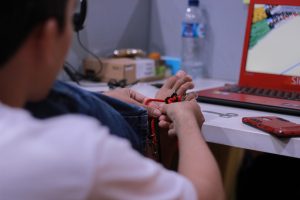 Shortly after that, we moved on to the next activity, which the masterminds kept it as a secret until the last minute. The day before, Reza came to each one of us and took on-the-spot pictures. He only said, "We're going to use the pictures for Play Sat tomorrow". We had no clue what was going to happen.
So, Reza, who intended to keep us curious, stood in the middle of us with a pile of printed pictures. He called our names and handed the pictures to each one of us. He asked us to write our resolution for 2018 in the space below our photo.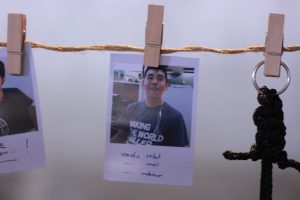 What a surprise! We had to write down our New Year's resolutions and attach the photos to the provided hanger in front of the meeting room, where everyone can read them.
Thus, we were so excited to find out what our friends will wish for and share our own dreams with them too. After we finished writing and attaching the pictures to the string, we curiously read the resolutions of our friends. As a result, we find out which are the four most common resolutions of 24slides squad members:
Becoming

wealthier and stable financially

Being

healthier (by doing more exercise and other healthy habits)

Getting married and starting a family

Losing weight 🙂
Yet, it's so inspiring to read the things that others want to accomplish. Knowing everybody's dreams allows us to understand each other better. It inspires us to have big aspirations as well. One thing is for sure, we will always remind our friends about their New Year resolutions so they'll not forget to fulfill them.