It all began four years ago with no funding, a small office in Malang and an idea. Back then, we rented an office space furnished with not much else than an office table big enough to be shared by a handful of designers. In four years, our team of designers in Malang have grown from five to fifty; our Copenhagen team from one to five. That means four years of 24Slides and countless lessons celebrated in a few hours of cake, bubbles and talks on visual design and presentations during one fine evening in Copenhagen, Denmark.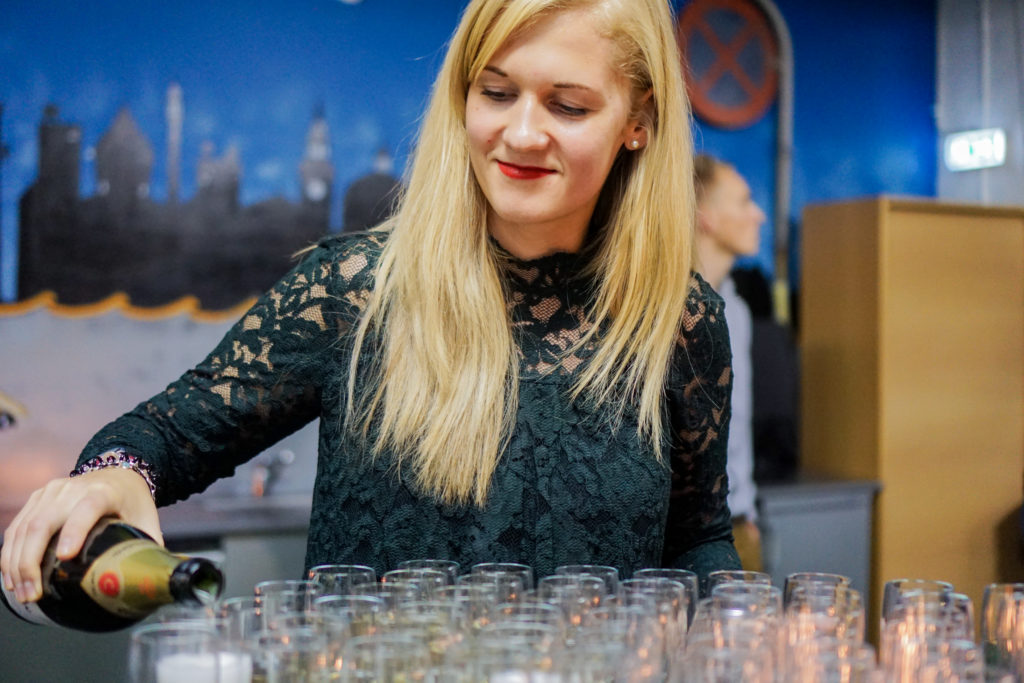 With champagne and birthday cake came presentations on Corporate visual identity by Kasper Lynge, Creative Manager of Novozymes; and on Presentation best practices by Kenn Hansen, Powerpoint presentation specialist.
Perhaps the rugged yet whimsical Dare2Mansion in Copenhagen was the perfect backdrop for our story, an old auto parts retailer transformed into an event space: rough around the edges but with a creative center—like us, in a way.
On four years and lessons learned
Our CEO Tobias Schelle kicked off the event with his account of the past four years, summarizing the lessons he learned neatly in three points: (1) Invest in meeting people; (2) Make sure everyone understands "the why"; (3) Organize to scale.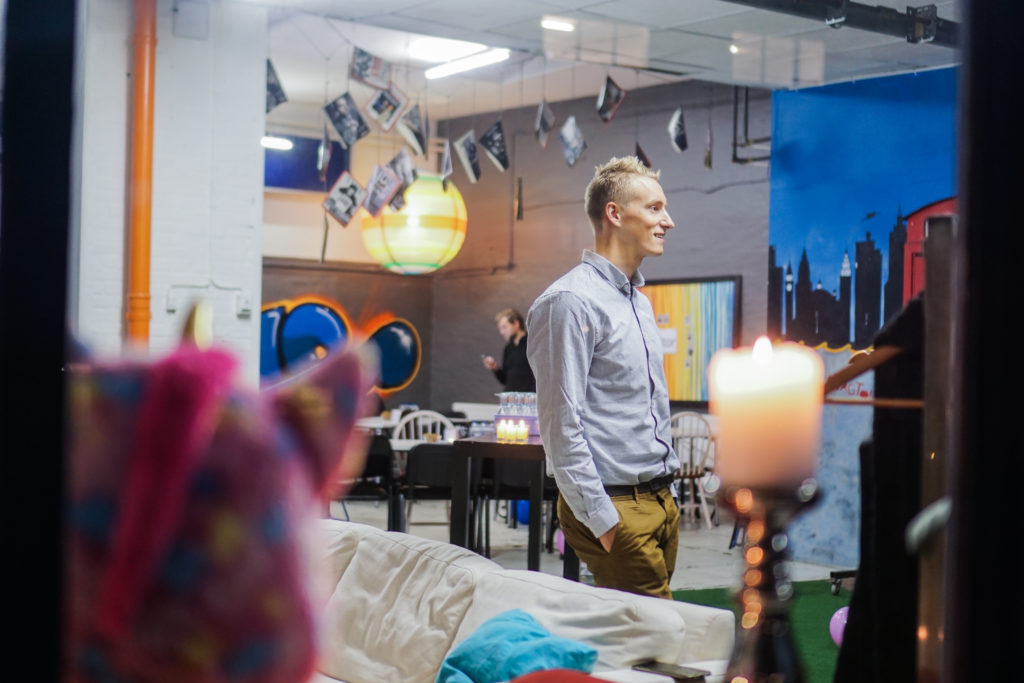 "Do you know the feeling of knowing someone for years and yet still feel like you're constantly growing your relationship with them? It's the same in business," he said, introducing his first point.
"This is very important when working with a distributed team. Three times a year I go to Malang, Indonesia. I get the same feeling when I go there and when I leave: there are so many things happening and the relationship with the local team just grows."
With investing time to meet people comes investing time in making sure that everyone understands the why, the second point in Tobias' learnings.
"When you don't understand the why, you take away the creative thinking from people and it's the same thing in business," Tobias explained.
"The number one mistake I see people do when they with people remotely is that they just start with the directives instead of starting with the why as in, 'Why is it that we are doing this presentation? What are we trying to achieve?'," he continued.
But perhaps the most important learning Tobias shared is the third and final one, if not for the picture it paints of where we are going as a company: Organizing to scale.
"One solution that I see many companies do is say 'We need managers to tell people what to do and to make sure they do things right.' For some reason, I didn't like that, I wanted people to be self-motivated. What we did was organize everyone into small teams, who was responsible for their own portfolios," Tobias explained.
"Now we have a very good business configuration and now we are ready to scale. Today we also celebrate that now, we are ready for the future," he said.
What future, you ask? From 50 jobs, we're setting the bar up to 1000 jobs created for the people of Malang; from a small office for 50 to a huge warehouse-turned office space.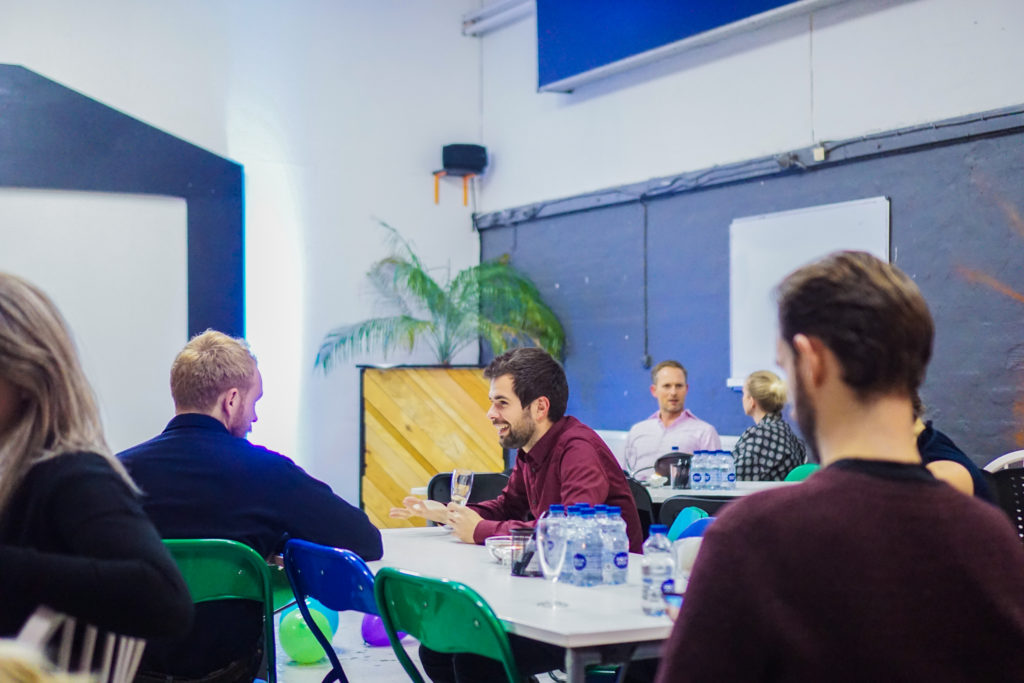 The art of the presentation
Tobias' welcome speech was met with a bit of playful heckling and in the end, a warm round of applause. As we reached the break, the room was buzzing with curiosity and excitement. Chatter filled the walls of Dare2Mansion as ideas poured in as generously as the champagne. And then it was Kasper Lynge's turn to take the floor.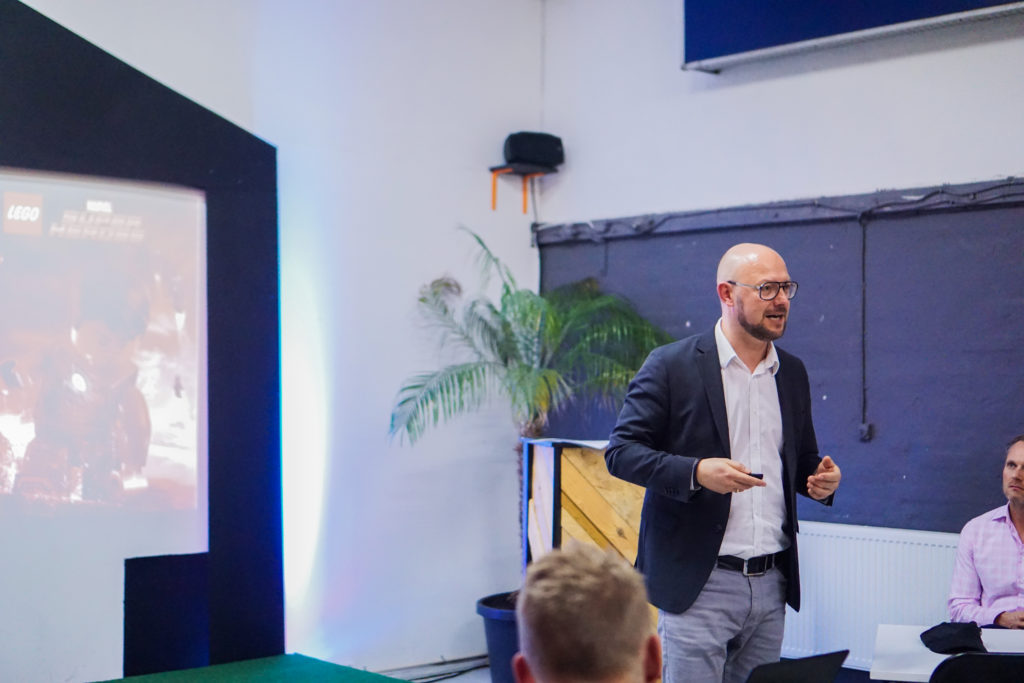 "When you sit in sales, it's not the look of the presentation that's important, it's the content. But sometimes you can't see the content because it looks so ugly," he began, inviting chuckles from the audience.
"Tobias approached me about a year ago to present his idea and what his company can provide. It didn't take us long to decide that this is a good idea, that this is what we want to do," Kasper shared.
Kasper Lynge has an impressive portfolio to boast, having worked with companies such as LEGO. As a speaker, he is just as engaging as the work he has produced, getting the audience talking and brainstorming during the short exercises he introduced and the food-for-thought questions he asked: "If your company were a person, what kind of a person would it be?"
"Redesign the logo of 24Slides," Kasper asked the audience at some point, getting them to doodle on small sheets of paper. Well, If we ever change our logo one day, you know where it came from.
But perhaps the most interesting thing that he brought to the table was his take on visual identity. After all, his presentation is entitled "Corporate visual identity – how much can it bend without breaking?". How much can it? A lot, apparently—Kasper illustrated with examples from Mickey Mouse and Coca Cola.
"That's what it's all about, to be recognized for something, to be recognized for a shape, a color, a nametag—think 'How can we use this even if you don't see our name?'," Kasper shared.
Making good presentations
On the other end of the spectrum was Kenn Hansen, whose presentation covered "Presentation best practices from a research point of view", highlighting the aspects of presentation that go beyond the visual.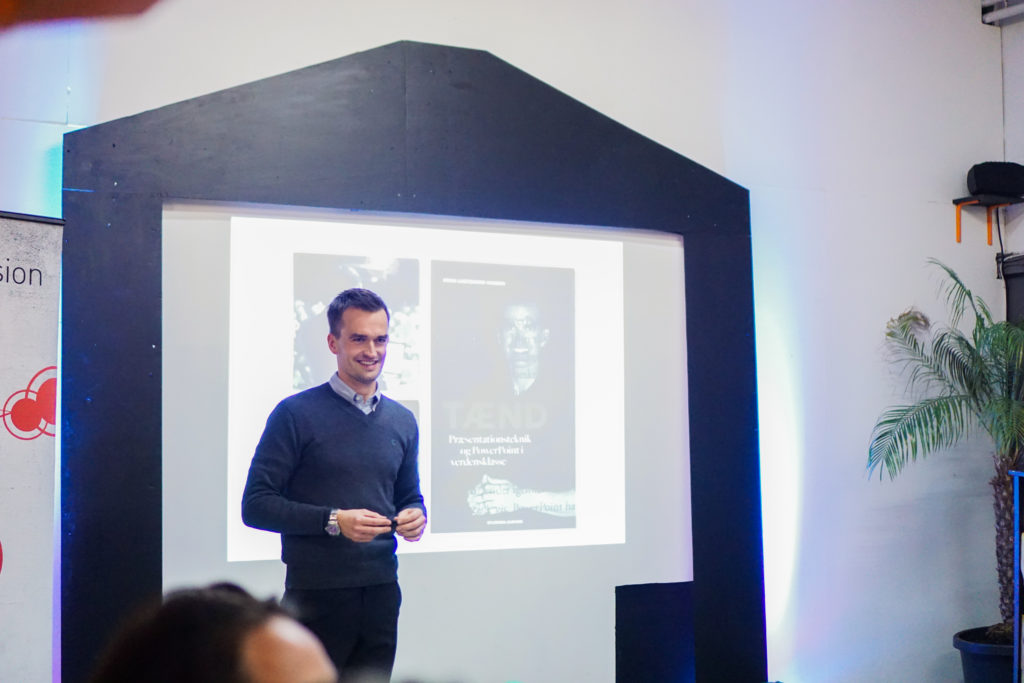 "I think there is an even bigger problem than finding the right template and so on. The problem is that people don't know how to use PowerPoint. Speakers have never been trained in what PowerPoint is for and they more or less give all the attention to the slide, as if saying 'Don't look at me, look at the slide.'," Kenn explained.
You look at the slide, we look at you and at the slide, the slide is muddled with words and pictures and the process becomes a confusing push and pull, like monkeys fighting for the rope in a tug-o-war. Whew! Kenn explained that it's all about striking a balance.
"I think there are three elements to a presentation: the audience, the speaker and the slide. Of course it's important that you have a neat visual identity. But I would say that you also need to learn and understand how to use the PowerPoint. We can agree on the right Pantone color but you really need to build in really good content because I think you give a presentation to give information, make people understand something, inspire them or help them move to a different direction, teach them or whatever you do."
Kenn identifies three presentation genres: Verbal presentation, bullet presentation and written presentation. But how much to write or not to write on a slide? The question invites differing opinions from the audience.