Playing with fire will get you burnt; playing with a firefighter will get you wet
. That was the first message we got from the committee as we were about to learn to deal with fire. This is literally the most 'lit' Play Saturday activity we have ever had. 😛
Arranged by Rizal, Danny, and Anwar, we managed to invite three members of our local Fire Brigade. Learning from the masters is the best way to learn, right? We had two activities lead by the firefighters. The first one was an in-class workshop about causes of fire and how to prevent them, and the second one was a field workshop about extinguishing fires using wet blankets and fire-extinguishers.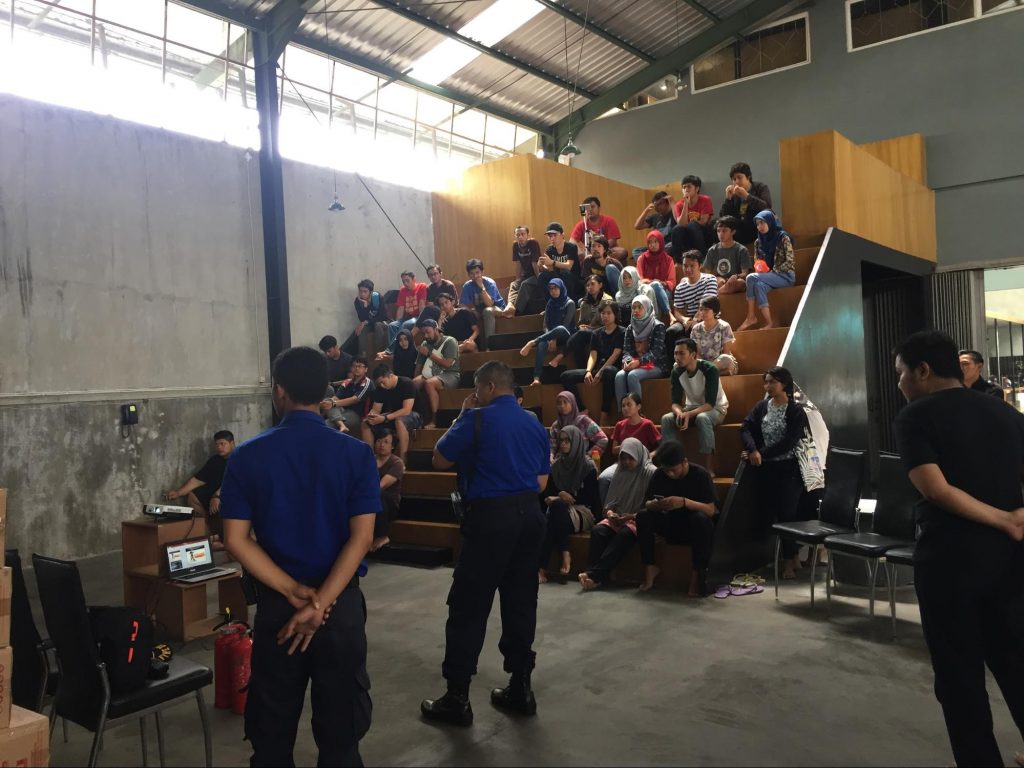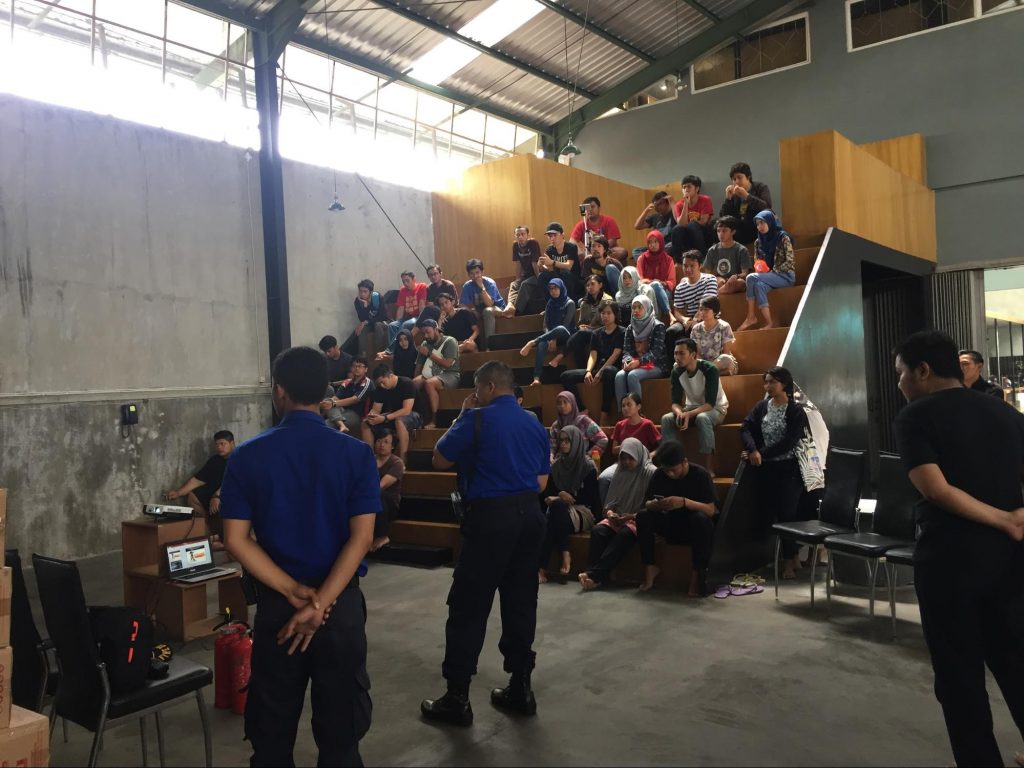 Sharing knowledge and experience in the in-class workshop
During the in-class workshop, the firefighters shared loads of information about fires, the fire brigade, and fire extinguishers. They started with explaining basic knowledge we need to know about fires. We got more understanding on what may cause a fire accident. They also shared some of their experiences on duty, giving us more insight. Technical instructions, tips, tricks, and safety matters were also explained. We got to know how to deal with fires in different situations and how to use all kinds of fire extinguishers properly.
After a short break, we proceed to do a field workshop. We practiced using different kinds of fire extinguishers. Safety was guaranteed as we had three experts with us. We started with using wet sacks to handle the fire. It was really challenging for some of us who tried, since we needed to get really close to the fire. Then we proceeded to the next part, using the fire extinguishers. We needed to pay attention to every single step, from how we get the extinguisher ready to how we get rid of the fire. It was a really exciting experience for us.
Facing the real fire!

In addition to these exciting activities, we were also assigned to do a special task. We were split into five teams. Each team was required to submit a video related to our theme of the day, fire. The maximum duration of the video was one minute. The videos should be wrapped and submitted within a day.

There were no specific requirements given, but all the videos uploaded were done in a comical style. One of the teams created a VR (virtual reality) video, making it look like a first-person view game. Another team produced a kind of advertisement. The other teams made a simple yet hilarious tips video. What superb creativity! They all managed to share new knowledge in unique ways.
The teams preparing their video.

The idea of inviting the firefighters were to give us new knowledge and the chance to practice extinguishing fires was great. Everyone needs to know how to extinguish fires since it is essential knowledge that could save our lives. From this activity, we finally acquired new knowledge on how to anticipate a fire in any situation using several tools. The firefighters also gave us some suggestions regarding safety in our office. Now, we have got all we need to deal with a fire!
Watch Our Videos