What do you get when you combine Nindya and Bryan's big love for adventure? The mastermind duo of this social activity brought us to Batu to play a fascinating paintball game with marker guns as our weapons and a small forest as the battlefield.

We gathered at the office at 7 AM before driving together to the game location. After a one-hour drive with enjoyable views of apple fields along the way, we arrived at Coban Talun, one of the most popular nature tourism spots in Batu.
A group of 'Marshalls' – referees of the game – and a small forest filled with rows of pine trees welcomed us. Without further ado, we lined up in a circle to listen to the marshalls who explainiedthe rules of the game that needed to be obeyed to keep us safe. We would use a paintball gun that is fueled by a gas tube and filled with paint bullets, so we have to use it carefully.
We were not allowed to shoot at our opponents from less than 10 steps away because the bullets could harm us at close distances. The team who got the least shot marks on their body would be the winners of the battle.
This game demanded us to think about the right strategy and apply it right away on the field to find out whether it worked well. The winning factor depends on how well our team attacked the enemy and defended ourselves by avoiding shots.
We were divided into 8 teams, with 5 – 6 persons in each. The game, consisted of 2 rounds, kicked off by team 1 and team 2. We put on the safety coats and team vests, filled up our guns with bullets and team 1 and team 2 took some team pictures and posed as cool as they could with their 'jersey' and guns.
Then, the battle was on. Both teams entered the arena, and the Marshall yelled, "3….2….1..!". Intense shooting sounds were immediately heard, making other teams, who turned intoan enthusiastic audience, feel a bit nervous, yet excited waiting for their turn.
The arena was a small forest filled with tall pine tree as our natural shields. Hid behind pine trees, each team member did their best to avoid getting shot by the opposing team. At the same time, they did their best to target their opponents. Once they missed their shot, they need to refine their stance or technique and shoot again. So, it's about 'try, shoot, refine, and repeat'.
After 10 minutes of fierce battle, team 2, who got less shot marks, came out as the winners. The game continued. The next 2 teams put on their safety coats and entered the battlefield. Again, the sound of fierce gun shooting captivated the spectator teams. The intense battle went on as another team conceded defeat, leaving the winners of the first round to battled in the next round.
The second round started with teams preparing for their battle by re-discussing and revising their strategy from the previous round, while others discussed with the Marshalls about strategy.
The second round kicked off with the battle of team 2 and team 3. Some tended to calm down and prefered applying a defensive strategy. others decided to be more aggressive and attacked intensely while running toward their opponent.
About 1 hour and a half later, the fierce battle in second round ended with team 2 coming out as the first winner and team 3, 8, and 5 as runners-up consecutively. After having lunch together, we took pictures of the winning teams holding their prizes with big smiles.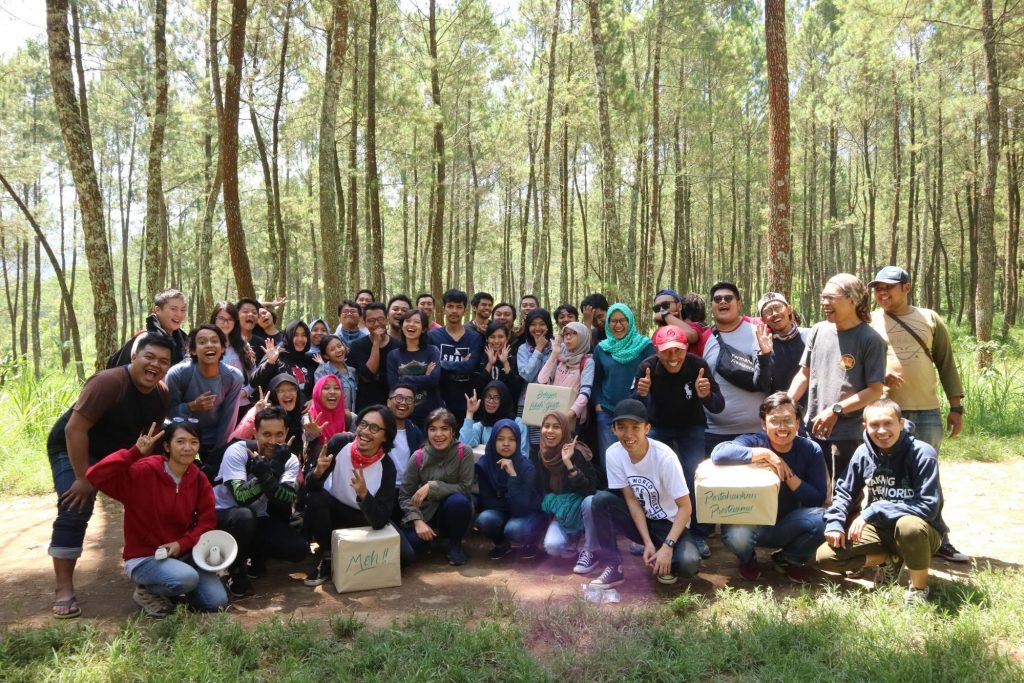 Despite feeling a bit tired, we had so much fun playing this game. Not only did it strengthen our teamwork, this game also taught us one crucial thing in reaching any goal: the right strategy. Formulating and applying the right strategy could create huge impact and bring us to the top or wherever we want to be.