Team building activities are crucial for creating a more fun, engaging and harmonious atmosphere in the office. This is what 24Slides CEO Tobias Schelle had in mind in organizing our most recent activity for Play Saturday called "Inspiring Quote Craft".
In the activity, each team member was tasked to find an inspiring quote and design a wall hanging decoration using recycled carton boxes and paint. Anyone could also use other materials as long as they were readily available in the office that day.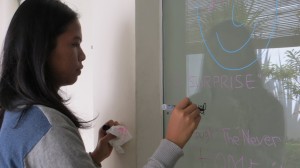 As early as 9 AM, the team started filling the office to prepare their crafts. To avoid duplication of quotes, each first began listing and comparing desired quotes.
An hour later, we started getting busy working on our quotes.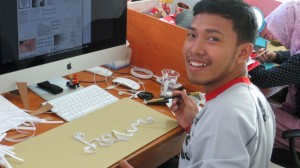 One of the designers, Prast, begins shredding papers after figuring out what he wants to do (or is he frustrated because he doesn't have a clue what to do?) In actuality though, he plans to use these papers as fonts for his quote.
Meanwhile, Nindya who is considered as the most creative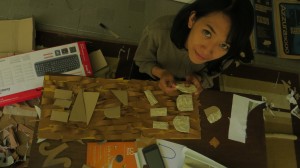 artist in the office, is covering her board base with another paper. Hmm..seems like she's creating a forest floor? Reno, the youngest in our team, just arrives and needs to catch up.
On the other side of the room, Tobias is deciding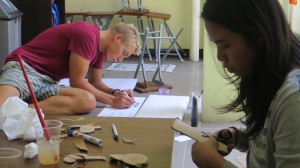 what content to put after building a sturdy foundation to write on.
We were all expected to finish our work by 12 noon but as the clock strikes half past 11, nobody is even close to meeting the deadline.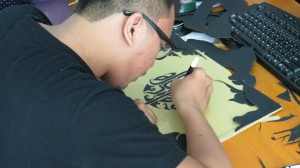 So by 1:06 p.m., everyone takes a well-deserved break and enjoys lunch together.
After filling our stomachs, most of the art designs now take shape. Some use Styrofoam to form their letters, others create more fancy lettering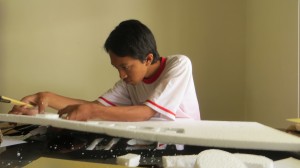 while still others come up with an entirely different idea and use unique materials.
At 2:30 in the afternoon, we finally have a proud winner for our Inspiring Quote Craft activity.
Activities like this are simple and cost-effective ways to encourage active participation from each while stimulating both critical thinking and creativity. While there are general rules, offering some flexibility also allows every member some free reign to draw more inspiration and make it more fun for all. Feel free to try similar activities for your team as a refreshing break from the usual 8-5 rigid work during weekdays!