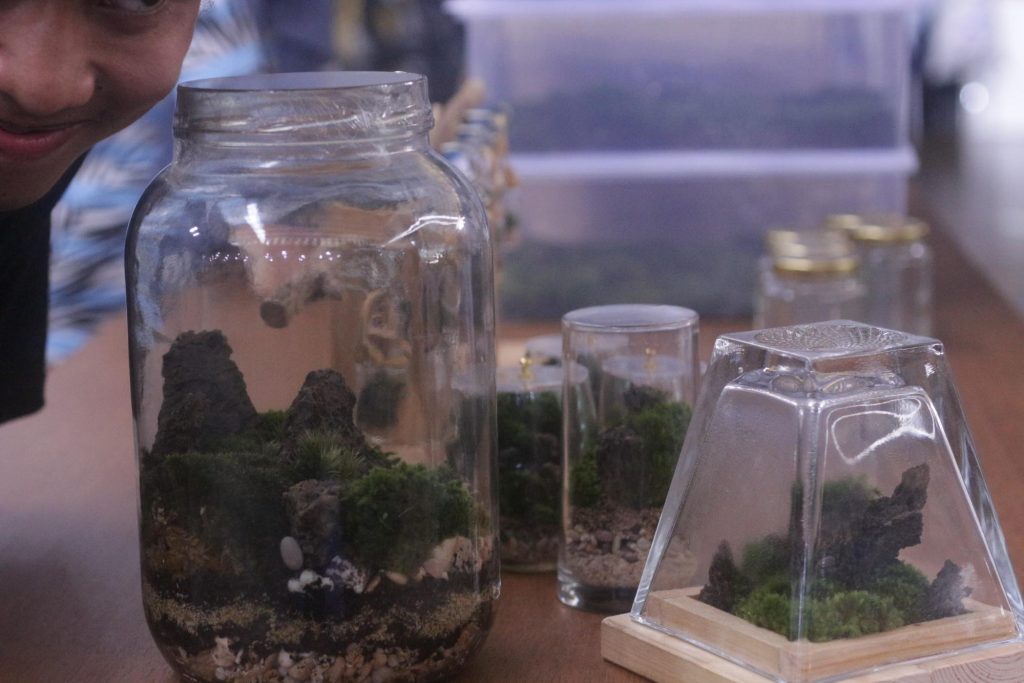 Who said to reap the benefit of nature you have to go outdoor or travel around to find amazing green landscape? Even indoors like office, you can enjoy the calming benefit of nature by designing 'artificial' green view on your own and put it on your desk.
In this Play Saturday, we picked a popular Do It Yourself activity that fascinates people all over the world, terrarium. We believe this easy, beautiful, and self-rewarding craft could live up our workspace and go side by side with our industrial theme office.
There are two kind of terrarium. One is open terrarium, and the other one is closed terrarium. Open terrarium, which usually use cactus or succulent as the center of interest, obviously is already popular as home decoration. That's why, last Saturday we choose to create the other kind terrarium, namely closed terrarium.
Another reason that thrilled us is, we were going to involve a very anti-mainstream 'plant'. You might not know that this 'plant' could be 'the main role' of a green decoration. It is moss. Be planted inside a glass jar. To be put in our desk.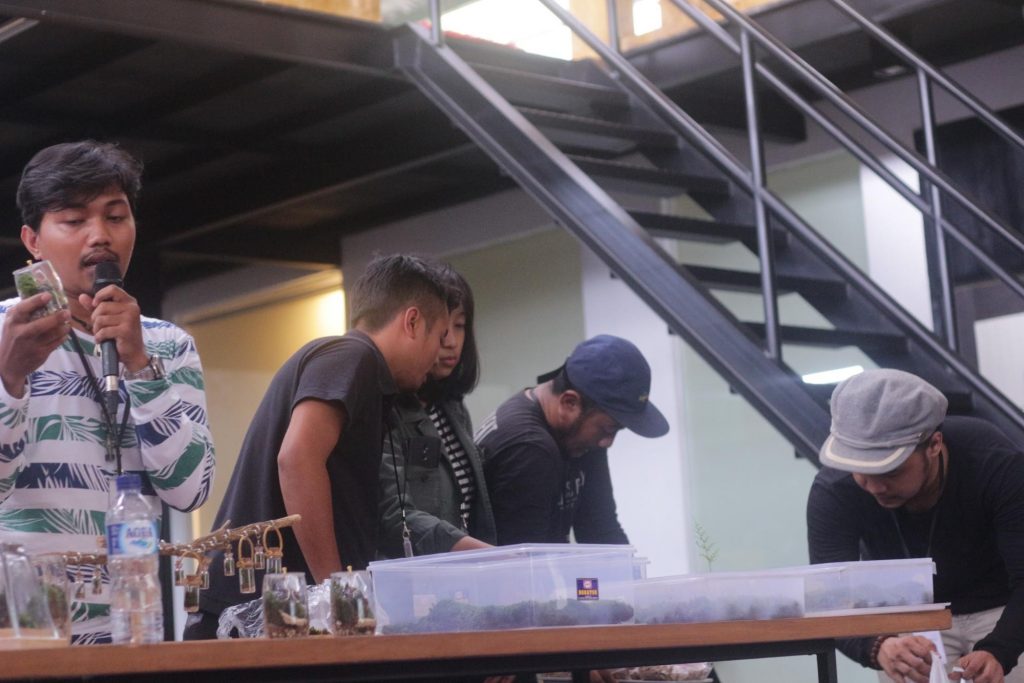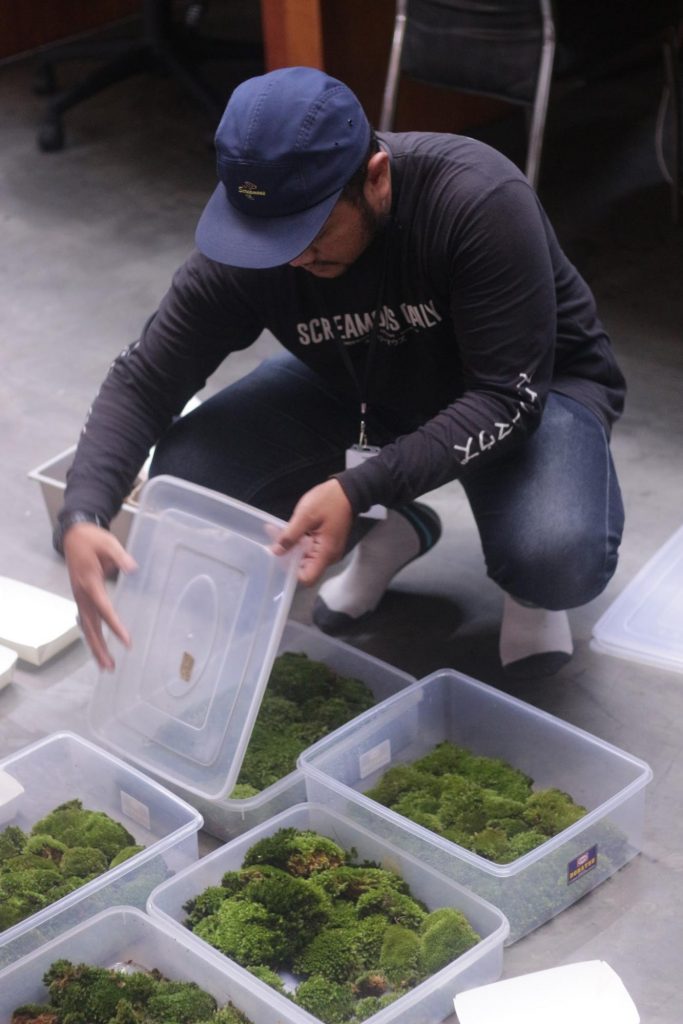 We invited Damai Project, a Malang based community that spread moss terrarium movement. The fresh moss we planted come from their moss 'farm'. Kez, a delegation of damai project, took the floor and kicked off the day by giving brief about moss terrarium and its history.
Terrarium is invented in 1829 in england, when Nathaniel Bagshaw Ward, an amateur horticulturist, failed establishing a home garden due to air pollution. He then accidentally sealed a moth chrysalis and some mold in a glass jar. His initial objective was to watch the transformation of that insect. Surprisingly, a seedling fern and a sprout of glass started blooming inside the jar. Through further experiment, the science of terrarium was born and grew in popularity.
Kez also shared one very interesting fact about moss. Moss is eternal. So, it's not only vampire that able to live eternally. Moss posses that extraordinary ability too!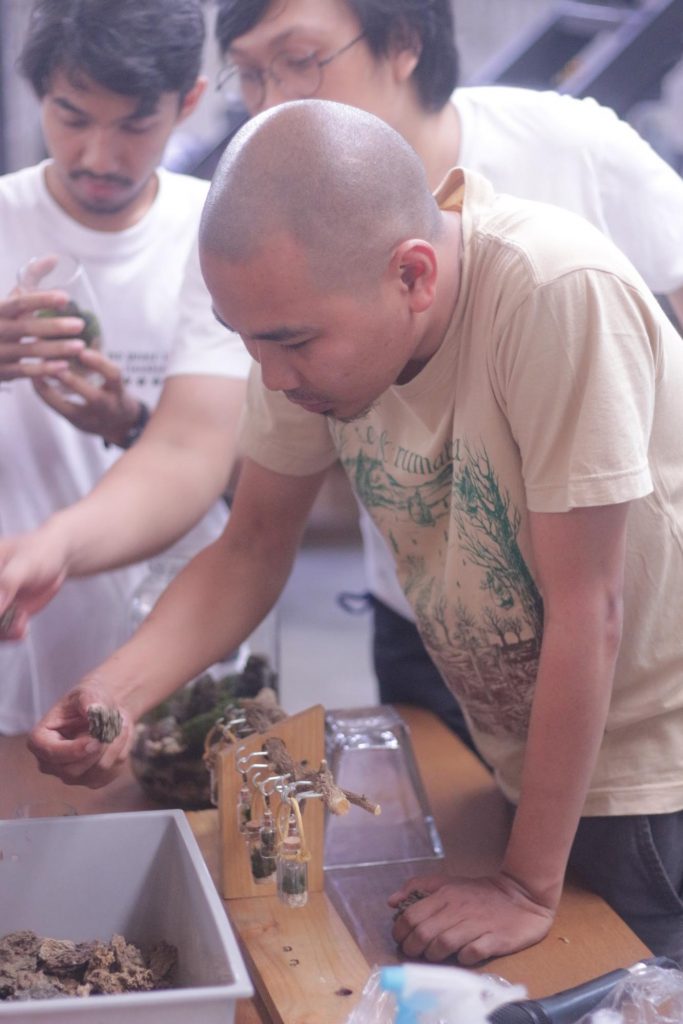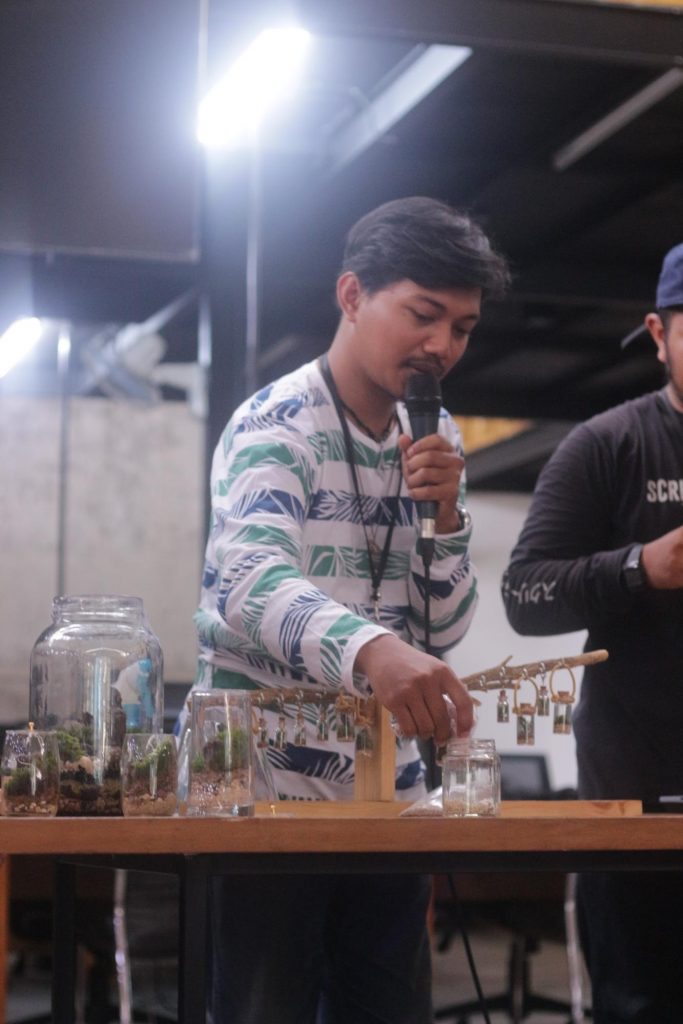 We watched with amazement when Kez squeezed strongly a handful of moss with his palm till the moss unshaped. Several second later, it back to its original shape, and still alive. What a resilient creature!
He next explained the tool and material to create the terrarium. We were given a starting kit that consist of bright coloured sand and cute-sized gravel as the drainage of terrarium ecosystem. We also got spagnum moss, the dried moss that is harnessed as the soil where the living moss will grow up on.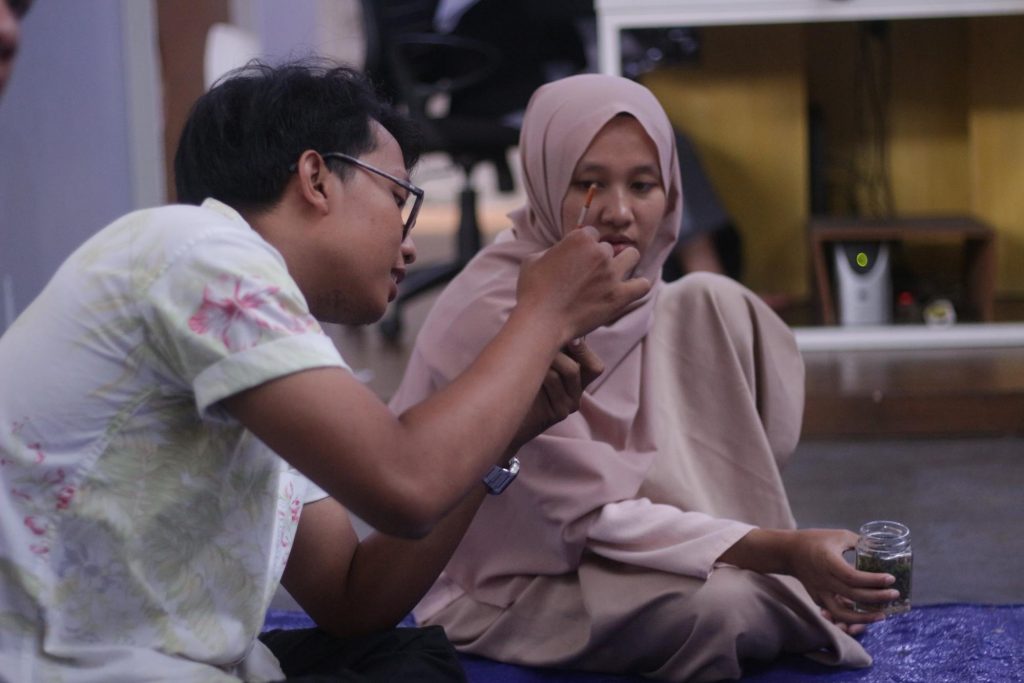 Holding a glass jar, everyone start by putting in sand as the basic layer. Actually we can customize the bottom and upper layer, like putting gravel first and the sand later. But, based on the sample displayed on the front desk as our reference, the sand as basic layer would make it look beautiful and right-composited. So, we follow this proven formula.
The next is gravel. We spread them evenly over the sand layer. Then we put in our 'soil', the spagnum moss, as the top layer. we customized our terrarium composition based on our personal preference, internet tutorial or and suggestion we got from Damai Project.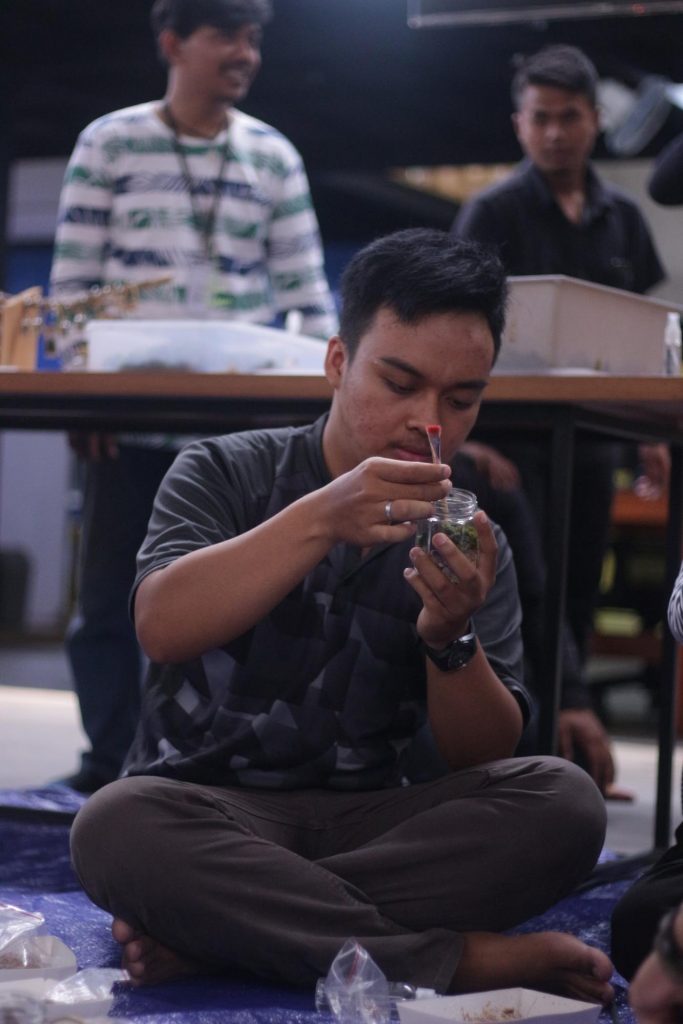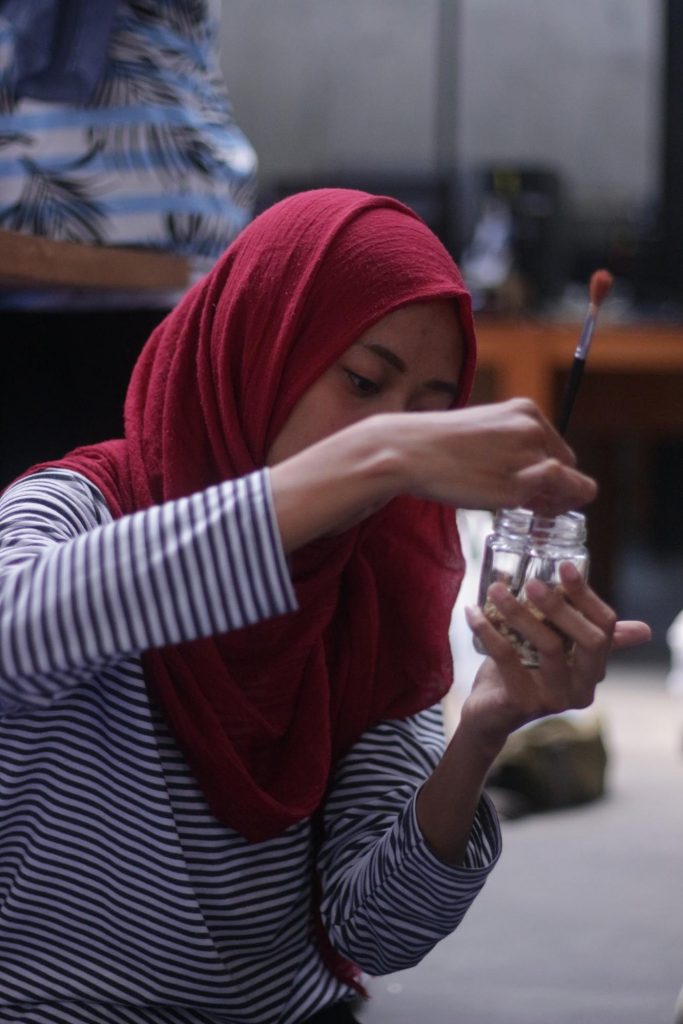 Some of us composite hill of sand in left side, and hill of moss in other side. Many of us go with evenly layered sand, gravel and moss consecutively, then add a small coral as accent and point of interest of the composition.
One thing that the committee of this Play Saturday did to trigger higher excitement was, holding a discreet competition of who create the best terrarium. The representatives of Damai Project relaxingly walk around and observe how we create our terrarium. They assessed both, our process and result without showing any sign that they were judging.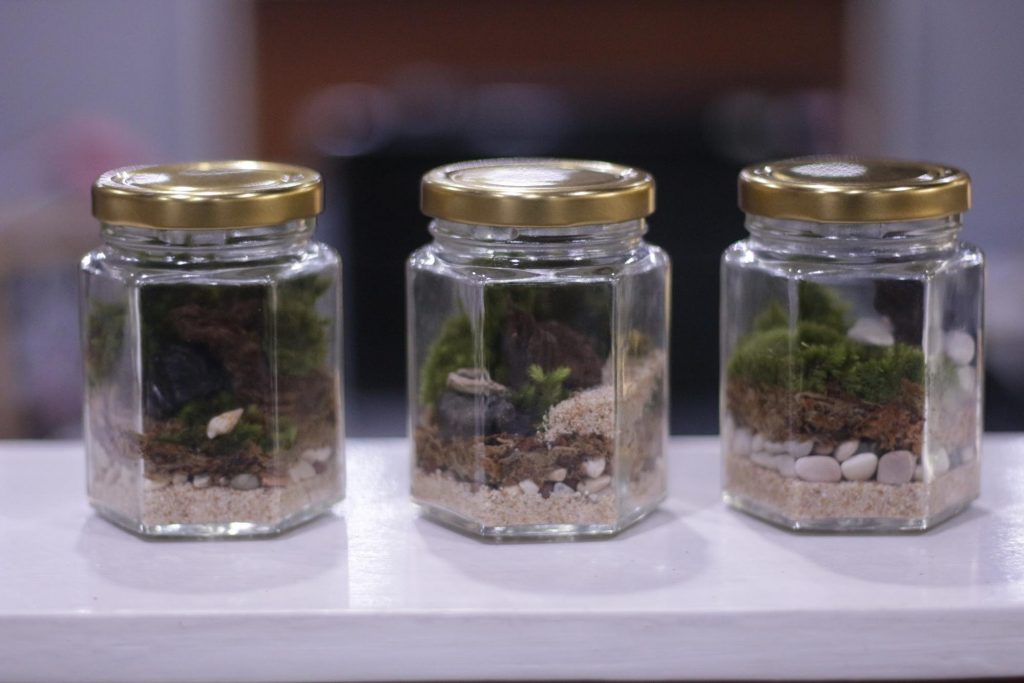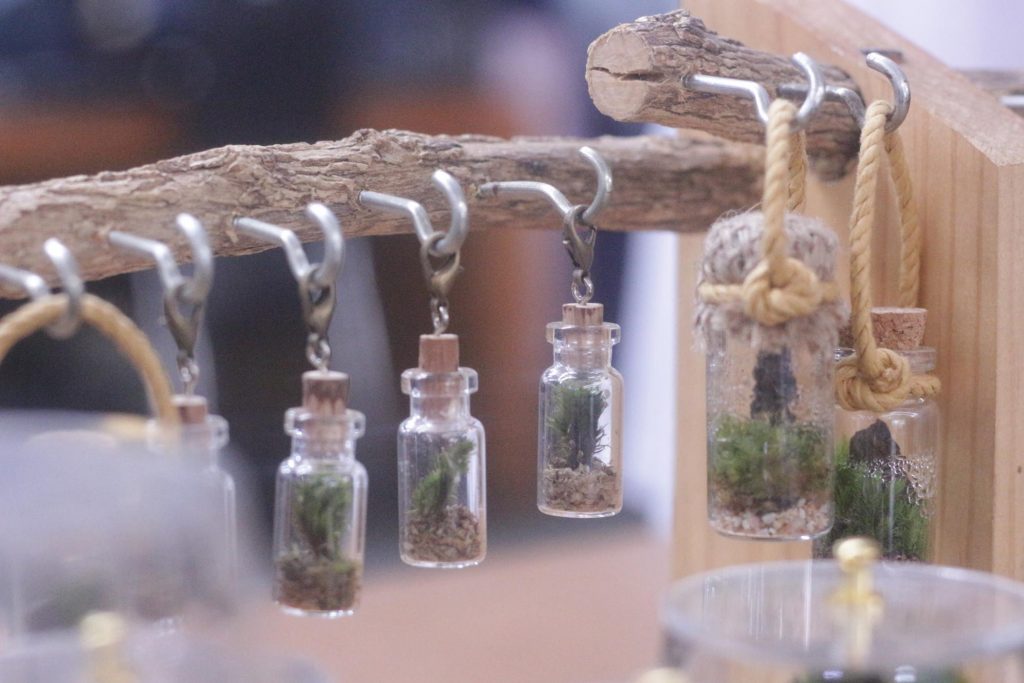 They secretly collect the assessment and pick three persons that created the best terrarium with right method. So, we were a bit surprised, and envy, when they announce 3 winners that won this secret competition. Those 3 lucky persons, varief, eva and ninar, each obtained a cute-and-scrupulously-made terrarium keychain as reward.
This DIY activity is so simple, yet entertaining. In the next 2 hours, every of us had held our own very personalized terrarium. We then took picture together and proudly showing off our creation to the camera.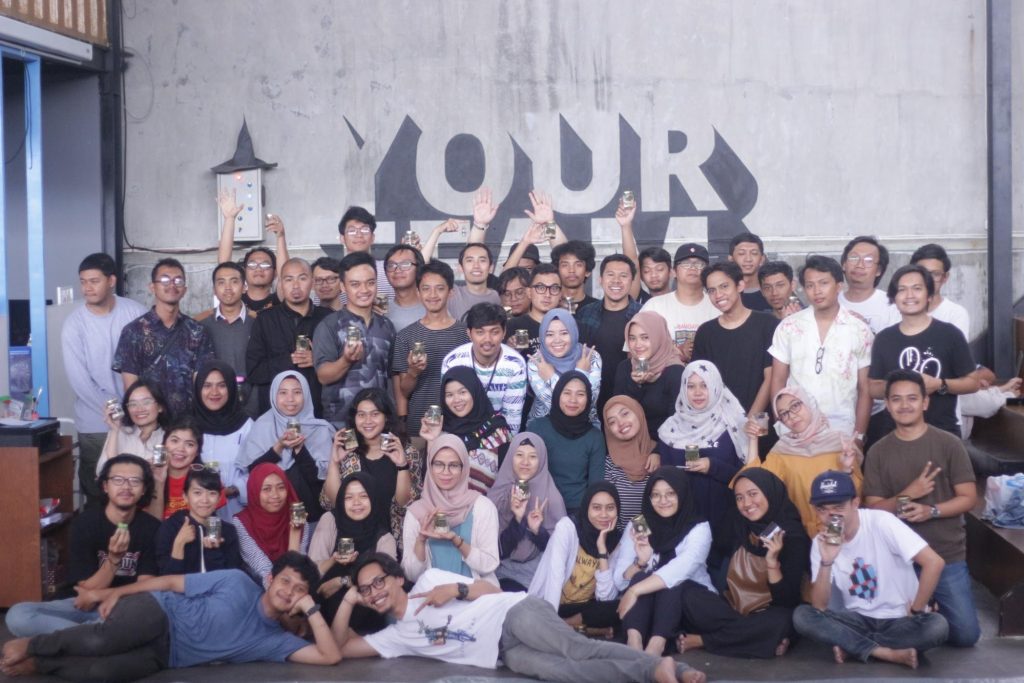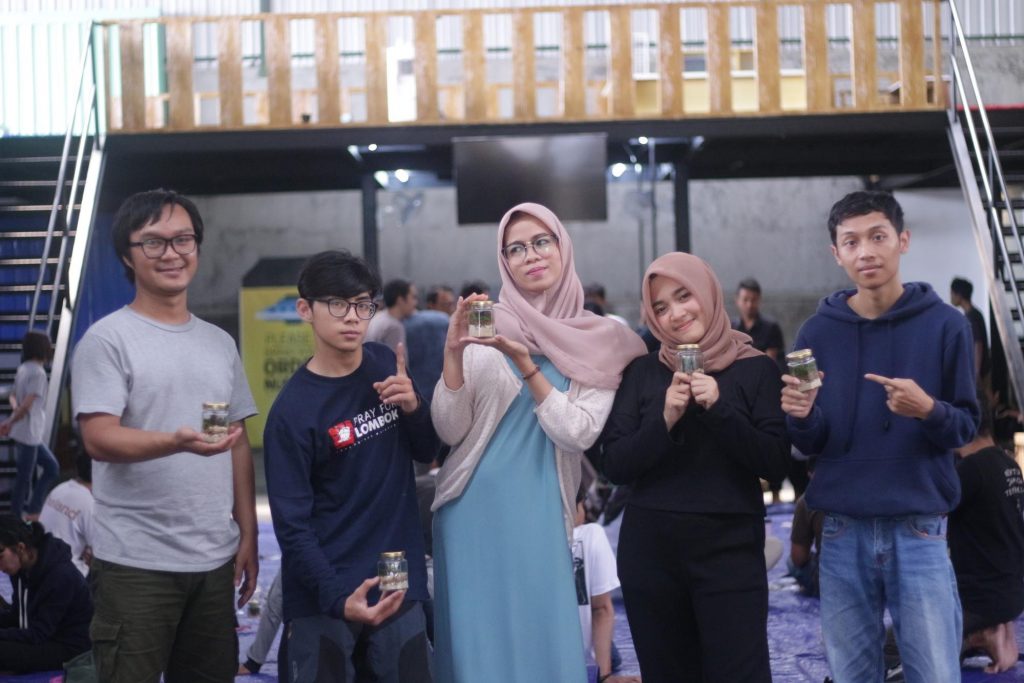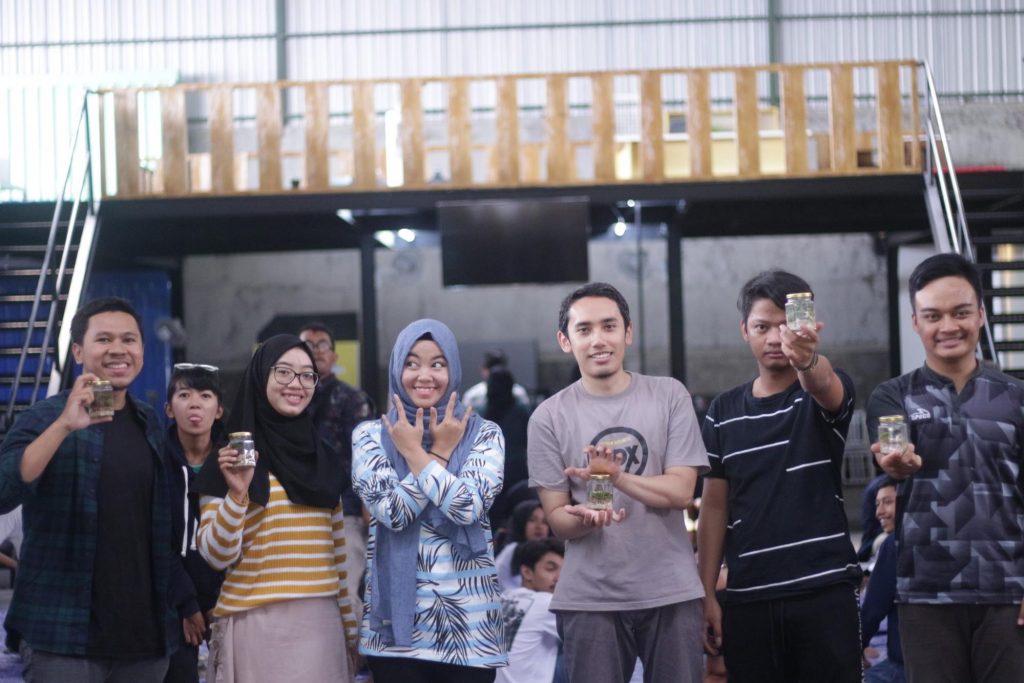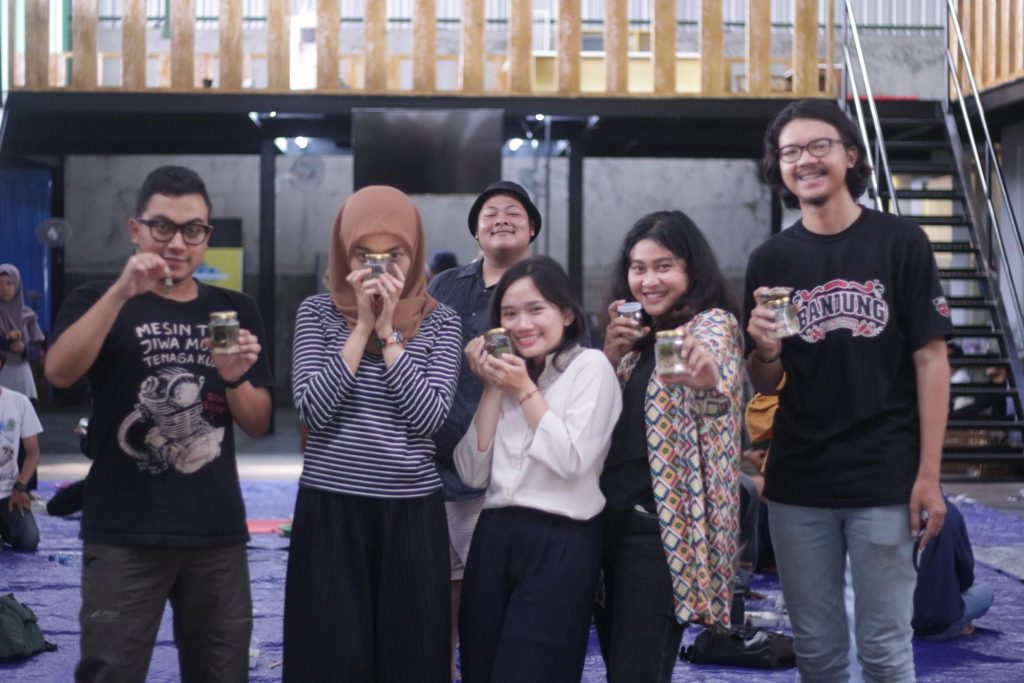 We got a new green and lively decoration to help boosting both, our mood and creativity when we need it. We hope our eternal moss will emit lively vibe in our desk, where we spend most of our time creating small impact toward our company, every single day.