After swinging around the trees in February, this month (July 2018), the Indonesia team spent two days in a villa located in Batu for another Social Activity (SocAct) event. We stayed in Ahlami Villa, a cozy building surrounded by astonishing natural views. Kudos to Nindya and the SocAct team for the impeccable choice.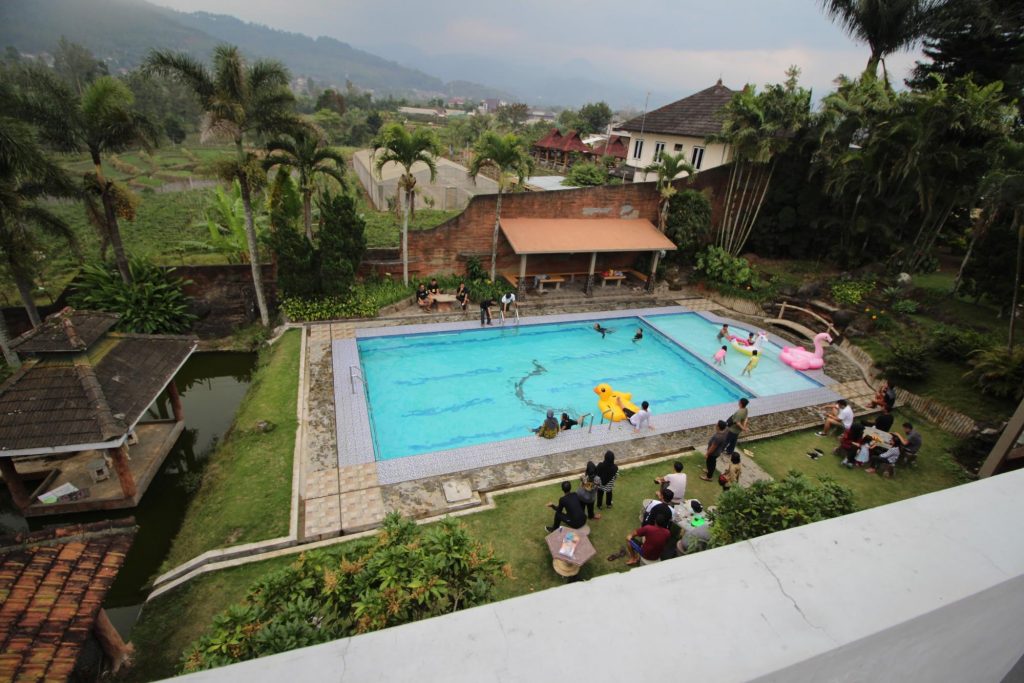 Ahlami Villa – Bird View
We arrived at the villa on Saturday morning. Everyone was allowed to bring some of their family members as well. We were very excited to have tons of fun as we'd already been told that the SocAct team had organised a series of events including games with door prizes and a barbecue party. The participants of the games had been split into several teams with the names of vegetables such as kentang(potato), tomat(tomato), kubis(cabbage), and terong(eggplant).
There were several games that should be played by all teams to obtain points. The first game was called "natural disaster" where everyone should do different things like proning, touching plants, going to a higher place, and tapping someone whenever the narrator mention one kind of disaster in order to survive. The second game was a relay race that included drinking water, eating cow rinds, and playing tic-tac-toe. Finally, the third game was channeling a ping-pong ball using only papers. Every team collected accumulative points from their games and disciplinary scores.
After having a short break for lunch and praying, we started the treasure hunt game. In this game, we need to gather clues to find the treasure by finishing five simple games in five posts. The games were Daruma-san(statues), beer pong, card stacking, panjang-panjangan(stretching to get maximum length), and chain picture-message. Once the clues were collected and solved, each team went for an item at the bottom of the pool. However, what they found was just another clue that led to a location where they had to pick a small container as some kind of lucky box.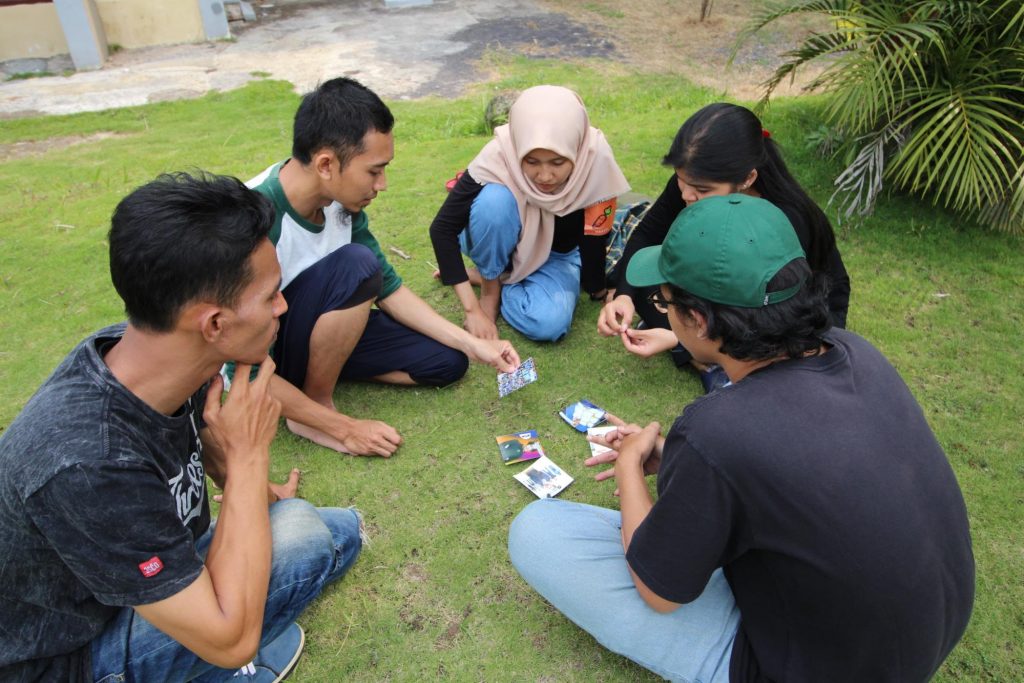 Working on the Clues of the Treasure
When we all finished this game, we were ready to know who would be the winners. We opened the lucky boxes, and Tomato team was the lucky ones to get the main prize! Other teams also got their own prizes based on their accumulated points and characteristics. They even got unique awards such as "the most mature", "the most romantic", and even "the naughtiest".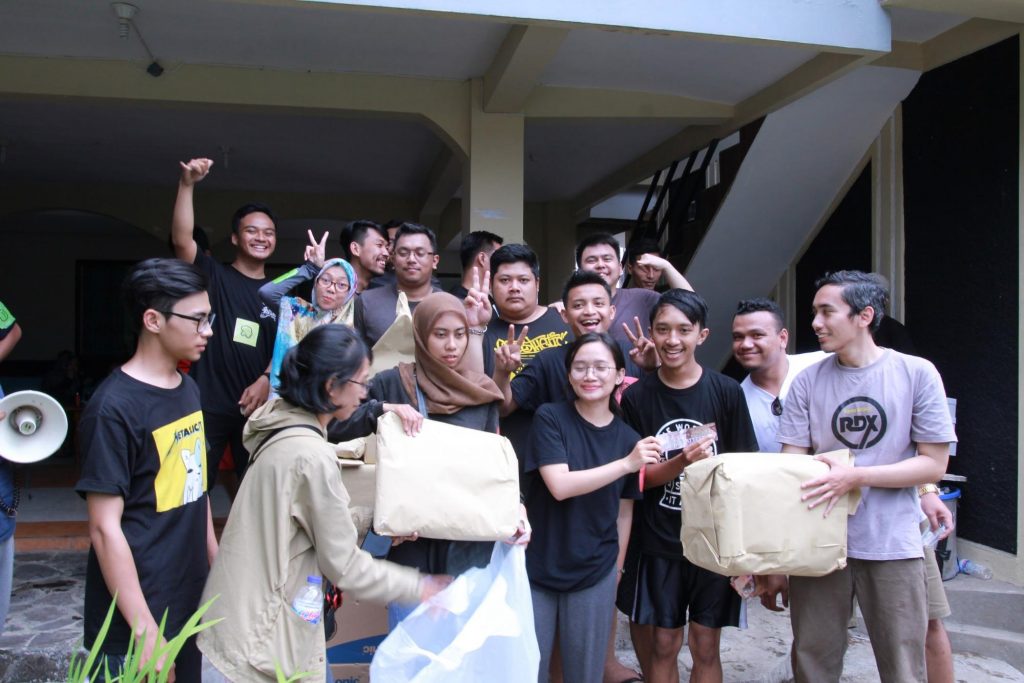 And the Luckiest Team is… TOMATO!!!
We got a long break before the evening activities. From this point, we were allowed to go home anytime since the rest of the activities were optional. We were free to spend the long break as we liked. While some of us chose to take a nap or lay around, the others went swimming, walked around the garden, played futsal, billiards, or ping-pong.
After dinner, we gather in a family room for a series of quizzes. Anyone was allowed to join, including our families. We got picture riddles, absurd riddles, and "guess what I'm doing" games. Each of us who got the right answer won a door prize. The room was full of cheering and laughter.
All the prizes have been won, so we moved to the rooftop for a barbecue party! We got loads of sausages, meatballs, fishballs, crab sticks, corn, and other snacks to warm the chilly night. As some of us were preparing and grilling the food, the others enjoyed the night by playing music, singing along, playing cards, or simply having a chit-chat while enjoying the rooftop view. The blissful atmosphere and tasty food surely made our night.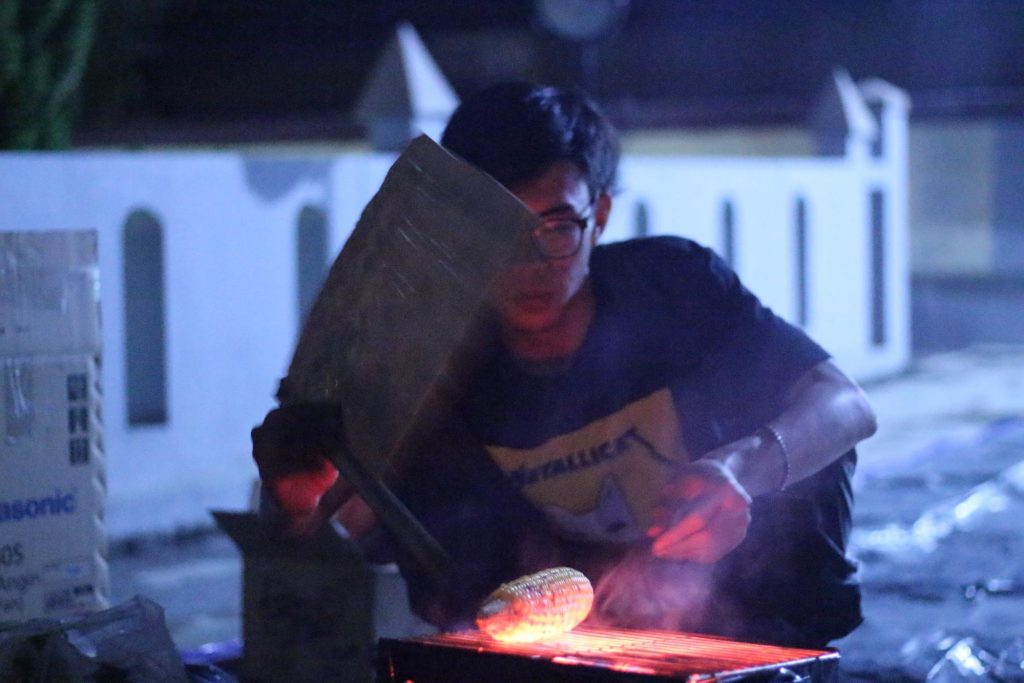 Rooftop Barbecue Party!
In the morning, we were free to spend our time as we liked before going home. Seems like some of us were addicted to swimming as they ignored the cold weather and dipped in the pool. Others chose to enjoy the fresh air and their breakfast. With dozens of good memories, we went back home as everyone needed to get recharged before starting the new week. See you on the next Social Activity!