How 24Slides Supports Marketing Teams Make Presentations and Boost Efficiency - With Less Budget!
Images and visual content will always have the upper hand when it comes to creating a lasting impact on an audience. And as long as there isn't another way to showcase features, benefits, and data to customers, presentation slides are not going out of fashion in the business world any time soon.
And, as the ones responsible for branding and image, marketing departments are very often the ones suffering the bulk of the demand for presentations.
As slide design very quickly becomes a recurring, highly time-consuming task for marketing teams, many marketing leaders are forced to face the question of how to make sure they can fulfill the presentation demand without it eating away all of their team's resources.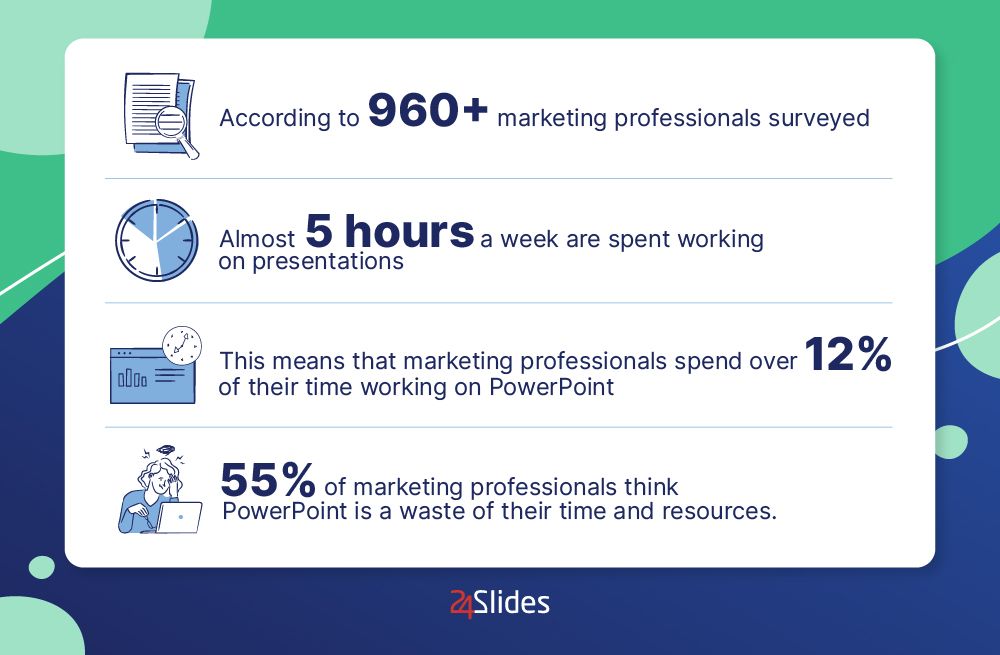 How presentations become a burden for marketing teams
According to our thorough survey of 960+ marketing professionals, we found out that, on average, almost 5 hours a week are spent working on presentations. While this might night sound as much, it means that marketing professionals spend over 12% of their time working on PowerPoint.
Dan Sørensen, 24Slides' current CMO and past customer on one of our biggest partnerships shared with us some of their insights on why presentation design often becomes such a big challenge specifically for Marketing Teams.
When you get to the point of actually approaching potential clients, slides still are key, and salespeople know this. It's just the way we learn as human beings, what things we pay attention to and remember in the long run. In the end, it all comes down to Good Looking Slides to make an impact. So the intuitive thing is to go to Marketing and say 'Hey guys, I have this super important presentation. Can you guys help me out?'
Marketing teams often get overwhelmed with secondary tasks that get in the way of already prioritized tasks. Since presentation design is such a last-minute task, it often translates as marketing teams having tight deadlines and being forced to make abrupt changes to their already scheduled content.
This makes for an extremely frustrating dynamic for Marketing Leaders, where they are forced to choose between having to put their own departments' projects on the back burner and denying support to other areas.
Besides the pressure to comply with presentation requests, many Marketing professionals also feel misused and underwhelmed when it comes to slide design. While anyone can make a decent enough presentation, it does take away time and resources from team members with more specialized skill sets.
In my previous marketing teams, we didn't have a specialized graphic designer. You would have a Creative Director, someone whose job is to come up with crazy ideas and new campaigns and new ways to frame them, but that person isn't really into doing slides.  As a Marketing leader, you have a high demand for presentation design, but you know you don't have the resources in your team, and you might not even have the capabilities. So the pressure put on the Marketing team by being forced to say yes to this can be really really devastating.
This frustration is clear when you look at our survey's results: 55% of marketing professionals recognized that working on PowerPoint feels like a waste of their time and their resources. It's seen as an unmotivating and tiresome task that demands little creativity and strategic skills from them — just time.
With these numbers in mind, chances are that even with the most important presentation in the world, one out of every two employees will feel demotivated when asked to work on slide design.
Presentation design thus takes a huge toll on resources and becomes a source of frustration for everyone involved — requesters feel ignored and unsupported, and marketing professionals feel overworked.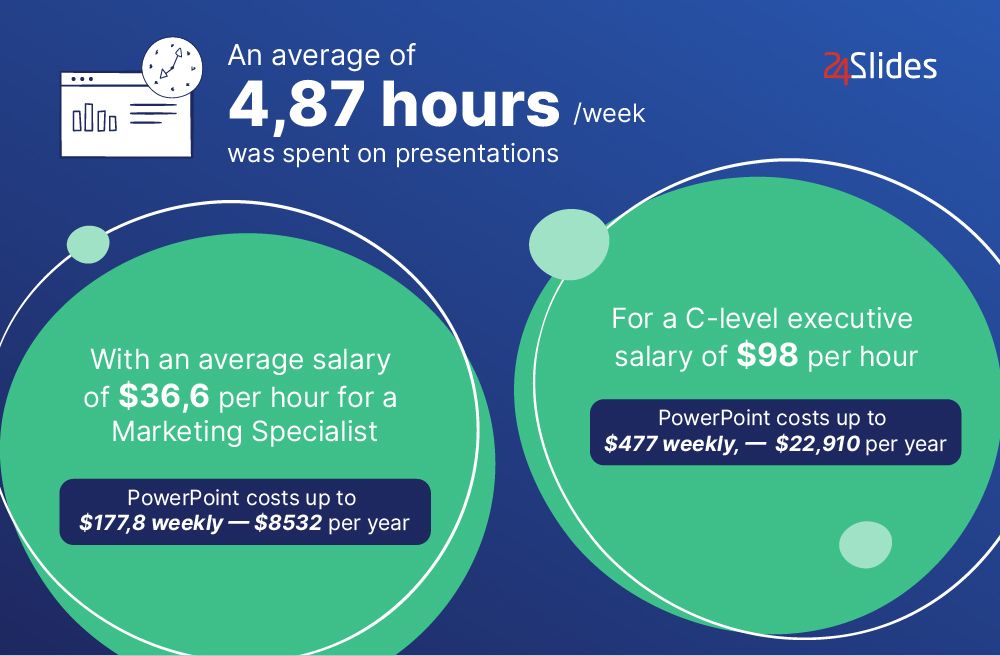 The cost of presentation design
Presentation design might seem "free" when done by an in-house Marketing team, but it means paying their complete salary for the time they spend working on the slides instead of other tasks. This means that for an average of 4,87 hours per week spent on presentations, and with an average salary of $36,6 per hour of a Marketing specialist, the actual cost sums up to $177,8 weekly — a whopping $8532 per year.
Presentation design is such a burden on marketing teams that they can often seek other solutions to close the gap between the company's needs and the team's capabilities. What many Marketing leaders found out, however, is that just like their teams, there are not many people excited to work on presentations.
We began looking for Marketing agencies. We used to ask them if they had a junior graphic designer we could use, because it felt disproportionate to pay the normal fee for a graphic design agency when all we need are presentations and so.  We struggled a lot to find agencies that would be happy to take over the assignment while also not killing the budget. It was super difficult to find the right balance of price and the type of specific service we were looking for that still worked with super fast turnaround times like an in-team for other departments.
Often big agencies are not interested either in just making PowerPoint presentations. Unless it is a big rebranding project or a new CVI, design agencies also feel their capacities are being underutilized in just slides.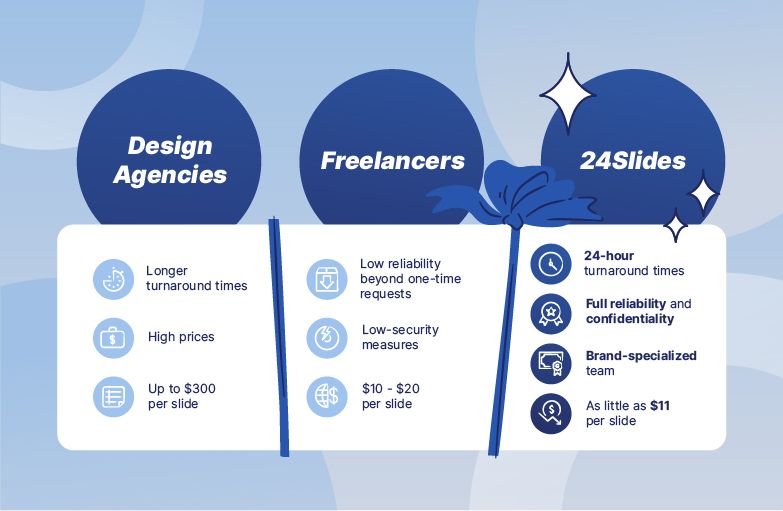 How 24Slides changed up the presentation game
So how to close the gap between the company's need for presentation design and the marketing team's capabilities? The answer is easy — go for a specialized presentation design agency.
According to Dan, finding 24Slides services of online presentation design completely changed the way his team tackled presentations. It eliminates the pressure of deciding between supporting other companies' areas and the frustration and overwork of the marketing teams.
24Slides checked out both of our highest requirements, which were quality, in terms that the slides produced were actually really, really good-looking, but also in regards to delivery times, which was super important in comparison to other solutions I have tried.
Reliability was the keyword when making the decision to change to 24Slides. In comparison to freelancers, its big team of designers allowed them to keep up with the constant demand for presentations. Standardization of delivery times and quality made them able to rely that once an order was placed, they would receive exactly what they had asked for at exactly the right time.
Other solutions we tried couldn't guarantee those things for us. So for example we also tried out freelancers. But they can tell you at any time, 'Hey, I have another job going on right now,' and you can't just risk that. They could be fully booked, sick, or on vacation, and you'd be back where you started and needing to come up with a solution on the spot.
Even more, 24Slides' full-day turnaround services allowed them to make requests in the afternoon and receive their presentations ready first thing in the morning. In comparison their in-house marketing team would have to juggle with other tasks in order to get it done in four, five, or even six days, it made an absolute difference in the time and effort spent on presentation design by all people involved.
Most importantly of all, all slides were done by people who are passionate experts on presentation design, that fully understand the value of a good presentation. Whether it was 10 slides or 1,000, you can trust that all were going to be done with extreme care, following the branding lines of your company, and overall optimized to convey information in the best possible way.
The designers always met the expectations. You ended up feeling that you got more than what you paid for, because of the effort they put in. Often they will make different options to "difficult slides" making more versions for you to choose from. And whenever you have feedback, the platform is simple to use. You can even set up meetings with the design team for direct feedback.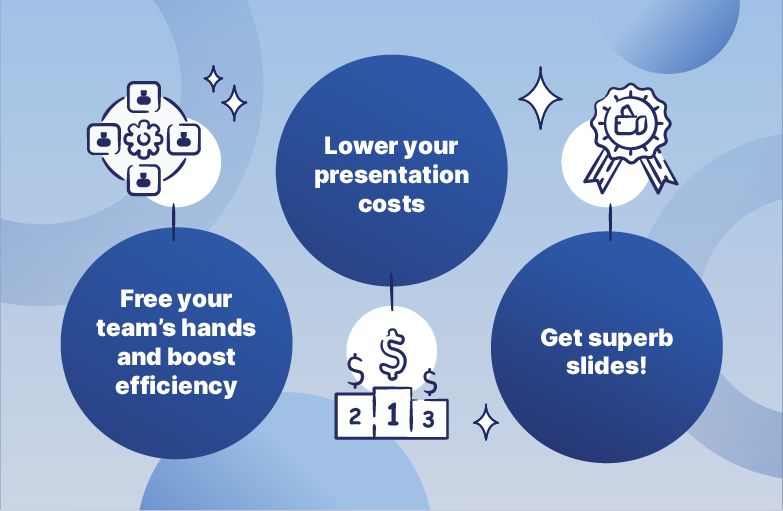 A new way of making presentations
According to Dan, after implementing a subscription package, the cost of presentation design is fully transparent, and with a cut of over 60% that also involved more free time for other marketing projects, better slide quality, and shorter deadlines.
I would save over half of the budget, and I wouldn't have anyone being demotivated in my team, I would still get the presentations done, and even better, with the shortest turnaround time imaginable.
In addition to that, the scalability possibilities of the service and its ease of usability are also key to making a marketing team feel truly supported. By going from individual orders to a company-wide operation, marketing teams no longer needed to be a buffer between other departments and their need for presentations —  rather anyone can make their own requests with a couple of clicks.
Without having to balance the importance and prioritization of presentations against other tasks, marketing teams are able to focus on their own projects with the security that the presentations are getting done in the fastest and best possible way.
It might seem like an overstretch, but through better presentation design, Dan managed to lower their marketing budget and boost their efficiency at the same time. Relying on 24Slides services for presentations meant not only better slides but also a happier, more productive team, unburdened by the strain of fulfilling the presentation demand.