How to Structure an In-House Design Team for Success
In-house design teams allow you to have more control over the creative process and increase brand consistency. However, if you've tried to establish one in your organization, you might have faced the question of how to make it run as smoothly and efficiently as possible.
How you structure your in-house design team plays a huge role when trying to maximize its effectiveness. It'll help you define how your team will work and collaborate with other departments, and identify roles and responsibilities to increase productivity and continue to grow.  
We'll go through the different types of team arrangements and what are the pros and cons of each. If you're trying to build your own in-house design team, this article will help you define which is the best option for you.
Not only that, we'll give you an insight into how 24Slides structures and manages our multi-country in-house design teams to effectively cater to customers all around the world!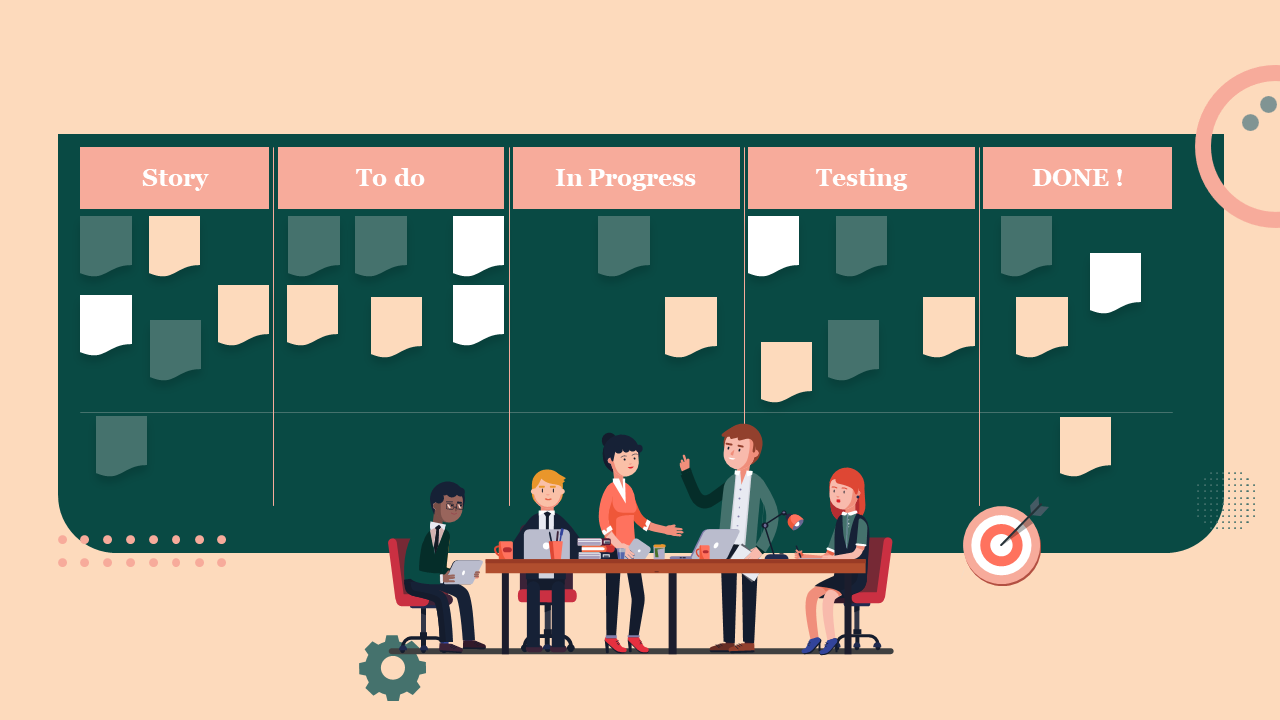 Building an in-house design team
So you've evaluated the pros and cons of having an in-house design team and have decided you want one for your organization. But how do you make this a reality?
Having an internal team allows you to have more control over the design process and the effort your designers invest into each project. That's why it's important to define what is the design demand your team will be facing and what their responsibilities will be.
Will your team cater to all your organization or just certain departments? Who will be able to make requests? What kind of projects will they tackle? Who will define what projects to prioritize and the designers' workload?
Having these in mind will help you be more strategic when deciding how to structure your in-house design team and what roles your organization will need.
4 ways to structure your in-house design team
A) Centralized
The centralized option is the most traditional one when it comes to the structure of your in-house design team. Centralized teams work as an internal agency of sorts.
This kind of team has a pyramid scheme where the design team answers to a head or creative director, who is in charge of big impact decisions. Each team of designers has a design manager, who in turn answers to the head of the design department.
Other departments are able to send in their requests, where then the tasks will get distributed and a specific team will then tackle each. It's a great model for creating a unifying design experience!
This type of in-house design team structure works the best for medium-sized organizations with other departments that want to delegate their design work. It also works best for teams that are all under one roof, so they can reap all the benefits of working as a unit.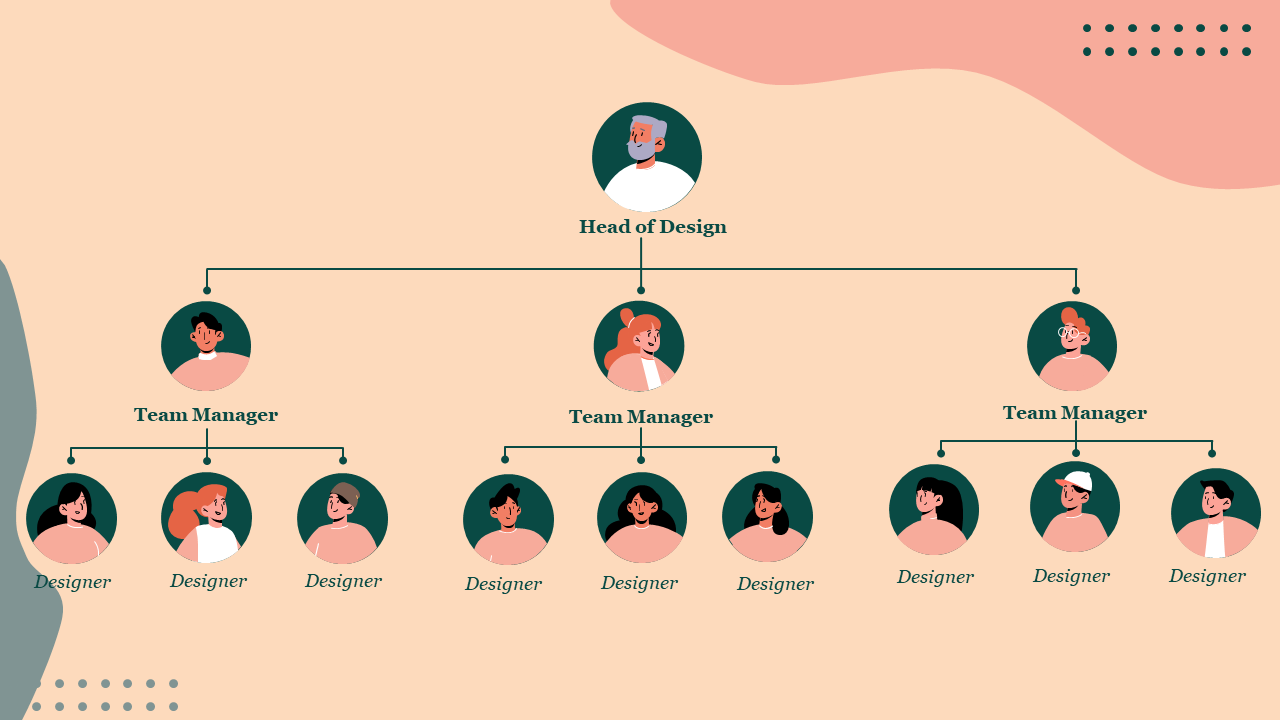 Pros: Great for creating a common vision and brand unity. Roles and hierarchy of responsibilities are clearly defined. Good for sharing resources and common goals.
Cons: Longer decision-making process. The design team might be isolated from the other departments.
B) Decentralized
This in-house design team structure is the complete opposite. Also called embedded, distributed, or cross-functional, this model doesn't have a direct head. Instead, designers are distributed along with other multidisciplinary teams.
So, for example, you might have a project manager, a designer, a website developer, a salesperson, and a product engineer. These all work together with a specific product in mind.
The decentralized design team structure can work wonders for small organizations. This type of design team structure is great for project-oriented teams that work individually and that do not require a common shared vision between designers.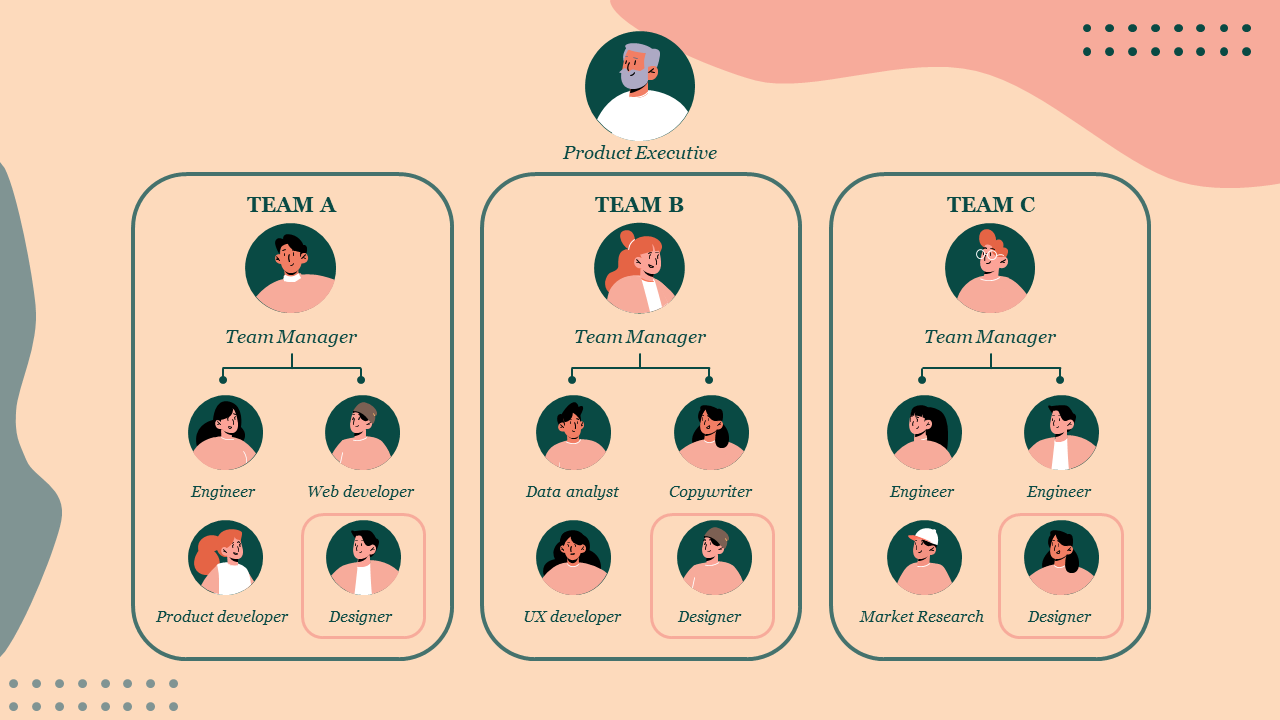 Pros: Faster design process as requests are given directly to the designers, greater collaboration between different departments.
Cons: Might mean wasting time or resources on repetitive tasks.
C) Flexible
The flexible in-house design structure is like having the best of both worlds! Designers are embedded in multi-departmental teams that are focused on specific projects and goals. However, designers also answer to a design director that makes sure that their vision is aligned with the rest of the teams.
This model is great to make design work more easily accessible to different projects without all the bureaucracy of a centralized structure while still maintaining a common design identity throughout the organization.
Designers (and other workers) can be easily moved from project to project depending on the demand and the specialization needed. However, take into consideration that without the correct organization, this design team structure can be confusing. It might create difficulties to efficiently define roles and responsibilities and identify who gets the last say when the designers answer to several different people.
In the case of a flexible in-house design structure, the bigger the organization, the better! It has been reported to work the best for larger organizations where leaders can promote collaboration and move around resources to fit each project's needs.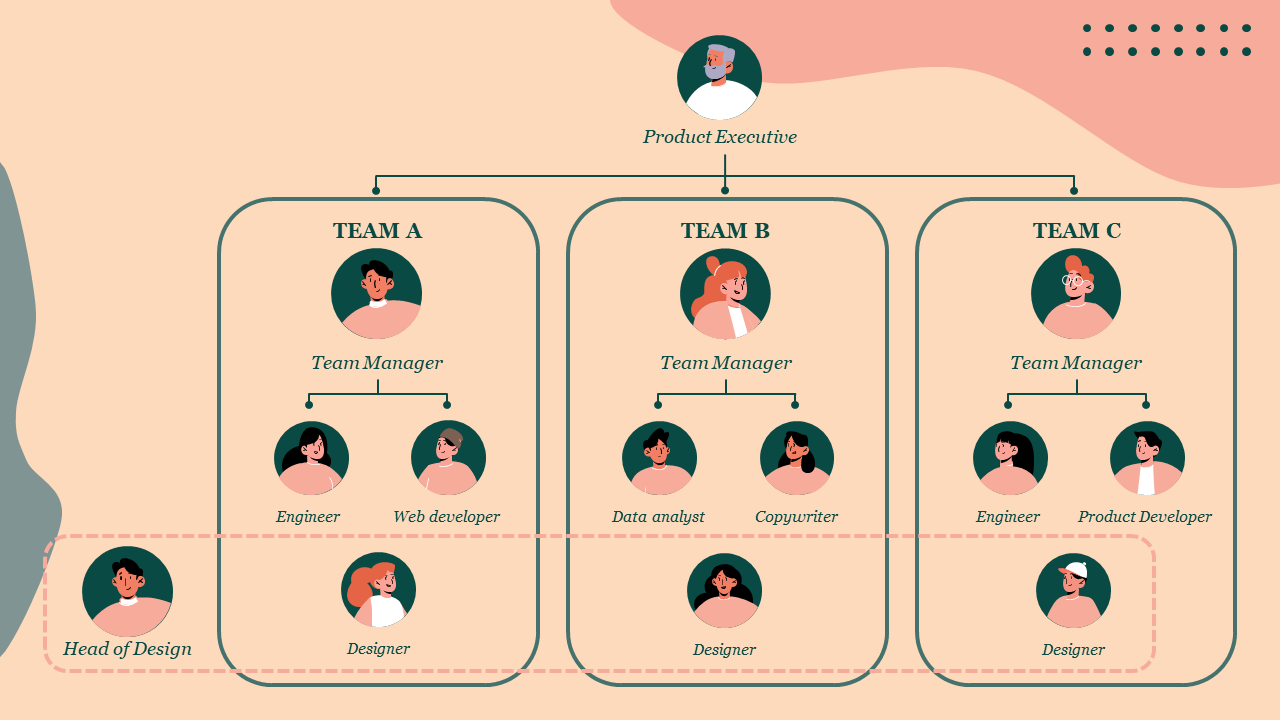 Pros: It's easily adjustable to the needs of each project, and increases focus on goals.
Cons: It can be confusing concerning hierarchy and decision-making.
D) Contractual
Finally, we have the contractual model. This in-house design team structure allows you to have a smaller team that focuses on the most creative, strategic part, and hire outside providers for repetitive and routinary tasks.
Things like getting documents on brand, presentation slides, newsletters or announcements formatting… All these can take precious time away from your in-house design team. By delegating these non-critical tasks to others, your designers can focus on more crucial tasks.
Having an external team to support your in-house design team can also help you limit your design budget. You'll be able to hire people to deal with the everyday, usual demand, and refer to your third-party providers for any unexpected peaks in workload.
The best thing about having a contractual design team structure is that it can work in tandem with any of the previous ones. Contractual providers can answer directly to your centralized team, work with a specific team or project, or just overall support the whole company for any tasks you define.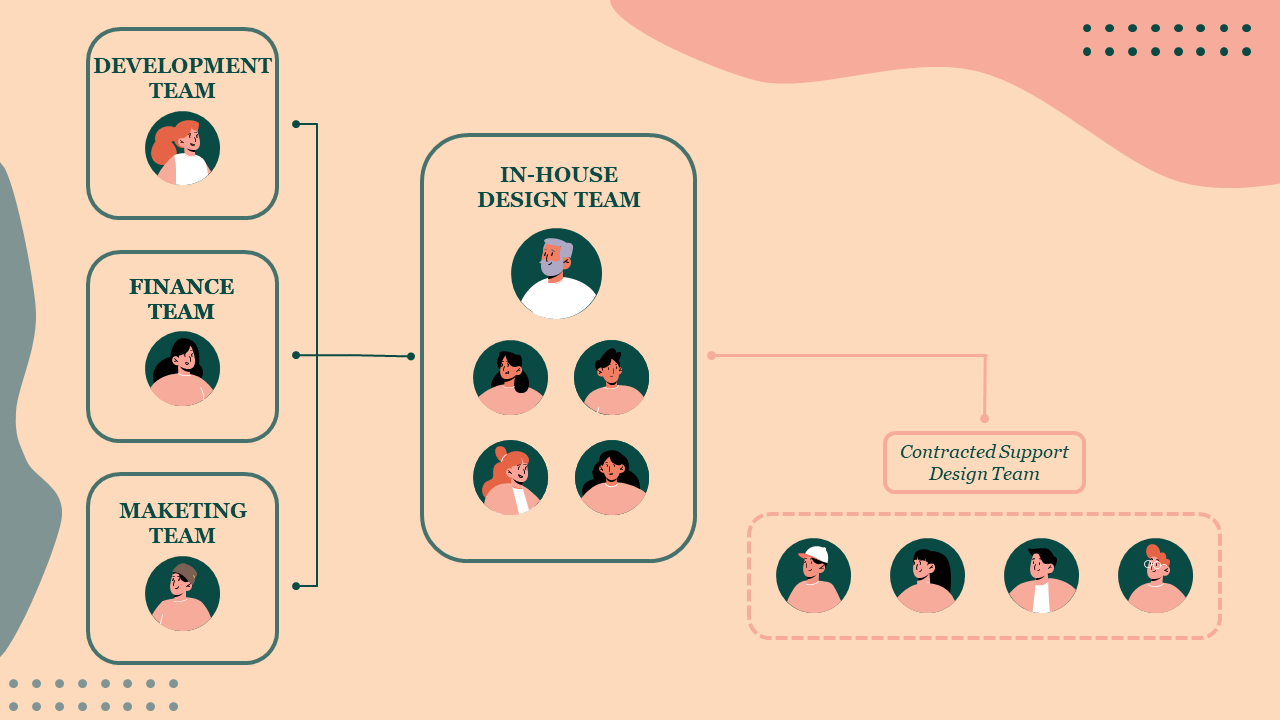 Pros: Cost-efficient, as you only hire the people you need to fill the gaps. It promotes creativity in your in-house design teams and lowers their workload for more relevant tasks.
Cons: Might demand a long research period and a steep learning curve to make it work seamlessly with your in-house team.

24Slides: Our in-house design team structure
And talking about contractual design team structures… Presentation design agencies are the perfect example of how to utilize tertiary providers for repetitive tasks. These agencies help lower the workload of in-house design teams by taking off their hands things like getting documents on brand and creating a constant flow of slide presentations.  
You might be surprised how much time presentations can take away from your internal designers! In 24Slides 10+ years of experience, we've worked with hundreds of organizations with in-house design teams to maximize efficiency and to help them focus on the most creative, strategic part of their work while we tackle presentation slides and infographics.
To make sure we're able to support organizations all around the world, 24Slides has a carefully structured in-house design team. This allows us to maximize efficiency and avoid freelancers to make sure we offer full confidentiality and data protection to all our customers.
The way our team is structured is designed to guarantee that every project maintains our standard of quality and turnaround dates.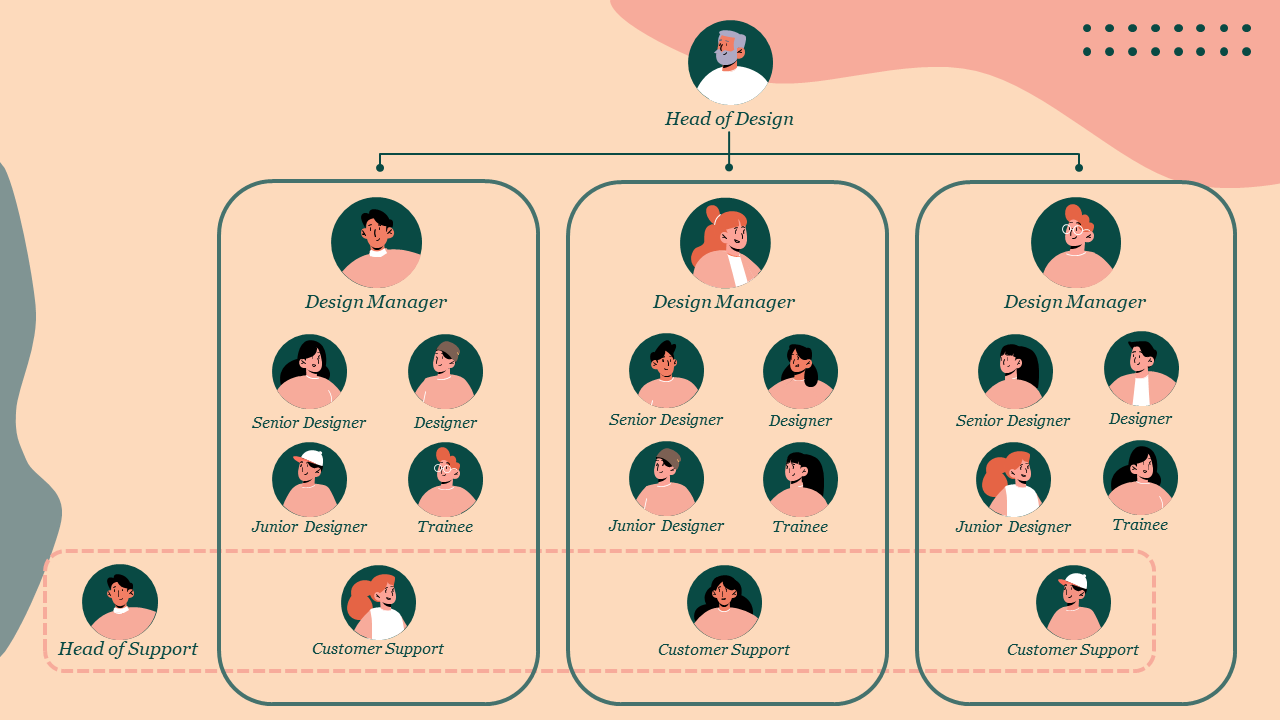 We follow a centralized structure, where our head of design is responsible for making sure teams are at their best and as efficiently as possible. The team managers are the leaders and answer directly to the head of design.
Aside from the design manager, each team includes different levels of designers. From Senior designer to Junior, to Trainee, this allows us to create teams where there's space for growing and each designer can develop professionally.
This structure allows us to maintain a standard of quality, but also to make our in-house teams easily scalable in the case we decide to grow as a company. Our Head of Talent Development is key to creating a structure where employees can grow and improve, and in turn, teams can also expand further.  
Aside from the designers, each team also has a dedicated customer support operator. Customer support is assigned to each team according to project requirements, making it a flexible team structure. Having them as part of the project assigned team guarantees customer satisfaction and overall increases the efficiency of communication between our clients and our designers.
In-house design teams do not have to be rigid. In the case of 24Slides, this mix of centralized design teams and flexible moving parts allows us to offer unmatched fast deadlines and design quality. The way our in-house design teams are structured is a critical part of creating outstanding presentation slides and supporting other organizations' own design teams as best as possible!
Learn how 24Slides can support your organization and help you maximize your time in more relevant tasks with a dedicated team fully committed to your brand.
______
You might also like these articles: