8 Free Apps To Organize Your Presentation Content
So, you're preparing for a presentation. And you feel like you're all over the place. You've scribbled some notes on paper, typed some on your computer, and dictated a few lines on your phone's voice recorder. You're too busy and haven't really had time to sift through and organize your presentation content yet. And now, the big day is coming up. What do you do? Well, stay tuned because in this article, I'm going to share with you 8 of the best apps you can use to help you prepare your presentation content.
The best apps for content organization
Ideas can come from anywhere. And it's important to capture and write down those ideas as soon as possible. Otherwise, you risk forgetting it in the next 5 minutes. Having a handy note-taking app with you all the time is therefore essential. And while you have a ton of notes apps to choose from, I personally think the best ones are those that work on multiple platforms and/or automatically sync between your favorite devices.
For example, if you're invested in the Apple ecosystem, then an app that syncs your notes on your iPhone to your Mac is great. Likewise, if you're on Android, then an Android app that syncs with your laptop or desktop computer is the best for your particular use case.
That said, here are the best note-taking and content organization apps (in no particular order):
#1 – Microsoft OneNote
(Price: Free | Available on: Windows, Mac, Web, iOS, Android)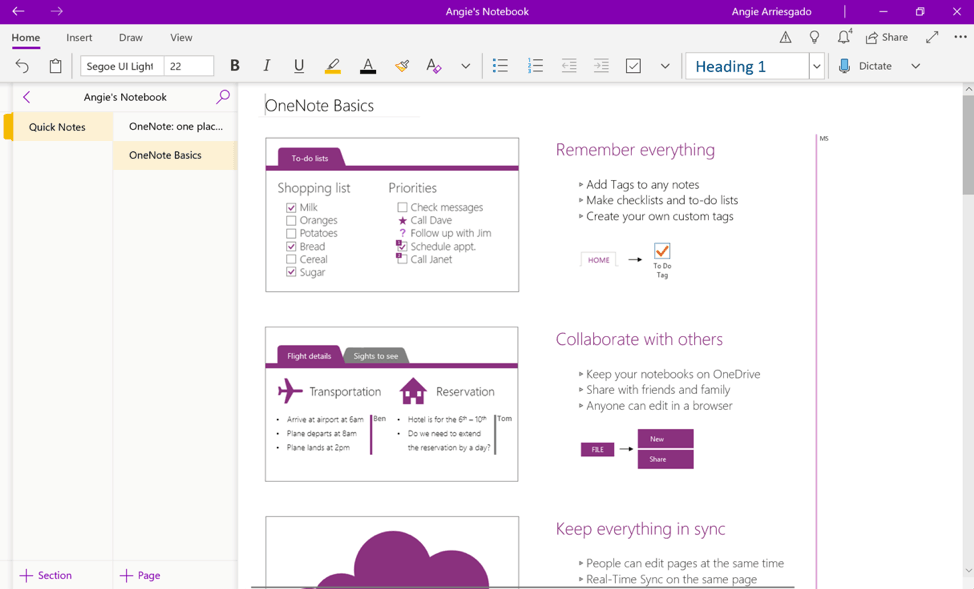 Microsoft OneNote is, quite literally, a digital notebook. It functions like a normal notebook. You can add sections, you can add pages, you can write or draw anywhere on the page (just like in a real notebook). You can insert an audio recording as well which is great if you're driving – or just feeling lazy.
And the good thing is you're not limited to a single notebook – you can add as many notebooks as you like. This is why students use OneNote in school. They can add a notebook for each subject they study. So, they'll have a notebook for Math, another for Biology, Literature, Physics, etc.
As a presenter, you can pretty much use OneNote the same way. For instance, if you have a few presentations coming up, you can create a notebook for each presentation. Then for each notebook, you can add sections. Say, for instance, your sections will be: Introduction, Main Body, Conclusion.
For each section, you can add pages that pertain to that section. So, in the Introduction section, you can click on the +Page button to add a new page. Then you can start writing down your ideas for your presentation's introduction. You can clip images from the web, save news articles, take screenshots, and so much more!
Your OneNote data is saved in the cloud, in OneDrive specifically. You can create a free Microsoft account which automatically gives you 5GB of cloud storage. If all you save on OneDrive are your OneNote files, then 5GB will be more than enough for your needs. If you find yourself running out of space, you can always upgrade your OneDrive plan or get an Office 365 subscription.
As you can imagine, this app is pretty powerful. Sign in to your Microsoft account on devices where you'll be using OneNote, so your data automatically syncs up. You can always pick up where you left off no matter which device you're currently using!
#2 – Trello
(Price: Free | Available on: Web, iOS, Android)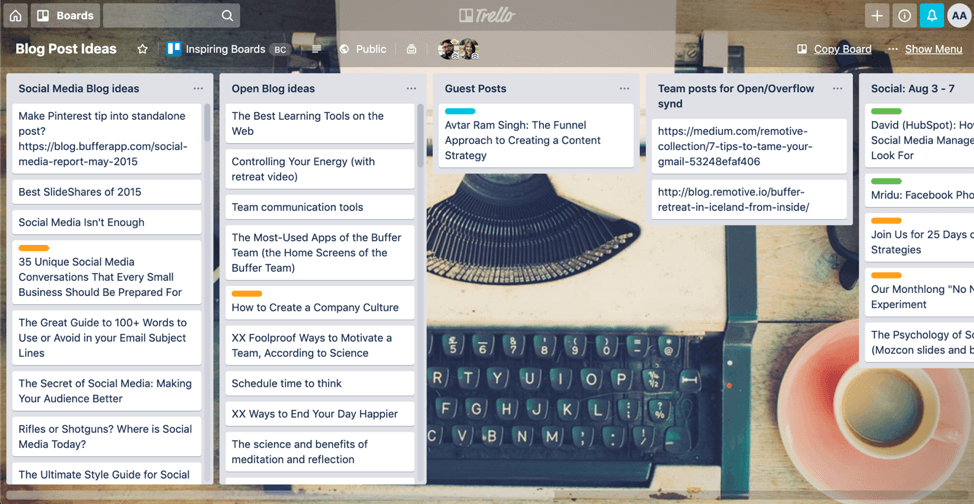 Trello's Public Board on Blog Post Ideas (Source)
If you've ever used a Kanban board before, then you'll feel right at home with Trello. As you can see on the screenshot above, Trello is one of the best tools you can use to help you organize your presentation content. It uses a combination of columns, cards, and lists to keep your content structured. You can also freely move your cards from one column to another.
First off, you create your very own board. And then you create your lists. For presentations, your lists could be Introduction, Body, Conclusion. Or it could be Topic A, Topic B, Topic C, and so on. Then the last column could be something like Done or Finished. Your goal is to move all the cards over to the Done column to indicate you've finished the research for your presentation.
Under each list, you can add your cards. For example, for the Topic A list, you could create cards for subtopic A1, subtopic A2, and subtopic A3. You can add notes, attachments, labels, etc. to all of your cards. Once you've done your research and added those subtopics to your speech or presentation slides, you can then move the cards to the Done or Finished column.
Trello is not only great for taking down notes and organizing it for your presentation. It also doubles as a powerful task manager as you do need to take action to move your cards to the Done column!
#3 – IFTTT
(Price: Free | Available on: Web, iOS, Android)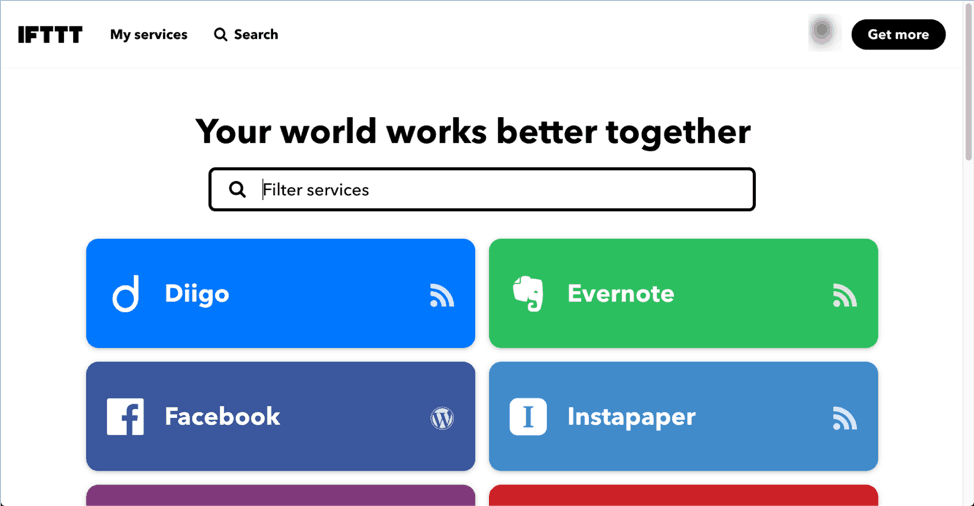 If you're looking for a service that connects your favorite apps together, then you really need to check out IFTTT. It stands for If This, Then That. All you need is a free account to get started. And you can create an applet (or IFTTT recipe) for your specific needs or you can use other peoples' – there are literally millions of applets to choose from!
Connecting apps and devices to IFTTT is quite straightforward, but if it's your first time, it can be confusing. Check out this tutorial to help you set up your IFTTT recipes:
So, here are some recipes I found which you can use during your research process or while you're preparing your presentation content:
Feel free to explore the IFTTT platform. There are more than 600 services you can connect together and tailor according to your workflow!
#4 – MindMeister
(Price: Free | Available on: Web, iOS, Android)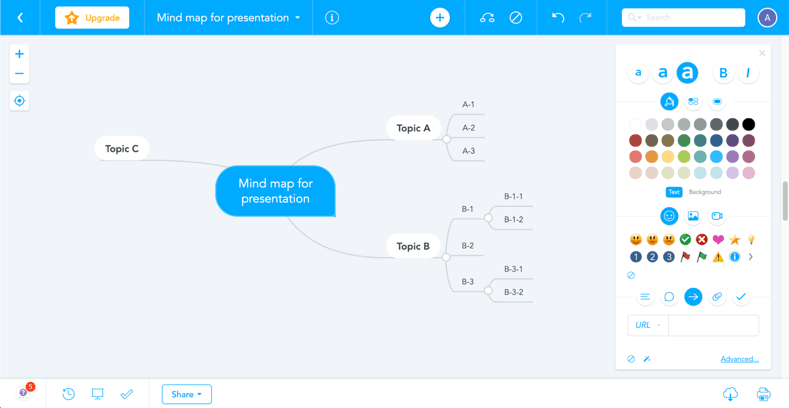 Mind mapping is a great technique for planning, capturing and organizing ideas. And one of the most popular mind mapping tools today is MindMeister. During brainstorming sessions (personal or group), you'll find MindMeister to be a powerful tool in your arsenal.
You can start your mind map from scratch or you can use one of their free templates. You can start with a seed idea, such as your presentation's topic. Then you can branch out and add sub-topics and ideas. You can go as broad or as narrow as you'd like on a specific topic. You can also draw relationships between various variables.
When you feel like you've run out of ideas, you can always go back to your mind map later on. And you'll realize that just by getting some rest and looking at your existing mind map with fresh eyes, you'll get a fresh burst of inspiration. The good news is you can quickly squeeze in those new ideas to your mind map – MindMeister is intuitive like that.
Plus, you can do a presentation directly from MindMeister which means you don't need to download and then add to PowerPoint! There's a slideshow button on the bottom left corner which allows you to quickly share your screen with an audience.
The only downside to MindMeister's free plan is that you can only create 3 mind maps. If you need to create more, the personal plan will set you back $4.99/mo.
#5 – Google Docs
(Price: Free | Available on: Web, iOS, Android)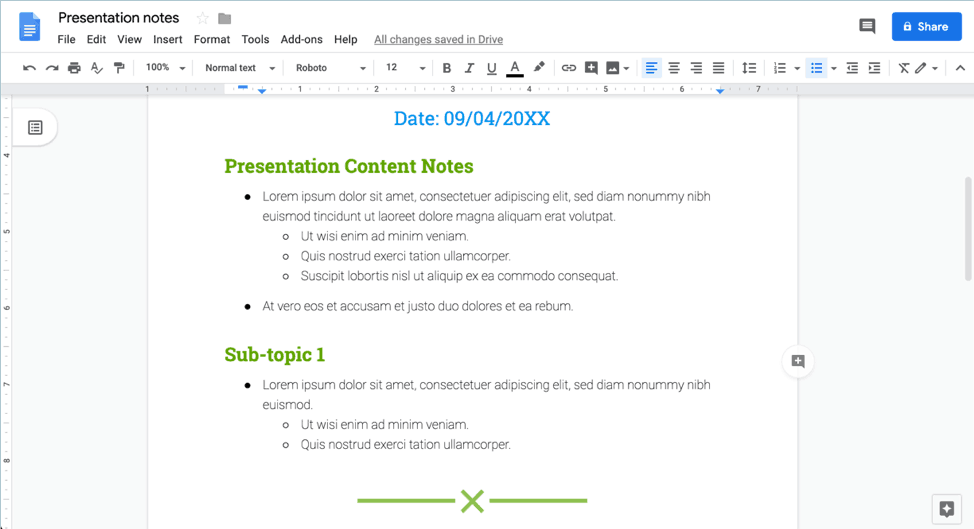 Just like OneNote and Evernote, Google Docs is great at helping you create and organize your ideas. It's also platform-agnostic which means that you can access your files anywhere with an Internet connection. You just need to login to your Google account and all your data automatically gets synced. Plus, you need not worry about downloading the latest version (unlike other document apps) because Google does all of that for you in the background.
I included Google Docs in this list because its collaboration features are second to none. Even if you're doing a solo presentation, Google Docs will still be useful (I especially like the voice typing feature to take down quick notes while on the go). However, it will truly shine if you're working with others.
For example, if you have a team helping you with your research, then you can send them an invite to view or edit the document. Then watch in amazement as you see them edit the document in real time. You'll see what they're doing on your screen and you can even start a conversation by adding comments on the doc!
I also like the fact that you can go back to an earlier version anytime you like. This means if you're not happy with the current round of edits (whether it be yourself or your colleagues), you can always undo and roll back the changes.
Lastly, it's Google. I know some people have trust issues with Google. But if you can look beyond that, I think Google Docs is really great at helping its users organize their presentation content. Or, any kind of content for that matter. So, give it a try today!
#6 –  Dynalist
(Price: Free | Available on: PC, Mac, Linux, Web, iOS, Android)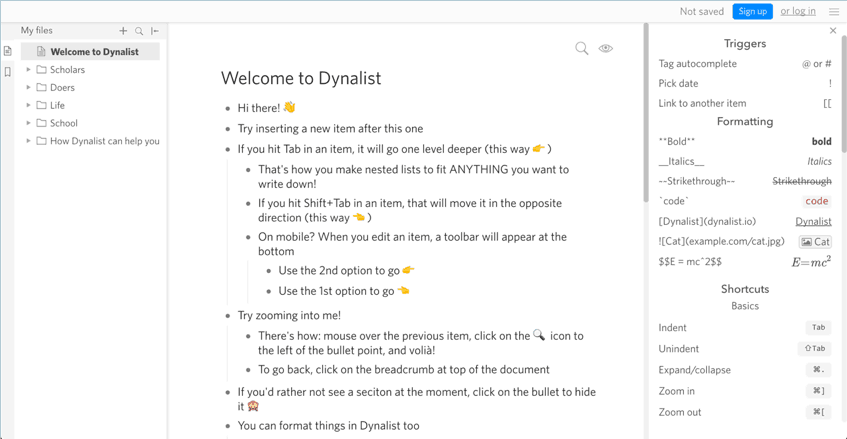 Dynalist is not just another outliner or to-do list app, I personally find it to be one of the best apps you can use to organize your presentation content. It's a checklist, outliner and organizer – all in one simple but powerful app! The user interface is pretty straightforward, but can be confusing to newbies. But try playing around with their Live Demo page (like you see on the screenshot above), and you'll likely get the hang of it in just a few minutes.
If you're a fan of markdown formatting, you'll feel right at home with Dynalist. Otherwise, you can check out all the formatting and keyboard shortcuts on the right-hand side panel. I highly recommend getting familiar with markdown because it can seriously speed up your productivity.
You can use OneNote, Evernote or Google Docs to create outlines. But doing so can be tedious. Moving around and re-arranging items while you plan the presentation's flow isn't going to be an intuitive experience. But with Dynalist, you can do all these – and more – in a split second!
And what I really like about Dynalist is that its free plan is very generous. You can add an unlimited number of items and documents, and quickly move items across your lists. You can add notes, images, tags, codes and hyperlinks to your list. With a single click you can convert your list into checklists. You can add up to 5 bookmarks which can come in handy when dealing with a huge list.
The pro version (from $7.99/mo) is a worthy upgrade too. You can attach files to your documents, view version history, sync dates on your list with Google Calendar, view your outline as a mind map, and so much more!  Check out this link for Dynalist's full feature list.
#7 – Evernote
(Price: Starts from free|Available on: Windows, Mac, Web, iOS, Android)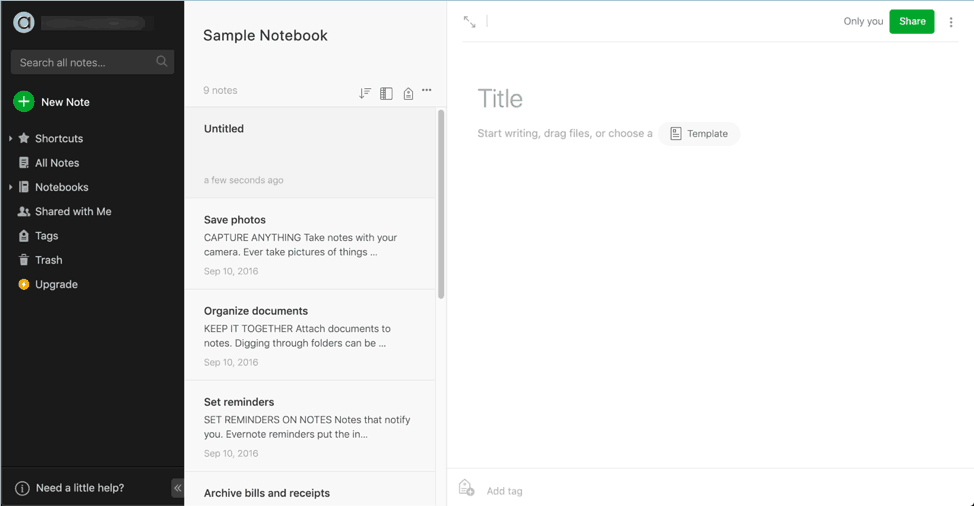 Evernote does pretty much most of the same things that OneNote can do. You can add notebooks, pages, audio notes, web clippings, you can draw and add photos to your notes. But what's really cool about Evernote is that they have free templates which you can use to help speed up your note-taking workflow.
As of this writing, they have 54 templates available on their site. They have templates for getting things done, meetings, project management, marketing and sales, management resources, personal well-being, and more. So, instead of writing all your notes from scratch, you can use their templates and speed up your workflow.
While all these is great, the downside is that your free account is limited to a 60MB monthly upload limit. And the maximum note size is only 25MB. This is kind of a bummer, if you ask me.
If you want to experience the full power of Evernote, you'd need to upgrade to the premium plan which can set you back $7.99 a month. The good news is you'd now be able to upload up to 10GB/mo and your note size increases to 200MB. If you can spare the cash, I think Evernote Premium is a worthy upgrade.
#8 – Milanote (Price: Starts from free | Available on: Web, Mac, iPhone)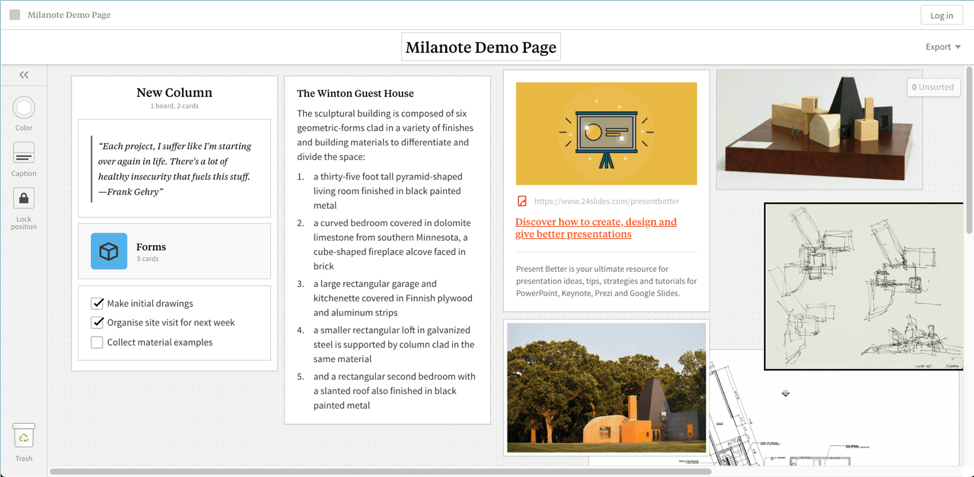 Last, but definitely not least, on this list is Milanote. It's a powerful app that combines the features of several apps I've shared in this article. It's great for taking down notes, completing to-do lists, and organizing your ideas into mind maps and visual boards. But the good thing is you're not limited to using text. You can clip images from the web or you can drag straight from your desktop.
Unlike Trello's boards, Milanote's boards are non-linear. This means you can move them around the canvas, so if want to insert a column of notes or images in between two boards, you can do so. You have the freedom to move your assets anywhere on the (infinite) canvas. This is great for helping you get a bird's-eye view of your presentation or project, so you can identify the areas you need to focus on next.
You've also got plenty of layouts to choose from which is great if you're just getting started and you feel a bit overwhelmed with all your choices. The point is that there's an infinite number of ways you can build your presentation content with this tool. The sky is literally the limit! And with the use of the Milanote web clipper, you can collect text, links, images and videos, and add these to your boards!
For casual presenters, the free plan should suffice, but you're limited to 100 notes, images or links. The pro account gives you a lot more flexibility (unlimited everything!) for only $9.99/mo (billed annually).
Why planning and organizing your content matters
Now that you know what the best apps to help you organize your presentation content are, you should also know why it even matters in the first place. Here are 5 reasons why:
You want your content to be in line with your presentation goal
Obviously, this means you need to identify your presentation goal or objective first. Without a goal in sight, it would be next to impossible to successfully organize your content. Your goal will help you streamline your content – what should be included and what should be discarded.
You want your content to flow from one point to the next
A disorganized and poorly planned presentation wastes everybody's time. You want to go from point A to point B to point C. You don't want to go from point D to A to X to B. You'd leave a lot of people confused.
For instance, you can start with the general topic, then you can go further into its sub-topics. Paint the general picture, so to speak, and then cover more specific topics. This is the order people are used to, and it's the quickest way for everyone to process information.
You want to give value to your audience
The best speakers are those who give value to their audience. People are listening to you because they want to gain new knowledge from you. Even if you're rehashing an often-talked-about topic, you can still give them new nuggets of information. Give them a new angle or a new perspective. This will take some work, but you can do this if you plan and organize your content properly.
You want to maximize your productivity
You're probably juggling a lot of things in your life right now. You've got your presentation, your regular work tasks, your family and kids, etc. Knowing how to manage your time is absolutely key if you want to have a successful presentation.
Carefully planning and organizing your content will help you maximize productivity because you'd be more likely to focus on what you need to do. You're likely to be less distracted if you know you've got a deadline coming up. Of course, self-discipline plays a role here too. But if you train yourself to carry out what's on your daily checklist, then you'd be more likely to succeed.
You don't want to waste people's time
One of the unwanted effects of a disorganized presentation is that your audience's time is ultimately wasted. They're listening to you because they want to learn something from you. But if they take nothing away from you at the end of your presentation, then they're probably better off doing something else in the first place!
So, organize your content in such a way that people actually learn something from you. Make your content easy enough to understand. Show them you value their time and their participation.
Ready to organize your presentation content?
Don't underestimate the power of knowing how to organize your presentation content. The free apps I've listed in this article should get you off to a good start. Preparing and structuring the content that goes into your presentation will ultimately help you succeed as a presenter!