Best Food PowerPoint Templates Online, Completely Free!
The food and drink industry is one of the biggest in the world. After all, we all have to eat. But it's certainly hard work, and there are many things to take into consideration. Whether it's presenting your new brand image to your team or pitching your business to a potential investor, presentations are a must. Even if your presentation is more about the logistics and administrative aspects, it's good for your audience to never lose sight of the product. Here you'll find some of the very best food-themed PowerPoint Templates that will allow you to make great presentations.
As always, all of these (and many more) are completely free for you to download at Templates by 24Slides.
For those in the patisserie business, this template will take their presentations to a new level. It includes ten different slides, all with different designs and outlines. This way, you can present all the information about your project in an engaging way. You can use the section slides to showcase different aspects of your business. These are great for presenting your company's vision, mission, and objectives, the ingredients of your product, and so on. It also includes several slides that you can use to show processes, like production or distribution.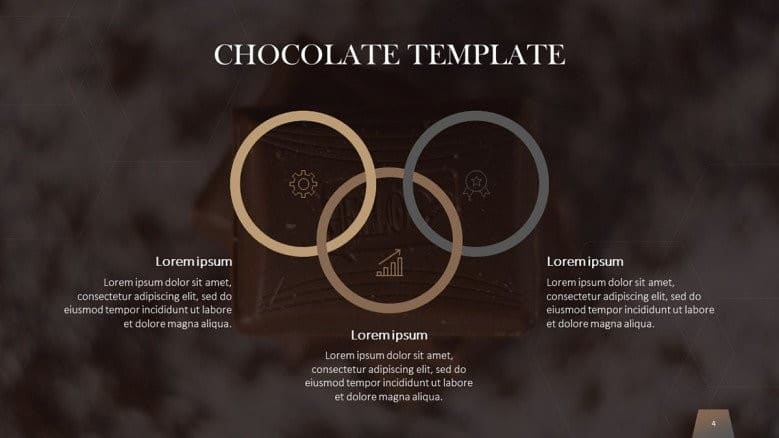 All the food-themed PowerPoint templates are great, but this one is certainly special. A meal is not really complete until you have had dessert!
Even if you need to present the more logistic-centric aspect of your business, it's no excuse to forget about the actual point of it all. This free PowerPoint template will allow you to show both the business aspects and the food at the same time. You can display things like your competitors, or present a SWOT analysis, while still showcasing your product. The photos of this food-themed template are so tempting, that your audience will not be able to forget the added value of your business: flavor.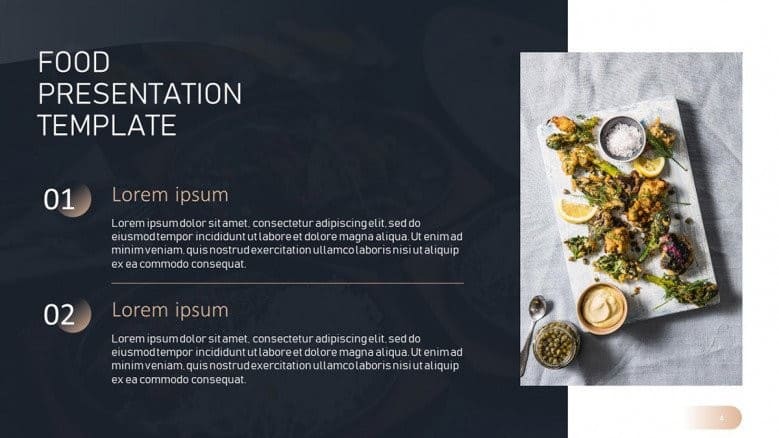 This template has different types of slides, so you can present up to the tiniest aspect of your business. Whether it is your budget or your marketing plan, be certain that it will look way more impressive accompanied by the mouthwatering pictures in this PowerPoint template.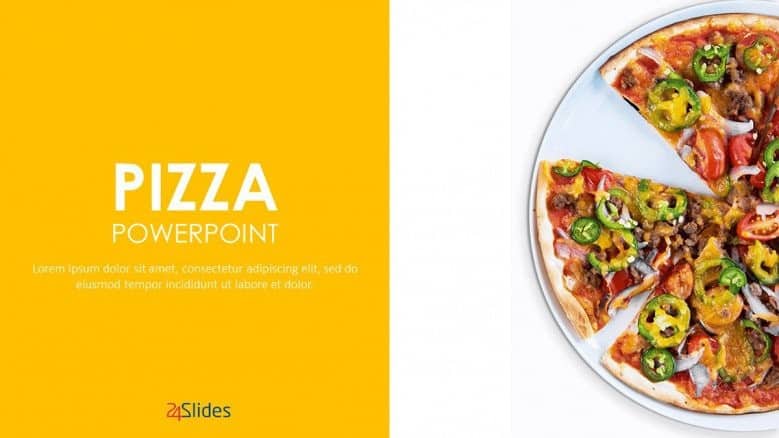 If you plan to start a business related to pasta or Italian cuisine, this is the template for you. Who doesn't love Pizza? Maybe it is the fact that you can custom it with whichever toppings you like, but people are crazy about Pizza. Whether it is fast food, frozen, or traditionally cooked in a restaurant, you can always count that there'll be someone in the mood for pizza. This PowerPoint template will allow you to introduce your business in a clear, visually striking way. But it will also leave your audience yearning for some Italian cuisine. If they weren't hungry when you started your presentation, they'll surely be by the end.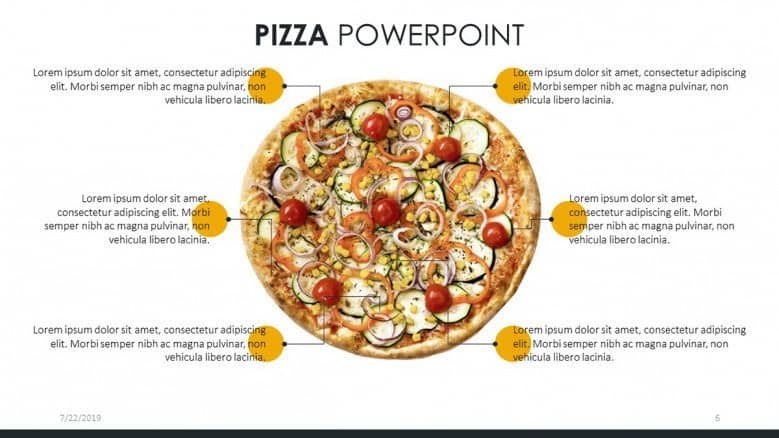 This food PowerPoint template includes everything you could need when presenting your business. It has bullet points and description slides so you can convey all your information in a clear, engaging way. It also includes percentages slides, that work amazingly with the pizza theme. Quantitative information doesn't have to be boring! It also has a "Bestselling" slide, where you can show you the most requested pizza, or the approval rating of your competitors.
Finally, you can download this amazing Icons PowerPoint template. These food icons will let you customize any plain and generic PowerPoint into a thematic presentation of whatever you choose. It will help your audience to keep in mind your actual product and the industry you're talking about. Icons are a great way of reducing text on your slides. Since they're so visual and easy to understand, they're ready to be used without having to include an explanation. And, they'll also make your presentation much more eye-catching.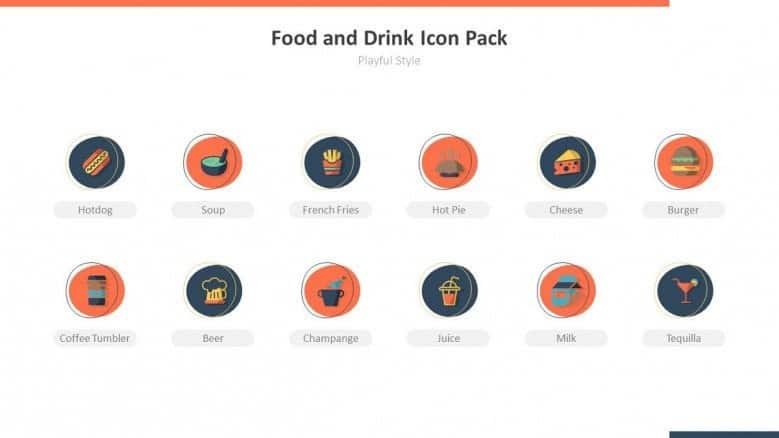 This template includes a dozen icons that go from fast food to beverages. You can use these in your presentations, reports, infographics, or wherever you chose! Their playful design will help whatever you are doing look cleaner and more professional. Icons have unlimited potential to be used in presentations. In this article, you can find more on how to use icons in your presentations (and even more free templates).
If you need any help editing these and fitting them to your specific needs, you can always check out our Easy Guide to Template Editing. Now, go start your own presentation!