24 Amazing Blue PowerPoint Templates for your Business
Blue, the color of the sky and the sea. It's a color that conveys professionalism, sobriety, and coolness. It's no wonder that it's the #1 favorite color in the world. Blue is also the most used color for corporate identity, and this is not a coincidence. Blue is usually associated with authority, strength, and dependability. A presentation with a blue color scheme can help you convey trustworthiness and commitment to the business. Here you'll find 25 amazing blue PowerPoint templates that will fit any company.
Blue Corporate & Business Models Templates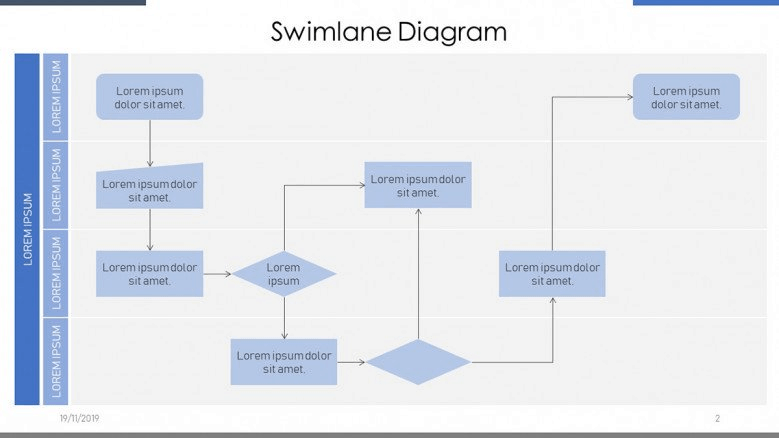 This one is one of our new PowerPoint templates for January 2020. Swimlane diagrams are extremely useful for businesses with complex processes that involve several people, or even several departments. The arrows will help you explain the process's chronological order. Meanwhile, the vertical distribution on "lanes" will allow you to distribute tasks and assign responsibilities to different people. The blue color in this PowerPoint templates gives it a straight-forward and non-distracting look to the complex diagrams, while still maintaining the business-like feel.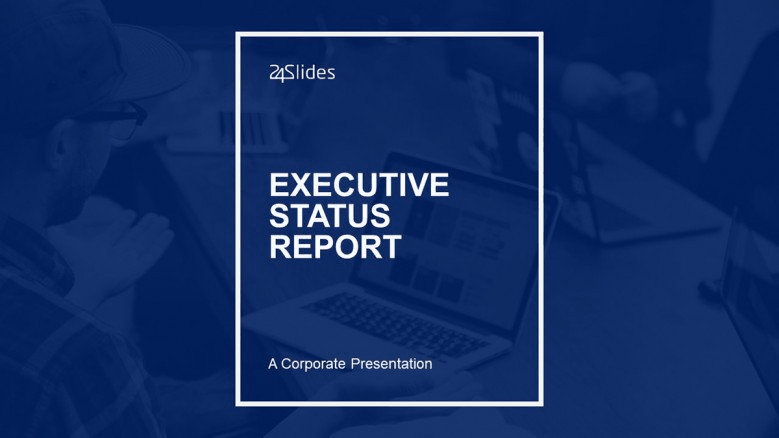 There's no more classic combination than blue and white. This Status Report PowerPoint template combines the white-and-blue design with straight lines and square elements. The result is a really sober and business-like template. It will help you convey professionalism and seriousness in your presentation. This dark blue PowerPoint template is ideal for impressing your boss and coworkers. Use it to make clean and cool presentations with its agenda, graphs, charts, and much more.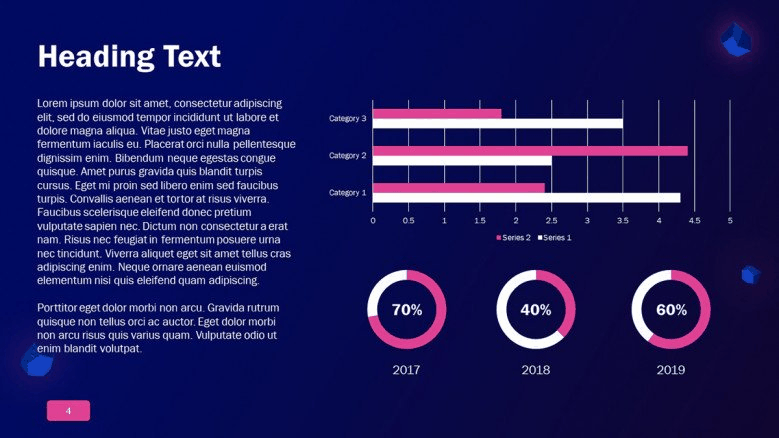 While blue is certainly a serious and business-like color, it doesn't have to be boring! One of the greatest thing about it is that it doesn't clash with practically any other color. This blue PowerPoint template has small details in hot pink tones to make it look less dull and boring. These details, plus the custom-made vector illustrations, make for a fun and playful template. It's ideal for sharing your marketing strategies and bringing your whole team on board.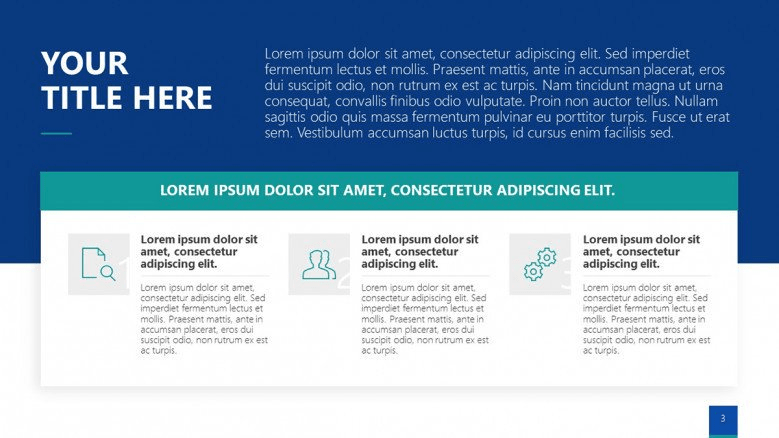 Having a standardized plan for treating clients is a must for companies looking to grow. That's why presentations concerning account management are so important. You must make sure that everything is crystal clear and everyone in your team is on the same page. And blue is the perfect color to show a professional and clean approach. This template mixes navy blue background with grey and dark teal to make a compelling, yet sober design.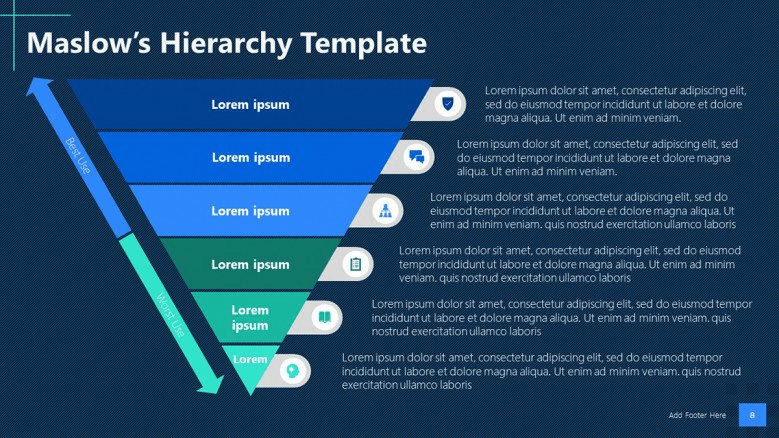 This one is another PowerPoint template that mixes blue tones with teal and aquamarine ones. In this slide deck, you'll find different charts and diagrams to represent a hierarchy. These diagrams are a great tool to showcase priority order, whether it's for positions, processes or products. All the slides have a dark blue background and diagrams with bright colos that help them stand out. Even more, the color palette that follows the tones from navy blue to lighter colors is a great way to enhance the transition from one level to the other, as shown in the example above.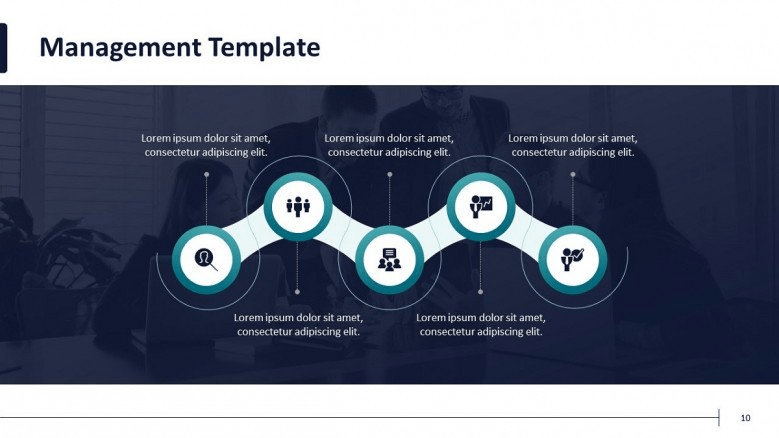 Another blue PowerPoint template with teal details! But it's a combination that works so well, it's practically impossible not to use it. This template is great because it's the perfect balance between engaging and sober. The blue and teal tones give it a professional and business-like feel. But it is animated, which gives the presentation a little bit of playfulness. Many people are scared of using animations and effect options in their presentations because they think it looks tacky or unpolished. However, when used correctly, animations can be a huge asset for making a presentation more engaging. If you want a sharp, cool presentation that uses animations, this template is the one for you!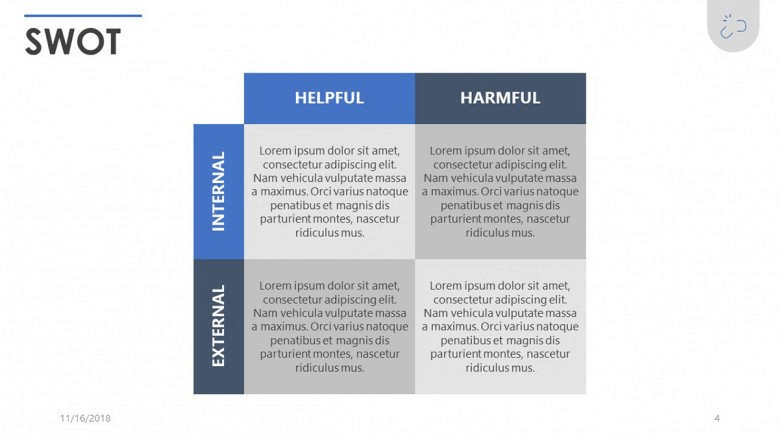 SWOT analyses are a great tool for every kind of business. This PowerPoint template has everything you could need to make an outstanding SWOT analysis. It has a minimalistic design with a color scheme of blues and greys, so your content will really stand out. It has several ways to represent visually your strengths, weaknesses, opportunities, and threats, so you can pick whichever fits better your presentation.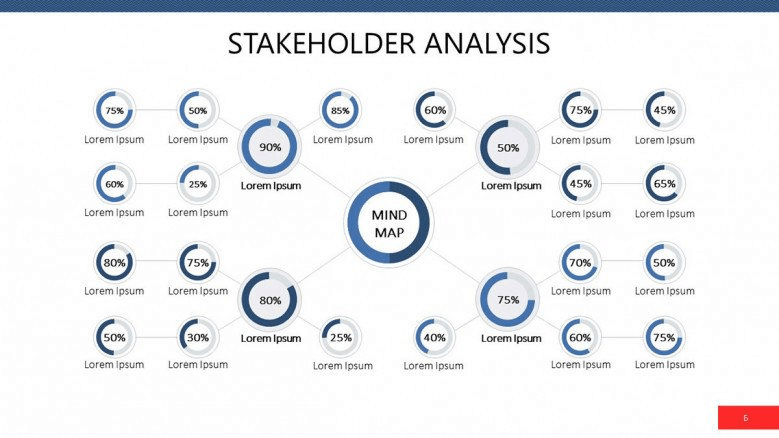 Presenting who has shares in a successful company is a serious business. You certainly don't want to make your partners feel like you don't take their investment seriously. This template has all the tools you could need to present in a clear way the complete picture of the stakeholders and shares of a company. It has a polished blue-and-white design that will help any presentation look completely professional. And, it has little details in red that will give your presentation a splash of color.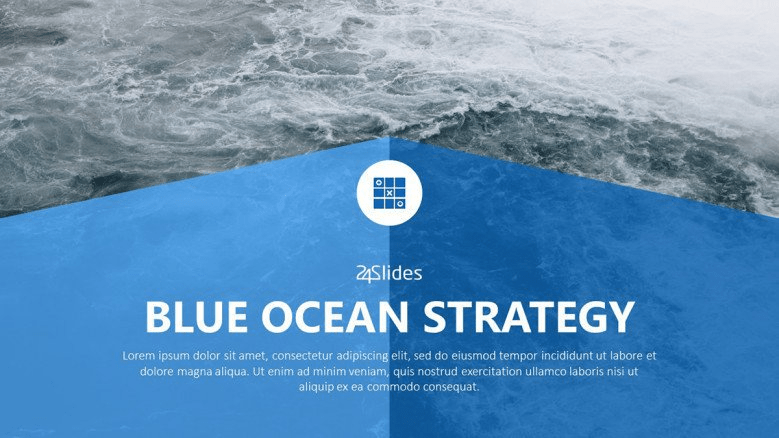 What better than a blue theme for a Blue Ocean Strategy PowerPoint template? This ocean-themed presentation will help you make your marketing strategy really stand out. The Blue Ocean Strategy consists of creating your own business space by pioneering in an uncontested market. If you're planning on using this strategy, then this blue PowerPoint will fit you perfectly.
Are you still doubting the Blue Ocean Strategy is the one for you? Check out this article on using the Blue Ocean Strategy to learn more about it.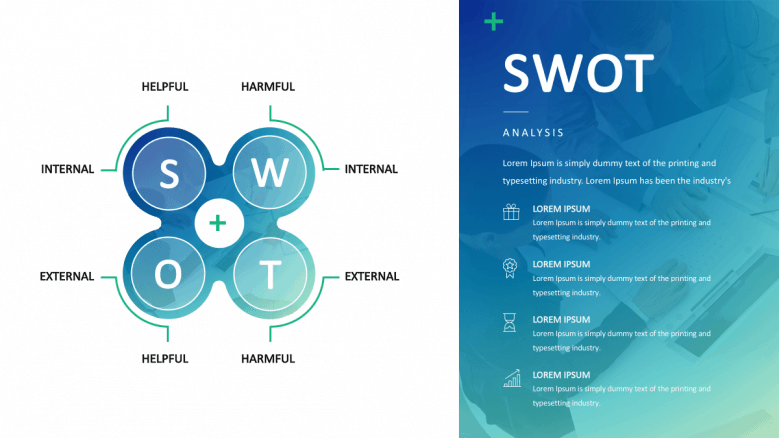 This one is another blue SWOT PowerPoint presentation templates, but it's one of the best. It's one of our all-time most popular templates. It has only 6 slides, but it's very complete and has everything you could need for an amazing SWOT analysis presentation. It's concise yet precise. And its sky blue color scheme makes it professional, but not boring. It includes several ways to present the strengths, weaknesses, opportunities, and threats of your business. And, it also has a slide that you can edit to elaborate on each of these points.
Blue Data PowerPoint Templates
This PowerPoint template is all about tables. Tables are a great way to convey a lot of information in a really effective way. In this slide deck you'll find 8 different types of tables. All of them follow the blue and teal color palette, with a clean design. You can use the wide variety of tables here as a matrix, subscriptions and plans offers, to compare two different points… There are 8 different tables on this deck, and how you use them depends completely on you.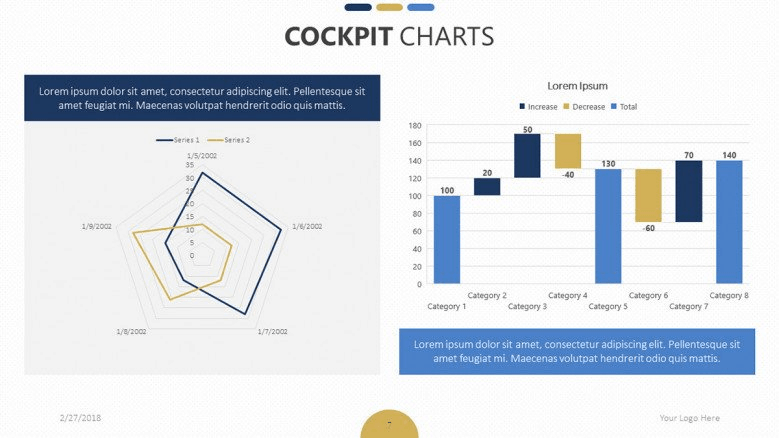 This blue PowerPoint template is ideal for anyone who has to do a presentation with a large amount of data. The danger of data-driven presentations is that they can become boring pretty quickly. This template will help you to keep your audience's attention by showcasing your data in a visually engaging way. The gold details help to bring some color into the blue palette, while still keeping the design professional and sharp.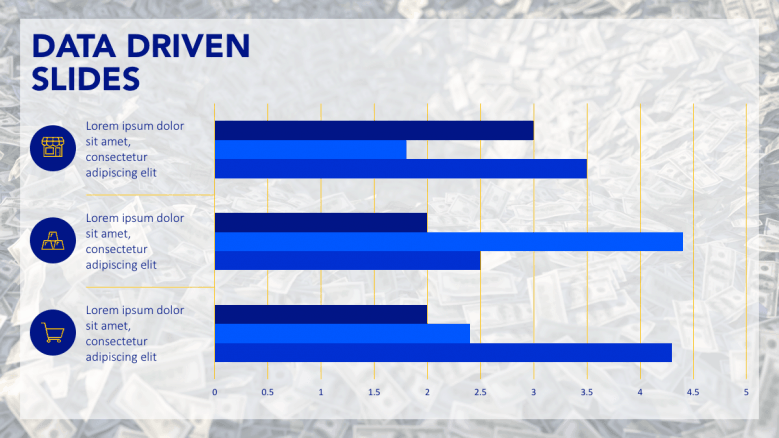 This PowerPoint pack consists of 3 different blue graph slides. All 3 follow the "creative" style, which is great for business presentations that want to be taken seriously, but not be boring. There are two slides of bar charts, and one of a circle graph. Any of these would be a great addition to any presentation.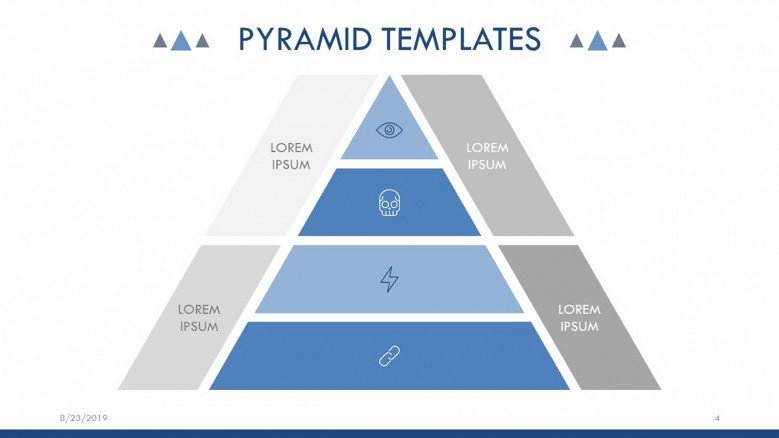 Just like the hierarchy template, this one is all about order. You can use pyramid diagrams to show priority between different aspects of your business. Or to show hierarchy. You can also use this type of diagram to go from the more general aspects to specifics. This PowerPoint template is designed in soft pastel blue and grey tones. It has 8 different types of pyramid diagrams for you to pick from.
Blue Organization & Planning PowerPoint Templates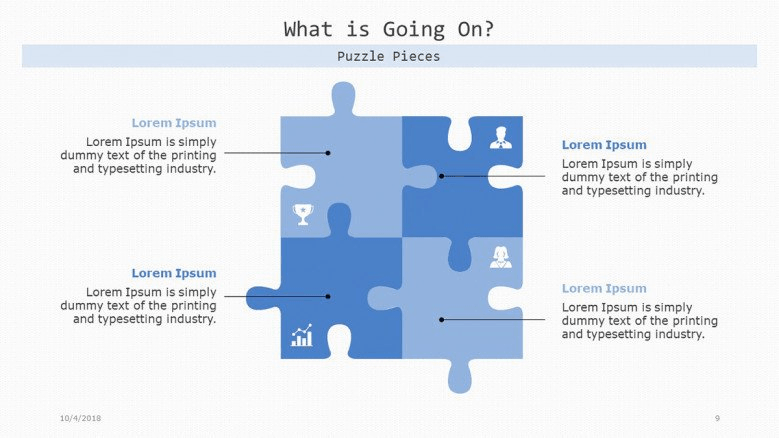 It can be difficult to present the main topic or issue of your presentation. Especially if there are too many complex factors at play. This blue PowerPoint template offers you a wide range of possibilities to introduce your audience to your presentation. Radial diagrams, maze, puzzle, flowchart, matrix… Any of these will certainly make a difference in your presentation.
Blue Maps PowerPoint Templates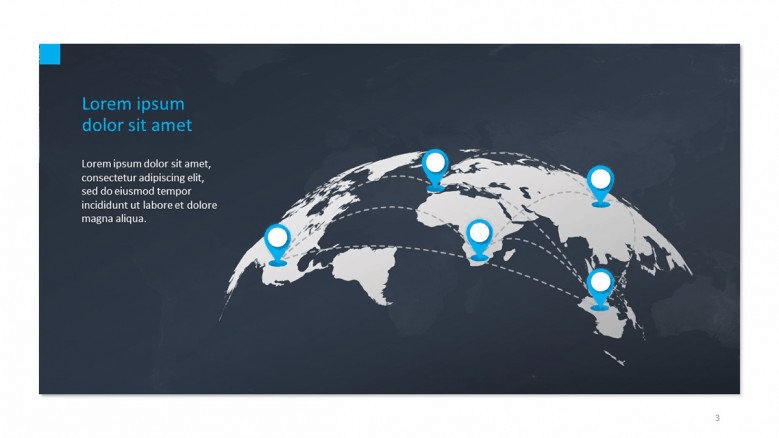 Maps are one of the most amazing tools you can use in PowerPoint. Especially if you're running an international business of planning to make your market grow. Maybe you want to show your offices in several parts of the globe, or compare your business to similar ones in other countries. The slides on this deck have a dark background so your map can really stand out. And you can add your information and points in the map on blue details.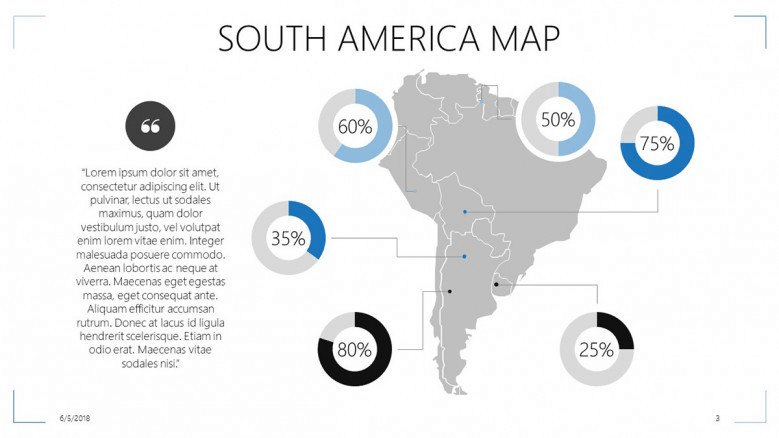 South America is an ever growing market. If you're planning to start a business in this region, this template is for you. It has a great color scheme of greys, black, and blues. If South America is not the map you're looking for, you can find dozens of specific maps in our Maps Templates by 24Slides section, and change the color palette to fit your company!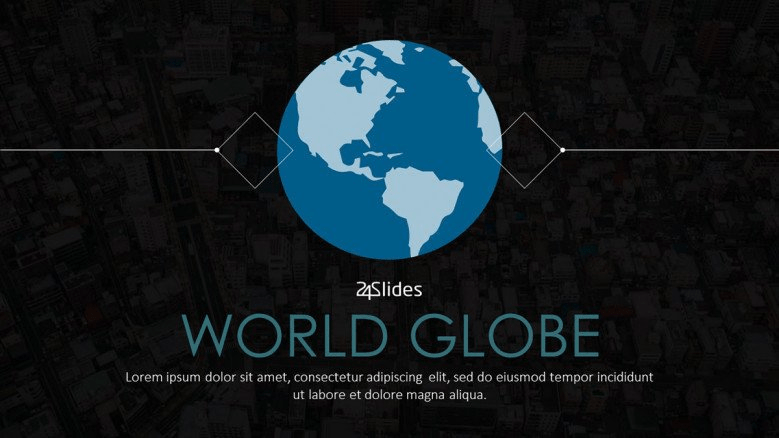 This is another great blue PowerPoint template with maps. In the world of globalization, seeing the worldwide picture is becoming more and more important. This slide deck includes blue maps that will fit perfectly with any presentation you might want to do. It also includes percentages slides, so you can compare and contrast different markets and strategies.
Other Blue PowerPoint Templates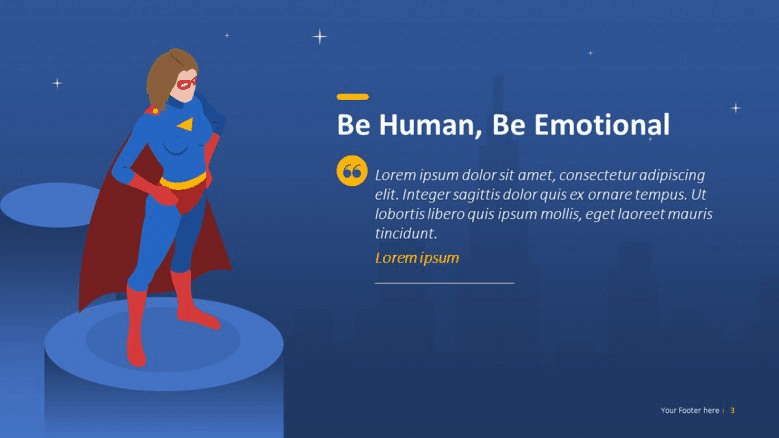 Make a presentation that will stick in your audience's memories with this amazing superhero PowerPoint template! It has a playful style and bright colors that will help you make sure that everyone is paying you 100% of their attention. Its dark blue background, however, keeps it stylish and clean. It has maps, charts, graphs… Do you dare to use this template?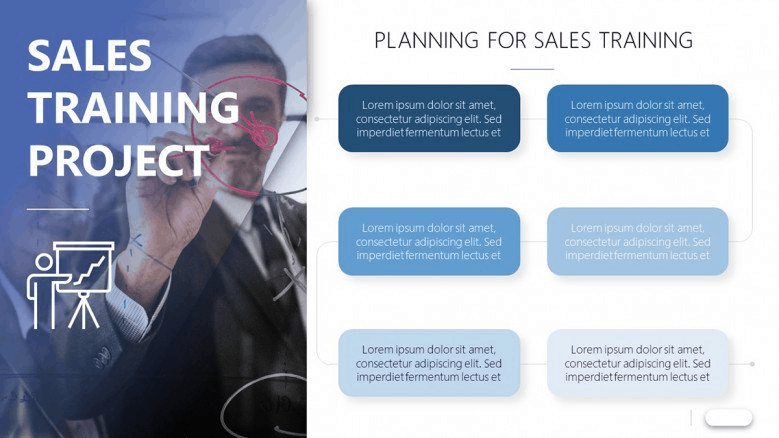 It's important that your sales team is all on the same page. This blue PowerPoint template will help you convey all the important points of the sales department of your business. Its blue color palette will make sure that it looks as serious as it's supposed to be. But its creative design, with pictures and a dynamic layout, will stop your audience from getting easily bored.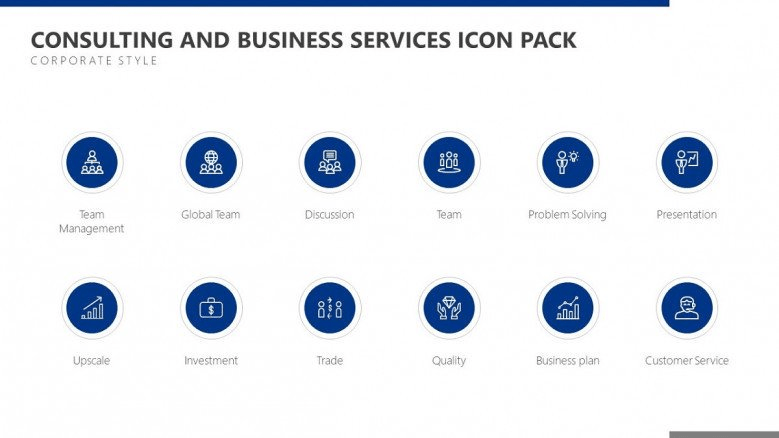 These blue icons will help you customize any presentation. Icons can seem like a very small detail, but they can definitely transform an otherwise plain presentation. They give the presentation an unifying theme and help to highlight the most important points. If the icons you need are not here, don't worry! There are plenty more icon packs in the Templates by 24Slides platform. And you can easily edit them to fit the color scheme of your own presentation.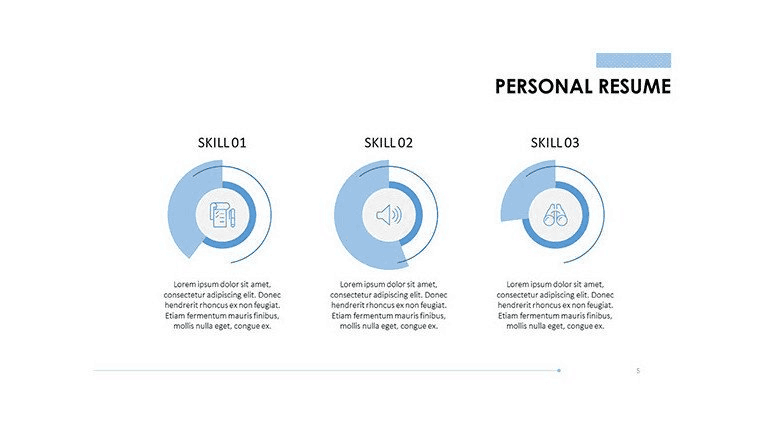 Many people feel concerned when asked to present their resume in front of an audience. After all, it's very different than simply copying and pasting all the information in a PowerPoint Slide. This blue PowerPoint will allow you to showcase your skills in visual, engaging ways. And the blue palette will give your resume a professional and trustworthy look.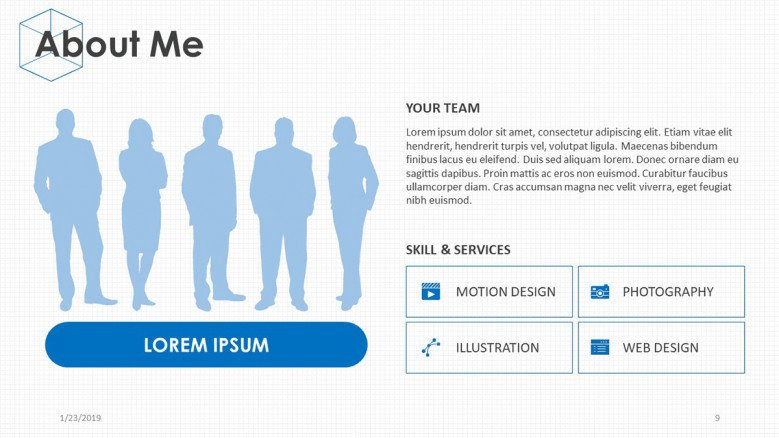 This minimalist blue PowerPoint is perfect for introducing yourself and your team in a concise but clear way. It has a blue and grey palette that is perfect for conveying sobriety and professionalism. It includes several charts and graphs in case you need to back up your presentation with some concrete data. In short, an amazing presentation!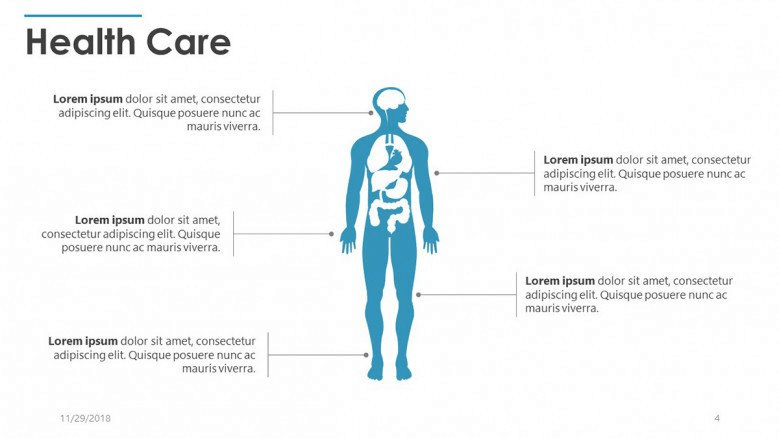 Health is one of the biggest industries right now, since it's pretty much unavoidable. If you're in the health industry, and you're looking for a PowerPoint template for your presentation, this one is the one for you! Its blue design will fit practically any presentation. But it's custom icons and illustrations will make sure that your audience stays anchored in the topic.
More PowerPoint Templates
If blue it's not your color, don't worry! You'll find templates of every color in the rainbow in our Templates by 24Slides platform. There you'll find hundreds of the very best PowerPoint templates. And the best thing is that they are all completely free for everyone to download.
Also, if you really like the template, but you're not feeling the color palette, don't worry. There's an easy solution. All 24Slides' templates are easily editable. You can change the colors of any presentation manually, or use the color palette option from the 'Design' ribbon. You can check out our Easy Guide to Template Editing to learn more about that.
But if you want a truly unique PowerPoint presentation that really matches your brand, check out our presentation design services! Our designers will be happy to make you a one-of-a-kind, tailor-made PowerPoint presentation just for you!