12+ Free Healthcare PowerPoint Templates
Health is one of the most basic needs of every human. And as such, there are many projects related to it. Whether it is to promote your health-related industry or to discuss a new health insurance option for your employees, a nice presentation will make sure that you get your message across. These free healthcare PowerPoint templates are a great option to impress your audience and take your presentation to the next level.
Free Healthcare PowerPoint Templates
The free healthcare PowerPoint templates that you'll find in this section are all related to the medical industry. Explain your services, medical terms, and raise awareness about specific topics with these amazing designs!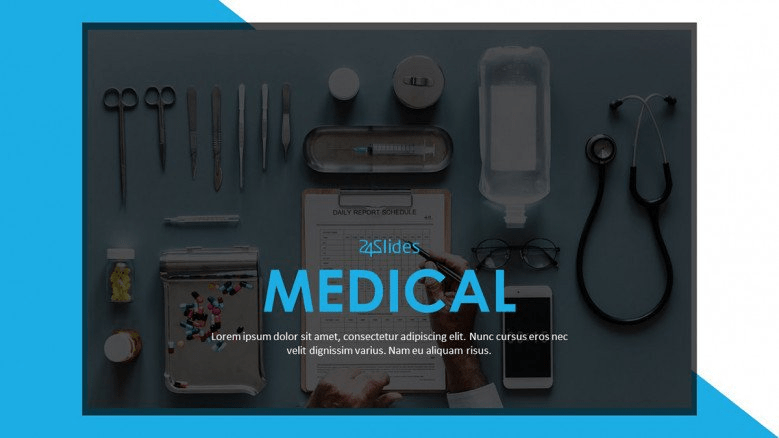 This beautifully designed free healthcare PowerPoint template has all the tools you might need for a medical presentation. It has slides you can use to showcase different procedure options or different service tiers. It has several text slides so you can easily add any messages you find convenient. And it also includes healthcare-themed graphs to add some data.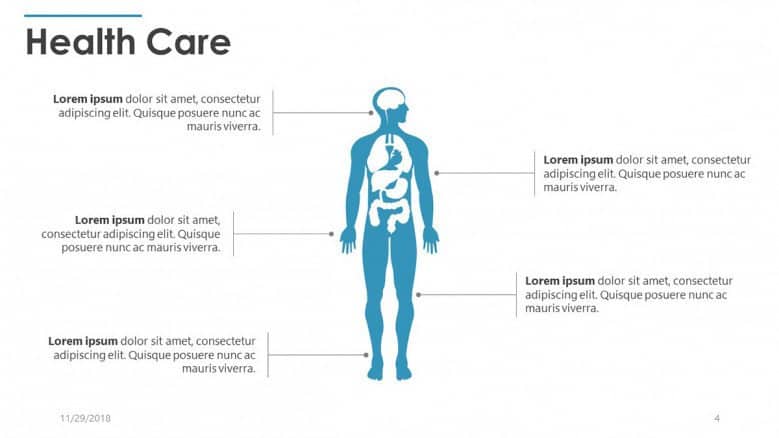 Healthcare can include many factors. That's why this incredibly complete presentation will help you cover them all. Designing a healthcare-themed PowerPoint presentation all on yourself can be pretty challenging, but luckily this one is completely free for you to download! It has a blue-and-grey color theme that will make your presentation pop-up while still looking professional. And the healthcare-related icons in every slide will help you convey more efficiently your message.
The COVID-19 pandemic has made clear how important remote services can be. The development of current technologies has helped change radically many industries, and the medical industry is no exception! Get access to new patients, train your staff in the new protocols, and educate your clients on how to take advantage of all these new options with this free healthcare PowerPoint template.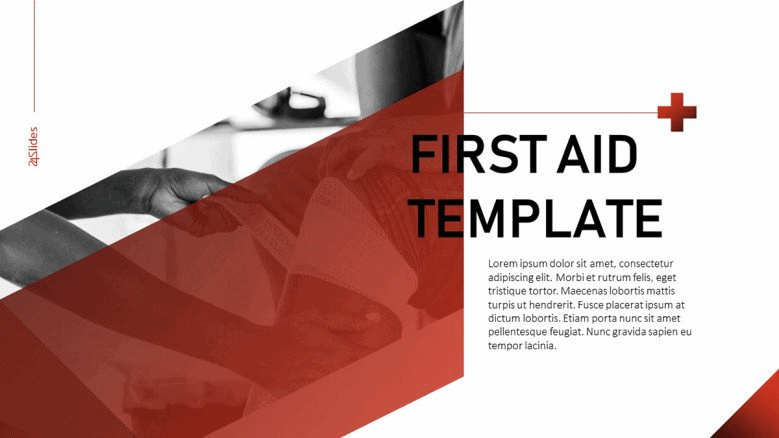 First Aid is an outstanding knowledge to have. Even if you're not sure when it could become handy, it's always better to be cautious! This free first aid PowerPoint template is perfect for giving your team a crash course. Its eye-catching design, based in a red color palette and healthcare-related images and icons, will make sure that your audience focuses all its attention on such an important topic.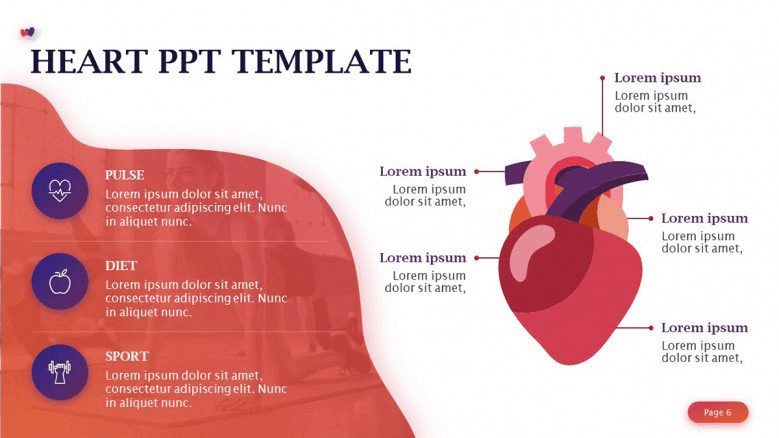 According to the American Heart Association and the World Health Organization, heart diseases are the no.1 cause of death globally. Over 17 million lives are lost every year thanks to cardiovascular complications. That's why conveying awareness about this topic is so important. Use this free healthcare PowerPoint template to share risk factors, heart-related data, and cardiovascular disease statistics.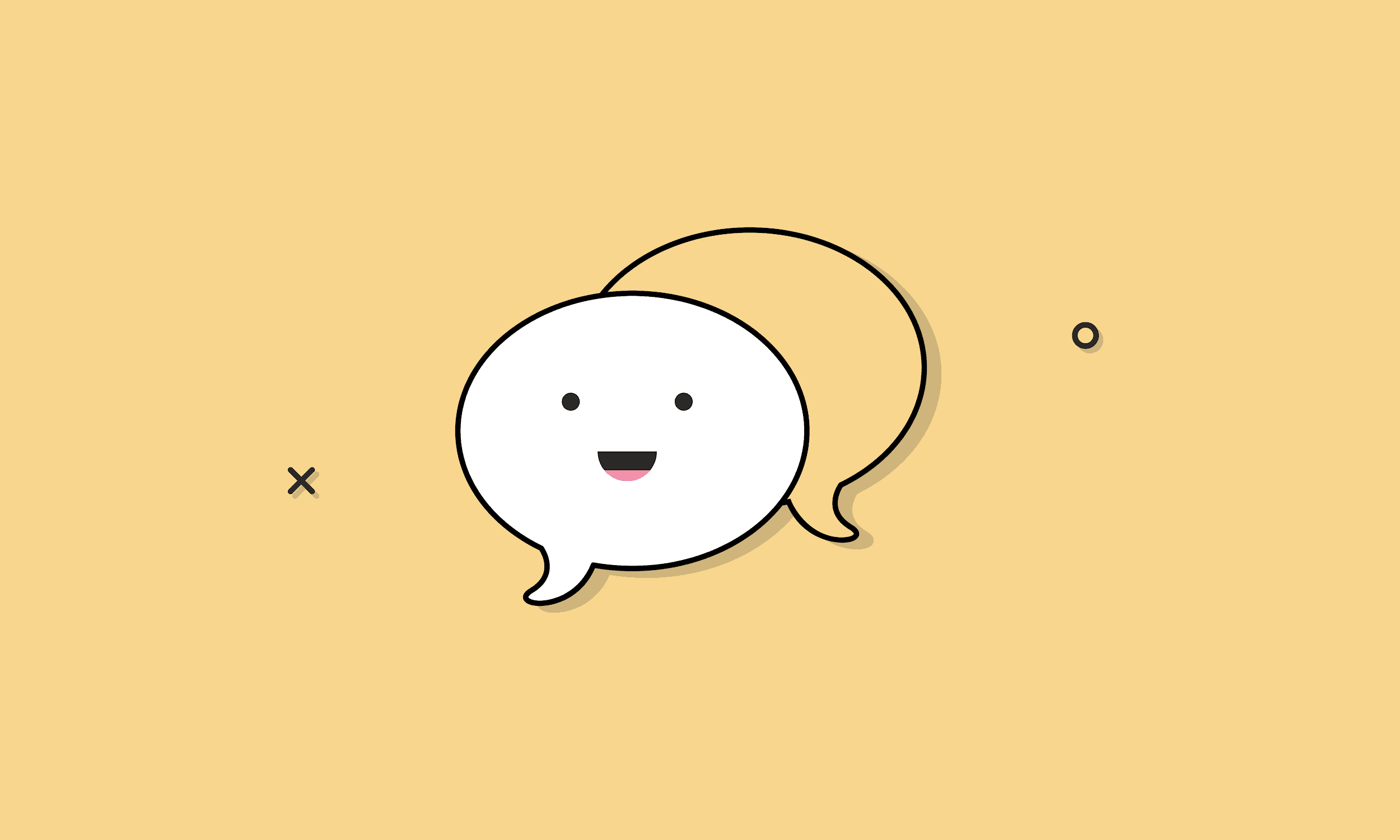 Mental health is very important, even if its a topic not talked about very often. Luckily, nowadays more and more people in the medical industry are putting emphasis on it. If you're thinking about implementing a mental health program or maybe just addressing the topic to create a more positive workplace, then this free healthcare PowerPoint template is perfect for you!
Other Free Healthcare-Related PowerPoint Templates
There are many other aspects related to healthcare beyond strictly medical issues. Exercise, nutrition, and lifestyle can all play a huge role in feeling good and staying healthy. The free PowerPoint templates in this section will help you give your audience a more well-rounded look at what healthcare means.
Good nutrition is the base of a healthy lifestyle! This free healthcare-related PowerPoint template is great if you're working on a presentation to educate your audience about healthy eating habits. Its graphs and icons will also help you show data and facts about nutrition. And its mouth-watering images of food will help you showcase healthy recipes.
Just like the previous free healthcare PowerPoint template, this one is all about the food! Organic, non-processed food has become more and more important to keep the body natural defenses up, and this template is perfect for showing it. Its green color theme fits perfectly its design and showcases fresh and healthy food.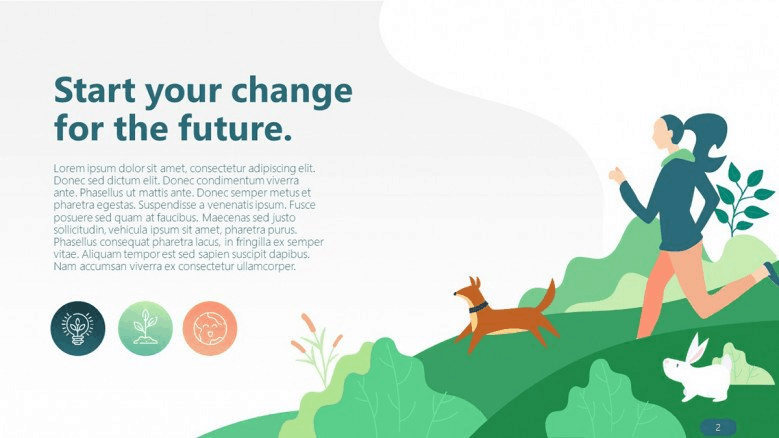 The environment plays a huge role in our everyday health. Contamination rates are becoming more and more alarming. At the end of the day, taking care of the environment is also taking care of ourselves, and that's why we included this free PowerPoint template in our healthcare bundle. Use it to show your audience what they can do to help the environment and what healthy habits they can develop to become more environmental-friendly.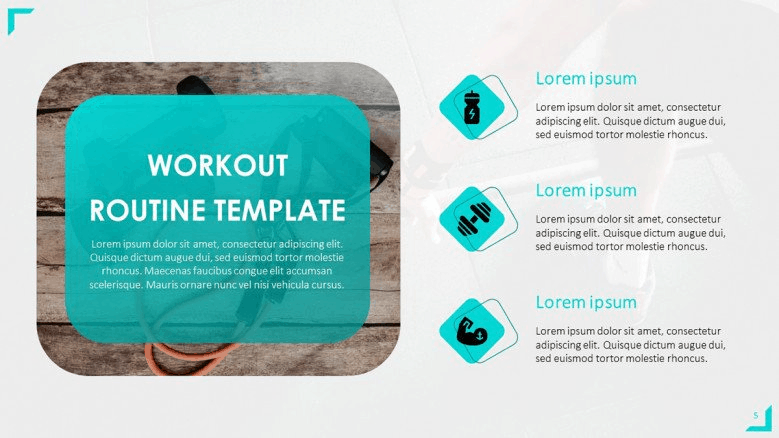 Staying active is a huge part of being healthy. If you're someone on the fitness and wellbeing industry, you must know how much good a little exercise can do. Use this free PowerPoint template to plan workout routines, set fitness goals, or even just talk about the importance of exercise. Its slides will help you show different difficulty levels and different disciplines for an incredibly complete presentation.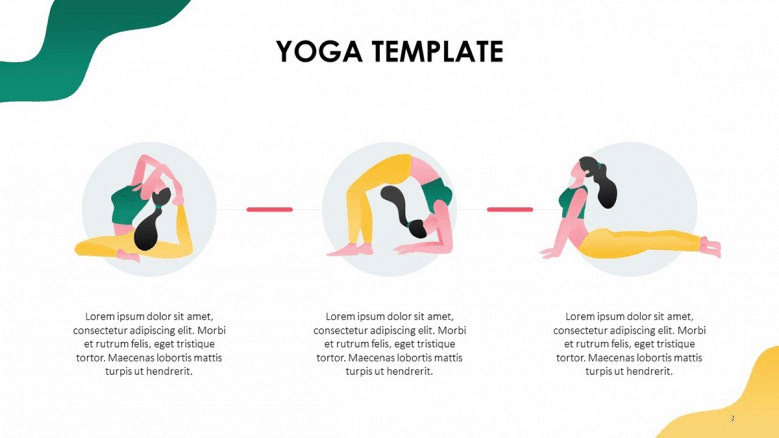 Yoga has gained popularity in the last years and is now recognized as one of the most effective ways to stay healthy and in shape. You can use this PowerPoint template to highlight the benefits of yoga and how to start practicing it. These slides are great to show different disciplines of Yoga, and even different positions and exercises. Your audience will surely leave your presentation thinking about starting yoga classes the very next day!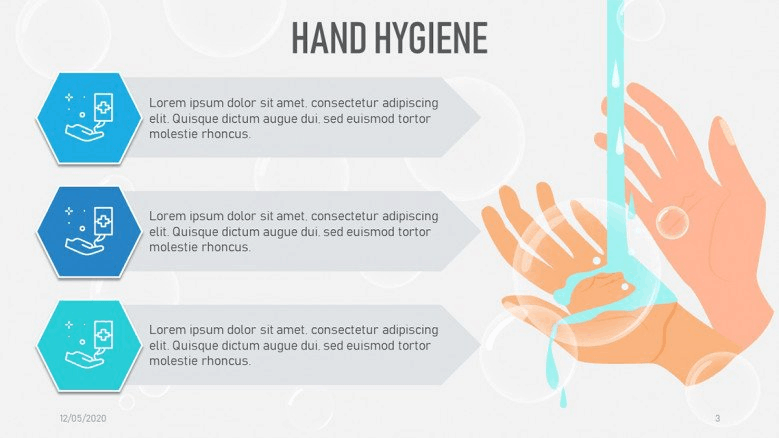 This presentation is one of our best free PowerPoint Templates for June 2020. And it's no wonder why! With the COVID-19 pandemic, highlighting the importance of hand hygiene is more relevant than ever. We use our hands all day long for all types of activities, so it's no surprise that it's one of the most common ways to transmit viruses. Use this free healthcare PowerPoint template to remind your team of your health protocols to protect each other.
Did any of these free healthcare PowerPoint templates catch your eye? If not, you can always look for more on our Templates by 24Slides platform. You'll find presentions templates for pretty much any topic you could ever think of. And the best is that they all are completely free! Register and download all the templates you want in seconds.
If templates are just not working out for you, or you want a more customized presentation, the designers here at 24Slides will be happy to work with you. You can get amazing, tailor-made presentations that reflect perfectly your brand and your product in just 24 hours!