How 24Slides' Subscription Packages Changed Forever the Way Marketing Teams Tackle Presentations
Presentations are often the first impression a potential customer has of a brand or service. As such, many marketing teams get often bombarded with slide design requests they are forced to juggle with their other responsibilities and projects.
In the prioritization process, presentations can often become a burden to marketing teams — a repetitive, time-consuming, uninspiring task that gets in the way and become a last-minute interruption to their already scheduled content.
As a past customer, Dan Sørensen, our current CMO, realized the question of how to achieve a more productive team, better slides, and quicker turnaround times, all had the same solution: to outsource their presentation design to an agency.
By employing 24Slides subscription services, Dan managed to lower his team's monthly costs by more than 60%. All while getting amazing presentation design and freeing his team's hand for more important tasks.
Here we'll show you how he did it!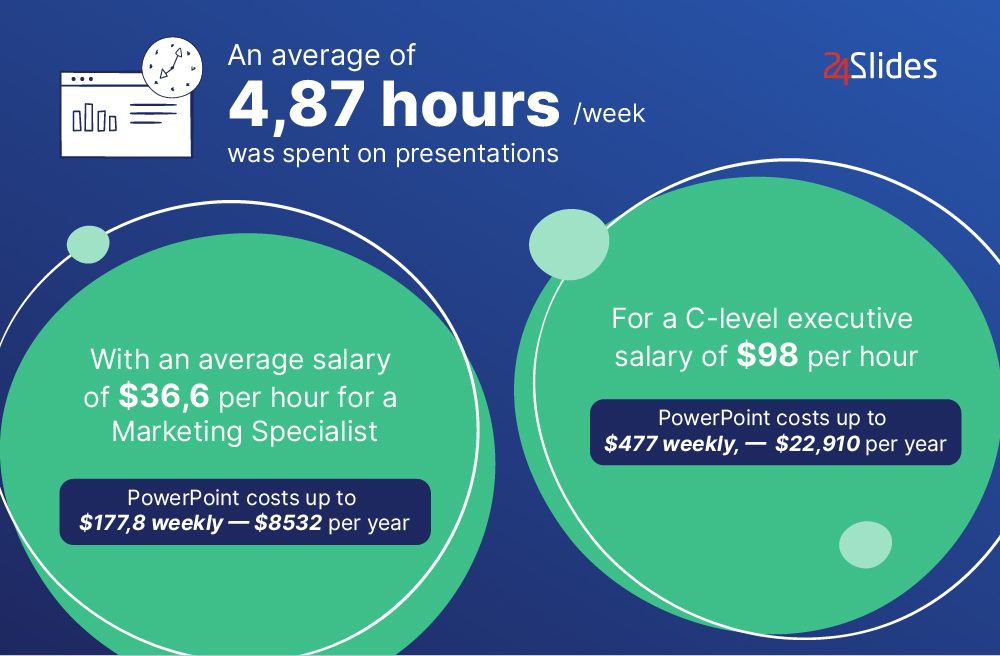 Marketing Teams vs. Presentation Design
Marketing teams often struggle with finding the perfect way to tackle their presentation demand. Working on slides on their own often causes capability issues, as marketing teams are forced to prioritize slide in design instead of their own tasks.
On the other hand, standard design agencies are often as frustrated as in-house teams with presentation design. As their time and resources are still being utilized, the cost of employing a high-end design agency just for presentations can become quite high in the long run.
According to Dan, before employing the 24Slides subscription service, the amount spent by their team through a design agency was around 300 Danish krone (almost $50) per slide, an unsustainable amount for a recurrent use of the service.
Freelancers, another option for those in need of presentation design, is also not a viable option for companies looking for a steady flow of presentation design in the long run. While one-time results can be great, it becomes a gamble when you can rely on their availability and capacity to keep up with the deadlines. And of course, employing different freelancers over time can mean not only a lack of quality standards but inadequate security measures for sensitive data.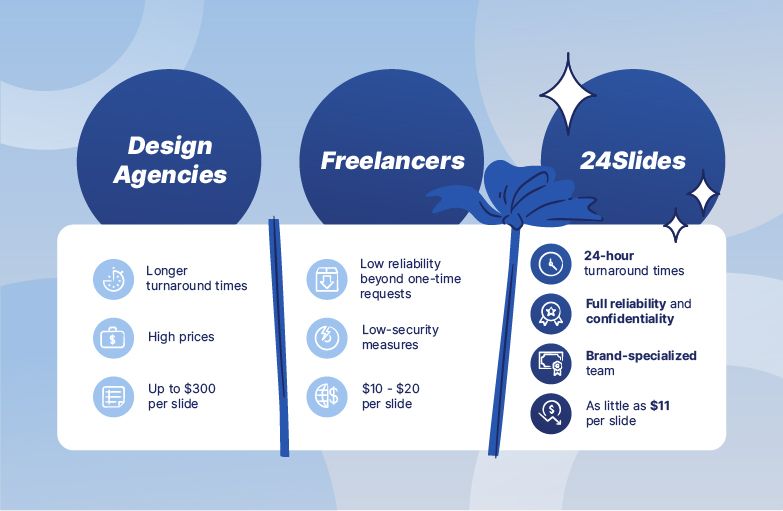 24Slides Subscription Packages Solution
24Slides presentation design service is unique in its approach as it relies on a big team of expert designers located in different offices that work through an online platform. This allows them to work on orders from all over the world, as well as to support big companies that require high amounts of presentation slides.
Even on a daily basis, the 24Slides design team is capable of thousands of slides at a moment's notice, making it the perfect option for those teams looking for an enterprise solution to their presentation issues.  
While 24Slides one-time orders can be great for any person looking for an outstanding presentation, what Dan found out was that the subscription packages were live-saving when it came to supporting this team with presentation design.
24Slides dedicated teams ensure that your requests are always fulfilled by the same team of designers, allowing them to learn your brand guidelines and preferences accurately as possible to make the design process even more efficient.
Subscription packages are also easily scalable and can be updated to fit the needs of your company. You can also manage your team and add as many people as you need, so you can guarantee your whole team is always supported and on brand.
And, of course, they signify a meaningful lowering of costs, not only in comparison to design agencies and freelancers but from one-time orders as well, as you get more credits for the same amount of money - translating into up to 10% save in your presentation design.
For dedicated teams, even with the most basic credit packs, it means lower costs for each type of slide request, meaning your credits handle more slides than an average order, making it the perfect solution for organizations that need to tackle presentations recurrently.

How To Implement a Tailor-made Slide Subscription Package
When onboarding new customers, we often suggest a baby-steps process to ensure absolute success. We recommend customers start out by testing some slides and from there, see how far 24Slides' subscription plans could take their team. Spoiler alert: It is very, very far!
For a successful implementation, marketing departments are usually the recommended gateway for presentation requests through the company. While this might seem counterintuitive, it is the best way starting point to manage the scope of the project and evaluate how efficient the process was.
After a proof of concept and successful presentations, the next step is to ramp it up. Through some select few, customers can test the waters to see how a bigger scope setup would work, and from there roll out 24Slides' platform to more and more employees.
Eventually, most companies reach a company-level subscription package that fits their needs where anyone in the organization can make an order directly through the 24Slides platform without going through the marketing department as an intermediate.
By starting small and troubleshooting the process, making sure the process takes into account their corporate visual identity and brand, marketing departments end up with an incredibly efficient process where they don't have to worry about slide design any longer, while all the company has high-quality presentations that keep up with their specific needs almost automatically.

How a Subscription Package Changes the Way You Tackle Presentations
With our 24Slides subscription and we had enabled its use for the whole company, I think the best possible indicator for the success is that we didn't really hear anything. We had many employees using the service, and there were no complaints. It's a pretty intuitive platform, so people just understood it straight away. We were holding our breath and asking ourselves if all this could really be true, but people were really just happy and satisfied with the service from the get-go.
According to our survey, over 55% of marketing professionals feel their time is being wasted working on presentation design.
With a subscription plan fully implemented, Marketing teams don't have to worry about daily tasks like presentation design any longer. Instead of keeping up with last-minute requests, they can focus on more strategy and relevant aspects of their job, increasing their efficiency and productivity.
24Slides subscription packages are specially designed for teams, so they are fully transparent with usage and payments. All 24Slides orders are satisfaction guaranteed, meaning payment is processed only after the order has been approved.
For subscription packages, team managers are also allowed to look where the credits are being used and add or remove people from their plans as they see fit, making it an easy business case for marketing leaders looking for the backing they need to back up the expenses.
When you don't have things pop up at all times, and you have to throw everything aside to put out fires. It also allowed me to focus on the back-end aspect of things and look at the monthly credit usage, evaluate if we need to bump it up, or what would happen if we had bigger projects. Since you can see at all moments where all the credits are going, I could go into a budget meeting and ask those making the big orders to help out with the cost or evaluate if they need their own credit package.
In short, when facing the challenges of both keeping up with the demand for presentation design and not overworking the marketing team, a specialized subscription package can work wonders.
By freeing your team from the hassle of slide design, you don't only boost efficiency and quality but also lower your costs and get better presentations, at the same time.
Learn more about 24Slides subscription packages here.