The Complete Guide to Outsourcing Design Work
Outsourcing design services is the perfect solution for those companies not wishing to make high investments in creating their own design department while still getting all the benefits from professional work with quick turnaround times.
If you're looking to maximize efficiency in the way your company tackles secondary tasks, outsourcing design work can be the perfect solution for you!
In our 10+ years of experience, 24Slides has been a first-hand witness to how outsourcing design work can make a huge difference in supporting companies and improving both quality and productivity.
In this article, I'll give a comprehensive guide on how outsourcing design services work for companies, its pros and cons, and the different design services you can outsource.
I'll go in-depth about 24Slides' experience and how implementing third-party design services can help you can your company. I'll also add some examples of design outsourcing providers for different areas and give a quick overview of how they work.
If all this sounds good, then let's go straight into our 101 guide to outsource design work!

What is Outsourcing
In case you're not familiar with the term, we'll go first through the definition of outsourcing.
Outsourcing is a business practice that consists of hiring a party outside the company to carry out certain processes and functions in the business.
Just like its name suggests (from "outside resourcing"), the idea is to focus resources on the key aspects of the business and defer secondary tasks to third-party providers.
Outsourcing began around 1989 and established itself as a common business practice in the 1990s. Peter Drucker, business philosopher and advocate of outsourcing, summarized it in one sentence. "Do what you do best and outsource the rest."
The largest appeal of outsourcing is how flexible it is. What each company can decide to outsource depends on its own needs and how interested (or not) they are in hiring someone full-time as part of the team.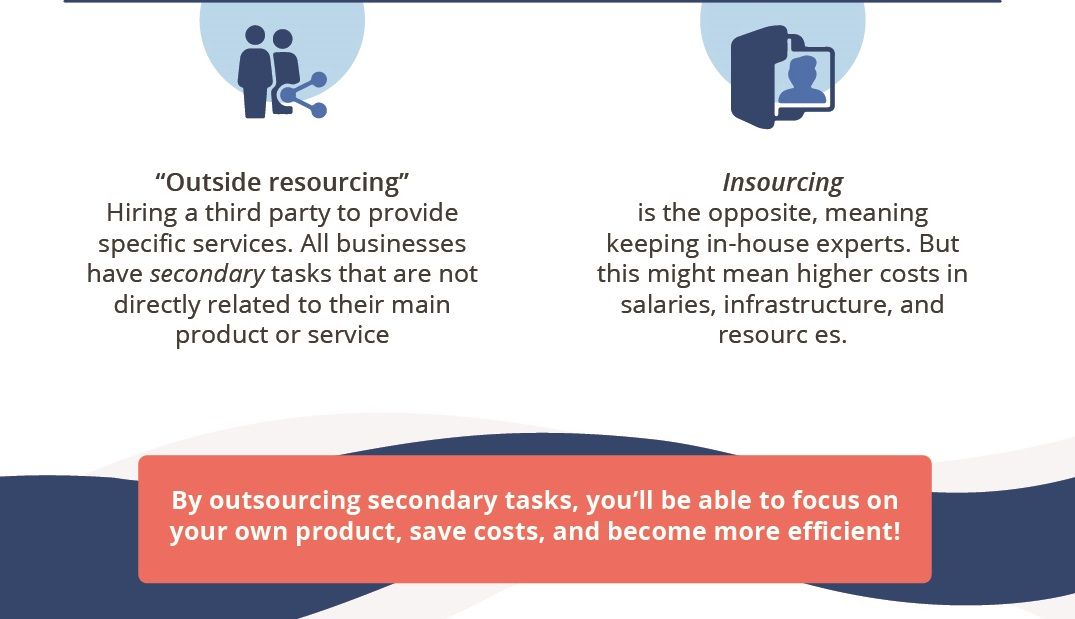 Common examples of areas companies choose to outsource are marketing, publicity, IT services,  distribution and logistics, and of course, design.
Companies can even decide to "co-source" or use hybrid teams. This means having a smaller team of internal staff supplemented by an external provider. Hired employees will have in-house expertise about the company and the product and will serve as an intermediary for the outside provider, who will do most of the heavy lifting.
And guess what? This model works especially well for creative services like - you guessed it- outsourcing design work.
---
Why Outsource Design Services
So among the many things your company can outsource, why focus on outsourcing design services?
The best types of tasks for outsourcing are mainly one of these: On the first hand, you've got tasks that are seldom needed but require a high level of expertise. Outsourcing this kind of task helps you avoid the need to hire people that will only have sporadic work and instead focus on high-value positions.
On the other, you've got tasks that are recurrent and time-consuming but not very demanding in terms of knowledge or expertise. This type of task is probably taking a toll on the rest of your employees, as they probably need to cover them by themselves, taking time away from the rest of their responsibilities.
Outsourcing design work tackles exactly this type of problem. Design is an ideal task to outsource in order to not only get better results but also to boost productivity and efficacy in the rest of your teams. You'd be surprised to hear how much time and resources it takes away from all types of companies.
As a presentation design provider, 24Slides receives hundreds of requests weekly. And most of these clients constantly tell us how they consider design work a bottleneck when it comes to their processes of talking to their potential clients or stakeholders.
Even for those companies with an in-house design team, these end up often being overworked and understaffed. Outsourcing design work for high-demand seasons or for specific projects or sub-categories can do wonders to boost productivity at a lower cost than scaling the team as a whole.
---
Pros and Cons of Outsourcing Design Work
As with everything, outsourcing your design work has its pros and cons. There's no straightforward answer to the question, "should I outsource design in my company"? This depends on your organization, your team, your resources, and what you're looking to achieve.
Analyzing the advantages and disadvantages of outsourcing design services is a case-to-case study, and it's a decision only you can make. However, there are some common things that usually come with choosing to outsource design work.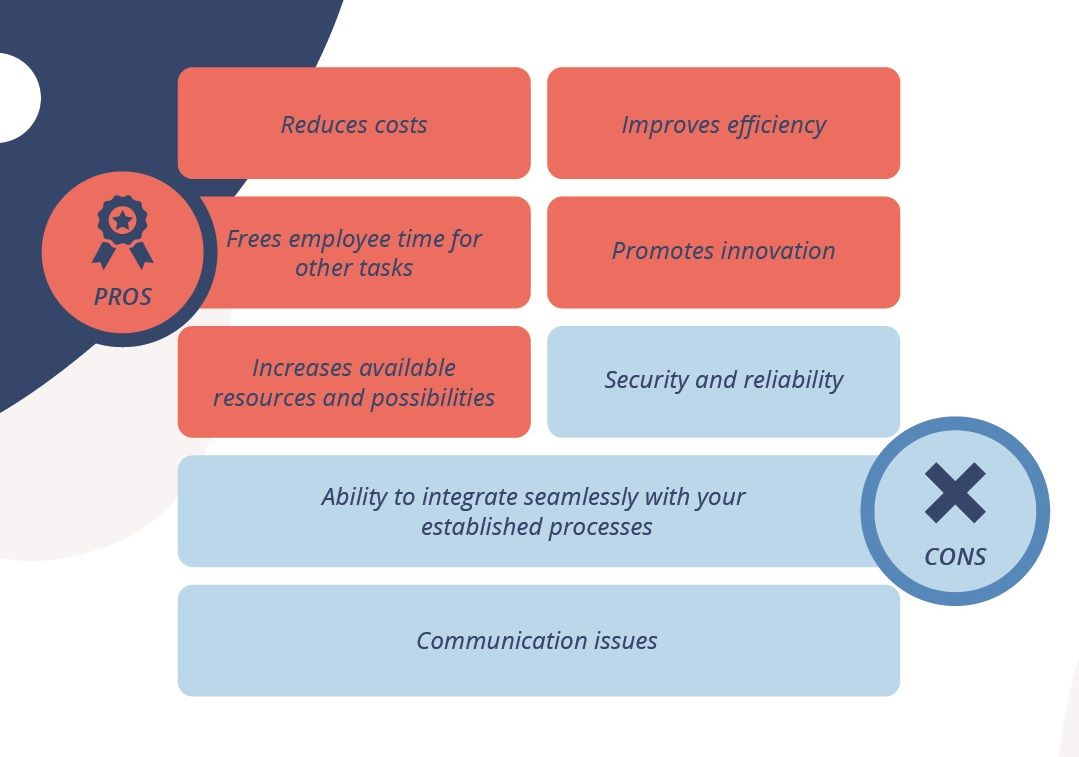 Advantages of outsourcing design work
Better time management: Outsourcing design services often helps free time from the people who were originally covering these tasks, allowing them to excel in the aspects where they're trained to.
Lower costs: Outsourcing is often a great way to reduce costs in secondary tasks. It will allow you to save on hiring fees but also on equipment, technology, and training.
High-quality work: In short, professionals do professional work, especially when outsourcing tasks that require a specialized set of skills. The result will be a design with higher quality than what you could've achieved on your own.
You might think this is an exaggeration. But take a look at presentation slide design, for example. When people do their own, it means hundreds of hours of work are wasted weekly. Outsourcing presentation design means employees have more time to do the things they were hired to do, and better presentations done by professionals.
Don't believe us? Check out our time wasted at PowerPoint calculator to know how many hours and money you are wasting doing presentations on your own.
Cons of outsourcing design tasks
Security and safety risks: Security can be a challenge when outsourcing design work. It's critical to make sure that the provider you work with has a very clear and robust security policy, especially for work that tackles confidential information.
Steep learning curve: Finding the correct third-party provider can be time-consuming, and it's even harder when you need it to integrate into your already existing production process.
However, outsourcing design is still an option many companies should consider when talking about maximizing their productivity. It demands a careful evaluation of the advantages and disadvantages outsourcing design can mean to them and assessing it according to their own needs and circumstances.
When done correctly, outsourcing design can be the key to a more pull-together, professional, and productive company.
---
Prices of outsourcing design work
When talking about design work, you can outsource pretty much anything! However, this makes it difficult to define exactly how much outsourcing design work would cost you.
The price for outsourcing design services will depend on what you're looking for. You can get presentation slides for as little as $11 all the way to a $50,000 web design project.
In the next section, we'll go through some examples of different outsourcing design services and how much you can expect them to cost in average.
---
Outsourcing your design work
So, what type of design work can you outsource? In truth, pretty much anything!
Outsourcing design work is also easy to do through freelancers on sites like Fiverr or Upwork. However, companies that are looking to plan for the long run and get a well-rounded dedicated team instead of a one-time fix should consider investing in outsourcing design companies.
Here you'll find some of the most common design areas companies usually outsource, how they work, and examples of companies that provide this type of outsourced design services.
Outsourcing web design
Web design is one of the most common types of design services to outsource, as it helps to create a website or web-based application. This can include everything from the initial planning and strategy stages to the actual design, development, and deployment of the final product.
Web designers usually tackle the aesthetic aspect of a website, like looks and layout. Wed developing, on the other hand, covers the interface and programming of the website.
Depending on the size of the design project and the required development services, the prices of outsourcing web design can range from $500 to $10,000+.
Examples of web design services providers:
Lounge Lizard is a web design and development company based in New York, US. It mixes web design and development with aspects of digital marketing and branding to create the perfect website for its clients.
Their areas of expertise are e-commerce, SEO website optimization, web and app development, and so on. They also offer free website audits to evaluate your site!
Their method of working is with online proposals, and they'll get in touch with you to discuss the scope and prices of outsourcing your web design work with them.
Their average prices go from $100 – $149 per hour, and their minimal project price is $25000+.

This award-winning web design agency is based in India, and they are specialists in all things web development. Their work includes UI/UX design and SEO optimization to guarantee high-quality, functional websites.
They also offer complementary services like free maintenance and social media integrations.
You can request a quote online, and their average hourly rate is around $25, and their minimal project price is  $10000+. They also offer service packages depending on the size of your company.

Outsourcing brand identity design
Branding is more than just creating a logo and a color palette. It goes all the way to the company's goals, values, and overall tone. Many companies choose to outsource the brand identity design work as having it done by a team of professionals will help you create new opportunities for your brand and connect with potential customers.
Since it covers so many different things for businesses of all sizes, branding prices can go all the way from $5 for a freelance logo to $50,000+ for a complete agency package with complete market research, and a brand name, identity, strategy, and positioning created accordingly.

Examples of branding services providers
Want is a New York-based agency that specializes in branding and brand research. It has worked with some of the biggest brands in the world, like Uber and Samsung. It offers services of Brand research, brand naming, and brand strategy.
Requests are made through their website, but their hourly rates are around $300, and their minimum size project is around $25,000+.
Outsourcing presentation design
You'd be surprised at how much time companies waste on creating PowerPoint presentations. That's why so many organization all around the world outsource their presentation design as a way to free their employees from such a tedious and time-consuming task and give them more time to focus on more valuable work.
You'll find all sorts of prices for presentation slide design, going from as little as $9 per slide all the way to $4,500 for a presentation.

Examples of presentation design providers:
If you're looking for a last-minute savior, then look no further! 24Slides offers presentation slide design in 24 hours.
You'll get a professionally designed, custom-made presentation that follows your brand guidelines with just a couple of clicks: 24Slides uses an online platform system that allows you to upload your documents, give your feedback, and receive your final product instantly.
24Slides prices go from $9 per slide, and also offers business solutions like credit packages and dedicated teams that allow clients to get hundreds of slides done weekly.

Bright Carbon is a UK Based company that focuses on communicating the message you want to deliver. They create all things presentations, and you can get in contact through email.
Bright Carbon prices usually go around $5,000 for a 10-slide presentation.
Are you ready to start outsourcing your design work?
Outsourcing design work is an efficient solution to freeing up your time and resources in the development process. It also helps you ensure high-quality results and save time on routine tasks.
However, deciding to outsource design services is always a case-to-case scenario, and it's up to you to decide if it'll be a good option for your company. It requires careful planning and research to find the right service that will improve your productivity and take your organization even further.
Hopefully, this overview of what outsourcing design work is, how it works, and the examples presented will help you decide if outsourcing design is something you are interested in trying for yourself!
On the mean time, why not try out outsourcing your presentation slide design for just $1?