21 Free Pharmaceutical PowerPoint Templates and Icon Packs
Product development, business plans, risk management, sales reports… There are a lot of cases in the pharmaceutical and medical industry where you need to impress your audience with an outstanding presentation. That's why we've put together 21 ready-to-use pharmaceutical PowerPoint templates and icon packs for you in this article!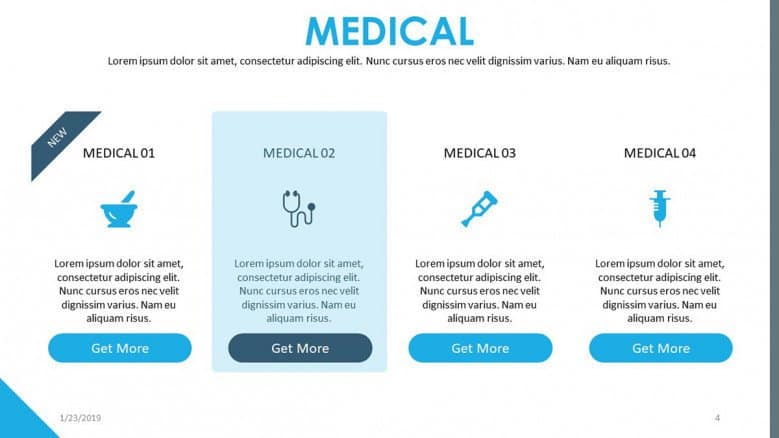 Why use PowerPoint Templates for your Pharmaceutical Industry Presentation?
PowerPoint is an amazing tool for almost every kind of business. It's an incredibly versatile and all-around tool for creating visual aids to help you connect to your audience and get your point across.
Having a good presentation can be crucial for achieving your business goals. A good presentation can help you connect to your team and make sure you're all on the same page concerning product development. It can help you pitch an idea to an investor. You can do presentations to show your yearly reviews, share your sales report, or even introduce your company or product to a potential client.
From drug development to more business-like concerns like risk management and marketing plans, the pharmaceutical industry has many chances where a good presentation can help you out.
However, making a good presentation takes time. PowerPoint is an outstanding tool, but there is a learning curve for making presentations that look professional. How much effort you put into your presentation can often be a hit or miss sign for a potential client on how serious and trustworthy your company is. Your presentations are the way you're introducing yourself to them, and a sloppy, last-minute presentation can affect negatively the way your whole business is perceived.
Templates allow you access to clean, professional-looking presentations that are pretty much ready to use. You just need to add your own contents to an already amazing design, and you're done! A perfectly designed presentation just for you.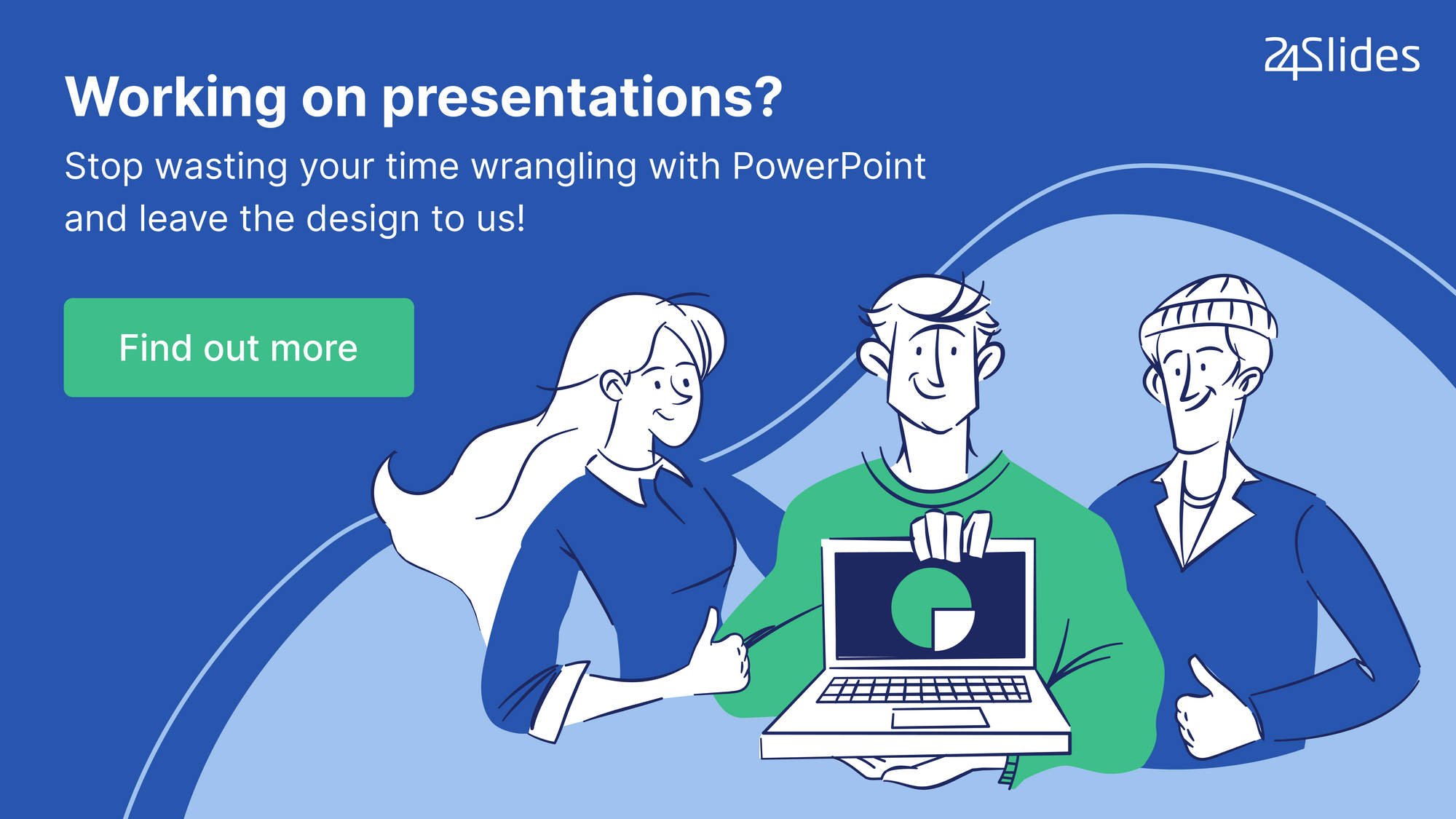 Download these free Pharmaceutical PowerPoint Templates and Icons
In this PowerPoint templates and icons pack you'll find a wide array of resources any pharmaceutical business might need. From scientific and medical development to more business-focused templates, this pack will give you a complete set of useful PowerPoint resources.
These Pharmaceutical Industry PowerPoint templates are all available completely for free. You can download them all, and they are ready for you to use straight away. The best thing about the 24Slides' templates platform is that there is no limit on how many templates you can download. You can mix and match slides from different ones to make your perfect presentation. Whichever topic you're working on, these pharmaceutical-themed PowerPoint templates will take your presentation to a whole new level.
Here are our best 21 pharmaceutical PowerPoint templates and icons packs, handpicked just for you!
Science Free PowerPoint Templates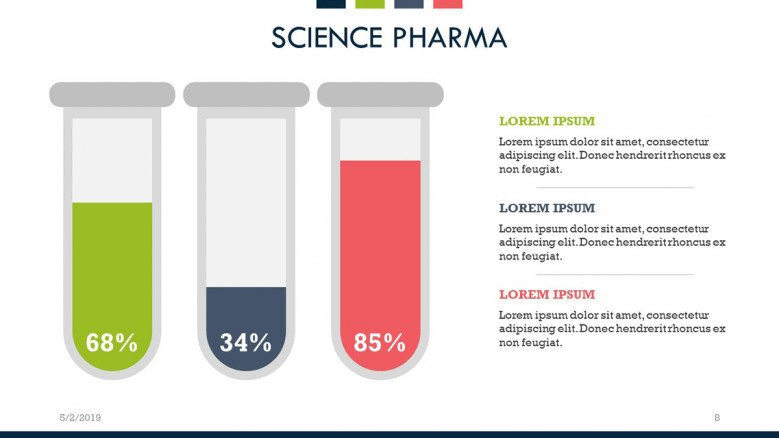 This PowerPoint template is perfect for showcasing pharmaceutical development. Its slides will allow you to show the more scientific parts of the process, while still leaving space for business. It includes several slides with graphs and charts, so you can make all your quantitative data visually engaging.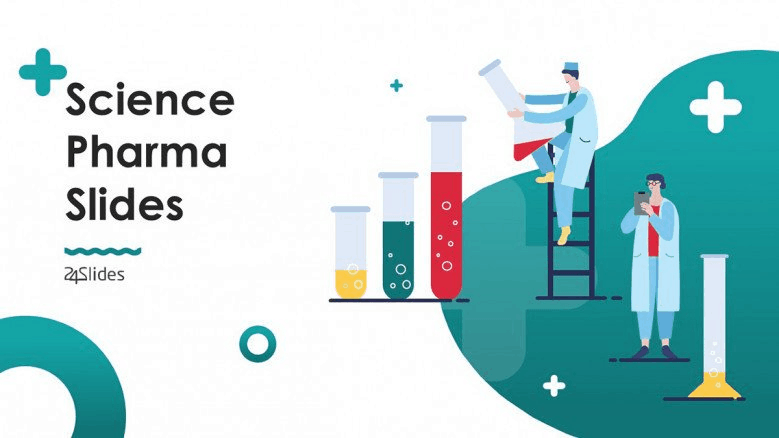 There is no reason that science presentations have to be boring. This pharmaceutical PowerPoint template has a beautiful design that will catch your audience's eye from the first moment. These science-themed slides will give your presentation a clean and polished look that will make it stand out to your potential clients and investors.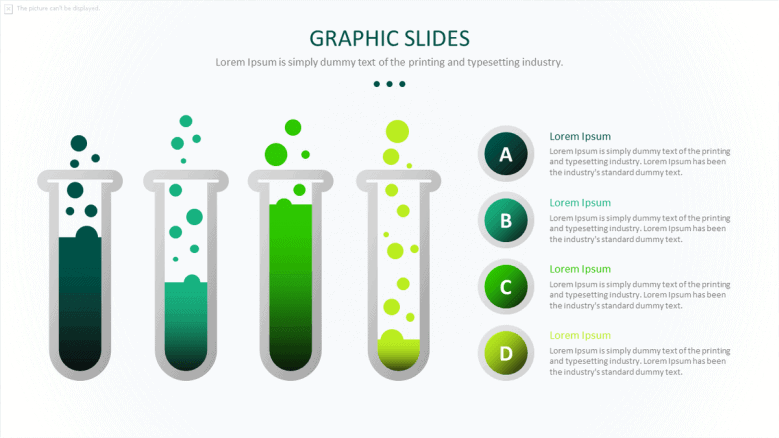 If you're looking for some graphs to showcase your information in a fun, engaging way, then this PowerPoint template is for you. It includes 5 slides with different layouts and a green color palette. Its themed slides make this PowerPoint template perfect for the pharmaceutical industry. Whether its product development, a report, or a business plan, these slides will help you make a truly unique presentation.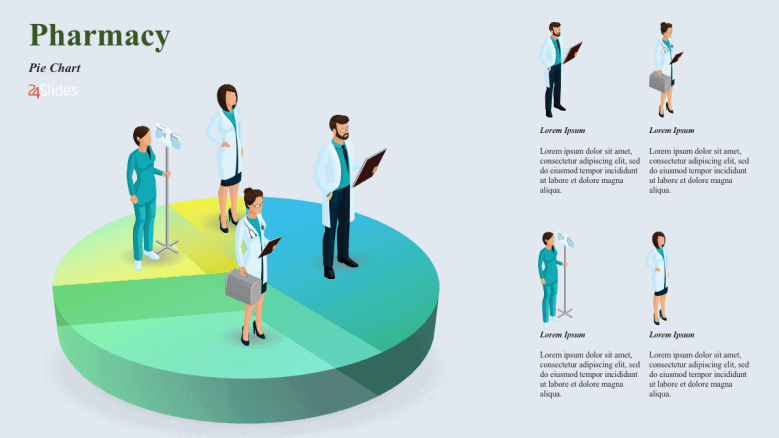 The Science Pie Graph PowerPoint template is ideal for any pharmaceutical or medical presentation. It includes 3 slides that will complement perfectly any science-based project. Pie Graphs are great for showcasing percentages and data and make easy comparisons between the different segments. You can pick whichever of the three designs fits you best, edit it, and add it to your own presentation in no time.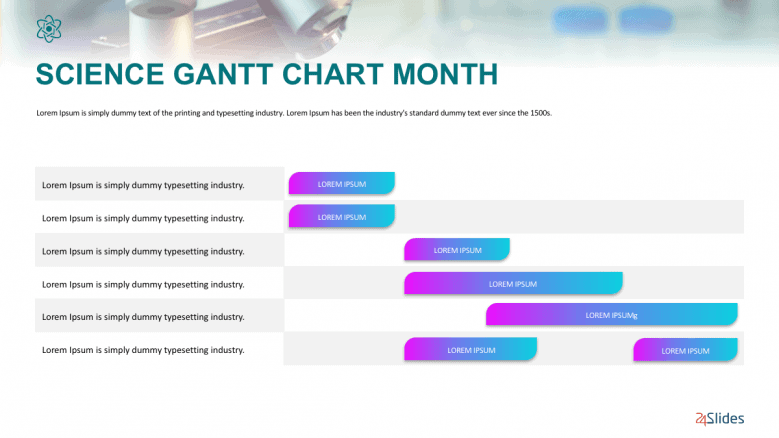 Gantt charts are amazing tools for any kind of business. They help show your audience time frames for different fields. This is particularly good for project management where there are several tasks and players at the same time. In this case, the 3 slides show each one, three, or twelve months. You can use whichever you find useful, and even mix it with any other of the other pharmaceutical PowerPoint templates on this article.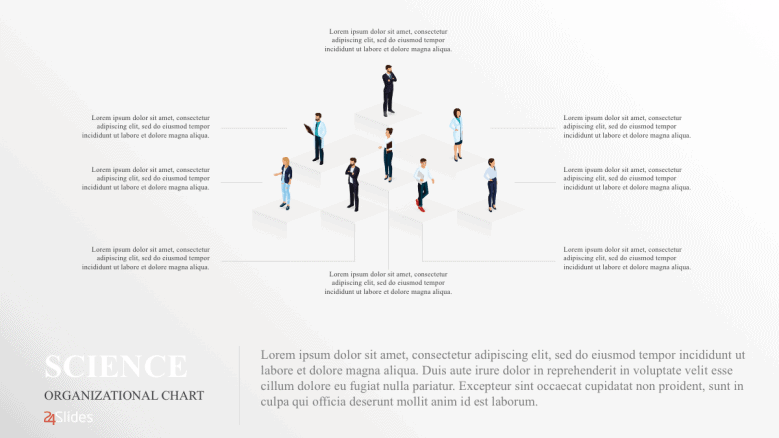 Showing your team and your company's organization can be a huge plus when doing a business presentation. The 3 slides on this pack are specifically focused on organization charts for pharmaceutical and medical industry PowerPoint presentations. You can pick between playful, creative, or corporate style, according to your needs.
This PowerPoint template's design is completely based on science, so it's a perfect fit for any pharmaceutical presentation tackling product development. But it's also an easy fit for a business presentation since the images and icons make a great extra to amaze your audience. It includes charts, graphs, and maps, so all you can present easily any information you decide to add.
Free Medical PowerPoint Templates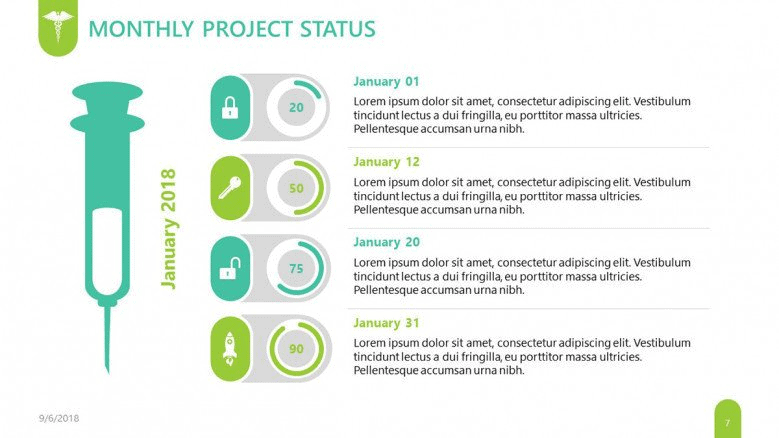 This free medical PowerPoint template is a complete take on everything you'll need for an amazing presentation. All its slides have customized icons concerning the pharmaceutical industry that will give your presentation a clean and polished look.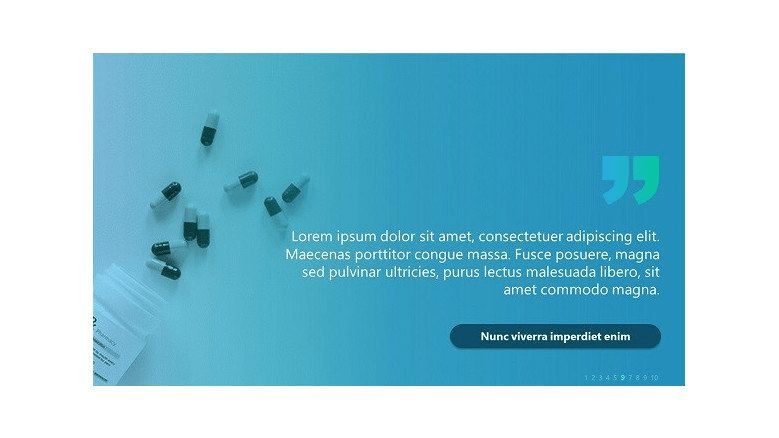 Animations and transitions are amazing tools that PowerPoint offers for making presentations. This pharmaceutical PowerPoint template exploits this feature to make an outstanding presentation. Many people are afraid that using transitions and animations will make them look unprofessional and not take them seriously. But this free medical PowerPoint template is the perfect mix of professionalism and a fun, engaging design.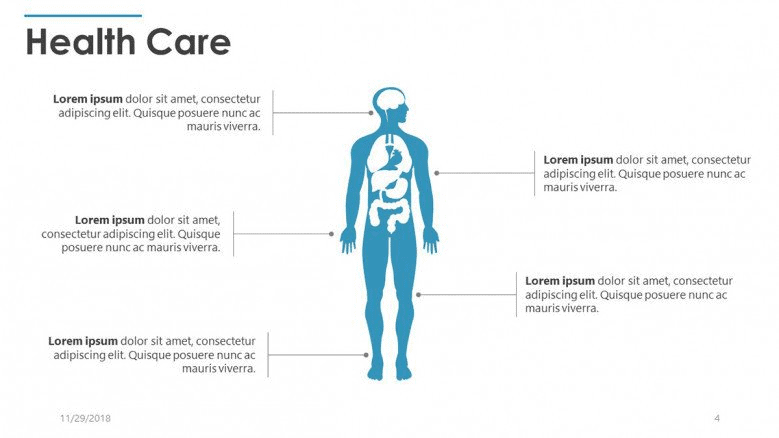 For any professional working in the healthcare industry, this PowerPoint template is their perfect match. It has beautiful illustrations, icons, and graphs that will help you showcase all your information in the most visually engaging and eye-catching way.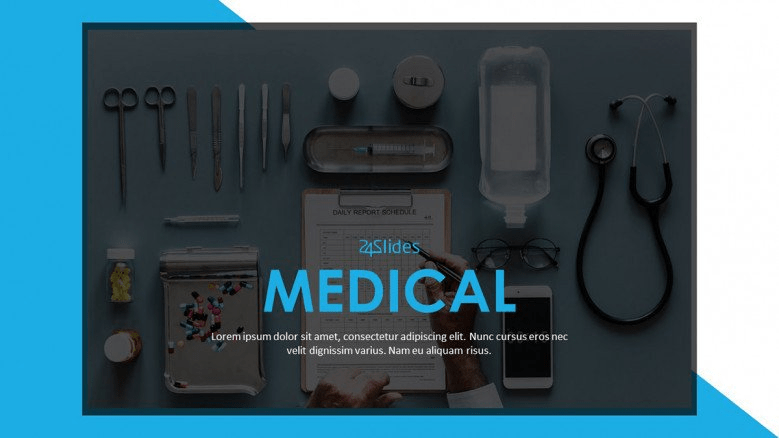 The medical and pharmaceutical industry is vital for keeping people all around the world healthy and happy. Whatever it is that you want to convey about this topic, this PowerPoint presentation will help you through it.
Sales and Business PowerPoint Templates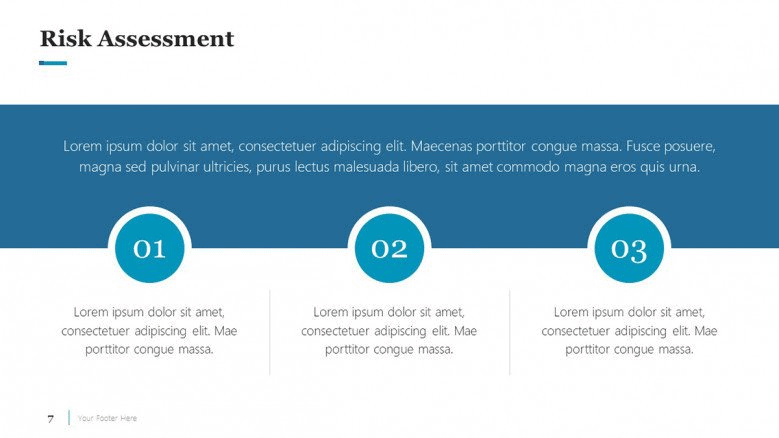 This 20-slides PowerPoint template is an amazing, all-in-one option for business presentation. It has a blue, sober, and professional design that will help you convey clearly all your ideas to your audience. It has a pretty neutral design, so it's a great option for pharmaceutical and medical presentations.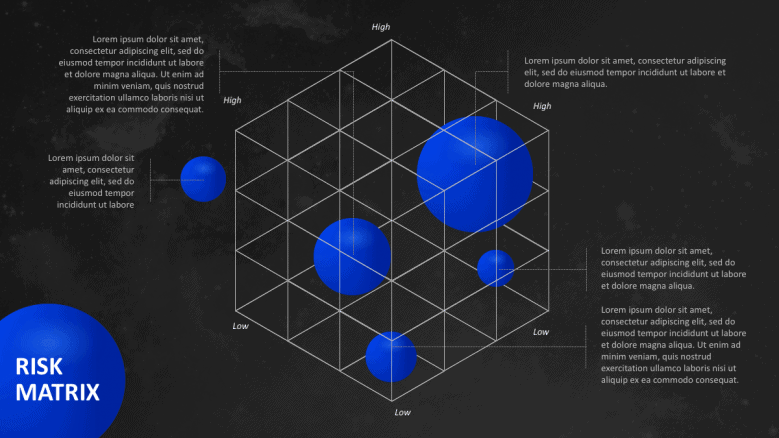 When making a business plan, it's vital to take into consideration the risks it may entail. This pack includes 3 different risk matrix designs that will complement perfectly any of the other pharmaceutical PowerPoint templates.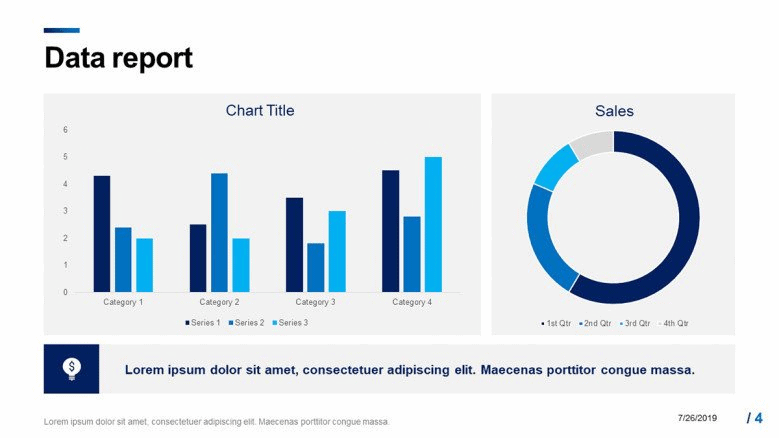 Making reports and keeping track of the progress is as vital in the pharmaceutical industry as in any other. That's why this template is among those offered in the pharmaceutical PowerPoint templates pack. It's a straight forward, complete option for showing your audience a business project.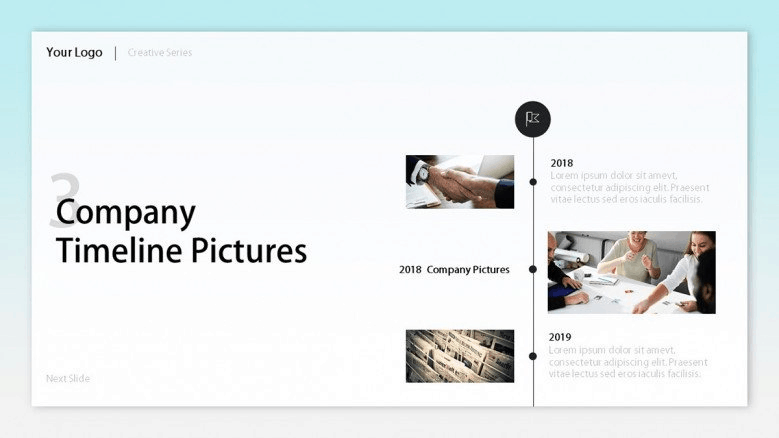 This presentation is included in the pharmaceutical PowerPoint templates pack because it's a great option for showing company profiles. It allows you to show the history and development of your business and company in an engaging, timeline-based design. For those looking for a pharmaceutical company profile template, this one is the perfect choice.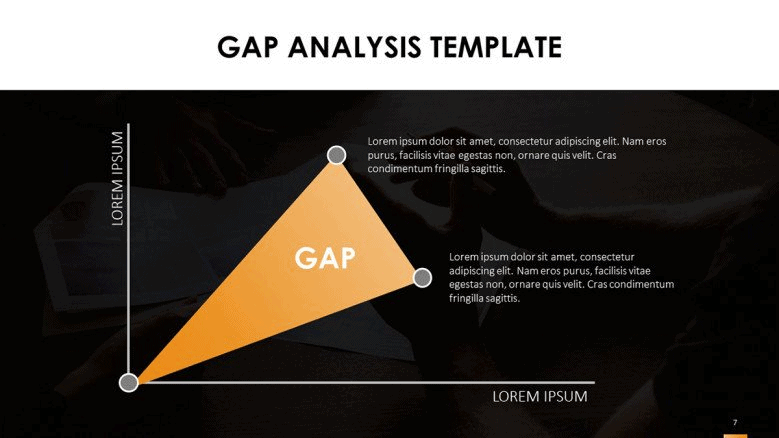 Gap analyses are a must-have tool for reviewing your business progress. It allows you to compare your current performance with your ideal results, and identify potential improvements. This PowerPoint template is a great business-focused presentation that will be extremely useful for any pharmaceutical or medical company.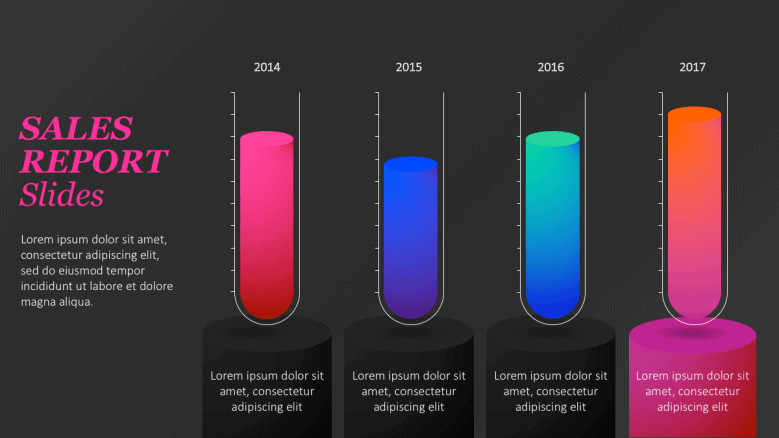 In order to have a real look at how business is going, sales reports are a must. This pack gives you 3 different designs for a sales report that will complement perfectly any pharmaceutical PowerPoint template.
Extra Resources: Pharmaceutical Icons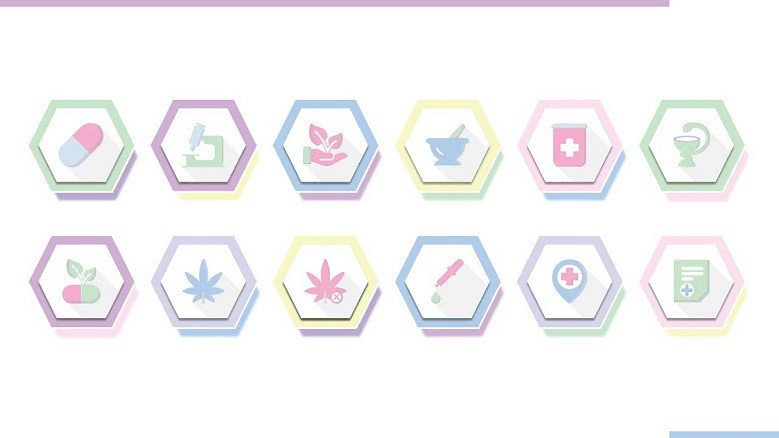 Icons are the perfect tool for PowerPoint presentations. They are eye-catching and convey complex ideas in very little space. These customized icons will help you make a truly unique pharmaceutical PowerPoint presentation.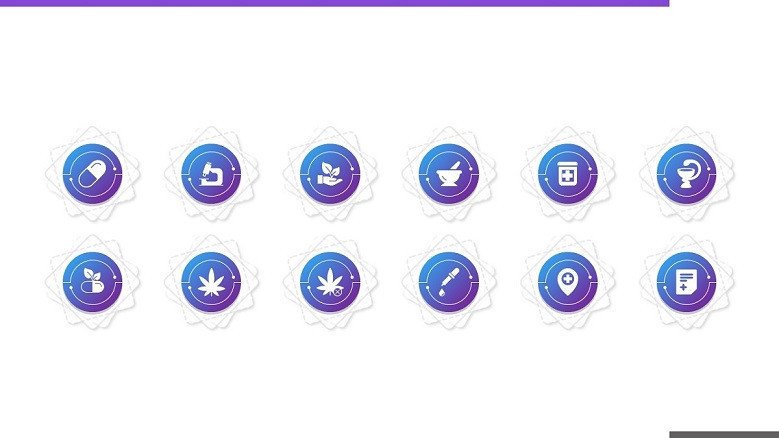 If you weren't feeling the last icon pack, this one might be more to your taste. You can use these icons to turn any PowerPoint template into a pharmaceutical or medical presentation. They're easy to use and to personalize, so you just have to pick which one you'd like to use.
This pharmaceutical icon pack PowerPoint template is the perfect final detail for your presentation. It includes 12 different icons that will give your presentation a little extra. Use them to highlight ideas, mark new topics, and however else you see fit.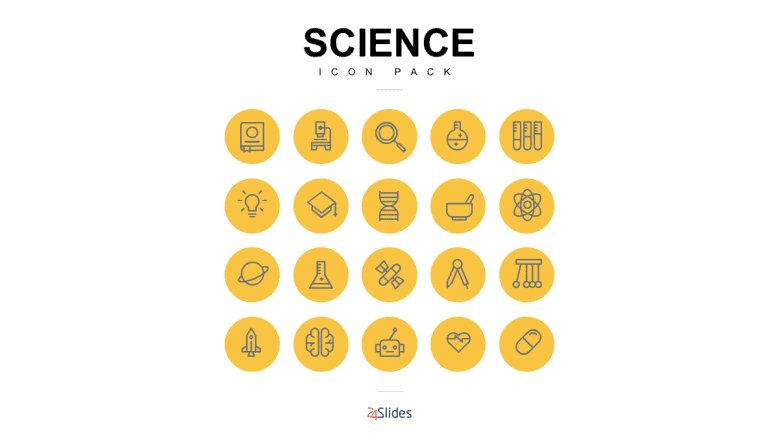 The last thing the free Pharmaceutical PowerPoint Template and Icon Pack includes is this amazing super pack of science icons. It has 20 different icons with 3 different designs, so you'll definitely find something that fits your presentations!
You can get access to all these amazing PowerPoint templates, specifically designed and hand-picked for the pharmaceutical industry by clicking on any of them. Whether you're working on your product development, developing your business plan, creating your company's profile, or reviewing your sales, a good presentation design can make a difference on getting your audience to hear your message.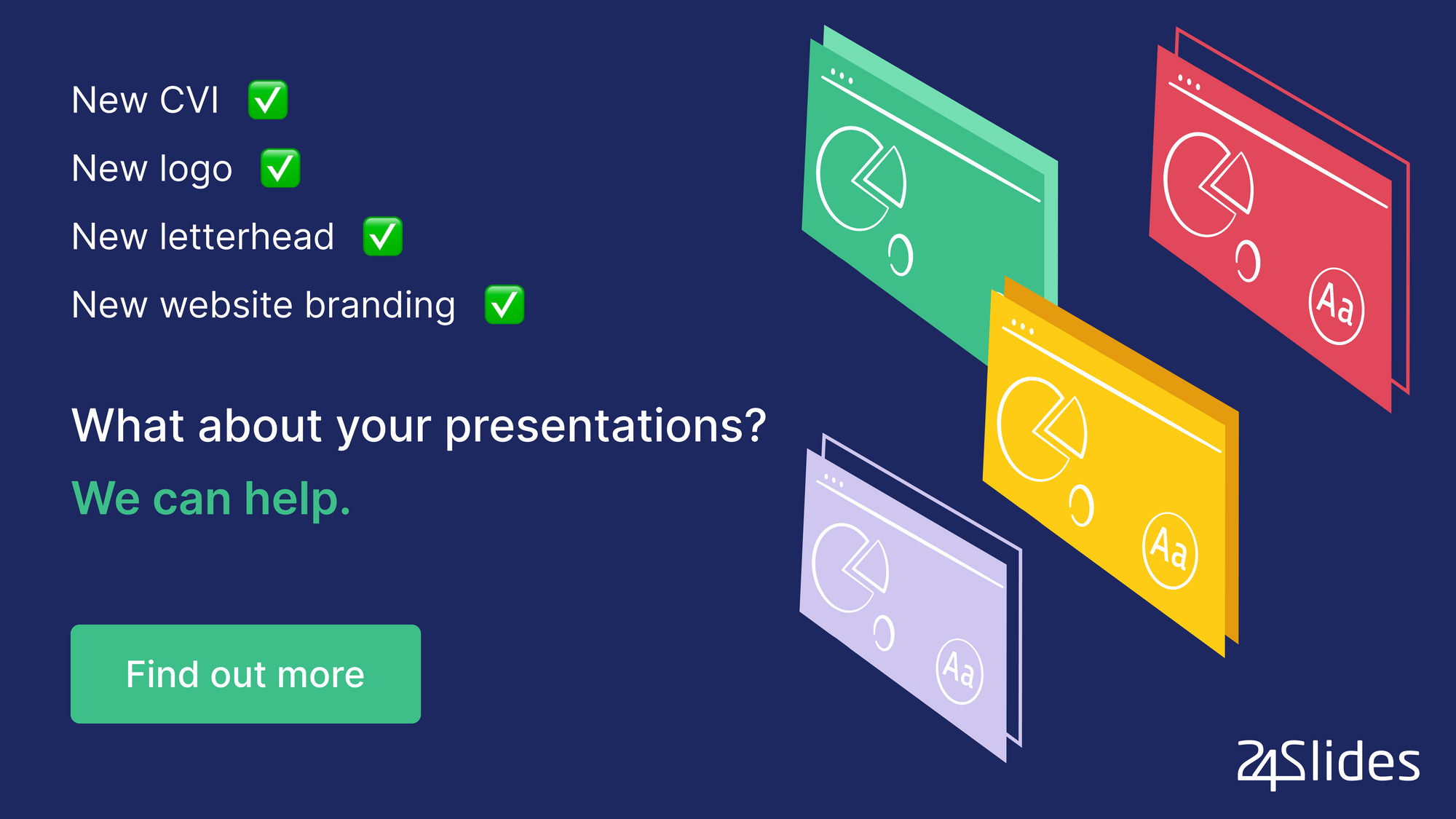 If you feel that none of these pharmaceutical PowerPoint templates is exactly what you're looking for, don't worry. You can also check out this free healthcare PowerPoint templates. And if that is still not what you were looking for, 24Slides offers a personalized design service that will give you a tailor-made presentation just for you! Our designers will be delighted to help you convey your brand and your message through a beautiful design that will impress your audience.