The Best Sales Presentation Services for Winning Sales Decks
Sales presentation services boost the potential of your decks and make closing deals an easy win.
If you've done any digging around for sales PowerPoint services, you know there's no shortage of options. For many, it can be hard to determine the best service for their sales deck or even what these options include. Without mentioning the stack of websites and reviews one has to go through.
In 24Slides, we enable top sales teams to shine with expert presentation design so we know enough about the landscape out there. To help you better understand the services available (including ours), we've compiled the best sales presentation providers and categorized them according to their top features. We'll go over the following:
You'll get away with a clear overview of the presentation service you need for a sales deck that actually works.
The Best Sales Presentation Services for Sales Decks that Convert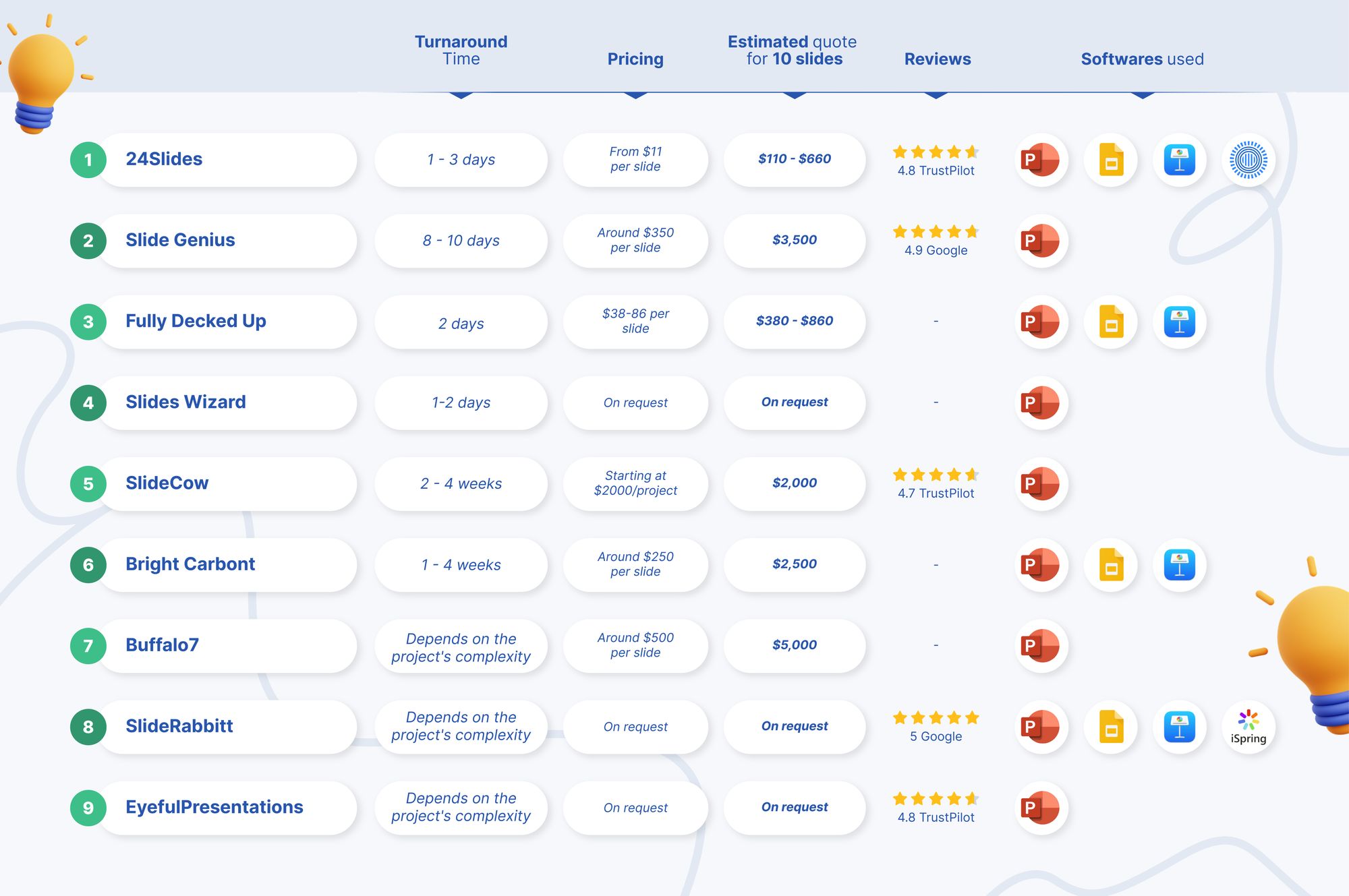 To help you figure out which service might be best for you, we've put together a list of the most well-known sales presentation providers in the market. We'll look at
Here are the aspects we evaluated from each one:
Process: How do their services work? How much should you do?
Pricing: What's their lowest-priced service? Do they have a trial or free plan?
Turnaround time: How long does it take to deliver your slide deck?
Best suited for: Do they work with small-sized businesses? Large companies? What industries are they experienced in?

Let's dive in!
Best Overall Sales Deck Design Provider

At 24Slides, we understand the fast-paced nature of sales teams and pride ourselves on giving world-class presentation decks in record time. Having met the quality standards of brands like Accenture, Amazon, Sanofi, and American Express, our design team is ready to create killer sales decks for you!
We're all in for transparency and informed decisions, so here are some of the reasons why sales professionals pick 24Slides' presentation design services.
Your sales presentation on-brand in 24 hours

Thanks to our fast turnarounds, you can receive the first version of your slides in 24 hours. The best part is that you get a customized professional presentation 100% aligned with your company's brand. This gives your pitch a massive boost by helping you build trust and credibility with your audience and making your key slides memorable!

A hassle-free design process

Unlike other presentation agencies, 24Slides has an online platform where you can send your orders and have complete control over the design process. Here you upload your slides, complete your brief, visualize the project, and confirm your payments. Forget about the countless e-mails with files attached! All the magic happens in one place: Our easy-to-use and secure 24Slides platform.
Top-level slide design at unbeatable prices

A well-designed and compelling sales deck increases your chances of closing the deal, and our team of expert presentation designers knows exactly how to use visual communication in your favor. But that's not all! Whenever you place, the pricing is determined by your number of slides, how soon you need them, and the design treatment of your choice. This means you can have some control over the final cost so it meets your project budget. Our competitive prices start at $11 per slide.
Presentation solutions for sales professionals and teams

Whether it's a stand-alone slide deck or multiple sales presentations for your entire team, we have the perfect solution to support your needs. Our sales PowerPoint services go from a quick fix-up or redesign of your slides to dedicated teams for ongoing design support. We take care of your presentation design so you can focus on the strategic aspects of your work.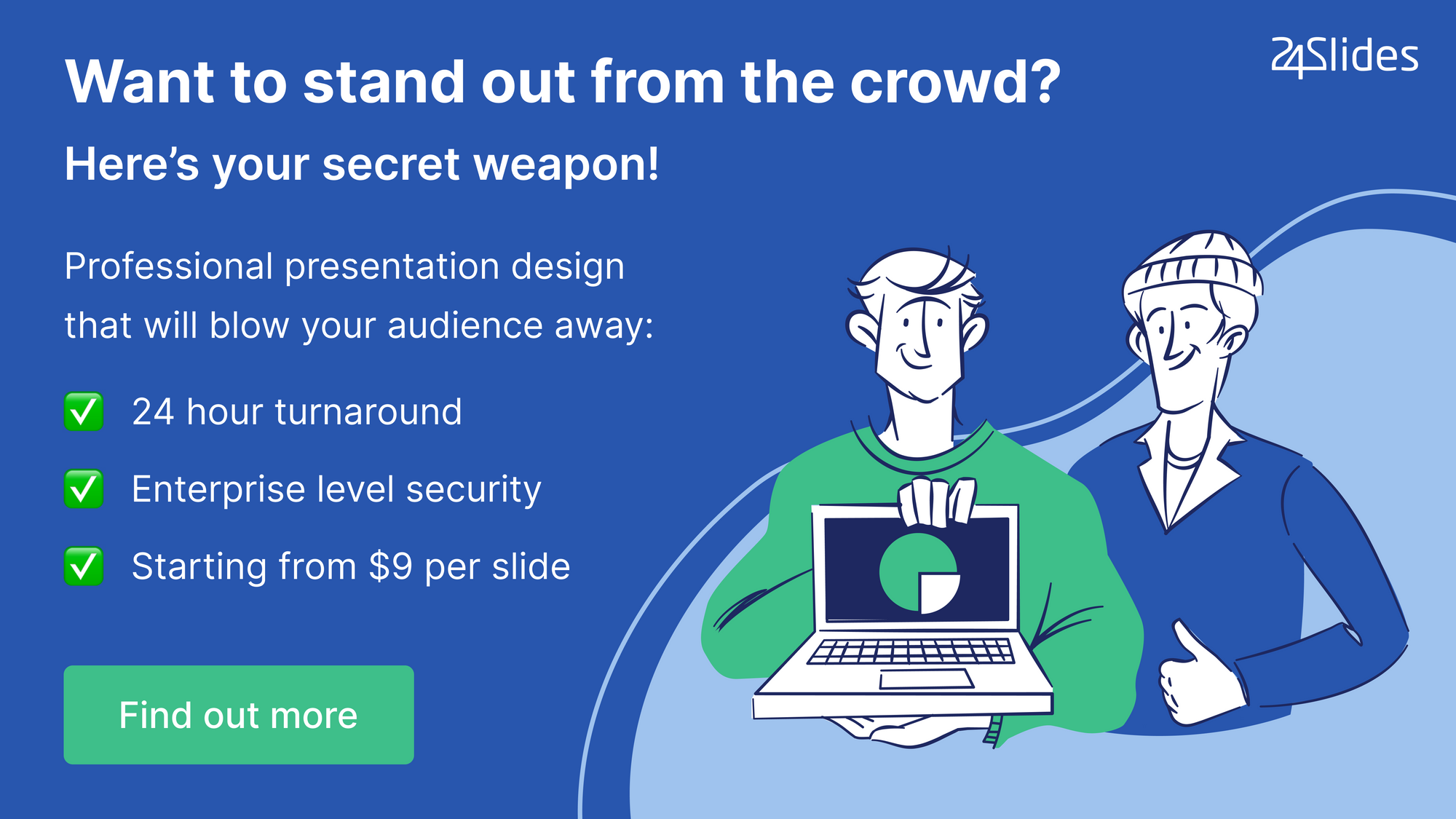 Great Sales Presentation Services with Fast Turnarounds
It's not a secret that your sales presentations can quickly become time-critical projects. If you found our 24-hour turnaround fascinating, you might also want to know about other presentation design agencies with fast delivery times.
Here are your best alternatives for slides that need to be worked on within days:
Slides Wizard is a presentation design provider that creates visually engaging decks. They help executives and consultants sell their big ideas through services such as template creation, data visualization, slide cleanups, visual enhancements, and handwritten conversions.
Process: First, fill in the contact form on the Slides Wizard website with your design requirements and describe what you want them to do with your slides. Then, upload your existing presentation alongside visual references or your brand guidelines. They should contact you in the next few hours.
Turnaround time: 24 – 48 hours
Pricing: On request

Fully Decked Up specializes in creating visually stunning presentations for sales, reports, and conferences. Their team can turn complex data into captivating slides that communicate your message effectively. You can choose between levels of design services: Touch Up, Visual MakeOver, and Re-packaging.
Process: "Re-packaging" is their most comprehensive service and consists of a complete redesign of your presentation. It includes consistency checks, adherence to brand guidelines, animations, and customized icons. To get a quote, simply upload your slides to the Fully Decked Up website, select your preferred service, and they will send you an estimated cost for your approval.
Turnaround time: 48 hours
Pricing: $38-86 per slide (est.)
SlideGenius has helped over 5000 start-ups in various industries with their pitch decks. Their team of designers and copywriters can assist in optimizing your PowerPoint presentation pitch for potential partners and enterprise clients.
Process: They manage a four-stage design process - briefing, content creation, presentation design, and customer revisions. To get started, fill out a form on their website to receive a free consultation, and a representative will contact you within an hour.
Turnaround time: 8 – 10 days
Pricing: Projects starting at $1000 / $3500 for 10 slides (est.)
Sales Presentation Development Services
Up until this point, we've seen companies centered on presentation design. But if you need help building your sales decks from scratch (this means you don't have any content on your slides and only your project's goals), you're looking for sales presentation development services. These include everything from crafting your narrative to slide content and design.
Presentation development involves storytellers, copywriters, subject-matter experts, and others, so you might need to consider extra fees on top of your design budget. Here are your best options:
SlideCow is a US digital agency that works with PPT presentations. They convert your key messages into a visual narrative and then design your slides. SlideCow has a team of storytellers, copywriters, and designers that help you with content, design, strategy, and delivery.
Process: First, you need to schedule a consultation call through their website to discuss your project's scope and requirements. In the second phase, the team will craft your story and design your PowerPoint slides. Finally, you'll receive all the deliverables, and they'll review them with you.
Turnaround time: 2 to 4 weeks
Pricing: Starting from $2,000 / per project
Bright Carbon is a PowerPoint presentation design company that places great importance on the message you want to convey. Their team of designers and communication specialists will work closely with you to ensure your content is as effective as possible, allowing you to visually communicate your ideas with ease.
Process: Bright Carbon's most comprehensive service is called "Presentation creation," which involves briefing sessions to craft a clear and persuasive message. From there, their design team transforms your words into a highly-visual presentation that will help your audience remember all of your key ideas.
Turnaround time: Around 4 weeks
Pricing: Starting at $2500 for 10 slides

Buffalo7 is an excellent alternative for start-ups and Fortune 500 companies alike. With expert storytellers on their team, they are dedicated to creating persuasive product showcase presentations and pitch decks. They also offer services for keynotes and marketing presentations.
Process: Buffalo7's design process is comprised of four stages. Firstly, they conduct "discovery" sessions to gain a deep understanding of your business and audience. Then, their storytelling experts craft a compelling narrative around your ideas. Following this, their designers work on your slides, and finally, they add animations to create an interactive presentation for you.
Turnaround time: It depends on the project's complexity.
Pricing: $5000 for 10 slides (est.)
B2B Sales Presentation Training Services
Sometimes the difference between a poor sales deck and a winning one is in your delivery. That's where presentation training services come in handy. Need to hone your communication skills or level up your team's PowerPoint game? These are the B2B sales presentation training services you want to check:
As the UK's premier presentation design company, Eyeful Presentations specializes in making business decks stand out. Their solutions include a wide range of services, from presentation storytelling to design services and presentation training. Their ultimate goal is to help you connect with your audience.
Their training courses cover the presentation needs of sales professionals, marketing teams, and internal communications. Some topics you'll learn revolve around core presentation skills, storytelling techniques, and the best hacks for PowerPoint design and animations. The time dedication for each course is between 2 to 8 hours.
Pricing: On request
Since 2012, SlideRabbit has provided professionals and companies from all industries with highly-visual slides. On top of their design services, they're also the best at teaching corporate teams how to communicate their ideas visually.
SlideRabbit's presentation training helps entire teams design impactful slides without relying on external support. They offer three types of workshops: "SlideDiets" to help eliminate content-heavy slides, "PowerPoint 101" for a refresher on PowerPoint tips and tricks, and "Template Training" to maximize the potential of your corporate templates.
Pricing: On request
Close Deals with a Customized Sales Presentation

The vast and diverse world of presentations has a specialized market for the always-in-high-demand sales pitch decks. Now that you know there are expert hands to level up your slides (and free you from late hours of dealing with PowerPoint), have you picked your next sales presentation provider?
Maybe you're still comparing options, and that's fine! These slides will carry your hard work and the company's image, so you better check every aspect. To help you in the process, some companies are happy to give you a quick demo or trial offer like 24Slides. If you want to test our service, you can submit your first slide for $1.
But if you're ready to experience all the benefits of customized sales presentations, get started today! Our expert PowerPoint designers will upgrade your slides into the winning sales deck you deserve.