28+ Yellow PowerPoint Templates To Brighten Up Your Presentation!
Yellow is the color of smiley faces and sunshine! It is also the most visible color of the whole spectrum, perfect for gaining your audience's attention from the get-go. Add some vitality and brightness to your presentation with these amazing 28+ yellow PowerPoint templates!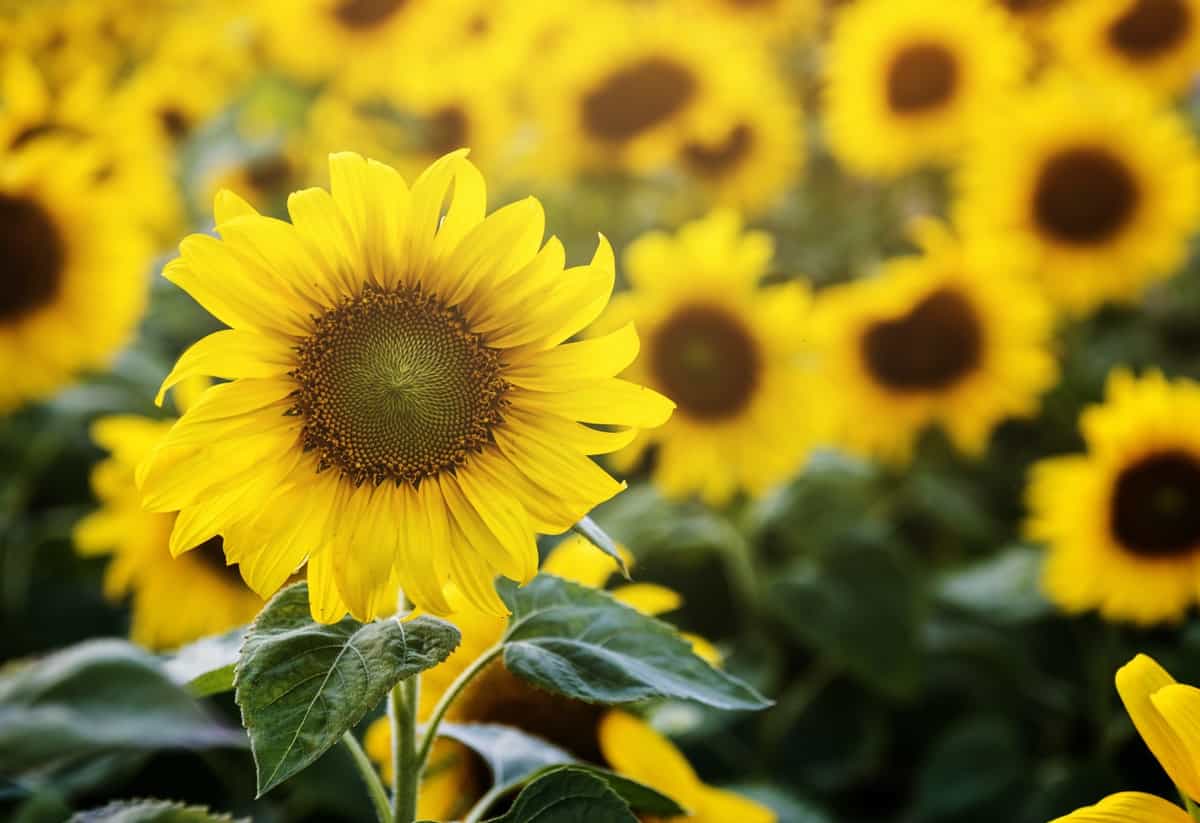 Yellow is the most bright and luminous color of all. And as such, it's one that catches people's eyes very easily. In nature, yellow is a very common color, and we can found it all over the place, like in sunflowers, canaries, and even the sun itself. That's probably why yellow is often related to happiness, optimism, and spring. It's naturally a lively color, perfect for conveying vitality and energy. Yellow is also often used for caution and emergency signs, as it's a color that naturally catches attention. Using it in your presentation can help you make more bright, vibrant, and eye-catching slides.
Here you'll find some of the best yellow PowerPoint templates our designers have worked on. From business reviews to more playful designs, to themed presentations, you'll certainly find something for you! And their yellow color palette will help you catch your audience's attention and convey happiness and vitality through your presentation.
All the PowerPoint templates you'll find here are completely free for you to download. You can even download as many templates as you want, and edit them as you see fit. Mix and match slides from different templates to make the perfect presentation for you! You only need to register at Templates by 24Slides, and voilà! You can start downloading amazing, professionally designed PowerPoint templates straight away!
Yellow Business PowerPoint Templates
Precisely because yellow is a color that conveys brightness and creativity, it can be an excellent option for a business presentation design. Even better, indigo is yellow's complementary color. That's why in this yellow PowerPoint templates combination you'll find many presentations with a yellow-and-blue color palette. This combination is perfect for a business presentation. Since blue usually conveys professionalism and sobriety, using it with yellow will get you the best of both worlds: trustworthiness and vitality!
Playful Yellow PowerPoint Templates
If you want a presentation that conveys all of the yellow's happiness and warmth, then these playful PowerPoint designs are perfect for you. Their custom-made illustrations will help you create a fun and bright presentation.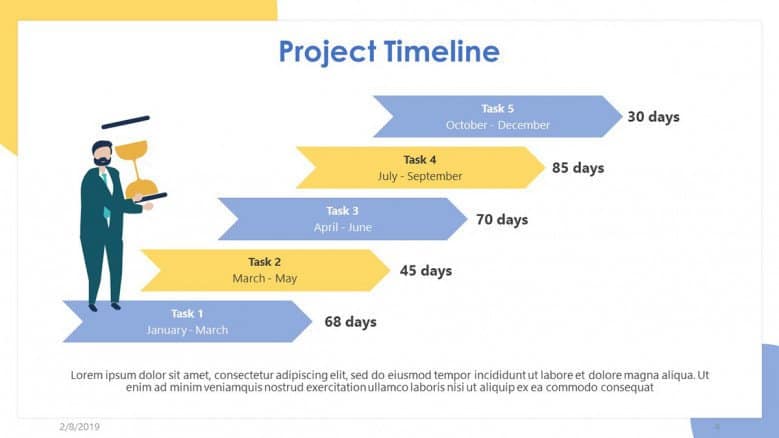 This pastel-color take on the yellow and blue scheme is a perfect example of how you can make a presentation that looks both warm and professional. And its beautiful custom-made illustrations help accentuate this even more! Your audience will certainly be able to tell how much effort and dedication has been put into this presentation. It's no wonder that this yellow PowerPoint template is one of the all-time favorites in the Templates by 24Slides platform.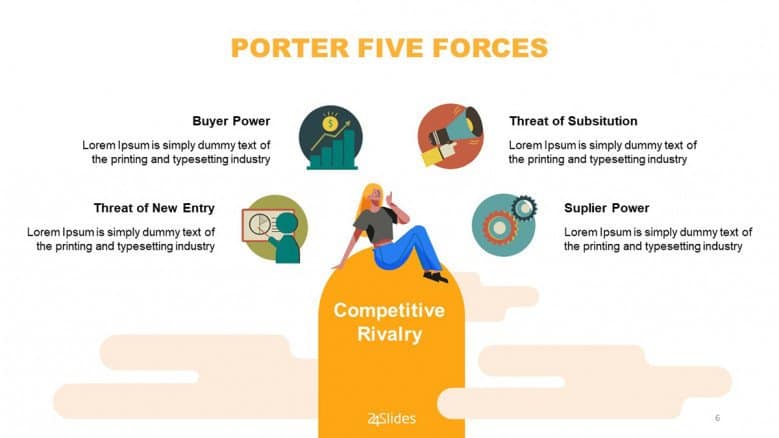 While filled with amazing matte-colors illustrations, the bright school bus yellow tones are what really make this presentation stand out from the rest! Porter's Five Forces framework is one of the best options for businesses to analyze competitive environments within a specific industry. This yellow PowerPoint template will help you showcase your audience each of these tool's points. And, it'll also make sure that you get your audience's full attention with its unique and eye-catching design.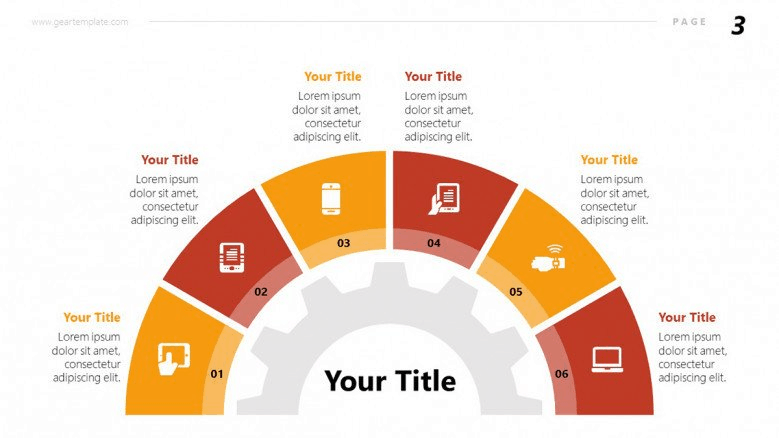 If you're not into the yellow-and-blue palette, then you might want to consider this presentation! Yellow and orange are analogous warm colors, and this combination will make your presentation pop up. Its playful gears design will help you make a unique presentation that will make an impression on your audience. Gears are the perfect symbol to convey connection and synchronization. After all, there's a reason why the phrase "works like a well-oiled machine" exists! Gears are the perfect representation of something that works smoothly and in coordination with each other. This yellow PowerPoint template will help you harness the power of this imagery!
You can also find a blue-and-yellow version here: Mechanical Gear PowerPoint Template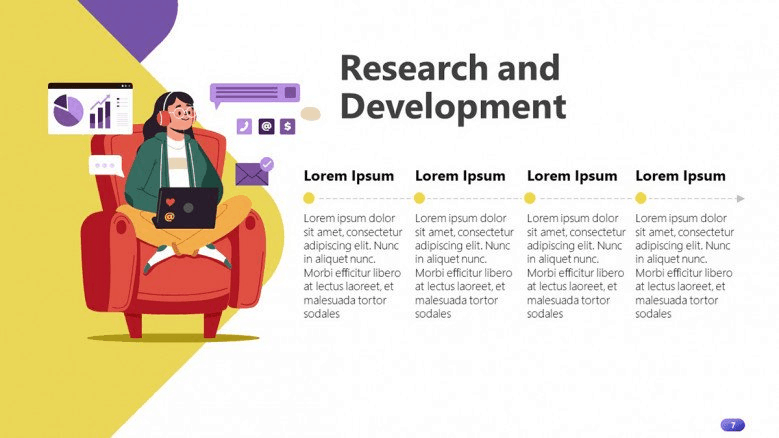 If you liked the idea of the first presentation, but the design didn't fit your tastes perfectly, here's another amazing option! It also has a yellow-and-indigo design, plus playful illustrations to complement each of your slides. Timelines are an incredibly effective way to convey chronological events and processes in a visual way. So if you're looking to add any kind of sequential information in your presentation, then these designs can be a huge plus for you!
Creative Yellow PowerPoint Templates
The creative designs are the perfect middle-ground to highlight both your professional and creative sides. Here you'll find presentations will unique layouts and a big visual component. These slides have designs with different kinds of elements and photographs that you can easily edit to fit your own presentation.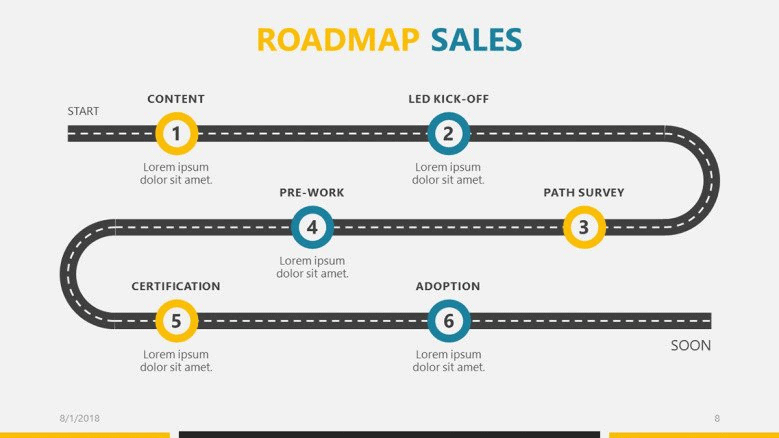 This yellow business roadmap PowerPoint template is the all-time favorite in the Templates by 24Slides platform! Its slides are perfect to give your audience an overview of your business strategy. It includes slides focused on mission and vision, market analysis, product roadmap, production processes, and much more. Its gold and cerulean blue color palette with grey tones is perfect for making a serious presentation without being boring.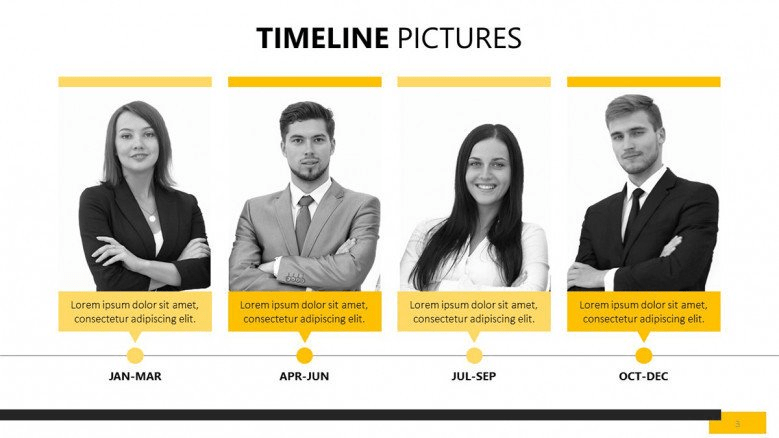 If you're looking for a pictured-based timeline, this yellow PowerPoint offers several options for that! This slide pack includes 8 different timelines designs that you can download and add to your own presentation. It's perfect for organizing sequential tasks, showcasing the business' history, and any kind of chronological information. And its bright yellow design is perfect for injecting some life into your presentation and making it stand out!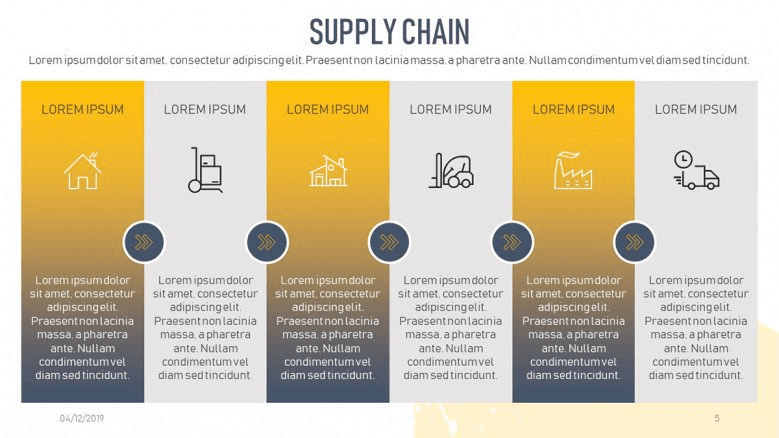 Supply chain management is vital for any business as it allows you to show all the steps and services that take place within a company. It helps to showcase every step, good, and service necessary It gives the audience an outstanding overview of the complete process, from the raw materials all the way to the moment the customer receives the product. This yellow-tones PowerPoint template will help you make sure that your audience understands perfectly every little piece that comes into play in your business.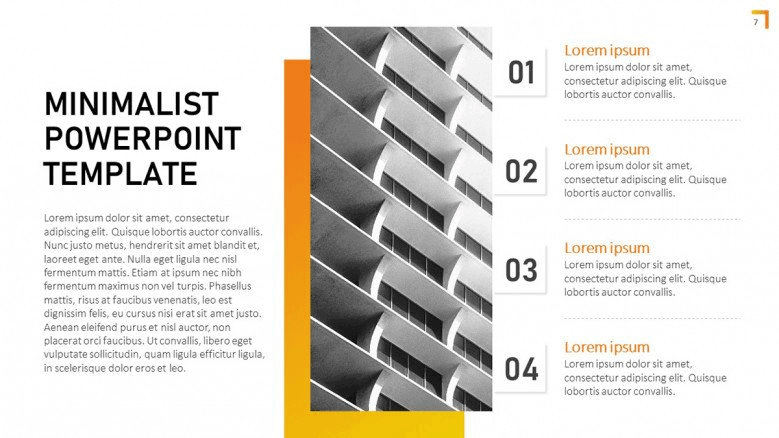 Minimalist doesn't have to mean boring! This yellow PowerPoint template is the perfect example of this. While it keeps things simple, with a white background and minimal elements, the yellow details give it a splash of color that will make your presentation stand out. Its sleek black and grey design is perfect for a sophisticated presentation. And it's unique design and layout will make sure that your slides don't look like the all-white default slides.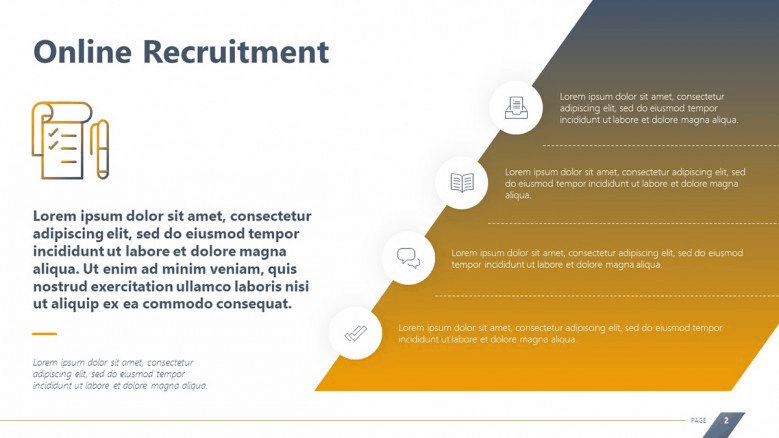 Hiring new professionals for your business can be a complicated task, especially if it's done through online channels. These slides will help you assess and plan exactly what you're looking for in your recruitment process. Its creative design offers a wide variety of slides layout so you can add all the information you need. And its yellow and gray tones are perfect for a professional-looking presentation.
Yellow Corporate PowerPoint Templates
Finally, we've got the corporate design style. If you're looking for a soberer, more traditional presentation, then the ones in this section will probably fit you the best! Despite not being a very common presentation color, yellow is still a great option for more business-like templates, as it can bring liveliness and brightness into your presentation!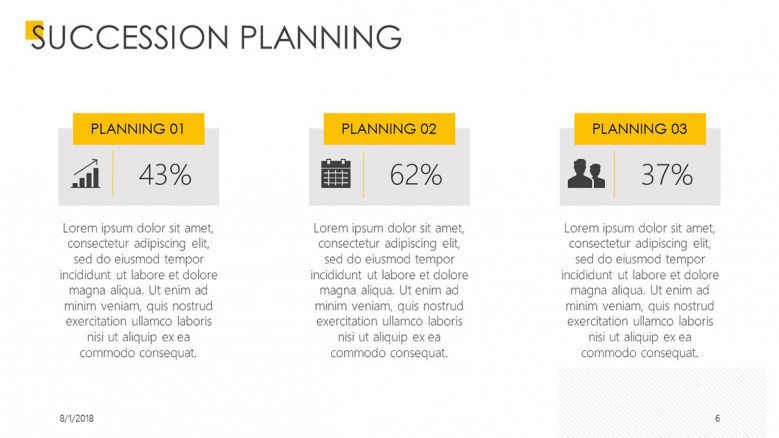 Planning ahead is crucial when developing your business. Here you'll find different slide layouts that will allow you to share with your audience your ideas and proposals. It also includes different types of charts so you can plan ahead taking into consideration the latest revenues and data. This minimalistic gray and yellow PowerPoint template is the perfect basis for a presentation that's both eye-catching and sober!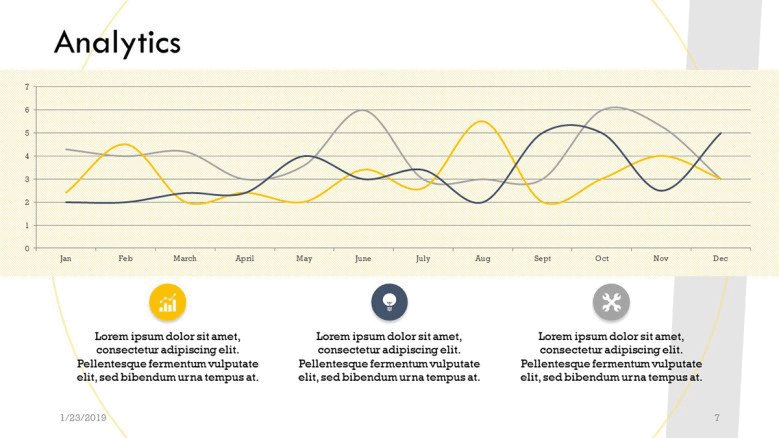 Evaluate your performance with this yellow PowerPoint template. Analytics are essential for learning how is your business doing, what you can improve, and what you should strive for. The slides in this presentation offer a wide range of graphs and charts to update your audience in a visually engaging way. Its yellow-based color palette will help you keep your audience's attention throughout the presentation!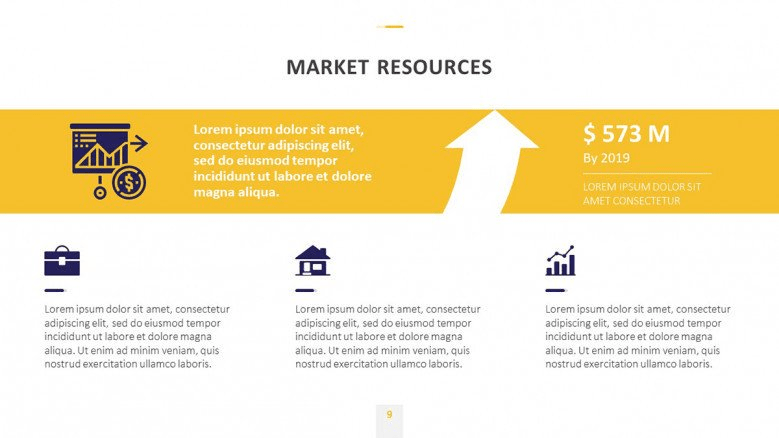 In order to keep learning and growing, it's vital to evaluate your performance. This yellow PowerPoint template has all the tools you might need to assess what went right and what could've been better. Reflecting and reviewing your own actions is the key to improvement! And the yellow and blue design of this presentation is perfect for keeping your audience's attention while still looking professional. If you're looking for something similar with more blue than yellow, you might also want to check out our Lessons Learned Presentation Template.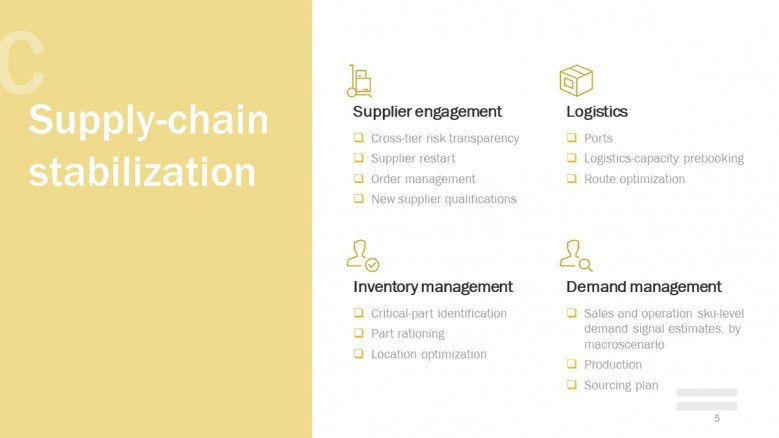 Crises can be unexpected and affect very negatively your business. That's why is extra important to be one step ahead and plan in advance what you could do in these cases. Business Continuity will help you create strategies for prevention and recovery in case of unexpected events. This sandy-yellow PowerPoint template will help you identify the key elements of your production process and plan how you'll deal with them in order to keep your business going.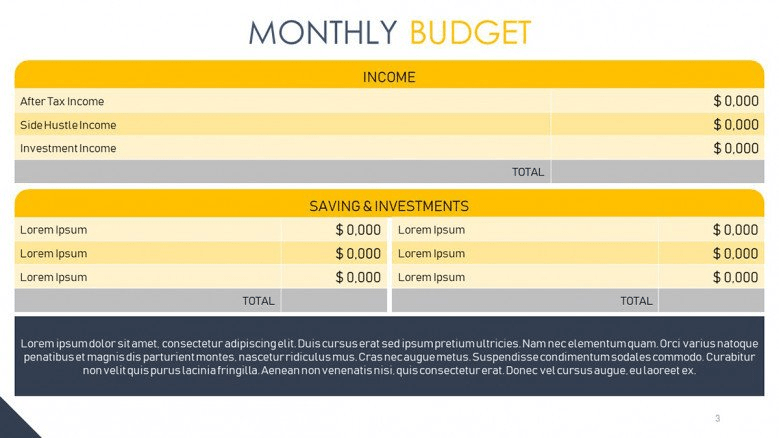 Creating a budget is one of the first things to take into consideration when planning a project. This bright yellow PowerPoint template will help you show your audience every little detail from your budget and how you're planning to spend it. It includes all types of charts and graphs so you can add your data in a visually engaging way. And, as with most of the templates in this list, its yellow, navy, and grey color scheme is perfect for conveying professionalism without being boring.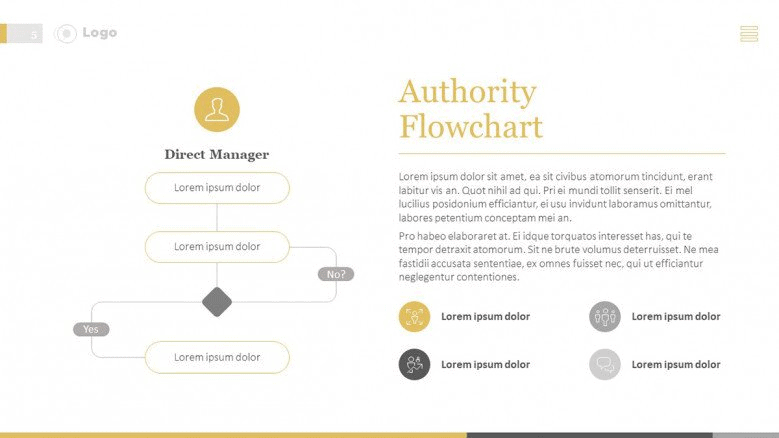 In order for a business to work seamlessly, it's vital that everyone knows what their role is and what they're responsible for. This yellow PowerPoint template will help you make sure that everyone in your team is on the same page concerning roles and responsibilities. It'll help you showcase the hierarchy between different team players so everyone can know who they answer to and who's to take responsibility for what.
Analyze your business' performance with this yellow PowerPoint template! It has all the tools you might need to do a complete review of the different areas, from finances and sales to business development. Its minimalistic design is perfect to avoid distracting your audience with unnecessary elements. And its all-yellow color scheme will help you make your presentation brighter and more appealing to the eye.
Other Yellow PowerPoint Resources Templates
The best thing about 24Slides templates is that you can mix-and-match slides from different presentations. Here you'll find some templates pack that will be a great addition to any presentation. You can use these yellow PowerPoint template slides to complement any of the previous presentations, or even your own.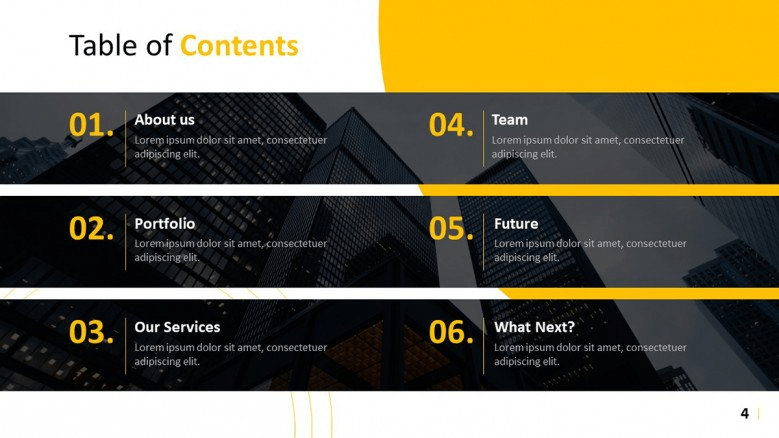 Tables of Contents are an excellent tool to make sure everyone knows what to expect from the presentation. I'll allow you to make a more organized presentation, and make sure that everyone in your audience is able to follow point by point. This yellow PowerPoint template pack includes 8 different tables of contents designs for you to use. You just need to download it and copy-paste whichever you like into your own presentation!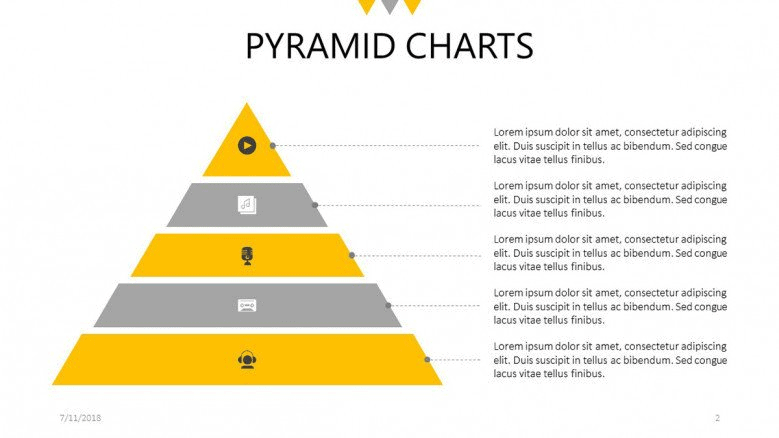 Pyramid charts are one of the most popular graphs and diagrams on PowerPoint. And while you can make your own pyramid charts from scratch, why take all that time when you have these amazing templates at your disposal? Pyramid Charts are great for showing a hierarchy between different elements. In this free template pack, you'll find all kinds of pyramid charts, from comparative ones to horizontal ones.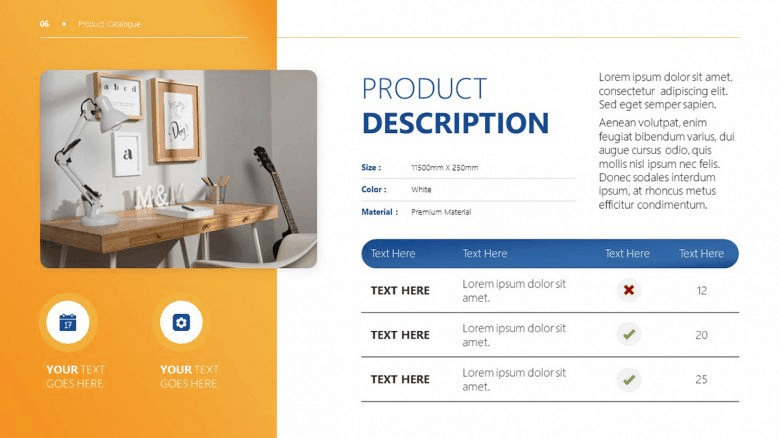 If you need to showcase a wide array of products or services, then you might want to add some catalog slides into your presentation! Showcase the items you offer in an eye-catching and appealing way with these gold and navy slides. It also includes templates for you to introduce your services, and product-specific slides so you can give a complete overview of each item.
Icons are one of the most effective visual tools to use in a presentation. They are a great way to customize your presentation. Icons can convey a lot of information in very little space, which makes them ideal for presentations. This pack offers 12 different yellow PowerPoint icons you can use freely in all your presentations.
Just like the previous catalog PowerPoint template, this slide pack is perfect for showcasing some of your products or services. While this yellow PowerPoint template is focused on photography services, you can use its amazing design for pretty much anything! Its photograph-focused slides are easily editable so you can fill in the spaces with any image you think showcases best your product or services.
Yellow Themed PowerPoint Templates
Finally, you'll find here some of the very best themed PowerPoint templates 24Slides has to offer! From seasonal-themed presentations to specific country overviews, our designers constantly work on making unique templates that will amaze your audience. If the specific topic you're looking for isn't here, don't worry! We have hundreds more you can download completely for free at Templates by 24Slides.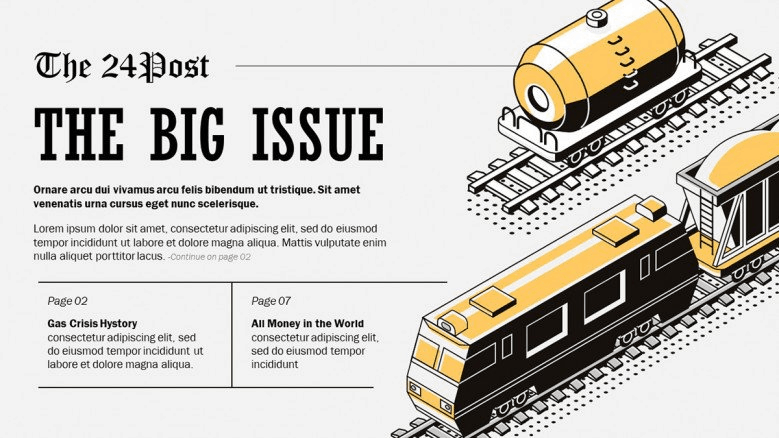 If you're looking for some vintage presentation designs, then you'll probably love this yellow PowerPoint template. Its design imitates an old newspaper and will help you make a truly unique presentation that your audience will remember long after it's over. Its yellow and bright orange color scheme works great for infusing some more life into your slides!
Grab a cozy sweater and a cup of tea and get ready for autumn with this Fall Season PowerPoint template. Its yellow and orange color palette is perfect for conveying the change of color in leaves throughout the fall season. Its unique illustrations and designs will help you make a memorable, playful presentation!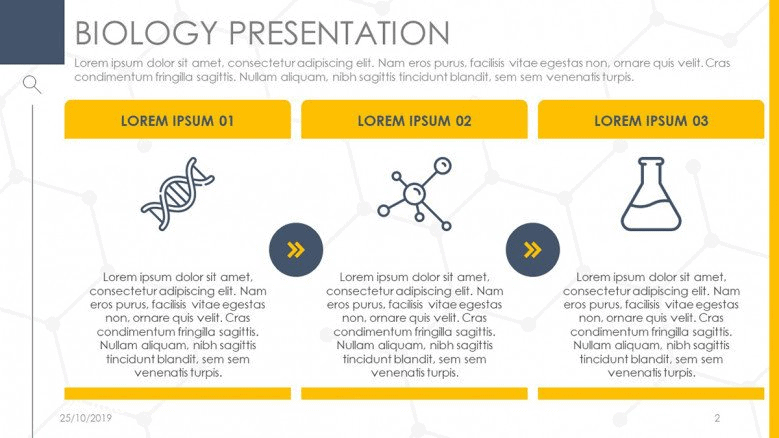 Science can be a difficult topic to get a grasp on. That's why this yellow PowerPoint template is perfect for guiding your audience through your biology presentation. These slides include all type of science-themed icons and illustrations that will help you convey your information in a more clear way. And if you're looking for more yellow science-themed designs you can always check out our Geography and Physics PowerPoint Templates for more yellow PowerPoint templates designs.
Egypt is a country with an incredible history and culture. This yellow PowerPoint template will help you convey all the magic of Egypt. Its slides will allow you to showcase this country's customs, practical data, and culture. And its sandy yellow design is perfect for keeping your audience immersed in the Egyptian theme.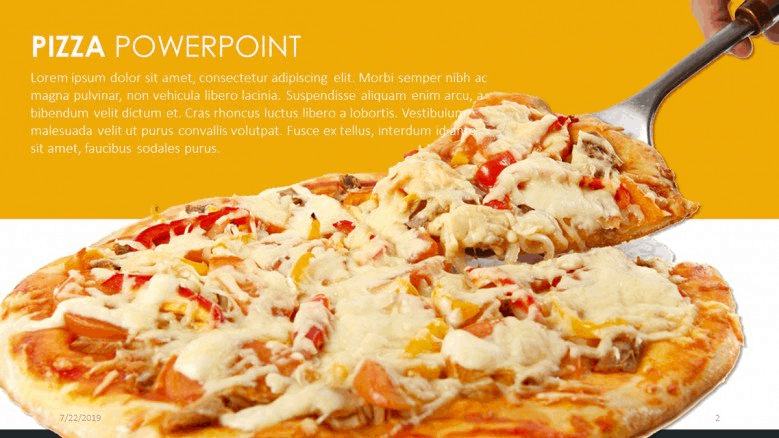 Who doesn't like pizza? It's one of the most popular fast foods all around the world. This yellow PowerPoint template is perfect for showcasing all the yumminess of a good pizza. You can rest assure that your audience will leave your presentation with a craving for pizza after these mouth-watering slides! And you can also check our yellow Fast Food PowerPoint Template for more pizza-based designs.
If you're a pet lover or work in the pet care industry, this yellow PowerPoint template is the one for you! It's got the perfect layout for you to showcase your pet pictures. Plus, its slides have all kinds of custom-made icons related to the pet theme. And this gold and cerulean design is perfect for conveying playfulness and brightness in your presentation!
Get Your Own Customized Presentations
These are some of the most popular yellow PowerPoint templates 24Slides' designers have to offer. You'll find hundreds more that also have a yellow color palette in the Templates by 24Slides platform. From a Flow Chart Presentation to a Yoga-themed PowerPoint, to even a Star Wars Template, you'll definitely find something to fit your tastes! And the best thing is, they are all easily editable. So if you don't like the color palette or a specific element of a slide, you can easily change them to fit your needs.
However, editing and customizing a presentation can take time. So why not let professionals do what they do best? 24Slides offers professional PowerPoint design for businesses of all kinds. Get the perfect PowerPoint presentation that showcases all your information in the best way possible and conveys your brand, while saving time and money.
If you still don't believe what our designers can do for your presentation, you can try it for just $1! We can guarantee that you'll get slides like no other that will wow your audience and make your presentation stay on their minds long after it's done.