We have a great team here at 24Slides. We have great clients, and we get to work on exciting projects both inside and outside the office. And what's even better — we are getting to share our experiences with even more people as our team expands.
However, we know that hiring — in any industry — is not always easy. It can be difficult to find qualified candidates who fit in with your company culture. We recently focused on hiring graphic designers for our office in Malang, Indonesia and wanted to share some of our insights on how we hire the best design talent.
We promoted our job openings in several ways online and through social media. We did this over the course of two months in order to attract as many potential candidates as possible. The more candidates that we had, the more selective we could be in our screening.
Instead of simply inviting candidates in for an interview, at 24Slides we set up a much more in-depth process. We held a "Recruitment Event" over two days. Over the course of these days, we hoped to explain what it's like to work at 24Slides while also getting a chance to evaluate potential new hires in a multitude of different ways.

One of the downsides of "traditional" sit-down interviews can be that candidates are nervous and, in turn, do not express themselves or perform up to their full potential. In order to "break the ice" and set up a more casual and fun approach to our Recruitment Event, we greeted candidates with a unique photo-booth. It was a wonderful way to start the day with energy and excitement.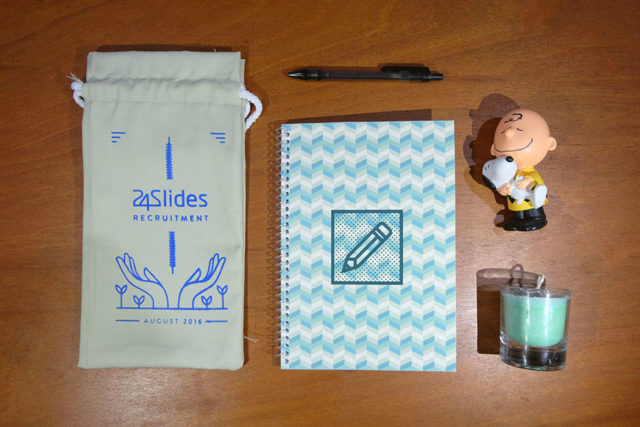 We also provided each applicant with a welcome kit — a drawstring handbag, a notebook and pen, and a homemade candle. This let the candidates know that we appreciated them spending their time learning more about 24Slides.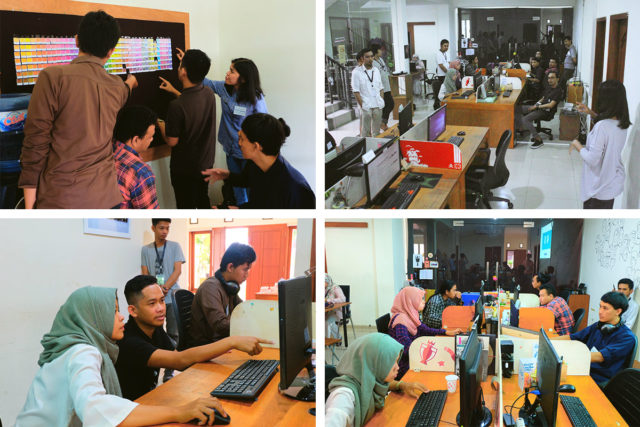 When you're hiring new personnel for your team, it's important to remember that it's not only a time for you to evaluate candidates — it's also a time for candidates to evaluate your company. Each candidate needs to know about the work that you do, what will be expected of him/her, and how the company culture shapes day-to-day work life. In our Recruitment Event, one of the first items on the agenda was to give an informal presentation about 24Slides and answer any questions that the candidates might have.
Of course, you'll also want to ensure that your potential hires have all the necessary qualifications and skills to be successful as part of your company. At our Recruitment Event, the remainder of the first day was filled with testing — both individually and with the prospective candidates divided into groups. Because 24Slides has clients all over the world, the first test was an English test. Then, we moved on to graphic design tests. Through these tests, we wanted to assess each person's individual design abilities as well as their abilities to communicate, lead, solve problems, and work in a team. Senior designers from 24Slides were available during these tests to provide technical guidance when necessary.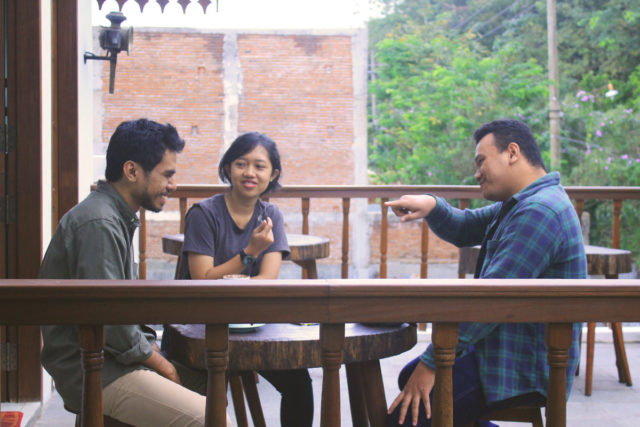 After the first day of the Recruitment Event, we had a lot more information about the potential candidates beyond simply their resumes and cover letters and could make a much more informed decision about candidates who might be the best fit for the 24Slides team. On the second day, we called some of the most outstanding applicants to meet us for an interview session.
For a change of scenery, we invited these candidates to a traditional coffee shop. We found that the combination of fresh air and good coffee often helped the applicant relax and open up more about their motivations and ambitions. In this smaller setting, we were able to get to know the candidates more personally and decide which of these qualified and talented designers would be great additions at 24Slides.
These two days were filled with excitement, both for the prospective hires and for the 24Slides team. We hoped that by spending a couple of days with our team, the applicants were excited about the opportunity to work for 24Slides and that they learned more about PowerPoint design and their own strengths. In return, we got to spend more time learning about each candidate, well beyond what you'd learn in a traditional interview setting and found some great new people to join the 24Slides team.