Top 20 Free Templates For Corporate And Business Presentations
When you hear the words 'corporate presentation' or 'business presentation,' what's the first thing that comes to your mind? Serious? Informative? Or are you thinking more like boring  and yawn-inducing? Whichever adjective comes to your mind, know that you can break away from the corporate presentation stereotype. How? By using modern-looking PowerPoint templates. In this article, I've compiled a list of the top 20 free templates for corporate and business presentations.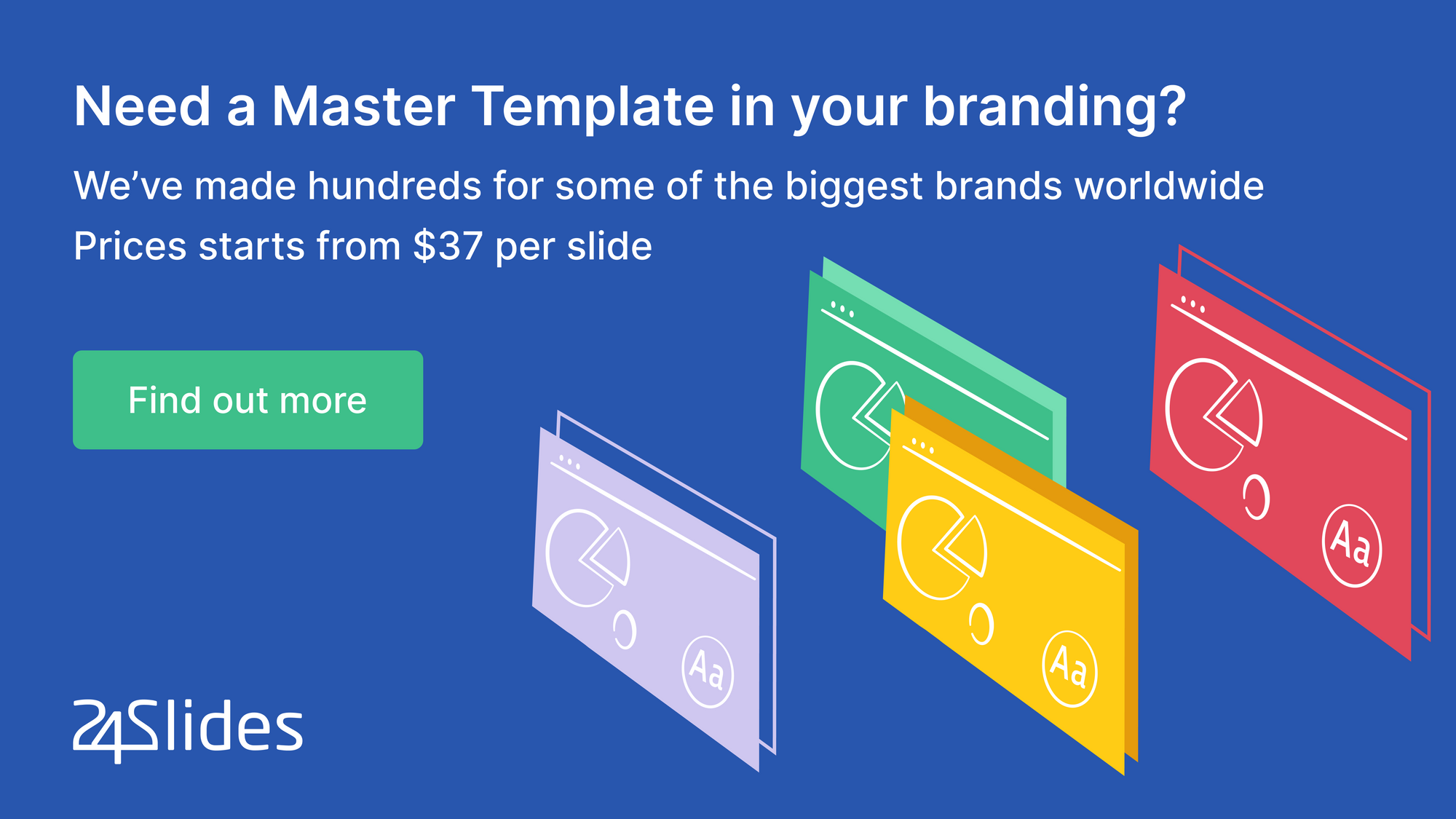 But before I give you the list, here are some common reasons you may want to use these templates for your next presentation:
You don't have time to design your slides from scratch
Even if you know your way around presentations and graphic design, you don't have the time to create your presentation slides from scratch. Now, most business templates you'll find on the web look like amateurs made them. But fret no more. This article will give you the links to all the best free corporate and business presentation templates you'll ever find online.
You're not a design expert
If creativity and design are your weak points, then worry no more. These 20 templates will be literal life-savers! You no longer need to take a few days off from work just to finish your presentation. You'll simply need to devote a few hours to customize these templates and you'll have your slides ready in a few!
You don't want to spend $$$ on a premium business template
While there are advantages to using premium templates, they can easily set you back by $50 or so. While it may not sound like much in the grand scheme of things, a price tag of $0 is a very attractive alternative. Why spend money when you can download a professionally-designed template for free, right?
So, without further ado, here are the top 20 free templates for corporate and business presentations you can download right now!
Top 20 Free Templates For Corporate And Business Presentations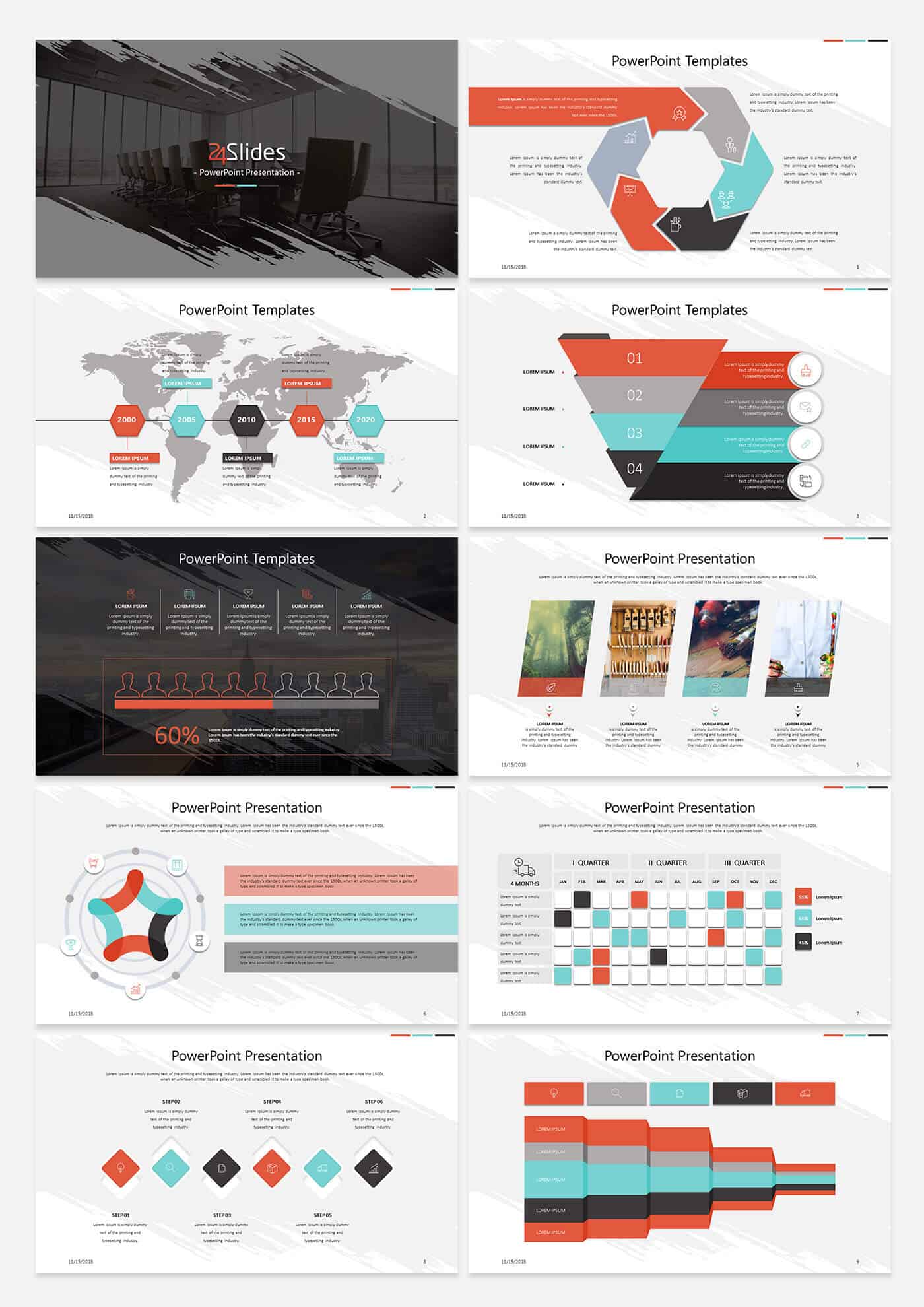 No matter how long or short your presentation is, you'll find something useful in this 26-slide template pack. It doesn't even matter what industry you're in. If you need a quick and professional template, look no further than this!
You can use this template to outline your organizational chart. You can also use it to simplify your complex business processes. If you're doing a business proposal, you can use some of the slides to explain how your plan will work and how it's going to materialize.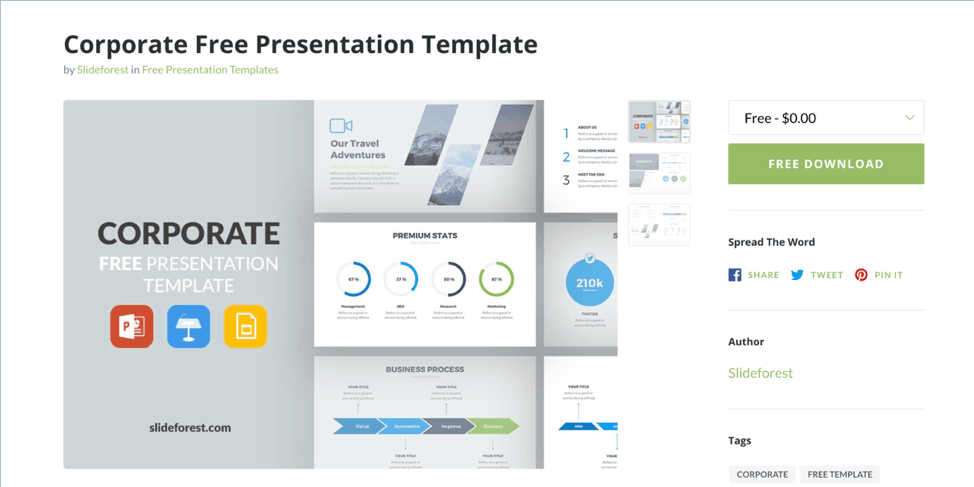 This template pack from SlideForest comes with 8 slides. It may not sound like much, but if you're an avid Apple Keynote or Google Slides user, then you'll be happy to know that this pack comes in 3 different file formats. There's (1) PPTX for PowerPoint, (2) KEY file for Apple Keynote, and (3) GS file for Google Slides.
You can use this pack to give a little background about your company, your social media statistics, and your business process. You can even share a bit about your team's travel adventures!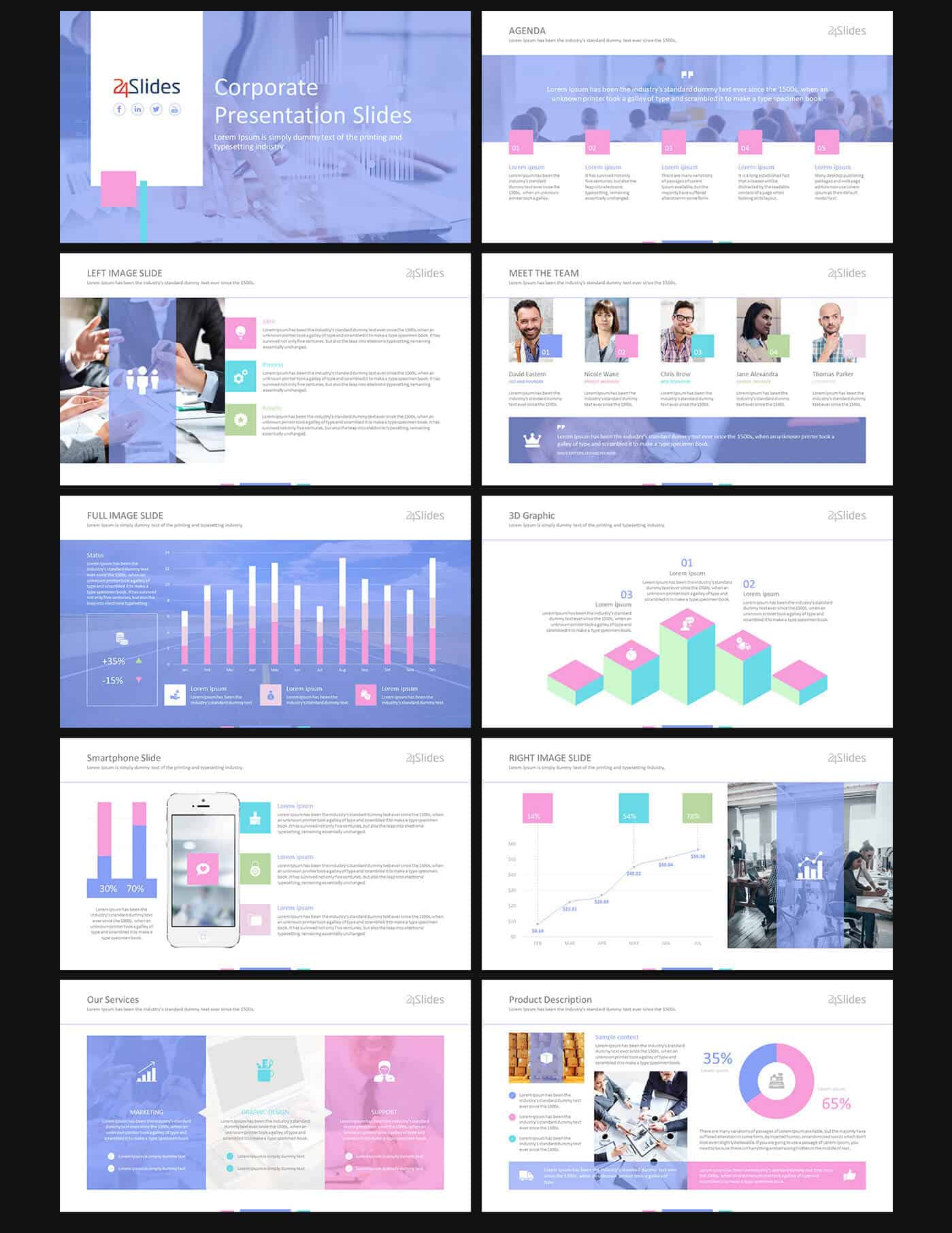 If you need a light-themed PPT template for your presentation, then you need to check this 14-slide template pack right away. With shades of violet, pink and green, this template is bound to capture people's attention. The icons, graphics and diagrams included in the slides are all on point, and will look good in any business or corporate presentation!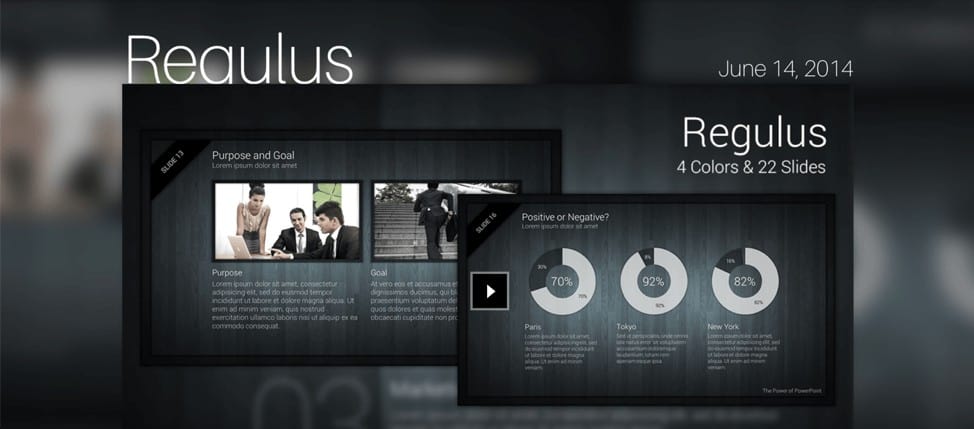 If you want a stylish and elegant-looking template, then make sure to check out Regulus. This template may have been published in 2014, but this is still as relevant today as it was 5 years ago. It includes 22 slides and uses 4 different color themes – pink, blue, green, and yellow. The dark wood background provides a nice contrast to the various elements on the foreground.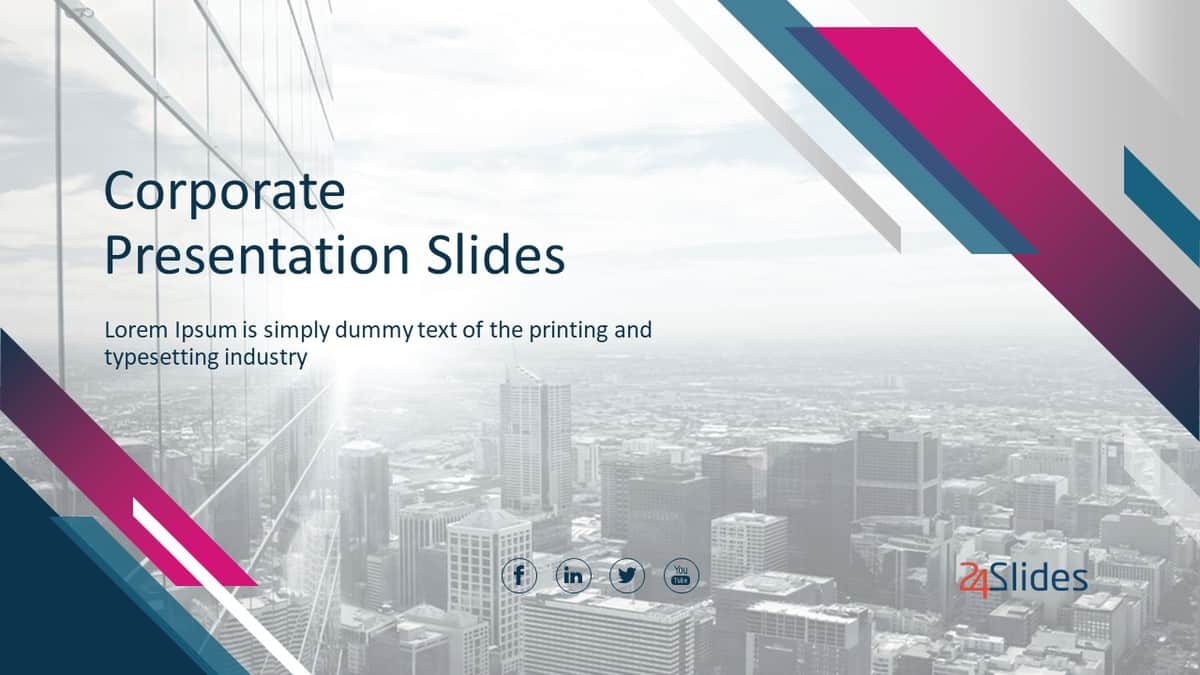 With fuchsia and dark blue highlights, this 14-slide template pack will fit right in in most boardroom meetings and presentations. Use the agenda slide to outline your plan for your meeting and let everyone know what to expect. The process delivery slide can showcase every step of your process – whatever it may be. The product comparison slide is perfect for weighing the pros and cons of your products.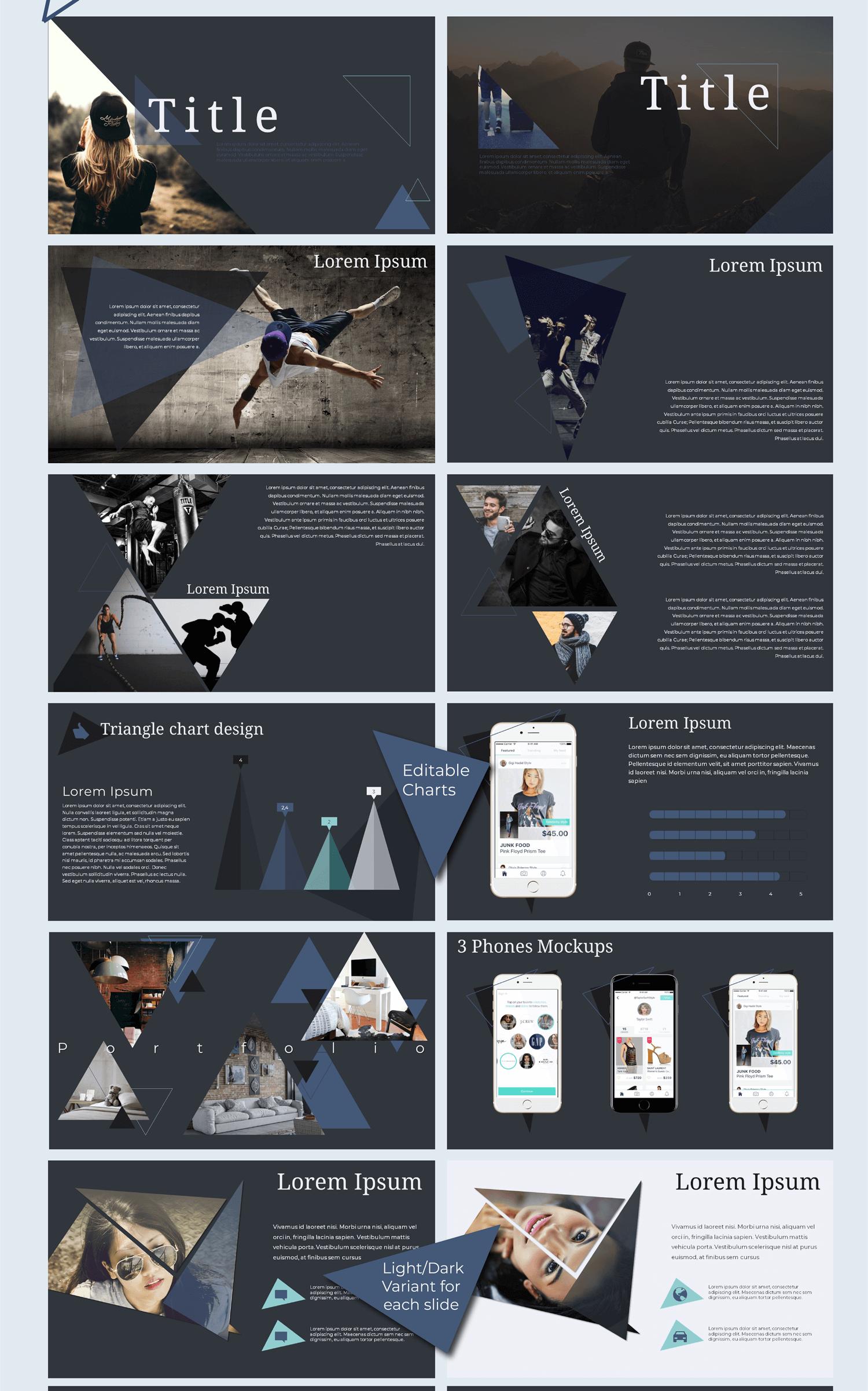 As you can see on the screenshot above, this template pack is quite the looker. It has over 50 slides included and comes in two color schemes: aqua and dark wood. Each slide comes in two variants (dark/light), so if you're a fan of dark backgrounds, you'll love this pack. Best of all, you can use these for all kinds of presentations too – not just corporate ones!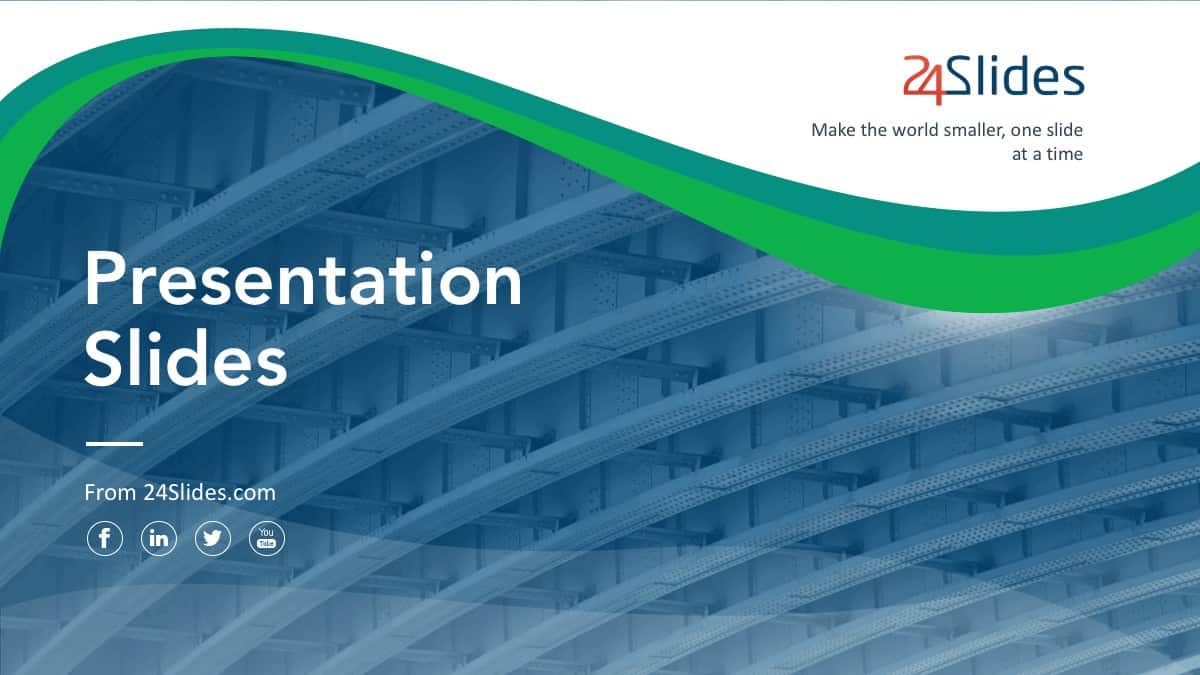 If you intend to cover a bit of everything in your presentation, then you may want to download this 20-slide template pack. It's got a lot of graphics and charts included. So, if you intend to use a pie chart, line chart, SWOT analysis, gear process, before and after comparisons, calendars, and more, then this may be the perfect template for you. You don't need to go over the top to get your audience to pay attention to your presentation. You just need to download the Nowco template. It is a perfect example of a template that strikes a nice balance between minimalism, functionality and design. The author has labeled what each slide is for. So, you can go through the different slides and pick out what's most relevant to your needs.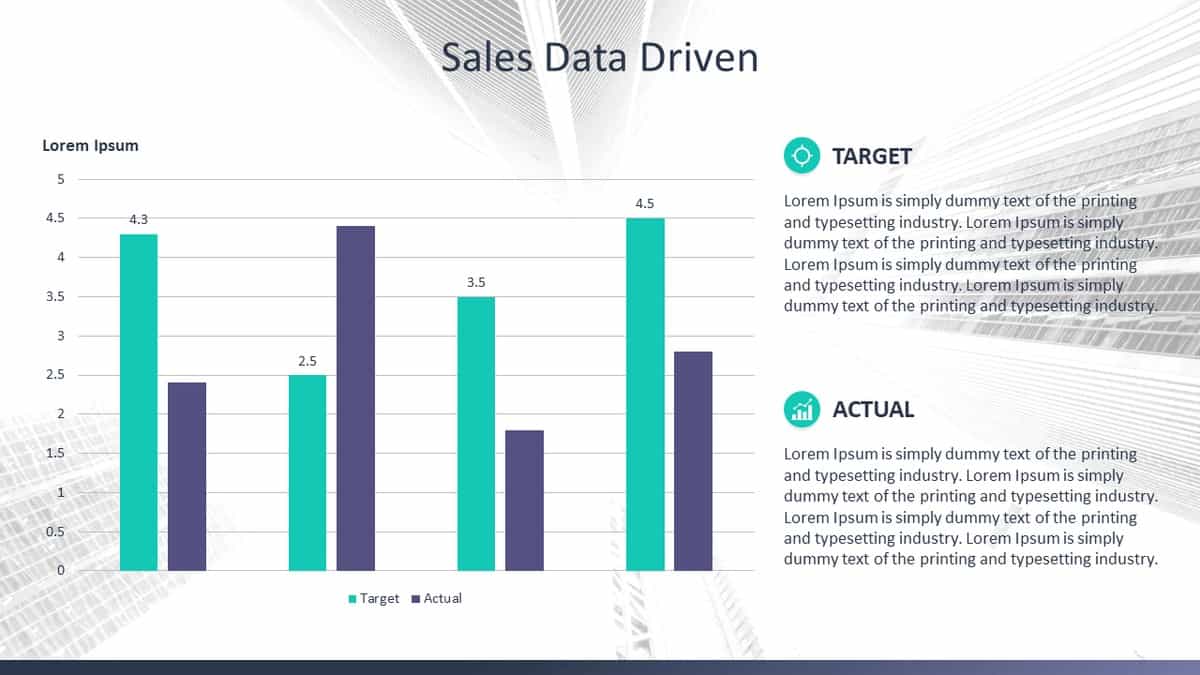 If you need to give a presentation with lots of graphs and charts, then this is the right template for you. This 9-slide template is all about visualizing data. We've included a bar chart, several pie charts, stacked bar chart, and stacked line chart. There's also a dashboard slide to give your audience a bird's eye view of your corporate data sets.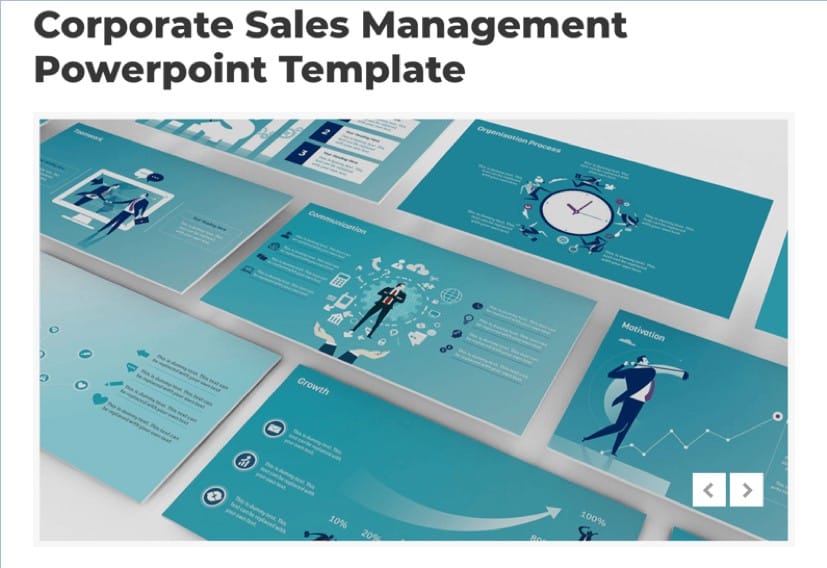 As you can see in the screenshot above, this 10-slide template pack comes in a blue background. The smartly-dressed human icons that are present on every slide will add a nice corporate touch to your presentation. You can use the slides to introduce your team, outline your goals, direction and progress. There's also a couple of slides dedicated to presenting the challenges you've faced, your growth and ultimately, your success.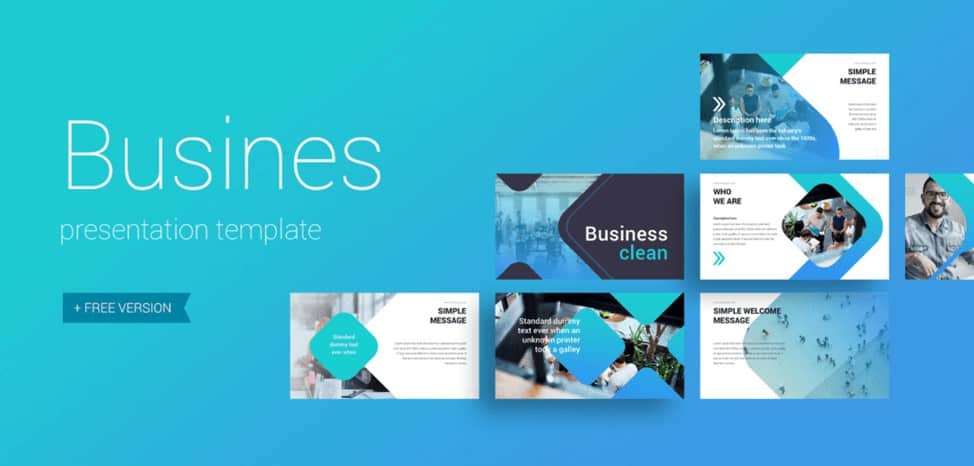 There are 15 slides included in this free template pack. If you find this a bit lacking, then the good news is that the author also sells a much more comprehensive premium version (150+ unique slides) on Graphic River. However, for most quick corporate presentations, the free version is good enough to use as a starting point. You can simply duplicate some of the slides and edit the elements as you see fit. To download, simply type $0 on the field, "Name a fair price," and click the Purchase button.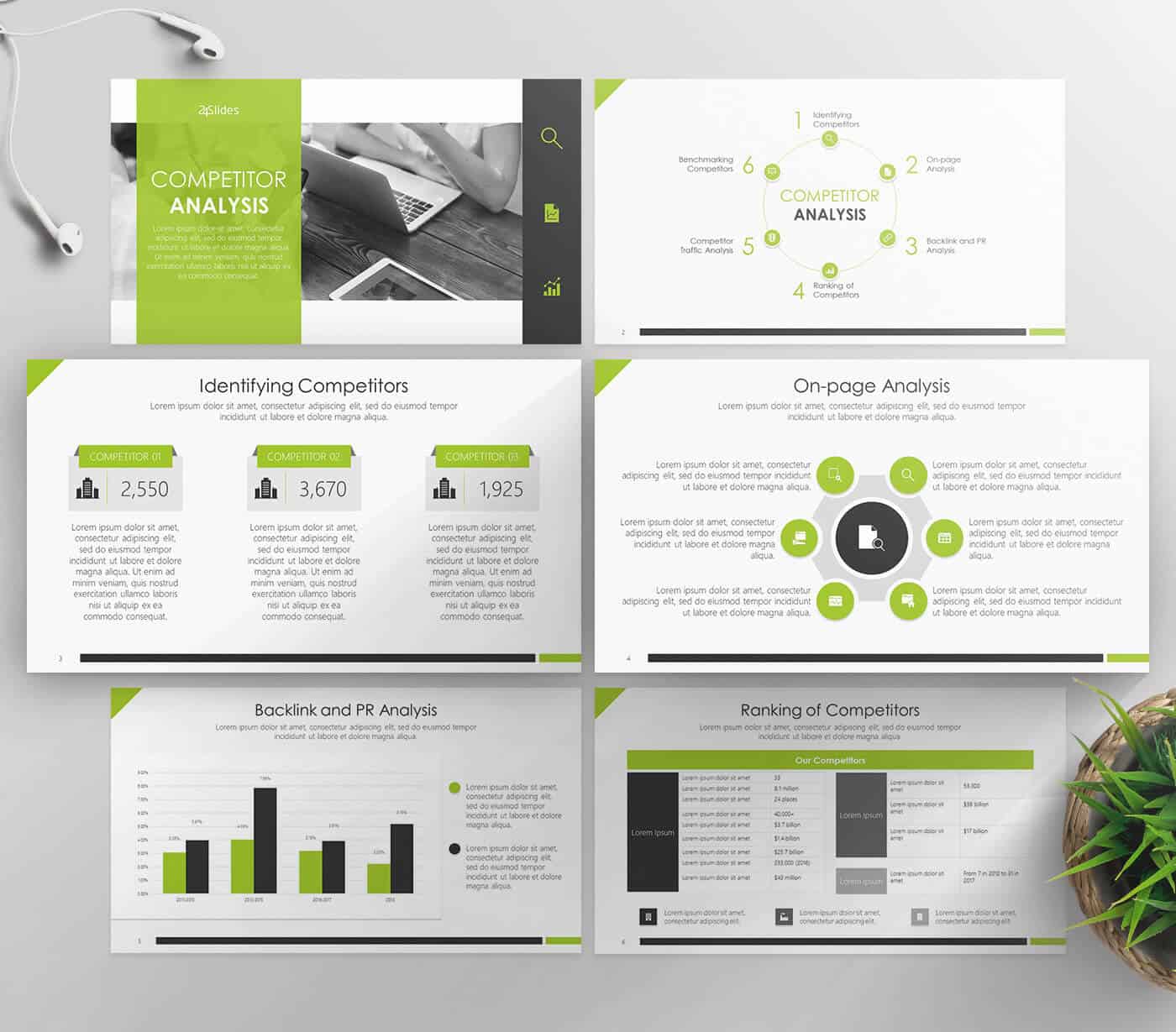 If you have done no competitor research at all, then you're potentially leaving a lot of money on the table. It's important to know your competitor's strengths and weaknesses, and why customers flock to them. Study the competition and find out how you can fill a specific gap in the market. Then use this PPT template pack to present your findings to your stakeholders.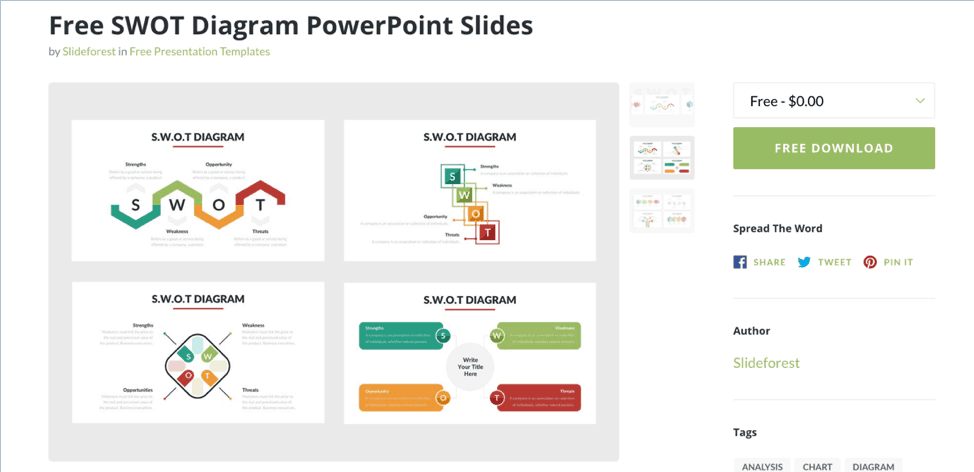 You need to invest some time to do a thorough SWOT analysis. You don't want to leave any stone unturned, or else your decision-making skills may be adversely affected. With that said, if you don't want to settle for plain, old bullet points to present your SWOT analysis, then this template pack will surely help you out. You can choose from 8 different SWOT diagrams. Choose the ones that appeal most to you, and replace the placeholder text with the results of your SWOT analysis.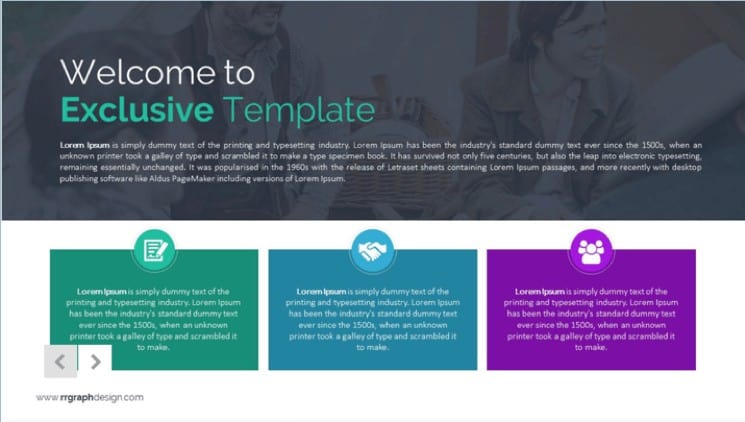 If you're looking for an exclusive template, something that's only unique to you, well, you need to keep looking. But if you don't mind using something other people have downloaded as well, then the so-called 'Exclusive' Free Template may be perfect for your presentation! This template pack includes 25 slides in 16:9 widescreen layout. From the introduction to the 'meat' of your discussion, this pack has all the slides you need.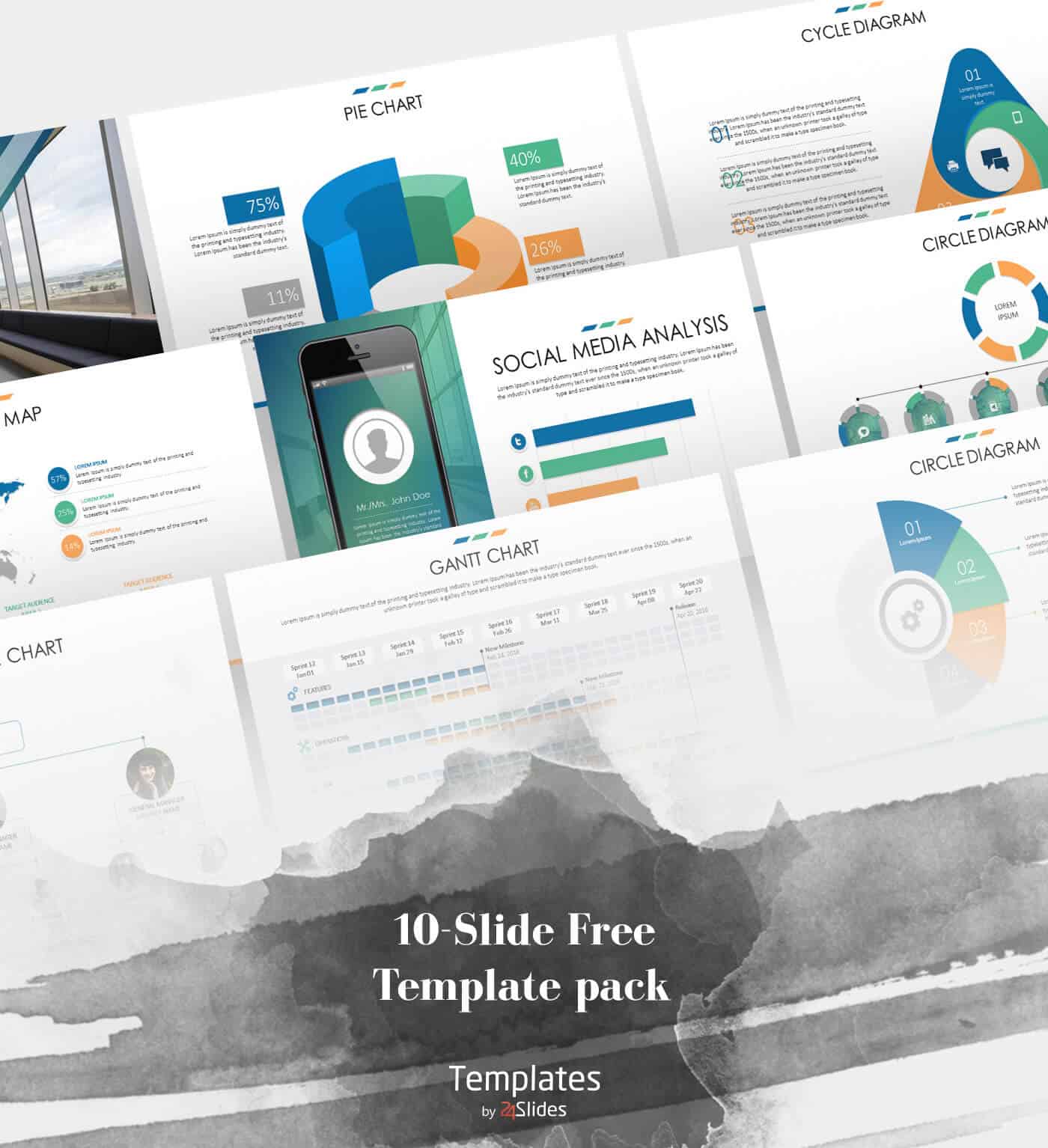 This 20-slide template is perfect for any kind of business presentation. You don't want to bore your audience off with plenty of text-based slides. Instead, you want to use something like this template pack. It's packed with graphs and charts that you can use in your presentation. From organizational charts to Gantt charts, mind maps and timelines, and everything in between, this template has got you covered. You can even use this to share your social media statistics or describe your marketing funnel. Check this template out today and add it to your personal template library!
Business Pitch by RRGraph Design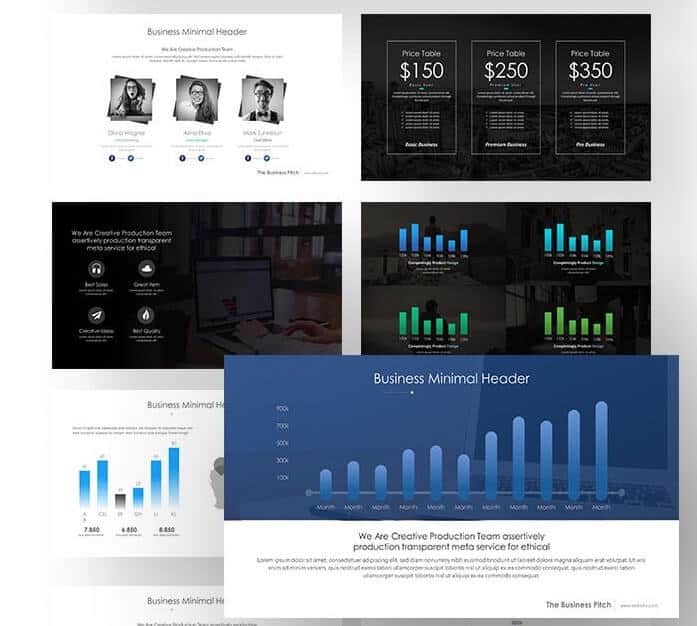 This is one of the most helpful free templates I've downloaded on the web so far. In addition to the PPT file, the author also includes a help guide in PDF format. The guide will show you how you can change the logo, header, footer, color theme, images, adjust the layouts, and edit the placeholders. To download this 10-slide template pack, just hit the social media like or share buttons. The download link will then appear on your screen.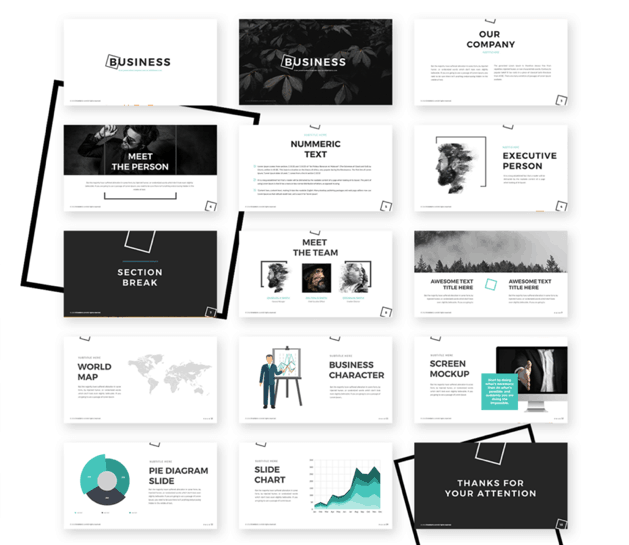 This free 15-slide PowerPoint template distinguishes itself from all the other templates in this list. How? Well, the authors have added slide transitions and animations, so that's one less thing you need to worry about.
As you can see in the screenshot above, the template pack already looks great on its own. You don't need to do a whole lot of changes to make your very own corporate or business presentation slides. All you need to do really is just replace the placeholder content with your own, delete any unnecessary slides, and call it a day!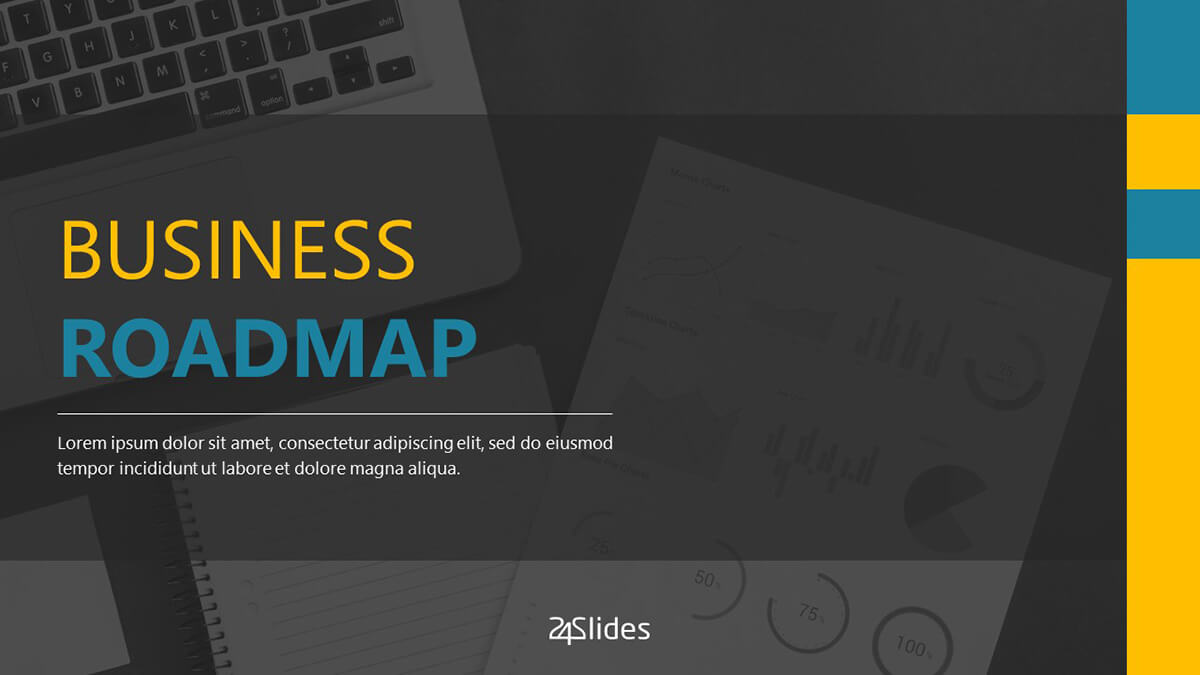 You don't want to leave your business' success to pure luck. Instead, you need to spend considerable time and effort planning every aspect of your business. As in, plan everything from A to Z. If you're trying to persuade potential investors and/or your stakeholders to invest a considerable sum of money on your business, then you should spend most of your time learning how to become a better presenter.
It's nerve-wracking enough presenting in front of others. So, you should download this 10-slide template pack to make your life less complicated. It's got all the slides you need to present your business roadmap. It's got charts and diagrams to give your audience a nice, colorful visual aid during your presentation.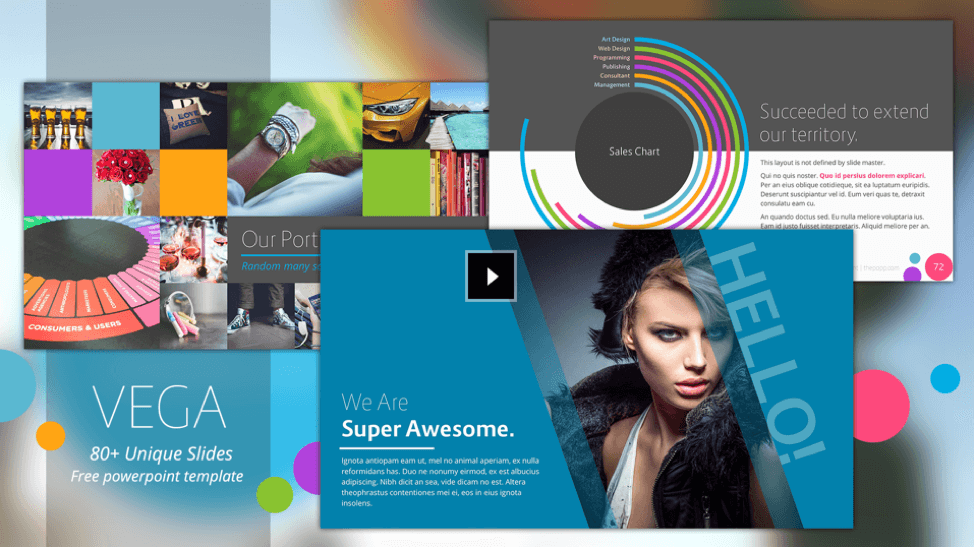 This template pack is best used by brands that embody the meaning of fun and youthfulness. It's vibrant and colorful, and a younger audience may be better appreciative of the slide design.
The author has been generous enough to include 89 slides in this template pack. So, you need not be afraid of running out of presentation slides anytime soon. They've also bundled free icons as well as two PPT versions in the zip file. One has built-in animations and transitions while the other has none. Pick which one you like best and start customizing it!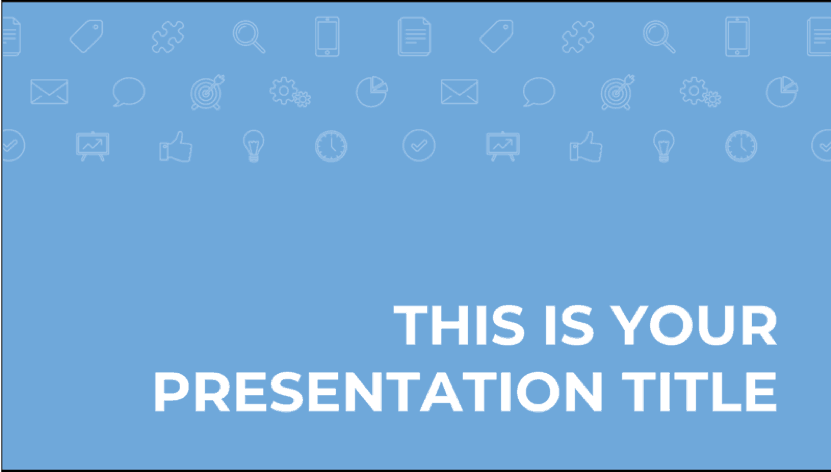 Sometimes, you don't need to use something flashy to make your corporate or business presentation stand out. A simple, but well-designed template pack like Aemelia may be enough to do the job for you. This 25-slide template pack uses transparent icons as a pattern. This is a great design choice because it looks great no matter what background color you choose. You can download the file as a PowerPoint file or use it as a Google Slides theme.

Have You Downloaded Your Favorite Templates Yet?
If you have, then good for you! Otherwise, you better get cracking. I've handpicked these 100% free templates for corporate and business presentations especially for you. If you've done all the hard work, but you're not 100% satisfied with it, then why don't you let our in-house designers fix your slides for you? Click here to know more about our presentation design services.