10+ Free Timeline PowerPoint Templates
Timelines are one of the most useful graphic tools out there. They are graphic ways to convey chronological information, making it more eye-catching and easily understandable for the audience. Here you'll find 10+ of the very best free timeline PowerPoint templates you can add to your presentation straight away!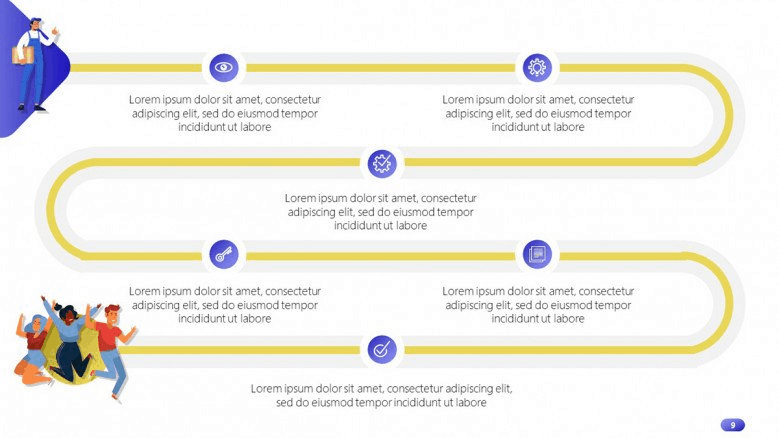 Company's background, development processes, project milestones… There are dozens of chronological information examples that are vital in the business world. Timelines are great because they allow you to share tons of information in a simple glance. They allow the audience to understand the pass of time and see the bigger picture straight away.
These free timeline PowerPoint templates offer a wide array of different designs for you to choose from. Picture-based timelines, stair timelines, vertical timelines, it's your pick! And, as always, all our templates are all easily editable. You can change colors, add and remove elements, and whatever you feel necessary to insert these designs into your presentation seamlessly.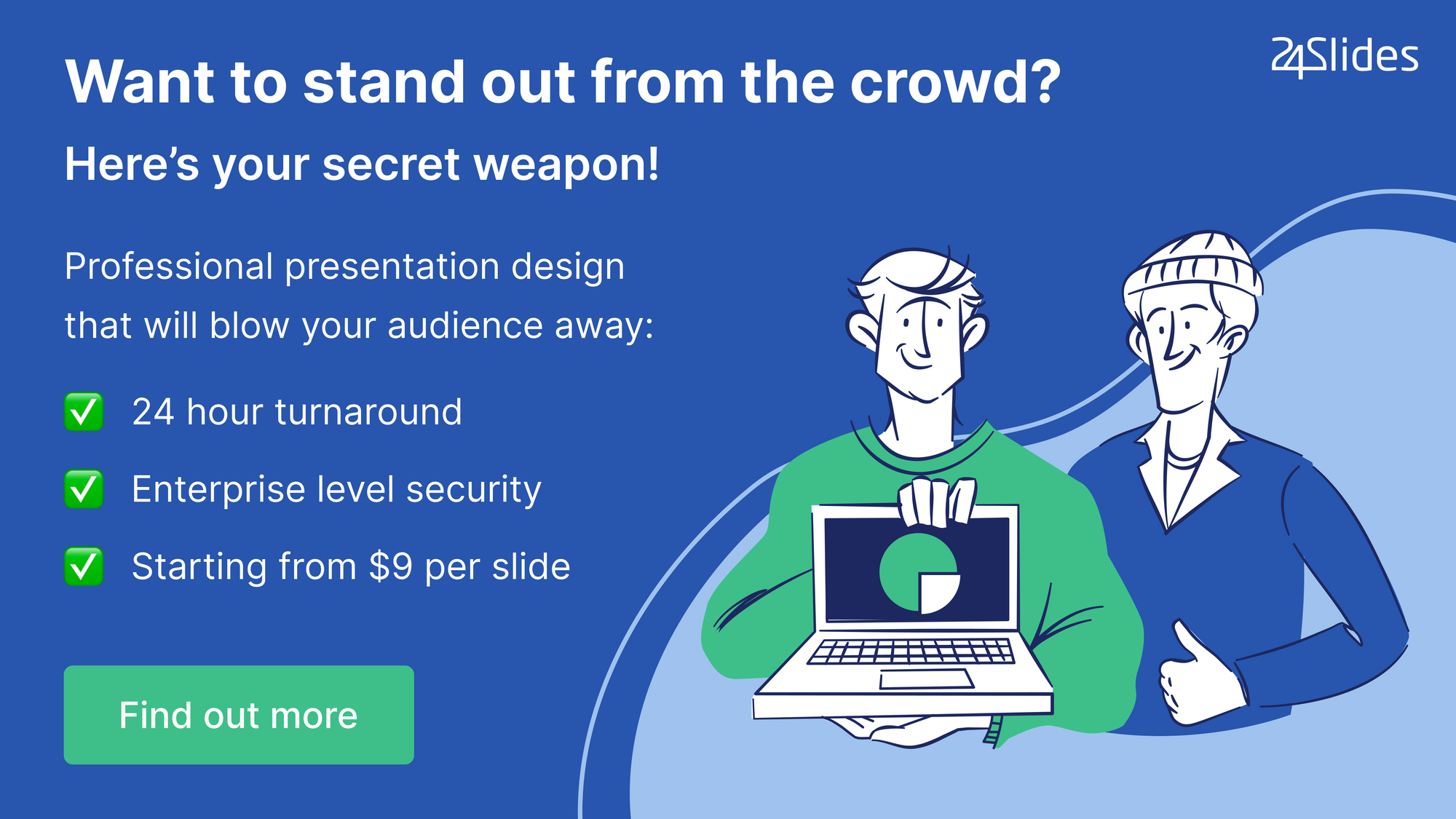 Free Timeline PowerPoint Templates
Bring your presentation to the next level by adding some of these amazing timeline templates. Whether you're looking for something soberer and corporate-like, or something more playful and creative, you'll find something for you on this list. Each of these free timeline PowerPoint templates offers several different designs according to its specific style, so check them out!
If you're currently planning a project, you would certainly know that there are many things to take into consideration. This free timeline PowerPoint template will help you convey all your project milestones and upcoming events. It's playful design and illustrations will make for an outstanding presentation. It includes 8 different types of timelines, including one for cyclical processes and a Gantt chart.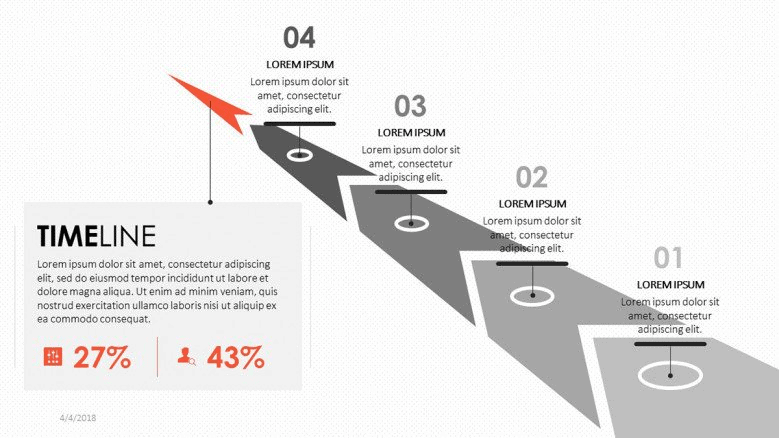 If you find the last one too casual and playful, then this timeline PowerPoint template might be the one for you! It also features 8 different models of timeline slides, but in a much soberer and simple grey color palette. It offers slides with quarterly, yearly, and monthly-based timelines. And it even includes a slide with hourly timelines you can use to showcase your agenda or schedule.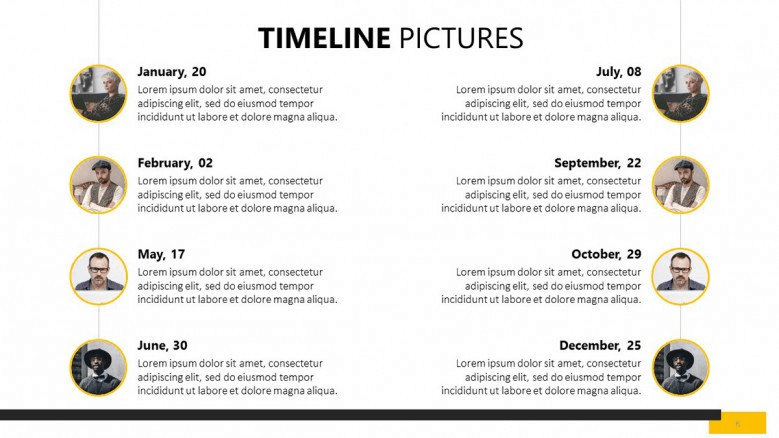 A picture is worth a thousand words. So why not take advantage of it in your presentation? In this free timeline PowerPoint template, you'll find 6 different pictured-based timelines. Illustrate your milestones and events with eye-catching pictures that will help convey your message to your audience. All slides have default pictures you can easily replace with your own so you get the best of this amazing design!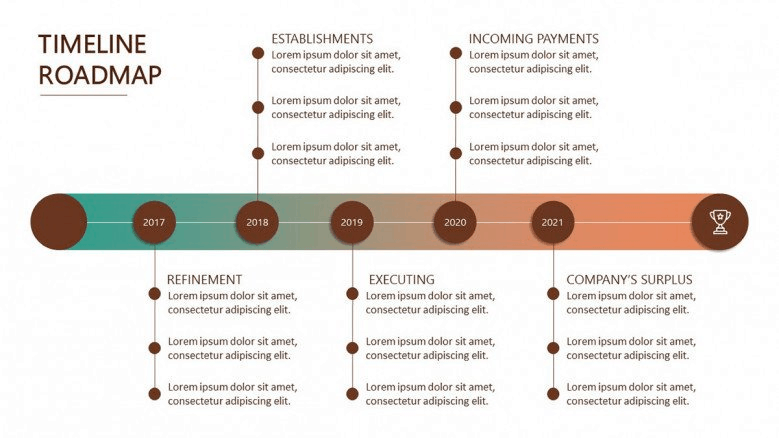 Roadmaps are amazing strategic tools that help you define where you are, where you want to be, and the steps you need to take to accomplish this. You can make a roadmap for a specific project, for a product, or even for your business as a whole. Both timelines and roadmaps convey the pass of time. And in this free PowerPoint template, you'll find some of the best of both for businesses.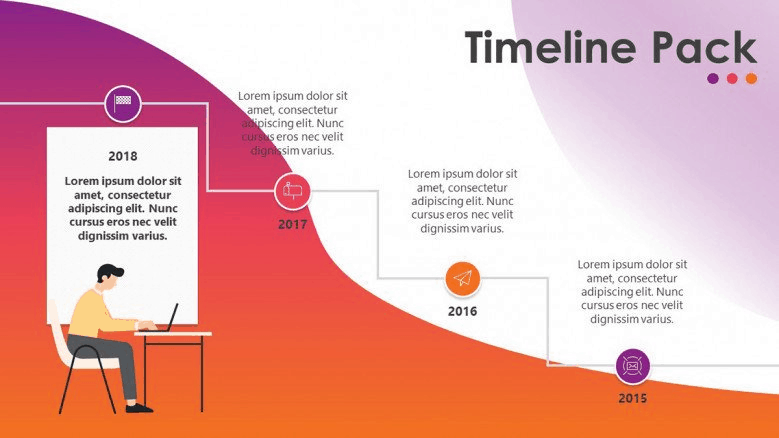 Looking for something with a little more of color and wow-factor? Then this free timeline PowerPoint template is just for you. Here you'll find 8 unique timeline templates with a playful and colorful design. It includes a circular timeline for cyclic processes, a Gantt chart, a stair timeline, and much more! Its custom-made illustrations and icons will help you give your presentations a professional look without being boring.
On the other hand, if you're looking for a minimalist option, then check out these designs! In this free timeline PowerPoint templates, you'll find 8 different models of simple and straight-forward timelines. It includes yearly, monthly, and even daily timelines so you can showcase everything you need. And as always, you can easily change the color of any element, so if the color green is not working for you, don't worry!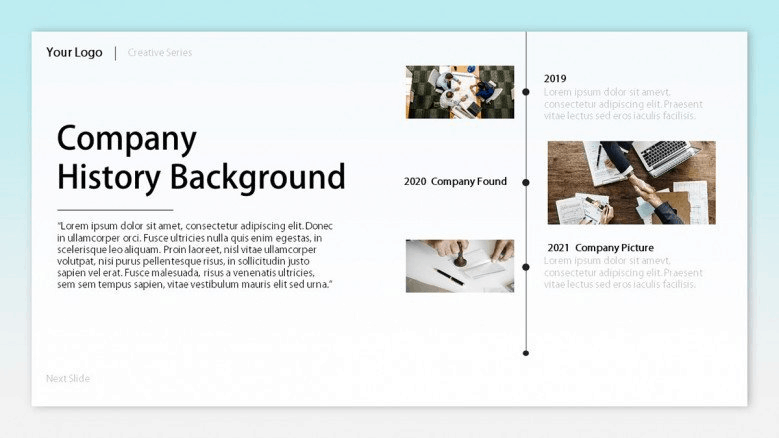 This free timeline PowerPoint template is all pictured-based. It includes 2 horizontal and 1 vertical timeline templates you call fill with pictures of your company or your product. And the best thing is, it also includes 2 "Company services" slides with great icons to give your audience a complete overview of your business. In short, the perfect slides to introduce your company to new clients.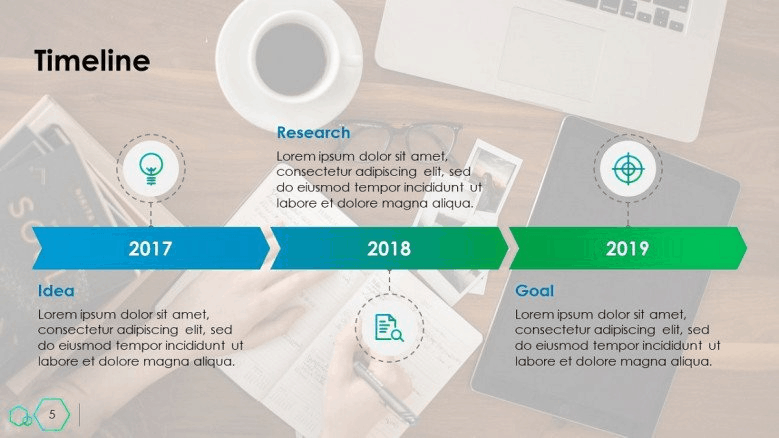 PowerPoint animations and transitions are an untapped tool in business presentations. Many people fear they might look tacky and unprofessional. But when used correctly, animations can be a huge help for making your presentation be more eye-catching and engaging for your audience. This free PowerPoint template offers you great creative timeline designs for you to add to your presentation and wow your audience.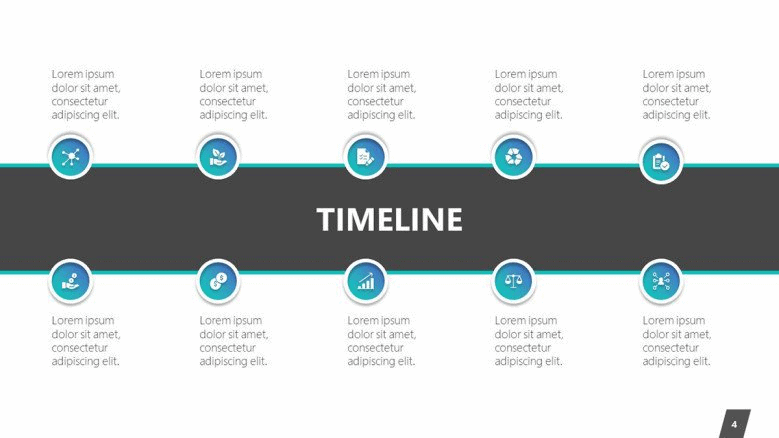 Even if this free timeline PowerPoint template says "2019" in its title, it really has slides that could be fitted in presentations of any year. And the best thing is that aside from offering different designs of timelines, it also includes line and pyramid charts. This way, you can complement your presentation with some amazing graphs to illustrate your points.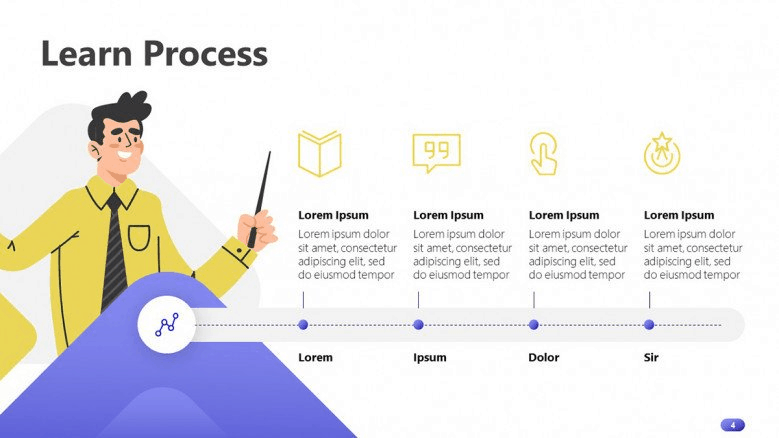 This timeline design is one of our brand new August PowerPoint templates. Its slides are filled with amazing illustrations and icons that will help give your presentation a positive and playful outlook. Use this free timeline PowerPoint template to highlight your creative side and drive your audience closer. It also includes a SWOT slide, a Goals and Objectives slide, and a bar graph, aside from several different timeline designs.
Other Free PowerPoint Templates
Timelines are a great way to show information chronologically. But if you're looking for something a little bit different, there are many ways for businesses to showcase sequential information. As said before, roadmaps are amazing strategic tools that can help you define your next steps in the road to success. And conveying different types of processes usually needs to be presented in a consecutive order too.
If you're looking for slides to show business information sequentially, take a look at this roadmap and processes free PowerPoint templates!
Roadmap PowerPoint Templates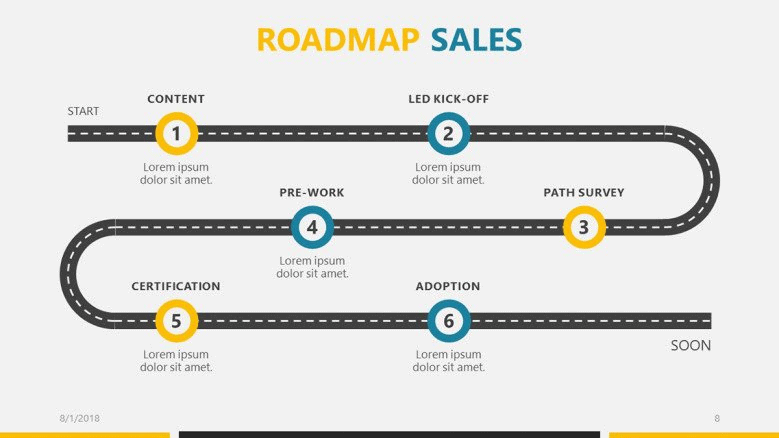 This free Business Roadmap PowerPoint template is currently the most popular in our Templates site, and it's no wonder why! Its creative design will allow you to convey all the information regarding your business plans in a way that's both clear and engaging. It has timelines, a sequential stages slide, market growth and Gantt charts, and even a mission and vision slide. It's a comprehensive collection of designs that any kind of business can use to showcase their upcoming plans.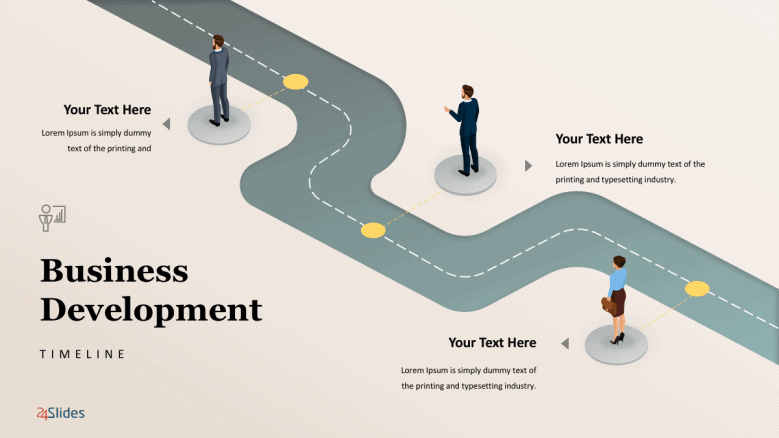 This mini business template pack is perfect for those looking for a specific slide to insert into their own presentation. It includes 3 different designs of roadmaps. Each of these has a different design, so whether you're looking for something more corporate-like, or more creative and playful, it's worth checking out!
If you're working on technology-based products or services, then take a look at this technology roadmap PowerPoint template. It offers 8 different designs of sequential slides. Whether you're looking for a timeline PowerPoint template or to show your audience a production process, any of these slides would make a great addition to your presentation. All slides are accompanied by technology-related pictures and icons, so your audience never loses sight of what you're offering. And even if you're not in the technology industry, these pictures are easily interchangeable for whichever field you want to showcase.
Business Processes PowerPoint Templates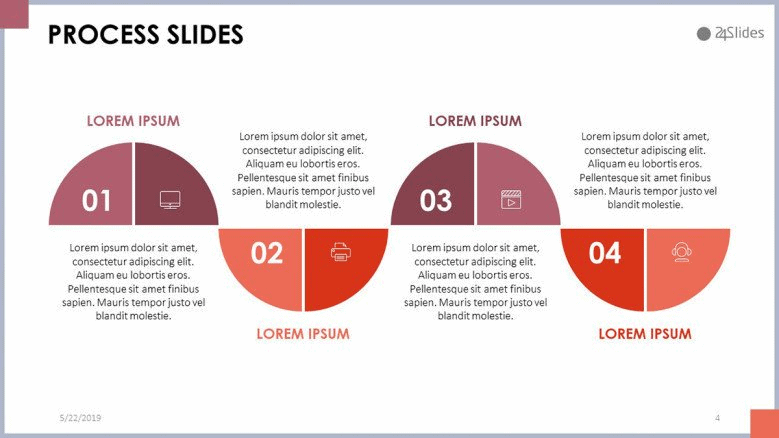 Aside from all the previous free timeline PowerPoint templates, you can also use process slides to convey a sense of time passing and sequential events. The best thing about this process slides pack is that it includes both linear timelines and cyclic processes slides. This way, you can easily showcase processes that are meant to repeat themselves over and over again. And it also includes a pyramid scheme in case you need a hierarchical design to show how some events depend on others. It's a pretty throughout pack for showcasing your business and production processes!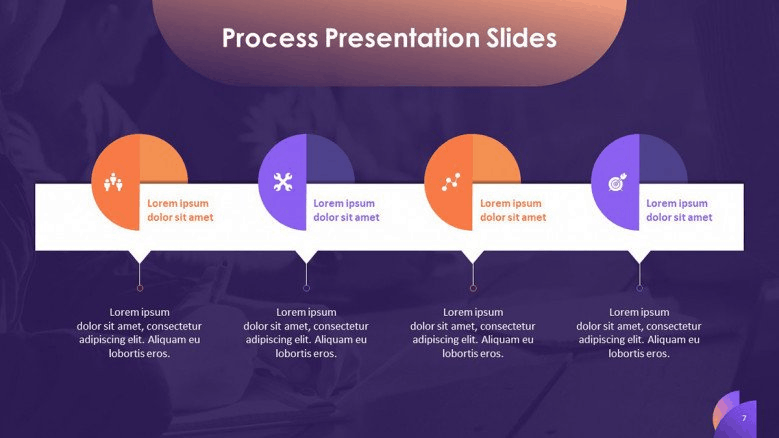 The creative design of this process slides template will make sure that your presentation really catches your audience's attention. This process pack includes 5 designs of sequential, timeline-like slides. But it also offers complementary slides for you to add more information about your business or services, like bar graphs.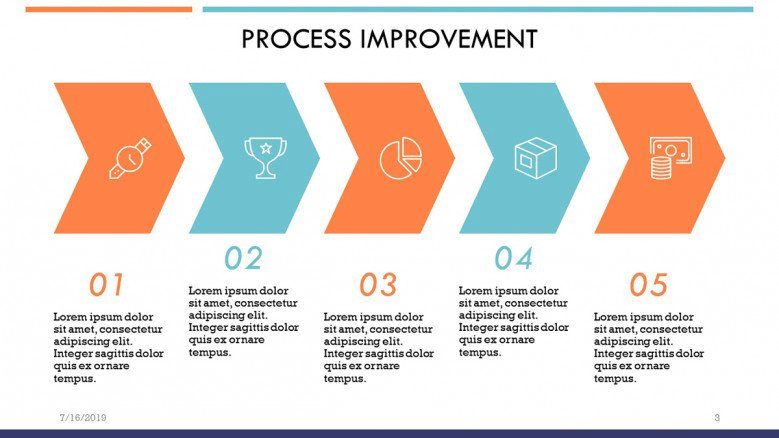 While this pack focused on process improvement, you can easily use it as a timeline PowerPoint template too. Just like the previous ones, it has both linear and cyclic slides, as well as a Venn diagram. Its design is filled with icons that will make your presentation easier to understand from the first look, and most memorable once it's over.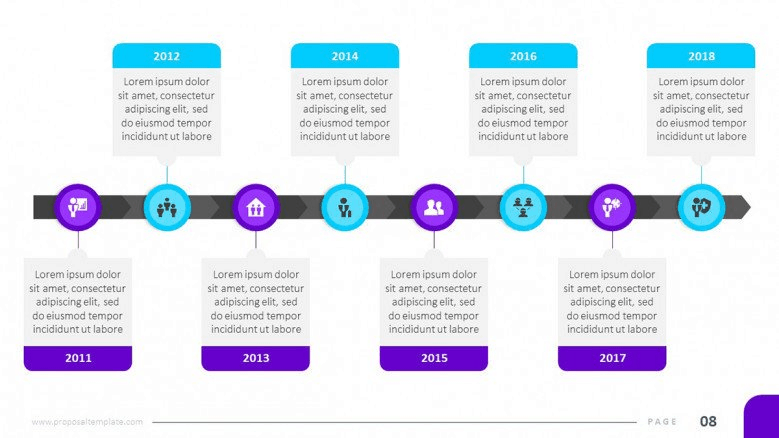 Finally, the last free timeline PowerPoint template is this list is this creative process slides pack. This template offers you all the tools you might need to give your audience a complete overview of your production and business processes. And of course, this includes several different sequential slides you can use to convey the pass of time.
Are Templates Not Enough?
Hopefully, you founded exactly what you were looking for in these free timeline PowerPoint templates. But if you haven't found a design that appeals to you yet, don't worry! There are hundreds of presentations on our Templates by 24Slides site. And the best thing is, they are completely free! You can download as many as you like and edit them until you feel it's the perfect fit for you.
You'll find a wide array of presentation designs for all kinds of businesses and fields. And most importantly, most of our business PowerPoint templates offer timeline slides on their own. So if you find some design that you like, check out the complete overview of the slides it offers. You might find the perfect timeline template for you!

However, searching for templates and editing them takes time. If you want the perfect PowerPoint presentation, that will showcase your brand and convey all your information as best as possible, then consider professional PowerPoint design. 24Slides designers are used to working with some of the biggest brands and companies worldwide. Get an outstanding, custom-made PowerPoint presentation and save time and money by delegating your presentations' design!