+20 Creative Webinar Flyer Templates to Drive Registrations
You may have realized by now that doing a webinar is not that easy. You spent the whole day gathering information and grappling with PowerPoint shapes and color pallets to create a slide deck you feel proud of. After many tries, you finally came up with an eye-grabbing title for your webinar and now that you've picked the perfect video conferencing platform, all that's left is going live…right? Err!
There can't be a webinar without an audience at the other side of the screen. Whether it is paid or for free, your upcoming webinar is a digital product, and as such it needs promotion to get people to register. Today, I'll show you a set of creative webinar flyer templates you can use to promote your online seminar and save you time in the process.
You'll find the download link to the 30 template pack at the end of this article.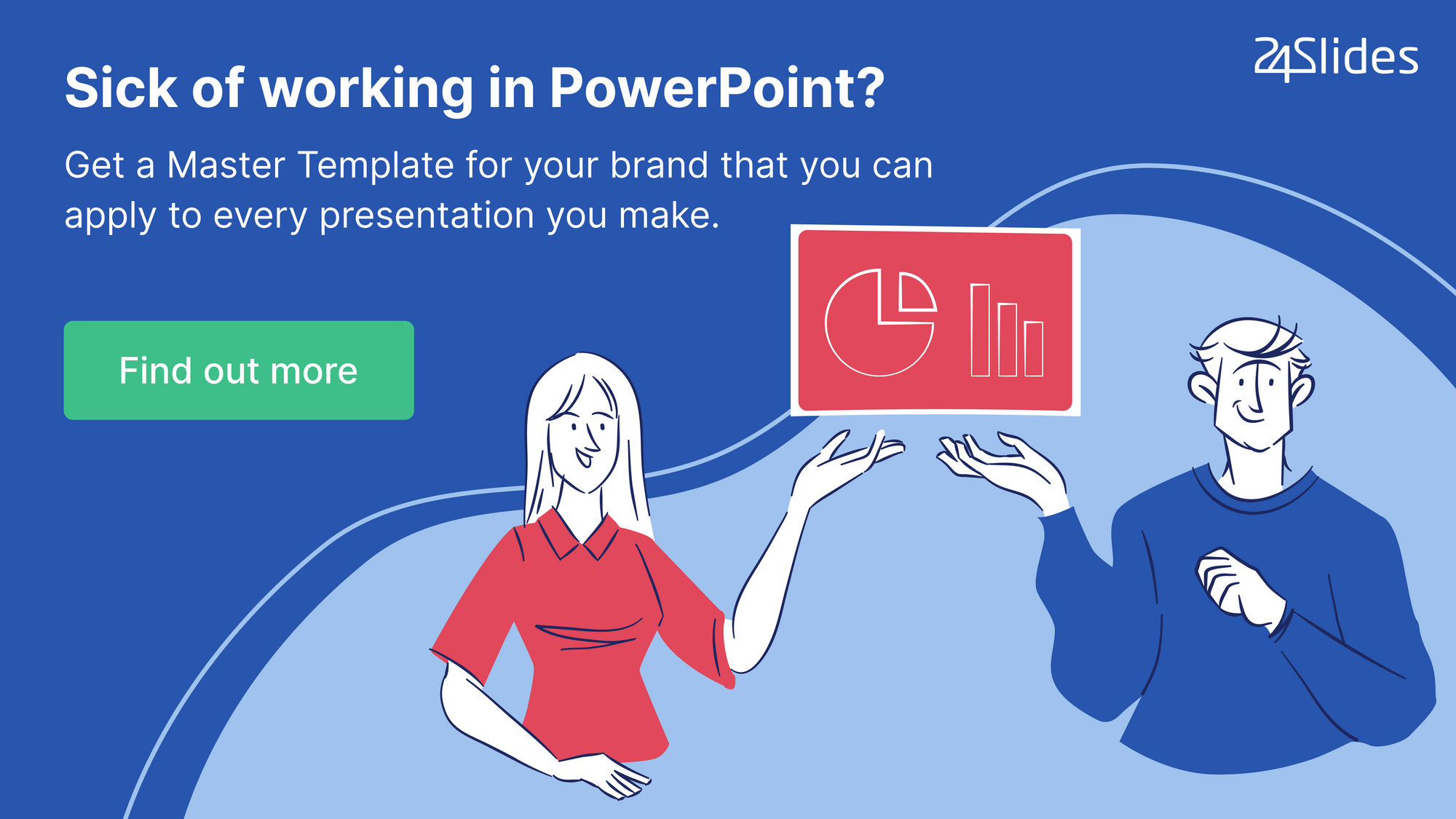 Why Webinar Flyer Templates are Great for Webinar Promotion
Webinar flyer templates come in handy if you don't consider yourself a design expert or simply don't have the time to create promotional materials from zero. But it's not only about the incredible designs, these templates are 100% editable which means you can custom every element on your webinar banner. Fill in the title, add some photos, change the colors if needed, complete relevant sections such as date or registration link, and you're ready to go!
And don't worry if you're not familiar with pro editing programs like Photoshop or Illustrator. Believe it or not, all the webinar flyer templates you're about to see were made in PowerPoint and you can edit them in the same program easily. So, without further ado, let's see how you can incorporate these creative templates into your webinar promotion strategy.
5 Ways to Promote Your Upcoming Webinar
Set up your Webinar Landing Page
If you're using your webinar for lead generation, then creating an impactful landing page is essential. A landing page is a standalone page on your site where you can obtain a potential customer's contact information in exchange for a useful resource. Let's say a whitepaper, an e-book, or your webinar! And you guessed right. This is where you'll redirect people to register for your online seminar.
Here are some webinar banners to use as the header of your landing page and engage your visitors right away!
Note that the header of your landing page is the first thing people will see, so make sure to communicate clearly the benefits of your webinar. Ask yourself, what's the value they'll get from registering to your webinar?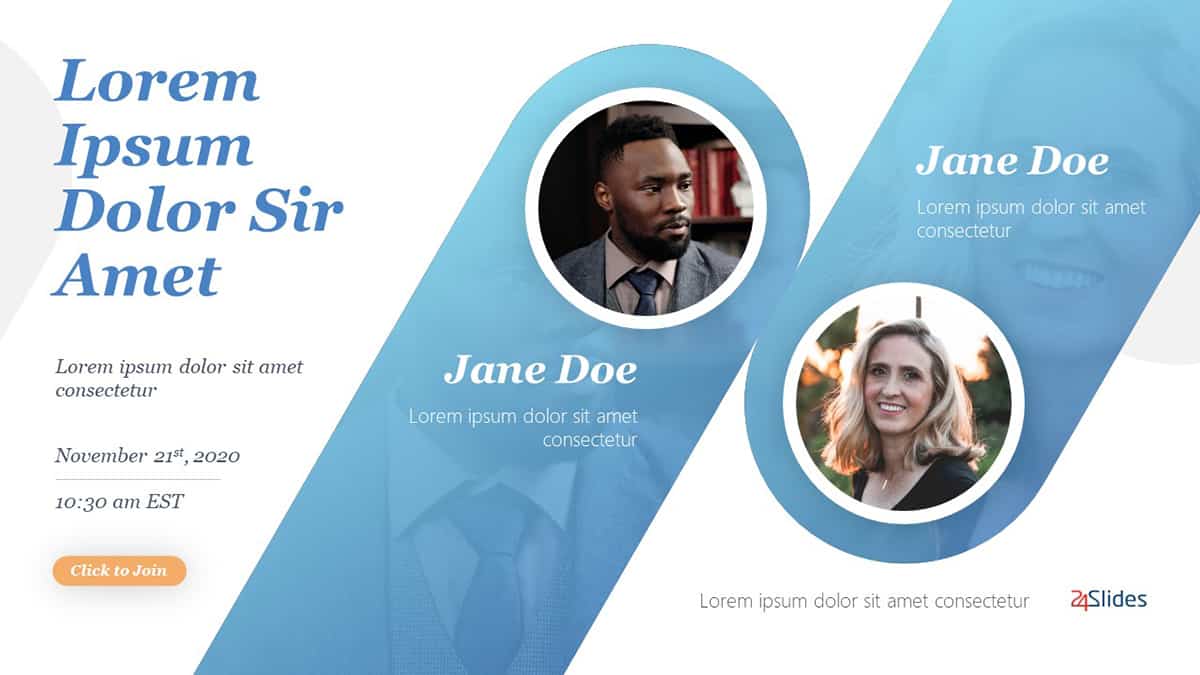 Maybe you don't really have the time to get all fancy with your webinar landing page. Relax, a simple one will do! Once you add these headers, you'll see a huge difference in the overall look.
Use Social Media to Get the Word Out There
Promoting your webinar on social media is a must. Your fans and followers are people interested in what you have to offer, so it makes sense to focus your marketing efforts on them. It doesn't matter if you don't have a big online audience yet, when it comes to lead generation you want quality over quantity.
Check out these webinar flyer templates that will make great social media posts for any professional seminar.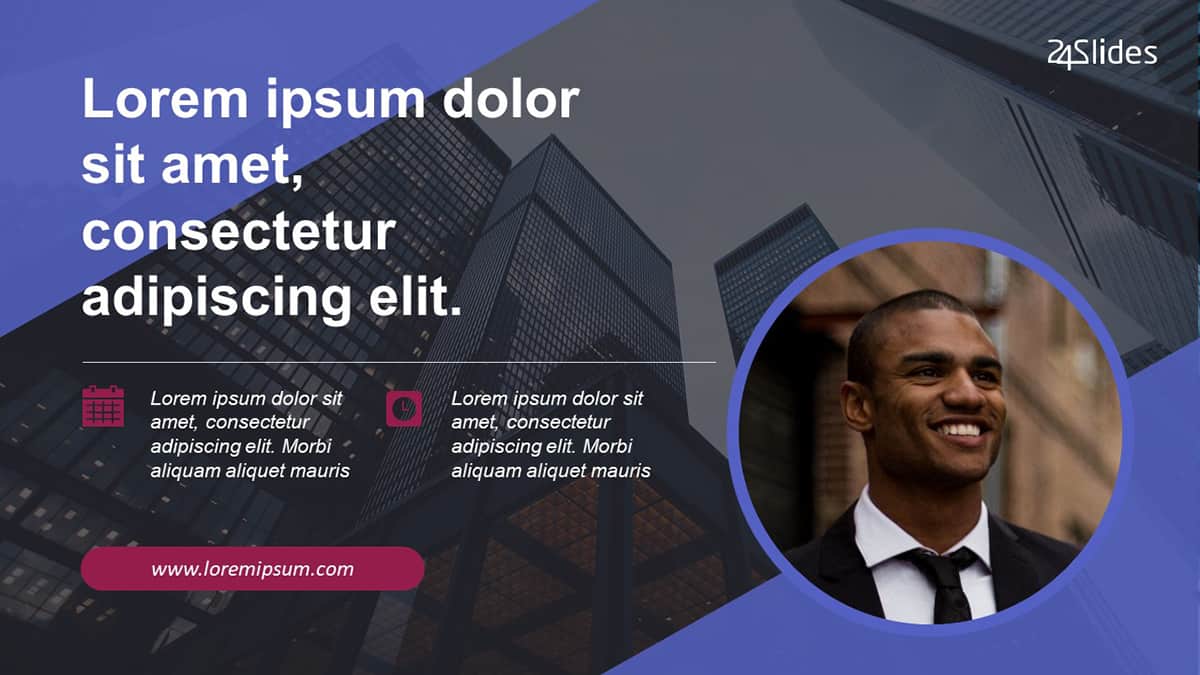 Tip: Generate discussion around your webinar by adding a question in your posts. This way, people who react or leave a comment will give more views to your webinar post from their social media circle.
Create Effective Webinar Ads
Now, if you're ready to invest some money on your webinar promotion, paid ads can get you faster results than organic posts. The thing about social media advertising is that you can create audiences for your ads according to demographic data and behaviors. This means, your webinar ads will be seen by people highly interested in the topics you'll share and with better chances to click and register for your online seminar.
There's one rule though. Top social media platforms like Facebook and Instagram favor image ads that feature little to not text in them. But, don't worry. Here at 24Slides, our designers thought of everything and included webinar banner templates with minimal text content for you.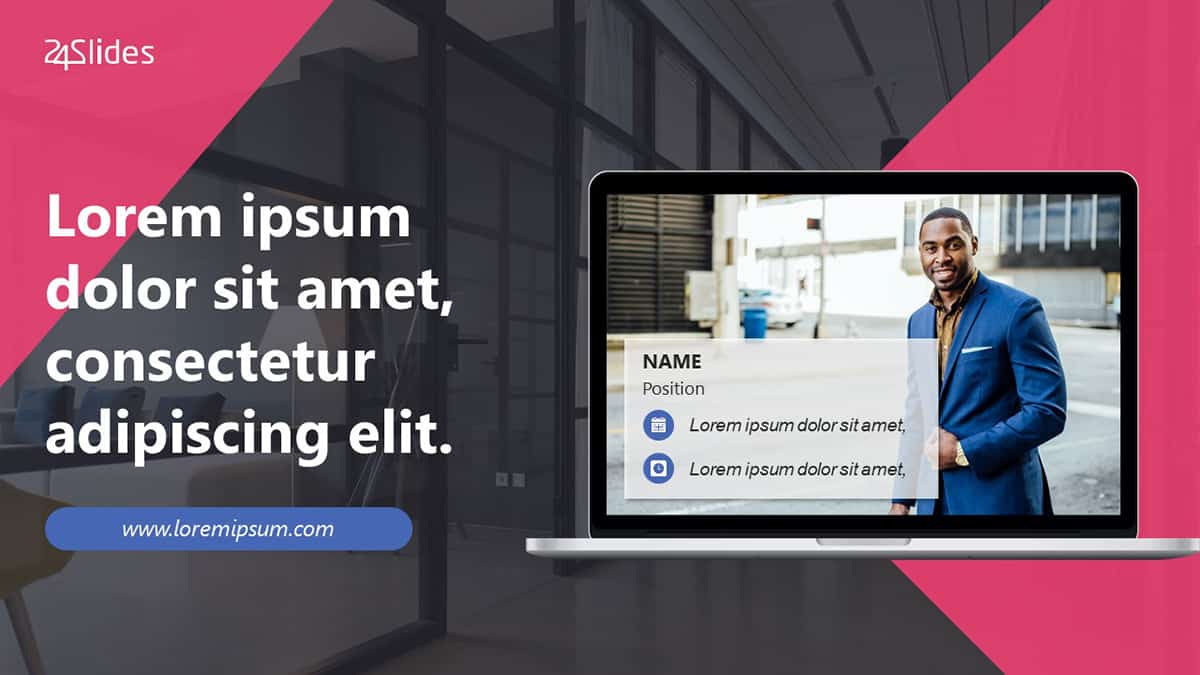 To create effective ads, the first thing on your list is to catch the attention of your audience. And with thousands of pieces of content floating around social media, it may seem like an impossible task, right? These impressive webinar ads do the job with contrasting colors, creative imagery, and a top-notch design that make them stand out in any timeline.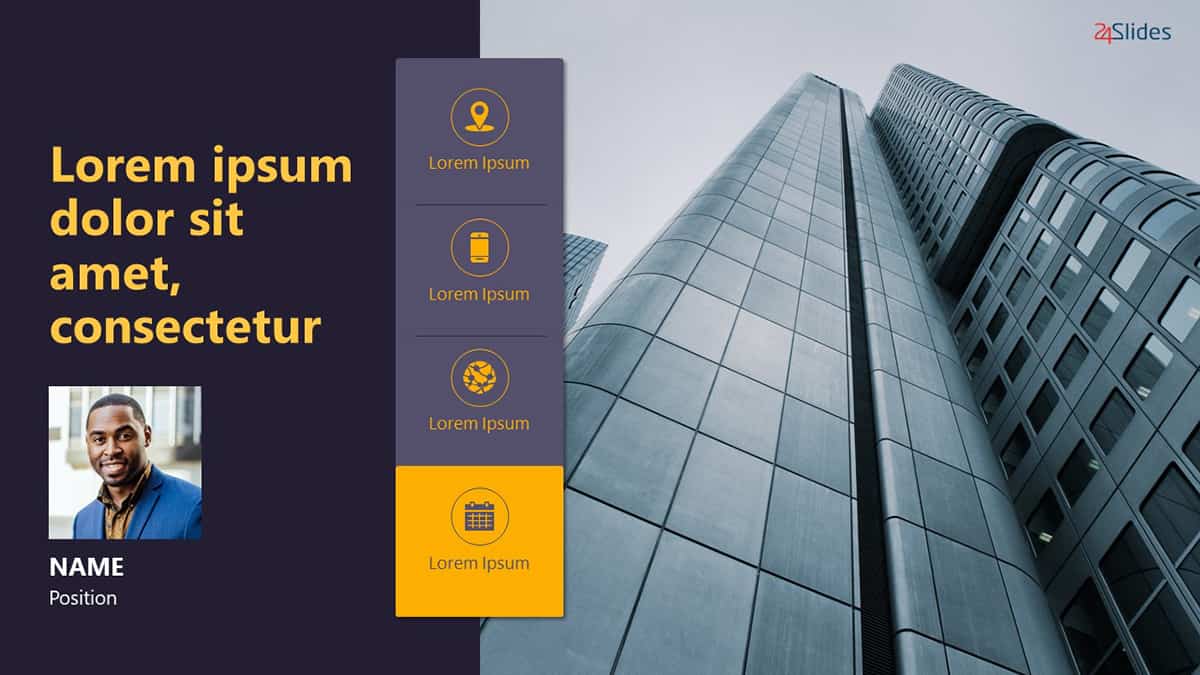 If you want to promote your webinar on Facebook and aren't sure whether your image will be accepted or not, use Facebook's text overlay tool. Here you can upload your webinar flyer and get it reviewed in a few seconds. For your ad to run normally, I recommend you aim for an "OK" rating, always.
Send Webinar Invitation Emails
Webinars are great tools for capturing new leads, but that doesn't mean you can't create one for your actual subscribers. For example, a webinar series could be a good way to reconnect with those followers that, at some point, showed interest in your business and filled in a contact form. They made the first move, now it's your turn to share valuable, useful information to engage with them again.
And for this, their email is the most effective channel to let them know about your webinar. So, here are elegant templates to help you craft the best webinar invitations.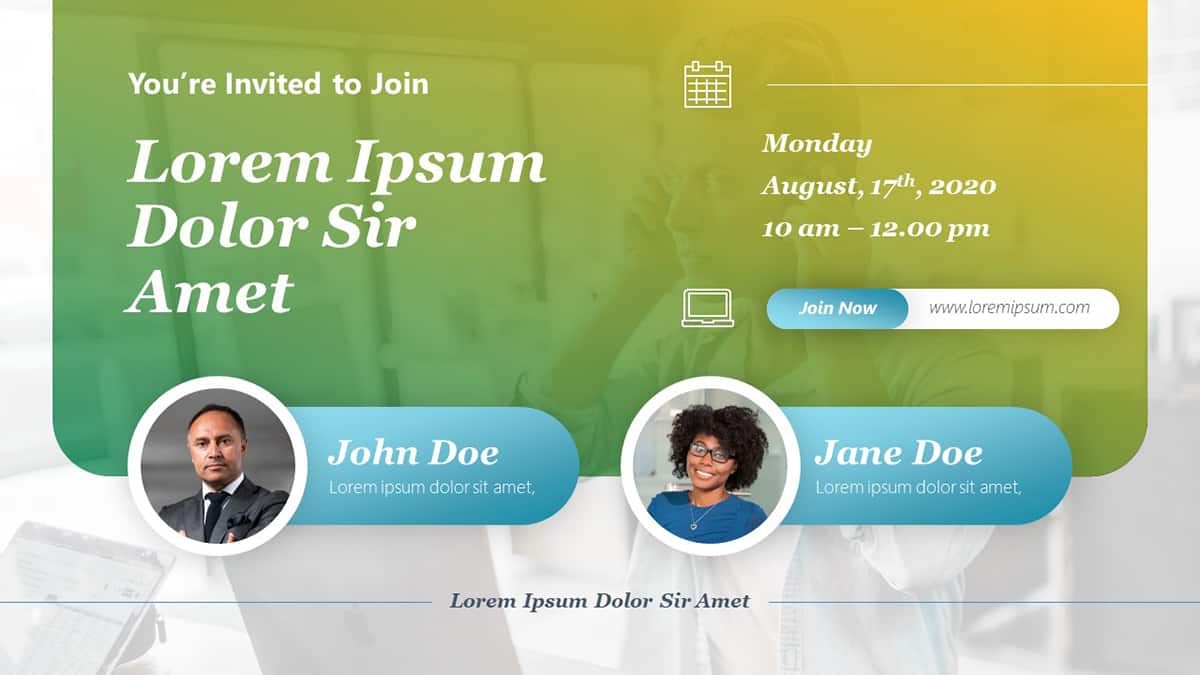 Another good practice in webinar promotion is sending reminders to the people who already registered for your webinar. And what a better way to do that than via email? Use these webinar banners as the visual element in your virtual invitations and reminders. You can easily insert them in the body of your messages or attach them as an image.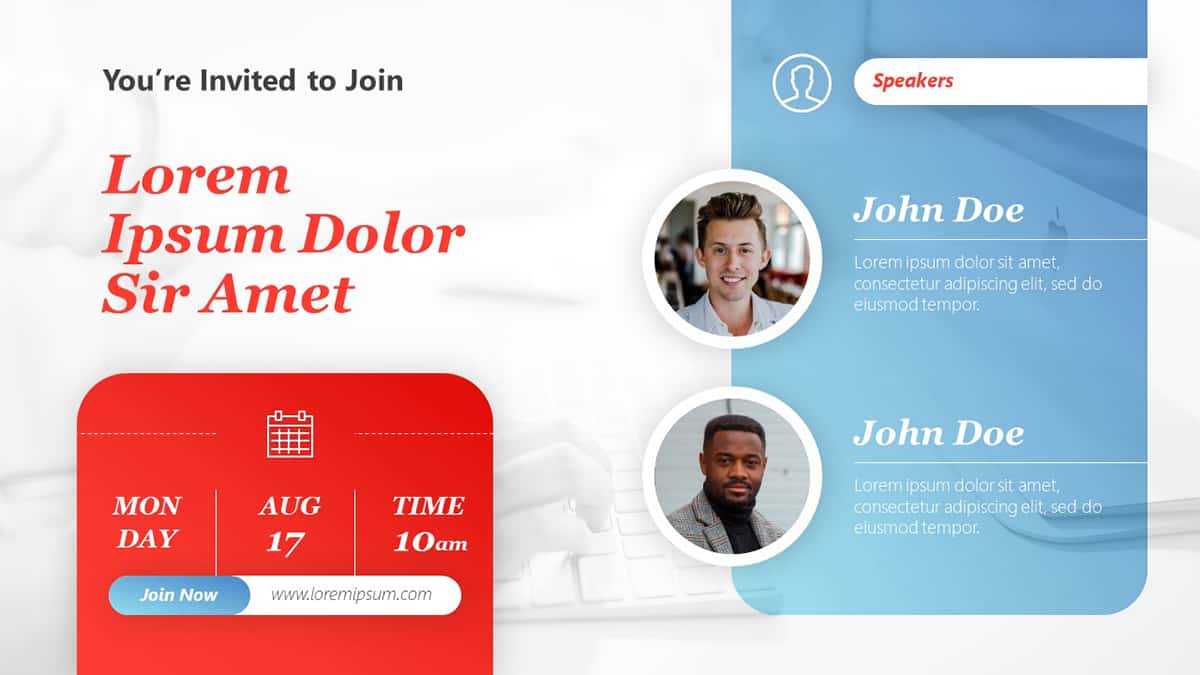 Add an Impactful Webinar Banner to your Website
It is known that your website is your most important marketing tool, and still many people forget to keep theirs up to date. If you have a new webinar coming up, use your homepage wisely and add your webinar banner to the slider. It is easier than you think, and it can certainly drive lots of qualified traffic to your landing page.
The webinar banner template pack comes with more than 20 designs (Scroll until the end to find the download link), you just need to choose the one that fits your website style better. Look at these examples: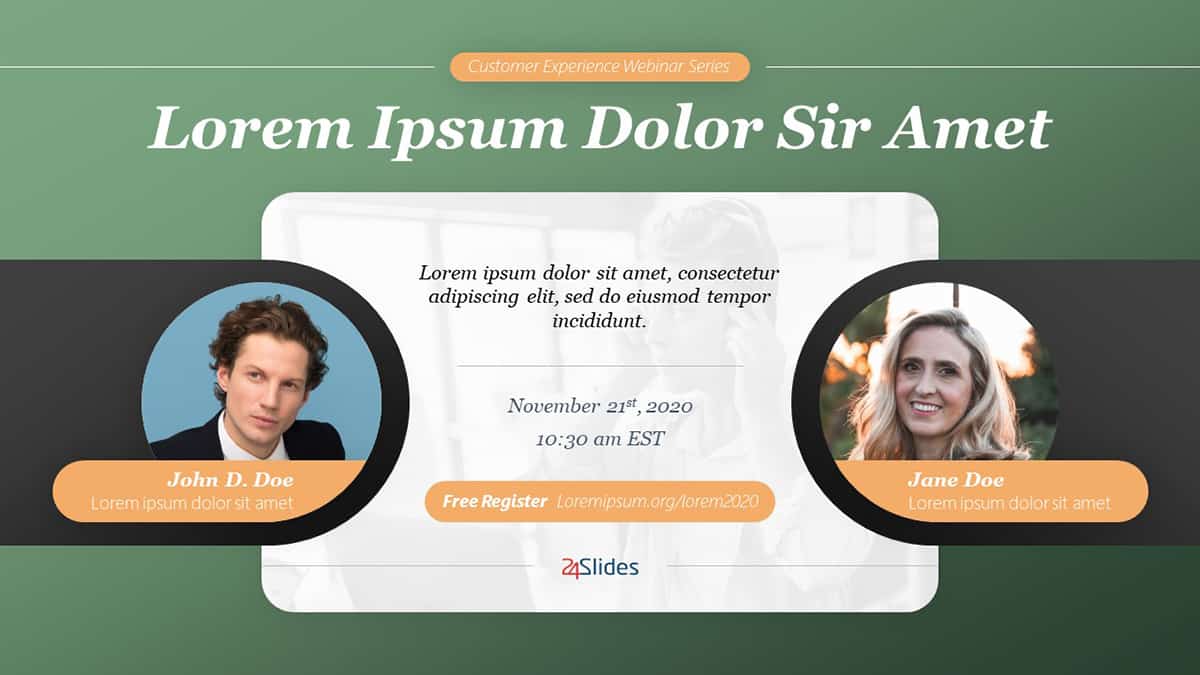 Either as a banner on your website or as part of your homepage slider, don't forget to make your webinar flyer clickable!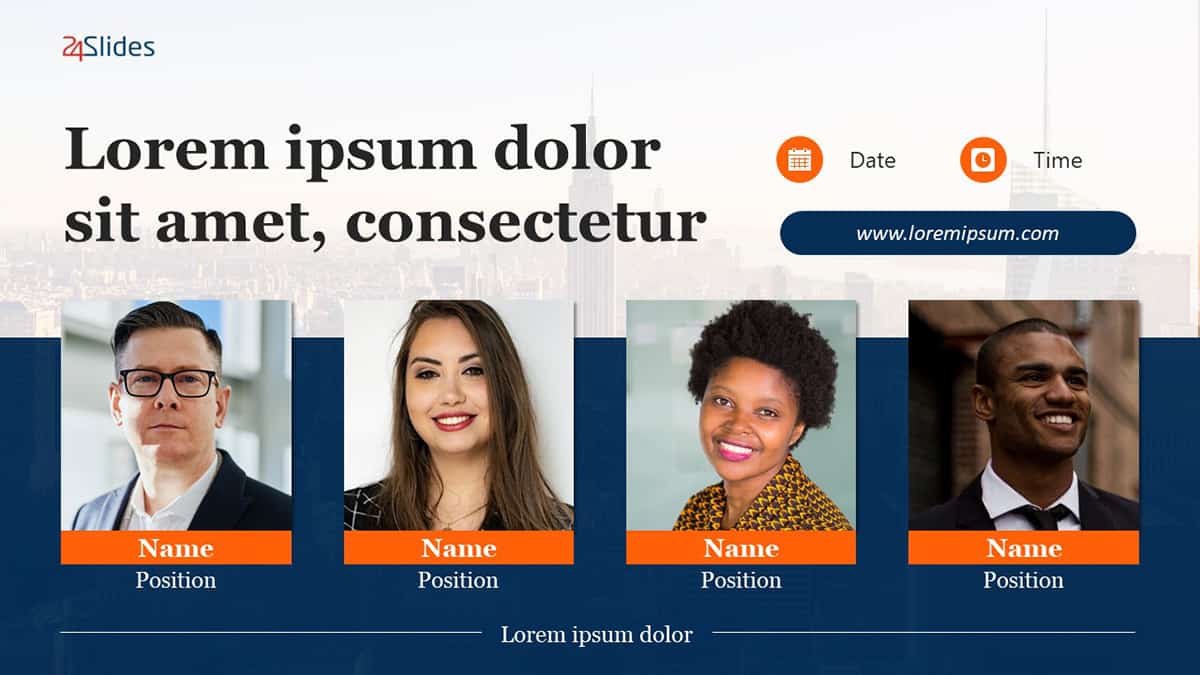 More Webinar Flyer Templates for Your Promotion Campaign
There are many more uses for webinar flyers than the listed above. For example, you can set up a webinar banner as a pop-up for your website, so visitors that come into your site can learn all about your upcoming webinar.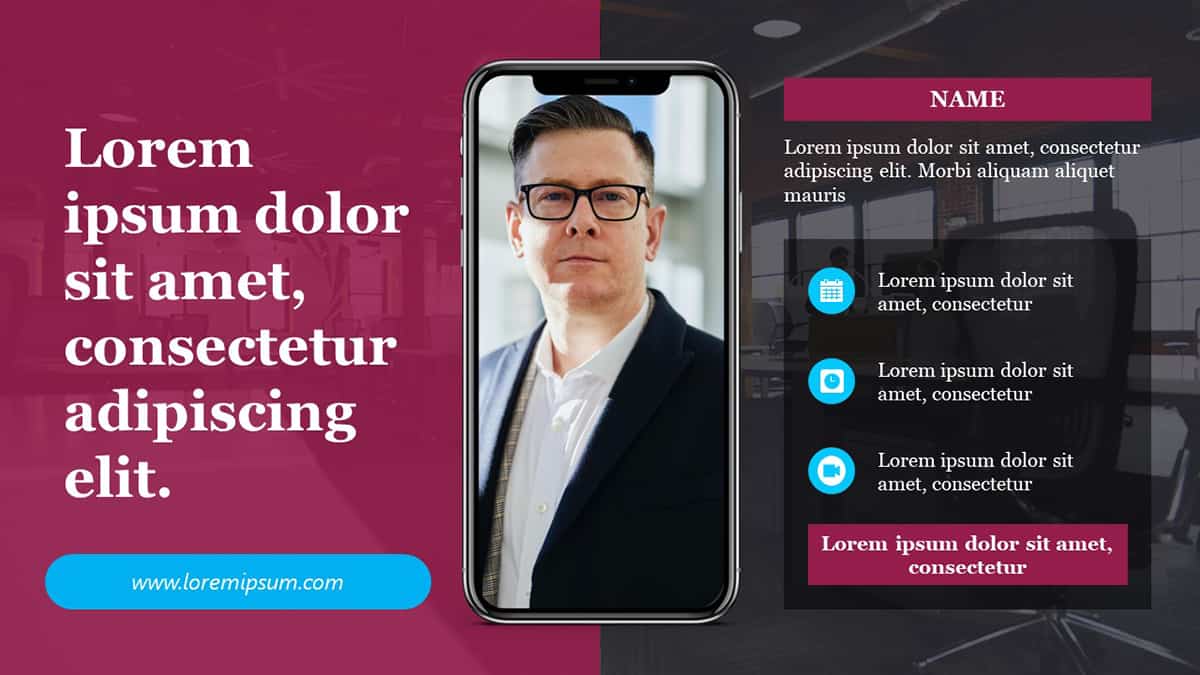 If you have an e-commerce or a products section in your web, why don't you add an on-demand webinar? You can use a webinar flyer template as the promotional image.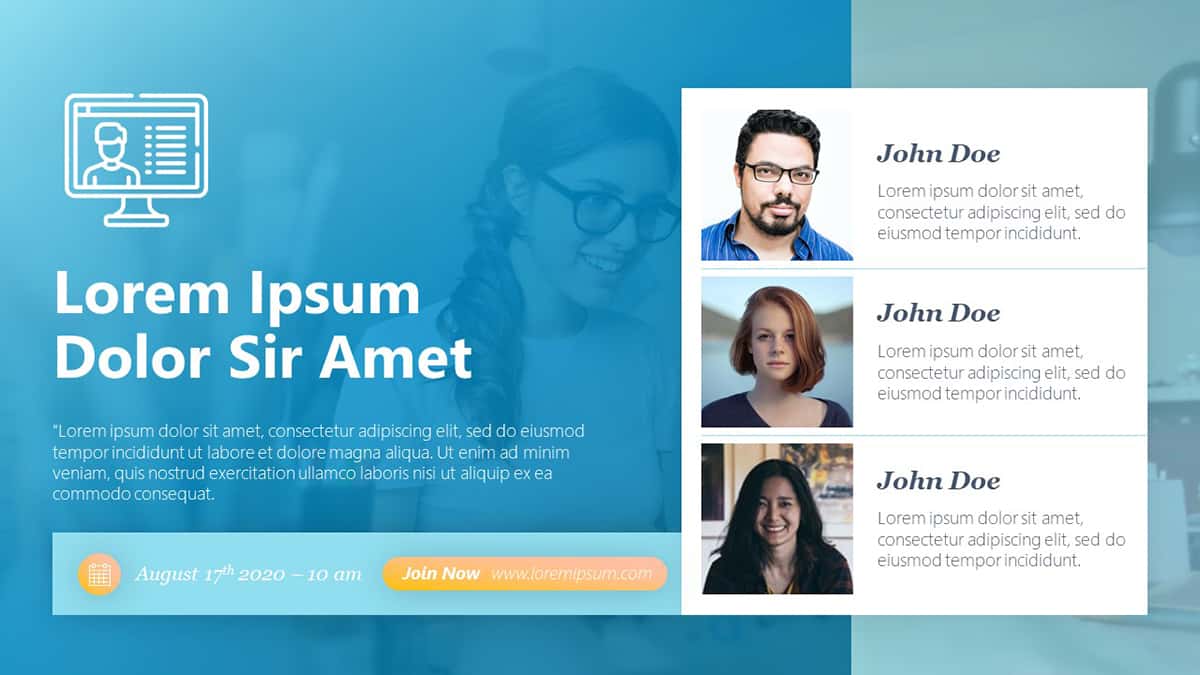 Another great way to build expectation over your webinar is by scheduling your livestream session via Facebook Live or YouTube Live. Your followers will get a notification about it and the best part is that both social media platforms give you the option to set a webinar banner in the static screen until the seminar goes live. This means everyone who comes across or visits your scheduled event will get informed about the exact date and time of the online seminar.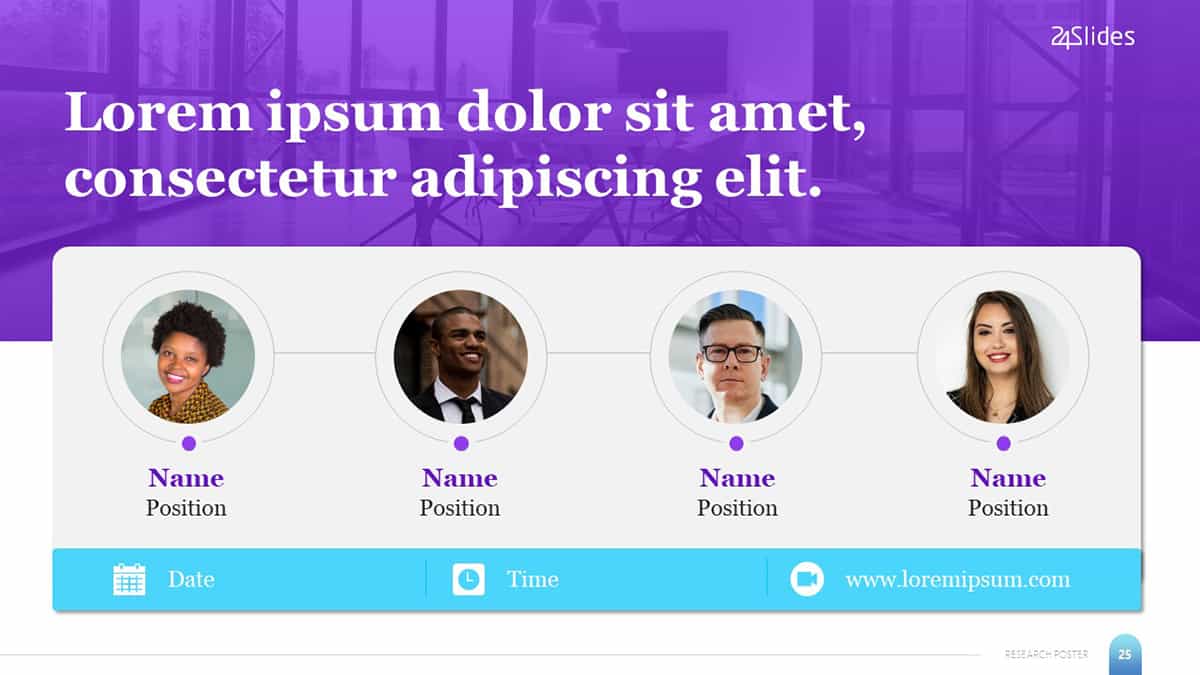 PowerPoint Trick: Save your Webinar Flyer as JPG
In case you're wondering how to save a PowerPoint slide as image, follow these 3 easy steps:
1) Select the slide you want to export as an image and go to File > Save As
2) Your screen should look like the one in the photo. Then, click on the second bar to display a menu and select JPEG File Interchange Format (*.jpg)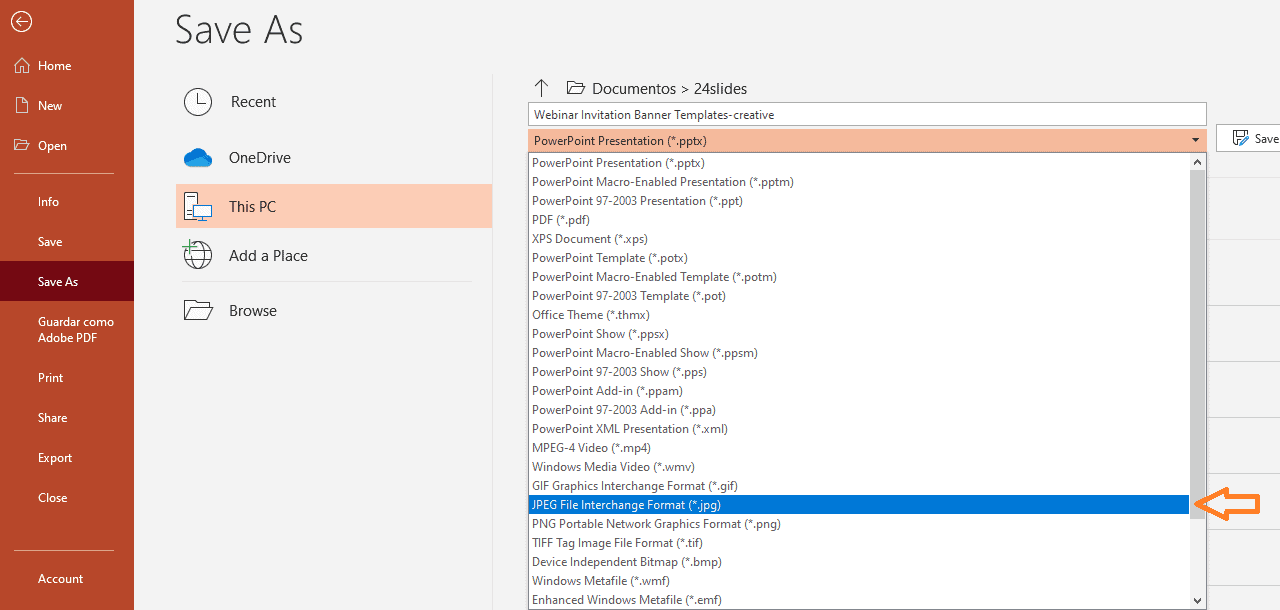 3) Click on the button Save. You automatically will get a new window that asks which slides you want to export. In case you only want the slide you selected at the beginning, choose "Just this one". And if you want to export the slides as JPG files all at once, select "All the Slides"

And, there you have it: A high-quality webinar flyer!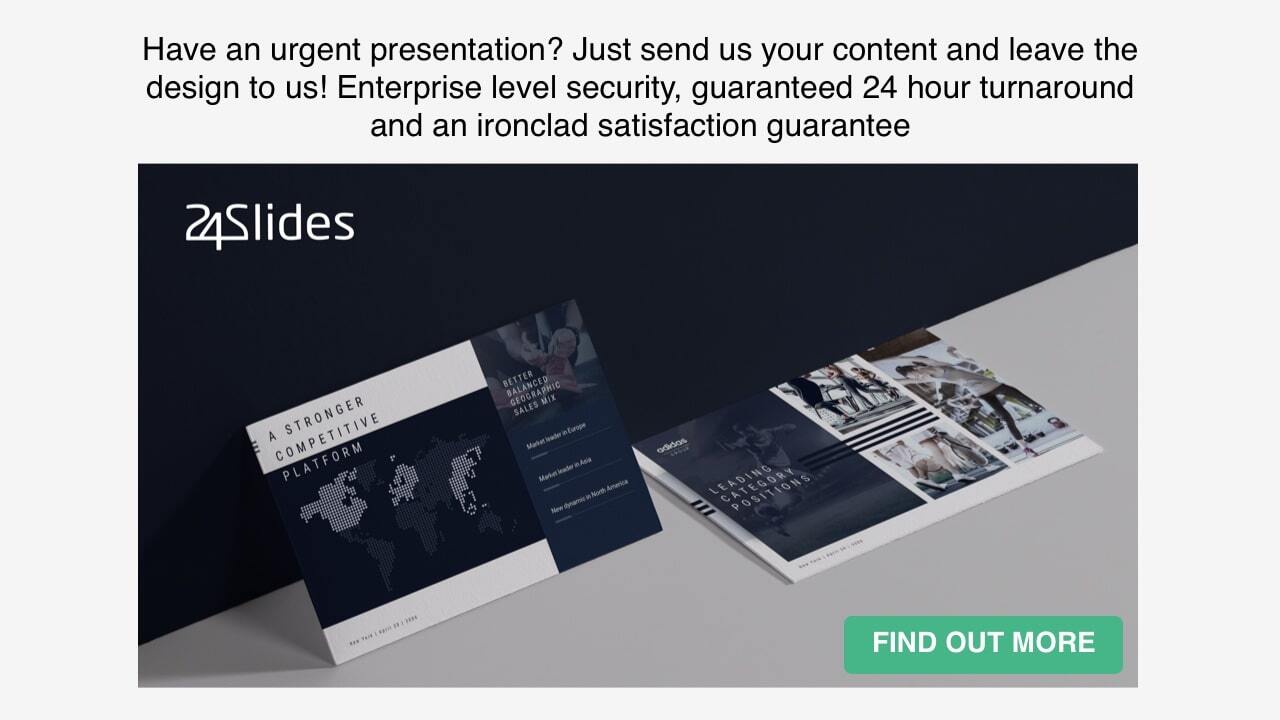 As you can see, the 24Slides team really went off and made the best webinar banners thinking of every occasion. I've included only 13 on this list, but you can download the full template pack here:
Now, you're all set to see your webinar registrations go nowhere but up! Don't forget to share this article with friends and colleagues that are getting started in the world of webinars.