20+ of the Best Webinar Slide Deck Templates for This Year
You've probably seen a lot of webinars lately, and it's because they've proven to be effective sales and marketing tools for all kinds of businesses. If you're ready to take on your own webinars, here you'll find incredible webinar slide deck templates for topics around digital marketing, technology, and health and wellness.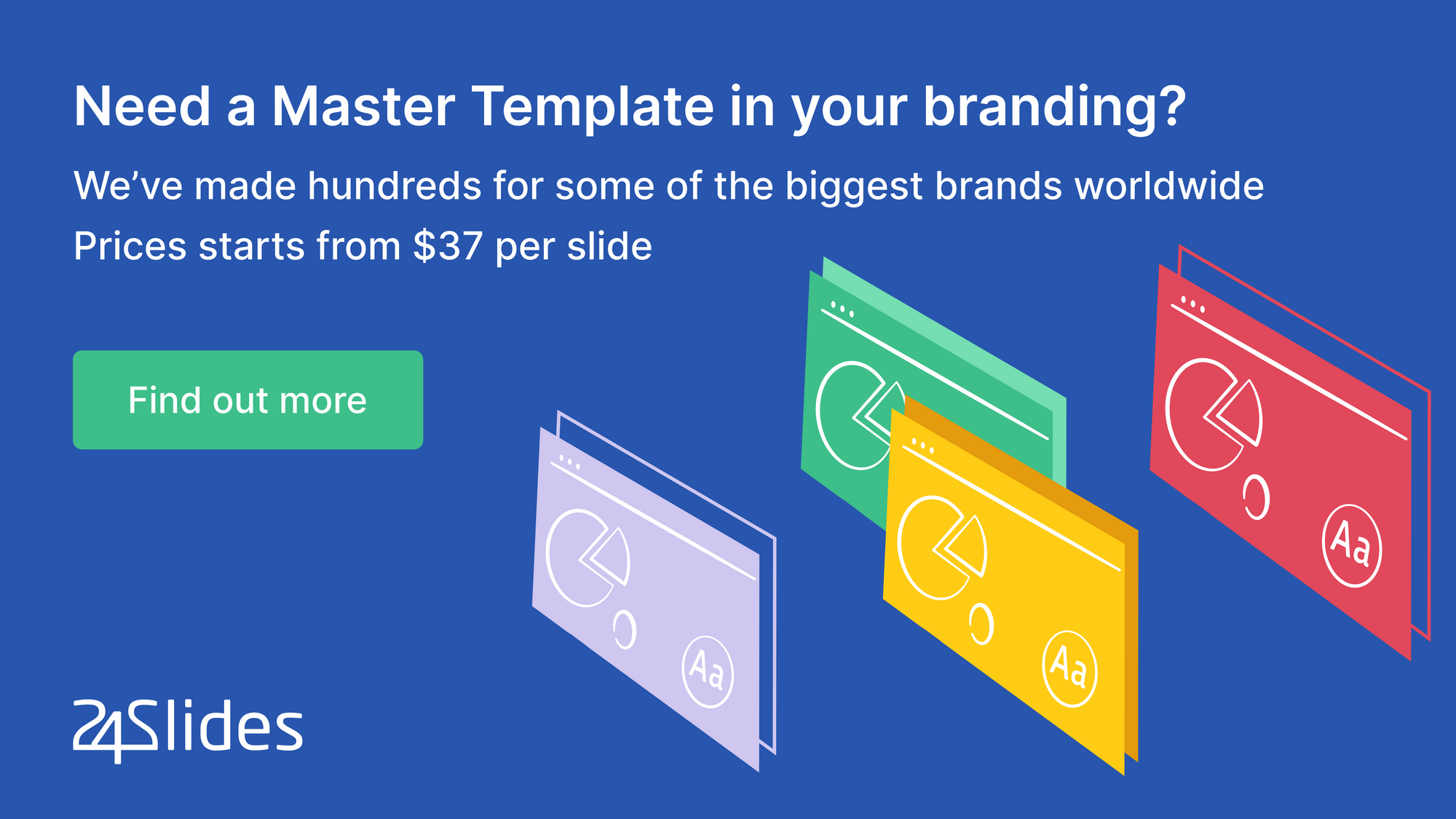 What is a Webinar?
A webinar is an online seminar where attendees can ask the presenter questions in real-time. Normally, the speaker is a specialist in a particular field and generates interactive learning opportunities with webinar features such as surveys, whiteboards, and chat rooms. Plus, since there are no geographical barriers, the audience could be anywhere in the world!

You can use webinars for:
Building authority in the market
Educating customers on your products
Generating new leads
Training remote employees, and more.

Let's take a look at some tips on how to make a webinar slide deck your audience will love.
Webinar Presentation Tips: How to Create a Great Webinar Slide Deck?
When it comes to webinars, your presentation is key to get your point across. You're not just doing a live video stream, you're sharing valuable information with the world. And in most cases, you can't rely on the subtle cues of body language. You need to get the best out of your available resources. So, here are some great tips to keep in mind when using webinar PowerPoint templates:

1.- Stick to one idea per slide

Nobody likes lengthy-text presentations. Let alone in a webinar! To make sure you're not overflowing your audience with too much information, follow the rule "One idea per slide".
Just keep each slide sweet and short with one central message. And if you feel the need to say something else, add another slide. This rule makes your key points easier to follow which means your audience will be so into your presentation that they won't even notice how many slides you used. Everyone wins!

2.- Don't forget about the importance of icons

Icons might look small but they definitely make a difference in your webinar presentation. But what is the best way to use them?

Here are some ideas: Instead of boring bullet points, choose icons to organize your text on lists. You can place them next to important ideas to attract your audience's eyes. Or use little icons as visual aids in your graphics and charts. What's more, you can find icons for any topic! The ones you see above are part of our free business icons collection.

3.- Always put your information at the center

In the world of webinars, you never know what type of device your audience will be on. So, to make sure your presentation will be easy to read on any screen, avoid corners and put your content nicely at the center of your slides. You don't want people squeezing their eyes trying to catch that graph in the corner, or even worse, that they don't notice it at all! Remember: Make it simple for them.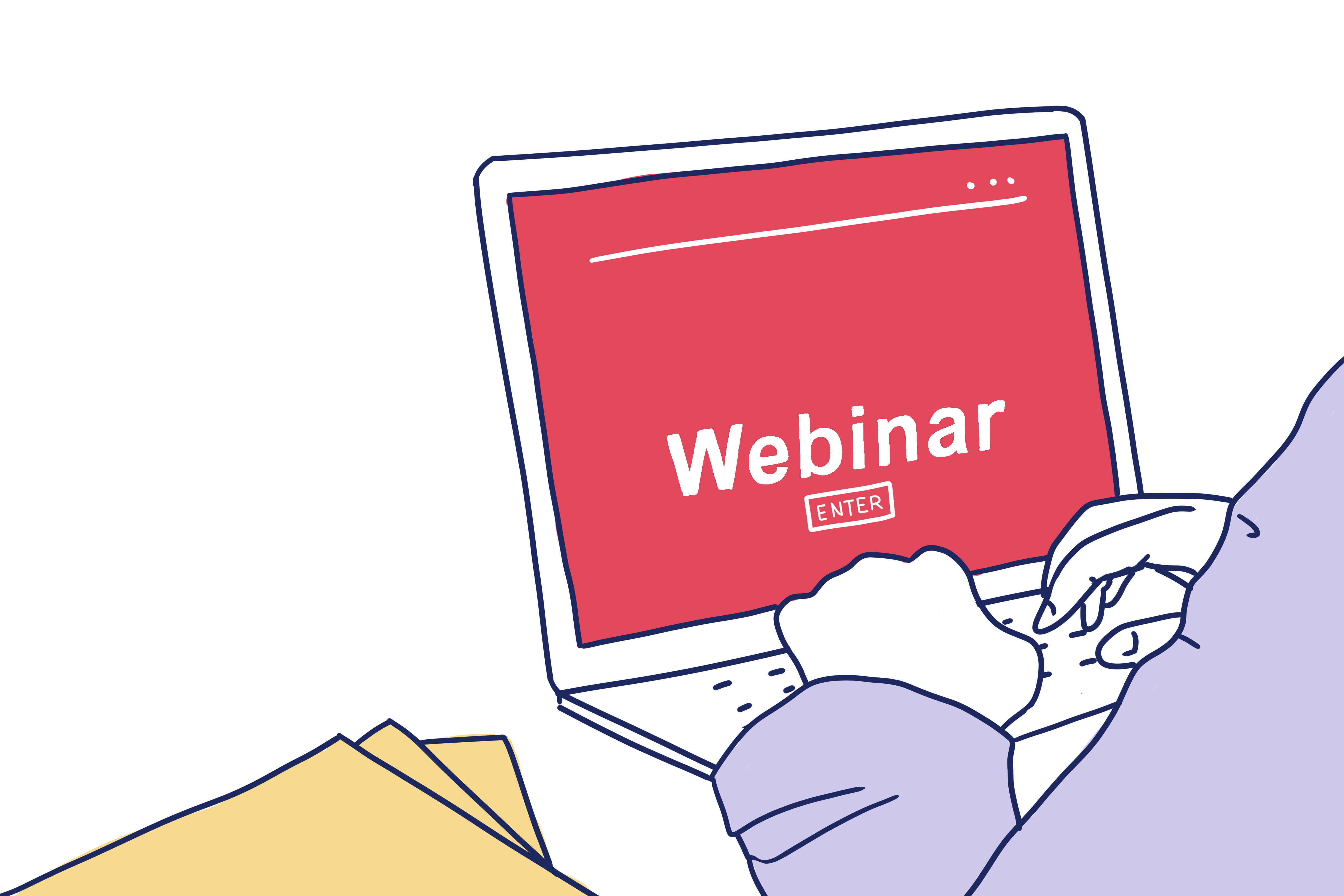 4.- Make sure you've got the right visuals

Webinars usually consist of a live video transmission alongside a slideshow presentation. And here's where many presenters fall short. The presentation design needs for a virtual event are different from a face-to-face seminar. You go from a projector that shows your slides on a large scale to someone's laptop (or even mobile!) screen. For that reason, your webinar presentation should have attractive visual elements that helo you elevate your online delivery.
Believe it or not, your presentation design has an impact on how your audience receives the information and enhances your skills to keep everyone engaged. Just check out these examples designed by the 24Slides team:



Luckily, you're in the right place to find the best slide deck templates for your next webinar!
5 Free Digital Marketing Webinar Templates to Reach New Prospects
Facebook, Twitter, Instagram, Pinterest… all of them are popular social media channels that companies use to build their brand presence online. So, why don't you create a digital marketing webinar? They are always in high demand, which assures you a big audience.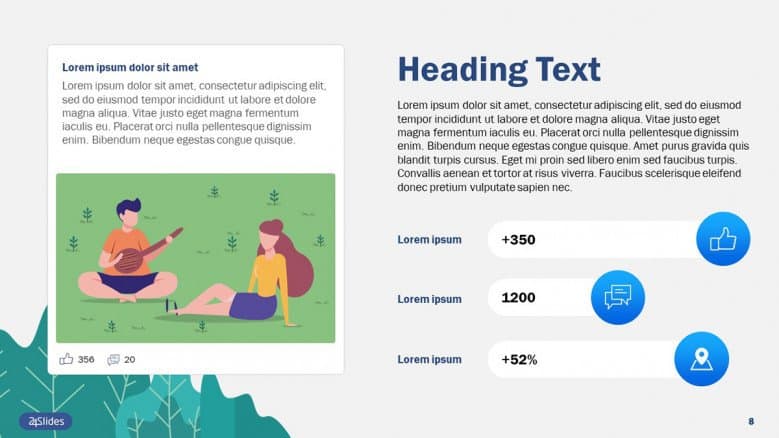 Facebook has reported more than a billion daily active users and shared that 74% of its users are high-income earners. So, webinars about how to boost engagement on Facebook pages or around paid advertising on Facebook sound promising.
This Blue PowerPoint Template resembles the style of the popular social media platform in all its slides. Alongside reaction emojis, "like" icons and data charts, you'll also find graphics of Facebook posts and comment boxes that evoke a real-time social media interaction. Your viewers will love it!
Twitter is still a hard nut to crack for some business owners, and this can be a great opportunity for you to share powerful marketing tips.
Use the Twitter Campaign Slide Deck Template to showcase Twitter success stories from top companies in your industry. You can adapt the content for your niche market and create a webinar around how to use hashtags to attract leads. All these Twitter-themed slides make the perfect webinar presentation: eye-catching illustrations, icons, and amazing backgrounds that immerse everyone into the Twitterverse.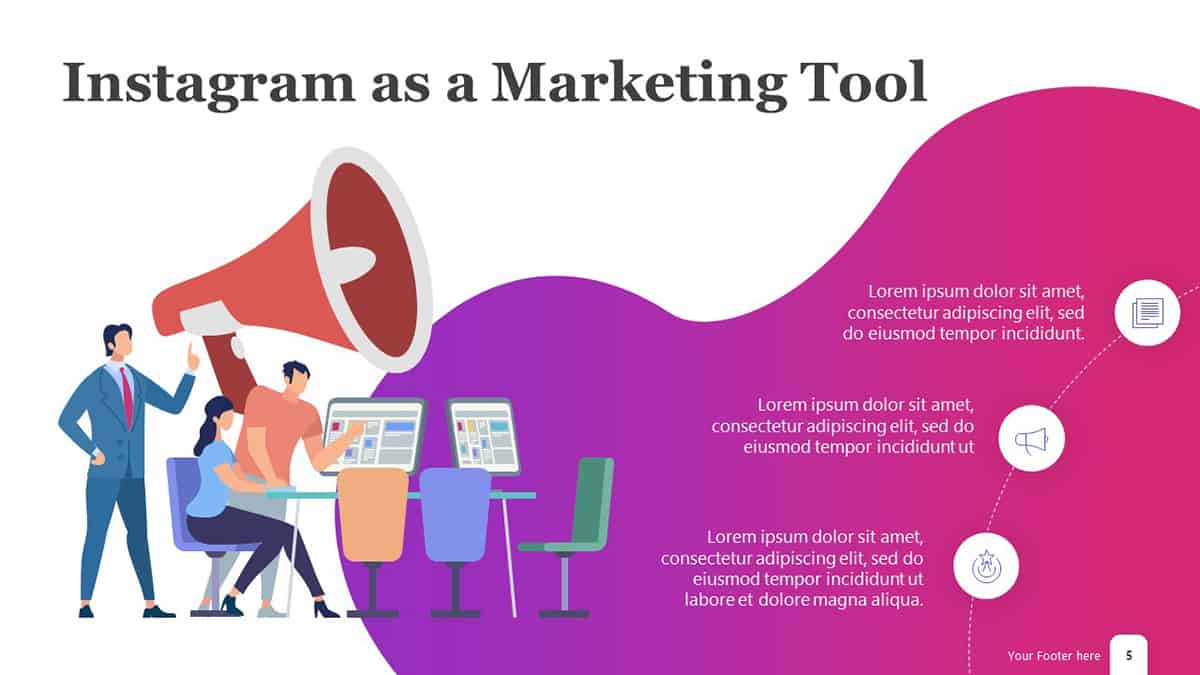 You've seen our webinar slide deck templates for Facebook and Twitter, now it's Instagram's turn! This social media app releases new features all the time and marketing professionals need to be up to date on this to craft the best campaigns.
Use the Instagram PowerPoint template to create a webinar that covers all the options available for big and small brands. And you don't even need to worry about making eye-catching slides, this template already comes with amazing illustrations and backgrounds.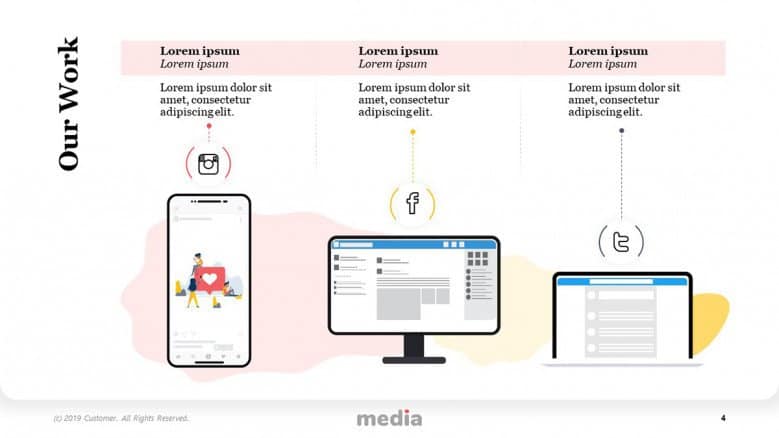 A stylish PowerPoint Template for your digital marketing webinar! If you plan on giving a quick brush-up on the biggest social media platforms at your webinar, this template is exactly what you need.
The Playful Social Media Template is perfect to talk about Twitter, Instagram, Facebook, and make comparisons between these three social networking sites. The clean layout and pastel colors of this webinar slide deck template make your content stand out on any screen. It includes a comparative table, visually appealing bar charts, and illustrations.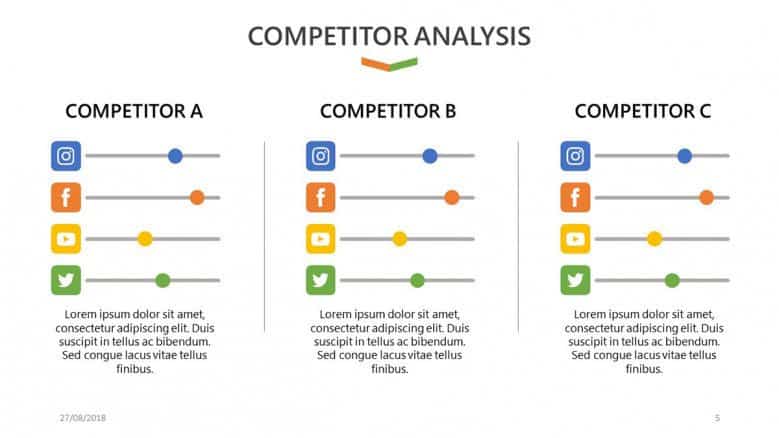 For an audience that already manages the digital marketing basics, a webinar that goes into topics like competitor analysis, social media growth, and content planning could be a great option.
The best thing about the Social Media Analysis PowerPoint Template is that it comes with different charts and graphics to compare four datasets on each slide. Plan a webinar around digital marketing campaigns and this template can be an example of how to make a great social media report.
6 Free Health and Wellness Webinar Templates to Build Brand Authority
If you work in the health and wellness industry, then your brand and these webinar slide deck templates are a match.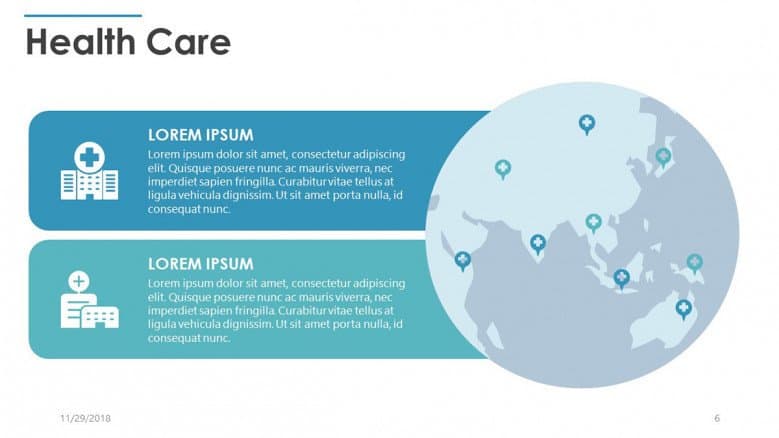 This PowerPoint template will help pharmaceutical companies, medical institutions, and healthcare professionals create a complete webinar presentation on human health. Here you can fit complex data into simple visual elements to make the information accessible to all types of audiences. It also includes a world map graphic, a human anatomy diagram, a nutrition pyramid, and medical icons.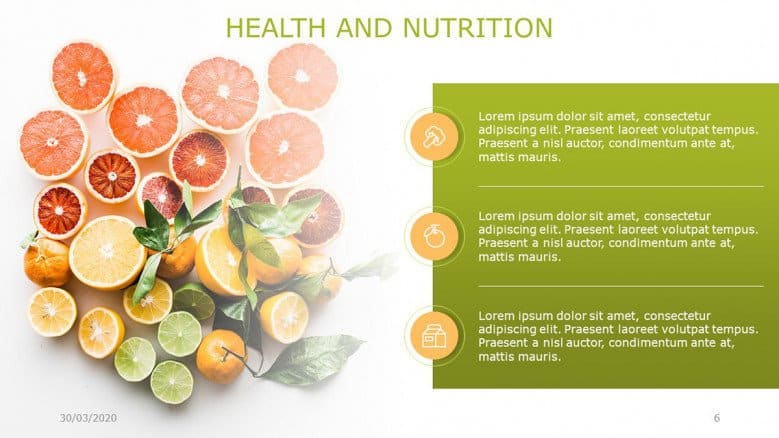 Good nutrition is one of the key factors to lead a healthy lifestyle. And even though we eat every day, sometimes our food choices are not the best for our health.
What kind of food should we include in our diet? How to keep a positive relationship with food? Is breakfast really the most important meal of the day? As a nutritionist or health professional, you can answer all these questions in a well-rounded webinar. Use the Nutrition PowerPoint template to share with your audience the health benefits of fruits and vegetables, nutrition facts, how a good diet looks, and more.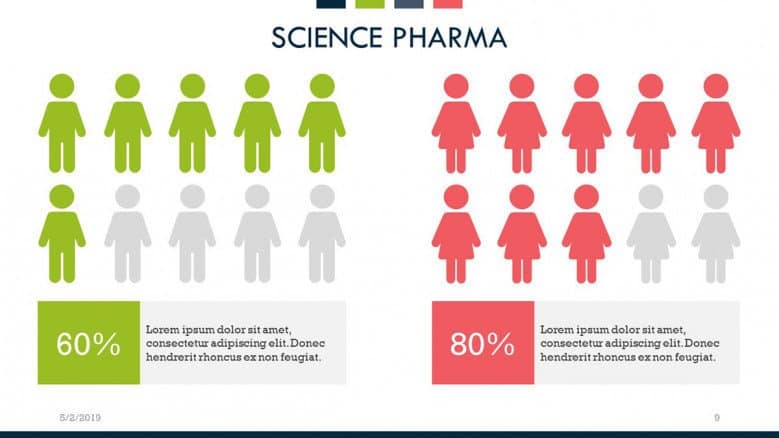 When talking about human health, don't settle for boring templates. Here's a great PowerPoint template that links health science and pharmacy in eye-catching slides. The clean layout of this webinar template will help you make any type of information easy to read for both medical experts and non-technical audiences.
There is no room for walls of text in the Science Pharma PowerPoint Template, instead, it offers you incredible diagrams, creative bar charts, and pharmaceutical icons for data visualization.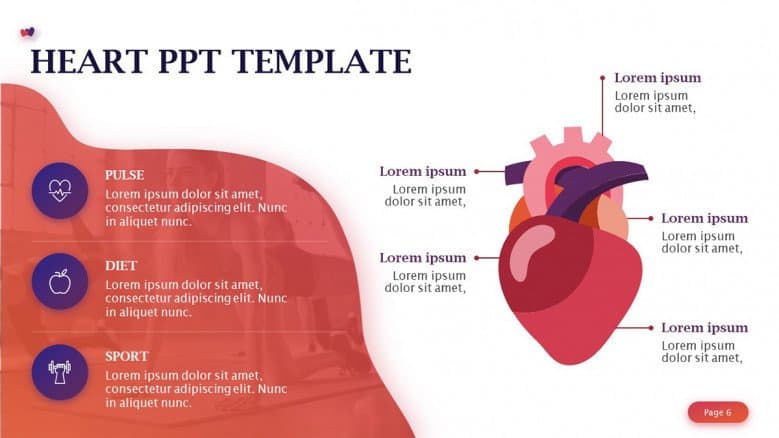 As they say, prevention is better than cure, and we couldn't agree more. For that reason, the health and wellness webinar templates include an impressive red and purple slide deck that has everything you need to deliver a webinar on heart disease prevention. Address risk factors for each stage of life, heart attack symptoms, give advice on how to keep a healthy heart, and more.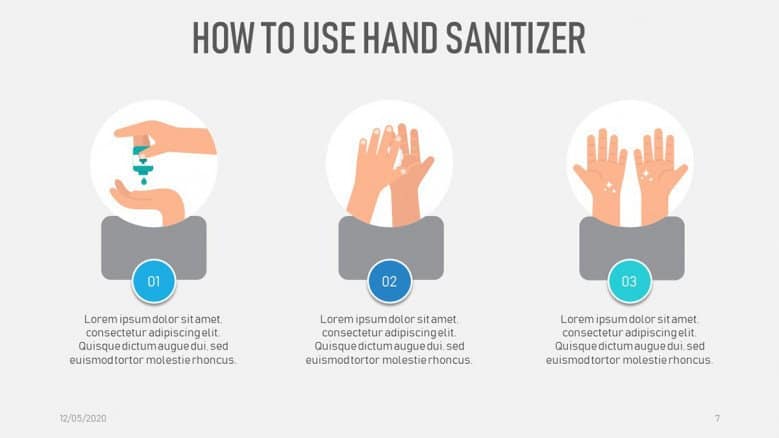 Medical or scientific experts from your team can conduct a specialized webinar on hand hygiene. This topic has become really important because of COVID-19, and your company can provide a professional perspective on the matter. With the Hand Hygiene PowerPoint template your webinar can cover from hand washing techniques to germ hot spots, and everything in between.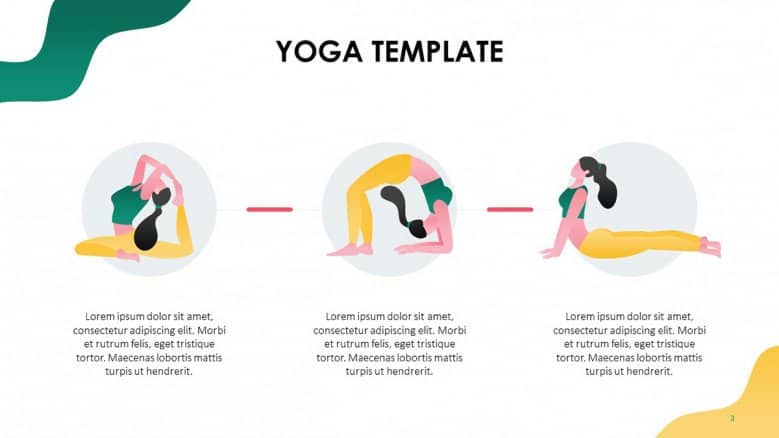 If we talk about highly visual presentations, the Playful Yoga PowerPoint Template is unbeatable. You can position your brand in the fitness and wellness niche by doing webinars on how to restore energy after a busy day, easy yoga poses for beginners or meditation for anxiety.
With a harmonic color palette, this webinar slide deck is ideal to address the physical, emotional, and mental benefits of yoga. There are also vector illustrations of male and female characters in yoga poses to guide viewers step-by-step.
5 Tech Webinar Slide Deck Templates to Impress Your Clients
The templates in this section were definitely not made for the fans of text-filled slides. For some, it could be a challenge to give a presentation with more visual elements than text but keep in mind that webinars demand highly visual content and we offer you incredible options.
Tech presentations call for the latest trends on design, no generic images. That's why our team created this Cloud Computing PowerPoint template that will leave an everlasting impression on your audience, no doubt.
You can do cloud computing 101 webinars for the general public or one for cloud experts with this same blue and red template. Better yet, if you offer cloud services, help your clients know more about this fascinating technology with customized webinars that respond to their specific needs and questions.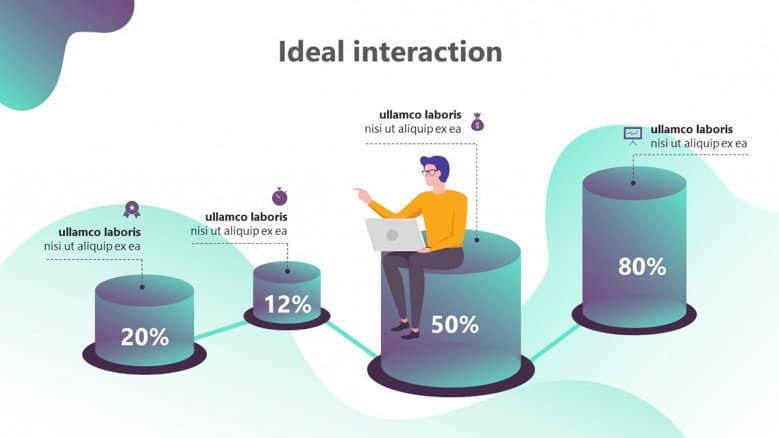 This template will do wonders in a webinar for professionals who look to further their knowledge in the user experience field. It offers visual roadmaps and charts but what stands out the most are the illustrations in a playful style that grace every slide. Use the Interactive Product presentation template to cover all UX-related topics from running a usability test to reporting the project results.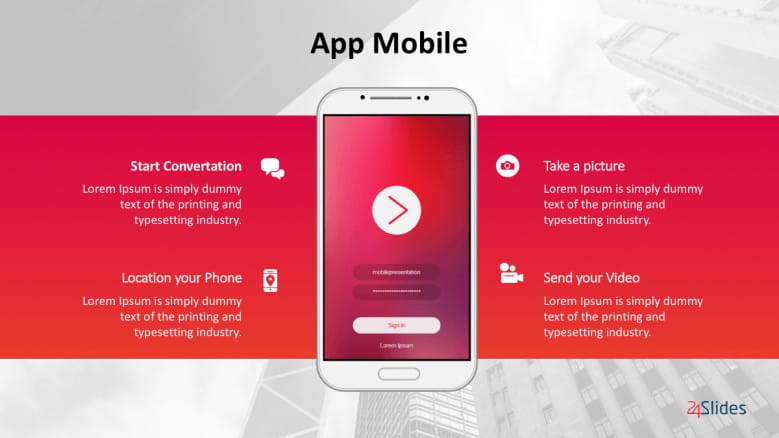 For those in the mobile app industry, these slides are right for you! Here you'll find smartphone mockups to showcase a mobile game, a new social media app, or to talk about mobile advertising and m-commerce. The Android Mobile Presentation Template Pack has three beautifully designed slides that convey information in a straightforward manner and work perfectly as visual aids for your webinar.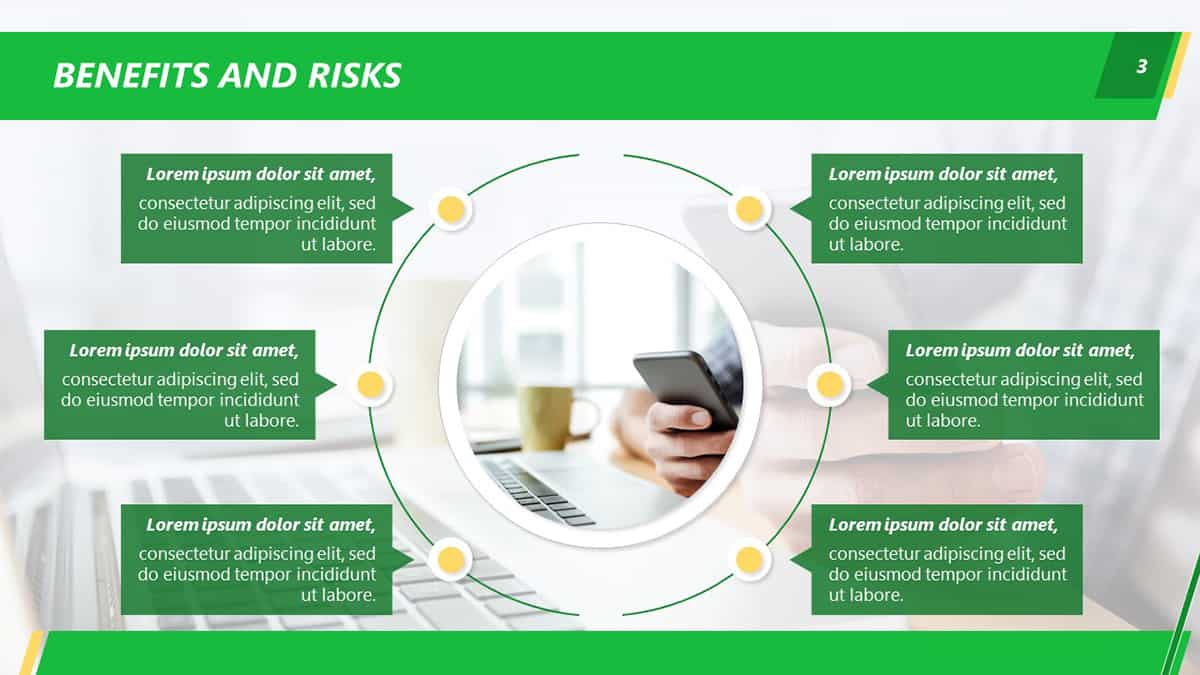 People associate artificial intelligence (AI) with robots and advanced machines. But, as a tech expert, you know we already interact with AI on a daily basis through our devices. Therefore, you can create a webinar to explain to your clients what this is all about. You can start with chatbots, a popular tool that companies request and that professionals want to manage. That's a successful webinar right there!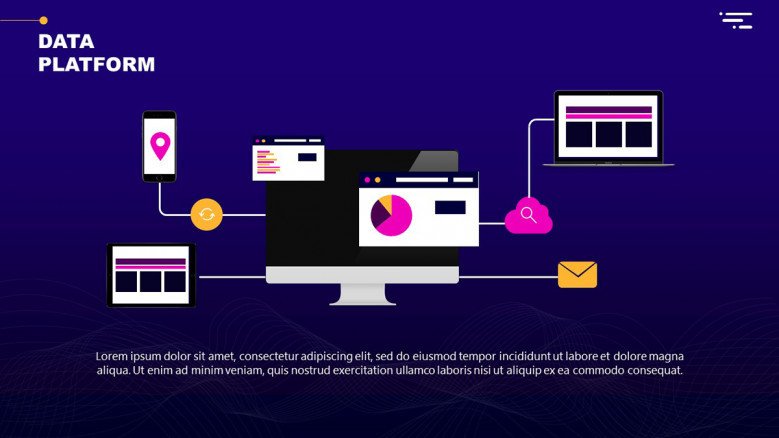 Nowadays, there is a huge demand for training and educational content on information technology. And for a company that provides IT services, a webinar about cybersecurity and computer networks sounds just right.
The IT Network PowerPoint Template is highly visual and keeps the text at a minimum to guide your audience's attention to the right points. This purple slide deck template comes with area charts in a playful style, a network map, modern-looking progress bars, technology icons, and much more.
5 Additional Slides for Your Webinar Slide Deck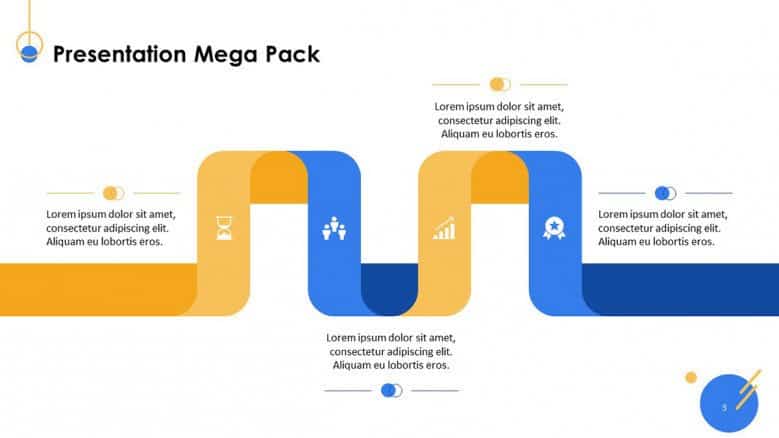 30 impactful slides that give a creative twist to the classic PowerPoint charts and diagrams. This playful template has roadmaps, comparative bar graphs, a SWOT diagram, circle charts, agenda slides, timelines. Simply put, whenever you are looking for original graphics to complement your webinar presentation, just search them all up here.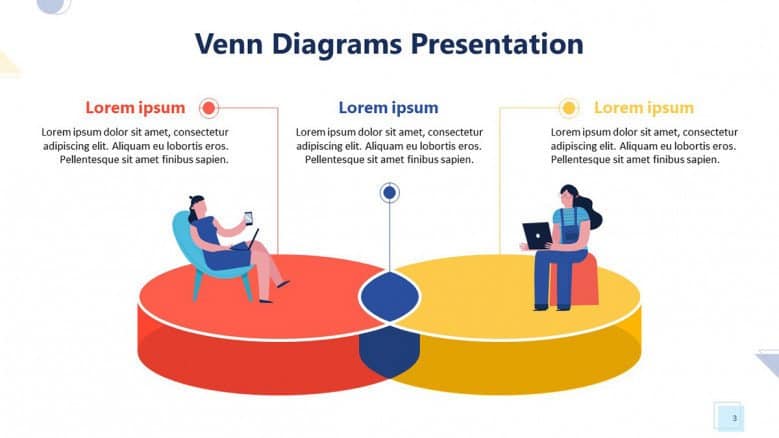 Do you need to display relationships between two or more sets? Venn diagrams are the answer. Our designers used circles, polygons, and irregular shapes to create the most imaginative Venn diagrams in flat and 3D styles. Give your webinar presentation the touch of color it needs with our playful Venn diagrams.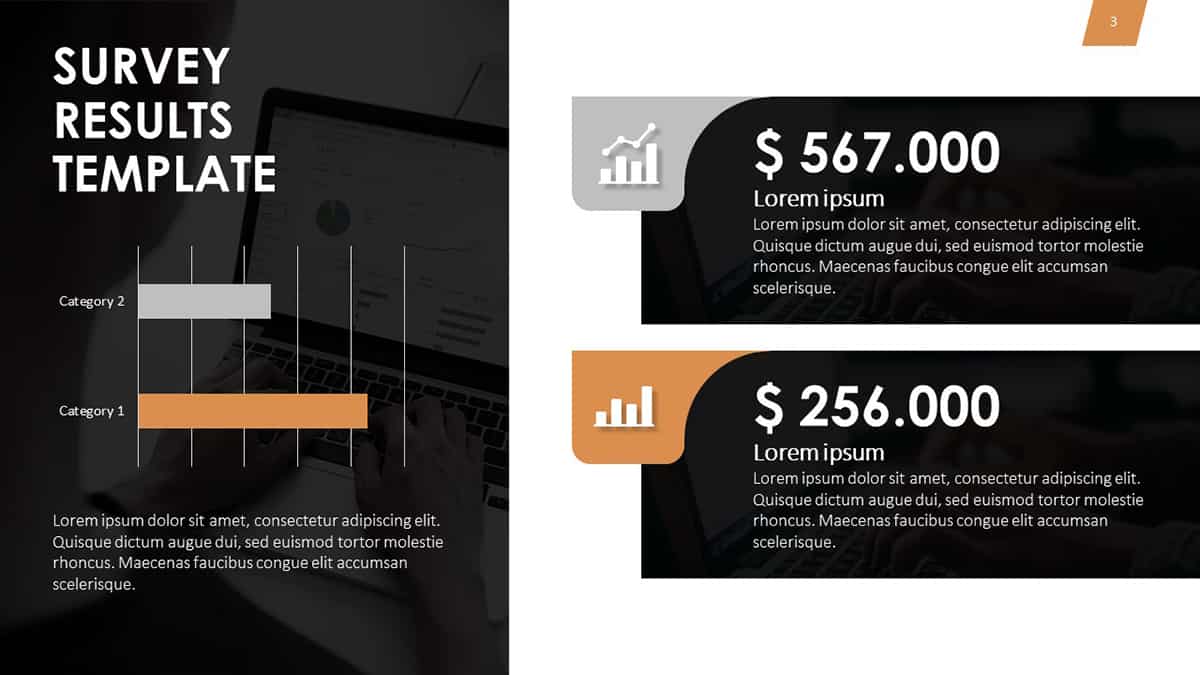 Charts and graphs are always a good idea when you need to prove a point. Use the Survey Results PowerPoint template to deliver your webinar conclusions or to show key trends that back up your main points. You'll find a world map, pie charts, timelines, bars graphs, and more!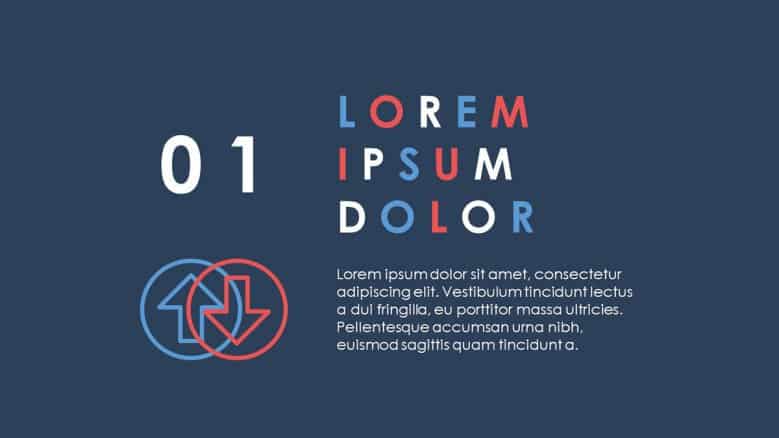 Breaking your content into well-defined sections lets your audience know when you are moving on to the next point and helps you navigate through your presentation in an organized manner. These Corporate Title Slides hold visual interest and make it super easy for you to build a powerful webinar presentation with key messages on each slide.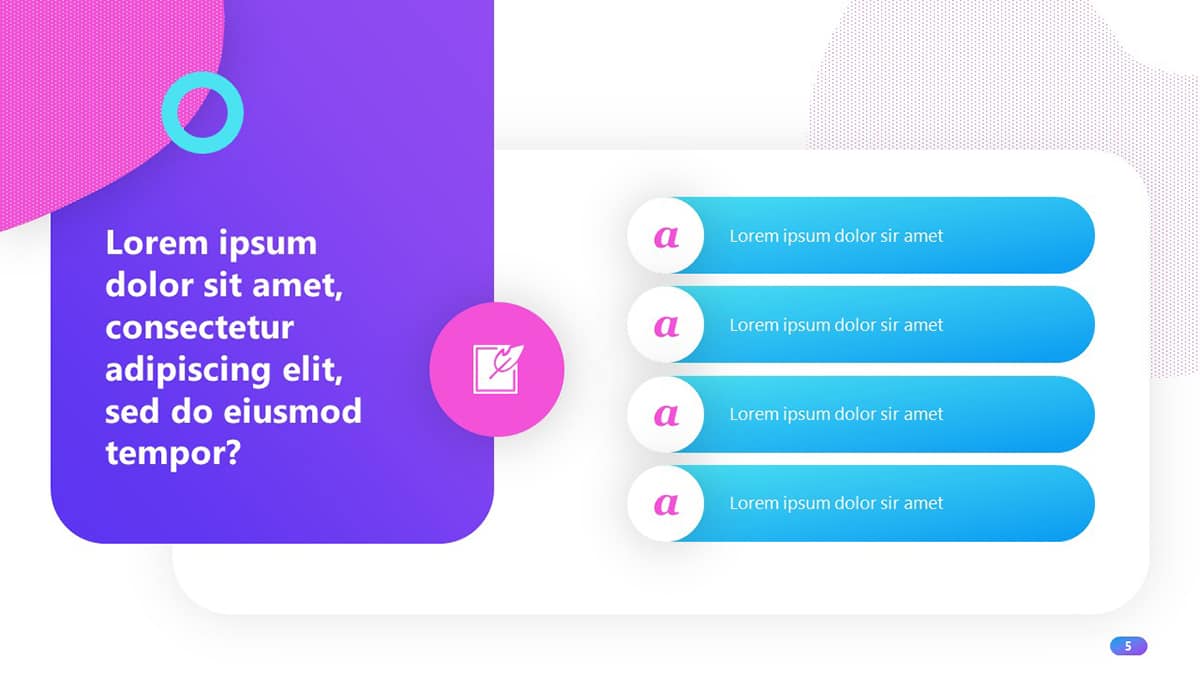 No more raising your voice for people in the back or moving around to keep your audience's attention. Use the Creative Quiz PowerPoint Template to open your presentation with fun questions to break the ice. Or appeal to your viewers' analytical side and insert some thought-provoking questions. It's up to you and the tone you want to set for your webinar.
Got a Webinar Coming Soon? Get Your Own Customized Webinar Presentation!
You can find all these free webinar slide templates (alongside many other PowerPoint resources) in Templates by 24Slides. However, if you don't have the time to edit PowerPoints or need a webinar slide deck aligned to your brand, custom presentation design is what you're looking for.
At 24Slides, our expert presentation designers have the skills to transform any slide into something you can't take your eyes off. You've already seen what our team can do in all the examples above. Now, imagine where we can take your webinar slide deck with full branding and custom designs made just for you!
And there's more: You have the option to receive your first draft in 24 hours. That means you get a full rest before your big day while we take care of what we do best: Your webinar slides.