Best Free PowerPoint Calendar Templates On The Internet
If you're looking for well-designed calendars that you can use in your PowerPoint presentation, then you've come to the right place. In this article, I'm going to show you some of the best free PowerPoint calendar templates you'll ever find on the Internet.
Using Calendars In PowerPoint
Calendars are usually used in project meetings or planning meetings where you need to share some important dates and milestones with your audience. For instance, if you're discussing a particular project with your team, you can use a calendar to indicate the most important dates for the project. These can be milestones or deadlines that your team has to meet so as not to incur delays and possible penalties from clients and suppliers.
Calendars are very useful for showing a schedule of upcoming events. You can list down dates in bullet points, of course, but having an actual calendar on the screen helps people recall dates faster. They'd know what day a specific activity falls on, so it's easier to check their own calendars and figure out if they need to reschedule any of their personal activities.
Lastly, calendars make for great handouts. Your audience can easily scribble their notes and comments on each important date. If they want, they can display their copy on their desks or someplace they'll frequently see it.
The Best Free PowerPoint Calendar Templates Online
Not all free calendar templates you'll find online are going to be visually attractive. In fact, most of them will probably look like they were made by amateurs, but there are some good stuff out there. You just need to know where to look (hint: this article contains links to many good templates).
For easy access later, you can simply bookmark this article and come back when you need to download a new calendar for your presentation. So, here's our list of top free calendar templates:
We've got a few hundred templates published on the Template Hub now. And seeing how few well-designed calendar templates there are on the Internet, our talented designers took it upon themselves to create these stunning works of art – all for free!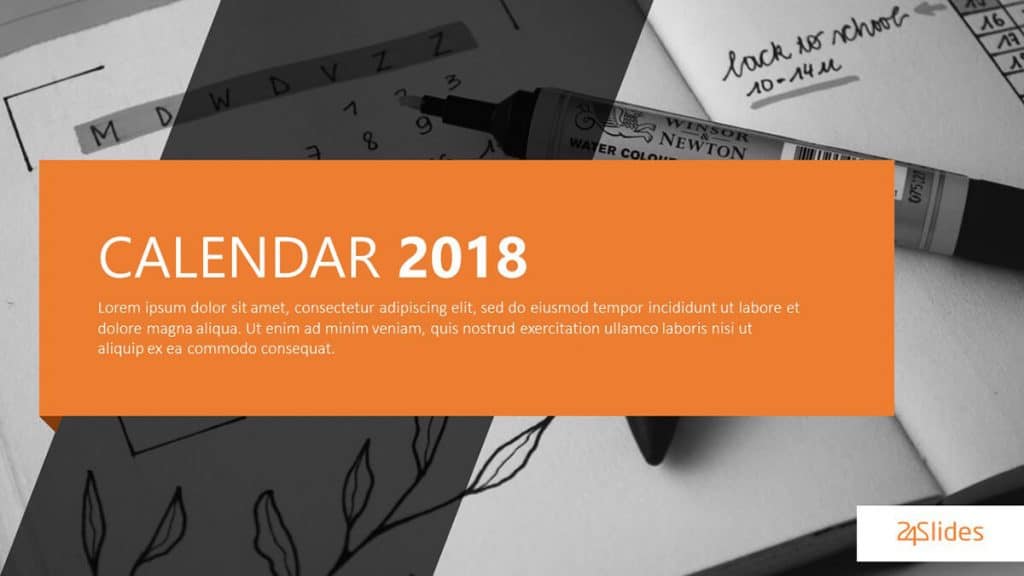 This 14-slide template includes a welcome and thank you slides, as well as monthly calendar templates from January to December.
You're probably wondering why you'd bother downloading the entire template when half the year's already done. Well, if you're currently working on a project that's been active for the better of 2018, then you can show the achievements you've made in those past months. Show people your progress, so to speak.
For instance, you can point out that in January, you made these forecasts. Look at where we are now, we've covered a lot of ground since then, and we've made great strides and hit all of our goals. And then for the remaining months of the year, you can point out the important dates relevant to your project.
Check out how the November and December calendars look: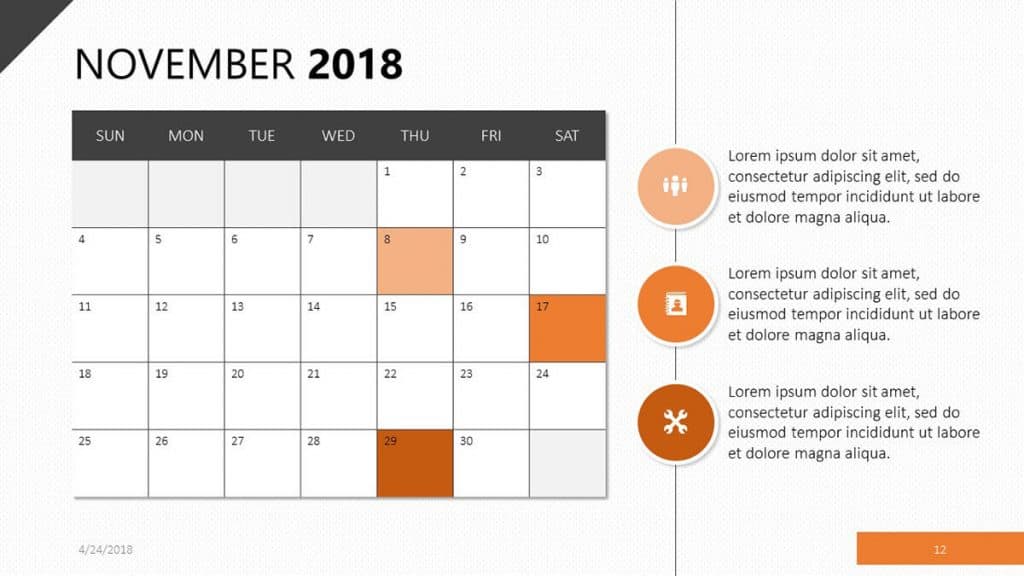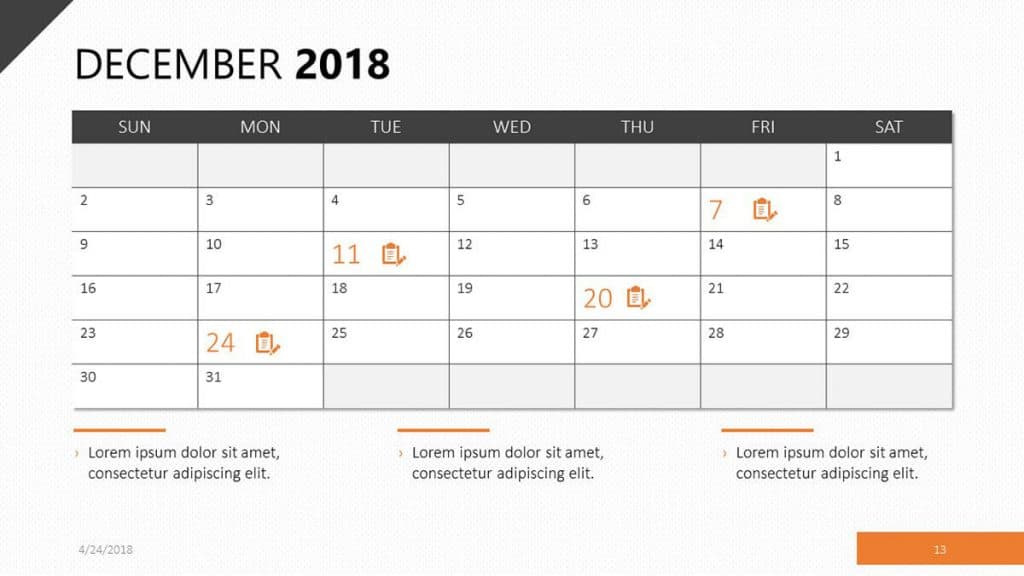 As you can see from the screenshots above, you can use icons to indicate special dates or you can color-code specific dates. Just make sure you use a legend or at least put up a note explaining what each icon or symbol means to avoid confusing your audience.
You're probably asking, "What about 2019? Can I still use this template then?"
Well, of course! This template is easy enough to customize. You simply need to edit the year, months, and days. It's quite easy to do. Just make sure you look up the correct calendar and copy the correct date-to-day sequence!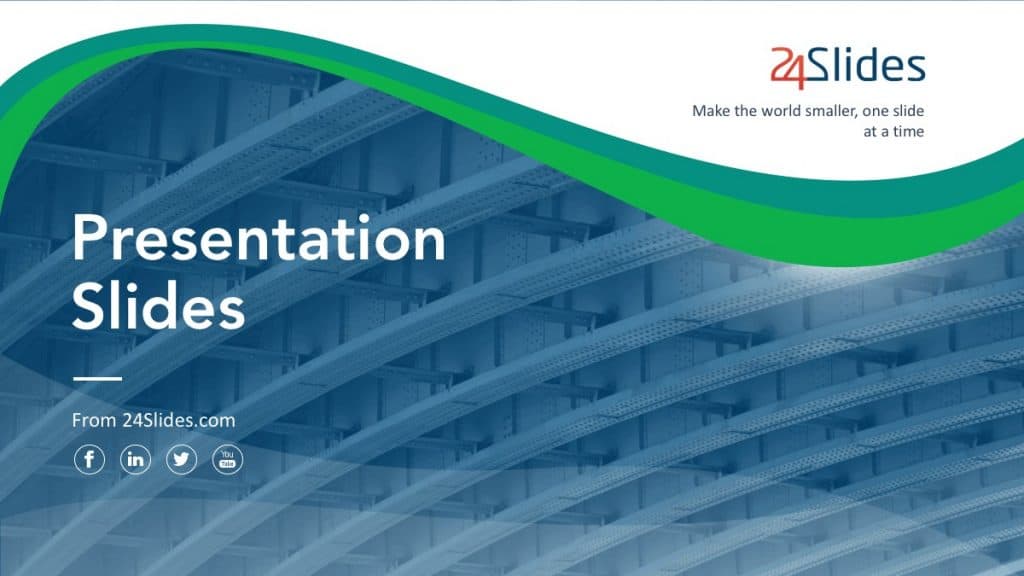 This 20-slide template is an all-in-one template that you can use in a wide variety of business, corporate, and even academic presentations. It includes an agenda slide, a vision slide, charts and tables, a calendar slide, and more. If you want just to use the calendar slide, then you can download the entire template and just copy the monthly even calendar slide (see below) onto your own PowerPoint file.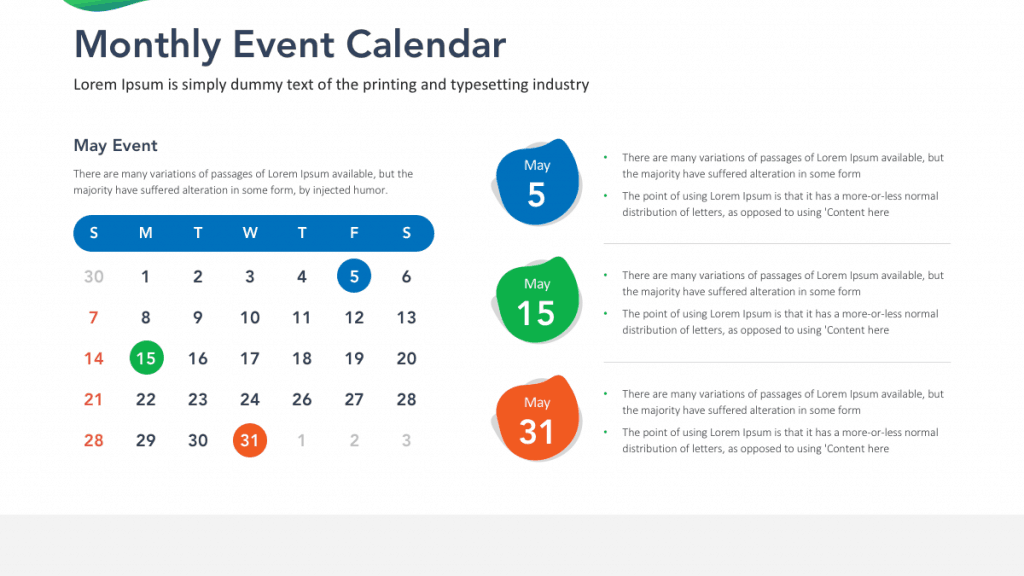 As you can see from the screenshot, the design is eye-catching and modern. Simply edit the calendar to the correct month, and add the highlights to mark important events in your calendar.
Now, you may think the calendar on the left side, or the event descriptions on the right side look too small, and may not be visible to people at the back of the room. Well, there are two ways you can go around this.
You can either: (1) enlarge the calendar (maybe have it occupy the entire slide) and then move the descriptions to the next slide, OR (2) you can use the Morph and/or Zoom transition effects to zoom in on the details!
If you're not familiar with these new PowerPoint features, I've written a comprehensive tutorial on how to use these here: Everything You Need To Know About PowerPoint's Morph And Zoom Features.
Lastly, if you plan on printing out handouts, then I'm sure you can already imagine how good your calendar slide's going to look!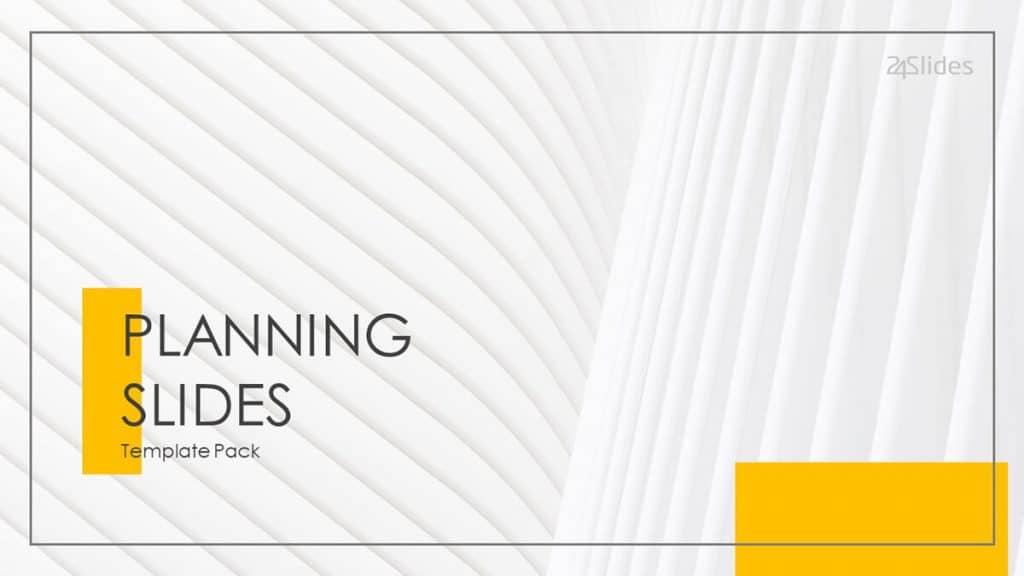 No planning meeting or presentation is complete without a calendar, especially if you need to plan your deliverables, deadlines, milestones, and other time-bound activities, and share it with the group.
In this 10-slide template, you'll get a planning schedule slide that you can easily edit to match your project's needs. This is what it looks like: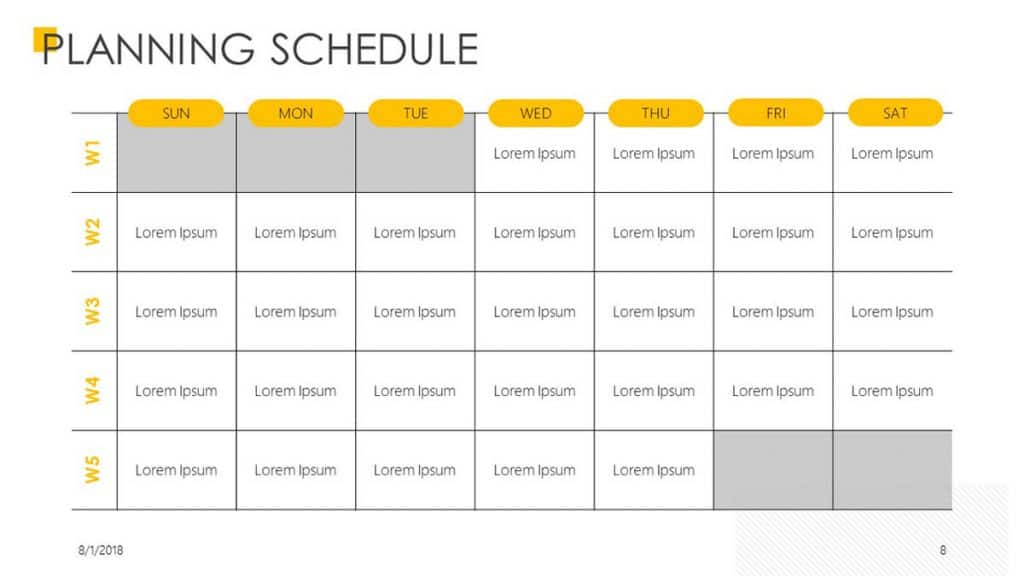 What's great about this slide is that you can easily show your planned daily tasks to your audience. If you have repetitive tasks, instead of typing it out on the slide, you can simply use an icon to free up space on your slide. Just make sure you use icons that are universally understood. Otherwise, you'll end up confusing your audience.
If you want to add dates to the planning calendar, you can easily insert that in the slide, too. If you need more than 5 weeks, then you can simply copy and paste the calendar onto a new slide (or slides). This is especially useful if you want to share your proposed tasks and schedules for the next few months.
Another scenario where you can use the planning calendar template slide is when you're presenting your social media calendar, your content marketing calendar, your editorial calendar, or any other marketing calendar/schedule for that matter.
The thing is there are a lot of bolts and nuts when it comes to different marketing strategies. It's important to list everything out to make sure you and your team are on the same page!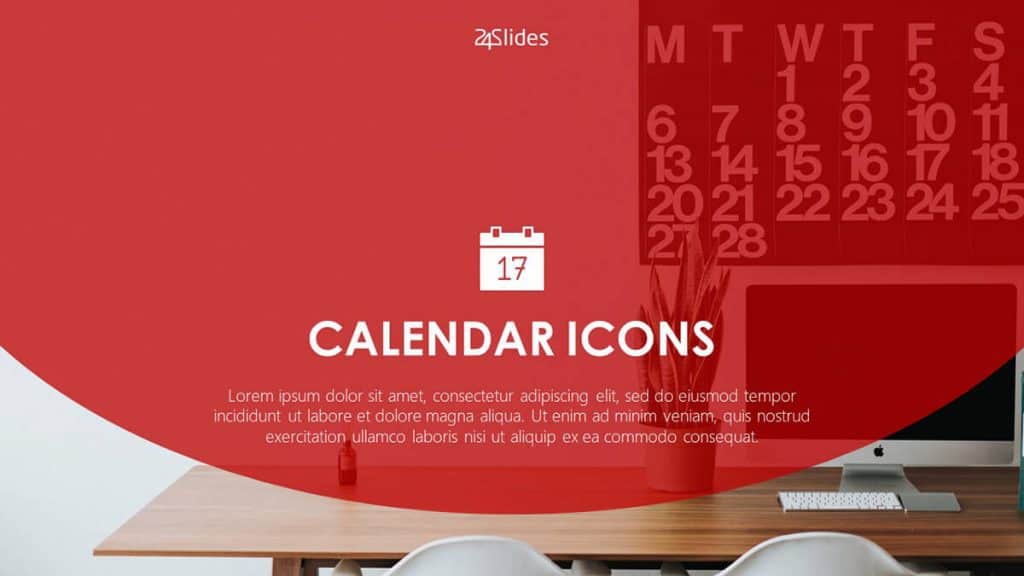 This 9-slide calendar icon template pack will perfectly complement any of the calendar templates I mentioned above. This pack includes a weekly calendar icons slide, a yearly calendar icons slide, a to-do list calendar icons slide, and more.
Using this template makes a lot of sense for those who need to discuss the specifics. For instance, you're discussing your milestones for the last calendar month of the year, December. Let's say you've got quite a few events in December, and you want to provide an in-depth description. You can, of course, just give a verbal breakdown, but if you want to provide a visual aid, then this template pack will come in pretty handy.
If you want to present all the important tasks that need to be done on a specific date, then you can use this daily calendar icon: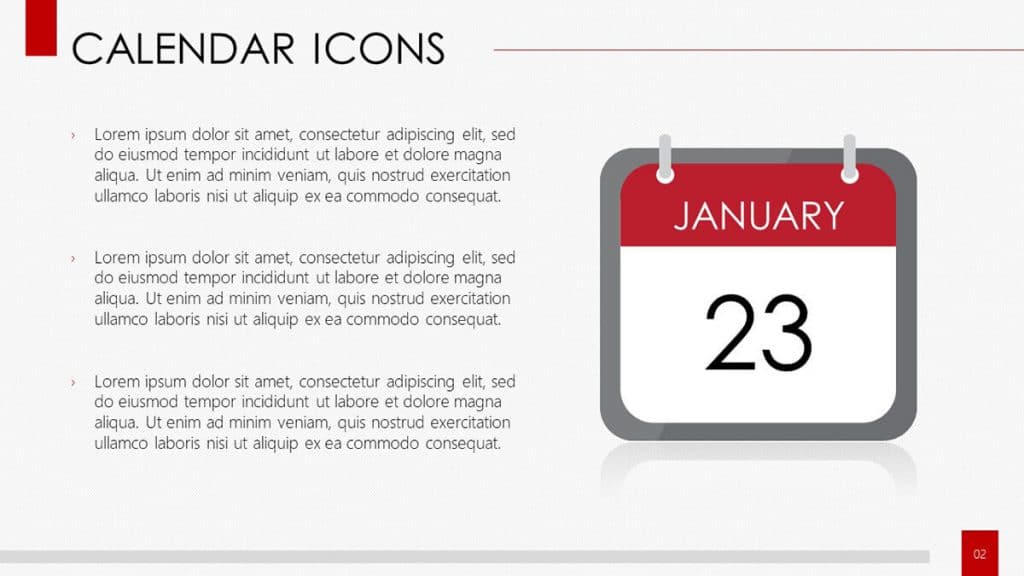 You can present a rundown of your activities for a particular day, in this case, January 23rd. Of course, changing the month and year on the slide is as easy as 1-2-3. If you want to go over a few days' activities, then simply create duplicates of this slide, and edit accordingly.
Alternatively, you can use this daily to-do list template to highlight the most important tasks you need to do for each day.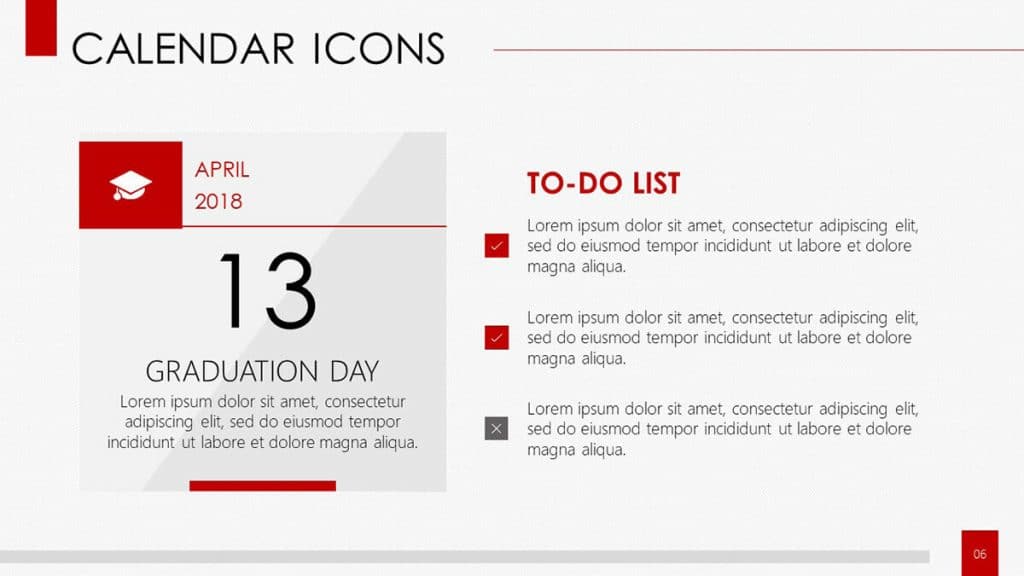 As you can see, there's space to add in an icon beside the calendar month (right now it's the graduation cap icon which signifies graduation). So, if you've got different categories for your tasks, you can simply re-use the same icons across different calendars.
You can also use this weekly format if you only want to present the most important tasks on a few dates: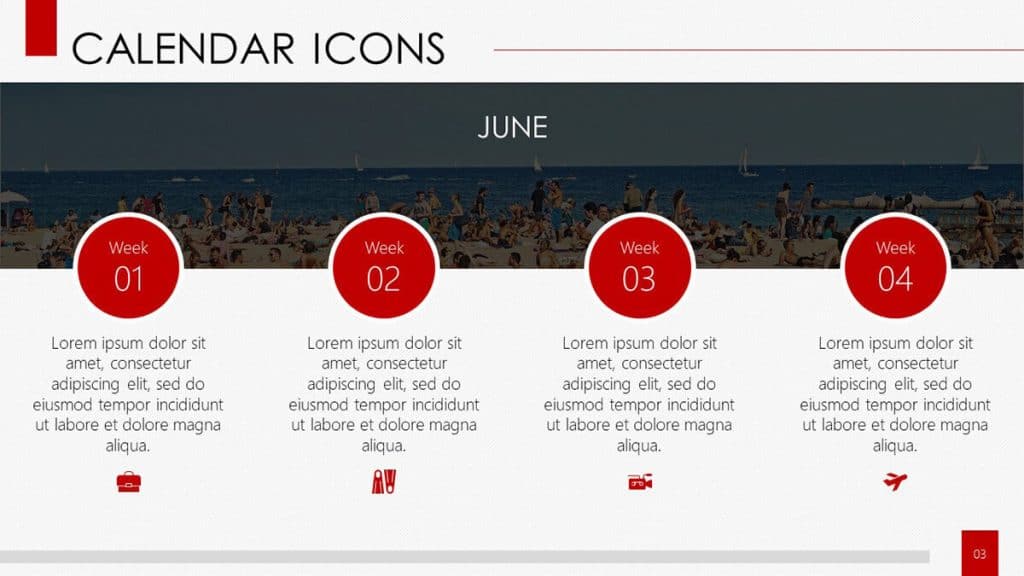 If you're planning for an entire year ahead, then you can use our yearly calendar icons (see below).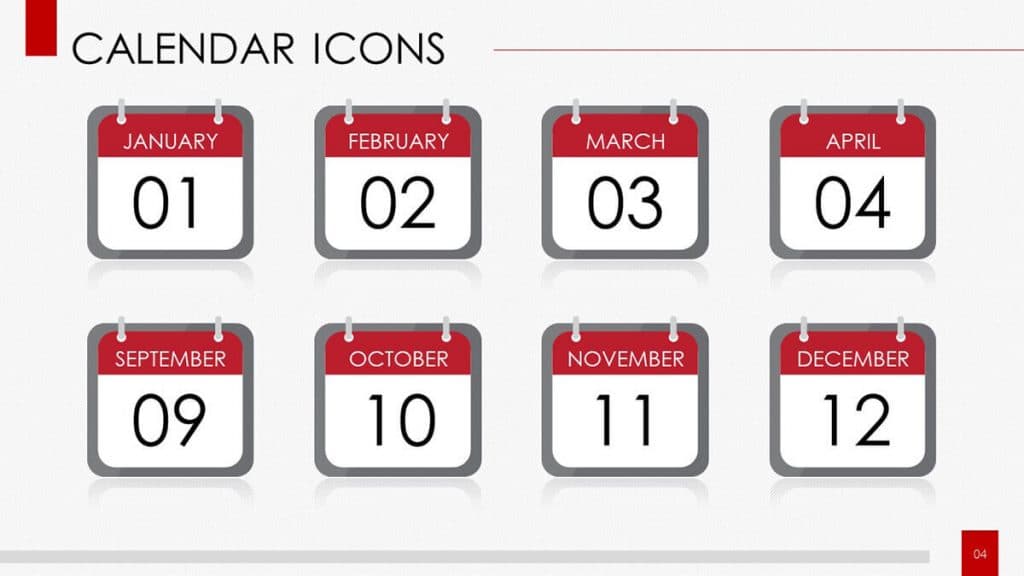 There are quite a few different techniques you can use to wow your audience, and make your planning presentation as easy as possible. For instance, you can use the Morph and Slide Transition effects in PowerPoint to make your calendar more exciting.
Here's an idea: when you discuss the activities in January, you can use the slide zoom effect to switch over to your January slide. Then, when you're done with January, you can just go back to the main (yearly) calendar slide, and zoom into another monthly calendar. You can repeat this process until you finally cover all the relevant months.
Remember, all these calendar templates I've listed in this article are 100% free. You simply need to register a Template Hub account, and you'll get instant access to all our high-quality templates!
Feel free to mix and match the different calendar slides and play around with the design. You can easily apply your design theme to our templates to make sure your presentation's overall design remains consistent. You can also use any of our templates as base to make your own custom calendar template.
Other Places Where You Can Download Free Calendar Templates
If, for any reason, our free templates aren't to your liking (will you please let us know why?), here are some other places on the Internet where you can download free calendar templates. Please note that we can't vouch for their quality nor provide any form of support.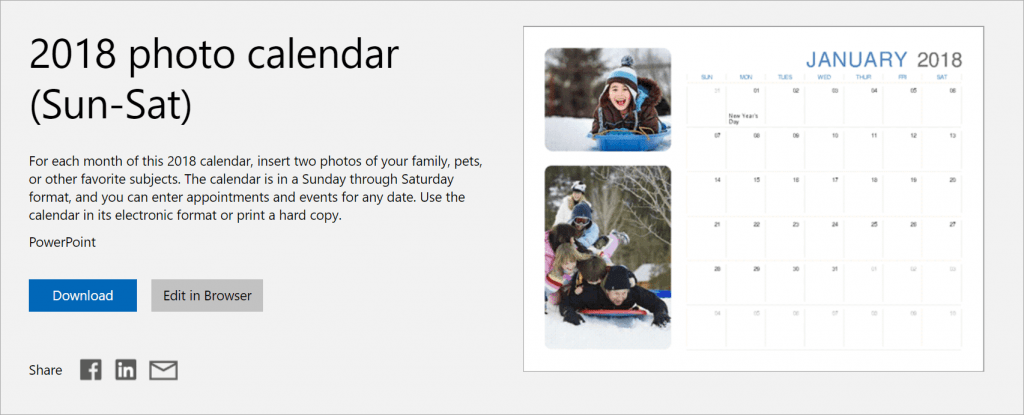 Here's a sample from the Microsoft Templates website. You can use it for presentations or personal use. Simply swap out the default images with your own, print it out, and you've got yourself a physical calendar! To use their free templates, you can either click the blue Download button, or you can edit directly on your browser (you need to be logged in to Microsoft Office Online).
Alternatively, you can also access these templates by opening PowerPoint on your computer. You'll see this screen upon booting up the software. Simply type 'calendar' on the search bar, like you see below:
Your results will look something like this: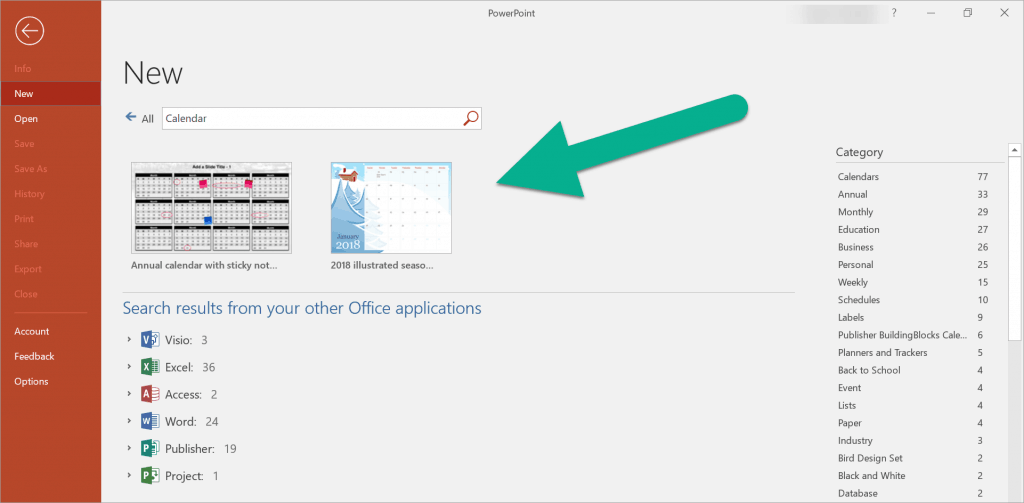 When you click on the calendar template you like, you'll see something like this: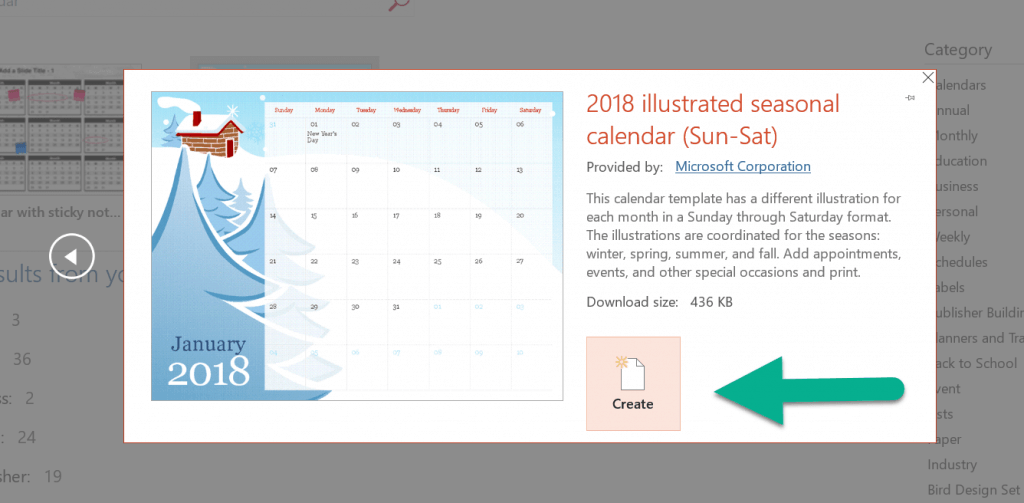 Hit the 'Create' button if you want to use the template. PowerPoint will then download and automatically load the template on the next screen.

Simply edit the calendar – swap out the background image, change the font, adjust the theme, etc. You can then copy the slide you want to use onto your main PowerPoint file (if you're working on a different file). That's it!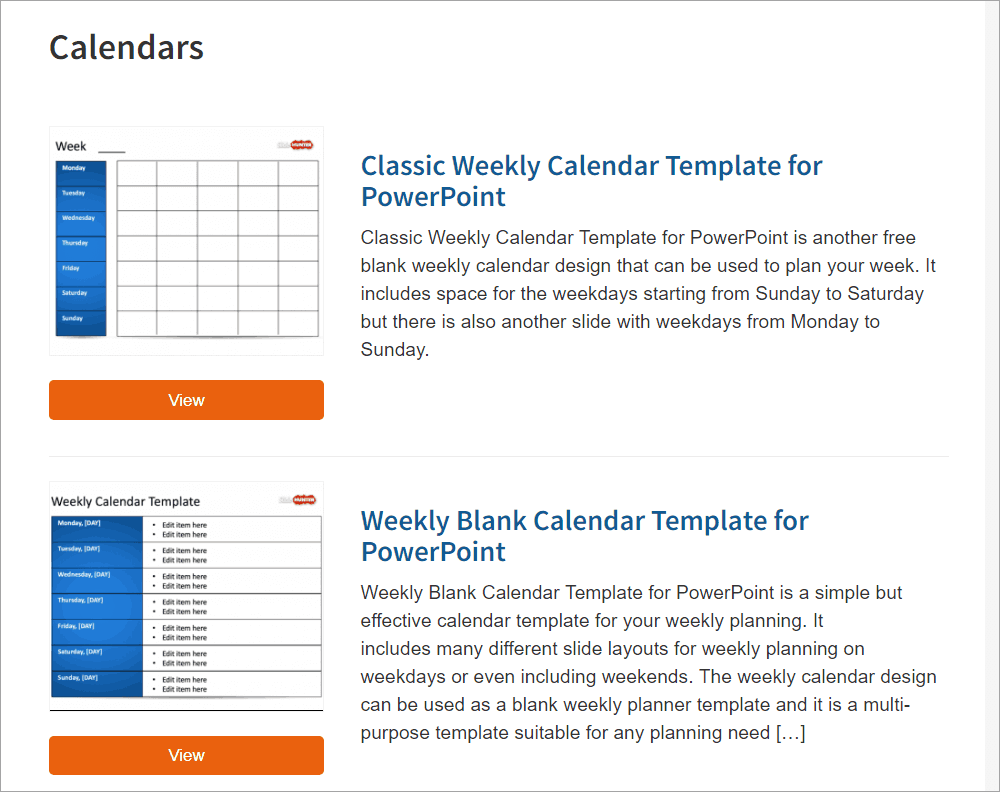 If you're looking for a good weekly calendar template, then you should visit SlideHunter. The classic calendar template (topmost in the screenshot) is left blank so you can simply type in your activities and tasks for the week. The second template, on the other hand, includes a number of different slides so you can pick and choose the calendar design template that goes well with your presentation's overall theme.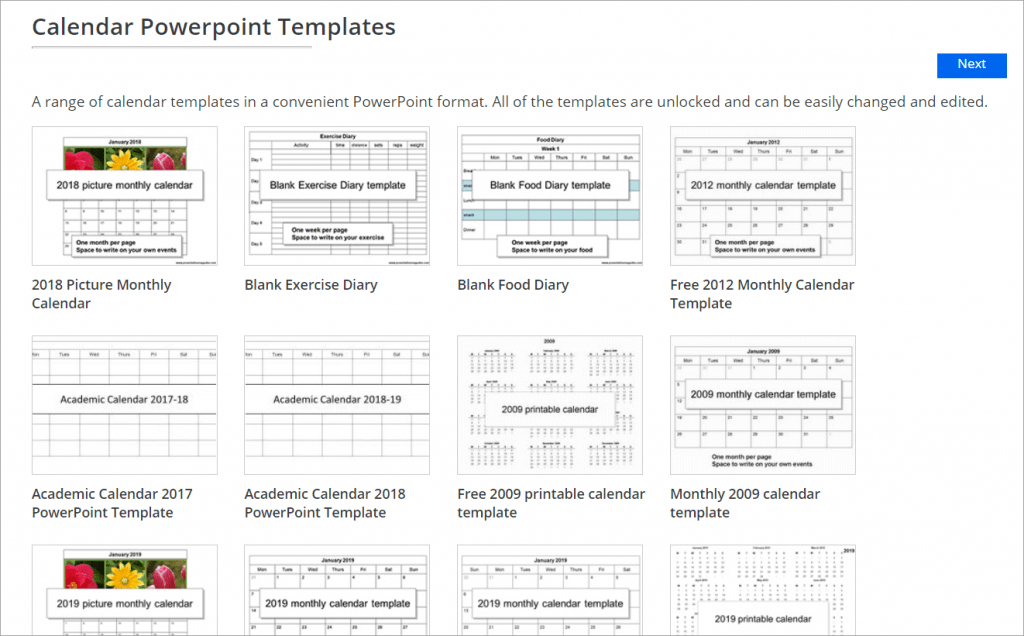 Presentation Magazine has quite a collection of free calendar templates for PowerPoint. They have picture calendars, blank calendars, printable calendar templates, academic calendars, weekly diary templates, exercise diary, blank food diary, a fitness diary, and more. While these templates aren't exactly eye-candy, you have to admit that these are still functional and useful!
Final Words
While pickings are slim for free calendar design templates on the Internet, the list I've shared in this post should get you off to a good start. You can simply build on a template and design it accordingly. Alternatively, you can send your calendar slides (or your entire PowerPoint presentation), and we'll have our in-house experts transform your slides into something absolutely magical!