How to Use PowerPoint to Increase Online Leads
If generating leads is giving you some headaches, you're not alone. Lead generation is a top challenge for 60% of marketers, and it certainly feels like looking for gold in the digital world.
By definition, a lead is a person that has shown interest in your product and willingly provides their contact details for future communications. Or in simple words, a lead is a strong future buyer.
But you don't obtain "gold" that easily. That's why a central idea on lead generation is offering a free and valuable resource to users in exchange for their info.
Blog posts and social media ads are the most common ways to attract potential customers, but have you ever thought of using PowerPoint to increase online leads? Your slides can be the perfect place to hook people into your brand narrative and obtain the information you need. In this article, I'll show you how to unleash the potential of your PowerPoint presentation as a lead generation tool.
1.- Why Using PowerPoint to increase online leads?
A huge part of the lead generation process is attracting potential customers. And while content of value is a must for this, you can't leave the visual part out of the equation. Especially in the online world!
According to data by Chartbeat, 55% of users spend less than 15 seconds on a web page. That's about 15 SECONDS you have to grab someone's attention online. And if you want to do it right, what you offer needs to stand out.
What if I tell you that blending the best information you can give with striking visuals is not that hard? Chances are you already have the software you need to boost your marketing ideas right now. I'm talking about PowerPoint, the popular presentation design tool. Unlike other programs such as Photoshop or Illustrator, you don't need to be a pro to use PowerPoint. Plus, it's so versatile that it allows you to integrate text, images, videos, and graphics. This means you can create multimedia content with slides! Does it sound like something that could appeal to online users? A very easy yes
Let's check out some examples: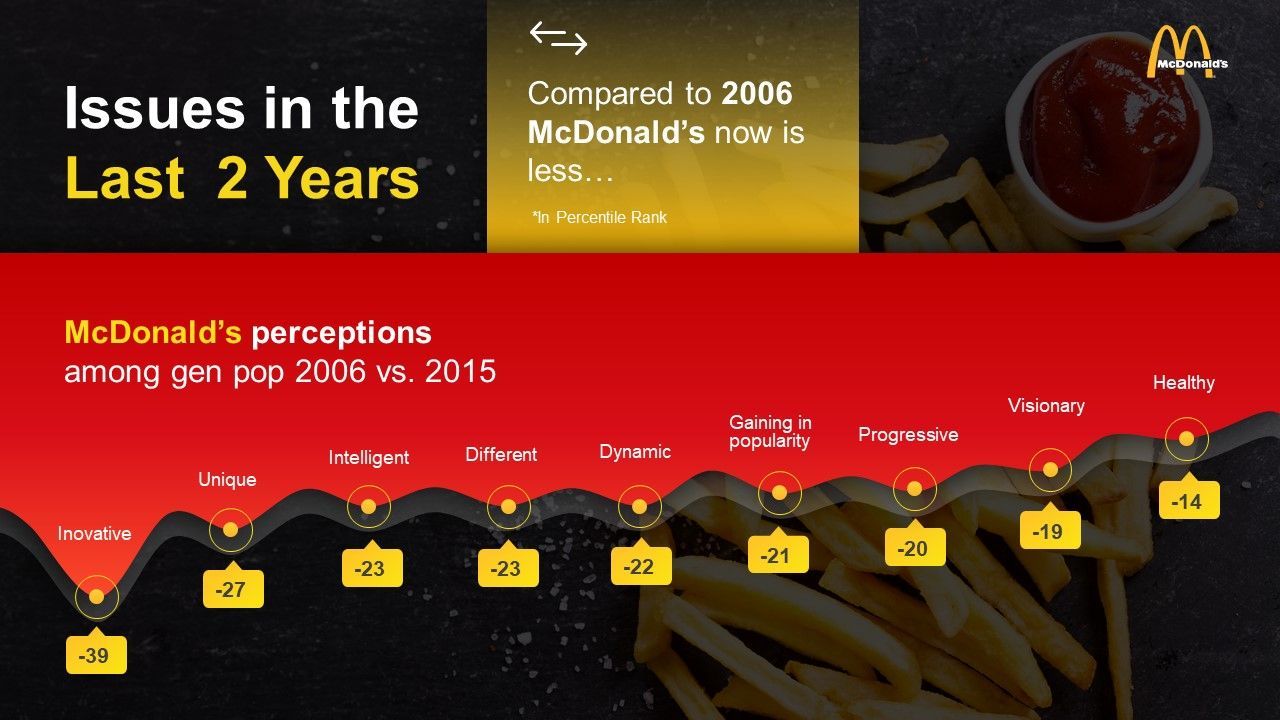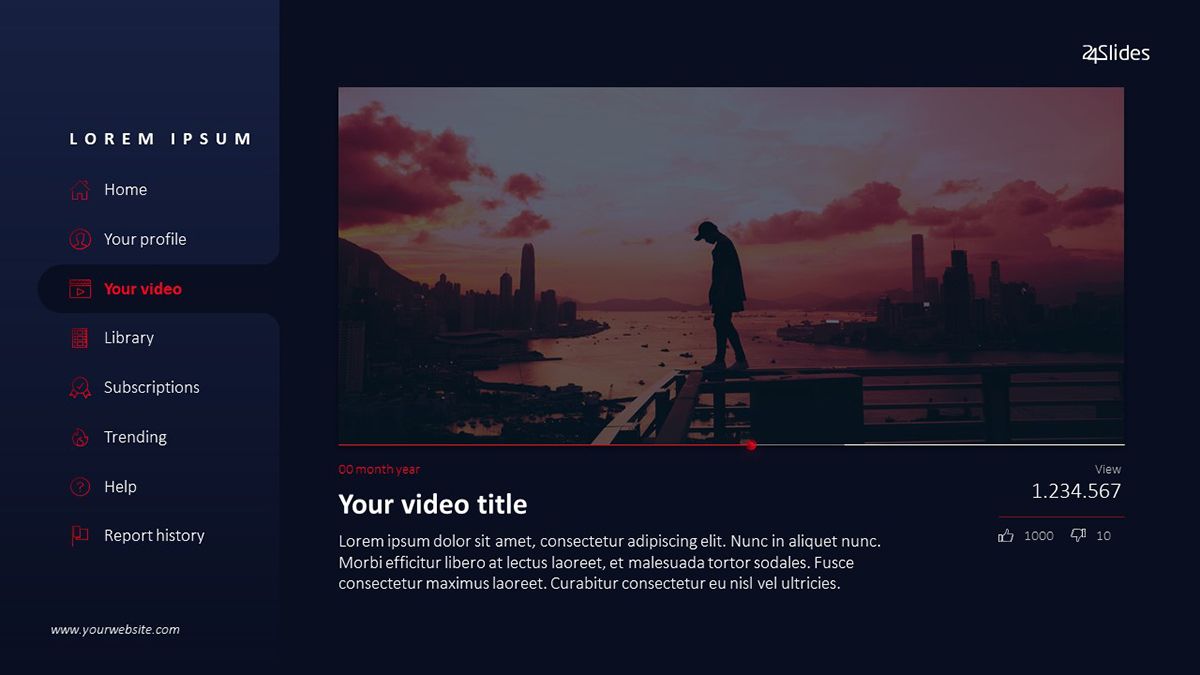 2.- Get Online Leads with Powerpoint Presentations
Now here's the thing: Every time you use presentations, you start a potential lead generation process. Whether you realize it or not.
People that follow your slides are showing interest in what you offer. And that's the first filter! But they won't come running and give you their contact details right away. You must do the job. And for this, you should consider these two things in your lead generation strategy:
The Lead Magnet
A lead magnet is a free item or resource we offer to our online audience in exchange for their contact information. Usually, this lead magnet is a downloadable piece like a free ebook, whitepaper, template, or report. Other attractive incentives could be access to educational content like a webinar, a short online course, or a newsletter subscription. Whatever you choose to offer, keep in mind that it should be of high value for your potential customers and solve a real problem for them.

The Landing Page
Here's where users will leave their contact details and download the lead magnet. Most of the time, a landing page looks like a stand-alone page hosted on your corporate website with a form to fill in. Once people complete the information, the free item is ready to download. However, if you're starting out, you can create an online form in a free platform like Google Forms and capture their contact info that way. Then you send the promised item to their email addresses. For our lead generation purposes, the landing page (or online form) will go inside your presentation as a link. We'll talk more about this in the next section.
Now, it's time to put it all together. Stick around to learn how to make incredible PowerPoint presentations to increase online leads.
3.- Building Better Online Presentations
You might want to catch new leads in your next digital conference. Or maybe you're thinking of posting your slides online to reach a wider audience. Either way, these seven rules for building better online presentations work in both situations:
Share one message per slide
"Direct and clear" is the premise in the digital world. To incorporate this into your presentation, cover one message per slide. This will allow people to focus on the main idea and not get frustrated looking at a heavy-loaded presentation. Breaking your information into little pieces makes your slides easier to read and keeps people interested in what's coming next.
In terms of visual communication, your message's most important part should be the biggest element in your slide. This way, it becomes the focal point for your viewers.
Spend time in your presentation design
To take full advantage of your PowerPoint presentation, the design of your slides is key.  Otherwise, you'd be using a Word document, but that doesn't work for lead generation. And we've already talked about the importance of making your content stand out online. So, avoid bad PowerPoint presentations at all costs and put the same effort into the design as you do in getting your facts and figures right. It's all part of the message you will convey to your future clients.
If you feel designing slides is not your strongest suit, you have some cool alternatives: Use free PowerPoint templates. You'll need to spend some time fixing slides as they're not tailor-made for your brand, but it's an easy way to give your presentation a professional appearance. Here's a free PowerPoint template library to start now!
The other option is to hire an expert presentation designer. They're not as expensive as you might think, and you'll get your slides exactly as you want in record time.
Keep a consistent branding
Branding is your brand identity and helps you differentiate from your competitors. This is seen through different elements, from your brand's tone of voice and values ​​to your brand's visual aspect. And here's why it's so important: You want potential buyers to identify your message wherever they go. This way, you don't have to introduce your brand a thousand times to the same people. Use this opportunity to generate an impactful first impression and make your brand memorable for the value it will offer.
Set a friendly tone
Whether you use your presentation in a webinar or post it online, you want your message to resonate with potential buyers. And the most effective way to do this is by showing the human side of your brand. Avoid jargon that makes you sound like a Wikipedia page and embrace a conversational style instead! You can convey this by making your words feel like a friendly conversation as the presentation advances.
Add numbers
Any idea is more compelling when you backed it up by numbers. But take this with a grain of salt. You don't want to revive people's math nightmares. Use numbers to share facts that add up to your central message and highlight one figure at a time. Something you can do is choose creative charts that convey your points in a straightforward manner.
Show your information at the center
This is probably the most important piece of advice from the whole list. With online presentations, you can't control where your potential buyers see your slides. It could be a tiny mobile screen or a laptop screen full of tabs asking for attention. And let's be honest, most of us don't even bother to click on the full-screen option for a video. So, to make things easier for your viewers, put your information nice and clear at the center of your slides. For a quick visual impact, say no to corners, borders, and small font sizes.
Don't forget Call-to-Actions
Here's where the lead magnet and landing page we talked about come in! For starters, a call to action refers to a short instruction you give to your audience to motivate action. Like the "Buy now" or "Learn more" buttons you see throughout the web. These phrases work because they prompt an immediate response from users, and that's what you want in your online sales presentation. In this case, you want potential buyers to go to your landing page and leave their contact information. How do you do it? Well, PowerPoint gives you the option to insert links.
There are two ways for adding links to your presentation:
The simple way: You paste the link of your landing page or online form into your slide, so it shows as a line of text. Just like that. This works better in webinars or online conferences where you can motivate viewers to type the link into their browsers. For better results, use a short and easy-to-remember link.
The advanced way: You make a clickable button in PowerPoint. It only takes a few steps. First, create a rectangle shape. Then, follow this route: Insert tab > Link > Existing file or web page. Finally, paste the link into the address space and then select "Ok."
Since your "call to action" goes in the same slide as your link, it's important to mention what people can obtain by clicking on it. For instance, let's say your lead magnet is a vegan recipes ebook. Instead of saying "Download the ebook", you can use "Top vegan chefs share their 20 best recipes for beginners. Get the free ebook and start your journey to a healthy life today!". Be specific and highlight how the item solves your potential buyer's pain points.
If you prefer a practical example, I found this presentation on Slideshare that applies the seven rules we've seen above. It also gives great tips on presentation design. Check it out:
SlideShare Experts – 7 Experts Reveal Their Presentation Design Secrets from Eugene Cheng
4.- Use Slideshare to Increase Online Leads
Slideshare is a free presentation-sharing platform that helps you promote professional content. And you've just witnessed how Slideshare works to amplify a presentation's online reach. Once you upload your slides on the platform, they're ready for anyone to see and share.
Another great advantage of using Slideshare is the clickable links. You can add your call-to-action with a link from the third slide onwards, and people will be able to click on them. This makes things so much easier to keep potential clients engaged and capture their contact details in exchange for a downloadable item.
5.- Share your Presentation on LinkedIn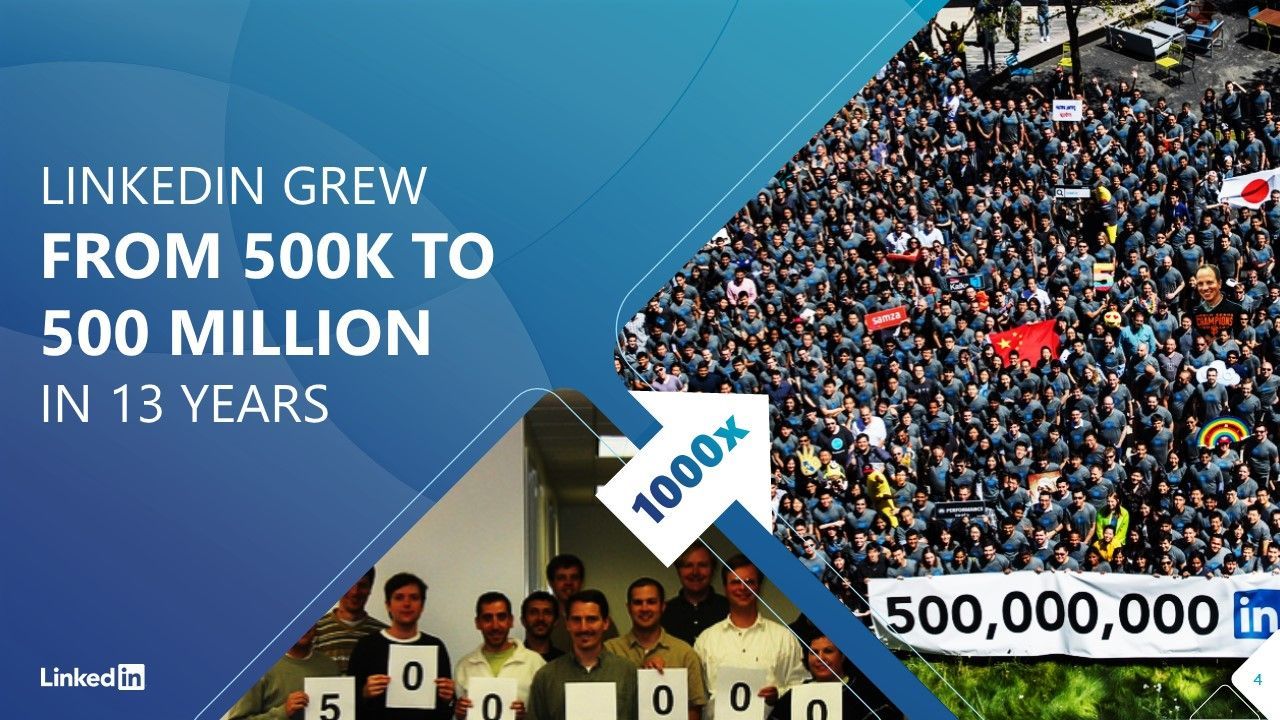 LinkedIn is the largest business networking site and, without a doubt, the place to be for B2B professionals. If you have an active LinkedIn profile, chances are a good percentage of your contacts are potential clients. So, why don't you start reaching them with a compelling presentation?
LinkedIn gives you the option to upload your ppt file directly from the main share box. Just follow this route: Start a Post > Click on Document icon > Choose File. And then, your presentation will be ready to draw online leads.
It's important to note that, for accessibility purposes, LinkedIn will show your presentation as a PDF file. Sadly, this means no clickable links. But LinkedIn is too good of a lead generation tool not to include it in your sales strategy. In fact, 80% of B2B leads come from LinkedIn, so here's an easy solution: Insert your links in your post description. And remember to use call-to-actions in your slides to indicate where the links are so people can find them.
6.- More Lead Generation Presentation Ideas
There are other creative ways to entice your audience and capture high-quality leads with presentations. The key is to give them just a taste of what they can obtain from your service and then ask for their contact details if they want to learn more.
Promote your webinar
Hosting webinars is a popular and effective technique to capture leads. And what better way to spread the word than posting an online presentation? Needless to say, the topic of your webinar should be aligned with your core business. For example, if you sell speed reading programs, you can prepare some slides covering bad reading habits that your potential buyers experience. And then invite them to register for your webinar where you'll discuss how to overcome those bad habits and achieve their professional goals by reading faster.
Give a sneak-peek of your new product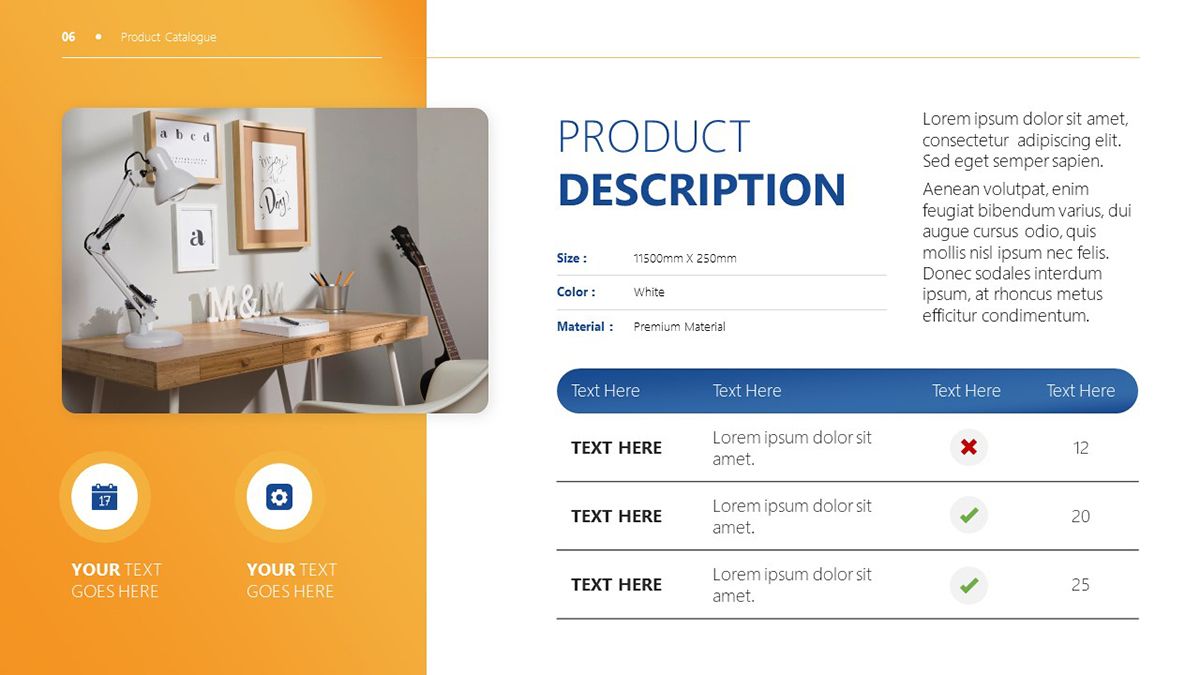 This one is great for sales reps that need to gather qualified leads. Let's say the company is about to release a new product. Instead of calling everyone on your list, share a presentation that explains how this new item makes people's lives better. You can offer exclusive access to the launch event or a free trial to anyone who fills your online form. This way, you'll start getting a list of people who are interested in your product. Now, you can make those calls.
Highlight trends from a top industry
Consulting agencies apply this very often. If you have the resources to conduct a research, explore your potential buyer's industry and spot the latest trends. Make a report out of it and summarize your findings in a PowerPoint presentation. And you guessed right! This will serve to attract leads in exchange for the report.
Share a shorter version of your presentation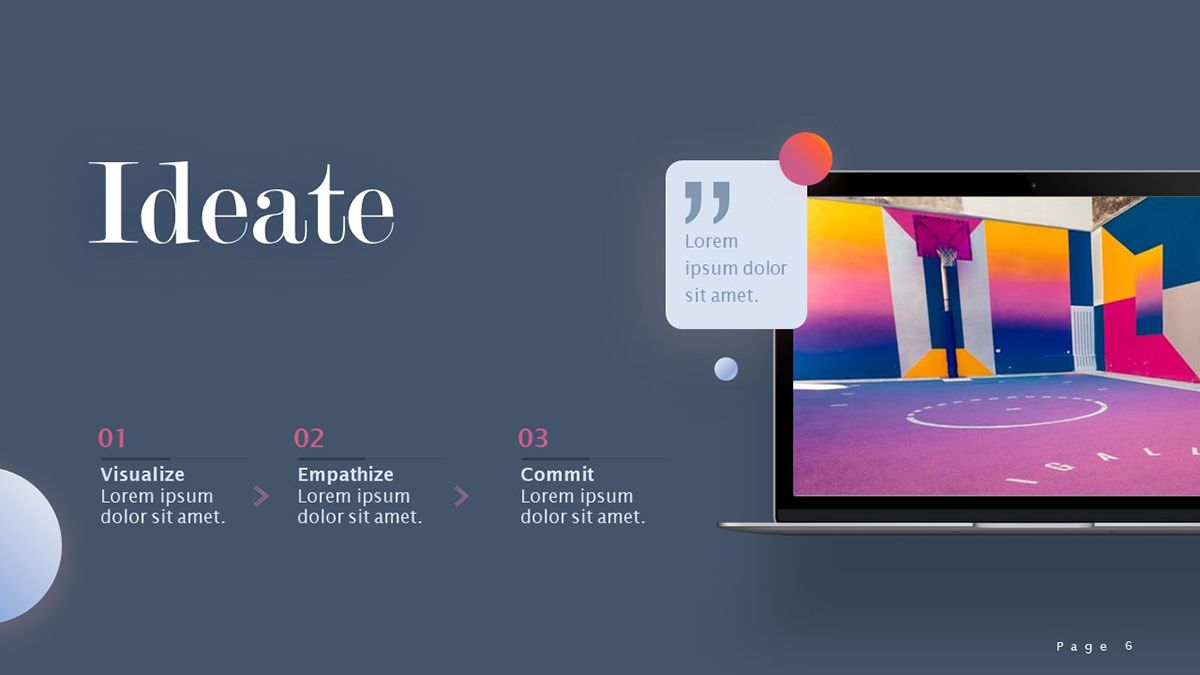 What about recycling your old presentations? If you've participated as a speaker in one-time conferences, there's still an online audience to reach out there. This is how it works: You upload a shorter (and updated) version of the presentation you used and offer the whole deck to people interested in the topic. You don't even have to set up a landing page. If you post it in your LinkedIn profile, it's enough to ask people to leave their email in the comments section.
7.- Get a Professional Presentation that Converts
As you can see, the possibilities with PowerPoint are endless. And your traditional presentations only need some fixes to start converting.
If you've already got the information in your slides, you're halfway through it. Follow our seven rules and start making incredible online presentations.
But if you feel that touching up slides takes too much of your time, our expert PowerPoint designers can help you out. Our talented team created all the slides examples you've seen above, and yours can look the same -or even better!
Quote your PowerPoint project on our online platform and, whenever you're ready, send it our way. You'll get a professional presentation to start connecting with your next buyers.