The 12 Best Presentation Design Agencies (Including Prices)
Choosing the right presentation design agency can be a lot harder than it seems. There are so many options out there that it's normal if you don't know where to start or how to identify the best presentation design agency for you.
Just a quick search on Google gives more than 200 million results for "presentation design agencies." And let's be honest, all of them claim to offer exactly what you need, but…do they?
In this article, I'll help you find your ideal presentation design agency by looking in detail at the best providers in the market. Here's what we'll cover:

No more hours comparing options on a screen full of tabs. It's all right here.

What Do Presentation Design Agencies Do?
Presentation design agencies provide specialized design services to companies and professionals that need to enhance the appearance of their slides. These services go from arranging the existing content in your presentation to creating everything from scratch. And in most cases, they can design your slides in PowerPoint, Prezi, Google Slides, Keynote, or any other presentation software you choose.
So, simply put, presentation design agencies help you communicate your best work through a visually-appealing presentation made according to your needs.
Is It Worth Hiring a Presentation Design Agency?
Believe it or not, outsourcing presentation design is becoming a common practice, and it can make a huge difference in your business.
Let me break it down for you: Doing a PowerPoint is seen as a secondary task that anybody in the office can do. After all, the software is simple to use, and your team seems comfortable doing a PPT presentation. But when you think about it, these are professionals from Sales, Marketing, IT, or Finance who – instead of using their expertise on the tasks they're the best at – are fiddling with PowerPoint shapes.
It's like asking your lawyers to shoot the company's corporate video! I mean, they can surely come up with something, but the result will never look the same as if it were made by a professional in the field.
Why settle for boring slides…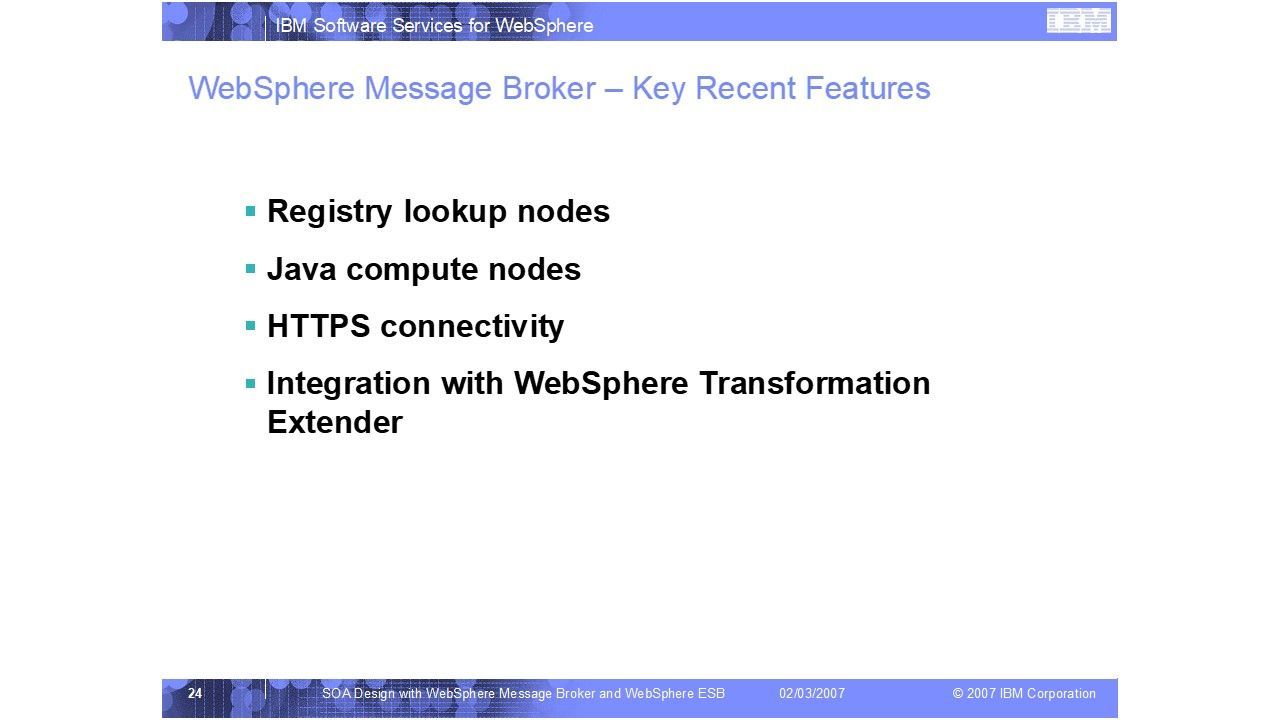 …when you can have an impactful presentation like this one: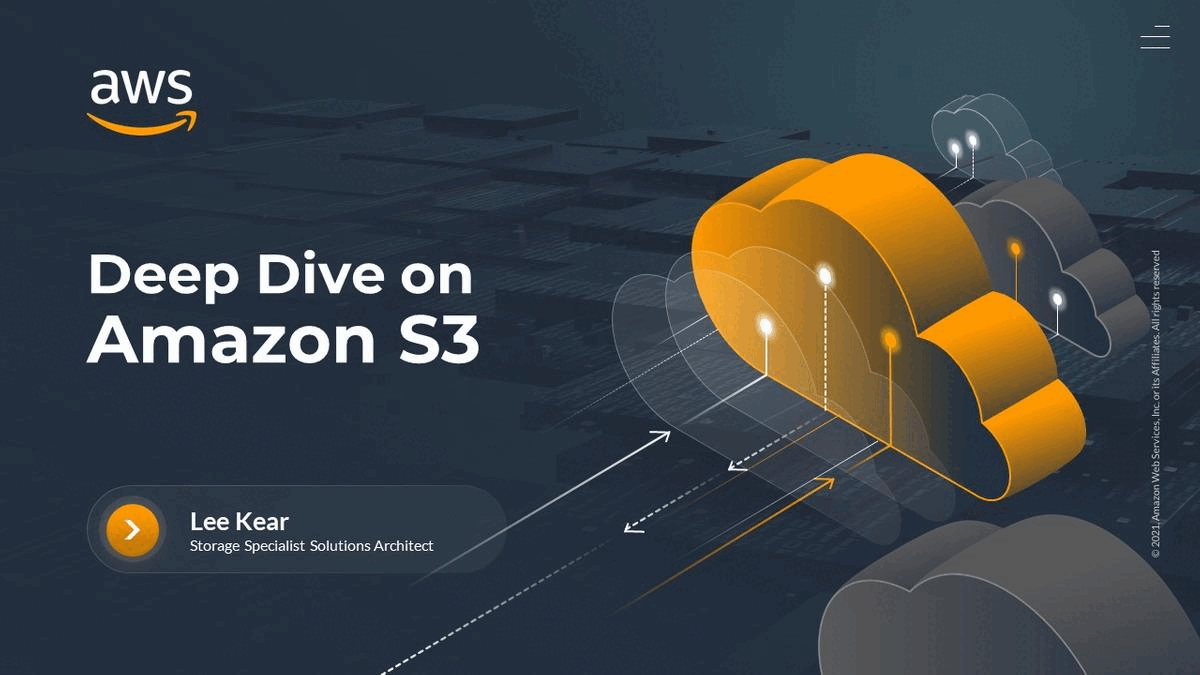 But let's say your team gets to create good slides. What happens when there are multiple presentations to do? Can you or your team deliver the same design quality as a professional designer? How many working hours does it take?
Here at 24Slides, we asked ourselves the same question, so we surveyed 8500 professionals and found out that employees across all industries spend close to 5 hours a week designing presentations. That's 235 hours a year! Can you imagine all that time tinkering with PowerPoint slides?
And there's more: 235 hours equals 34 full working days, so we did the math in our cost calculator, and the results are shocking: Average-looking presentations are costing you at least $3572 of your time! That's some food for thought right there.
You can read our full article on why outsourcing presentation design is such a good option. However, at this point, it's clear how a presentation design company can benefit any business. It saves you time and money while making a positive impact on your team's productivity.
Now, let's see some of the best options for outsourcing your presentation design.
12 of the Best Presentation Design Agencies for Outsourcing PowerPoint Presentations
I've gone through the many presentation providers in the market and curated a list according to their top services. I put together the information they show on their websites and requested some quotes so we can get the complete picture. Here are the 12 best presentation design agencies to outsource the design of your slides: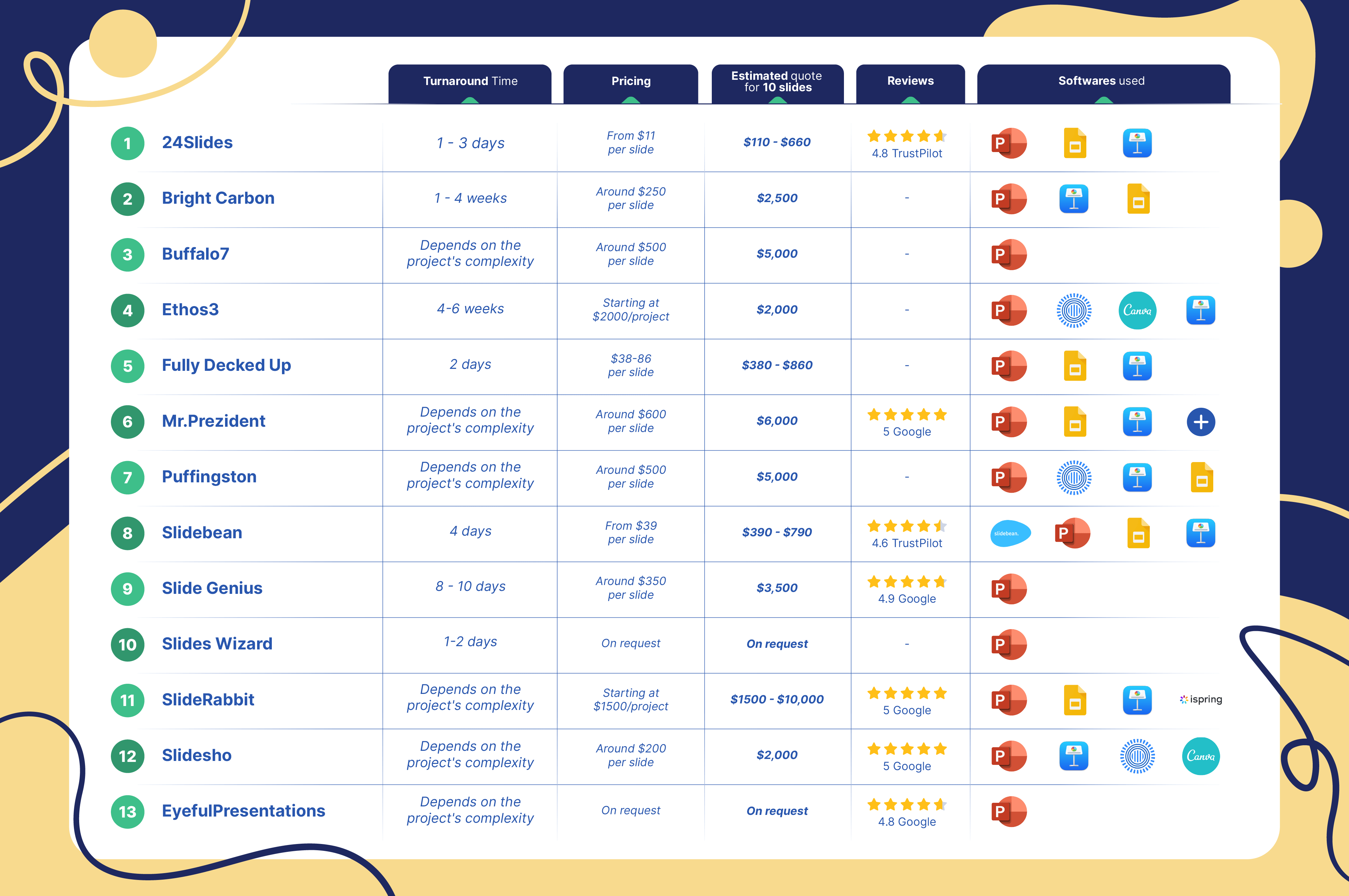 1) 24Slides
24Slides is a B-corp presentation design company headquartered in the US and Denmark. Our team of 200+ professional designers is always ready to polish your presentation ("Fix Up"), do a complete makeover to your deck ("Redesign") or turn your idea sketches into editable slides ("Redraw")
Timing: You can receive your new slides in 24 hours
Pricing: Starting at $11 per slide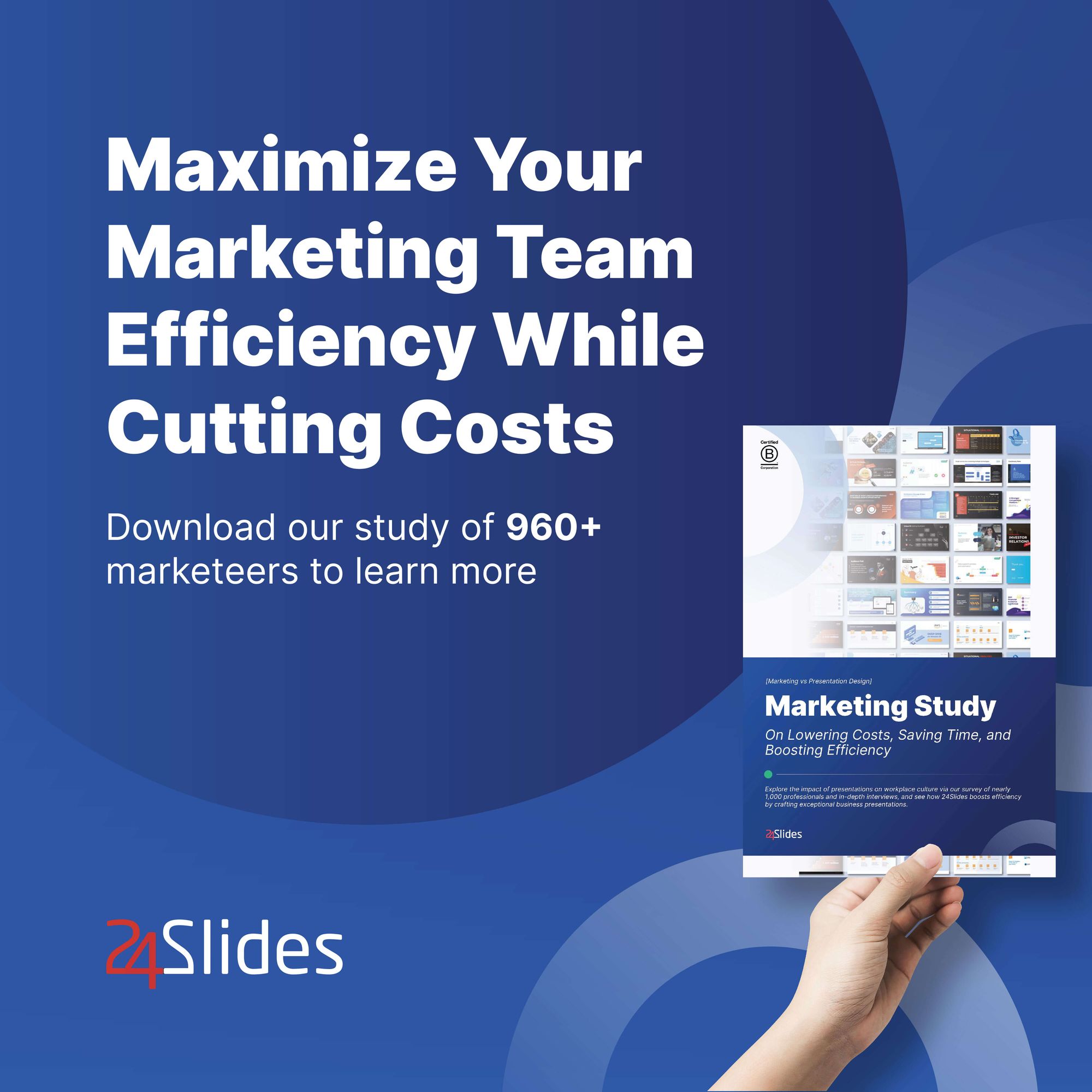 2) Ethos3
Ethos3 is a presentation design company located in Nashville, US. With over a decade of experience, their team of curious minds will help you tell your brand's story in a simple but elegant presentation. Ethos3 offers great results to sales and marketing professionals as well as keynote and conference speakers.
Timing: 4 – 6 weeks
Pricing: Starting at $2000 per project

3) BrightCarbon
Bright Carbon is a PowerPoint presentation design company that puts a big emphasis on the message you want to deliver. Their designers and communication specialists will work on your content to be as effective as possible and help you visually explain your ideas.
Timing: Around 4 weeks
Pricing: Starting at $2500 for 10 slides

4) Eyeful Presentations
Eyeful presentations is the UK's premier presentation design company. They specialize in making business presentations stand out. Their solutions include presentation storytelling to design services and presentation training. Their ultimate goal is to help you connect with your audience.
Timing: Depends on the project's complexity
Pricing: On request

5) Slides Wizard
Slides Wizard is a custom presentation design agency that specializes in business decks. To help executives and consultants sell their big ideas, Slides Wizard offers template creation, data visualizations, a quick slides cleanup, visual enhancements, and handwritten conversions.
Timing: 24 – 48 hours
Pricing: On request
6) Fully Decked Up
Fully Decked Up is a PowerPoint design company that creates rich media presentations for sales, reports, conferences, and fundraising projects. You can send them complex data, and they'll transform it into visually appealing slides to get your message across in an impactful way.
Timing: They can deliver your brand-new presentation in 48 hours
Pricing: $38-86 per slide (est.)
7) Mr.Prezident
Mr. Prezident is a corporate presentation agency with offices in Amsterdam and New York. They have worked with the world's biggest brands and describe themselves as "the presentation partner of ambitious organizations." Their team does presentations in Prezi, PowerPoint, Keynote, Google Slides, and other presentation softwares.
Timing: It depends on your project's complexity.
Pricing: $6000 for 10 slides (est.)
8) Puffingston
Puffingston is an award-winning presentation design agency from Texas. They specialize in making professional presentations for sales, conferences, and training events. Puffingston's creative team can transform your ideas into dynamic slides to wow any audience.
Timing: Depends on the project's complexity.
Pricing: $5000 for 10 slides (est.)
9) Buffalo7
Buffalo7 is a great presentation outsourcing alternative for start-ups. This PowerPoint design agency has expert storytellers that assure a powerful pitch deck to make you and your ideas stand out. Aside from investor pitch decks, they can also do keynotes and marketing presentations.
Timing: It depends on the project's complexity.
Pricing: $5000 for 10 slides (est.)
10) SlideGenius
SlideGenius is a US-based PowerPoint presentation design agency that has created over 5000 pitch decks for start-ups in every major industry. The designers and copywriters at SlideGenius can help you maximize your pitch for potential partners or investors.
Timing: 8 – 10 days
Pricing: Projects starting at $1000 / $3500 for 10 slides (est.)
11) Slidebean
Slidebean gained popularity as an AI-powered presentation builder, but many don't know they also design presentations. From New York, Slidebean can redesign your existing slides and give them a clean and fresh look. Plus, as a venture-funded startup, Slidebean knows the ins and outs of the entrepreneur world and can get you a winning pitch deck.
Timing: 4 business days
Pricing: Starting at $39 per slide
12) SlideRabbit
Since 2012, SlideRabbit has delivered highly-visual slides to professionals and companies from all industries. Their primary services focus on presentation design, but they also offer presentation workshops to teach you how to communicate your ideas visually.
13) Slidesho
Slidesho is an Australian PowerPoint presentation design agency. They create from marketing and sales presentations to high-end interactive slides for businesses of all sizes. Alongside their visual communication solutions, Slidesho also offer expert presentation training and consulting sessions.
Presentation Design Agencies & Services According to your Business Needs
While it's true that all presentation design agencies focus on making amazing presentations, there are key factors that set them apart from one another. For example, turnaround times, design styles, minimum order sizes, prices - even the stage you're at with your slides plays an important part when choosing the right option for you.
In this section, I'm going to address the most common presentation design needs you might have and the best PowerPoint design agencies for each. Let's start!
Best Overall Presentation Design Company
At 24Slides, we help businesses increase the impact of their projects with a world-class custom design. Others could slip their name as the best option and end it there, but we really want you to make an informed decision. So, here are some of the reasons why professionals like you pick 24Slides' presentation design services.
Your brand-new presentations in 24 hours
We see this all the time: Teams that need their presentations done in a week or sooner. Well, that's not a problem anymore. Thanks to our fast turnarounds, you can get the first version of your slides in just 24 hours. Optionally, you can also set your preferred turnaround time at 48 or 72 hours. With over 100 in-house presentation designers, we're able to deliver high-quality projects on tight schedules.
A quick and easy design process
Unlike freelancers and other PowerPoint design companies, 24Slides has its own online platform where you can place your order and manage the entire design process. You'll be able to upload your files, visualize your slides, leave comments if needed, and confirm payments…all in one easy-to-use and secure place for you. The days of sending countless emails back and forth are over.
Top-level design at affordable prices
At 24Slides, the pricing is determined by the number of slides in your presentation, how soon you need them, and the design treatment of your choice. These are all variables you can set in our online platform and automatically obtain an estimated price, so you never exceed your project budget. Prices start at $11 per slide - here you can check out our full pricing table. Plus, with a professional team of presentation designers, we assure you always get the best value for your money.
Presentation solutions for everyone from one-person businesses to multinational corporations
Just because you have a stand-alone presentation, it doesn't mean you can't work with the largest presentation design company in the world. We have solutions for everyone, from professionals that need us to add some formatting to their presentations to global corporations that require design support for their teams. In fact, we create over 20,000 slides a month for different events such as business meetings, keynote conferences, training sessions, webinars, and so on. There's never a small project for us!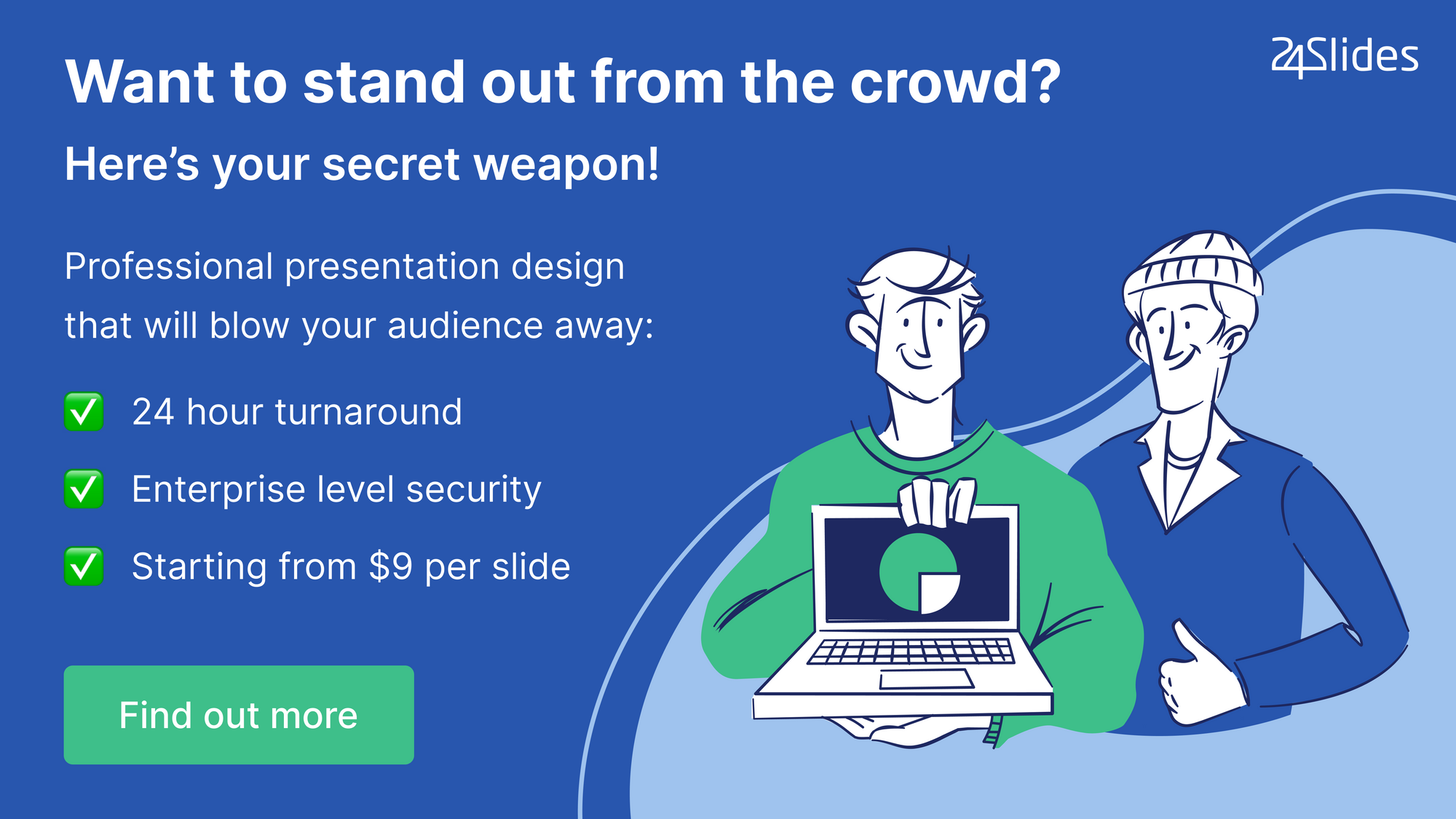 If you feel we're a good fit for your next PowerPoint project, learn more about our business presentation services. We'll be happy to make your big ideas stand out. And if you still want to see more alternatives, keep reading 'till the end.
Best Presentation Creation Services that Build Your Slides From Scratch
A powerful presentation starts way before the design stage. I'm talking about all the previous work where you figure out how to organize your information, what messages to emphasize, and the correct words for your narrative. Did you know that presentation design companies can help you with that too? Yes, there are presentation providers who can help you build your slides from scratch. But keep in mind that this type of support involves storytellers, industry consultants, or copywriters, which could imply an additional fee on top of your design budget
Ethos3: They have a 3-step process that includes the development of a creative narrative, visual design for compelling slides, and presentation delivery tricks for maximum impact. To start working with them, you need to fill in a contact form on their website and request a consultation first
Bright Carbon: Bright Carbon's most complete service is called "Presentation creation." It starts with briefing sessions to craft a message that is both clear and persuasive.  And then, their design team turns your words into a highly-visual presentation that makes it easy for your audience to remember all your key ideas.
EyefulPresentations: For their storytelling service, they've developed a four-stage framework. They will ask you about your objectives, the ideas you want to convey, and your intended audience, so make sure to have this information at hand. Whether it's a sales presentation, an investor pitch deck, or an internal comms presentation, they will help you create a powerful storytelling. Then, the Eyeful team will transition to the design stage to pack it all together and give you a visually engaging deck.
Best Presentation Design Companies with Fast Turnarounds
Here's a very common situation for presenters. You've already got your text and images in your slides, charts, and tables in place, but something is missing. You know your presentation would look so much better if you could only inject your brand's visual identity into it. However, you're against the clock, and people are expecting to see your work tomorrow morning. We've all been there, and while many presentation design agencies can do wonders with your original slides, only a few can deliver quality results under tight deadlines. These are three options you can rely on for last-minute projects
24Slides: As an international team, we're able to cover different time zones and deliver your first presentation draft in as little as 24 hours. Just complete a brief through our online platform with your preferred design style, special requirements, and a turnaround time. A project manager will contact you to confirm your order and establish fluid communication until your presentation is 100% done. You only pay once you're completely satisfied with the results.
Slides Wizard: To get started, fill in the contact form on the Slides Wizard website with your design requirements. Don't forget to upload your existing presentation and any other files you might consider appropriate such as visual references or your brand guidelines. You'll have your new presentation in the next 24-48 hours.
Fully Decked Up: Fully Decked Up has three levels of design "Touch Up," "Visual MakeOver," and "Re-packaging." The last one is the most complete of their services and includes a presentation redesign, consistency check, adherence to brand guidelines, animations, and customized icons. After choosing your preferred design level, you just need to upload your slides on the Fully Decked Up website and they'll send you an estimated cost for you to approve.
Best Corporate Presentation Design Agencies
As I mentioned before, companies see great benefits in outsourcing their presentation design to experts. That's because the usual business operations demand high-quality presentations on a regular basis: Sales decks to close deals, marketing reports for weekly meetings, product launch presentations…you name it. So, considering all this, I've selected presentation design agencies that manage an outstanding corporate design style.
Mr. Prezident: Mr. Prezident's design service covers the whole process in three stages called "Story," "Design," and "Development." First, the team holds a workshop with you to ideate the perfect storyline for your presentation. Following this, the design team applies your brand guidelines to the slides or a custom design style that fits. And the final stage is to fine-tune transitions, add animations and any technical details your presentation requires.
Puffingston: First, you submit your existing presentation or content ideas for them to prepare a design estimate. Then, a strategy meeting takes place to discuss how your project will look and your style preferences. Lastly, their team will send you the first version to get feedback and fine-tune details for your final presentation.
24Slides: Among 24Slides' business presentation services, you can request a modern corporate style. This alternative gives your business deck a clean and professional look. All you need to do is submit your original presentation via the 24Slides platform and pick "corporate style" - or upload your business CVI. Check out some examples by the 24Slides designers.
Best Pitch Deck Presentation Design Agencies for Startups
Startup pitch decks are a very unique type of presentation. They work as the first impression your audience will get of your business idea, so they should be inspiring and persuasive at the same time. Seems hard? These are the pitch deck design agencies that are up to the challenge:
Buffalo7: Buffalo7's design process has four stages. First, they'll conduct "discovery" sessions to understand your business and audience in depth. Then, their storytelling experts will craft a compelling narrative around your ideas. Next, the designers will work on your slides, and finally, they'll add animations to make an interactive presentation for you.
SlideGenius: SlideGenius offers a 24/7 presentation design service, which also comes in handy for rush projects. Their design process consists of the briefing, content creation, presentation design, and customer revisions. To get you started, fill out the form on their website for a free consultation, and a representative will contact you within an hour.
Slidebean: The Slidebean team will give you a pitch deck cost according to how many slides you want to redesign and your required delivery speed. Once you complete the purchase process, you'll get on a briefing call to discuss your project's objectives and style preferences. Then, the redesign process starts, and, if needed, they'll contact you again to solve any doubts. Finally, when you receive your first drafts, you have up to two rounds of revisions before getting the final version of your slides.
Best B2B Presentation Design Companies
Presentation agencies work on thousands of slides every month, giving them valuable insight into the design challenges professionals face. That's why some of these agencies go beyond stand-alone presentations and offer attractive B2B services like PowerPoint design subscriptions or consulting sessions. If you need something like that, check out the next B2B PowerPoint design companies
Dedicated Teams by 24Slides: If your business has an ongoing demand for presentations, you might want to learn about 24Slides' dedicated teams. In simple words, it's your own team of presentation designers, all trained in your brand guidelines and available for any project you might send our way. Whether you require 10 or 10,000 slides, we can tailor the ideal package for your team, starting at $899/month.
SlideRabbit: SlideRabbit's presentation workshops train entire teams to design impactful slides without external support. They offer three types of workshops: "SlideDiets'' for saying good-bye to content-heavy slides, "PowerPoint 101" for a brush-up on PowerPoint tips and tricks, and "Template Training" to make the most out of your corporate templates.

Slidesho: Slidesho will train you to do powerful presentations on your own. You choose between one-to-one meetings or small group sessions. They also have consulting services to provide expert feedback and recommendations for any existing slides you might have.
Best Enterprise-Level Presentation Design Agencies

The biggest companies commonly require a high volume of presentations for their day-to-day processes. Sales and Consulting are great examples where design support is needed the most, but the whole company could definitely benefit from an enterprise presentation design solution. These are the best agencies that provide that kind of support.
24Slides: Accelerate your business with an enterprise presentation design service tailored to your team. If you're looking for design support at scale to increase your team's productivity, this is the option for you. The best part is that you get the whole service customized to your company's workflow - including flexible payment and end-to-end data encryption for your files. Leading firms in consulting, pharma, and healthcare already elevate their visual communications with the 24Slides enterprise solution.
SlideGenius: SlideGenius offers high-end presentation design for corporate teams. They're a strong asset for marketing and sales departments and can provide additional design resources like infographics and brochures. To get a quote, fill out the form on their website.
Presentation Outsourcing: How To Pick The Right Presentation Design Agency For You?
It's okay if you still need to put some thought into which is the best place to outsource your presentation design. After all, it's your name and your work that others will judge if those slides end up with a sloppy appearance. But apart from a great portfolio (which is a top requirement), there are other factors you should consider to increase the chances of having a successful experience with your new provider. Here are four things to look for when choosing a presentation design service:
1.- Customer Support
A customer support service is key for getting a presentation exactly as you want it. Remember that design depends a lot on your personal preferences, so a good presentation design company will have communication channels that let you convey your vision in a clear, easy way. Sometimes you can talk directly to the designers, and other times, the contact is through an intermediary like a project manager. Whatever the case, it's crucial that you confirm you'll have someone available for you to resolve any concerns regarding your order.
2.- Turnaround time
In the world of presentations, it's very common to leave the design for last. You usually focus on the text you want to show first and then the appearance of your slides. But what happens when you're working under a tight deadline or on a last-minute project? That's when things get hard, but a PowerPoint design agency with a speedy delivery can get you out of trouble. For that reason, turnaround time is another key element you should consider when looking for your ideal presentation design agency.
Consulting firms and marketing agencies are the ones that could benefit the most from a quick turnaround time. But it's also a nice plus for anyone to receive their presentation orders fast. It gives you the chance to ask for edits, if needed, and get the presentation that you want on time. And as in business, "time is money," this factor can make all the difference.

3.- Confidentiality
This point should be a given. In the era of cyber attacks and data breaches, you should only work with a provider that can prove your data is secure with them - especially if your presentations contain internal or confidential information from your company. So, to know your data and files are in good hands, we recommend you ask for your provider's security policy.
4.- Pricing
For many, pricing is at the top of their list when choosing a presentation design company. And sure, it's crucial to stay on budget but to be fair; it shouldn't be the only decisive factor. Most of the time, the big difference between one PowerPoint design agency and another is not in the price but in the quality they provide. So, it'd be wiser to look at the whole picture, and instead of going for the cheapest service, pick the best value for money option.
Now that we've revised the most popular presentation design agencies and some key factors you should consider, you have all the information to make that final decision
Start Outsourcing your Presentation Design Today!
As you can see, there's a wide array of presentation design solutions for your project. Whether you only have a rough idea or everything set up to apply your brand's visual identity, there's an option for you in the market. But if there's one thing I want you to take from this article is that the best presentation design company is not the biggest firm or the most popular one. The BEST presentation design agency is the one that knows how to meet YOUR needs at whichever stage you're at with your presentation.
That's why it's so important to understand how the design process of your potential vendor works. And an excellent way to do this is by testing the service first. For example, some places are happy to give you a try-out offer - like 24Slides. You submit one slide, and our presentation designers will transform it for $1.
But if your business is ready to experience all the perks of a world-class presentation design service, get started today. The 24Slides' designers have taken corporate presentations from the biggest companies to the next level, and they can do the same for you and your team!