How Much Does Professional PowerPoint Design Cost?
Making PowerPoint presentations is one of those secondary tasks that everyone does, but very few enjoy it. Luckily, hiring a PowerPoint design agency is not only very easy and effective, but it's also incredibly cost-efficient!
Hiring a third party to cover your PowerPoint design allows you to get rid of the really bothersome problem of working on presentations and gets you even better results than what you could've achieved on your own.
You'll find out that professional PowerPoint design can cost from as little as $9 per slide all the way to a whopping $5,000 for a complete deck.
In this article, you'll find the true cost of hiring a professional designer to create a presentation slide deck. We'll cover different options like freelancers, specialized PowerPoint agencies, and subscription plans so you can find the best fit for your budget and needs.
We'll also go through the hidden cost of PowerPoint design to help you determine how much money you're unknowingly investing in presentations. This will help you decide if hiring a professional presentation designer is something you should consider. Are you ready to know how much presentation design is already costing you?

What is the common presentation design price?
Many people assume that making PowerPoint presentations is just one of those secondary tasks you must go through every once in a while. But what if there was another option? What if you didn't have to do your PowerPoint presentations at all?
Having regular employees spend hours designing slides is not time-efficient, but even worse, it also means less time spent on other, more important, value-producing tasks. So, at the end of the day, expending time and effort on PowerPoint design also costs actual money.
That's why companies all around the world are choosing to outsource their presentation design. It is one of the easiest, most cost-effective ways to free time for your employees while still keeping your budget low.
Here are the most common options to get someone to design a presentation and how much they cost on average.
1. Freelancers
As with many tasks, you can always find online freelancers to do your presentations for you. On websites like Fiverr or Upwork, you'll find thousands of designers willing to do their best.
To give an example of how much PowerPoint presentation design can cost, we can take a look at Upwork. On this site, where providers usually charge by hour, presentation slide design costs between $35 to $150 per hour.
On Fiverr, for example, where they charge for the complete product, a basic 10-slide presentation design costs an average of $75 to $250.
The biggest downside of this kind of outsourcing is its high risk. It might be a good budget-wise option; however, in the case of high-stakes presentations or ones with confidential information, finding a good presentation designer can be an arduous task.
Price: Around $75 - $300+ for a 10-slide presentation.
Pros: Services for every budget, flexibility towards customers' needs.
Cons: Security risks, unpredictable quality and deadlines.
---
2. Agencies and Design Companies
If you want more reliability and higher quality than what a freelancer can offer, there are several presentation design agencies that you can go for.
The best thing about this option is that, unlike freelancers, these designers are absolute experts in their field. Presentation agency designers are professionals in building a deck and better conveying your information in an audience-oriented way.
And depending on the company, they can also offer different services to help you tackle all your presentation needs.
Presentation design agencies like Buffalo 7 or Bright Carbon don't only work on presentation design but also help you build up your presentation's content with the help of their communication specialists. Because of this, this type of agency's presentation price is higher. Having a 10-slide presentation designed by them usually starts at around $5,000.
However, if you have your content ready and you're looking for someone to just work on your slide design, then presentation design agencies like 24Slides are the ones for you!
24Slides offers professional presentation design, with turnaround times of 24 hours, making it the perfect option for last-minute fix-ups. You can send your content at the end of the day, and by the morning, you'll get an amazing, custom-made presentation ready to go.
You can choose how fast you want the turnaround days to be and how much detailed work your slides need, and this will be reflected in your final price. 24Slides custom presentation design prices begin at as little as $9 per slide.
If this sounds interesting, at the end of this article, you'll find a price calculator to help you know how much a complete presentation would cost you according to your needs!
Price: From $90 to $5,000+ for a 10-slide presentation.
Pros: Quality and delivery date guaranteed, presentation expertise.
Cons: Finding the perfect fit for your organization.
You can also find more presentation options to check out in our article on the 12 best presentation design agencies!
---
3. Design Teams
If your organization needs a constant flow of presentations, then these prices might seem too high, especially for a recurring cost. Luckily, many design agencies offer enterprise solutions to tackle exactly this kind of issue.
24Slides offers a Dedicated Teams service that allows you to hire a complete team of professional presentation designers to tackle all your requests. This is great because you don't only get high amounts of amazing, custom-made slides at a lower price, but designers are committed to your brand and careful to make all your presentations follow your personal style requirements.
Many agencies also offer a subscription of credit packages that allow you to rely consistently on professional presentation design for a lower cost.
Price: Starting at $899 for up to 10,000 slides per month
Pros: Great for huge loads of presentations, faster turnaround times,
Cons: Integration with your in-house team can take time.
---
Calculate Your Current PowerPoint Design Cost
You might be asking yourself if these prices for hiring a professional PowerPoint designer are really worth it. Well, there's a pretty easy way to know that, and it's by calculating your hidden PowerPoint current cost.
You might think that because your employees are doing their own presentations, you're not spending any money on PowerPoint design. But this is completely false. Hundreds and thousands of dollars are constantly spent on PowerPoint design, whether it's professional or not.
Think about it this way. You're paying an employee to do specialized work, whether it's accounting, human resources, law, or anything else. However, when any of those employees have to leave their main task to work on a PowerPoint presentation, you're still paying them. They're spending their time and effort doing things outside their area of expertise but still charging like a professional.
You might be thinking, "But it's only every once in a while! How bad can it really be?" Well, according to our studies, over 80% of the workers interviewed spend over one hour a week doing PowerPoint presentations. And an average executive will spend around 4 hours a week designing and formatting them.
This might not sound like much, but let's take a look at our PowerPoint design cost calculator.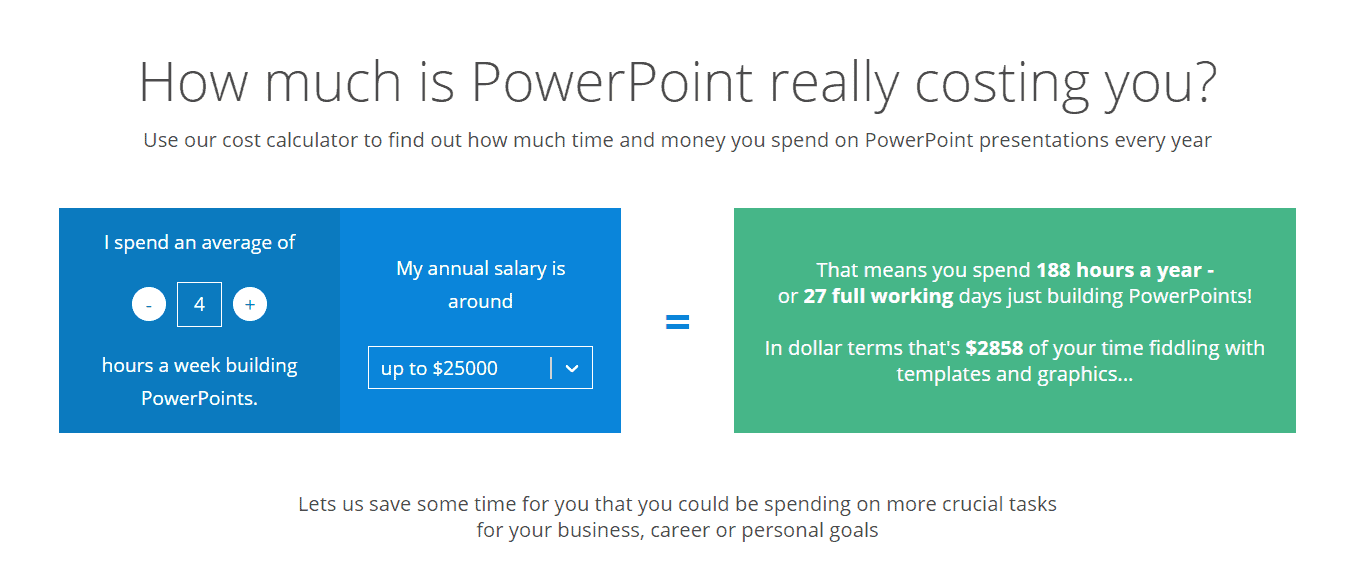 With an annual salary of $2500, 4 hours a week of PowerPoint design work means $2858 lost. All that money, being paid to do work that's not even their specialty!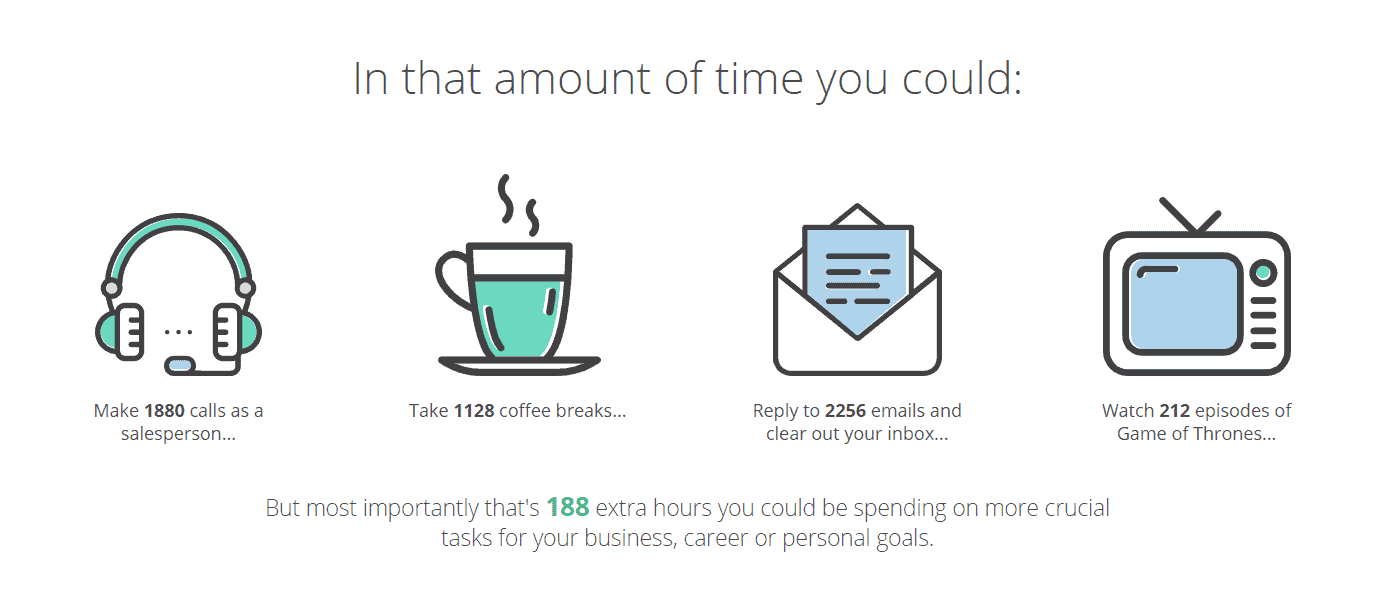 Even in the best-case scenario of investing only 1 hour a week in PowerPoint design, it still adds up to 47 hours a year – that means $715!
PowerPoint design costs time and effort from your employees. It means following the learning curve demanded in order to get used to PowerPoint design tools. It means investing the energy and effort of your workers in a secondary, complementary task.
Outsourcing your presentation design helps you to get rid of this secondary task and allows you to focus on more important and valuable tasks. And, even better, it gives you a much better final product than what you could have done on your own!
If you're still not convinced, you can check out your own hidden PowerPoint design costs with the calculator right here.
---
How Does 24Slides Calculate PowerPoint Design Costs
Now you know exactly how much more you're currently wasting on non-professional PowerPoint design when you're doing it on your own. So let's compare it to how much hiring someone to do your presentations would cost!
You'll be able to look at both prices side by side and decide for yourself if outsourcing your PowerPoint presentation design is worth it (spoiler alert: it is!).
We'll take as an example 24Slides prices. Here, PowerPoint design cost is determined by slide, according to how much effort you ask for and how soon you need your presentation to be delivered. This allows you to have control over how much you want to spend on your presentation design.
PowerPoint Design Price Based on Urgency
24Slides offers 3 turnaround options. The sooner you expect your presentation to be delivered, the more costly it'll be (but it'll be more cost-efficient than doing it all by yourself!).
The 24-hour turnaround is perfect for those with a tight schedule. 24Slides designers will make sure you have an outstanding presentation for the very next day. The prices for this start at $12.
48-hour turnaround is the next one, starting at $11. If you have a close due date, but it's not that urgent, then this one is the perfect option.
Finally, there's the 72-hour turnaround. Prices start as low as $9. If you can afford to wait a few days, you'll see that professional PowerPoint design can be extremely low-cost!
PowerPoint Design Price based on Effort
Aside from the turnaround time, PowerPoint design cost is also calculated depending on how much work you want to be invested in your presentation.
Fix up: In short, it "cleans up" your slides. Our designers will make sure to make any slide you send up clean and sharp by adjusting fonts and letter sizes, fixing spacing and layout, and adding any images and icons you provide.

Redesign: Our designers will also add stock images to make your presentation pop up, and even create customized icons and illustrations just for you. Powerpoint design costs for this option start at $24 (72-hour turnaround).

Redraw: Our designers will turn anything you send us into an amazing presentation, whether it is a pdf document, a photo, or even a hand-drawn sketch. Since it means creating the presentation from scratch, prices start at $37 (72-hour turnaround).

Mixing and matching these two criteria will give you the final cost of your presentation design project.
If you're still confused about how this works, don't worry! You can use our handy Presentation Design Cost Calculator to get approximately how much professional presentation design would cost you.
---
Try our Cost Calculator
Do you want to calculate how much your next presentation design project would cost with us? Just use our cost & price comparison calculator!
Type in your number of slides and pick one option (fix-up, redesign, or redraw) with the turnaround dates and you'll get your personalized presentation design cost.

*Based on our research, the average price for an agency is around $100 per slide. It could be a higher or lower depending on the agency and country. Feel free to change the input field to compare prices. You can find more details to these numbers in our article.
---
Are You Ready to Lower Your PowerPoint Design Costs?
Now that you know how much you're currently spending on your presentations and how much presentation design can truly cost you, you're ready to make a decision!
PowerPoint demands time and effort for employees who must learn to make clean-looking presentations for themselves. Even worse, constantly working on presentations means there is much time and energy taken from primary tasks that actually make the business grow.
Hiring someone for as little as $9 per slide can make all the difference to your presentations and productivity!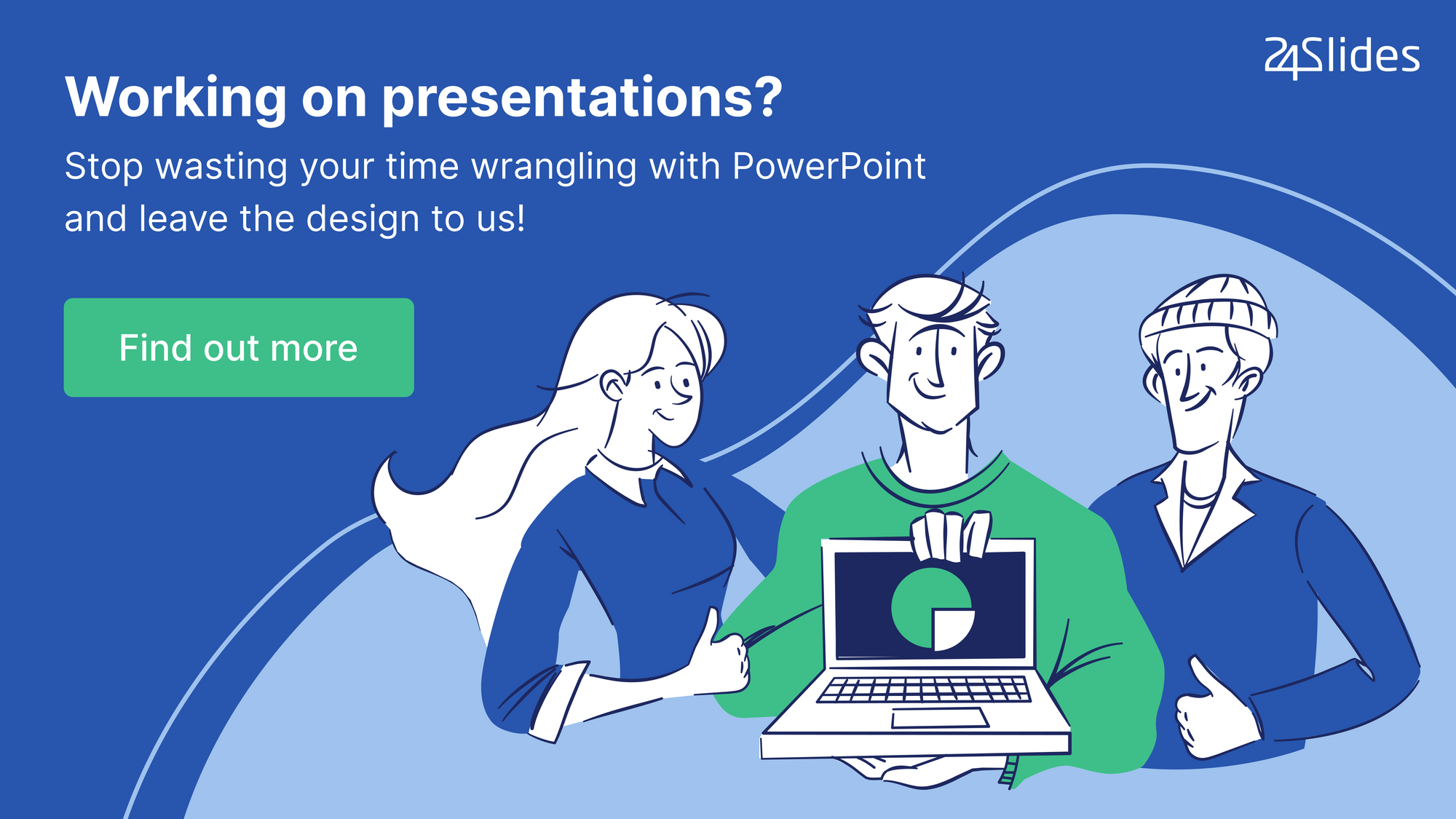 ---
You might also like these articles: