The Cost of PowerPoint Presentations: Discover the hidden expenses you might overlook!
Conducting high-impact presentations is one of those secondary tasks that almost everyone does at work, but only some enjoy. There is a reason behind that: not everyone who is in charge of designing presentations is an expert in the field.
Hiring a third party to cover your PowerPoint slide decks allows you to eliminate a task that can become a problem for your team. Also, outsourcing your design work will ensure professional outcomes and, thus, a greater impact!
In this article, you'll discover the PowerPoint hidden costs you may overlook on a daily basis. We anticipate that these hidden costs not only embrace actual money but also another significant factor that could affect your team's performance.
Don't hesitate to learn how much PowerPoint costs for your team and company!
Today, we'll cover the following topics:
Visible Costs: How much does a Professional PowerPoint Presentation Cost?
Designing PowerPoint slide decks is a daily task for many companies worldwide, which is why presentation design services are becoming increasingly popular these days.
More and more companies are choosing to outsource their presentation designs. And we can't blame them! It is one of the easiest and most cost-effective ways to help your team.
But how much is a PowerPoint design if you outsource the service? The price ranges from $10 to $6,000 for a 10-slide presentation. As you see, this service is for every budget!
Now, let's explore more about the different outsourcing services available in the marketplace:
How much does a Freelancer charge for PowerPoint?
On websites like Upwork or Fiverr, you'll find thousands of designers willing to do their best. The tricky part is choosing the right one for your design needs.
To give an example of how much a PowerPoint presentation can cost, we can take a look at the rates of the two previous sites:
Upwork: Freelancers usually charge per hour, so presentation design prices go between $10 to $250 per hour.
Fiverr: Freelancers usually charge for the complete product, so a basic 10-slide presentation goes around $10 to $390.
The biggest downside of freelance outsourcing is its high risk. It might be an excellent budget-wise option, but if you need to present confidential information, finding a good presentation designer can be a tricky task.
In summary, the presentation price list for this category is:
Price: Around $10 to $390 for a 10-slide presentation, meaning around $1 to $39 per slide.
Pros: Services for every budget and flexibility towards customers' needs.
Cons: No confidentiality guarantee and unpredictable deadlines.
How much does an Agency charge for PowerPoint?
If you want more reliability and higher quality than what a freelance designer can offer, there are several presentation design agencies that you can trust on.
The best thing about this design service is that agency designers are absolute experts, unlike some freelancers in the market. Agency designers are professionals at building high-impact PowerPoint decks for your business.
Depending on each agency, they can also offer different services to help you tackle all your presentation needs. For example:
Buffalo 7 or Puffingston work on presentation designs and help you build up your presentation's content with their communication specialists' support. That's why a 10-slide presentation usually starts at $5,000.
You can also find more information about presentation services in our article "12 Best Presentation Design Agencies".
In summary, the presentation price list for this category is:
Price: Around $110 to $6,000 for a 10-slide presentation, meaning around $11 to $600 per slide.
Pros: Quality and delivery date guaranteed, high expertise in presentation design and management of large projects.
Cons: Finding the perfect fit and maintaining frequent communication could become problematic.
How much does a Dedicated Design Team charge for PowerPoint?
If your company needs a constant flow of presentation decks, then agency prices might seem too high, especially for a recurring expense.
Luckily, many design agencies offer enterprise solutions to tackle this kind of issue. And guess what? 24Slides has its own Dedicated Design Teams!
We believe this is a great deal: you get amazing and custom-made slides at a lower price, and a team of PowerPoint presentation designers committed to your brand and personal style requirements!
Here is a summary of our PowerPoint prices and more details about our Dedicated Design Team:
Price: $899 for the Micro Plan, $1,900 for the Basic Plan, and $3,900 for the Pro Plan.
Pros: Great for companies with a constant flow of presentations, fast turnaround deadlines, and Customer Service support.
Cons: The integration with your in-house team can take some time.
If you don't typically purchase a presentation design service, your team is probably investing additional time designing slides (a task they're not specialized in).
In the next section, you will learn about the hidden costs of PowerPoint for your company!
Nowadays, it's common for regular employees to spend hours designing slides, which is sometimes not time-efficient. Remember that "time is money," so expending hours on presentation designs also costs actual money for a company.
Consider this: A designer specialized in PowerPoint takes less time to create your slides, and the quality is higher than an employee who isn't dedicated to it. At the end of the day, you'll have a product with more remarkable neatness!
If your company frequently requires professional slide decks and you haven't thought about outsourcing this labor, then it's probably that your team is wasting their time designing in PowerPoint.
Let's talk with facts about the Real Costs of a Presentation Design
In our latest market study, we've uncovered some insights about the hidden costs of PowerPoint that will surely interest you.
Nearly 1,000 Marketing Professionals pointed out that:
They spend around 4,87 hours a week designing presentation decks.
55% responded that producing slides is not a good use of their time, which can generate demotivation at work.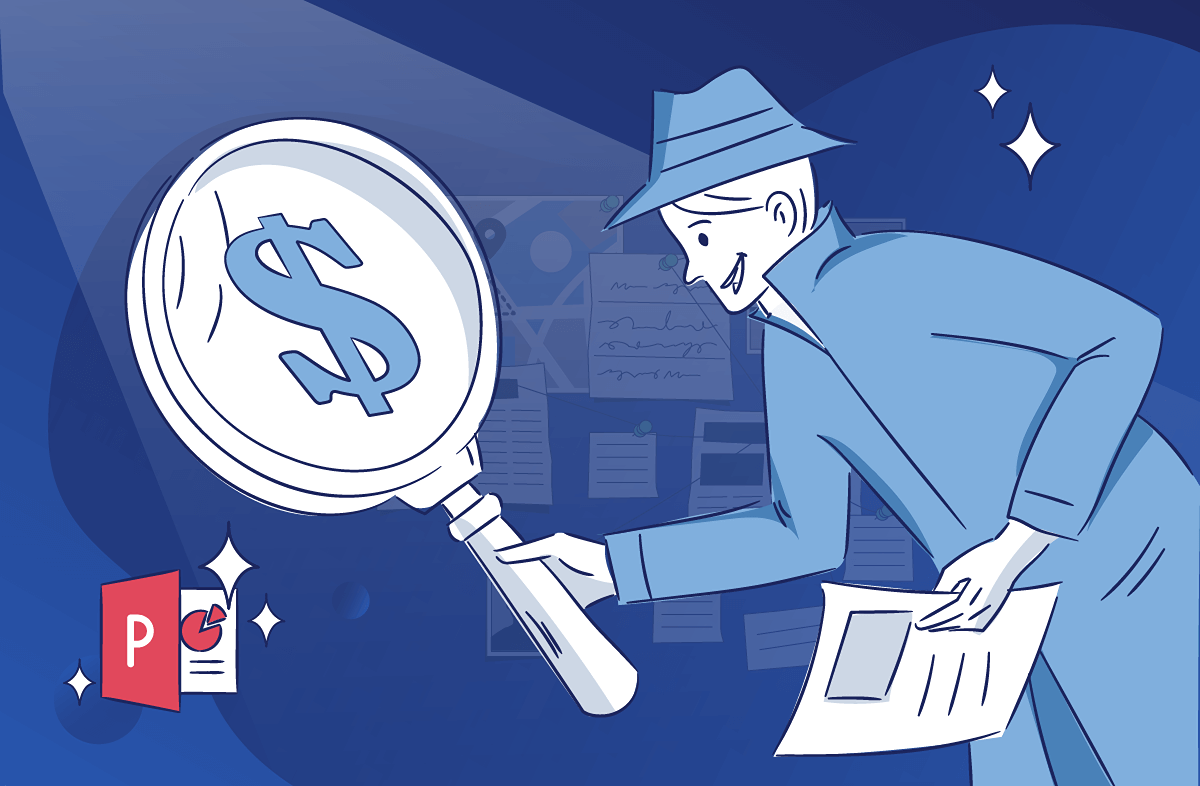 We emphasize that designing presentations is not a problem in itself until it starts affecting your employees emotionally. This is when designing PowerPoint decks could be considered a "red flag" and needs attention from the leaders.
Another relevant discovery is that there is a time-saving benefit when 24Slides leads a Design Project. According to the study, specialists save 75 minutes per slide working alongside us. That's a substantial efficiency boost, isn't it?
How do you calculate your current PowerPoint Presentation Costs?
If you're wondering how much PowerPoint costs for your company, our PowerPoint calculator will give you a hand.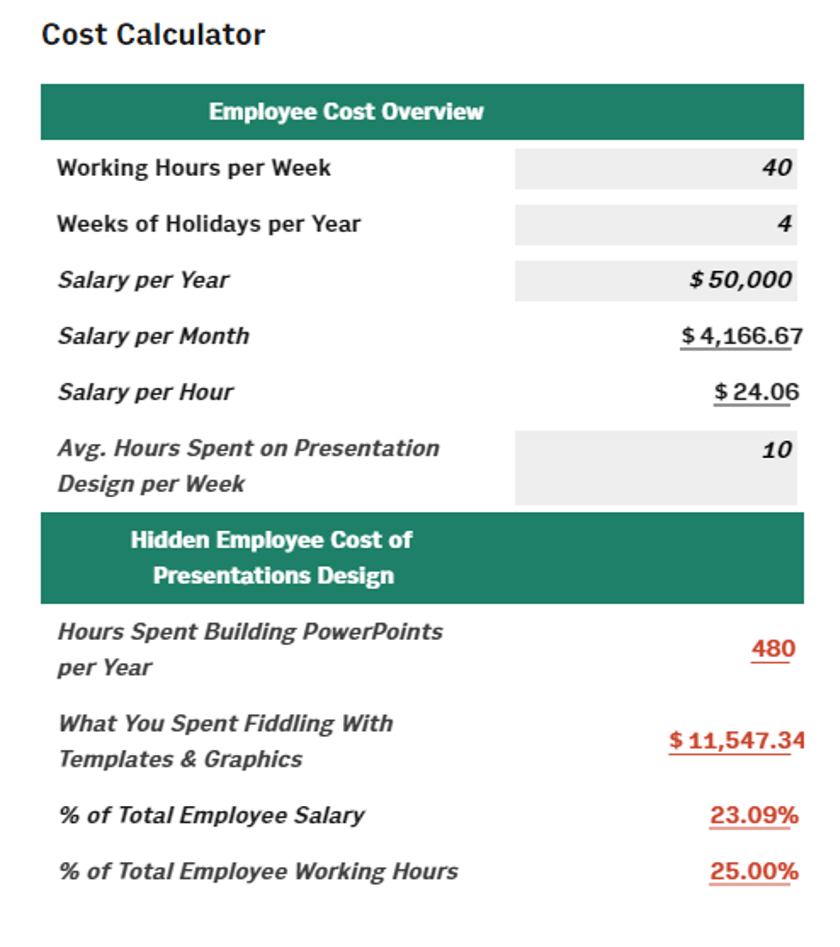 But first, let's see how to use it:
PowerPoint Calculator: Employee Cost Overview
The following list explains the elements you need to fill out to calculate the cost of PowerPoint for your organization:
Working Hours per Week: How many hours per week does the employee who designs presentations work?
Weeks of Holidays per Year: How many weeks of holidays this employee has per year? This information will help give a more accurate cost calculation.
Salary per Year: How much is the gross salary of this employee per year? Compensation is calculated in dollars ($).
Average Hours Spent on Presentation Design per Week: How many hours does this employee spend designing PowerPoint presentations per week? You also can calculate an average of hours per month and fill the amount of hours per week.
If several employees are dedicated to designing PowerPoint slide decks, you can average the hours they dedicate to this task weekly.
As noted in our market study, your company has recurring PowerPoint hidden costs. Let's see what is the meaning of each result in the second part of the calculator:
Hours Spent Building PowerPoints per Year: The time dedicated to designing presentations per week is multiplied by the number of weeks per year (without holidays). These would be your "PowerPoint hidden costs" in time.
What You Spent Fiddling with Templates and Graphics: The hourly wage is multiplied by the prior variable. These would be your "PowerPoint hidden costs" in money.
% of Total Employee Salary: The percentage your "PowerPoint hidden costs" represent of the employee's gross salary.
% of Total Employee Working Hours: The percentage your "PowerPoint hidden costs" represent of the employee's work day.
PowerPoint Calculator by 24Slides
Now, it's time to calculate your current presentation design costs!
How does 24Slides calculate its PowerPoint Presentation Prices?
At 24Slides, we have different presentation design pricing based on different needs, but we can divide them into two criteria: Urgency and Effort.
Our PowerPoint design prices are determined by slide, according to how soon you need your presentation and how much effort you're willing to pay. This system gives you more control over how much money you want to spend on your business presentation decks.
In the following part, you'll see the most competitive range of our service prices. This list will be helpful if you want to check if outsourcing your design work is worth it (spoiler alert: it is!).
PowerPoint Design Price based on Urgency
We offer three turnaround options. The sooner you need your PowerPoint deck, the more costly it will be.
In most cases, outsourcing presentation designs will be more cost-efficient than doing it yourself!
A 24-hours turnaround
It's perfect for those companies with a tight schedule. 24Slides designers will ensure you have an outstanding presentation for the very next day.
Presentation design prices start at $16 per slide.
A 48-hours turnaround
This is the perfect option if you have a close due date, but it's not that urgent.
Presentation design prices start at $13 per slide.
A 72-hours turnaround
Professional slide decks can be incredibly low-cost if you can afford to wait a few days.
Presentation design prices start at $11 per slide.
PowerPoint Design Price based on Effort
Aside from the turnaround time, our PowerPoint design prices are also calculated depending on how much work you're willing to pay.
Fix Up
In short, the Fix Up service "cleans up" your slides.
Our designers will ensure that your slides are clean and sharp by adjusting fonts and letter sizes, fixing spacing and layout, and adding any images and icons you provide.
Presentation design prices start at $11 per slide.

Redesign
Do you need a complete makeover of your presentation to approach a modern slide deck? We can do it!
If you choose this PowerPoint redesign, you'll get stock images and customized icons and illustrations just for you. Your final presentation will certainly stand out!
Presentation design prices start at $28 per slide.

Redraw
Redrawing means creating a presentation from scratch. Do you have a vague idea of what you want for your PowerPoint deck? We make it happen!
Our designers will turn any material you send us into a professional slide deck, whether it is a PDF document, a photo, or even a hand-drawn sketch. Really cool, right?
Presentation design prices start at $44 per slide.

Keep in mind that most of our presentation design projects mix these two criteria during the process of creation.
But don't worry! Our Customer Service team will evaluate your budget and design needs to give you the best possible service.
How much does it cost to run a PowerPoint Design Project with us? Let's see!
In order to help you based on your current needs, this calculator will require more precise information about your presentation design projects.
Let's see how to manage this second PowerPoint cost calculator:
Your Current Presentation Usage: Based on your experience, how many projects do you have per month, and how many slides does each one have on average?
24 Slides Presentation Design Costs: In this section, you need to choose the treatment and the turnaround that best suits your design needs.
If you Outsource with Other Agencies: This section will help you estimate the price of the presentation design service with another agency. You can change the price per slide freely.
Employee Costs Overview: This section summarizes general information about an employee. Ideally, you should add the information of the employee who designs presentations most frequently.
If you Cut your Hidden Costs with us: This section shows the costs you save if you decide to trust your PowerPoint presentation decks with us.
Calculator of 24Slides' Presentation Design Service
With this PowerPoint Calculator, you'll know how much it costs to outsource a Presentation Design Project with us:
*Based on our research, the average price for an agency is around $265 per slide. It could be higher or lower depending on the agency and country. Feel free to change the input field to compare prices. You can find more details about these numbers in our article.

**This is the average time spent on each slide based on a year-long customer survey with over 8,000 participants across 15 industries. The participants spent 5 hours per week on a 10-slide deck presentation project (on average).

✅
Important note:
Are you not convinced by these prices? If you are a company and have large volumes of presentation designs, we invite you to take a look at our special services:
Dedicated Design Teams
and
Credit Packages
. Thank us later!
Why should you Outsource your Design Work with 24Slides?
At 24Slides, we have the expertise and the right team of professional designers your company needs.
Our design service proposal is diverse and flexible. We summarize it here:
We seek the happiness of our customers – See it yourself!
We manage fast turnarounds – Go rest and get your presentation the following morning!
We offer Proofreading and Editing Services – Forget about the misspellings!
We offer different plans with Dedicated Design Teams and Credit Packages – We adapt to your needs!
We can create a platform to connect your Internal Team and our Designers – The integration will be seamless!
We guarantee confidentiality in every step of the process – Your information is in good hands!
Know some of our happy customers!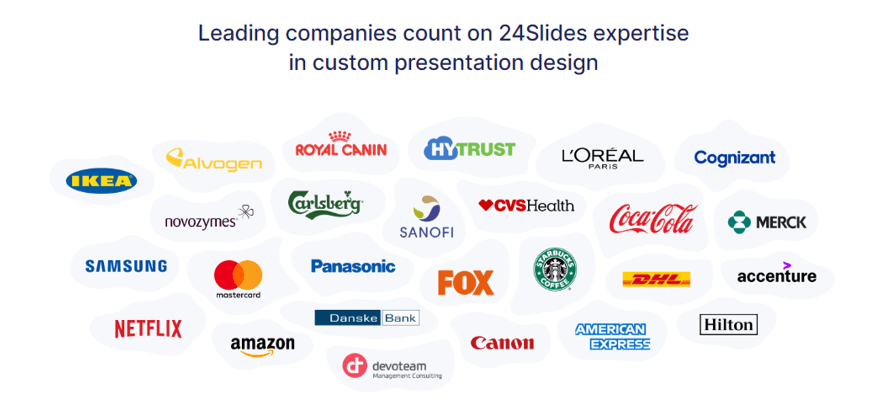 We have already made our pitch; now it's the turn of the Marketing Specialists:


PowerPoint hidden costs are an essential finding for any company. At the end of the day, it depends on how you want to deal with these hidden expenses, which can affect not only your budget but also your team's motivation.
We hope you enjoyed this article about presentation design costs as much as we did! Keep in mind that you can contact 24Slides at any time; we'll always be there to answer your questions.
Until next time!


Want to learn more? You'll enjoy these articles: