How to Refresh Your Brand? Discover Our Strategic Approach
If you're wondering how to do a brand refresh, you've found the perfect place to learn about it. As the name suggests, a brand refresh "refreshes" the elements of your brand. This includes the logo, slogan, typography, tone of voice, photographic style, color palette, among others. That way, a process of brand refresh is a type of brand management that primarily revitalizes the visual aspects of your company.
But why do we need to refresh branding? Don't these changes just complicate tasks for your marketing and design team? According to Varief Setyawan, Design Manager at 24Slides, adopting a brand renovation strategy is essential to connect with your target audience and generate awareness in the market:
"A well-executed brand refresh strategy can breathe new life into a brand, enhance its relevance, and strengthen its connection with customers, helping the company achieve its marketing and business objectives."
However, he also notes that not all companies need a brand refresh; there should be a reason behind the change. For this, it's crucial to start treating your brand as an asset, which requires investment and strategic decisions, in other words, decisions based on an action plan.
In order to give you a panoramic view of this brand management, we'll talk about different topics:
Now, let's dive into the world of branding!

Brand Refresh vs. Rebrand: What's the difference?
Brand Refresh, also known as "Brand Restyling" or "Brand Renovation", involves updating your brand's visual resources or messages. These alterations will improve your company's identity and the image you want to communicate to your audience. Its goal is to keep your brand up-to-date and appealing in today's fast-changing market.
On the other hand, a Rebrand involves a structural change to these resources by partially or entirely reinventing your brand identity. This process is much more complex and, consequently, more expensive than a brand refresh. According to Varief, this is a bold move usually done when the company faces significant challenges, like a reputation crisis or the failure of some brand strategy.
So, in summary:
Brand Refresh: modernization of the brand's visual identity and messages while retaining its core elements and values.
Rebrand: a complete overhaul of the brand's identity and marketing strategies.
Example of Brand Refresh: Fiverr
Fiverr is a global marketplace that connects freelancers to people or businesses looking to hire. This platform's mission is to enable anyone, anywhere, to use their talent to earn a living.
Fiverr's Brand Refresh Project aimed to showcase the brand's evolution without losing its essence. Alongside Koto Studio, they refined their visual identity by updating their logo, expanding their color palette, creating a new tone of voice, and modernizing their brand elements. This way, Fiverr achieved a corporate design refresh without losing its core values.
Example of Rebrand: Airtm
Airtm is a digital wallet with a presence in 190 countries. Being part of a highly competitive sector such as fintech, the company wanted to stand out and establish a lasting impression on users' minds. They opted for a concept that represented them better: "Liberating your global potential, empowering Latin America to ignite a fairer financial future."
In collaboration with Design Studio, they built a new brand identity with a prism as its main element and a beam of light that represents "the potential that got magnified"  through the company. This Airtm Rebrand is characterized by its bright colors, new custom typography, and 3D effects that set the brand apart from other fintech players in the market.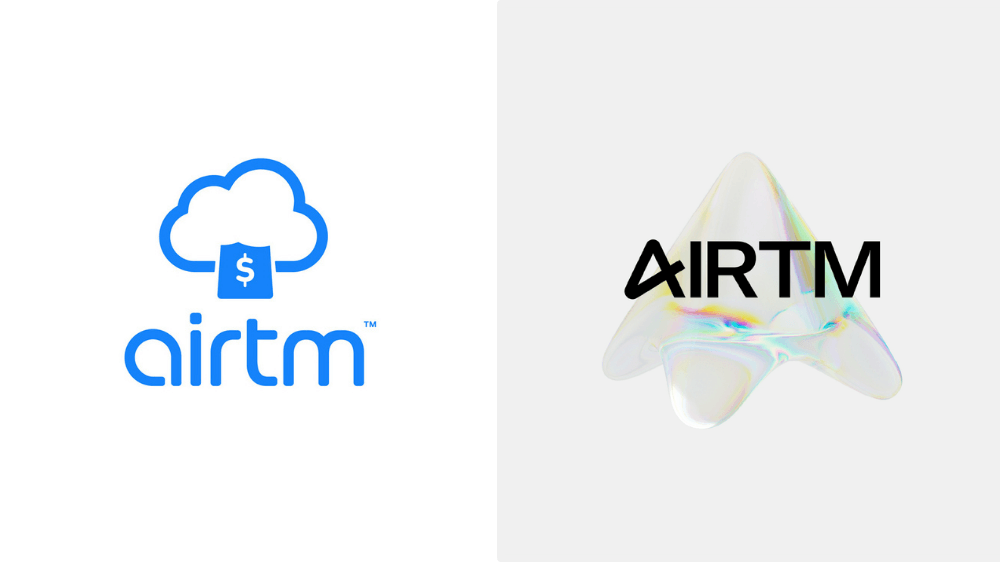 Keep reading, we have more to tell about this type of brand management!
How do you know if you need a Brand Refresh?
Embarking on a brand refresh sounds and looks cool, but the reality is that, like any branding action plan, it must have a clear objective to avoid confusing your customers (or wasting money).
Below you will find some "warning signs" that might indicate your company needs a brand refresh strategy:
1. Lack of message consistency
Fiverr modernized its tone of voice to reach its target audience effectively. This is a highly strategic decision, as any company can face changes (internal and external), and it's necessary to reflect them in our brand.
The idea is that a brand refresh process can convey these changes through your communication resources, which can entail a complete tone of voice change or modifications to your key messages.
2. Seeking to boost social media engagement
Are your social media metrics not performing well? You may need to refine your brand's visual identity, or something in your customer journey is not working well.
Naturally, you'll have to evaluate whether a brand refresh suits you. But we must acknowledge that a company's social media presence will be more successful when its aesthetics follow current design trends and adapt to the characteristics of each platform.
3. Targeting a different audience segment
If you plan to reach a different audience segment, starting a brand refresh project can enhance your success. Moreover, there is the possibility that your current audience changes or expands, so your branding should follow those transformations.
As you may know, each audience segment has specific tastes and habits, so you need to evaluate whether your brand identity fits their current interests.
4. Planning to raise your prices
When a product raises its prices, there should be a good reason. The most common is when your product is related to values such as exclusivity and greater status.
Also improving your customer shopping experience can also be a factor for price increases. This can include your delivery service speed, an exclusive and catchy benefits program, a new eco-friendly packaging...
Keep in mind that "everything goes through the eyes" and, many times, your brand's visual identity and the experience you provide to your customers can be related to what they are willing to pay. There is when a brand refresh can play a part.
5. Declining sales and the need to resolve it
According to a study by NIQ, declining sales is the most common variable that prompts a company to consider a brand renovation. In fact, "65% of marketers identify this as one of the most frequent restage triggers."
If you've identified that your sales aren't performing as desired, refreshing your brand can be an influential action to improve your indicators. As mentioned earlier, you must evaluate whether this is the most appropriate route for your company or if it should be complemented with other actions.
6. Looking to stay relevant in the marketplace
An outdated brand doesn't capture attention. While a company might be very modern operationally, this should also be reflected in its brand identity. Therefore, to stay relevant in the marketplace, your changes must be comprehensive.
Note that your brand is your "calling card" to the world and the most accessible reference for potential customers. Don't forget that!
By this point, we can say that a brand refresh strategy not only expresses more professionalism through visual changes, but can also help you increase your market share and generate a higher engagement with your audience.

What should a Brand Refresh Strategy include?
A brand refresh project involves a substantial amount of strategy. Essentially, every change must be justified and linked to your company's objectives.
Below, we'll summarize the essential elements, from our perspective, to achieve a successful brand refresh process:
1. A good team in charge
A brand refresh strategy can be conceived, executed, and monitored by two different agents: your in-house design team or a specialized partner (agency, design studio, or freelancer).
If you decide that a third party should lead your brand restyling, there are some points to consider:
Research the specialized partner thoroughly
There are numerous branding services available in the market, so you'll need to research and find a match that aligns with your brand refresh objectives. Keep in mind that each service has its own conditions and working methods.
Request examples of their work
In order to execute a successful brand refresh project, it's crucial to review their portfolio carefully. This will allow you to analyze the reasoning behind each update and thus choose the ideal partner for your project.
Balance cost and quality
After looking up for different refresh partners, you'll need to balance cost and quality. Some aspects to consider include:
The quality of their portfolio
The feedback they have received from clients
The prestige of their clients
Their work methodology
The flexibility they are open to show
Their customer service
2. A deep brand audit
To establish an effective brand refresh strategy, it's crucial to identify your strengths and the areas that require improvement. In the world of branding, this process is called a "brand audit."
Usually, agencies or specialized refresh partners offer brand audit services. But if you want to undertake it independently, consider these points:
Questions about your current brand
Does your mission and vision reflect what your company is now and what you want to be in the future?
What brand image do you want to project?
What is your current value proposition?
What are your values?
What brand archetype and tone of voice do you have?
Who are your customers and what are their main characteristics?
What are the strengths and weaknesses of your brand?
Questions about your competition
What branding actions have your competitors taken?
What type of connection do your competitors generate with their customers?
What makes you unique in the market and how can you boost it?
What are the trends in your industry at micro and macro levels?
Questions about your website
Is your brand information updated?
Do your visuals communicate your current brand essence?
Can you improve the journey of your customers?
Is your social media visible at first sight?
Does your website take time to load?
Is your website responsive? (work well on every device?)
Is your website optimized for SEO?
Questions about your social media
Do your visuals adapt to new trends?
Do you follow the new formats of each social media?
Which publications stand out the most and why?
Do your metrics perform well?
What type of audience consumes each social media, and how does your content adapt to it?
Questions about your marketing assets
Are the elements of your brand applied consistently?
Do your marketing assets match the image you want to convey?
Do your marketing assets have a fresh design that fits your curent brand essence?
Questions to be answered by your customers
What do they think about your brand?
Do they like your logo and other brand elements?
What do they think about your customer service?
Would they recommend your brand to an acquaintance or relative?
What aspects would they improve on your brand?
Keep in mind that the main objective of a brand audit is to identify which elements of your brand you need to refresh. This will be essential information to build the foundations of your brand refresh strategy.
Naturally, this process is going to take some time. Remember that to be successful, you need to work with clear goals based on data!
3. A brand refresh brief
A brand refresh brief is a document that you need to present to any agency or design studio, as it will be their basic guide for planning strategic actions for your brand renovation.
As you may know, a brand refresh process requires multidisciplinary contributions, so it's important to establish guidelines to organize better your brand management strategy.
Are you wondering how to do a brand refresh brief? Here we share its main elements:
General information about your brand
History of your company
Mission and vision of your company
Values of your company
Main product or service and what problem it solves
Differential in the market
Profile of your clients or buyer persona
Main competitors
Brand refresh project objectives
What do you want to achieve with this brand refresh?
Which elements of your brand do work and which don't?
What kind of language do you want to use or refine?
What is the archetype or personality you want to adopt?
What attributes do you wish to be remembered for?
Brand refresh project deadlines
What is the expected timeframe for this brand refresh?
Are there specific deliverables needed? If so, what are the expected deadlines?
4. A holistic brand refresh launch
Now you have your brand refresh strategy on paper, but what's next? A company only needs to implement the changes, and that's all?
It's recommended to think about how to launch your brand refresh. Experts say this strategy needs to be gradual, so your audience can assimilate the changes better.
We know that launching a rebranding or restyling is not an easy task, thus here are some tips:
Update all your communication channels
During the implementation process of your brand refresh, you should always keep in mind to update each touch point in your customer journey.
This includes marketing assets (templates, brochures, flyers, etc.), website visuals, social media visuals, communication via email, physical signage, uniforms, among others.
Update and promote your new brand guidelines
Updating your brand guidelines (or brand book) is an action you cannot forget. This document will be useful for your internal operations, especially for your in-house design team or any team that generates content for your company.
After having your guidelines in a manual, it's crucial to verify their implementation in practice. For this step, Quality Assurance Managers (QAs) will assume a fundamental role.
Announce the changes to your audience
Making an official announcement of your brand refresh is also really important. It will raise awareness among your internal teams and stakeholders.
Remember that your employees are ambassadors of your brand, if they don't know about the changes, they won't know how to transmit it to your audience.
Here you will find an example of how Fiverr announced the changes after refreshing their brand:
5. A monitoring and evaluation strategy

When launching something as important as a brand refresh, you need to monitor the action plan and evaluate the results.
Some actions you can take are:
Perform a baseline
This information will help you compare the metrics before executing your brand refresh with the results obtained after launch. Your brand audit process is the perfect source of information for this endeavor.
Follow up on your action plan
Basically, you need to follow up on the relevant milestones or metrics established in your brand refresh strategy. That way, you can adjust or execute new branding actions when required.
Practice social listening
Social listening embraces the analysis of your audience's reactions following the launch of your brand refresh. Your social media is an excellent source of information that will help with this.
If you notice, this information could be used like a brand refresh checklist. Use it wisely!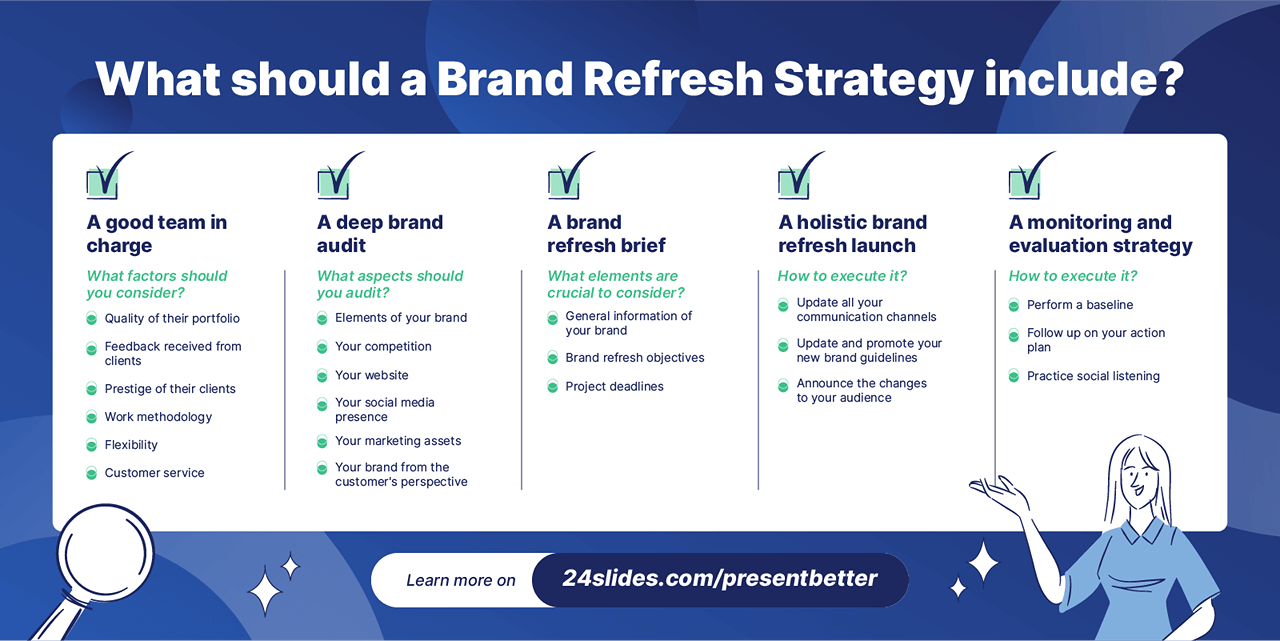 Stay tuned, in the following part, you will discover the best brand refresh services available in the market. If you are considering outsourcing this process, you must read until the end.
Refresh Services: The best partners to lead your Brand Refresh Strategy
The perfect brand strategy partner can be your in-house design team or a third party specialized in branding services. It's also possible for both parties to collaborate, whether in the strategic aspect or in designing your visuals. It's up to you how you want to bring your brand refresh project to life.
However, Damilka Rojas, Design Manager at 24Slides, recommends that the best option for executing a brand refresh strategy is to outsource the service. She points out that:
"As designers, we tend to get 'inspired' or become 'visual sponges', so when we need to be innovative, we should explore new strategies that diverge a bit from what we know. A good way to accomplish this is by seeking another team or company to carry out such an important process for the brand, like a Brand Refresh."
Following Damilka's advice, we've compiled a list of the best agencies and design studios that provide brand refresh services:
"We believe every small business owner deserves to have a brand image they can be proud of."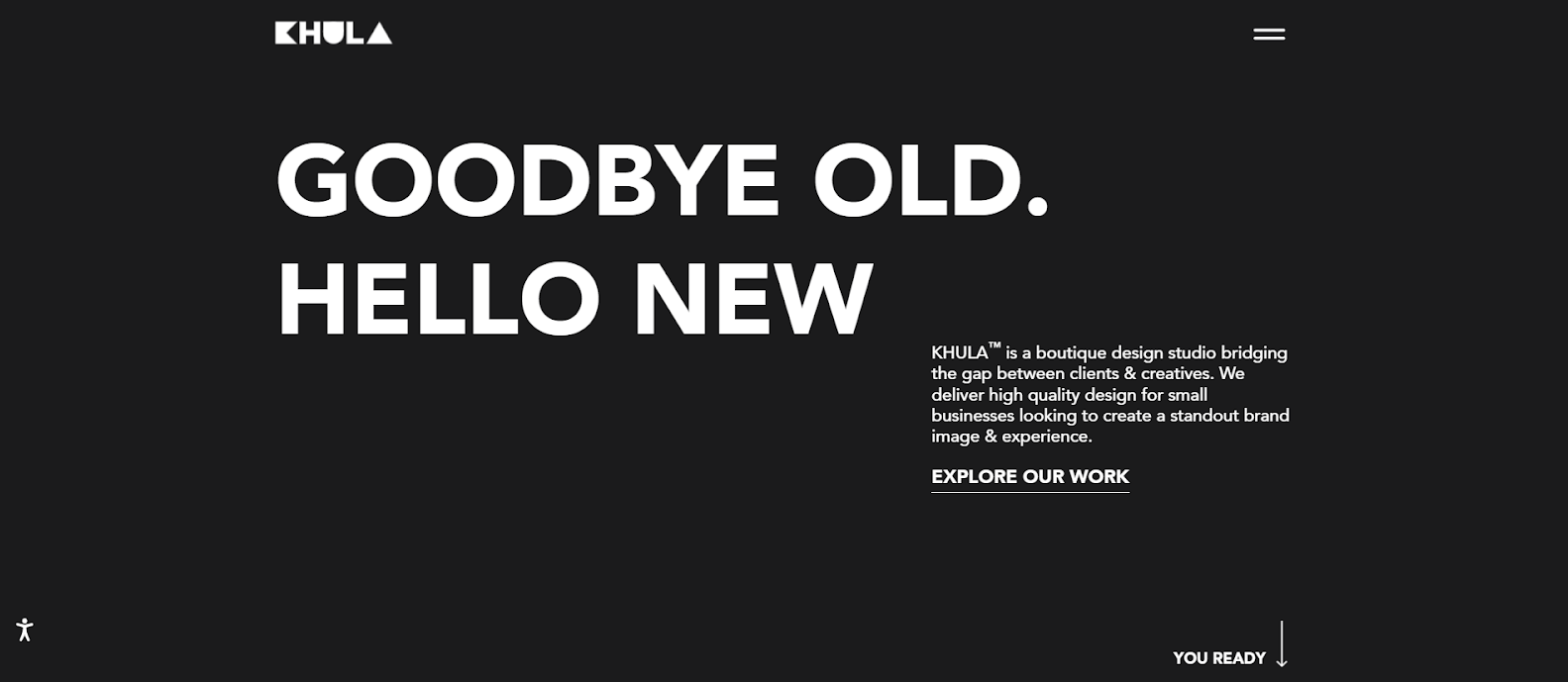 Khula Studio specializes in leading brand refresh projects for small businesses. Their proposal is to create a complete digital experience, covering each contact point in their customers' journey.
Services: Graphic Design, Brand Strategy, Brand Identity, Web Copy and Messaging, Webflow Development, Website Migration, Customer Experience (CX), and SEO Fundamentals
Clients: Trimble Group, Noko Solutions, Morris & Co
Office: Vancouver, Canada
"Optimists building brand and digital for the most impactful companies of today and the founders defining tomorrow."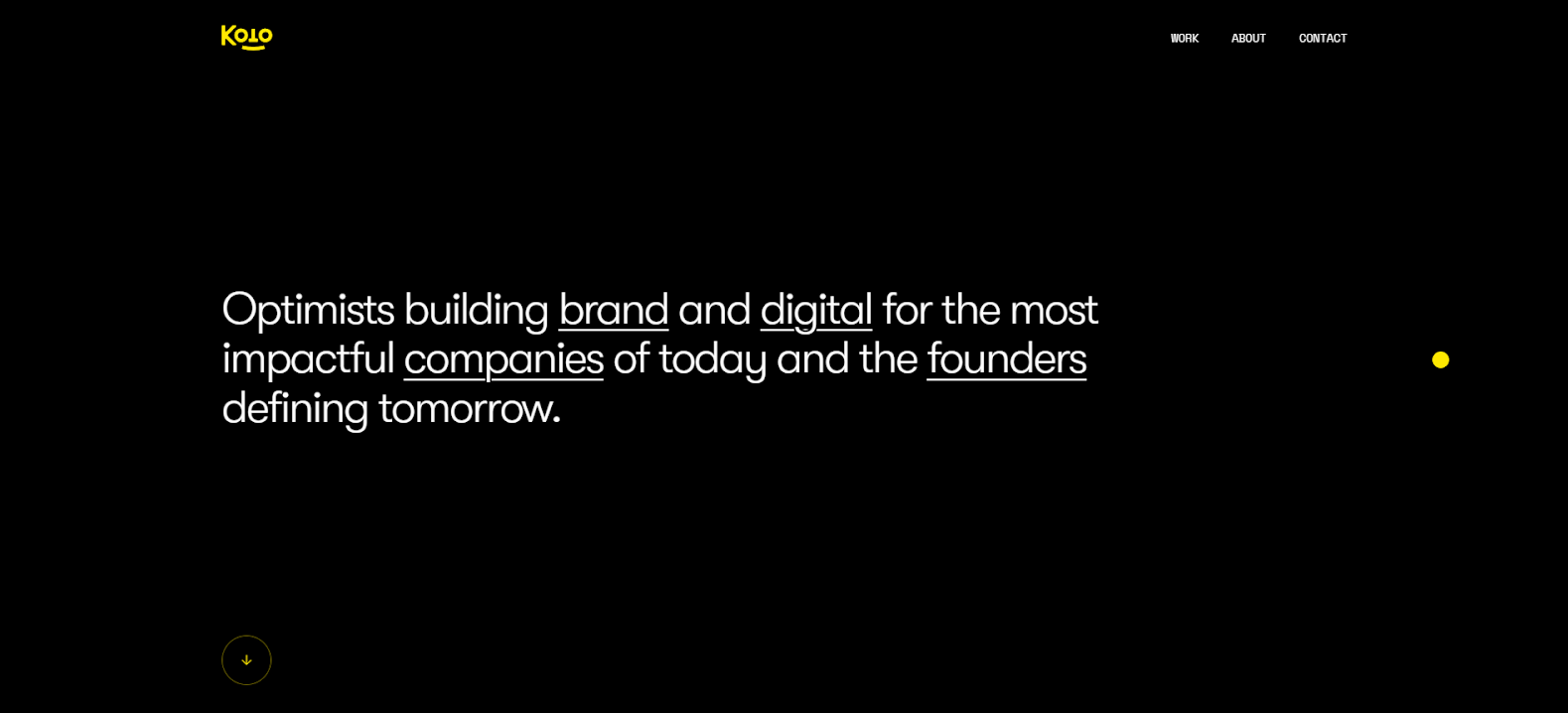 Koto Studio is a branding studio and digital agency founded in 2015. They promise to bring a global perspective to every project, building iconic brands that inspire the world.
Services: Graphic Design, Brand Strategy, Digital, Art Direction, Product, and Motion
Offices: Los Angeles, New York, London, Berlin, and Sidney
"We create brands and experiences through radical collaboration."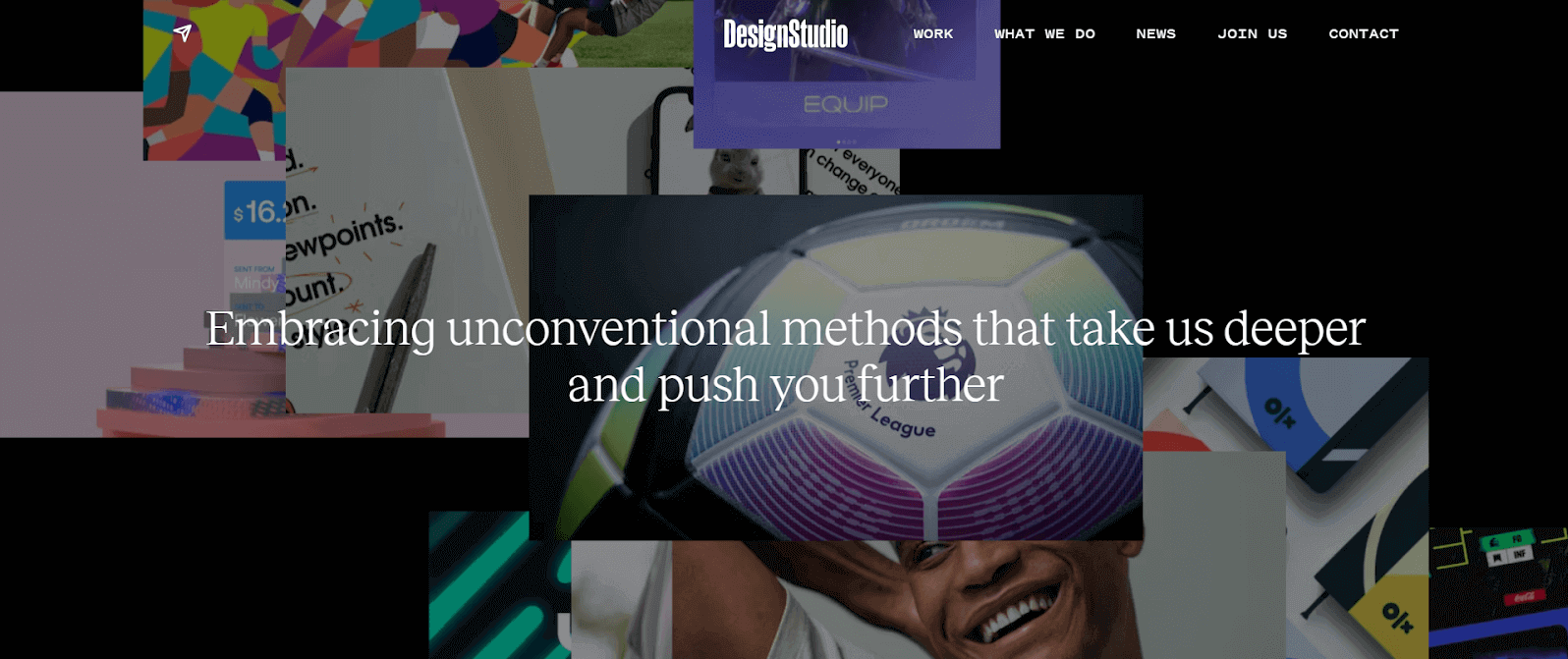 Design Studio stands out for its holistic working methods that promise three things: contagious energy, unconventional research, and bold leaps. In addition, they not only offer brand refresh services but also employee training.
Services: Graphic Design, Digital Strategy, Brand Strategy, Brand Architecture, Brand Experience, Sonic Identity, Motion Identity, Content Creation, Interactive Experiences, Brand Launch, Employee Engagement, and more
Clients: Olx, Eurostar, British Airways, Penguin Random House, Alipay, Airtm
Offices:  New York, London, and Sidney
"We transform the future of businesses by changing how their brands behave today."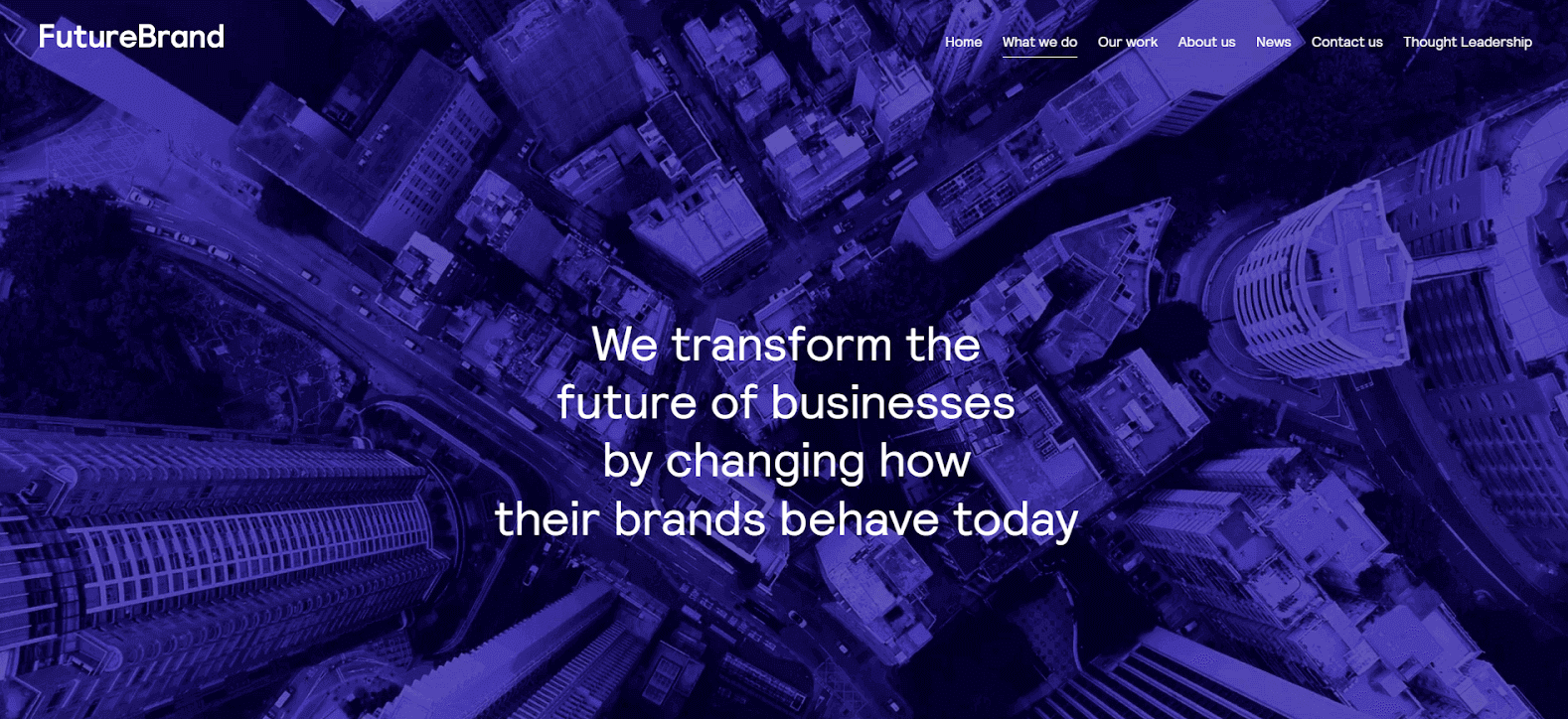 FutureBrand is part of the McCann Group, providing consulting and branding services in more than 15 countries. They aim to achieve positive business transformation driven by your branding and the experiences they help co-create.
Services: Graphic Design, Brand Strategy, Brand Research and Measurement, Brand Innovation, Consumer Branding, Corporate and Service Branding, Branded Environments, and more
Offices: Lima, Buenos Aires, São Paulo, San Francisco, New York, Milan, London, Melbourne, Shanghai, and 10 more
"Creating brands that move organizations, people, and the world forward."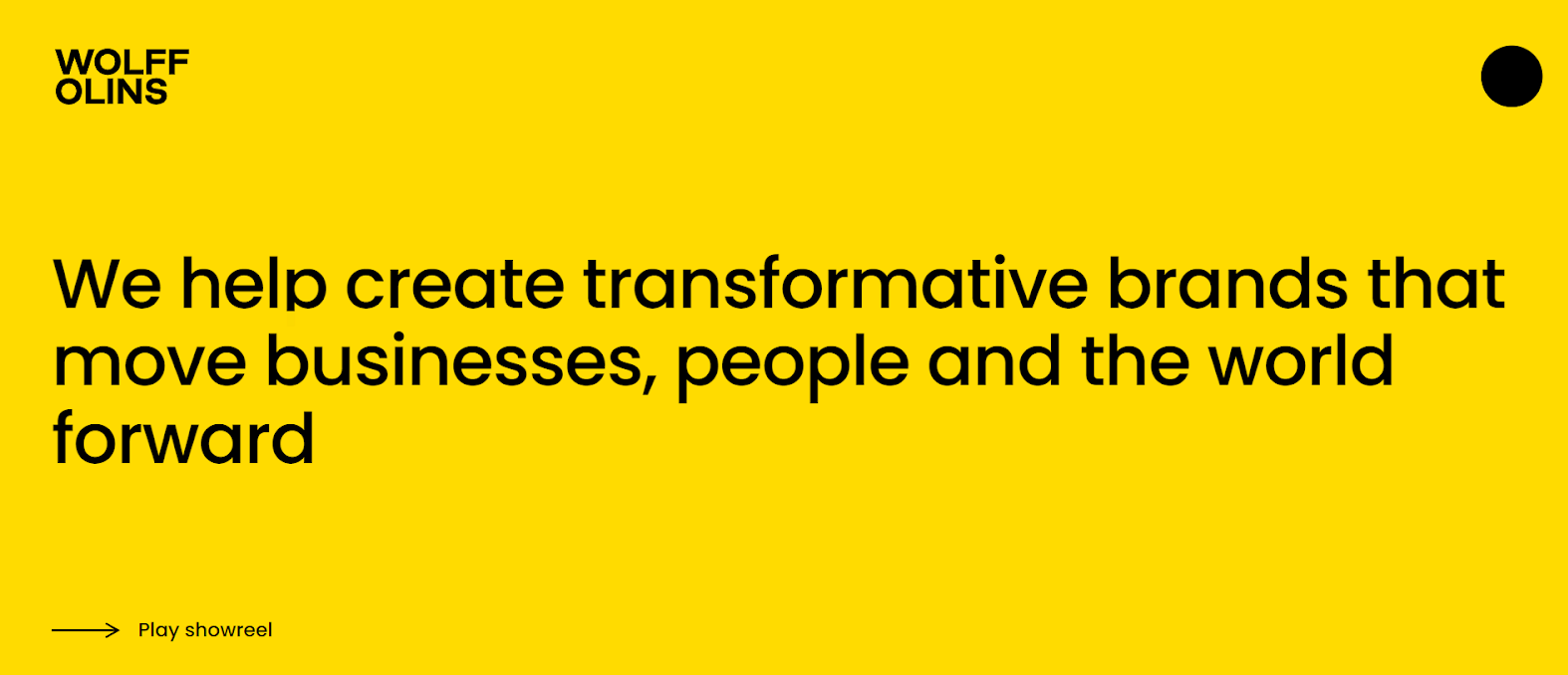 For nearly 60 years, Wolff Olins has delivered strategy, design and change to help organizations in moments of inflection. They work under the philosophy that brands have the power to move minds and improve our world.
Services: Graphic Design, Brand Strategy, Product Design, Experience Design, and more
Offices: New York, San Francisco, and London
"We define, design, and develop world-class digital products that people love to use."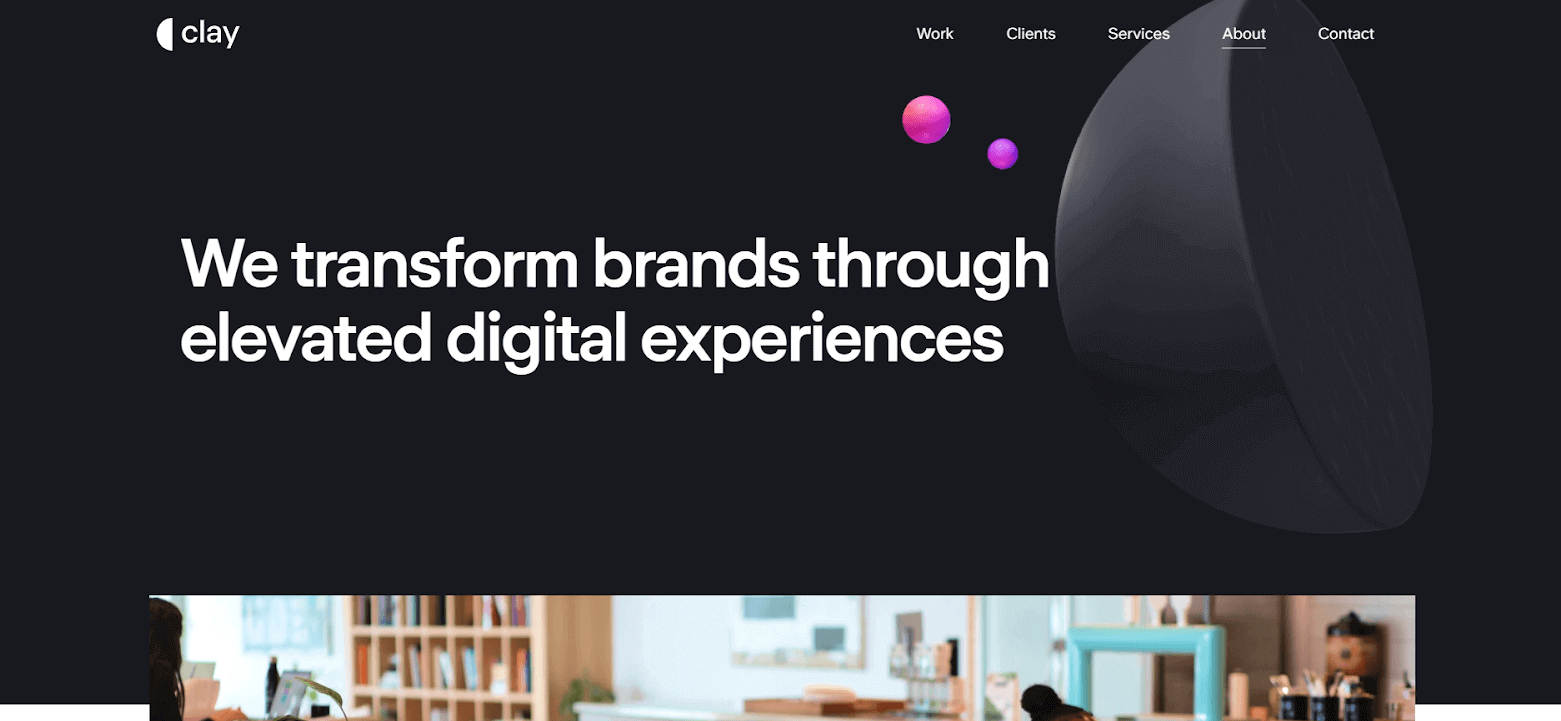 Clay is a full-service digital innovation partner specializing in brand identity and web design. They promise to scale your brand's communication and user experience to the next level, hand in hand with good storytelling.
Services: Graphic Design, Brand Strategy, Brand Architecture, Brand Experiences, Verbal Identity, Visual Identity, Brand Guidelines, CX, UX & Interaction Design, Design System, Content Strategy, Software Development, and more
Office: San Francisco, USA
"We exist to make a positive difference for our clients, our people, and the world around us."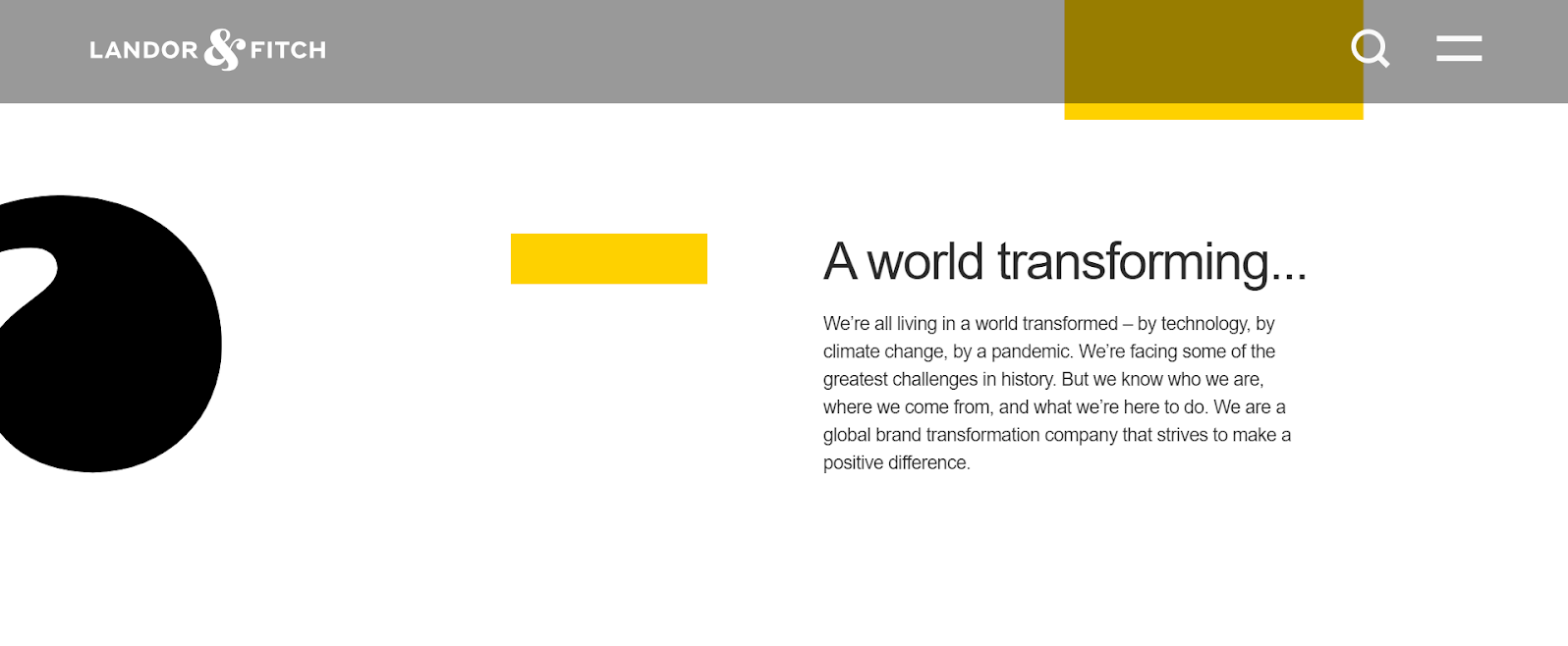 Landor & Fitch calls itself a "global brand transformation company." They use data-driven insights to connect your business strategy with your brand refresh strategy. They also track the results of each branding strategy to measure its impact.
Services: Graphic Design, Brand Strategy, Brand Experience, Brand Expression, Brand Performance, Brand Management, and Brand-led Employee Experience
Offices: Mexico City, New York, Toronto, Barcelona, Cape Town, Paris, Milan, Dubai, Tokyo, Hong Kong, and 20 more
"The world's largest independently-owned design studio."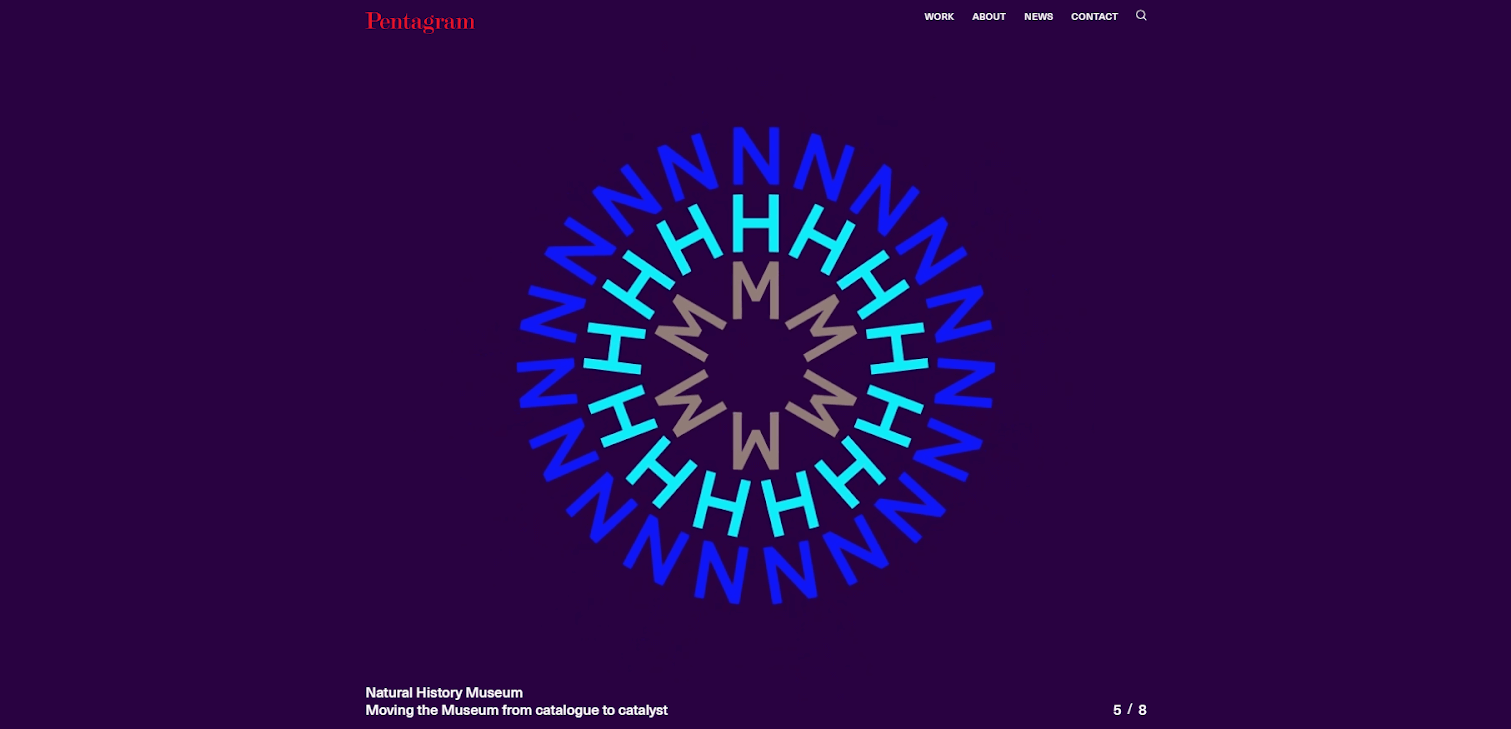 Pentagram is a multidisciplinary design studio founded in 1972. They provide services in graphics and identity, products and packaging, digital experiences, exhibitions and installations, and even architecture and interiors.
Services: Graphic Design, Brand Strategy, Brand Identity, Naming, Typography, Advertising, Packaging, Editorial, Data Driven Design, Signage and Environmental Graphics, Campaigns, Sound Design, and more
Offices: New York, Austin, London, and Berlin

We want to emphasize that a brand goes beyond its visual identity; a brand is built on strategic actions. That way, we recommend choosing carefully who will lead your brand refresh strategy.
Remember: Your brand is an asset of your company, treat it like that!
Want to update your presentations or templates after a Brand Refresh? We got you!
At 24Slides, we specialize in creating custom high-impact presentations. But among our superpowers, we also update other marketing assets/marketing collateral that will allow you to refresh your brand comprehensively.
Here is a list of our available services:
Custom presentations (PowerPoint and Google Slides)
Social media visuals
Display ads visuals
Website banners
Posters
Brochures
Infographics
Custom illustrations
Branded documents (Word and Excel)
We'd like to encourage you to look at our website and explore our design styles. If you're looking for a more personalized service, feel free to try us for just $1 —yes, one dollar, you heard that right!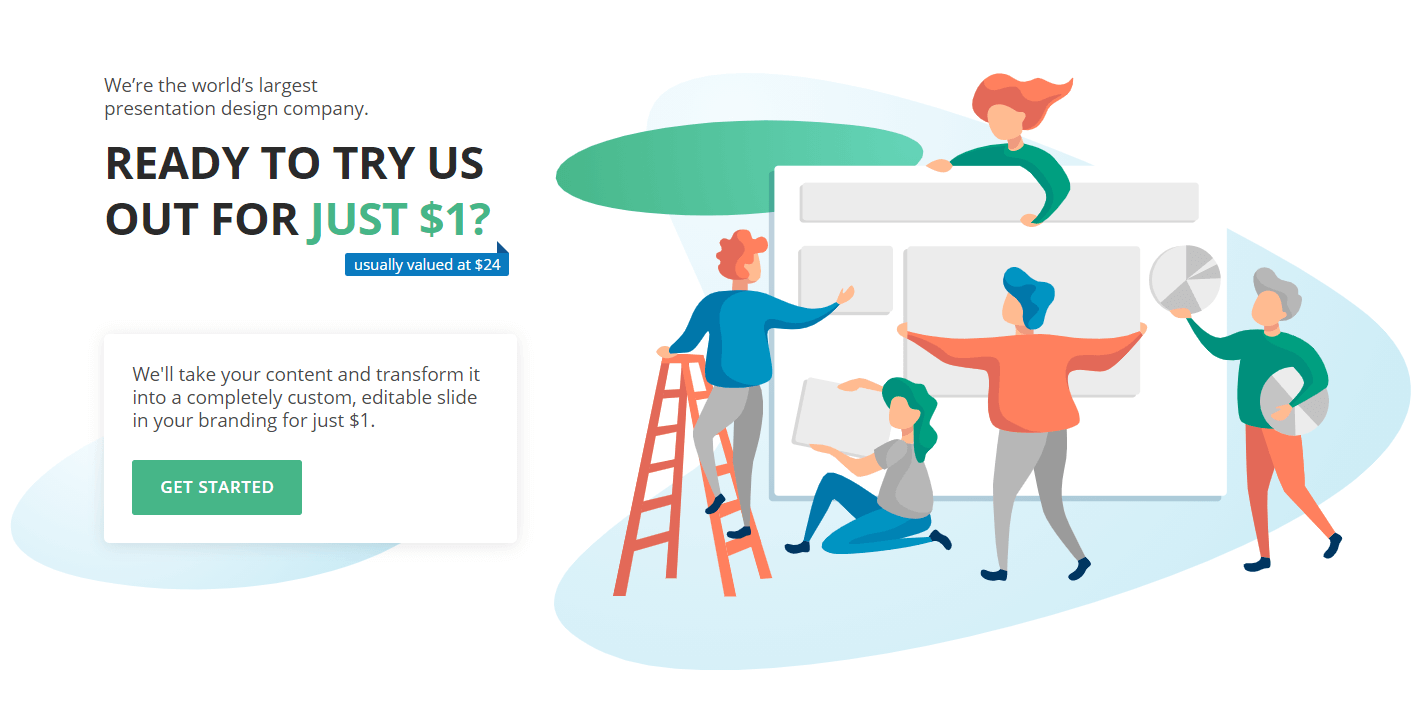 ---
FAQ: Frequently Asked Questions about Branding

What is the best definition of a brand?
According to Insights Magazine, a brand is your company's personality perceived by your consumers. This perception goes beyond the logo and visual content, since its meaning also includes communication messages and marketing strategies.
A strong brand captures your company's mission and beliefs through different elements and channels. It also effectively conveys the emotions you wish to communicate to your audience in a coherent and integrated manner.
What are the 4 elements of a branding strategy?
The main elements of a branding strategy are:
Brand Architecture. Referring to how you structure your products or services. For instance, you can opt for a Corporate Brand, governed by a single brand and identity, or a Product Brand, which creates different brands based on your products, generating distinct identities.
Brand Positioning Statement. A sentence or paragraph describing your brand's position in the market. Consider elements such as the target audience, product category, benefits offered, and evidence (the reason to believe).
Brand Personality. If your brand were human, how would it be? Humanizing your brand helps maintain a consistent tone in your communication messages and visual identity. There are popular brand archetypes that can serve as a starting point.
Brand Promise. Referring to the commitment you make to your audience. To create it, you must deeply understand your audience, analyze their language and the aspects they value most. This promise should be reflected in your messages until your customer service.
How often should you refresh your brand?
If you are wondering how often you should refresh your brand, it may be a sign that it's already needed.
Since every company has unique stories and needs, generalizing a timeframe is unrealistic. Instead, consider these points to evaluate if you need a brand refresh:
You want to improve message consistency.
You seek to boost engagement on social media.
You aim to reach a different audience segment.
You plan to raise your prices.
You face declining sales and want to solve it.
You wish to stay relevant in the marketplace.
For more details, check out our section on "How do you know if you need a Brand Refresh?"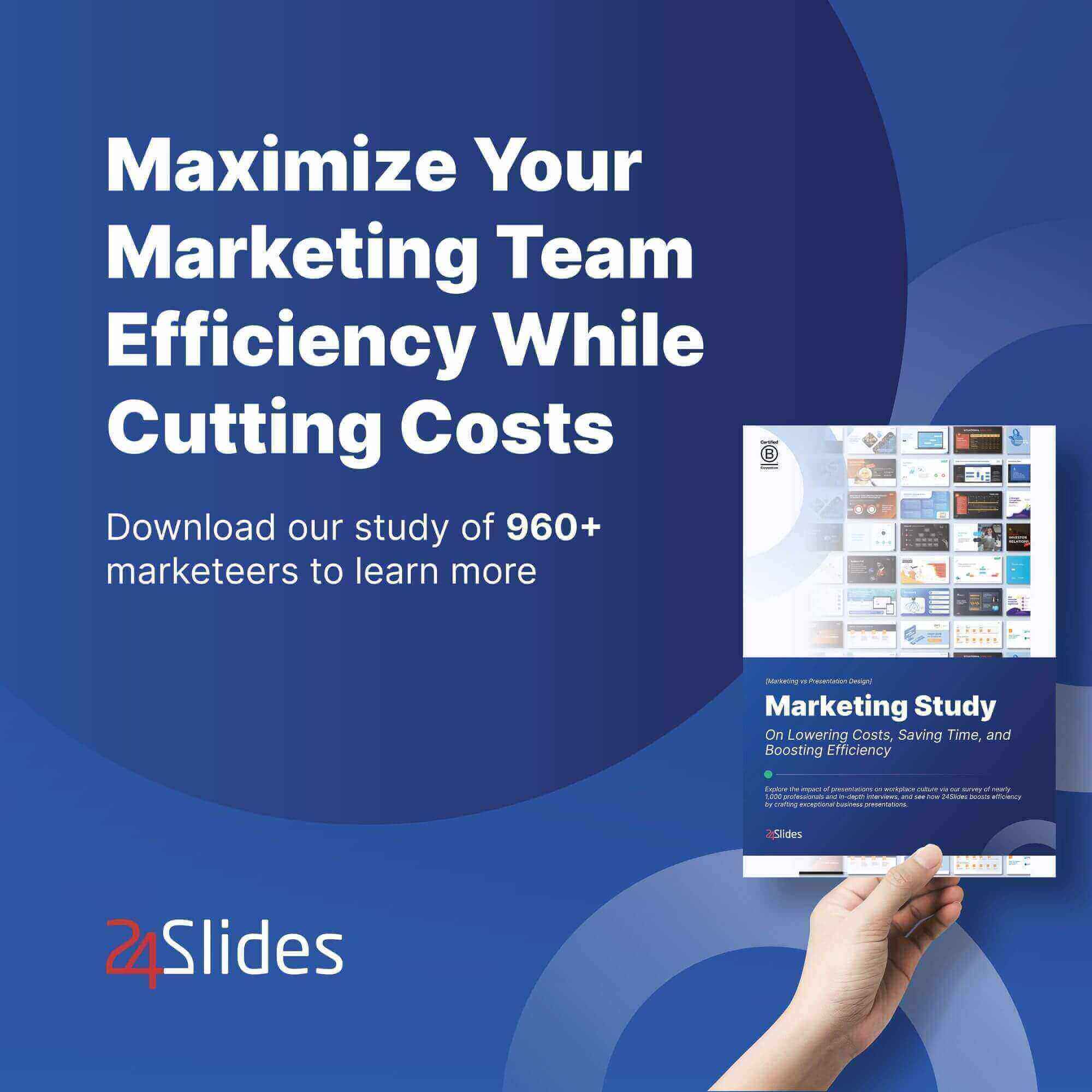 Want to know more about branding? These articles will help you: