Free Organizational Chart Templates For PowerPoint
If you're looking for free organizational chart templates for PowerPoint, you're reading the right article. Now, unlike other kinds of templates (like calendar templates, for instance), you'll actually find plenty of free organizational chart templates on the web.
However, as you probably already know, not all free templates are of good quality. In fact, I'll say it out loud: most free templates are probably designed by amateur designers with zero sense of style. Fortunately for you, you're going to learn the top places where you can download high-quality organizational chart templates (all for free)!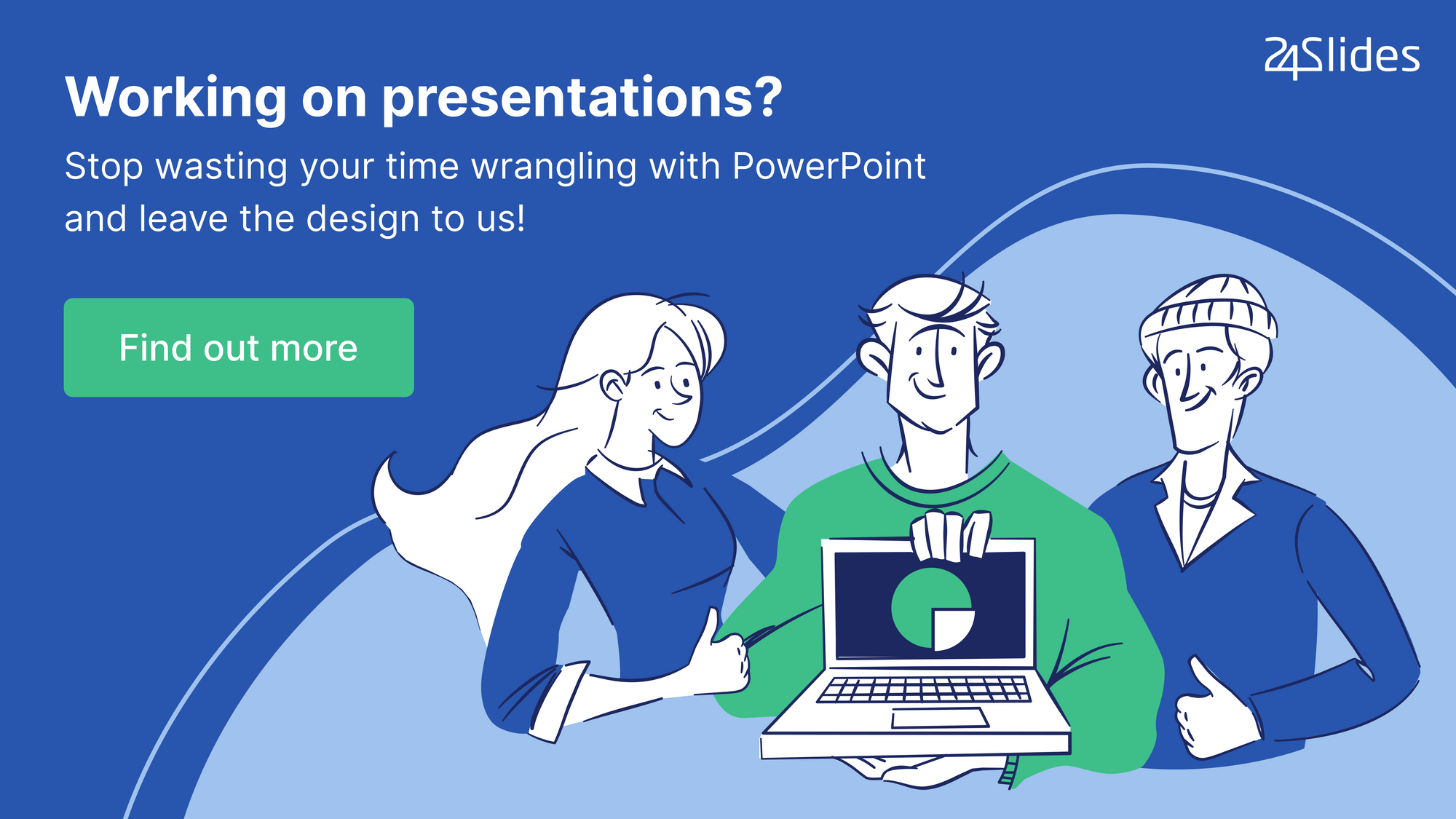 Why Use Organizational Charts?
Organizational charts are visual representations of a company's structure. It helps people see the hierarchical structure of a company from top-level management to everyone at the 'bottom'. It helps people see where they are in the company's hierarchy and how they relate to everybody else.
For instance, if you're a new employee, an organizational chart will help you see where you stand in the company, and how far you are from the 'top.' You'll see who your direct boss is and their bosses above them. You'll see where your team or department stands in relation to other departments.
Org charts are incredibly useful if you want to outline everybody's role in the company. It helps to ensure that there are no overlapping responsibilities and everyone has an official role in the company's success.
Free Organizational Chart Templates for PowerPoint
Without further ado, here are some of the best PPT org chart templates you can download for free: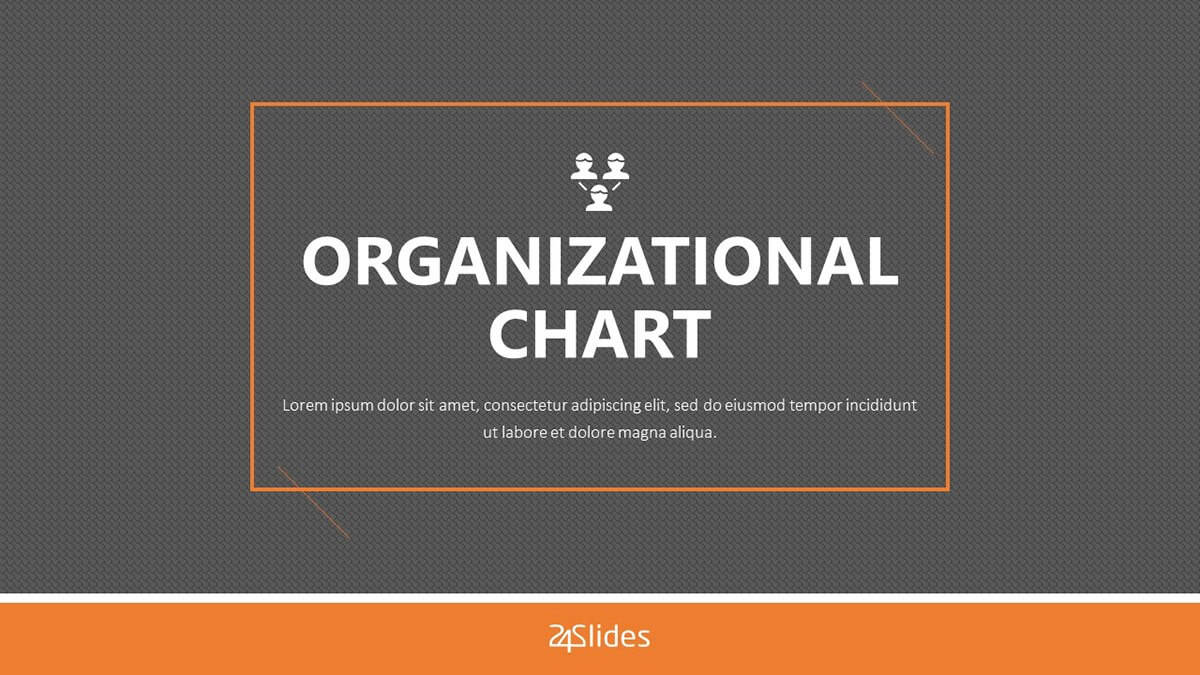 If you're not sure which type of organizational chart you should use for your company, then you should check out this free 10-slide template from 24Slides.
Here's what the 'Horizontal Organizational Chart Template' slide looks like: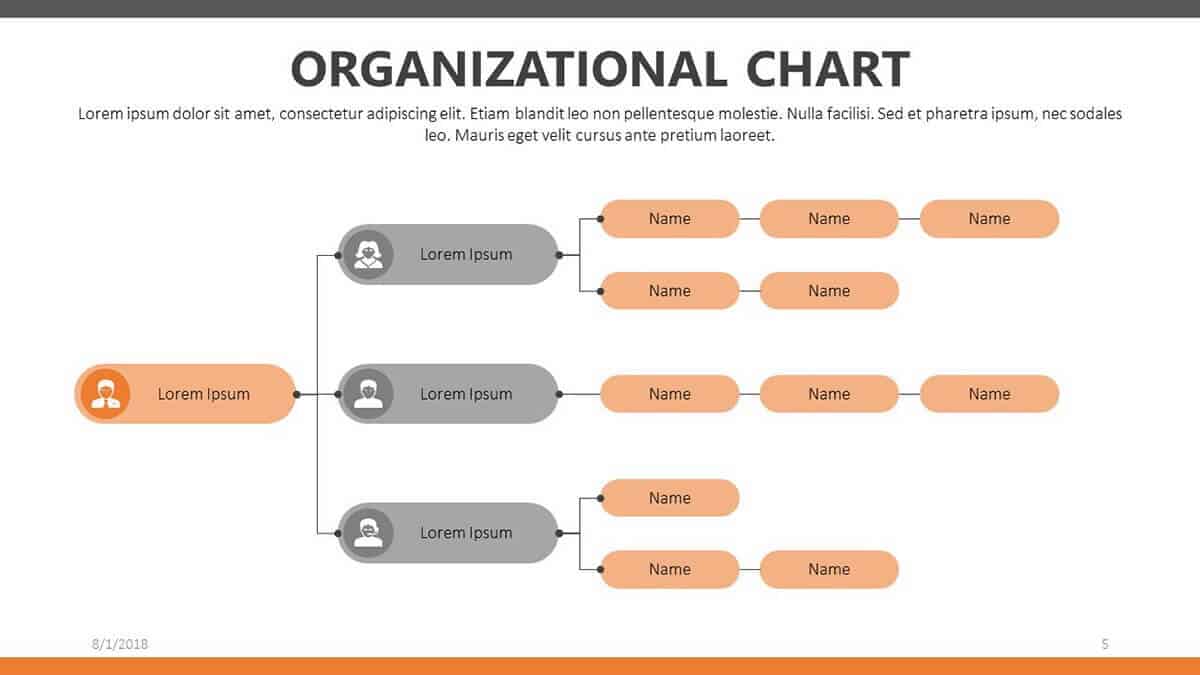 Horizontal organizational charts are great for smaller companies like start-ups. It's because employees are likely to wear many hats and take on shifting roles and responsibilities.
If you want to use a "Divisional Organizational Chart," here's a slide you can use from this template pack: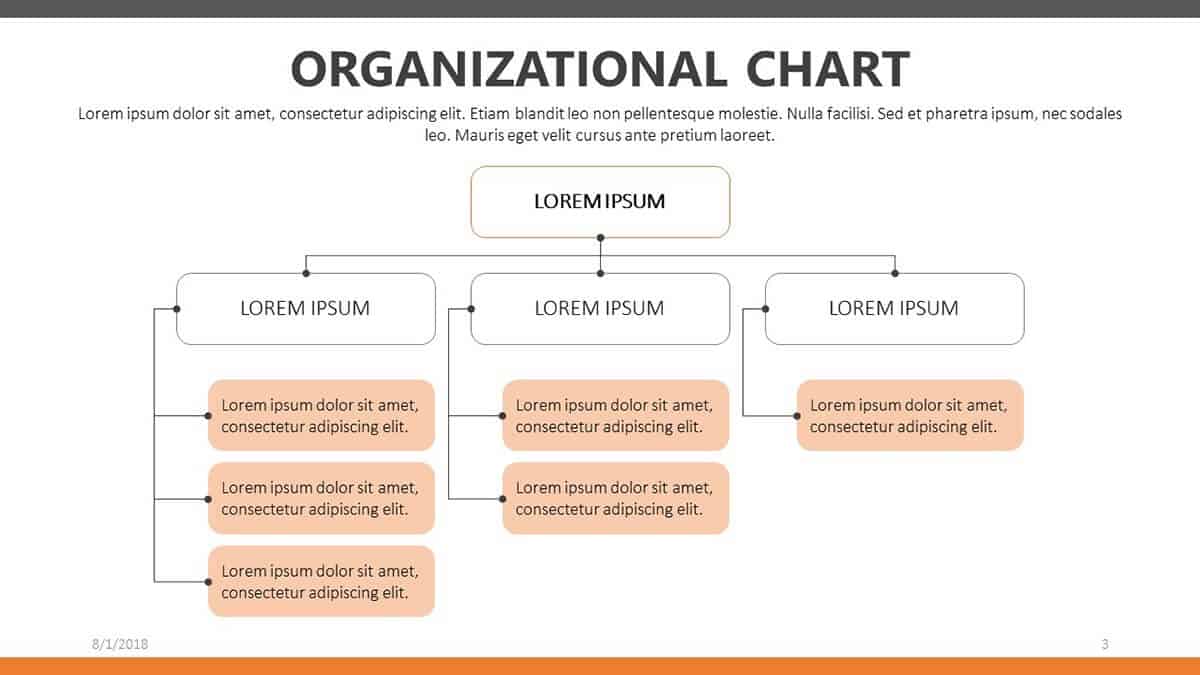 Divisional organizational charts are great for companies with clearly defined and fully independent departments. For example, if you run a restaurant with 3 independent branches, then you can use a chart like this.
You can have restaurant 1 on the left column, restaurant 2 in the middle column, and restaurant 3 in the third column. You'll then list down the names of the managers, assistant managers, and staff in each branch. Of course, you may need to add more columns and rows as you see fit.
Alternatively, you can also use the slide above to indicate the responsibilities for each person on the chart. The white-colored boxes can be the person's name, and the pink-colored ones could indicate their jobs and responsibilities. Feel free to get creative with how you want to use our templates!
The next slide below is a "Hierarchical Organizational Chart."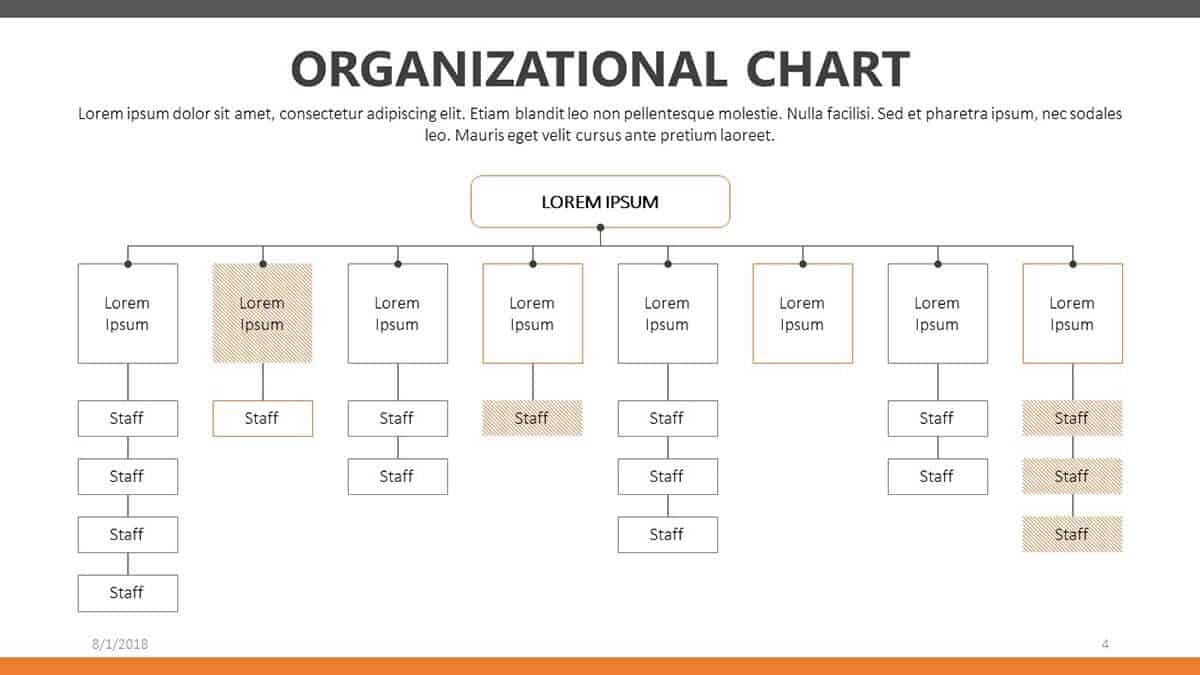 The Hierarchical Organizational Chart is the most common chart you'll see on office walls. Of course, if you have a lot of middle managers in your company, then you'd need to move around some of the boxes. But overall, this slide should give you a good start and allow you to show your organization's hierarchy with just a few tweaks.
If you work for a global or multinational corporation, then you may only want to present the top managers in each location. Here's a good slide that will be perfect for your needs: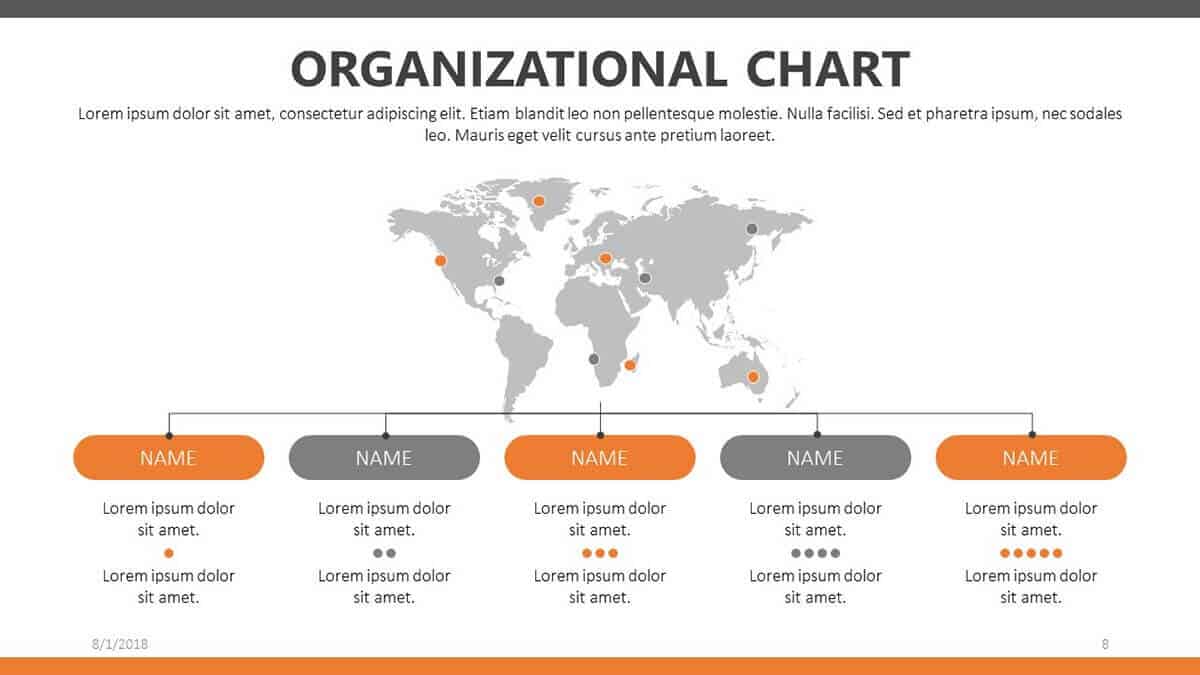 Adding the country manager's name to the template is easy. Simply double-click on the text you want to change and start typing your edits. The good news is if you require more than just 5 names, then you can just duplicate the elements you need to add. There's a lot of different ways you can customize this template.
If you want to use a different map, then you can check out our free Map Templates for PowerPoint. Here's a screenshot of some of the available free map templates:
Don't get confused – this template pack is entirely different from the first one. They're named practically the same because, well, they're both template packs for organizational charts!
If you need to insert people's photos in your org charts, then this is the template pack you need to download. Likewise, if you're looking for an organizational chart with responsibilities template, you'll also see that in this pack!
Alright, so let's go through some of the slides in this pack.
If you want to put a face to the name, then you need to use the slide below. This is perfect if you want to introduce the CEO and other top-level managers in your presentation. If they have staff beneath them, then you can just add staff names and their position. If you want to add their photos as well, then simply edit the slide as necessary.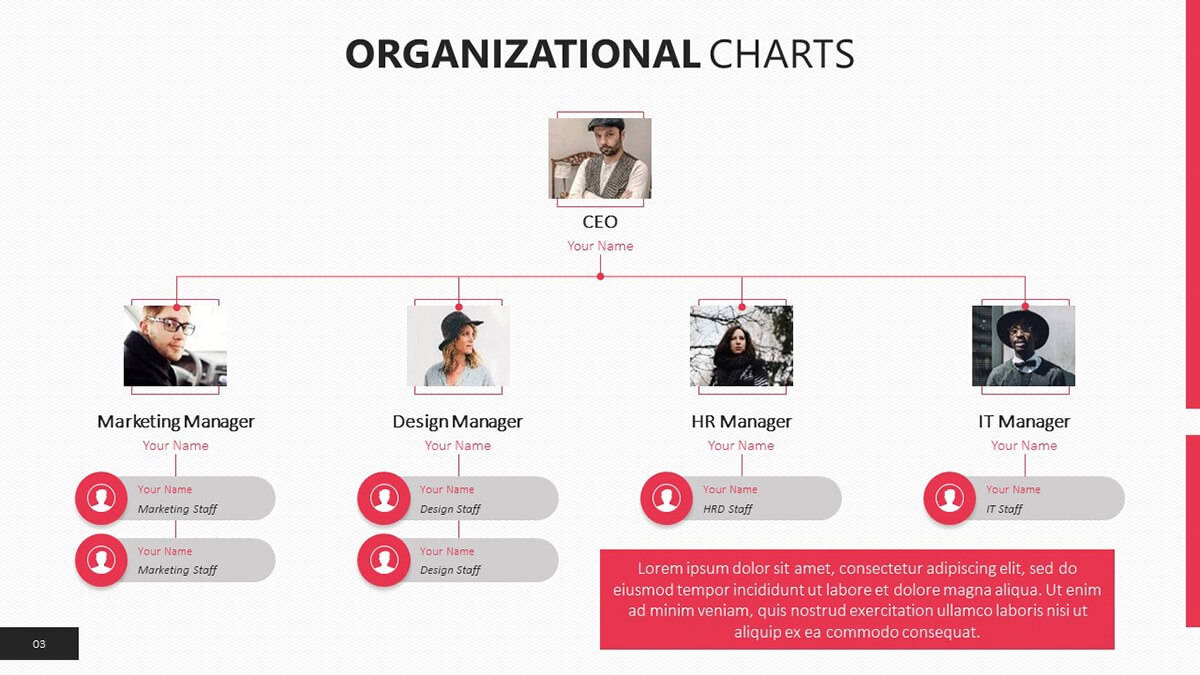 If you want to give more information about the company's CEO or one of your managers or anyone on the team for that matter, then this slide will be perfect for your needs: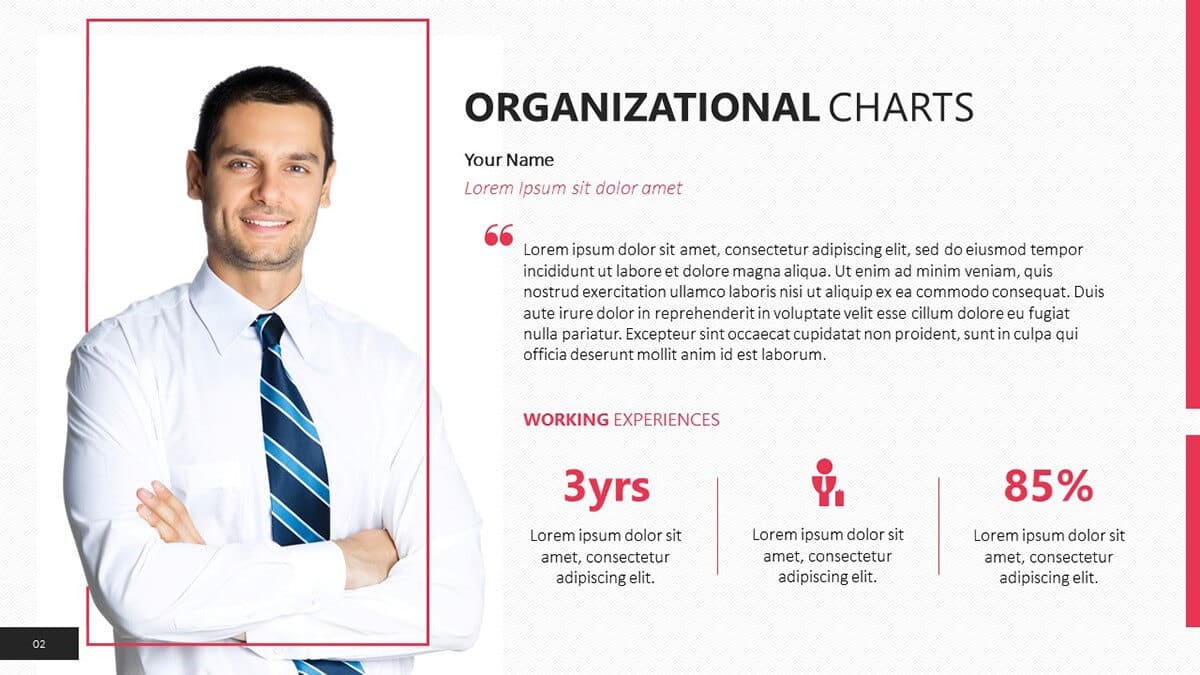 If you want to showcase a specific team, then the slide below will be great. This is especially useful if you want to give recognition to a particular team or department. You can put up a team photo on the left side of the slide, and then list down the names of the team leader and the members.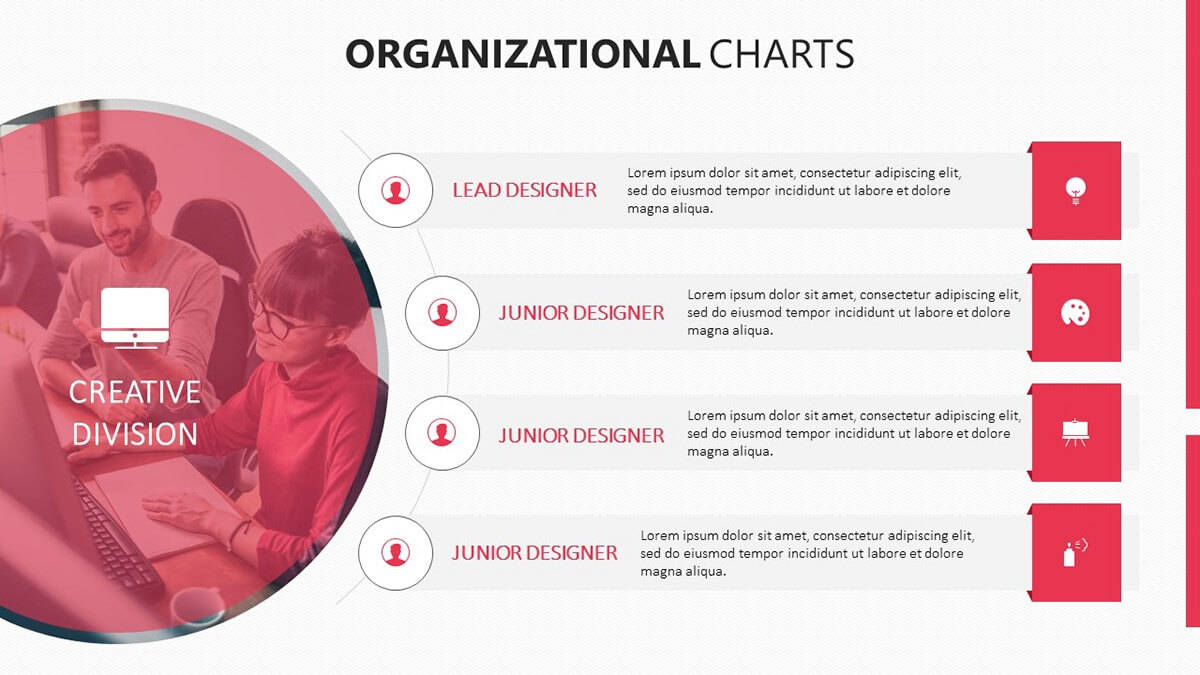 If you want to showcase some fun facts about your organization and you want to get away from the traditional (read: boring) way of presenting your team members to your audience, then the next slide will be absolutely perfect for your presentation!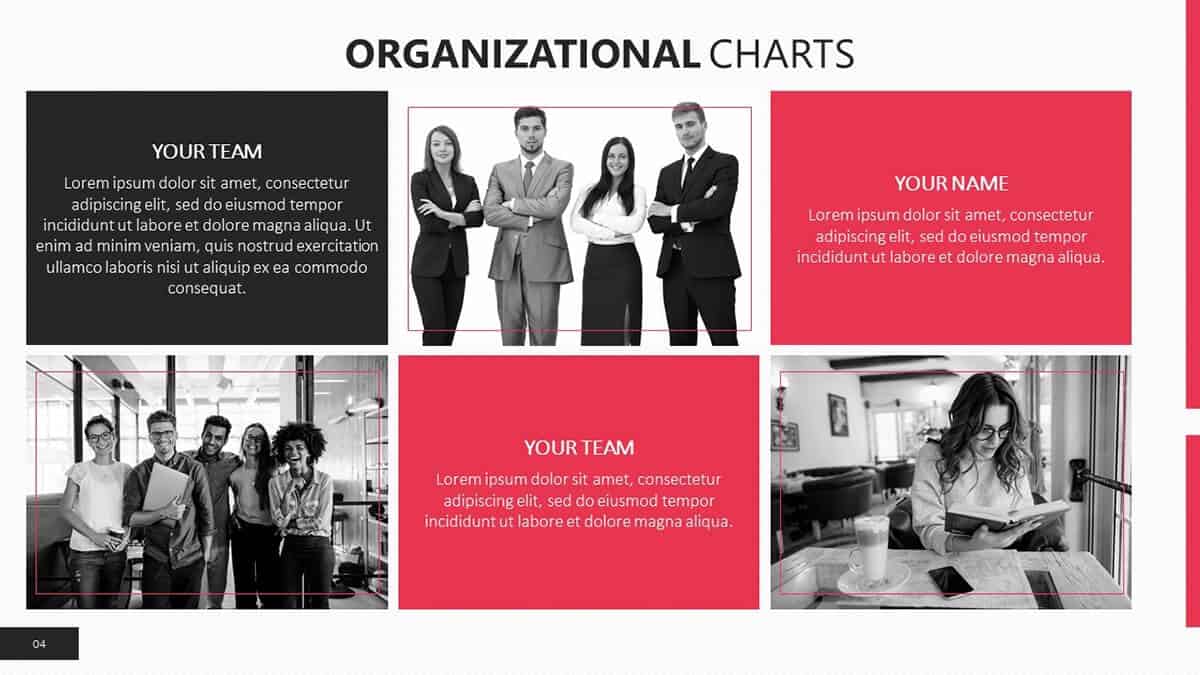 For best results, use the fun photos of the team at work or at play. If you're onboarding new hires, then the slide above will help cement the idea that they're going to love spending time with their new co-workers!
Manually Creating Organizational Charts In PowerPoint
If, for any reason, none of the free organizational chart templates I've shared above is to your liking, then here's a short tutorial you can follow to create your own organizational chart in PowerPoint.
Click on Insert > SmartArt. The 'Choose A SmartArt Graphic' dialog box will open. Click on Hierarchy and select the organizational chart format you want to use (note that clicking the SmartArt graphic will load up that graphic's description).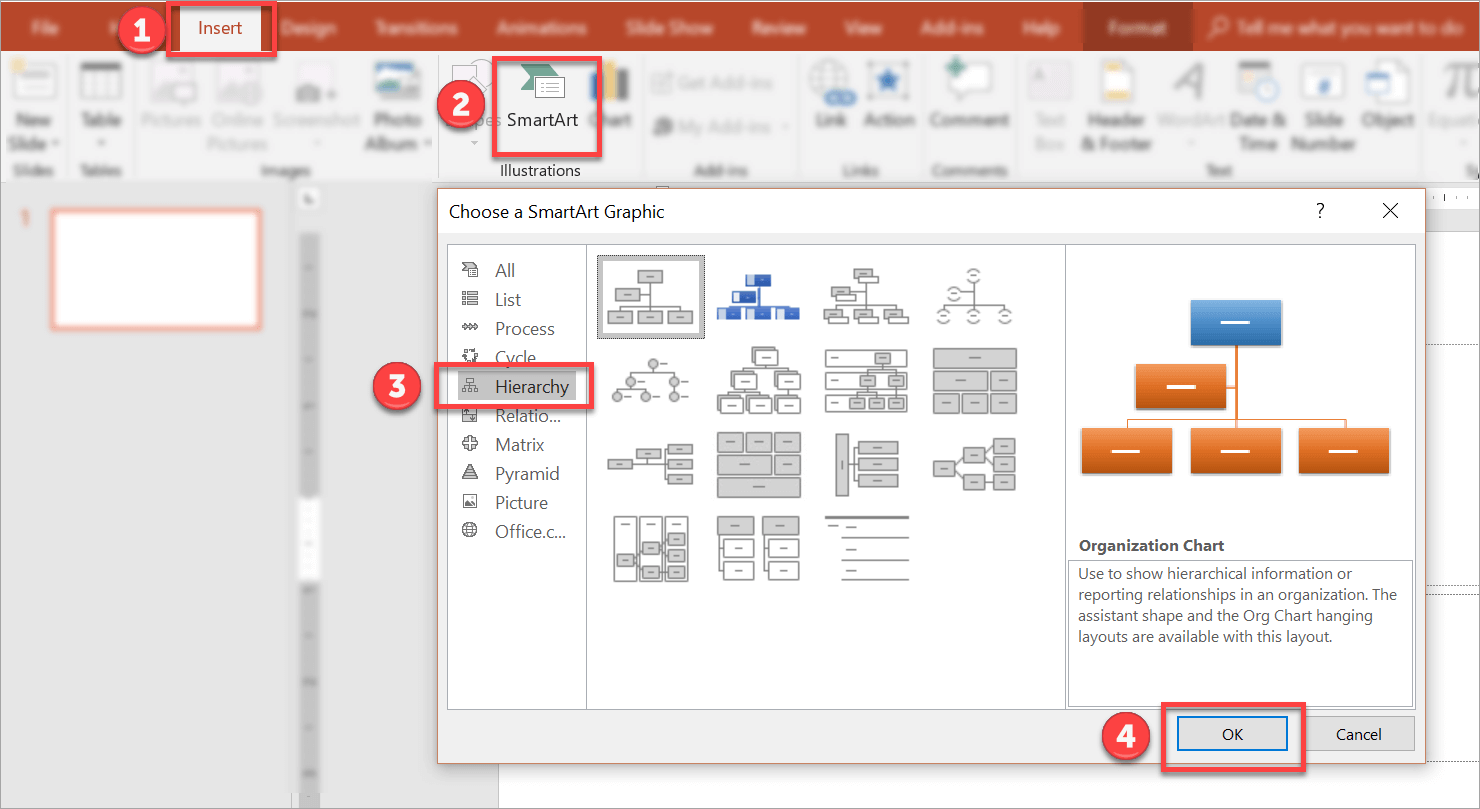 These are the available SmartArt graphics for organizational charts in PowerPoint:
Organization chart
Picture organization chart
Name and title organization chart
Half circle organization chart
Circle picture hierarchy
Hierarchy
Labeled hierarchy
Table hierarchy
Horizontal organization chart
Architecture layout
Horizontal multi-level hierarchy
Horizontal hierarchy
Hierarchy list
Horizontal labeled hierarchy
Lined list
Once you hit OK, PowerPoint will load up your selected SmartArt graphic onto your slide. For this tutorial, I selected the Organization Chart graphic.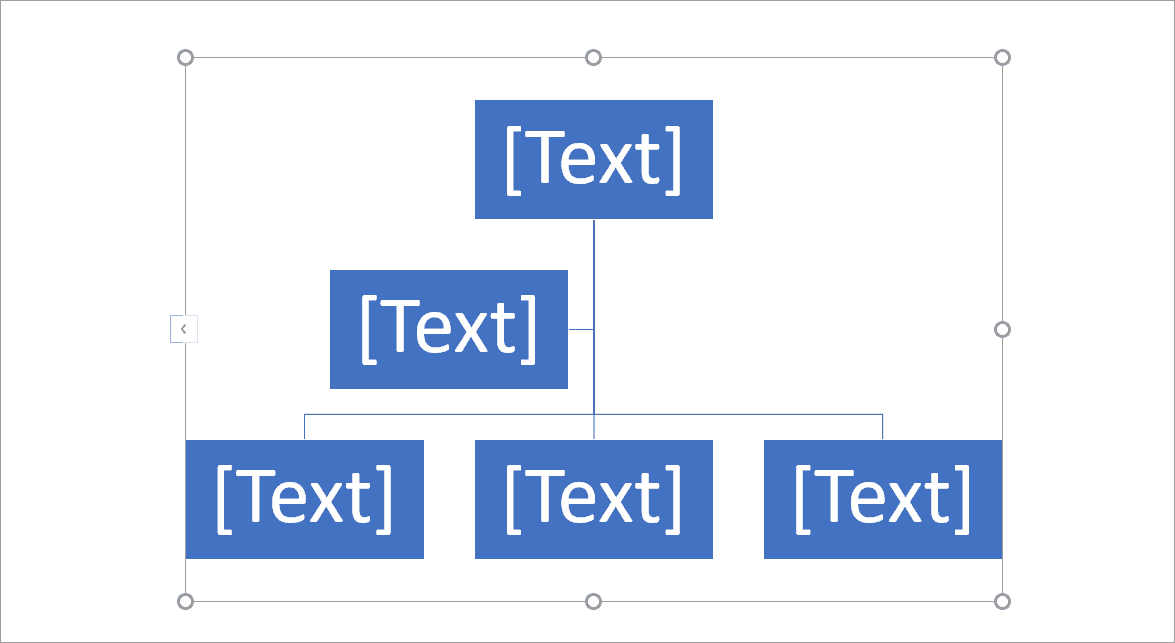 Editing the graphic is as easy as typing on the [Text] boxes. If you want to change the graphic's design or format, simply click on it and the SmartArt Tools menu will appear.

In the Design tab, you can change the layout, colors, the SmartArt Styles, add and rearrange the graphics, etc. In the Format tab, you can change the shapes, shape styles, shape fill/outline/effects, use WordArt, and so much more!
Using An Organizational Chart Maker
If you work for a relatively small company, then your org chart is going to be simple and straightforward. Canva has some good templates for simple organizational charts. It's a good starting point if you don't need to create complicated org charts, and you just want a free organizational chart maker.
But, if you work for a company that employs hundreds or thousands of people, then you or the people in charge of updating the chart (usually HR or human resources) will need to get creative.
Fortunately, with advances in technology, no one needs to create an org chart by hand. Software like SmartDraw and eDraw make the whole process extremely easy. While these don't come free, the good news is you can try before you buy.
SmartDraw Org Chart Maker
For SmartDraw, you can use their online edition free for 7 days. You simply need to create an account, and you'll be able to access the web tool. This is what their Org Chart templates look like: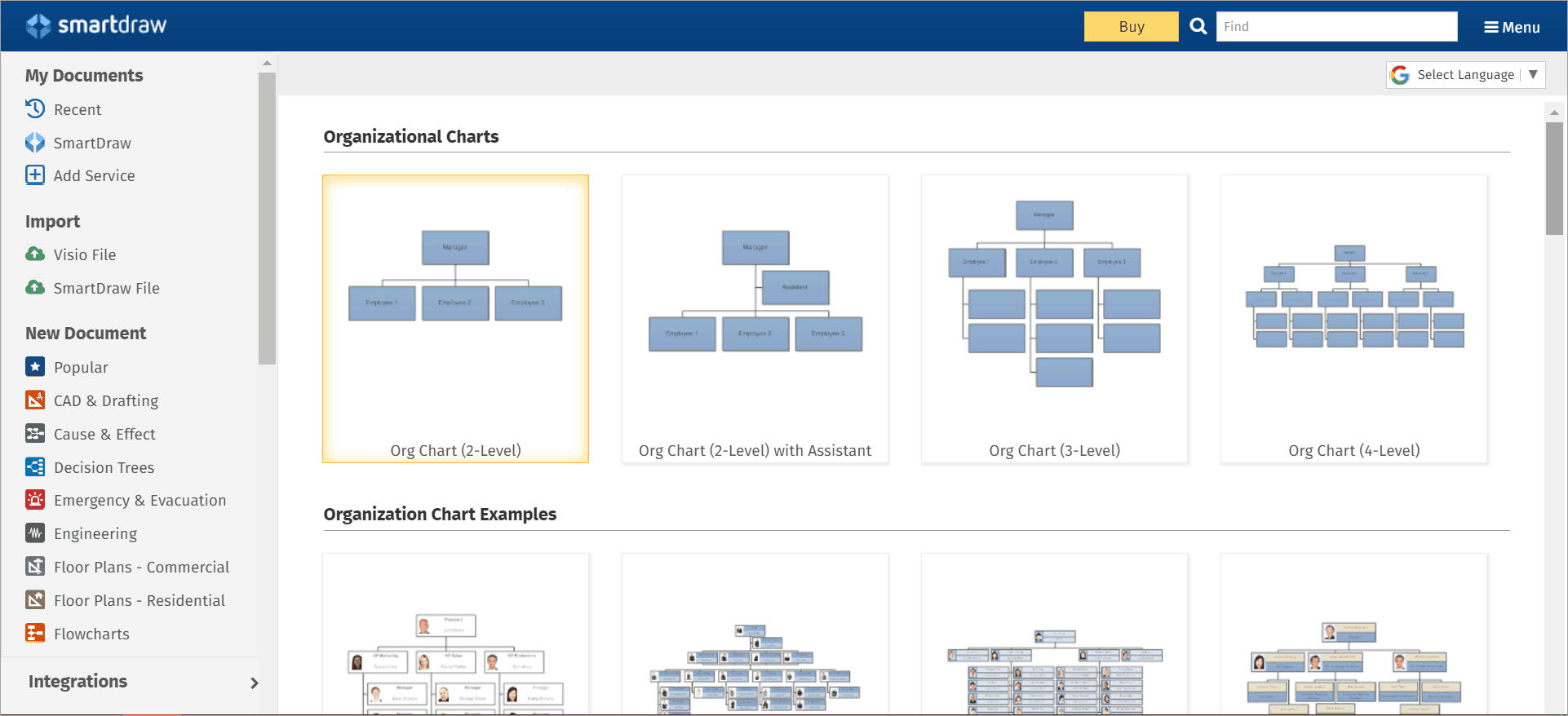 Click on the template you want to use and your browser will open up a new tab. You'll then see this screen below: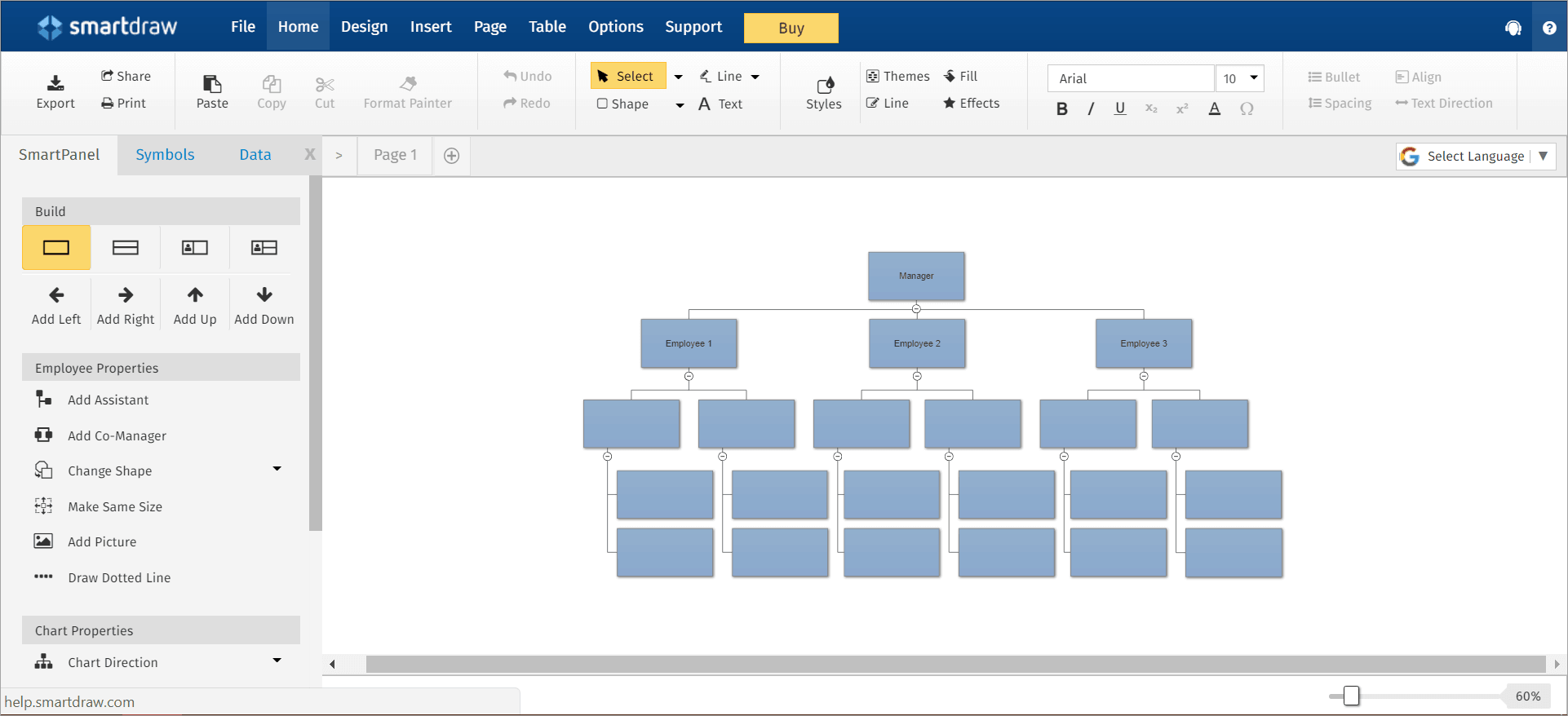 Editing the template is fast and easy. As you can see on the left side of the screenshot above, you can easily add more boxes. You can edit the employee properties, chart properties, and so much more. The software autosaves so you don't need to worry about losing any of your data.
eDraw's OrgCharting Software
Just like SmartDraw, you can also check out eDraw for free. You can download a trial copy of their OrgCharting software here. Once you've installed the software, you'll see this on the welcome screen: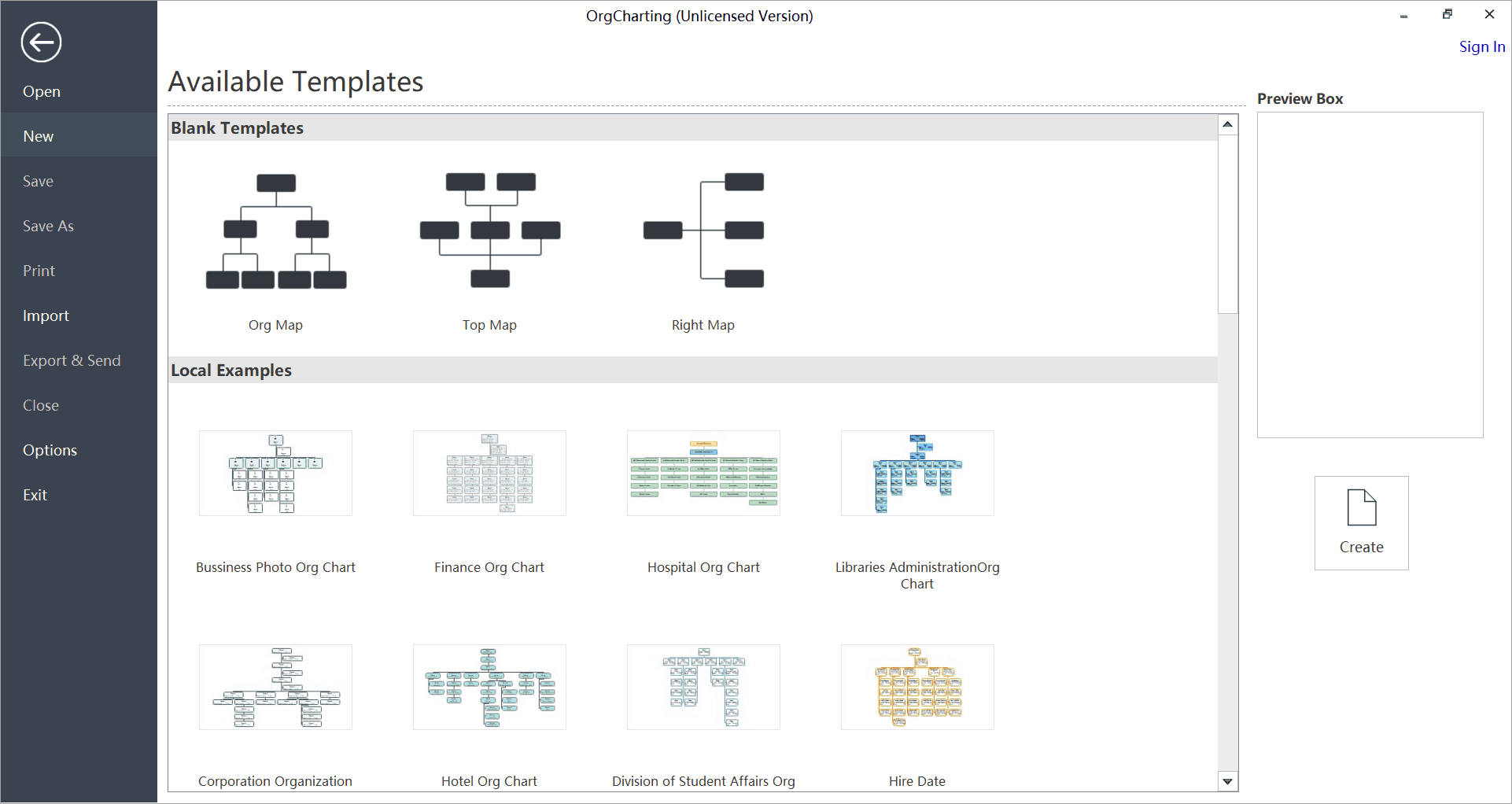 As you can see, you can choose from either Blank Templates or their Local Examples. Click on the one you like, then hit the Create button on the right side. For this example, I chose the Hire Date template. This is what the editing screen looks like: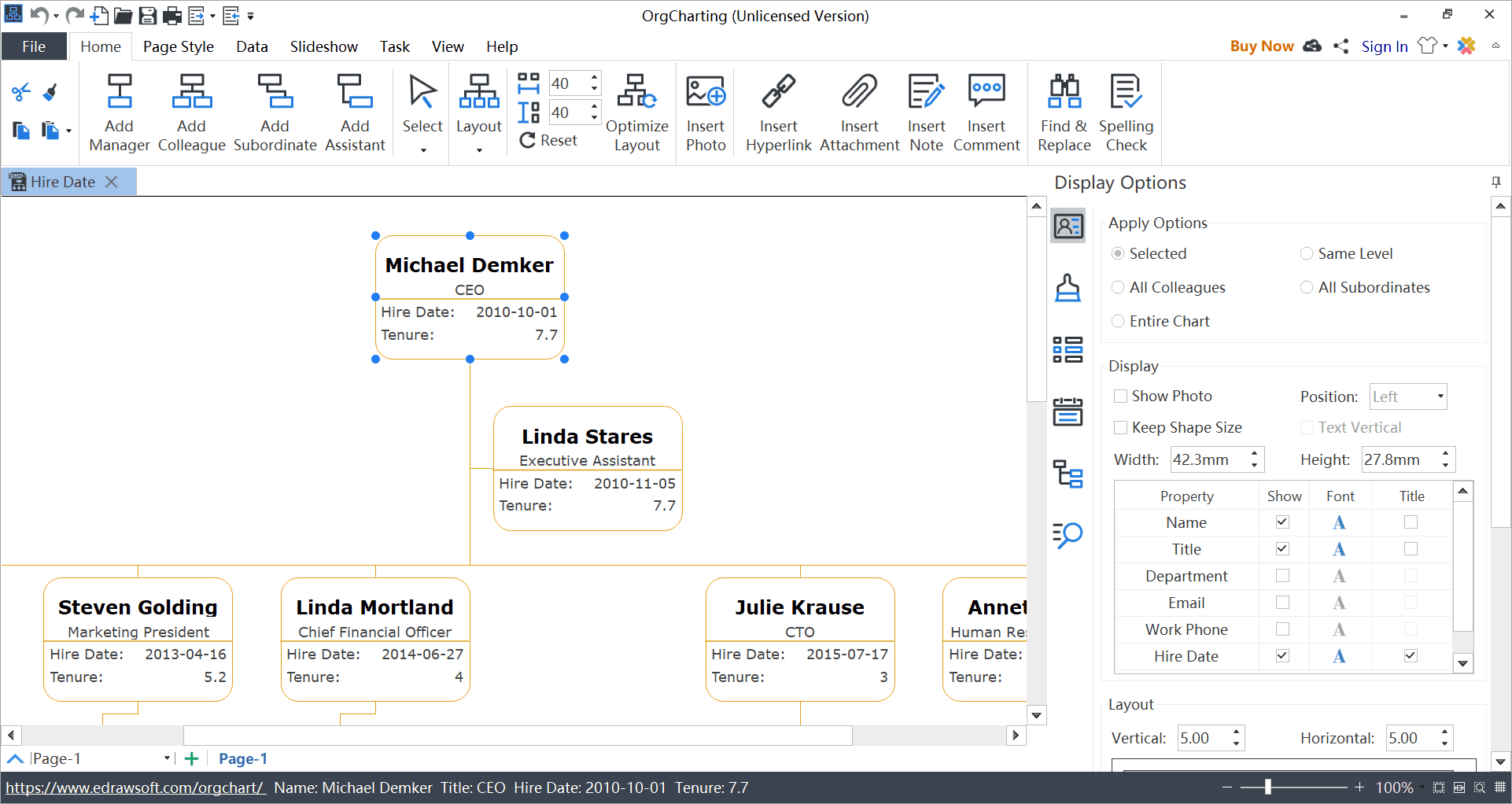 As you can see from the screenshot above, there are a ton of different options on eDraw. You may need some time to get yourself acquainted with all the different features as it's easy to get overwhelmed with the plethora of options available. If you want to make the most of your free trial, I suggest you read their OrgCharting software manual or watch their video tutorials.
What's really awesome about eDraw is that if you need to present your organizational chart, you don't need to export it to a different file type so you can show it on PowerPoint. You just need to click on the Slideshow tab, and you'll be able to present your chart! Here are the options on the Slideshow tab:

Slideshow options include presenting your chart by box or by branch (great if you have multiple departments in your organization). Alternatively, you can also just display your chart on full-screen mode.
Exporting to PowerPoint
Both SmartDraw and eDraw make it easy enough to export your organizational charts to PowerPoint. However, you'll need to buy a subscription for both software if you want to remove the watermark on the exported file.
Presenting Organizational Charts In PowerPoint
Presenting complex organizational charts used to be a headache, but not anymore. With the introduction of the Morph and Zoom transition in PowerPoint, You can show the overview of your org chart and then zoom into the different branches/departments. How awesome is that?
To give you an idea of how this can be done in PowerPoint 2016, you should check out this video:
Final Words
Any organization worth their salt needs to have an organizational chart. This helps streamline the company and helps make sure the right people are doing the right jobs. Thankfully, presenting this information to an audience nowadays is relatively easy using any number of tools available online. The free organizational chart templates we've shared in the first part of this article should be a good starting point for your PPT presentation!