11 Time-Saving PowerPoint Hacks For Creating Quick Presentations
If you've ever left a PowerPoint presentation for the last minute, you've probably ended up with the surprise that it takes up way more time than expected. We've all been there! Going from the default all-white canvas slides to a professional presentation that truly conveys your message and represents your brand takes time and effort. The easiest way to save time creating PowerPoint presentations is to outsource the process. It is, hands down, the most effective way to get the task of doing PowerPoint out of your hands forever. However, there are still a lot of time-saving PowerPoint hacks that do not need any money investment. Here you'll find 11 easy tips to save time when creating PowerPoint presentations.
And even better, these PowerPoint hacks work even better in unison. At the end of the article, you'll find a step-by-step guide on how to use these presentation tips in conjunction to save time and make a professional-looking slide pack in less than 3 hours.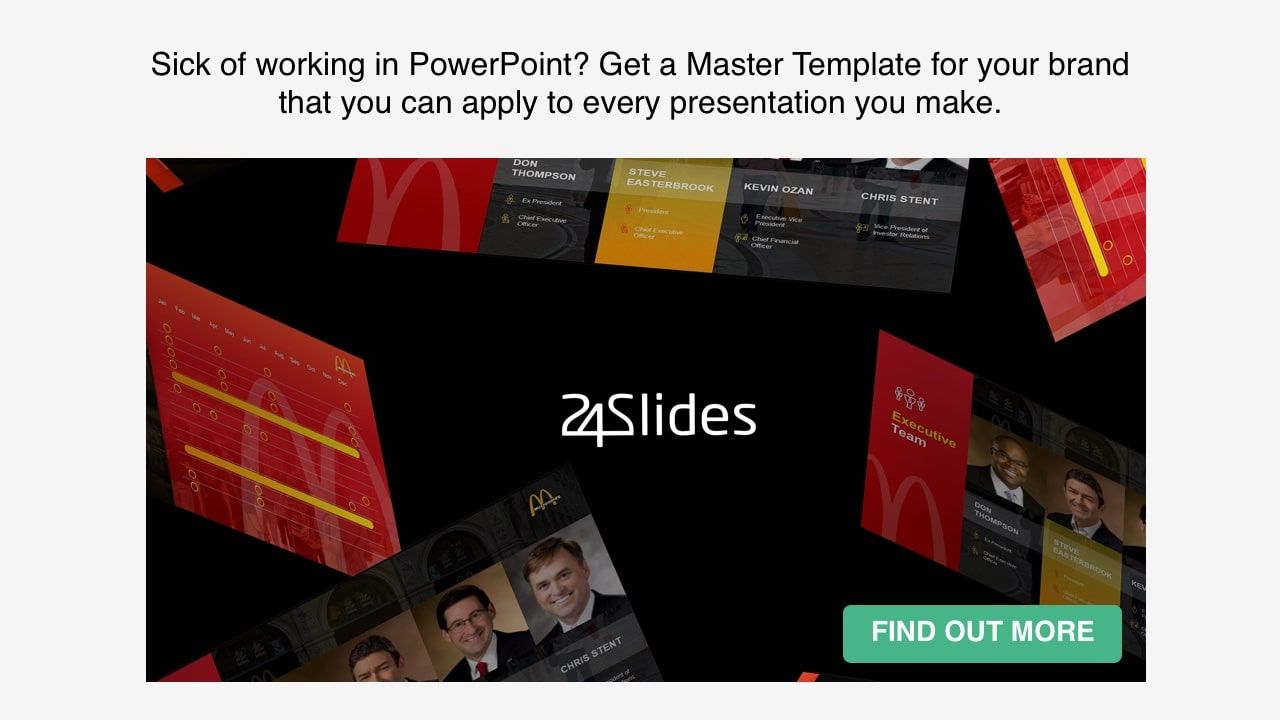 The average time spent working on presentations is 4 hours
Working on presentation slides is a common task for pretty much everybody. Whether you're a student, a manager, or a CEO, PowerPoint offers an incredible array of options for public speaking. Chances are, you're already investing hours and hours of time and effort into PowerPoint presentations. For those who have to constantly work with it, learning how to save time creating PowerPoint presentations can become a key skill. According to our surveys, the average executive will spend around 4 hours a week working on presentations. This might not sound as much, but it sums up to 141 hours a year -probably at least $7,000 worth!
This means that learning how to save time creating PowerPoint presentations will not only free you time for more important tasks, but it can even save you precious money. Hopefully, these 11 time-saving PowerPoint hacks will help you become more efficient in your presentation creation process!
11 time-saving PowerPoint hacks to optimize your time better
The easiest way to make a PowerPoint presentation that looks both good and doesn't take much time is to keep it clean and simple. A minimalistic style can be a great approach if you're trying to save time when working on a PowerPoint presentation.
Luckily, there are a lot of options for improving your presentations' design while still saving time! You don't have to spend hours and hours working on PowerPoint presentations if you're strategic in your approach. The PowerPoint hacks you'll find in this list are easy to implement whether you're a newbie or you've been working with PowerPoint all your life. And they will help you create a presentation that looks professional without taking hours of your time!
Time-saving PowerPoint hack #1: Plan ahead
One tip for saving time when creating a PowerPoint presentation that many people forget to take into consideration is working on the planning stage. Outlining might feel like a waste of time when you're trying to get something done as fast as possible. However, it can be an invaluable step that can help you reduce time in the following tasks.
Planning can be something as easy as asking yourself some baseline questions for your presentation. For example, who is my audience, and what previous knowledge of this topic do they have? Or how do I want my brand to be perceived? Thinking about these things beforehand can help you define what you should include in your presentation and what it should look like. It can help you define what sort of data and information you need so you can make sure to collect it all beforehand. It can give you an idea of what sort of slides you should include, like a timeline, or a bar graph.
Even if it's just a quick brainstorming session, having some previous idea of what you want your presentation to include will make the process of creating and designing your slides much more easier and efficient. Planning ahead will not only help you save time but also improve the quality of your presentation. By doing the extra work of outlining your presentation, you will be able to make sure that all the important points are being delivered and that your message is being conveyed exactly as you want it to be.
Time-saving PowerPoint hack #2: Outsource your PowerPoint presentation design
The most effective way to save time when creating a PowerPoint presentation is, hands down, not to do it yourself! This might come as a surprise for you, but outsourcing presentation design has become a very common practice among professionals in all kinds of industries. And no wonder why! It allows you to completely get rid of the annoying task of fiddling around for hours in PowerPoint while still getting an amazing final product.
If you want a truly outstanding presentation that will impress your audience and make them remember you long after the presentation is over, then professional help is probably the best way to go. By outsourcing your PowerPoint design you'll not only get the 'wow-factor' assured, but you'll also have much more free time for working on your presentation's content and rehearsing or even other business tasks.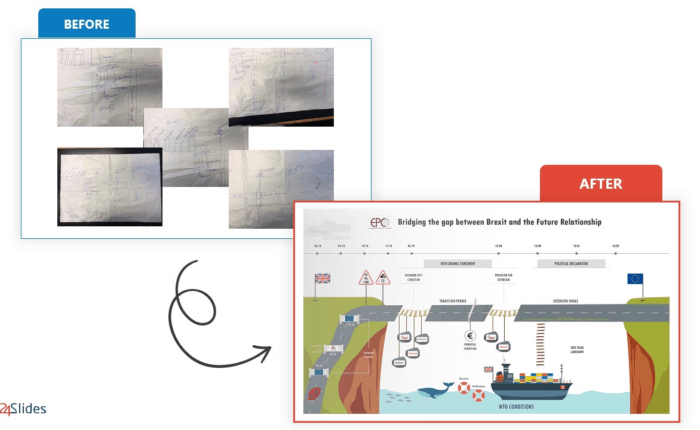 The power of outsourcing presentation design
When talking about being strategic with your time management and your presentation-making process, outsourcing is definitely at the top of the list. Leaving it at the hands of professional PowerPoint designers has been proven to save around 37 minutes per slide. This means that in a small presentation of just 7 slides you would be saving more than 4 hours!
Many people quickly dismiss outsourcing because they think that the price is too restrictive, or simply not worth it. But you would be surprised by the number of offers and options when talking about outsourcing presentation design. You can hire freelance designers, but there are also design agencies that work with worldwide companies and are experts on professional PowerPoint design. 24Slides works with some of the biggest companies worldwide, and offers custom-designed slides starting at only $9! You can even adjust the price according to how much detail you want to be put in your slides and how soon you want them to be delivered.
For a little extra pay, outsourcing offers you the possibility to completely forget about working on presentations, freeing up time for more important tasks. Plus, you get a custom-made, professional design that will take your presentation from 'okay' to 'unforgettable'.
Time-saving PowerPoint hack #3: Use PowerPoint Templates
If you prefer non-paid options, however, there's still a lot of PowerPoint tips and hacks you can use to save time when working on your presentations. And one of the most effective ones is definitely to work with templates. Templates are pre-made presentation designs you can fill and edit to fit your own needs. Microsoft Office itself offers a huge library of PowerPoint templates that you can go through to easily upgrade your presentations in pretty much no time.
There are also thousands and thousands of templates you can find online. There are probably PowerPoint template designs for every single topic you can think of. So if you're looking for a specific business model or theme, it's definitely worth looking up for some specialized templates that will help you get a great presentation with minimal effort.
On our Templates by 24Slides platform, you'll find hundreds of professionally designed PowerPoint templates. And the best thing is, these are all completely free of charge! You can download as many as you like, and even mix-and-match slides to create your perfect presentation.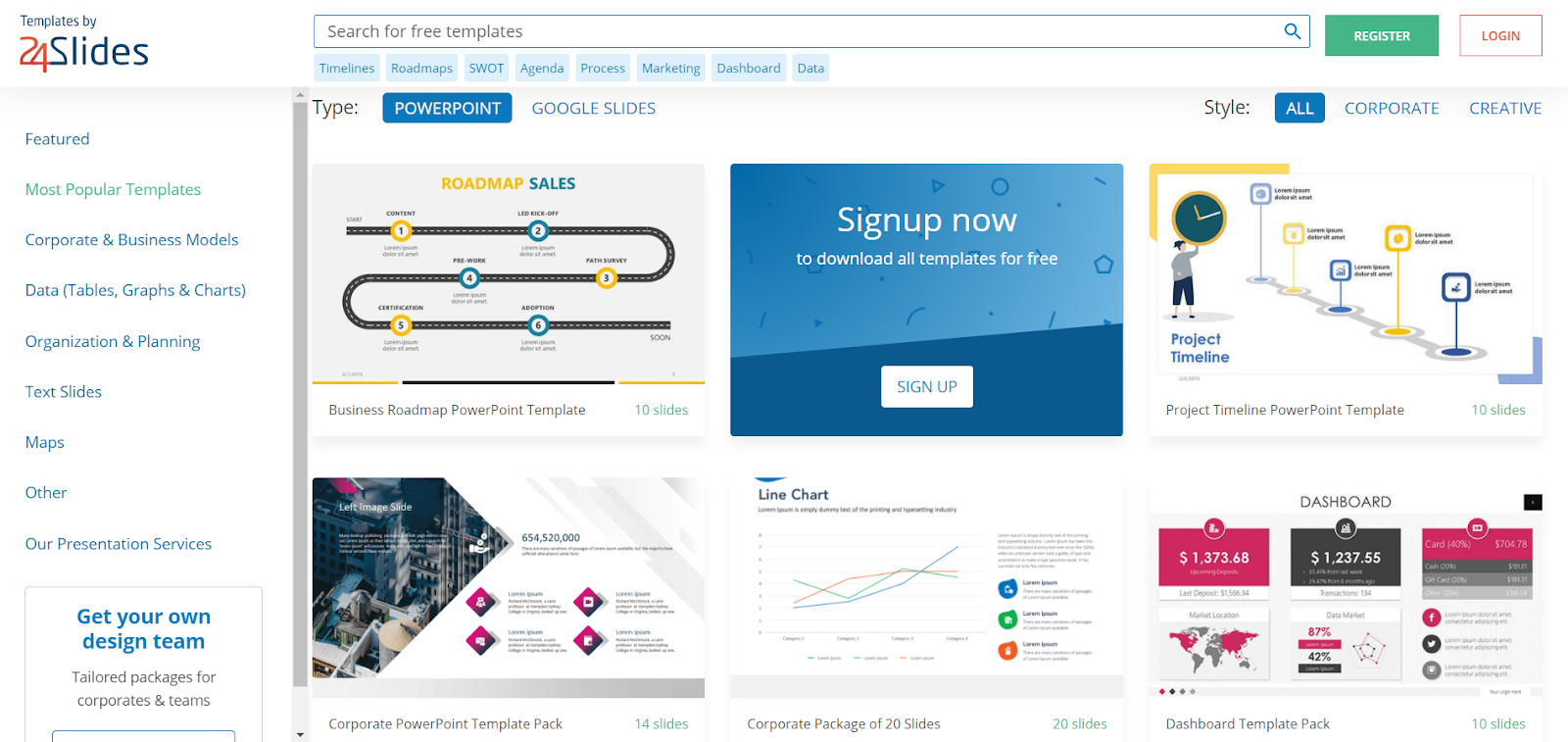 The downside of using templates is that you'll still have to invest some time in editing and formatting the slides to fit your presentation. Even if it's only just adding the text to the template, you should still expect some effort to be needed. And as specialized as a template might be, you'll never find a slide-pack that fits exactly your every need like a custom PowerPoint presentation would. But it is still a great option when looking for ways on how to save time creating presentations, as you'll no longer be creating a presentation from scratch.
Time-saving PowerPoint hack #4: Convert your documents into PowerPoint slides
Another PowerPoint hack that can save you time when creating a presentation is directly converting your document into a PowerPoint file. For example, you can automatically convert a Word document into PowerPoint slides. You can even use different title sizes to divide your document into slides automatically!
However, it's important to remember that a PowerPoint slide should never have the same amount of text as a word document. This PowerPoint hack is great to save your time with some tedious copy-and-pasting. But you're still going to have to edit and alter it to make the most of your PowerPoint presentation. Filling your slides with text blocks is one of the easiest ways to bore and lose engagement with your audience. So when using this tip, be sure to be strategic when working with text!
Time-saving PowerPoint hack #5: Use the Design Ideas Tool
If you don't find a template to fit your needs, or you want to make your slides from scratch, there are still some quick hacks that can make your PowerPoint design tasks easier. A great option for this is to take advantage of the Design Ideas Tool. This is a new feature for the Microsoft 365 subscription that will truly change how you design PowerPoint slides.
The Design Ideas Tool offers automatically generated design suggestions for your slides. It has great-looking, professional layouts, and it allows you to convert text into images and even graphs. This smart feature is definitely a gold mine when talking about saving time when working on PowerPoint slides. Like many features, it has a learning curve, but it's fairly easy to use. You can also easily customize the slides after you're done with what the Design Ideas Tool has to offer. In short, it's a great starting point for quick PowerPoint slide design!
Time-saving PowerPoint hack #6: Use a unifying customized background
A great hack to make your PowerPoint presentations look better and cleaner with minimum effort is to work in your slides' background. An all-white default slide background is a telling sign of a last-minute presentation, and it can make you look lazy and not detail-oriented. A good background can completely change the look of your entire presentation. And the best thing is that it's very easy to do!
A dark background, for example, can give your presentation a very clean and professional look. It can help make the other elements pop-up, and keep your audience engaged. A textured background can take a plain presentation into an interesting one. The most important thing to keep in mind when working with backgrounds in PowerPoint is that it should never get in the way of your slide's content.
An extra tip for saving time with PowerPoint backgrounds: Use a neutral backdrop that can be used for several slides. Not every single slide needs to have a unique background. You can save a lot of time repeating the same background along with your presentation. Even better, it'll become a unifying design element, and you can save a more eye-catching, unique background for a title slide, for example.
Time-saving PowerPoint hack #7: Work with icons
Icons are great visual elements that can truly upgrade your presentation's looks. This PowerPoint hack can quickly and easily turn a plain slide into a professional-looking one. Icons are an amazing tool for presentations because they can represent all kinds of concepts and categories in a very small space. Plus, the fact that they are images instead of text will help you declutter your presentation's slides and make them look cleaner and sharper. Use icons to play with your slides' layout. You'll see how easy it is to make a presentation look much better with just a few of them!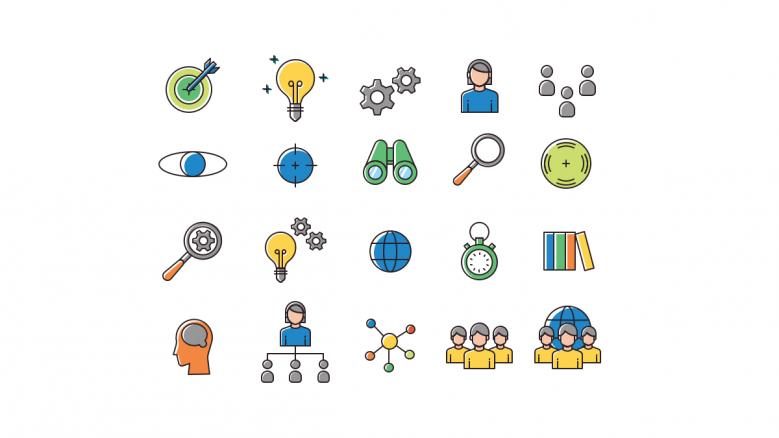 The best thing about icons is that they're easily accessible too. You can find hundreds of free icons online and import them into PowerPoint. You can even create your own icons! When talking about time-saving PowerPoint hacks, however, the best option out there is the Templates by 24Slides platform. You'll find icon packs for all kinds of business topics that you can download for free and directly copy-and-paste into your own slides.
Time-saving PowerPoint hack #8: Stick to a single color palette
One of the most tricky things to take into consideration when working on PowerPoint design is the color palette. It can easily become a very distracting and time-consuming detail. Picking a color scheme will help you easily edit any PowerPoint template you choose to use, or even the slides you create with the Design Ideas tool. It gives you quick access to a determined color palette so it's easy for you to edit and unify your slides' design.
Microsoft Office offers some pre-made color palettes you can pick from, but you can also create your own color scheme in PowerPoint! This will not only save you time when working with your slides, but it'll make sure that all your presentations stay on-brand.
Time-saving PowerPoint hack #9: Make the most of PowerPoint add-ins
Another PowerPoint hack that very few people take advantage of is using PowerPoint add-ins. PowerPoint add-ins are specialized tools that give you extra features beyond what Microsoft Office offers by default. If you're someone who works with presentation design constantly, PowerPoint add-ins can help you make your work a little bit easier.
You can find amazing free PowerPoint add-ins for very specialized tasks. For example, THOR allows you to copy an image's position into another slide -great for adding watermarks and logos. Word Cloud, just like its name suggests, helps you create and personalize word clouds for your presentations. Or my personal favorite, PowerPointLabs.This add-in has a lot of amazing PowerPoint hacks that will make your life easier. Its "Positions Labs" automatically organizes images and icons in your slides, making sure they're the same size and arranged just like you want them to be, so you don't have to do it manually. It might seem like a small thing, but if you have ever worked with icons and tried to get several of them in a straight line, you surely know how much time it can take!
Time-saving PowerPoint hack #10: Learn to use master slides
Master slides are perfect for "baking" repetitive elements. It can help you add watermarks, logos, and any kind of element that you want to keep throughout your presentation. You can even set information concerning the design, like themes, backgrounds, colors, animation effects, and much more. While it might be tricky to get the hang of this PowerPoint hack at first, it's definitely worth the effort, as it can help you save tons of time.
Learn more about working with master slides with this Ultimate PowerPoint template guide.
Time-saving PowerPoint hack #11: Reuse your slides
Finally, a must-do for all those who have to constantly work with PowerPoint presentations: Reuse! Why start a new presentation from scratch every time when you've already spent so much time and effort on the last one? This doesn't mean that all your slides will look the same. You can still edit them and change elements. Reuse a set of slides for another presentation by changing the color themes and icons to fit the new topic. You can even reuse slides within the same presentation. For example, you can reuse a slide layout that can be used to convey different kinds of information.
How to save time when working with a constant presentation demand?
Working with PowerPoint presentations constantly can feel like a tiresome, tedious task. But practice makes perfect. The more you get to work with PowerPoint design, the more likely it is for you to become better and spend less and less time on it. The last two PowerPoint hacks are a must for those who have to constantly create new presentations. Learning how to use master slides will allow you to have a go-to design whenever you need to work on a new presentation. And reusing your slides for a new presentation is definitely a life-saving hack when working on PowerPoint!
If your work demands a high amount of PowerPoint presentations constantly, you might also want to consider getting a dedicated team of designers for it. If it's a repetitive task that takes time away from you and your team recurrently, then it's definitely worth it to get some professional backup.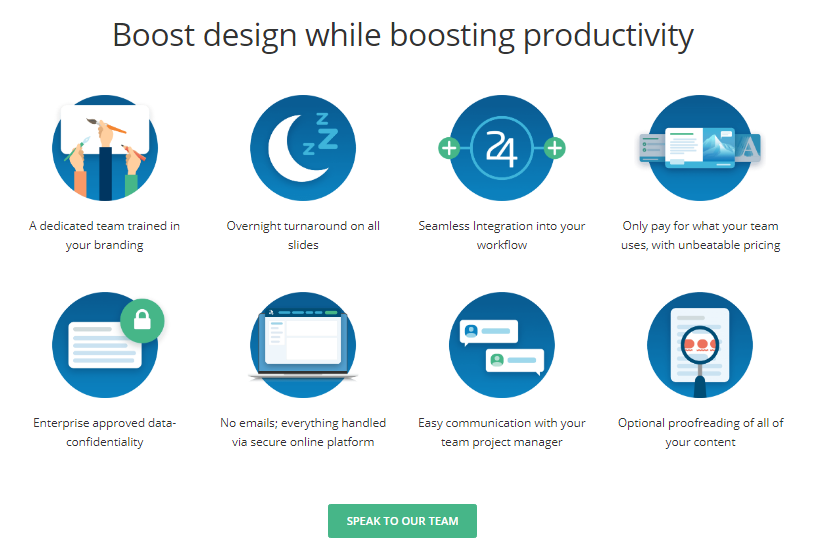 24Slides offers subscription packages that will allow you to tackle anything from 50 to 10,000 slides per month. The best thing about it is you get a dedicated team that will learn everything about your brand and preferred design styles, so the outsourcing process will be more seamless each time. This assures you a constant flow of unique, outstanding slides without any worry. And, you can share your subscription with your colleagues, guaranteeing that everyone's slides in the team will be sharp and perfectly aligned with your overall brand.
How to make a presentation in less than 3 hours
Working on a last-minute presentation? Don't worry! As daunting as it might seem, it's possible to make a clean-looking presentation with limited time. Of course, how much time you spend working on a presentation depends on the amount of information, the number of slides, and the design effort you want to invest in them. But it is possible to make a good, quick presentation. Especially when using the PowerPoint hacks detailed above! Here I'll show you how to use these time-saving PowerPoint tips to create a quick minimalistic presentation that still looks good with minimal effort.
Step 1: Planning (25-30 min)
You might be surprised to spend so much time on this first step, but it will help you go through the next ones more easily. Think about what your audience should take away from your presentation. Organize your topic point by point to make sure you're covering everything you want to convey.
Take time to also think about how you are going to present specific information. If you have chronological information, will you use a timeline? If you have number-based data, will you use a graph or chart? What kind of graph? This will help you define what kind of slides you need when looking for templates. Try to collect beforehand all your information so you'll not have to go back and forward when you're working on filling your template.
Step 2: Pick your main template (15-20 min)
There are so many great templates options out there that it's easy to lose time just browsing through. That's why it's extra important to set yourself a limit if you're short of time. Keep tabs on your options as you go through, and after your time is done, pick one template to use as a base.
This base template doesn't need to fit your presentation outline perfectly. It's more about design and style, as you can add things and edit them later. To truly make a presentation in less than 2 hours, preferably pick a neutral base template, as it will be easier to standardize later if you decide to add other slides.
Step 3: Search for complementary slides (20 min)
Now is when your outline and planning will come in handy. Look for specific slides according to your needs. For example, a timeline slide design, an organization chart, title slides, or anything your base template does not have. Again, the more neutral the slides you pick, the easier it'll be to make them fit later!
Step 4: Fill your slides' content (20-25 min)
Now that you have all the slides together, it's time to fill them with your information. You can use the conversion Powerpoint hack if you have all your information in a Word document, for example. Just remember to limit the amount of text on your slides. Your PowerPoint slides are a complement to the speaker, not the other way around! They should have written every single word you're planning to say.
Step 5: Add icons and visual aids (30 min)
PowerPoint is a visual medium, so take advantage of it! If anything can be replaced by an icon, graph, or image, is probably a good idea to do so. This will make your presentation more visually appealing and will make your information easier to read for the audience too. This step is all about adding icons, changing the template's images to something that fits your topics, and so on.
Step 6: Standardize your slides' design (25 min)
Finally, make sure your slides match each other, especially if you've added slides from different templates packs. Make sure you're using the same color scheme throughout your presentation to make it look cleaner. You can also add design elements from your base templates (if it has any) to your added slides to create a feeling of unity. In short, make sure all your slides' designs match!
Step 7: Rehearse (20 min)
Before a presentation, rehearsal is a must! Even if it's just going through your slides to check everything is in order, double-checking can make or break your presentation. Some as easy as typing errors can make your presentation look sloppy and last-minute. Go through your outline and make sure that everything you need to add is converted and tweak the final details.
And that's it! A clean-looking presentation in less than 3 hours. It's not likely to be a work of art, but a minimalistic PowerPoint presentation can still look professional and sharp. It's all about practice, and the more time you invest in working with PowerPoint, the easier and better it will become.
Save time by outsourcing: How to get a GREAT presentation in 1 hour!
However, if you do want a work of art that will leave an impression on your audience, and still get a presentation done at record time, then why not let professionals do what they do best? Creating outstanding PowerPoint slide designs takes not only time and effort but also experience. While anyone can make a PowerPoint presentation, there's no easy and quick way to make a truly unique, eye-catching presentation.
If you're looking for ways to save time creating presentations, outsourcing is the best possible solution for you. And, you'll save tons of time! Even if it is a last-minute project, you can get amazing results you wouldn't be able to get otherwise by entrusting your presentations to professionals. If you want a PowerPoint to wow your audience but you're a little bit tight on your schedule, outsourcing your presentation design can become a true live-saving investment!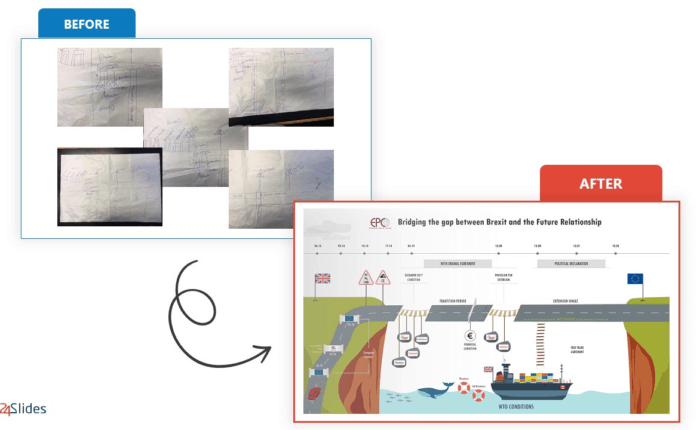 Outsourcing Step #1: Get your content ready (20-25 minutes)
Most PowerPoint outsourcing agencies work exclusively with the design part of the presentation. This means the presentation's content is all on you. After all, you'll be the one presenting! If you're looking to outsource your PowerPoint presentation design, make sure you have your content ready to show how you want it divided into slides. A default all-white presentation is enough. If you have any design references, brand colors, or any other details that you want to be included in your presentation you should also think about them beforehand!
Outsourcing Step #2: Upload your presentation (10-15 minutes)
Now you just need to give your baseline presentation for the designers to work their magic! 24Slides offers an integrated platform where you can upload your presentation, select your design style, slide treatment, due date, complementary services, and any other detail you want to include for your presentation.
After it, you can just rest and relax, as the designers will do all the rest! You can even save time in your presentation by turning it in to be worked overnight. 24Slides' designers will have ready your custom PowerPoint design by the morning.
Outsourcing Step #3: Give your feedback (15 – 20 minutes)
24Slides is committed to creating the perfect presentation design for you. That's why you'll always be able to give feedback and ask for changes if you think something is missing. Customer satisfaction is fundamental for our designers. You'll always get a draft so you can approve or change anything you think necessary. You won't be charged until you're 100% happy with how your presentation looks!
Outsourcing Step #4: Wow your audience with an outstanding presentation!
Finally, you'll receive the final presentation, perfect and ready for you to make an impression on your audience. And you have had the content ready from step #1, you can even start practicing and rehearsing while your presentation is getting done by our best designers. Outsourcing is an incredibly empowering tool for speakers in all sorts of business. It frees precious time and allows you to make the most of every tool PowerPoint has to offer.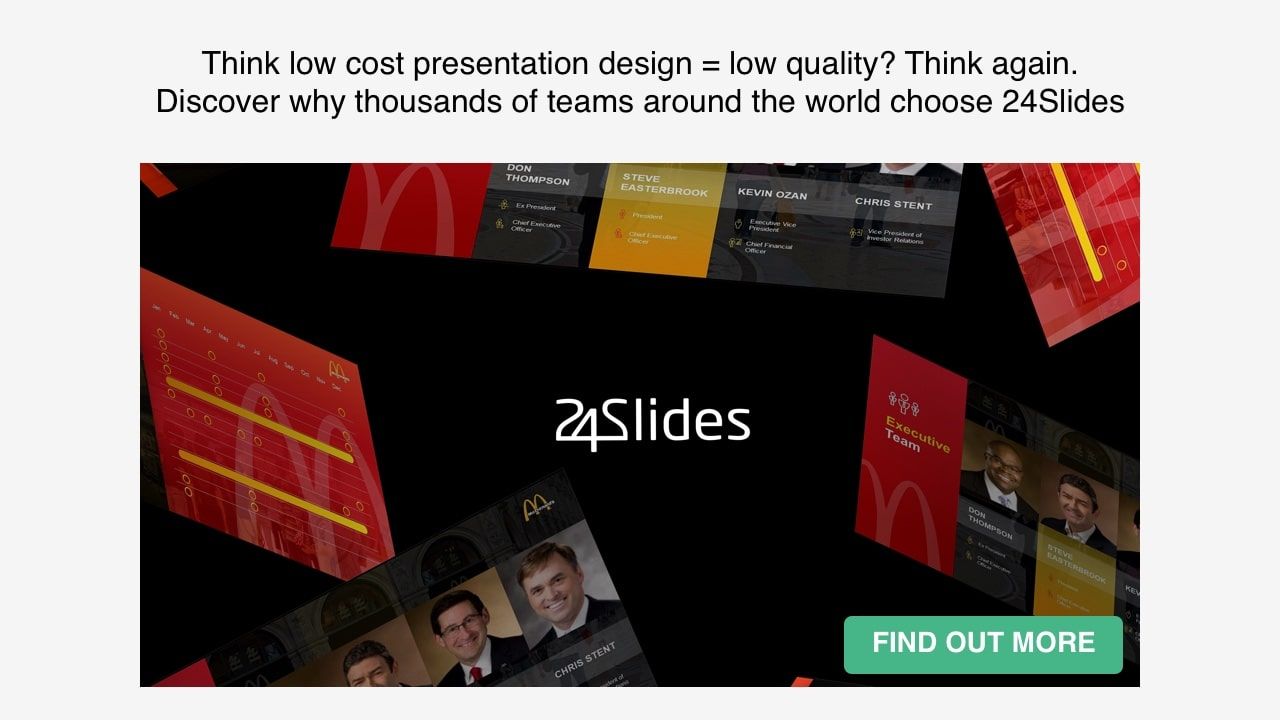 Start saving time and effort in your PowerPoint presentations
Working on your PowerPoint presentations can be a tiresome, time-consuming process. Hopefully, these PowerPoint time-saving hacks will help you make your process a little bit more efficient. Remember that practice makes perfect! The more you try out and learn how to make the most out of these tips, the easier it'll get. Try not to go for big, complicated designs and focus on getting clean and sharp slides that look professional before working on something more advanced.
Outsourcing presentation design is a great way to not only save time when creating presentations. It'll also get you the best possible results to impress your audience. Professional PowerPoint designers will make sure that not only your message is perfectly conveyed, but also that your brand is represented and that your slides are as visually engaging as possible. And the best thing is, you can relax and completely forget about PowerPoint presentations forever! We've polled thousands of customers, and the overall consensus is that professional presentation design has helped them save an average of 37 minutes per slide. Just imagine how much time you would be able to save in a simple 20-slide presentation!
If saving time and effort when creating PowerPoint presentations sounds good, then you must try 24Slides design services. We work with some of the best companies all around the world by creating amazing PowerPoint slides that bring their message to life. Our designers will transform your presentation into a work of art that will make sure to stay in your audience's mind long after the presentation is over.