Get superb on-brand presentations with 24Slides!
Getting your presentations on-brand is a must for businesses who really want to stand out and position themselves in the mind of their potential clients. But if you have worked with presentations before, you most likely know that PowerPoint design takes time and effort. So why not leave it in the hands of the professionals? Keep reading to learn all about 24Slides rebranding services and how easy it is to get outstanding on-brand presentations that will make your slides unforgettable.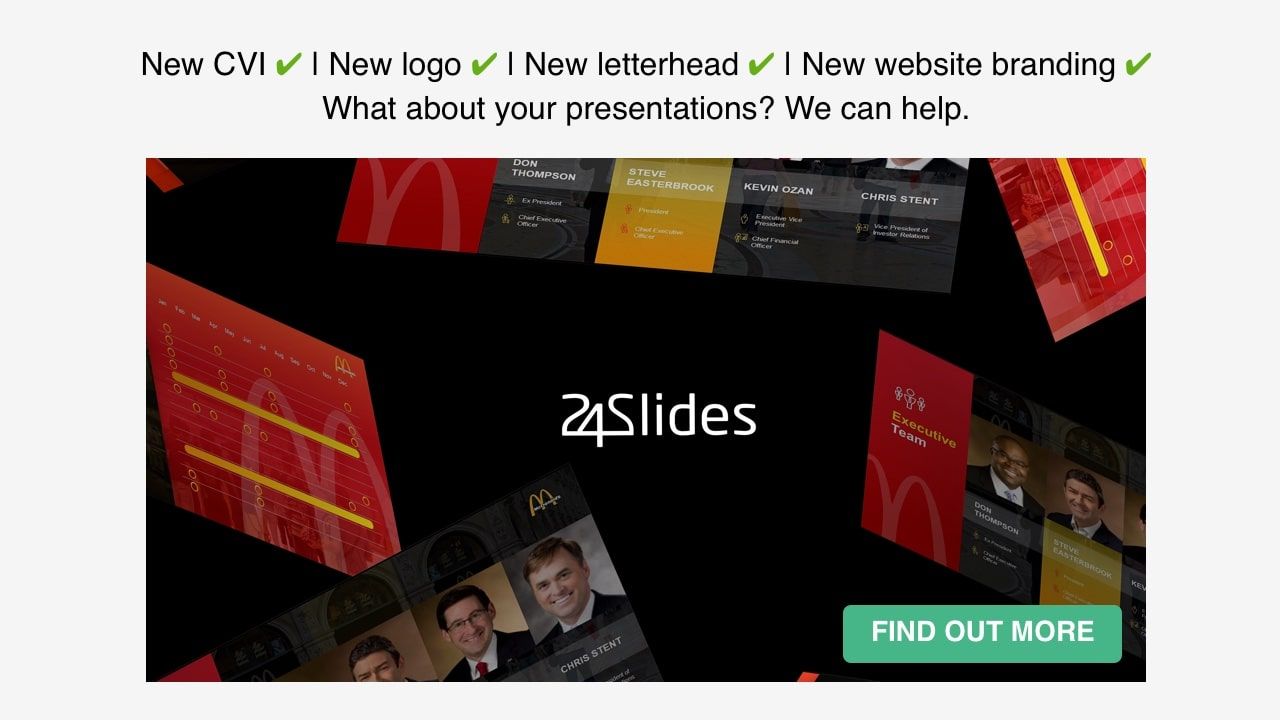 Why use branding in your presentations
When thinking about their branding process, there are many things to consider to create a sound identity visual guideline. Things like your color scheme, typography, imagery style, and so on. All these will help you create a unified image of your brand for your audience to recognize.
Your brand identity is vital for businesses of all kinds, not only because it makes your brand more easily identifiable but also because it can help you reflect values that you want to be associated with. Giving your brand a voice and a personality is key for good marketing.
When thinking about branding and what should reflect this brand image you've worked on, most people think about the most obvious aspects of it: social media, packaging, website design, and so on. However, there's a vital aspect that many people often overlook: branding in presentations!
Presentations, especially sales presentations, are a crucial aspect for businesses to interact with potential clients. They are your introduction card to your audience, and thus, an excellent way to make an impact!
That's precisely why getting your presentations on-brand is such a great idea. It'll not only help you make your slides look more professional and clean but also focus on your brand and the values you're trying to convey. A good presentation design can help your brand stand out and look more creative, playful, reliable, or any other attribute you want to instill in your brand.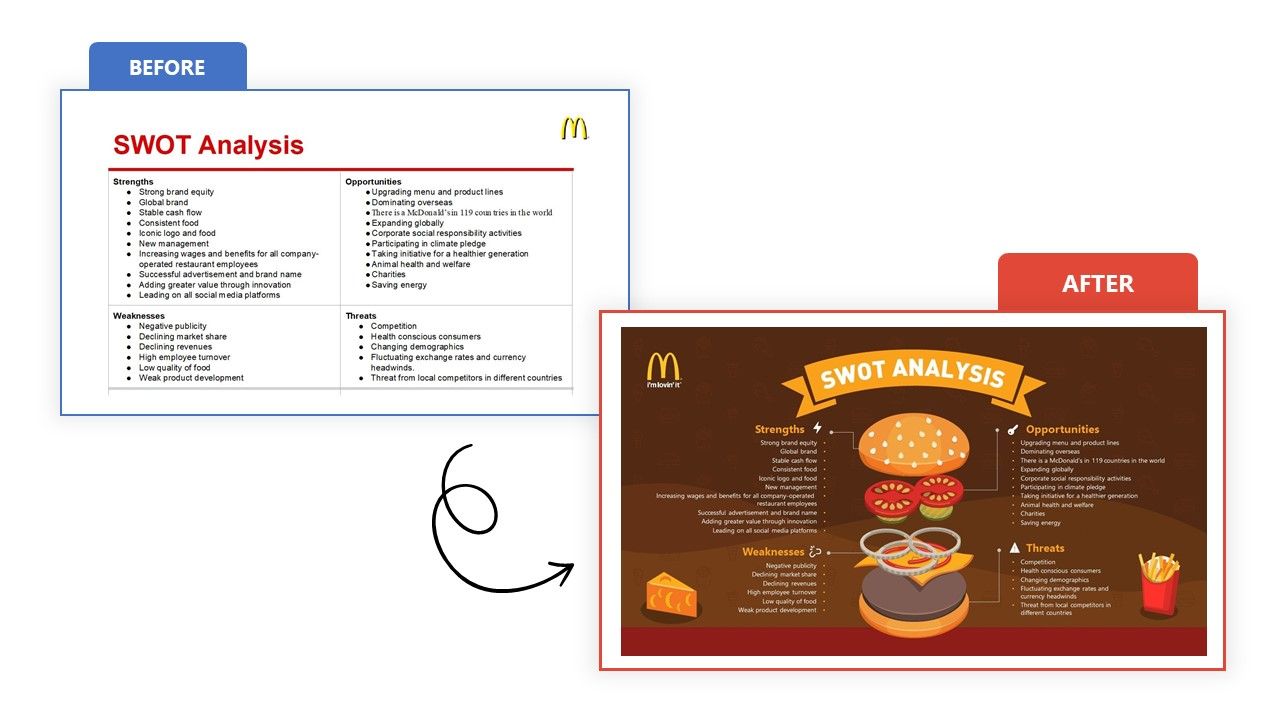 Why hire 24Slides?
Presentations are a fantastic tool to have at your disposal. However, designing one that truly makes the most of that opportunity takes time and effort. That's why outsourcing presentation design has become such a common practice nowadays.
Delegating your slide design allows you to free time and resources for more critical tasks. And, most importantly, you'll end up with professionally designed slides that will help you stand out from the crowd and make an impression on your audience.
While freelancers are a good option for covering your presentation design needs, presentation design agencies offer a wide array of services that guarantee you'll get the best possible results that convey perfectly all you want to say.
24Slides is a Denmark-based presentation design company that will help you turn your plain slides into a masterpiece that perfectly conveys your brand and values to your audience. Our designers have experience working with some of the biggest companies worldwide, so you can rest assured that your presentation is in the best possible hands!
If you want to get on-brand presentations, 24Slides branding services are the way to go. You just need to send us all your visual guidelines, and our designers will make sure that your presentation perfectly reflects your brand in a unique, striking way that will impress your audience. You can even request a custom-made master template tailored to your brand that you can easily apply to any presentation you do in the future!
24Slides presentation design services will give you all the tools you need to make the most out of your slides and make sure you leave a lasting impression on your audience.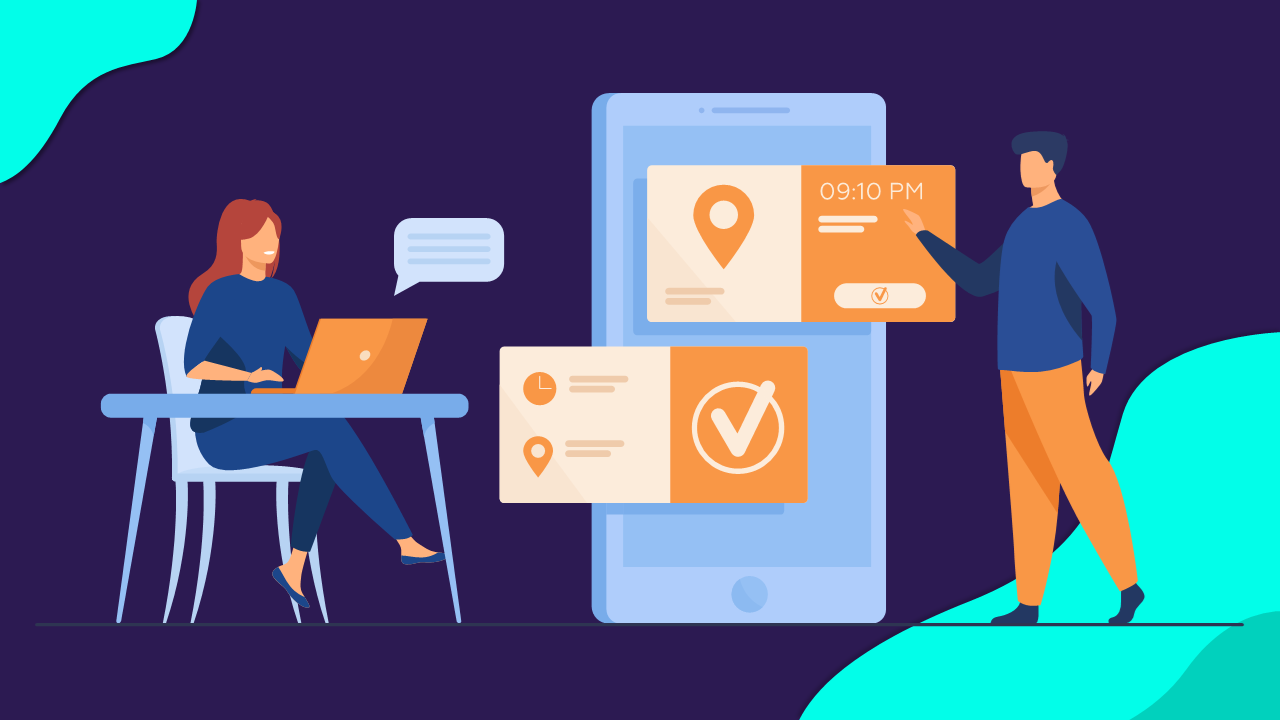 Outsource your presentations with 24Slides easy hiring process
One of the best things about 24Slides is that you can hire professional, top-quality designers with just a couple of clicks. Never mind long calls trying to define a budget and trying to explain exactly what you need. 24Slides online platform allows you to upload your presentation and instructions. You'll automatically get a budget, and you'll be able to place your order straight away.
The outsourcing process is very easy: On the 24Slides platform, you'll need to pick the redesign treatment. This option will allow you to upload default, all-white slides and just wait for our designers to give a complete makeover! Afterward, pick the design style that fits your needs the most, or upload your own design preferences examples.
Next is choosing a turnaround date. 24Slides offers 24hour turnaround services, so you can rest assured that you'll have your presentation ready when you need it. Finally, you just need to upload your presentation and add any graphic guidelines, instructions, or images you want to be added to your slides.
And that's it! Placing an order in less than 10 minutes, and then you can just sit back and relax, knowing that the presentation you receive will perfectly convey your brand and message. You'll be able to give feedback and ask for changes as many times as you like. Your satisfaction is our main priority, so you won't be charged until you're 100% happy with the final result!
You can learn more about outsourcing presentation design here


Pick the perfect style for your brand presentations
Professional designers know that there are many different ways to make a presentation look nice. That's why 24Slides custom presentation design is organized in 3 different styles. Picking between these will help our designers better understand what you're expecting from your presentation design and make a final product you're 100% satisfied with.
In 24Slides, we know there's no one-size-fits-all, and that's precisely why you can choose between these options. Any on-brand presentation can be done using any of these 3 design styles, depending on what you're trying to convey. But whichever design style you choose, you can rest assured we'll give your on-brand presentation that extra wow factor!

Corporate style
The Corporate style is the one that's more serious and sober. It's perfect for companies that look to convey professionalism and reliability through their presentations. It's a sharp and clean design that will focus on your information. You'll find no crazy layouts or illustrations here! It's a calm and impeccable style that will help you convey your trustworthiness without much fanfare.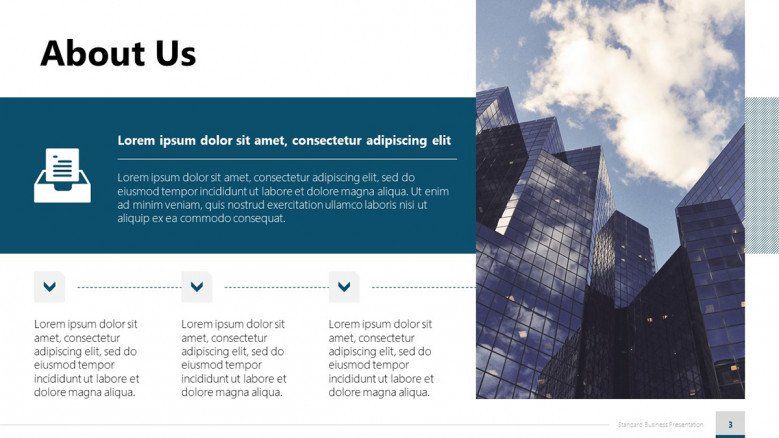 Playful style
On the complete opposite side, we have the playful design style. If you want bright, colorful, and fun, the playful style is the one for you! This kind of design is perfect for brands looking to convey youthfulness and creativity. You'll get custom-made illustrations to accompany your slides and to highlight your information.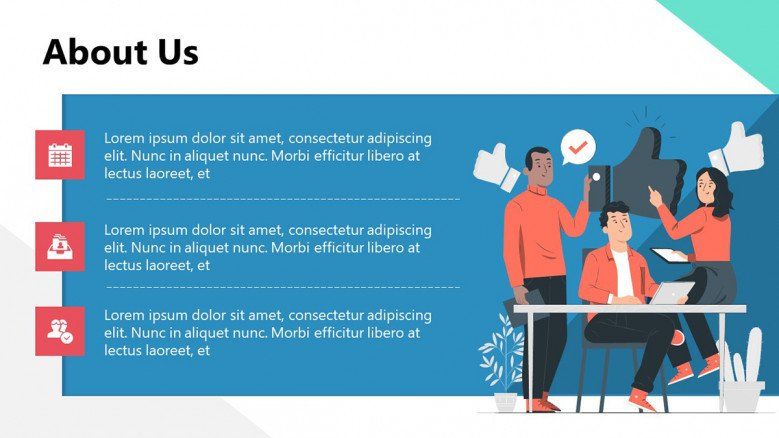 Creative style
If neither of these previous options appeals to you, don't worry! The creative style is the perfect middle ground between corporate and playful. You'll get a presentation design that conveys both originality and professionalism. It's perfect for working with photos and images to highlight your slides. The creative style is the favorite among our clients because of its smart and versatile designs!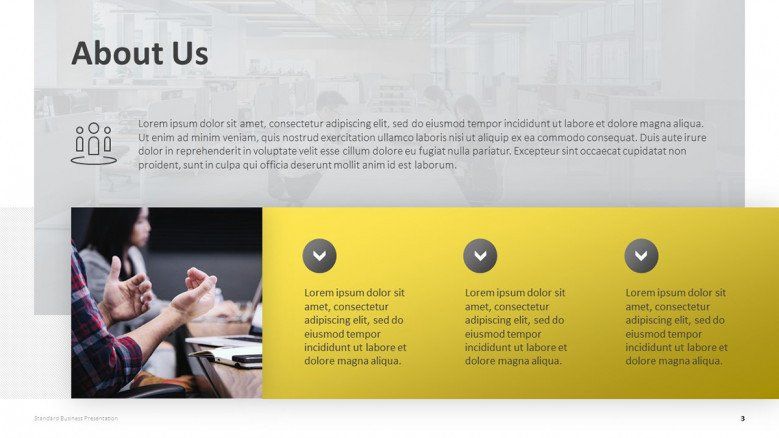 Use Master Slides to create on-brand presentations
The Master Slide view is one of the most interesting features PowerPoint has to offer. However, very few people make the most of it. Most people just use the Master Slide option to add things like a logo. This is great, of course, as it'll save you the work of adding it manually to every slide. But there's so much more you can use Master Slides for!
Anything you add to your master slides will be automatically added when you're working on your presentation. This means that you can add things like background design, color schemes, font, and many other design aspects. It's the perfect tool to assure cohesion within your slides' design and make sure all your slides reflect your brand.  
Master templates are an excellent way to make your presentation creation process more effective. But of course, making a good master template useful for future presentations is no easy task. You can learn more about using master slides here, but creating a master template from scratch takes time and effort.
Luckily, 24Slides also offers a master template design service! We'll do all the heavy lifting so you end up with the perfect, on-brand master template for your presentations. It's the ideal option for businesses that need to update and create new presentations constantly. With a professionally designed master template, you'll have the perfect custom canvas to work with.

Get a custom on-brand presentation right now
Adding some extra work into your slides can really make a difference in your presentation's result. Making sure your presentations are on-brand is an excellent way to make sure your slides look clean and professional and that your brand stays in your audience's minds long after the presentation is over.
24Slides' designers are experts in presentation design and branding, and they're wholly committed to turning your slides into absolute masterpieces! Sit back and relax, and let the professionals do what they do best.