Rebranding Checklist: 5 Aspects You Should Consider
Branding is one of the most powerful and crucial aspects of any business. But there is something to keep in mind:
You are never completely "done" with your brand; it is an ongoing process.
Why? Because it aims to resonate with people, and as individuals continuously evolve, so should your brand. It is vital to adapt and grow; otherwise, there is a risk of becoming irrelevant.
That's why rebranding is such an essential step for organizations who want to remain relevant to their market, offer a distinction from new competition, or support their product's evolution, and one that many of them are already doing. According to Entrepreneur:
"Most companies consider rebranding once every 7 to 10 years with more minor refreshes in between to elevate their visual identity."
So, are you considering rebranding? It definitely is a smart step. Nevertheless, it is not an easy process and could backfire if it doesn't succeed.  But don't worry! We are here to help you out. We've created the best rebranding checklist, including all the aspects you should consider.
We'll discuss the following topics:
Why rebrand your business?
Rebranding has one simple goal: to keep your brand current. Just like companies change with time, brands need to evolve to stay competitive.
There are different reasons why you should consider a rebrand:
If your business has evolved: Your organization has evolved to suit a different market need, or the range of products or services has changed. When that happens, it's important that your new customers and prospects can connect with your brand. As Reddy Anto, design manager at 24Slides, puts it:
"The best time to do rebranding is when the company's brand identity does not match the service created by the company anymore."
To differentiate your brand from competitors: If new competitors have appeared in the market, there is now a need to distinguish yourself. In this case, rebranding can allow you to tell a stronger brand story and really help you stand out.
To update your branding: Modernizing your brand image is vital to turning your business around and accelerating growth. As Reddy Anto wisely says:
"To maintain relevance and keep up with changing customer needs, a brand must acknowledge that visuals change with time and new trends emerge. For example, nowadays, visuals tend to be more inclined towards simplicity and professionalism."
This is especially relevant when competing on social media sites like Instagram, where professionally designed brands stand out.
If your brand has outgrown its original mission: Maybe your products or services have expanded or changed, or maybe you have redefined your values now. These big changes often require a rebrand that reflects them.
There are also plenty of good reasons not to rebrand. It's not a decision to make lightly, especially if it's unnecessary, as it could harm the business. For instance, you should not rebrand just because you're bored with the current brand, if you can only do a partial rebrand, or if new management wants to make a mark. It should be done when a significant change or a new direction truly calls for it.
What type of rebrand do you need?
There are two main types of rebrand: a partial rebrand or brand refresh and a complete rebrand. It's essential to choose the kind of rebrand based on your organization's actual requirements and needs.
Brand refresh
A brand refresh revitalizes your brand without making radical changes to it. It's like a "sharpening up" of the brand: it focuses on making subtle changes to existing visual elements while maintaining its essence and familiarity.
A brand refresh may change elements such as:
Logo
Font
Color palette
Visual style
Writing style
Messages
Rebrand
On the other hand, a rebrand makes profound changes to the brand on a foundational level, creating an entirely new brand identity.
It goes beyond making some adjustments to the visual elements. It can change core elements of the business, including brand positioning, brand values, brand guidelines, and mission and vision.
Rebranding checklist: 5 aspects of rebranding that many overlook
When looking for a step-by-step guide, you will probably find many pretty practical branding checklists that will tell you all the design elements of rebranding you'll need to consider. Designing your logo, picking a color scheme, fonts, and so on are essential steps, but this is only the graphic design aspect.
All these design elements are not meant to be chosen randomly. Instead, they are meant to be strategically chosen to help build up the image you want your company to be associated with.
To work on your brand identity, there's one thing you must take into consideration: consistency!
That's why it is worth it to take a step back and really think through what you are trying to achieve with your rebranding process and what you are trying to convey through these visual elements. You should have a clear idea of both: what you want your brand to look like and what you want this image to convey.
Here you'll find a rebranding process checklist of things you should consider beyond the graphic design aspects of it all. These might be easy to overlook when working on your rebranding process. However, going through them will help you create a more strategic and consistent brand identity to work with!
Let's take a look at the rebranding checklist:

Aspect #1: Work on your Market Research
When going through a rebranding process, one of the crucial aspects to focus on is your brand identity. It serves as the visual representation of your brand's values and personality. In Nenes Ayuningtyas', design manager at 24Slides, words:
"One of the most important key aspects of a rebrand is its brand identity. A brand identity is the visual representation of the brand's values and "personality." Their brand identity should be designed to communicate your company's overall message and promote your business goals."
So, the first step in the rebrand checklist is doing careful market research. Define your target audience, what kind of product they usually consume, and what the competitors offer. You'll be able to work through your rebranding process much more effectively when keeping your findings in mind.
You can also think about what's your company value proposition to add to your rebranding process. Have your value front and center when working on your rebranding strategy. It'll help you focus and think through what your design is trying to convey. If you're having problems defining precisely what you want your image to portray, you can use a Value Proposition Canvas to determine your product's or service's strengths.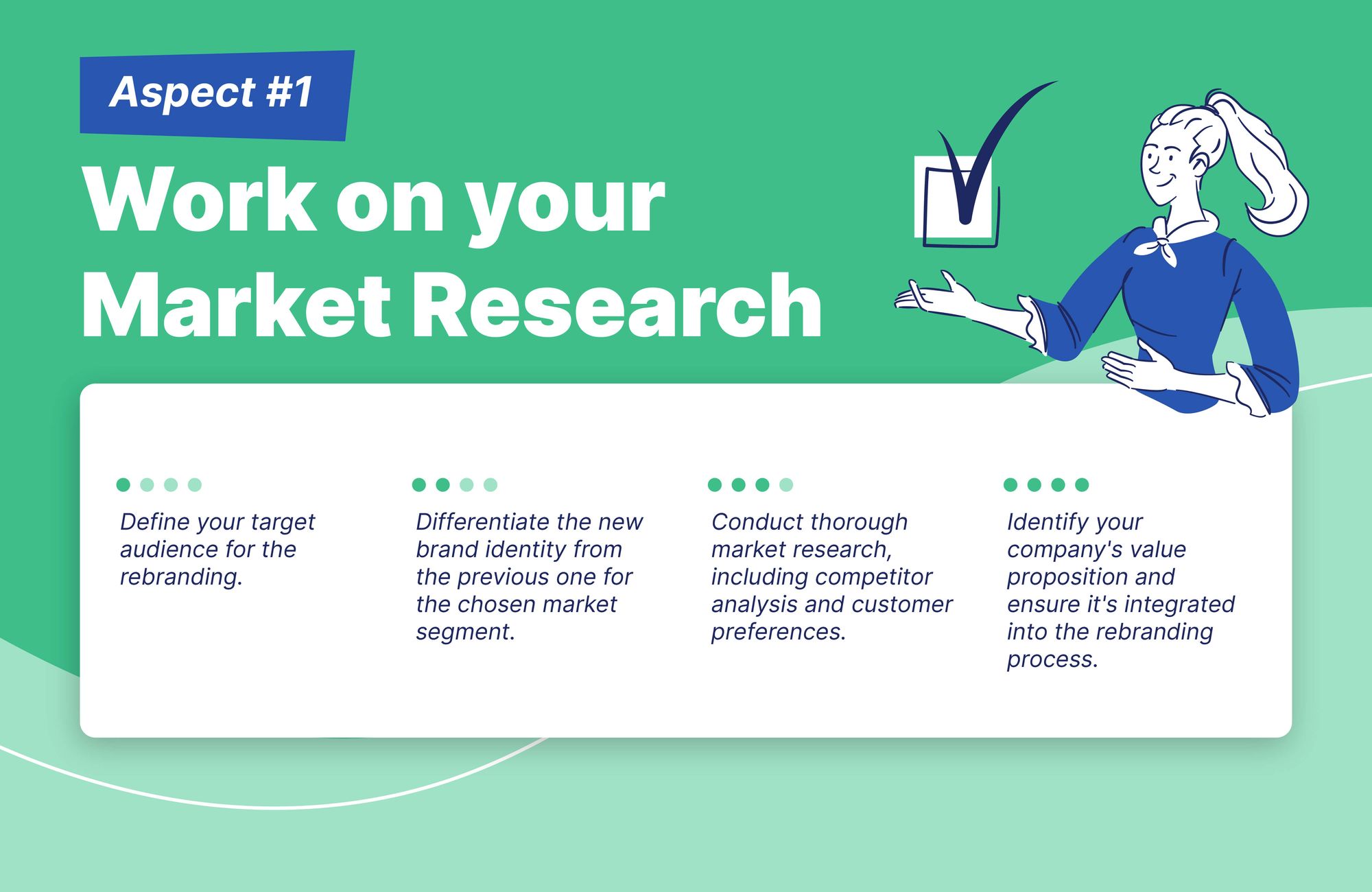 Aspect #2: Give your brand a voice
Your brand shouldn't only look a certain way but also convey a specific image and voice. And, of course, this, too, should be aligned!
Think about it this way. A bright-colored, playful design will convey youthfulness to your brand. Clean and minimalistic design can help you showcase a more sober, business-like approach. An earthy, green color palette and nature-theme design can work wonders for eco-friendly, natural products. Or, a pastel color scheme will help you convey relaxation, femininity, and luxury.
What values do you want your brand to be associated with? Thinking about your company's mission and vision is a great way to get the ball rolling. For a rebranding process, it's extra important to recognize what your brand is being associated with and why. This way, you'll be able to change and fix it for your new brand identity.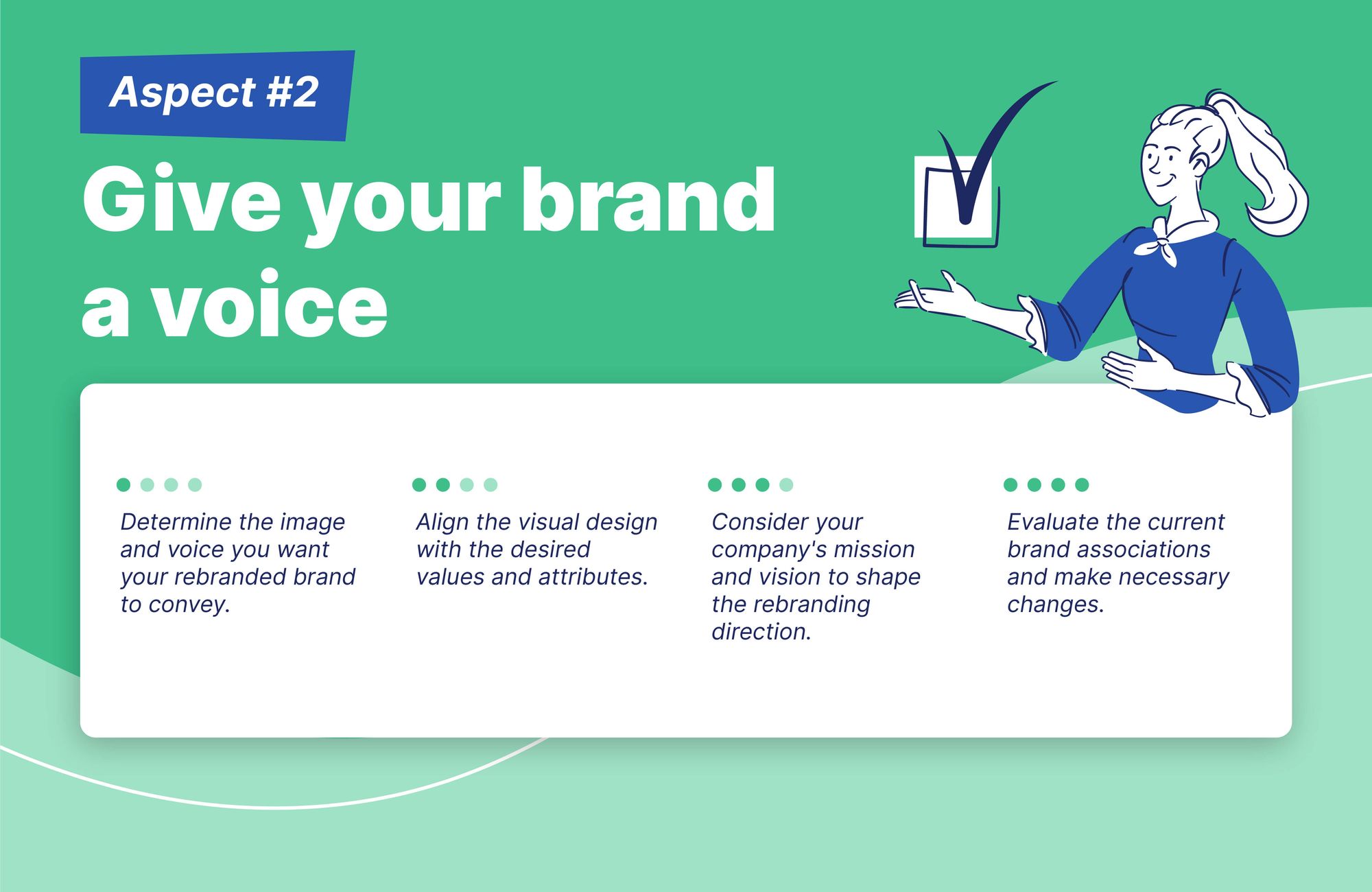 Aspect #3: Get your team on board!
Even if you develop your rebranding process all on your own, you won't be the only one working with it! That's why ensuring everyone on the team is on board with the rebranding process is a vital aspect of this rebrand checklist. Branding guidelines, or style guides, are necessary when giving your business a consistent brand identity.
Another great option is to work on a brand identity presentation. This way, you'll be able to introduce your whole team visually to your new brand identity.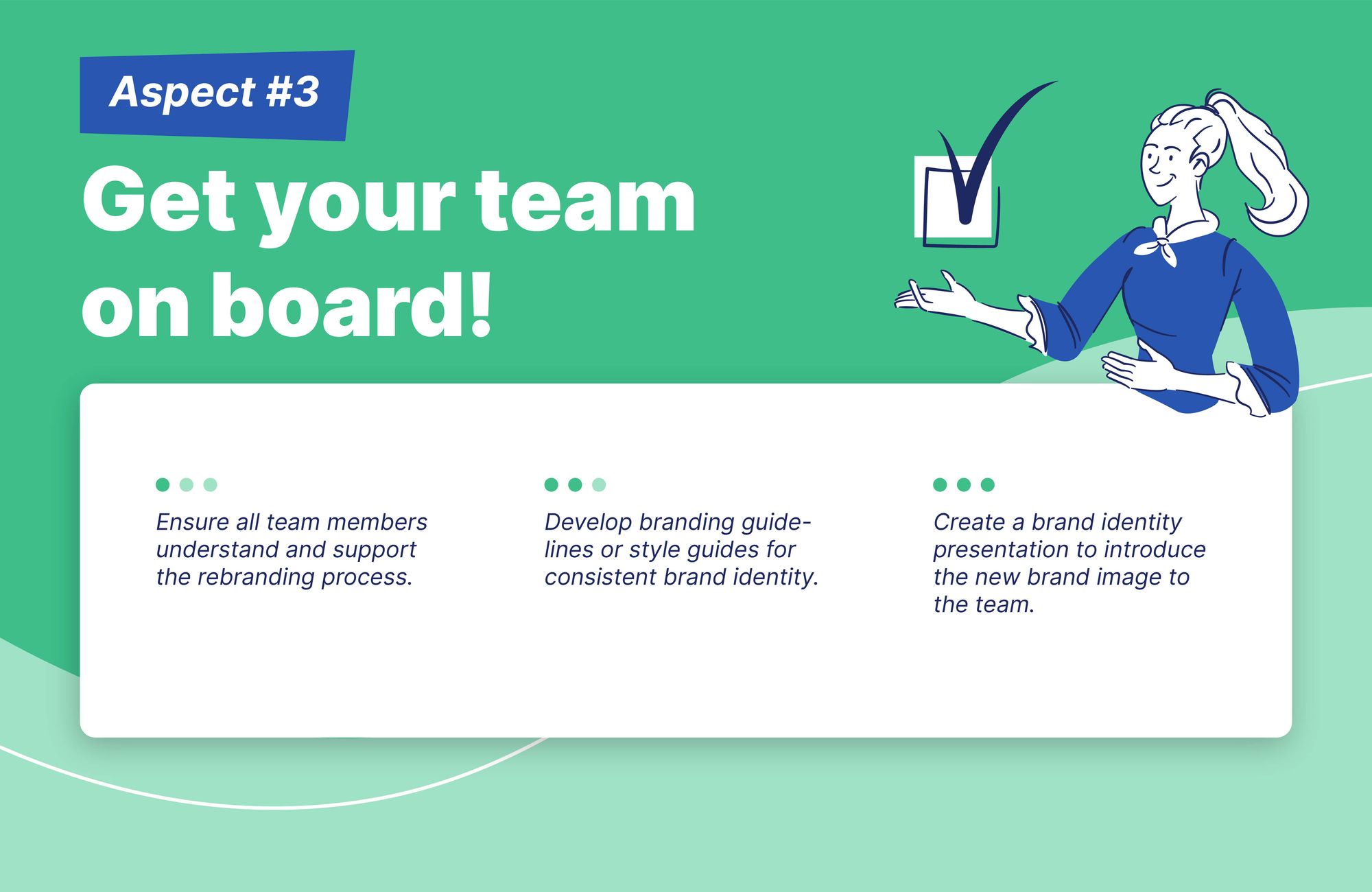 Aspect #4: Showcase your new brand image!
Communicating your rebrand to the world is a crucial part of a rebrand, but it is also something that many brands overlook. However, it can play a huge role in how effective your rebranding turns out to be! It is especially important for those businesses with an already established brand image.
You can use it as an opportunity to highlight new product features or services and to display your company values. It's also an excellent opportunity to engage with your customers and nurture your bonds with them! If this sounds good to you, social media marketing is a great tool to consider for introducing rebranding to your audience.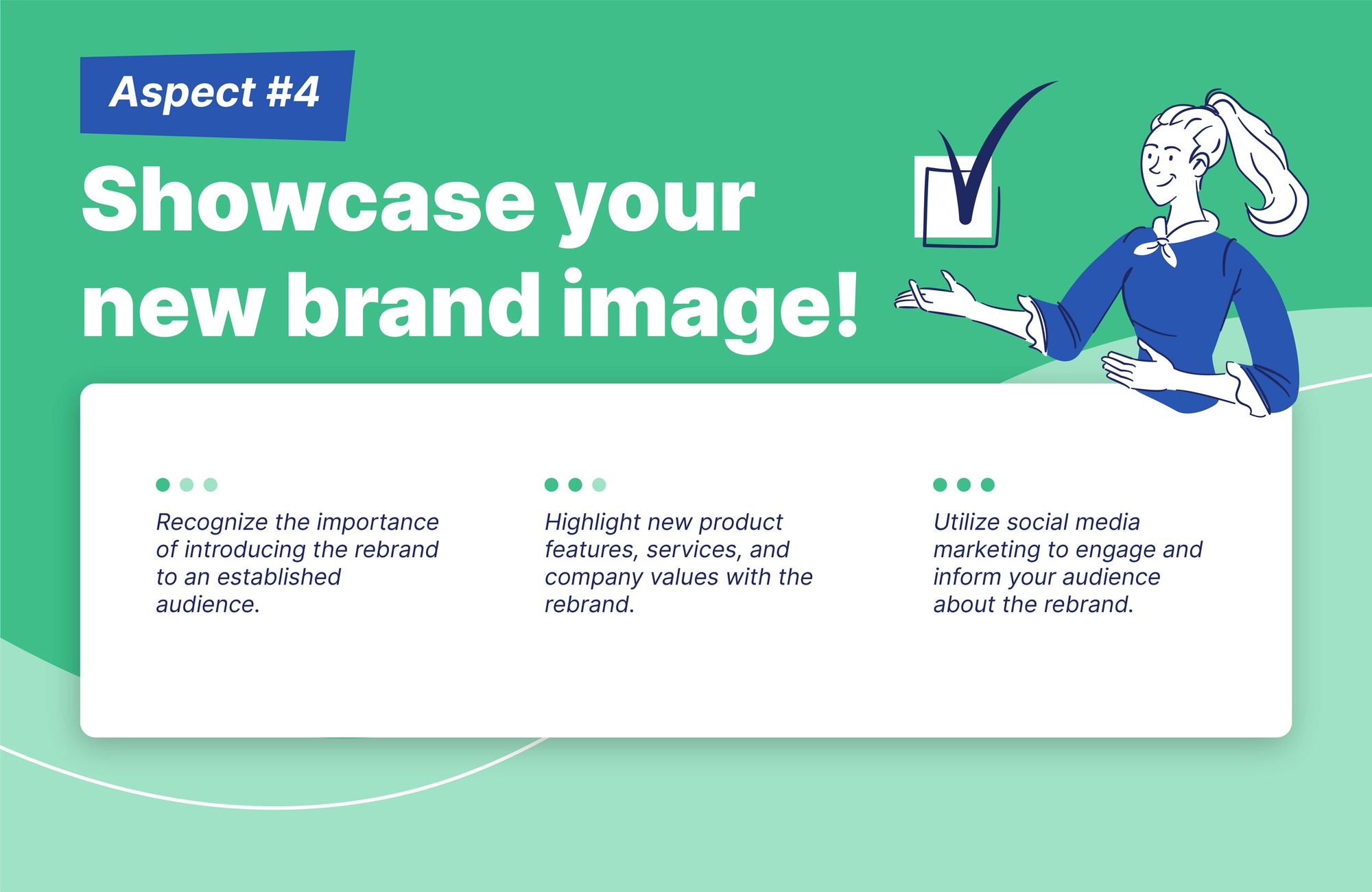 Finally, the last thing people usually overlook in their rebranding process is the number of places and documents this brand-new corporate image should be reflected on! A rebranding strategy is not just changing your logo and your color scheme. It's updating your website design, social media accounts, e-mail marketing, and so on! It is a vital step in order to create true consistency with your rebranding process.
And, of course, this includes documents and presentations! Especially in the case of sales presentations, your slide design is the first impression you'll give to your potential customers. It's essential to have not only a professional, clean design but also one that really focuses on you conveying your new brand identity. Presentations are an outstanding chance for brand promotion. And to make sure your name sticks to your audience's mind, there's nothing better than adding some visual appeal to it.
Leave your rebranding process in the hands of professionals
Working on a rebranding process can be a tiresome process. Especially if you have tons of documents and customized presentations, taking all of them and getting them in line with the new brand guidelines can be pretty tedious. Even worse, it takes precious time away from your design team's regular tasks, and it'll probably take a long time to go through.
So why not let professionals take care of it? 24Slides designers will make sure that all your presentations are perfectly on-brand and that they convey all of your company's values. From sales presentations to infographics to even videos, 24Slides got you covered!
Take a look at out work! See how we transformed an Amazon Web Services presentation from slideshare.net. We redesigned a public Amazon presentation, making it look much better: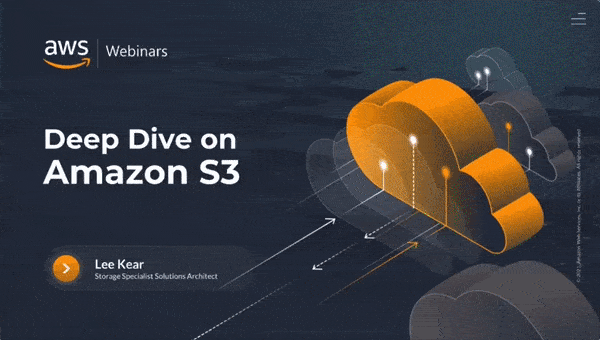 Check out the original and our new design side by side to see the significant changes!
Whether you want a quick fix or complete rebranding work from scratch, our designers are trained to work with some of the biggest companies worldwide!
Let us be of help during this rebranding process. We can create your style guide or a template that serves as a guide for your new rebranding to make sure everyone in your company is aligned with your new style. Check out one of our branded template examples: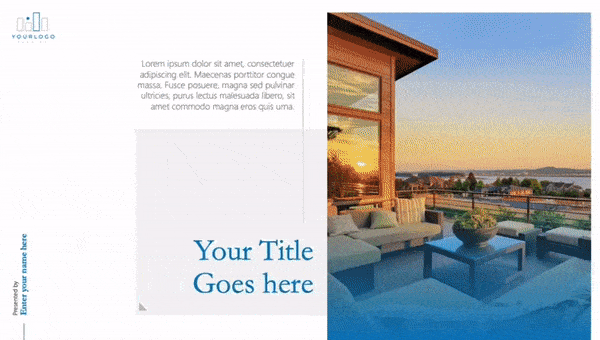 Customer Frequently Asked Questions
What should be included in rebranding?
There are some aspects that should definitely be considered when going through a rebranding:
Purpose and vision: Define the reasons why you want to do the rebranding for, establish clear objectives, and connect with your new mission and values. Ask yourself: how would you know your rebrand was successful?
Market research: Do thorough research to really understand your target audience, competitors, and industry trends. This way, you'll be able to connect with your audience and stand out from the competition.
Visual Identity: Consider the elements of rebranding you want to change, such as your logo, color palette, typography, etc. Remember, this is a vital aspect of the rebrand because the reaction to visual elements is often the strongest from customers, so take as much feedback as possible before making any changes.
Brand's voice: The vocabulary, tone, and voice you use for your brand have to match your new identity and values. So, consider updating your brand's messaging, tone of voice, and communication style to follow your fresh direction.
Website and online presence: The website and online presence are among the most important aspects of any business nowadays. This may involve redesigning your website and updating the social media content.
Internal alignment: Communicate the rebranding internally to make sure everyone in the company implements the changes. Ensure you explain the rebrand's importance and establish a list of all the materials that need to be updated.
Rollout plan: In this phase, you present the new version of your brand to the public. You can explain why your company needed a rebrand and what this rebrand means for the future of your company.
Consistency: Remember that consistency is critical, so maintain consistency in your brand's messaging, visual identity, and customer experience over time. You can create a style guide to align everyone with your new vision.
What are the steps in rebranding?
The rebranding process has several steps or phases:
Preliminary Phase
The first phase before diving into the rebranding process involves doing comprehensive research. This involves gathering information about your target audience, competitors, and industry trends.

It also means doing a brand audit, which requires identifying areas for improvement and exploring your mission, purpose, and values if they have changed. This will become the foundation for your strategy.
Implementation
Now that you have a clear understanding of your brand and your current goals, it's time to decide which elements you would like to change. Maybe it's the logo, color palette, typography, and messaging, determine which ones you'll be updating and make the changes you believe will reflect your new style.
During this phase, it is essential to consider all the materials that require being updated with the new rebranding, from all your online materials (website, social media, presentations), to your physical materials (brochures, posters, catalogs, merchandise).
Follow-up Phase
Once the changes are in place, it's time to communicate your rebrand. Create a communication strategy to introduce your new identity to your audience. It could be through social media, advertising; you could even have an event.
Now it's time to evaluate the effectiveness of the rebrand. Monitor the audience's reception and gather feedback to assess the success. Are you achieving the desired impact? Are customers resonating with the changes?
And finally, remember that consistency is key. Ensure your messaging, tone of voice, visuals, and overall brand experience remain cohesive.
What are the seven steps to rebranding?
Some authors summarize the rebranding process in 7 steps. Let's go through each one of them:
Step 1: Brand discovery: The first step is the discovery phase. This is the phase where you do research, interviews and learn everything you need to know about your brand and what you want it to become. It is time to rethink your mission, vision, and purpose.
Step 2: Brand strategy: With all the information you gathered, it is time to start with the actual changes. You can concentrate on brand architecture, positioning, communication strategy, naming, and tagline.
Step 3: Changes to identity package: Now, you can develop the visual elements to communicate your updated brand. You can change elements such as logo, typography, color palette, etc. Remember to create a style guide to align everyone with the new changes.
Step 4: Materials update: Decide what materials must be updated with the new brand style. Consider all the online and offline materials; for example, social media posts, newsletters, webpages, brochures, etc. Remember that consistency through all materials is vital.
Step 5: Brand roll-out: Get ready to launch your new brand. Plan how you'd like to communicate the changes you've made. It could be through a social media post, event, or event brand ambassadors.
Step 6: Brand guidelines: To ensure a consistent application of your brand, it is crucial to create a guide including all of your brand's elements. These guidelines should include your brand's visual elements, typography, color palette, tone of voice, and other essential components.
Step 7: Brand implementation: Remember that rebranding is not a one-time thing; it's a continuous process. So, it's essential to monitor and assess how your new brand is doing continuously. Collect feedback, analyze metrics, and make necessary adjustments as you gather information.
What should I do to prepare for rebranding?
Before doing the actual rebranding, it is vital to take a step back, pause and reflect. There are some steps you should take before making any official changes to your brand:
Pause and reflect on your brand identity. This involves defining your purpose, mission, vision, and values. Now's the moment to reevaluate ALL the aspects you might have assumed were already established.
Research, research, and more research. Information is key here, so take some time to consider the following aspects:
Your own brand. Take a comprehensive look at your brand. What is currently working? What isn't? What needs improvement?
Your customers. Who are they? What do they need? How can you help them get it? This is the time to talk with them to find out; you can call, email, or do a survey. The insights will help you better understand your target audience.
Your competitors. Do as much research as possible to understand exactly who your competitors are. If your brand has changed, probably your competitors have too.
Yes, this might seem like a lot of work but don't skip it. This is the foundation for the changes you're going to make. Rebranding is a big deal and should be taken seriously, so it's important to think seriously about what you want your brand to become.
Rebranding examples
These are some examples of rebranding done right:
Meta
This first rebranding example is Facebook/Meta. Now, the company that owns apps like Facebook, WhatsApp and Instagram is named Meta. And as you can see in the animation, they made significant changes on the brands' elements: the name, logo and typeface.
Why was it done? As the company explains, this rebrand will help them "better encompass what they do, as it broadens reach beyond social media", especially as they expand beyond their existing apps and develop a virtual reality segment.
This is a clear example of a good reason for rebranding: when the company's vision has changed its brand identity needs to be updated to match it.
The VS Collective
The VS Collective rebranding is another great rebranding example. The company, previously known for its group of tall, thin supermodels, is now called "The VC Collective".

It is a different type of rebrand because it kept the original identity and focused on changing the mission, values, and message to a more inclusive and diverse one, intending to be a brand that empowers all women.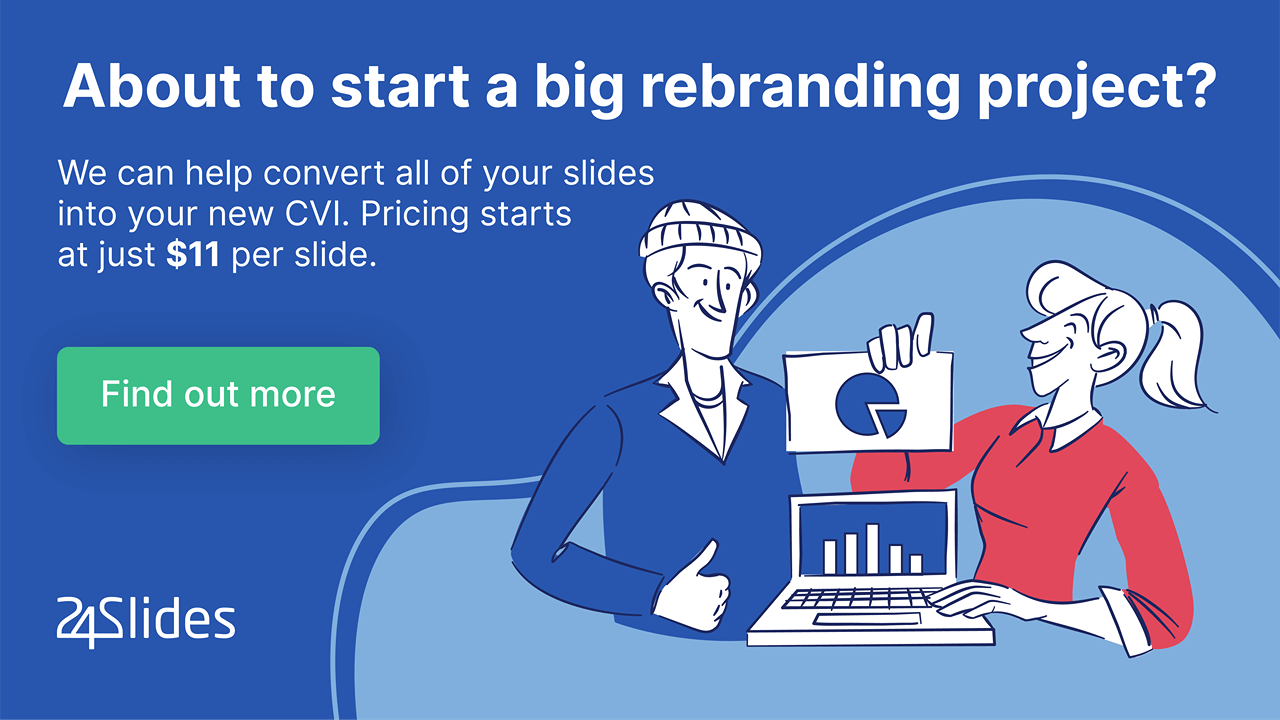 You might also like these articles: