How to do a Pitch Deck Presentation (plus free templates!)
If you are in any kind of business or enterprise, you're probably looking for every chance to make your company grow. Sadly, such opportunities don't usually just fall from the sky. You need to convince your potential investors, clients, or partners to get the resources you need. And how do you convince them? With a Pitch Deck Presentation.
Here you can find a step by step guide on what your Pitch Deck should include. But since it is not always easy to do everything from scratch, here you can also find amazing templates, completely free. Their amazing visuals and diagrams will assure that you don't only get your point across, but that you also stay on the mind of your audience after the presentation has already ended.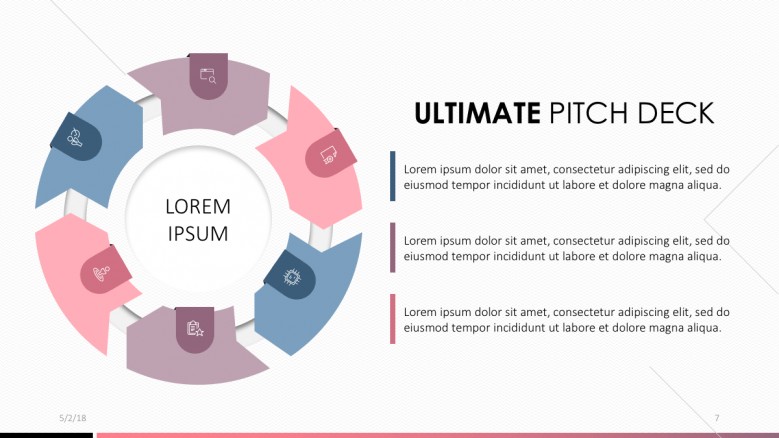 What is a Pitch Deck Presentation?
To get the funding you need for your company, you should look for investors. Now, there are thousands and thousands of businesses looking for wealthy investors. The way to stand out among all those other competitors is making them aware of your business potential. And how do you do this? Through a Pitch Deck.
A Pitch Deck is a brief presentation that you give to potential investors to convince them to bet their money in your company. It can be used face-to-face, or online. You can make a Pitch Deck presentation for a customer, or a client, or even a partner. The objective is to showcase your business plan, your product, and your over-all growth projections. In other words, you have to sell to your audience not only what your product is, but also what it could be.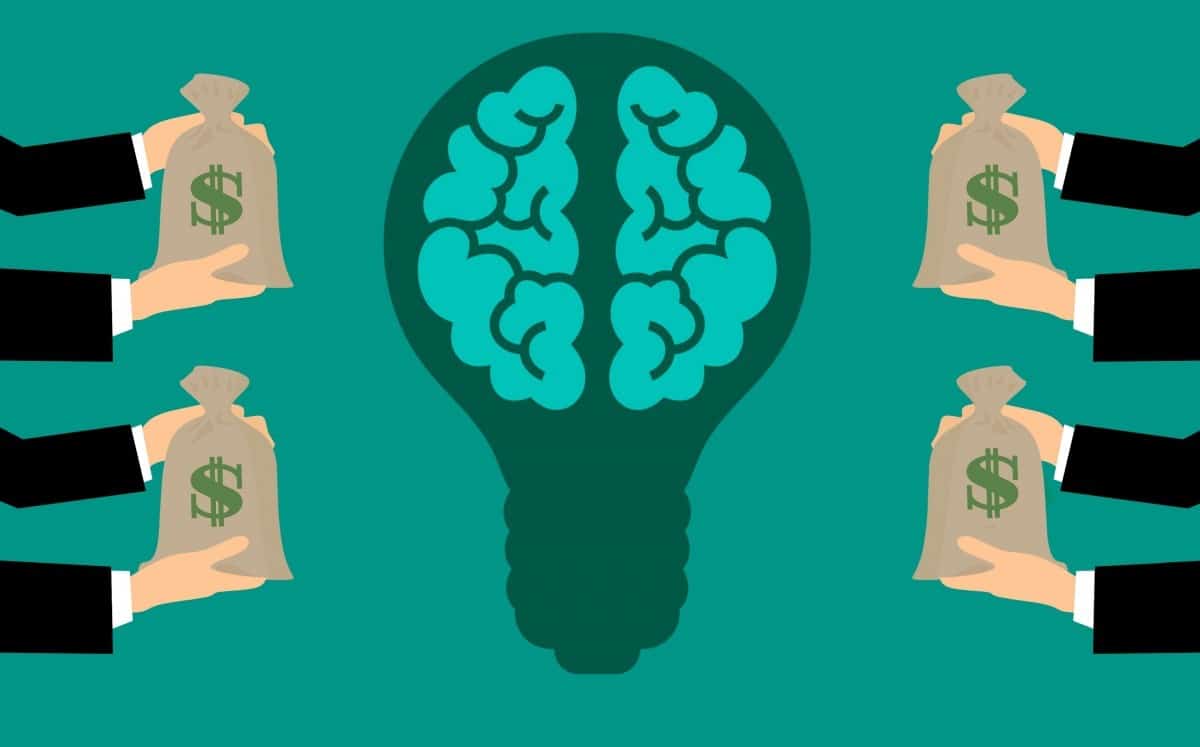 You should plan carefully your Pitch Deck presentation. For a truly great presentation you'll need a good understanding of both your own business and your potential investors. Consider the things that could be interesting for them. Maybe it is something that shows your business' stability. Maybe it is the business model you're going to implement. Or the expected ROI. But also consider the things about your company that are astounding and that differentiate it from the competition.
What to include in a Pitch Deck Presentation
There is some debate on how long a Pitch Deck presentation should be. Some say 10 slides should be more than enough to give a brief look over your business. Some say it should be 12. Others say 20 slides should be the absolute limit. So, which one is it?
One thing is for certain, it should not feel long. After all, you can have 40 slides and go through them faster than a 7-slide presentation filled with text. But, most likely, if anyone sees a 40-slide presentation their reaction will be of complete dread.  Boring your public even before you start is the worst idea, so try to keep it short and sweet as much as possible.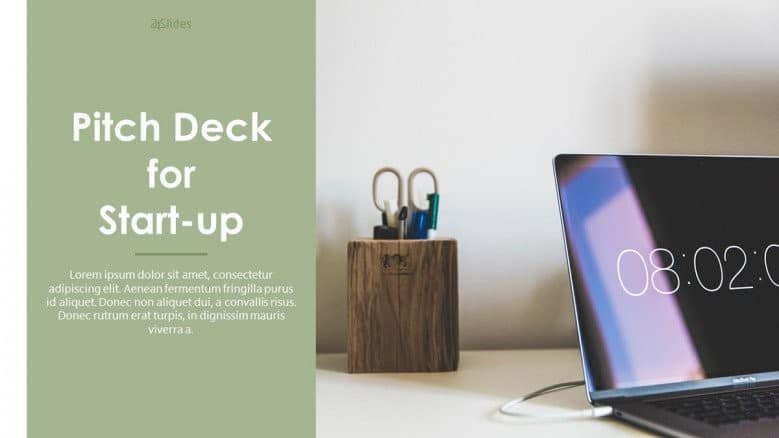 I suggest a 12-sections for an ideal Pitch Deck. This will allow you to give a complete overview of your business without being overwhelming. Ideally, each of these sections should have each one slide. However, this is not a rule written in stone. Maybe it is worth to expand a little more on a specific topic. The golden rule is to keep one idea per slide, even if that means making more slides. This way it will clearer for your audience, and it will be easier to keep their attention right where you want it.
On the opposite side, you don't need to make a slide for every single one of these sections. Maybe some of these won't apply to your business. Consider these sections more as a guideline of what you can use to show your company's potential. Take, for example, the famous early Facebook Pitch Deck.
Early Facebook Pitch Deck from Ilya Friedman, CFA
As you can see, this Pitch Deck has no "Problem" or "Solution" sections. This is because Facebook wasn't tackling any existing problems, but creating a new necessity. Focusing on a non-existing problem would have been useless to justify its importance. Instead, what they do is focus on what it does have: market validation. They expend several slides going through media data that shows how incredibly popular they are and their users' demographics.
1- Introduction
Your introduction should be able to catch your audience's attention from the get-go. Look at the Facebook Pitch Deck. Their introduction is just a quote. But it is a quote that presents them as a revolutionary idea that is changing the way people interact. This is what you should look for an introduction. A short way to present your business in a forward way, while also leaving your public wanting more. Storytelling can be a great tool for this.
2- Team
Not every Pitch Deck includes a Team slide, but it can be extremely useful. Presenting the people making the decisions and showcasing their previous achievements can make investors more at ease. If you have members in your team that add a plus on how execution will be managed in your business, it can certainly be a good idea to dedicate a slide to it. Of course, it is up to you to decide if it's useful or not. You can even change where exactly the slide should go, depending on which topic you feel it connects better.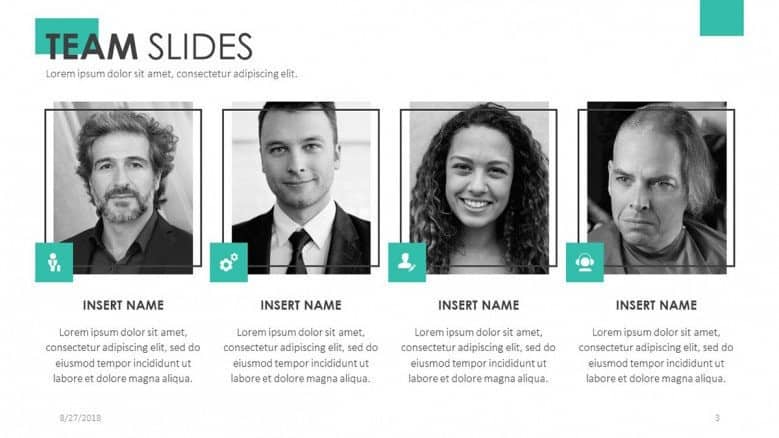 3- Problem
This is a vital slide in (almost) any Pitch Deck Presentation. As Forbes mentions, it is more likely for an investor to bet on you if he can relate to the problem you are putting on the table. Or, in any case, if you can explain it well enough so he can understand its importance. The more inescapable a problem is, the more likely a solution for it will have a big demand.
4- Solution
This slide needs to be as concise and clear as possible. It should answer directly to the problem. Try to avoid offering different solutions. Even if you have a multi-faceted project, simplifying the solution you're offering will make you look more focused and more trustworthy. Afterward, in the product description or the business model, you can elaborate on what else makes your product or services so special, but here, try to keep it as straightforward as possible.

There is also the possibility to join the problem and the solution in just one slide. You can see that in some of the templates below. This can be useful to show the direct relationship between the two of them. You can always do that, just remember that the priority is to be as clear as possible.
5- Product/Service
Here you can show your product in action. Show how it implements your solution and its effectiveness. The Facebook Pitch Deck is a great example of that. Even if there is no solution in this presentation, it makes an awesome job of portraying its product uniqueness. From its users' profile to the networking value it offers, it gives the public a short but complete overview of what the product is about.
6- Traction and Market
This slide should also be straight to the point and data-based. There is nothing speaks better of growth and traction than a data-based graph. Slides such as this one are great to show everything you need with very few words. This is the moment to show your business is already successful, and that, with enough resources, it can become even bigger.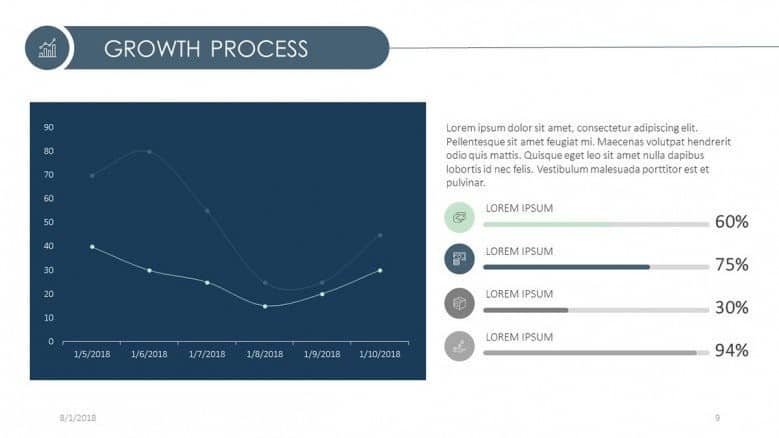 You should have done a good in-depth research on your target market before your Pitch Deck presentation.  Your market can determine your potential exit with investors. The market's size, its willingness to expend their money can be a key factor when deciding where to invest. Showing statistics and customer feedback can be very useful to show how successful your product already is. Just check out the Facebook Pitch Deck. Many of its slides are focused on showing their popularity and reach. This is, after all, what attracts investors.
7- Business Model
This slide is not a requirement, but if done well, it can be a huge plus in your presentation. Show your audience how you are planning to make money. Proving that you have a concrete idea of how your whole business will operate will give you a great image in front of investors and clients. For this, slides with graphs such as funnels can be a great option to display how you plan your business to work.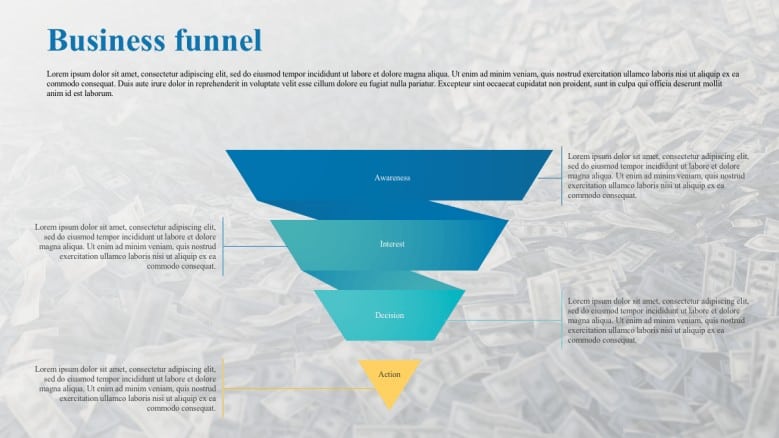 8- Financial Forecasting
This section is where you show your projections to where you see your business going in the future. For example, you can present the expected growth in 3 or 5 years. Sometimes this section can be directly related to the investment section and how would you invest the money to make your company grow.  As always, this depends on your own presentation and the order you want to give it. Just remember that having a realistic, transparent approach to what to expect in the future can really make a difference for your audience.
9- Competition
Even if your idea is great, it is highly unlikely that you are the very first person who came up with something like that. In most cases, you'll have to deal with some competitors offering similar products or services to the same target market. It is important that you have a deep understanding of your business and its differential value. Only then you can really show investors what makes your business unique and why they should be on you instead of any of the others. Yo need to know where you are standing on compared to your competitors and diagrams are a great way to showcase that. SWOT analyses are also a great way to convey both yours and your competition's strengths and weaknesses.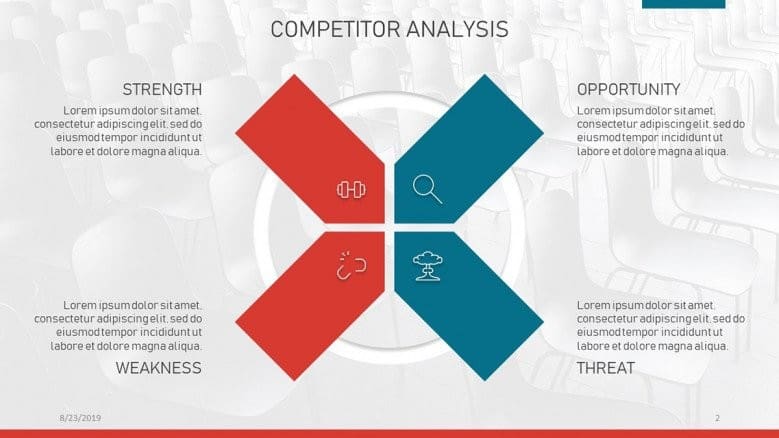 10- Desired Investment
Even if everything else is great, your Pitch Deck won't be really successful until you actually get the fundraising you need. And to get it, you have to eventually ask for it. Presenting a plan of what you expect to do with it and how it will be used to grow the business will show your audience how grounded the management is.
11- Closure/Contact
Finally, you should invest some time in making a good closure for your presentation. In Facebook's Pitch Deck, is another great quote, that makes the presentation end at a high note. You should certainly aim for that. But even if it's not possible, you should at least have a slide dedicated to contact information. After hearing your presentation, your audience should be completely clear on how to invest and what would be the next steps. At the bare minimum, they should know how to contact you again. After all, the whole purpose of the Pitch Deck is to build relationships with potential investors.
The 4 Best Pitch Deck Templates Online
Here you can download for free some of our best Pitch Deck Templates. Some are long, up to 24 slides. Others are sample slides that you can add in even if you are already halfway through your presentation. As always, all of these are easy to edit, so you can pick which fits better with what you're trying to convey.  These templates will give you that little extra that will take your presentation to the next step.
If you need any help editing these templates, you can always check our Ultimate PowerPoint Template Guide.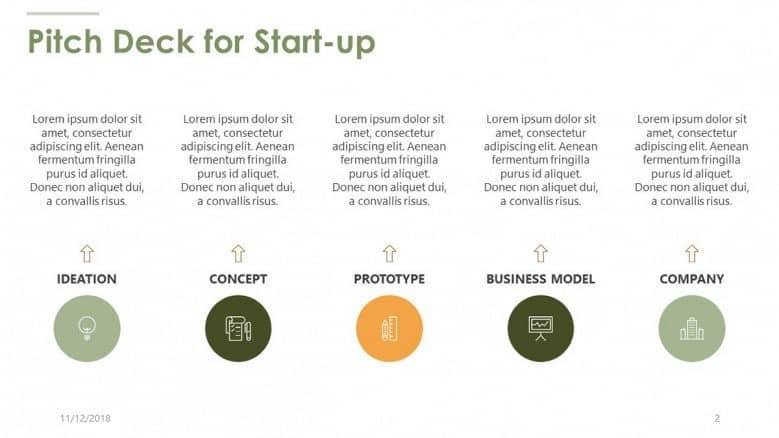 As its title says, this template is ideal for start-ups. You will find anything you'll ever need for your Pitch presentation in this 19-slide pack. It has slides for showcasing your product, from the ideation process, to the prototype, all the way to the finance planning stages. This template has all kinds of diagrams that will help you make a consistent case to get your investors' attention. It starts with an overview slide that will allow your audience to know exactly where they are standing on each part of the presentation. Or, you can also use the overview slide as a closing summary. As always, your imagination is the limit of what you can do with these templates.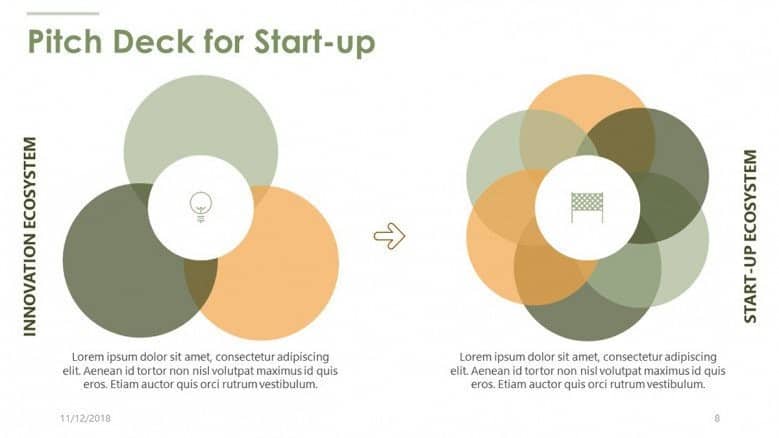 This pack includes Venn diagrams to show innovation and start-up ecosystems, maps in case you're aiming for a worldwide plan, pyramid visuals, and much more. It also includes a target audience slide that you can use to showcase your market analysis and several charts.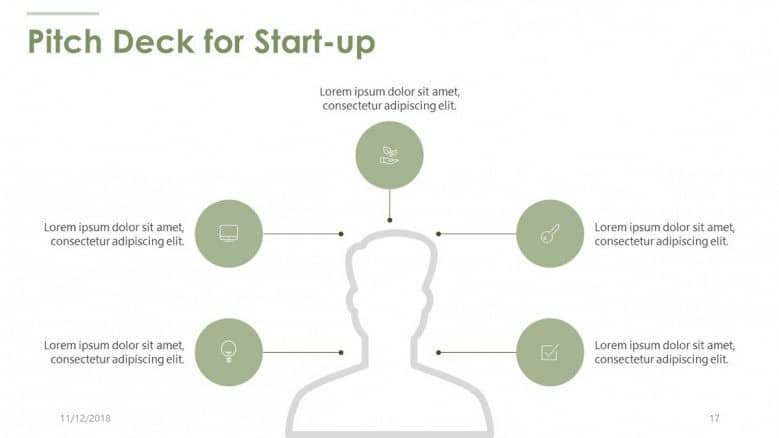 You can also find this template's version for Google Slides here.
This template is ideal for those looking to get their services as a copywriter in the spotlight. It will help you showcase your strengths and abilities as a professional, while also exposing the different types of services you offer. While this is a pack focused on copywriting it can also be edited and used for any kind of service you offer. Slides for topics such as your portfolio and your working process will be useful even if copywriting isn't exactly what you do.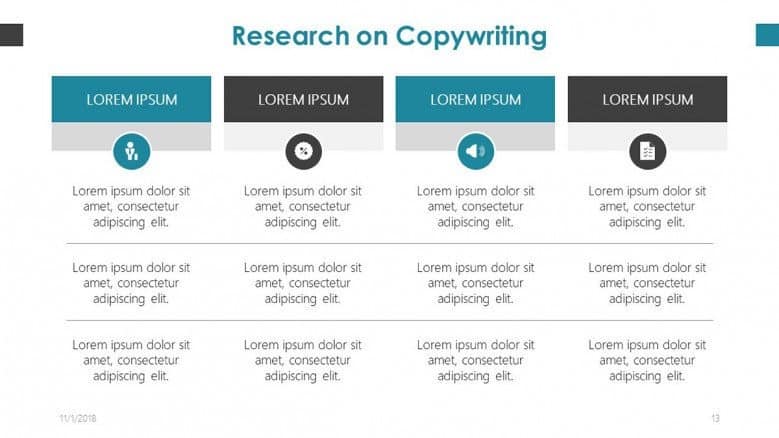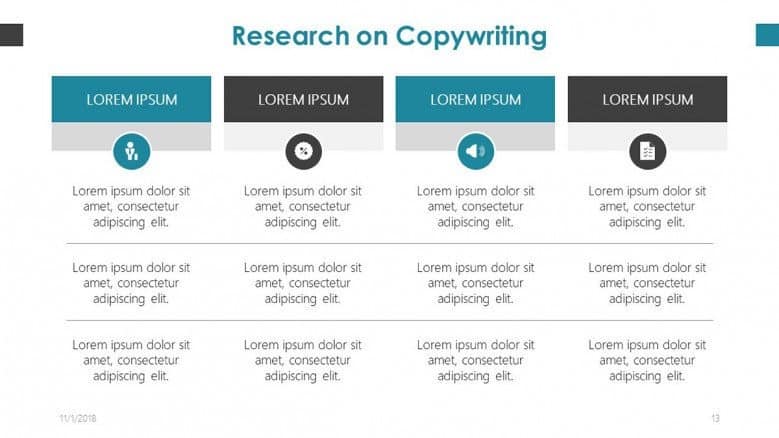 For those that do copywrite, the slide of the content writing cycle is amazing. It will allow you to show your audience in a really thorough way what is exactly what you do and how you do it. This will help your potential clients to understand your work better. But it is also a great way to showcase where you think your value is and what differentiates you from other professionals.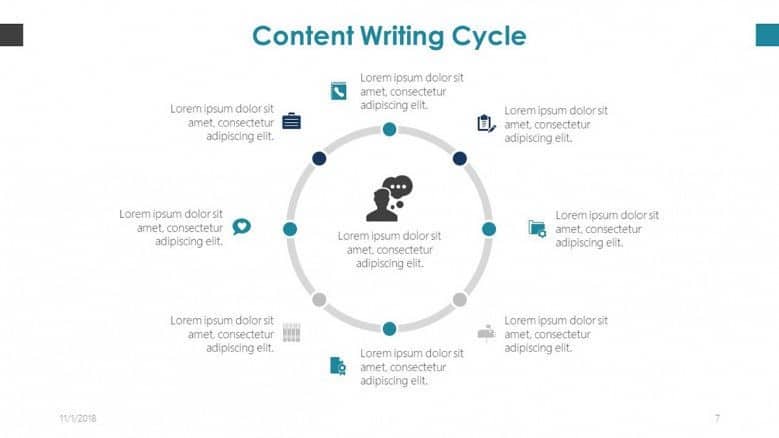 This template also includes slides ideal to show the Competition section of your Pitch Deck presentation. It has charts and graphs to showcase the differences between you and others. It also helps you connect pricing to the value of the services you offer.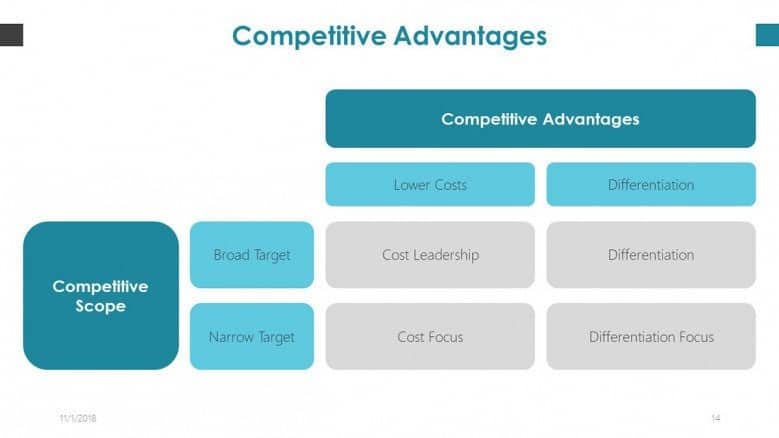 For this one there is also a Google Slides version you can download here.
This 10 slide Pitch Deck template will give you the tools to make a straight-to-the-point presentation, but without losing your playful side. It has great tools that will make you able to show every part of your business and get your point across. This presentation template is data-based, so you'll find graphs and diagrams that could be useful to convince potential investors.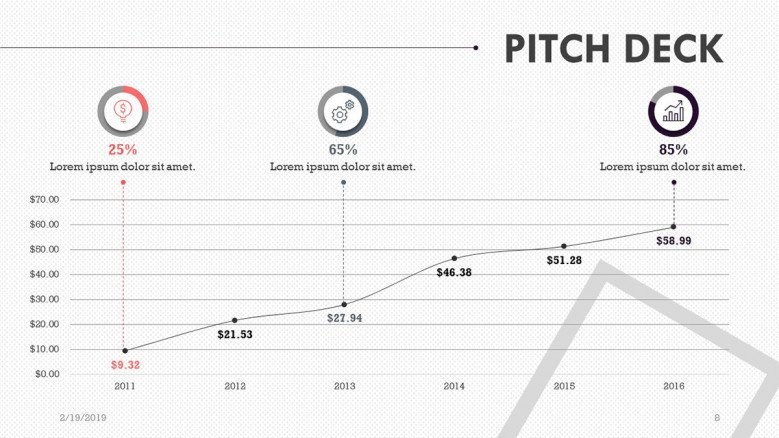 This slide, for example, is great for showing your business growth. Investors are more likely to bet on a business with good and stable growth. This slide could help you not only show off your financial milestones, but also your growth expectations and financial forecasting.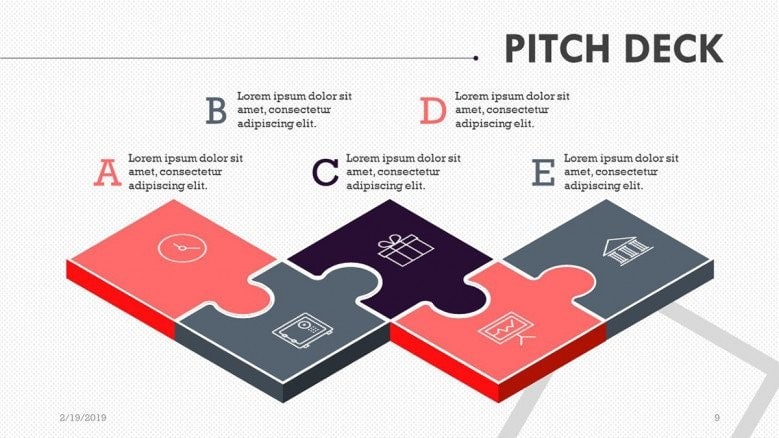 The playful visuals of this pack will certainly stay in your audience's minds for a while. Take this puzzle slide, for example. It is great to connect the problems you have identified with the solution your business brings forward. It will make a memorable way to represent your solution and make sure it stands out from others.
We also have a Google Slides Template for this design.
This megapack of 24 slides has a little bit of everything. Circle graphs? You got it. Process diagram? You got it. Bar graphs? That too. You can pick from the amazing assortment of types of slides on this pack, and use those that will showcase your business better. With this template, it is up to you to show the best and to cause a great impression on your audience.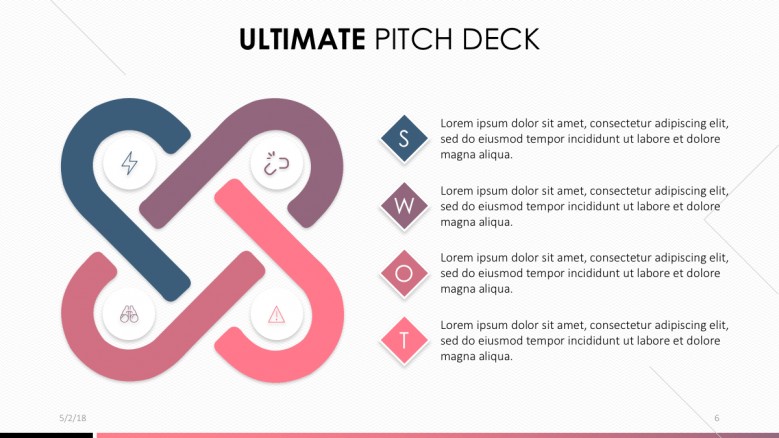 With slides such as this, you will be able to convey what you think will give a better idea of what your business really is about. For example, this great SWOT analysis template. By showing you know you are aware of both your strengths and weaknesses, you'll show potential investors or clients that aware of your surroundings and your own shortcomings.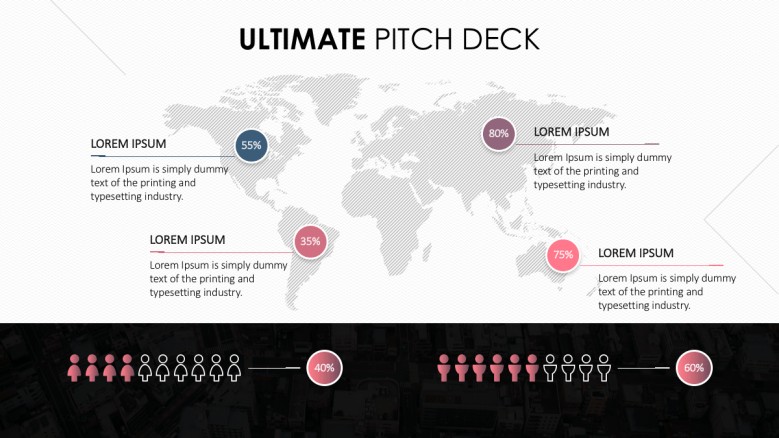 This Pitch Deck pack comes with over a dozen slides of different graphs, diagrams, and visual aids. It has maps if you want to show your worldwide reach, it has different types of pyramid graphs, process diagrams, and more. It really has everything you could need for an outstanding Pitch Deck presentation.
Independent slides
These templates, while they are not enough on their own to make a complete presentation, they can be a great complement for others. All of these bring different things to the table you can take advantage of and make a better-rounded Pitch Deck.
This template pack has 3 incredible slides that would fit perfectly into any Pitch Deck. First, its vision and mission slide will allow you to give your audience a more in-depth look at what your business is really about. It also has a great geometrical process diagram. And finally, it has a roadmap slide, that will allow you to showcase the steps to be taken to achieve a specific goal. All these slides have beautiful bright colors that will assure that your audience's attention remains exactly where you want it: In your presentation.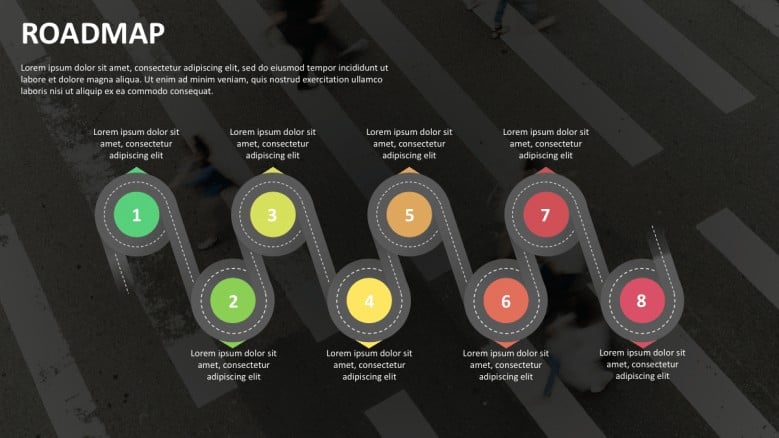 Even if this pack is not directly a Pitch Deck template, its slides can be extremely useful as part of one. Its slides are great to convey what kind of investment would you be interested in, and what they would get from the partnership. It has an Investing Strategy Slide that is useful for the "Desired Investment" section of your Pitch Deck. If your audiences are aware of what their resources could be used for and the impact they could have, they will be more likely to consider making an investment.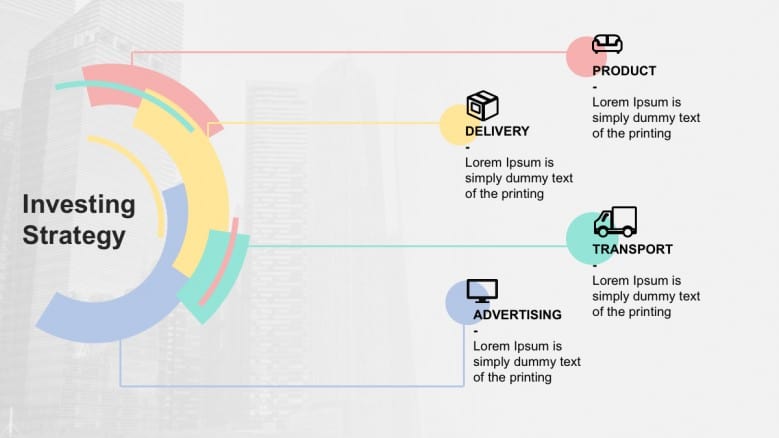 This template also includes a Company Strategy slide, which is great to show the overall workings inside your enterprise. This template is great for showing your business model and introducing your audience to your goals and objectives.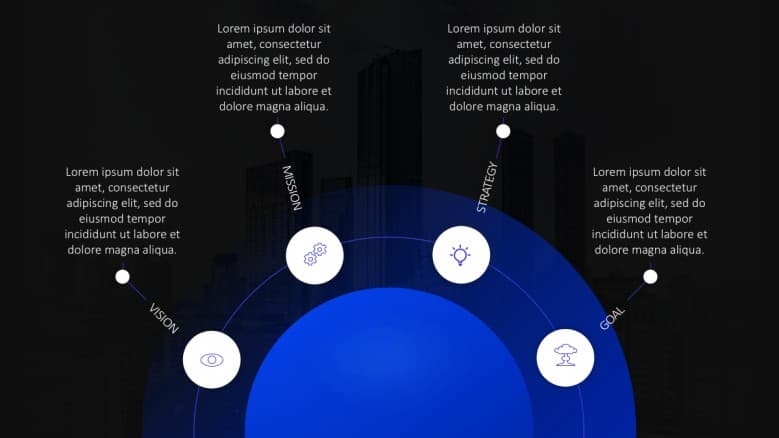 This is another 3-slide pack with great visual aids that would fit amazingly into any Pitch Deck. It has an introduction slide that could be used to present your company or your product. But it also has a really eye-catching business model slide. This one is a vital part of your Pitch Deck since it will allow your audience to understand how your business works and make them feel more confident in investing. It also includes a Problem-Solution slide. This will allow you to present the relationship between the two points, rather than presenting each by their own side.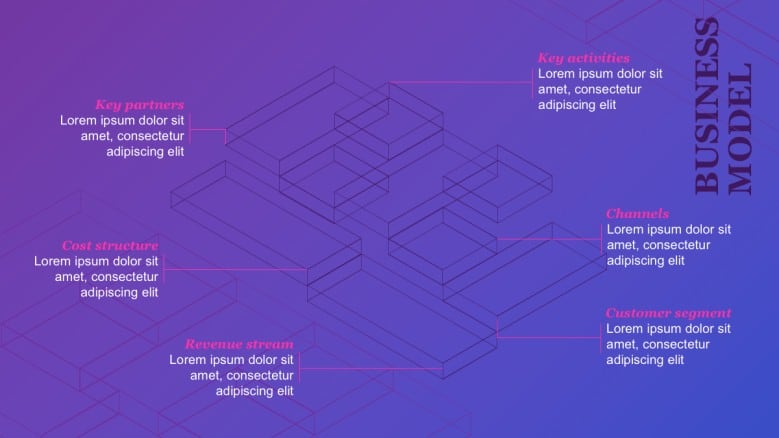 Here you can find some more amazing independent slides, ready to be used in a Pitch Deck. You can use the Start-up Project Timeline to show the steps required to complete a specific task or goal. The introduction slide is great to give a general overview of your business or your product. It includes several icons, so you can showcase different aspects of your company. Finally, this template pack also has a Market Slide. A slide like this one is vital in any Pitch Deck, since being able to prove your knowledge of your market is a big step for being trusted by investors.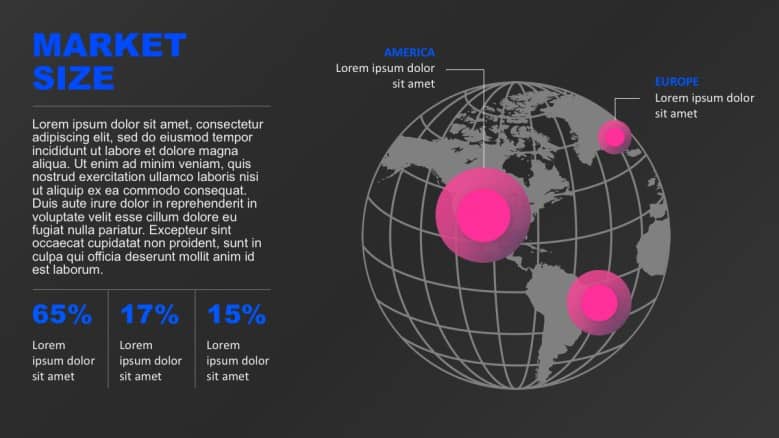 Finally, you can use this creative Pitch Deck Slides pack to complement any presentation you want, whether it's one of the above or one completely of your own. It has a market segmentation slide, great to introduce your segment to your traction/market section. There are many different aspects that can be part of your differential value. One thing that can distinguish yourself from other competitors can be the way you present yourself to your potential customers. That is why a slide for your Marketing Strategy can be so important.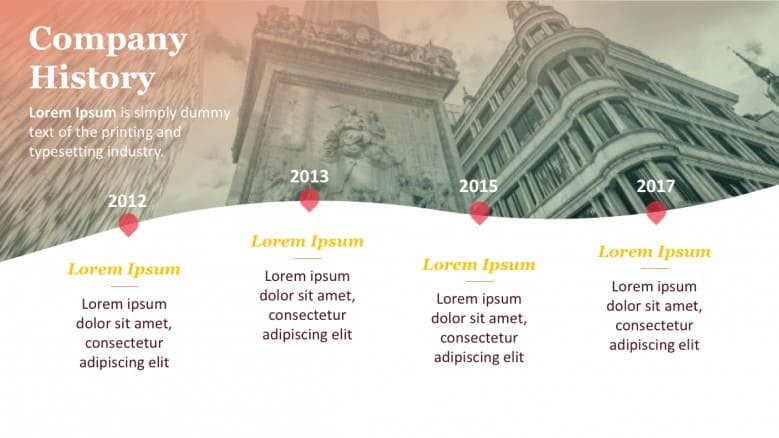 Making Your Own Pitch Deck
So, which one should you use? Sadly, there is no easy answer to this question. How long your presentation should be, and what slides you should use for your Pitch Deck depends entirely on you. It depends on what you believe are your strengths, what do you think your differential value is, and so on. It depends on what numbers you have that could be eye-catching for potential investors.
Good thing is, there is no wrong answer either. Think carefully about what you want your audience to get out of it, and what specific information will convey this idea the best. Do you think one of the best things your business has is its stability? Then showing a graph of steady growth might be a good idea. Or maybe the best aspect is that there is a huge market to tap on. Then making an extra effort in the market slide is a must. Really, really knowing your business is the only way to make a truly great Pitch Deck presentation.
And, as always, remember that the slides are just a tool. There is a limit on how much a good presentation design can do when the speaker is not at their best. The delivery is a vital part of every presentation, and even more in this kind of presentations. A Pitch Deck should be highly persuasive. Whether it is to an investor, a client, or a partner, the challenge is to convince them of the potential of your business. To make them see not only what the company is but what it can become (with their help). This is why the speaker should be someone who believes in the product and is passionate about it.