Social Media Presentation Templates for your Marketing Strategy
For good or for bad, Social Media has changed our lives. Facebook, Instagram, Twitter… These are all words that are part of our daily life now. Millions of people spend hours a day checking their social media platforms. And this phenomenon is an excellent opportunity for business. Digital Marketing has evolved a lot in the last few years. Social media, however, it's a whole world on its own, and it's worth its own marketing strategy. Here you'll find the best free Social Media presentation templates.
An excellent way to engage your clients is through social media. Platforms such as Facebook or Instagram have become true gold mines for digital marketing. But it only works if you do it correctly. It's not enough to post something every once in a while. If you want it to work, you need to make a Digital Marketing strategy. This means planning what and how you're going to do, assigning responsibilities, setting a budget… Bring your team or your boss on board of your strategy proposition with this amazing Social Media Presentation Template.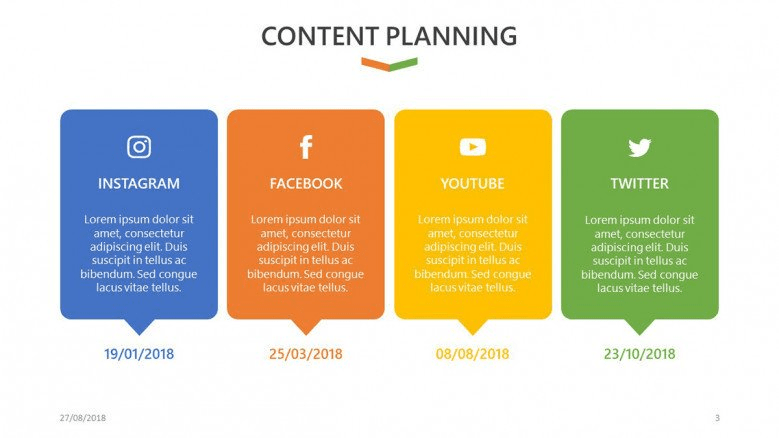 This template's colorful palette will help you get your audience's attention. While most of the other templates in this article follow a more playful design, this one is a little bit more serious. However, its bright colors and unique layout will avoid your presentation turning dull and boring. It also has several charts and diagrams that will help you showcase your data in visual and more engaging ways. It has bar charts, line charts, circle charts, and even a map.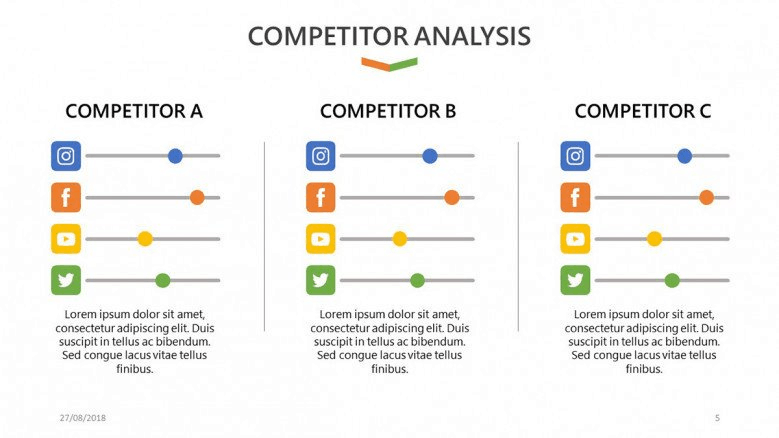 Another great element you'll find for your social media presentation is a competitor analysis slide. It's always wise to know what your closest competitors are doing. This way, you can plan better strategies to take advantage of their weaknesses. This also applies to social media. So take some time to see by yourself what your competitors are doing and what you can do better.
Social Media marketing strategies are unique because social media are usually used for a closer and more personal interaction. It completely depends on your market, but most of the time, social media is the ideal way to connect with your potential buyers in a more relaxed, casual and friendly way. If you don't believe it, check out this QSR Magazine's article on how Wendy's uses social media!
This Social Media Presentation template and its playful design will help you convey friendliness from the very start. This template is ideal to showcase your strategy, do your monthly reports, and share your findings and growth of your business in social media. All in an engaging and fun way.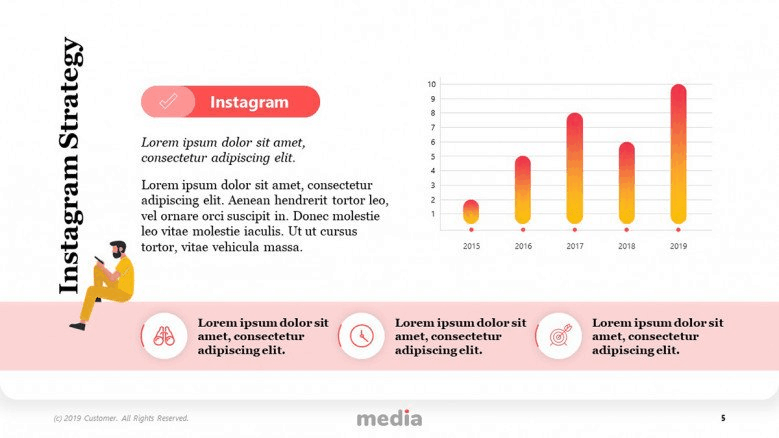 It has slides in different colors for each platform. It also includes a team slide and a chart and graph slide so you can show quantitative data you've found in your campaigns. This Social Media Presentation also includes a slide to show what's the different approach you'll take for each platform. In short, it's the ideal template for a digital marketing report.
Ever since it first appeared, Facebook has always been one of the big players when talking about social media platforms. The rise of influencers has made it an even more important tool when considering digital marketing. The platforms you use depend a lot on your product, your market segmentation and your marketing strategy. But if you have chosen Facebook as a platform for your digital campaign, then this Social Media Presentation template is for you!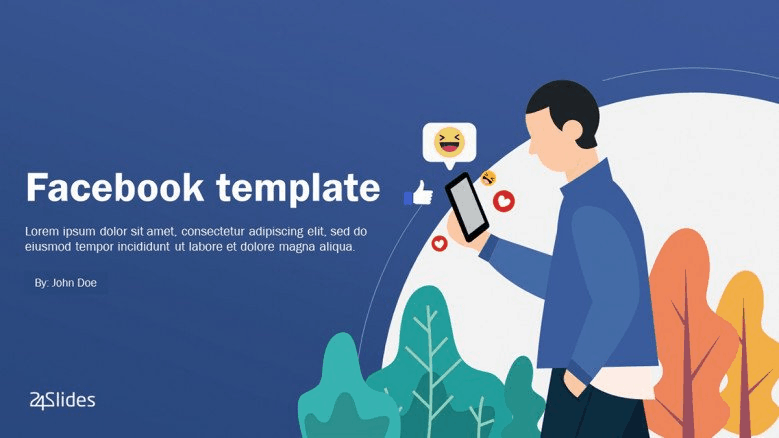 This template has a playful style that will give your presentation a fresh and entertaining look. It follows a color scheme designed to resemble Facebook's colors, so your audience can connect immediately with it. And all along the presentation you'll find icons designed with the Facebook "reactions" on mind. It includes an agenda, and charts and graphs in case you need to add some numbers to your presentation. And, an awesome Facebook themed SWOT analysis slide for your strengths, weaknesses, opportunities, and threats.
Planning on starting a campaign on Twitter? Then this social media presentation template is what you need. Twitter is a microblogging service that, ever since it first started in 2006, has only been gaining more and more users. One of its main characteristics is that you can only use 280 characters per post. This may seem like a hindrance, but it's actually a great opportunity. Twitter demands that you think about everything in terms of conciseness and impact. If you're up for the challenge that Twitter represents, then you'll certainly have to think about your strategy very carefully. You can not treat this platform as any of the others, nor you can do exactly the same campaign. Twitter needs its own marketing strategy! And if that is what you've decided, then this PowerPoint template will help you showcase it perfectly.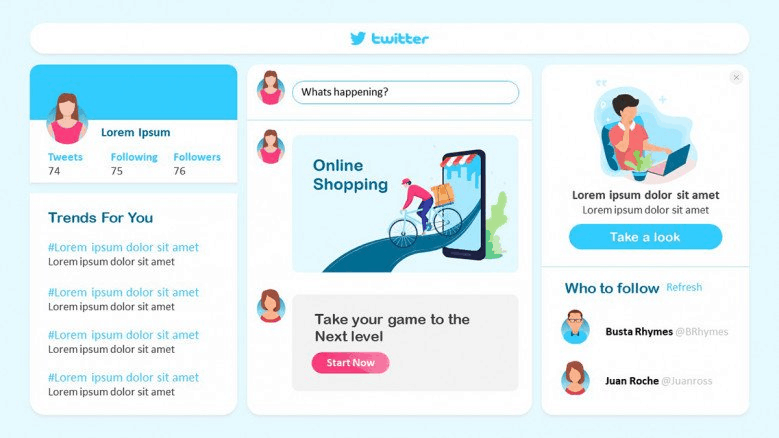 The whole presentation is designed to look just Twitter's layout, which makes for a really unique and fun PowerPoint. It has several text slides for all the information you could need to add. All these have customized illustrations, so despite them having a considerable amount of text, they're still engaging and eye-catching. It also includes a bar chart slide and a team slide, among many more.
Other Social Media Presentation Resources
The templates here are not meant to be complete presentations. But rather, great slides that can improve any social media presentation you're planning to do. You can download them for free and see which one would be a good addition to your presentation. Each of these has some really awesome slides that will help you get your PowerPoint to the next level.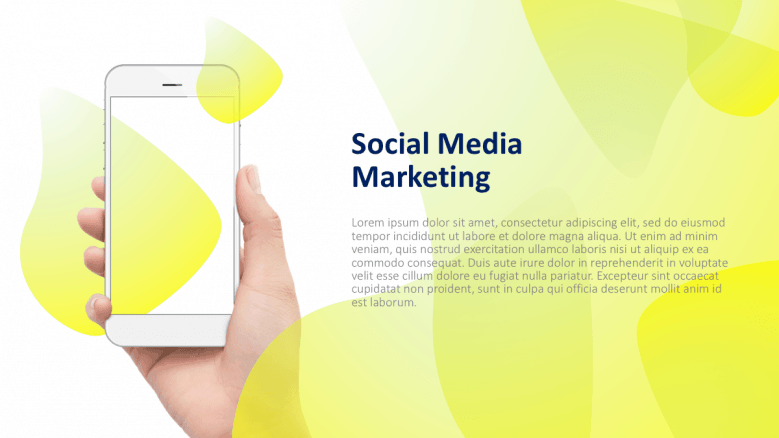 Marketing strategy is usually a process. You need to think about your strategy in several steps since it's not going to happen overnight. This template has 3 slides that are perfect for showcasing your marketing process. It's bright colors and creative design will help you convey clearly all your ideas.
Who said PowerPoint presentations have to be boring? Even if the "death by PowerPoint" phenomenon it's pretty common nowadays, it's up to you to make an eye-catching, engaging, presentation. The bright colors in this Digital Marketing PowerPoint slides will help you a long way with that.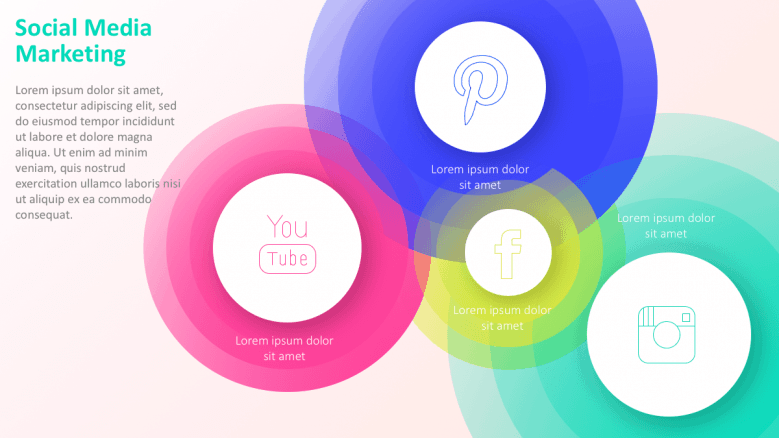 This deck includes 3 Social Media slides that will fit perfectly any presentation. They're great because they allow you to showcase the platforms you're planning to use separately. And it also includes a marketing SEO strategy slide for your social media strategy presentation.
In this PowerPoint template pack, you'll find some truly amazing icons for your next social media presentation. With these, you'll be able to turn even the plainest presentation into a unique one. You can use them as bullet points, or to highlight important information. They're also easily editable, so you can rest assured they'll fit what you have in mind.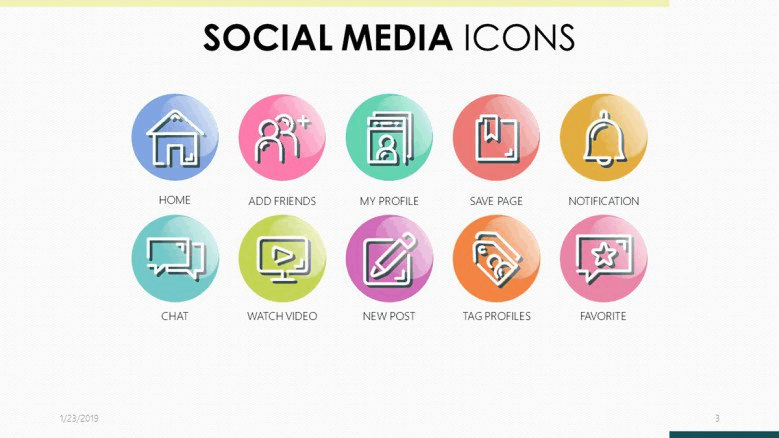 You'll find icons for social media platforms, blogging, and other common aspects of the social media world. And, as always, you'll find these in different styles. You can use the playful style ones to make a more light-hearted presentation. Or you can use the more corporate ones for a more serious one. In any case, you'll find something that will fit your needs and help you customize your presentation.
These Social Media presentation templates are only the tip of the iceberg of everything you will find in the Templates by 24Slides platform. There you'll find many more presentations concerning marketing and digital marketing, in case you want something more general. And obviously, you will find hundreds of templates concerning every possible aspect of your business and business strategy.
If none of these strike your fancy, you can always talk to our designers here at 24Slides. They'll be happy to help you design a completely customized presentation that really represents your brand and amazes your audience!