Free Gantt Chart Templates For PowerPoint Presentations
PowerPoint presentations that feature a Gantt chart need not be complicated. Sure, there may be instances when your Gantt chart is several rows or columns long, but do you really need to present everything to your audience? Well, that's what you're going to find out in this article. Today, I'm going to show you where you can find the best free Gantt chart templates for your PowerPoint presentations.
What Are Gantt Charts?
At first glance, a Gantt chart may look like a bunch of horizontal bars that look vaguely like a timeline. To the untrained eye, it can even look complex and intimidating. But to people who've encountered Gantt charts before, they are quite literally, a godsend. This relatively simple tool has made the lives of countless project managers, scheduling managers, team leaders, business owners, CEOs, and more, so much simpler!
In a nutshell, a Gantt chart is a visual tool which makes it easy for everyone involved in the project to know things like:
The start and end date of various tasks, activities, events and the entire project
The various stages of the project (from planning to completion)
The duration of each stage, tasks, events, etc.
The activities which overlap
The sequential tasks or activities in the project
The people or team assigned to each task
Keeping track of the actual progress
And so on
With Gantt charts, planning and scheduling complex projects become relatively faster. Depending on the complexity of your project – like the number of sequential and parallel tasks involved, the overall scope of the project, the duration, etc. – you can easily create Gantt charts on your computer. Or not. If you're like Geof Lory, you can opt to create your Gantt chart using… Lego blocks! But seriously, though, if you want to streamline your project's management, then it's best to use computer software.
Using Gantt Chart Software
There are many different kinds of software you can use to create your Gantt chart. You can use good, old-fashioned spreadsheets like Excel and Numbers (Mac). If you collaborate with a team, you can use a web-based tool like Google Sheets.
There are also plenty of premium and browser-based charting tools you can choose from. For instance, a simple Google search of 'Gantt chart maker' will yield tons of results.
Tools like GanttPro and ProjectManager help streamline the creation of Gantt charts, which ultimately leads to increased efficiency and better work performance for everybody involved in the project.
Please note, however, that different platforms offer different features at various price points, too. The good news is most of these Gantt chart makers offer a free version of their software, so if you're in the market for that, then you can certainly try before you buy.
Creating Gantt Charts In Powerpoint
There are quite a few ways to go about creating Gantt charts in PowerPoint. Here are two of the most popular methods:
Import or copy data from Excel
Here's a quick video that will show you how you can import your data from Excel and then use it to create a Gantt chart in PowerPoint.
Create Gantt chart directly on PowerPoint
There are two ways to go about creating a Gantt chart in PowerPoint. You can do this the easy way or the hard way.
Let me show you the hard way first:
As you can see from the video, you'll need to manually create a table, add in milestones or events, draw the shapes, color the shapes, etc. If you don't need to do a complicated Gantt chart, you can probably finish this in under an hour. But good luck if you need to do a complex chart! You'd probably spend a few days working on your chart! Luckily for you, there's an easy option: free Gantt chart PowerPoint templates!
Free Gantt Chart Templates For PowerPoint
Templates help save presenters a ton of time. They generally make people's lives a whole lot easier. If you don't want to waste hours upon hours designing slides for your Gantt chart, then you should definitely check out these free templates below: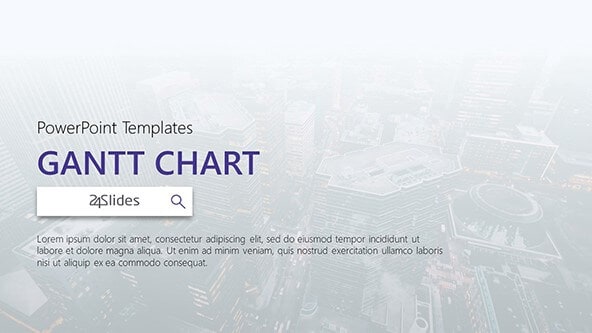 This free template pack is comprised of 10 slides; this includes the cover and thank you slides. Business and corporate presenters who need to show their project's proposed schedule or actual progress can benefit from this template. These slides are easy enough to edit and are highly versatile. You can use the different charts to represent daily, weekly, monthly and yearly tasks or events.
Here are some of the slides included in this template pack: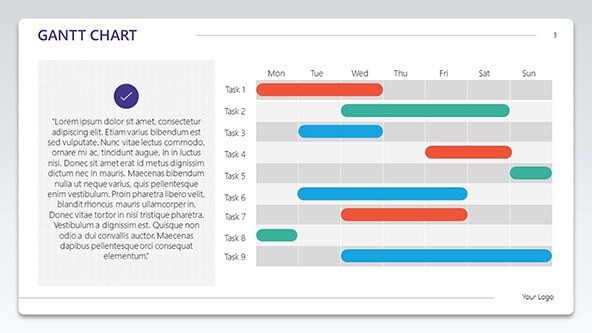 If you want to present the different daily tasks involved in your project, then you can use this slide. You have a description box on the left side of the slide. You can use it to describe what the collective goal of all the tasks is, or you can use it to write down the legend of what the colors on the chart represent. While this chart currently follows a daily format, you can easily edit this if you want to convert this into a weekly or even monthly Gantt chart. You simply need to edit the text at the top.
Use this slide if you need to display your project's monthly activities or events. Note that the slide denotes a series of parallel events; if you need to show sequential events, that is, events that happen one after the other, then you simply need to move the green shapes around until they correspond with the correct start and end dates.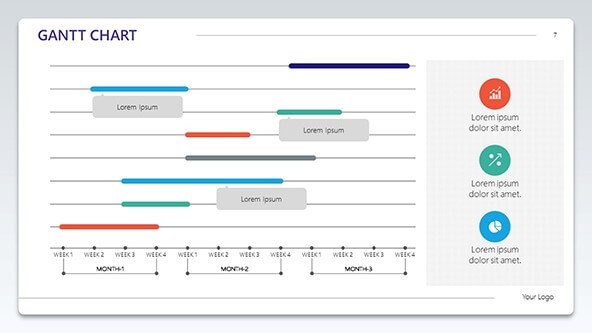 This is a different way of presenting your monthly and weekly tasks. There's no task description on the left like you've seen with other slides, but you can use the icons on the right, and color-code it to match the horizontal bars on the chart.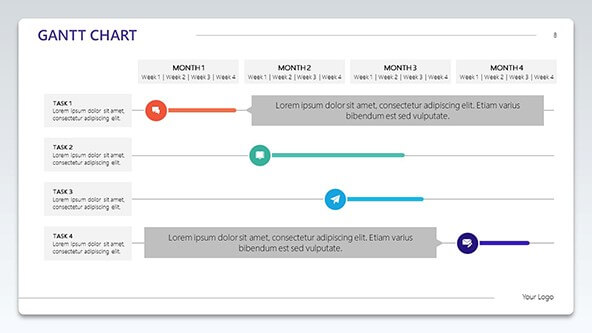 This is another version of the monthly Gantt chart that you can use for free. You can put a short description of your tasks as well as use icons right beside the color-coded horizontal bars. If a different person is assigned to each task, then you can add their names right below the Task name. If you want an uncluttered look for your Gantt chart, then this may be a good slide for your presentation.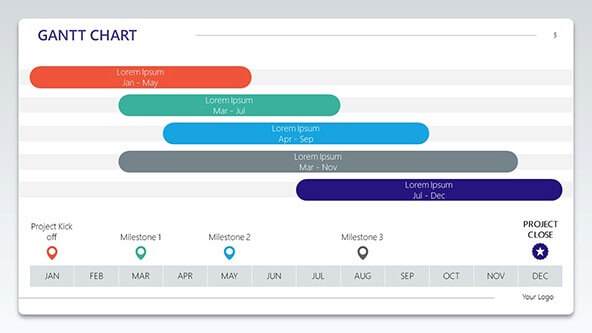 This annual or yearly Gannt chart is best used for long-term projects. If you need to show your investors or your shareholders your long-term plans, then this is the slide you need to use. You can show how the project progresses each month and when each task is expected to finish. If you need to go beyond 12 months or 1 year, then you can easily edit the PowerPoint slide as you see fit.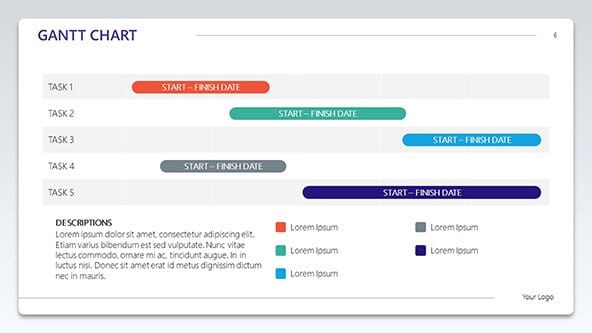 If you want to highlight the most important events or tasks in your project, then you need to use this slide. You don't want to list down all your tasks here because your slide is going to become crowded. As you can see, there's plenty of white space on the slide, so it's really on the eyes. For best results, pick 4 or 5 relevant tasks and arrange it by their start date.
For academic presentations, especially those in the Sciences, this free Gantt chart template pack may be suitable for your needs. Our in-house designers have kept the design simple enough to match academic requirements. Of course, if you want to use this for business presentations, you're certainly free to do so. You can simply swap out the background image and the Science icons to make it more appropriate for your business audience.
While this template pack only includes 3 slides, we find it's more than enough for most Science presentations.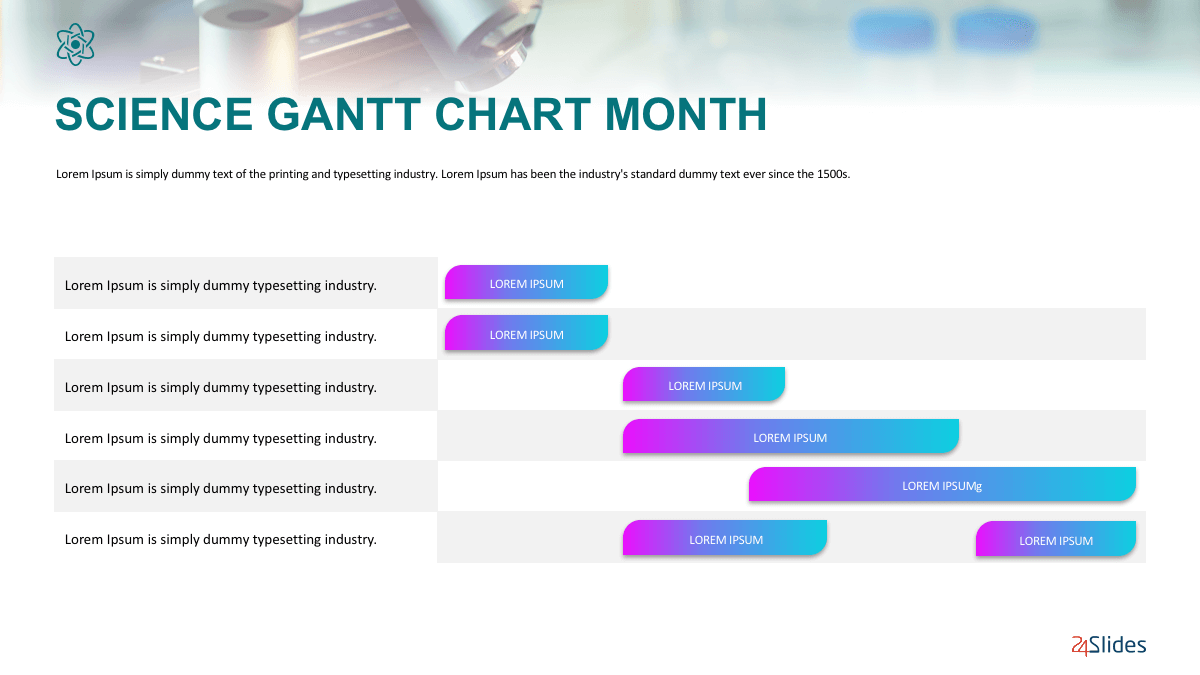 For this slide, you will need to insert the month, probably on the horizontal axis, so that your audience can easily deduce the start and end points of each task. Alternatively, if you want to describe weekly tasks, you can just insert the week numbers on the slide.
For projects that start and finish within 3 months, you can use this slide to describe the most important events within this time period. The horizontal bars are color-coded; you can add a short description at the bottom-center of the slide.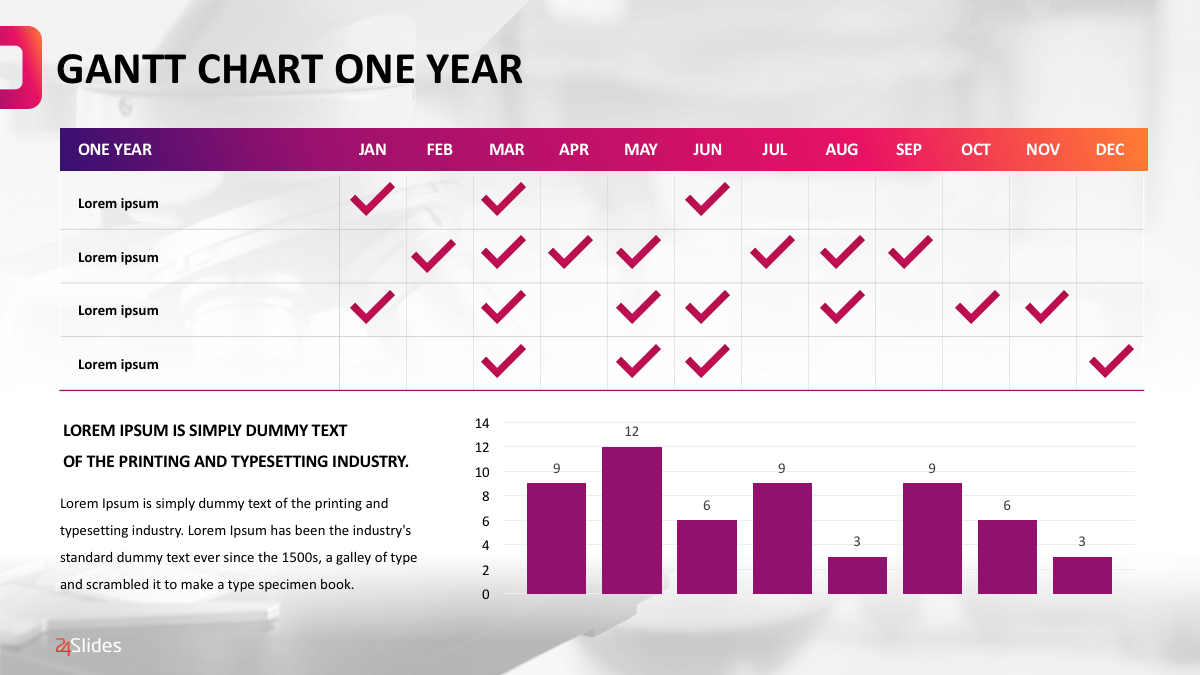 For Science projects that take up to a year (or more), then this is the slide you need to use. Obviously, you will need to select the most important tasks only because you don't want to crowd out your slide and bore your audience. If you need to display a bar chart of your project data, you can edit the chart at bottom-right of the slide.
Office Timeline certainly knows their way around Gantt charts and timelines in general. After all, they've created a PowerPoint Gantt chart add-in that makes the whole creation process super simple. Their free templates have been downloaded thousands of times.
You can download any of the free templates shown in the screenshot above. Simply click on the template you want to use, then hit the Download button. They include 2 slide options per template: standard (4:3) and widescreen (16:9). You can also choose between a light and dark layout.
If you have an older version of PowerPoint (2010 or 2013), then you can check out the free templates from this site. You can click on a template pack you want to use and scroll down the page to look at screenshots of individual slides.
You can select from a variety of free PPT Gantt Chart templates on this site. Simply scroll down the page and click on the download button. While I find most of the templates to be outdated and boring, these are nevertheless a good option, if for some reason, our free templates are not to your liking.
The Right Way To Present Gantt Charts In Your Presentation
Some presenters cram their entire Gantt chart on a single slide, while some may use up several slides for a single chart. They think that they need to show every single detail of their project to their audience. But if you were in the audience's shoes, would you have cared what all those details meant? Your answer is most likely a big NO.
When it comes to presenting Gantt charts in presentations, it's important to only share the most relevant and most important details about the project. You don't want to bore your audience to death! If you show them slide after slide of your Gantt chart, they're going to end up cross-eyed at the end of your presentation!
Obviously, you want your audience to learn something new from your presentation. You want them to pay attention. The best way to do this is by sharing only the most important events, tasks, milestones of your project. No need to dump your entire project on your unsuspecting victims.
Final Words
Gantt charts are important not just in project management, but in the business and corporate world in general. When creating Gantt charts, attention to detail is a necessity. However, when it comes to presenting your chart in front of an audience, you need to cherry pick the most important events or tasks that are relevant to whatever your presentation's goal is. The free Gantt chart templates I've shared in this article should help you present just the right amount of detail to your audience.