How To Use PowerPoint Design Ideas - All Questions Answered!
Designing slides can take anywhere from several minutes (for knowledgeable designers) to several days (for design novices). If your design skills lie somewhere in between, that's still a few hours you can put to good use if freed up. Fortunately, PowerPoint Designer or the Design Ideas tool is available to save the day!
In this blog post, you'll learn everything about this incredible PowerPoint feature. From its technical requirements to how to enable or disable it and, most importantly, how to edit your Design Ideas.

Let's get started!

What is the PowerPoint Design ideas tool?
Think of PowerPoint Designer or the Design Ideas tool as your personal presentation designer. Just type in a few lines of text to the slide, maybe an image or two, and voila! You have 8 different layout and design suggestions from PowerPoint.
The first time you use it, you'll probably be amazed by the visual feast PowerPoint will serve right before your eyes. The suggestions are random but can be breathtaking.
If you have an Office 365 subscription, you can find it on the Design tab. The Design Ideas button should be on the right side of your screen like you see here:

Now, let me give you a quick peek into how this tool works!
Take a look at the screenshots below. I only wrote the word 'Hello' on the slide, and look at what the Design Ideas panel on the right side of the screen has come up with!
This is on PowerPoint (Mac):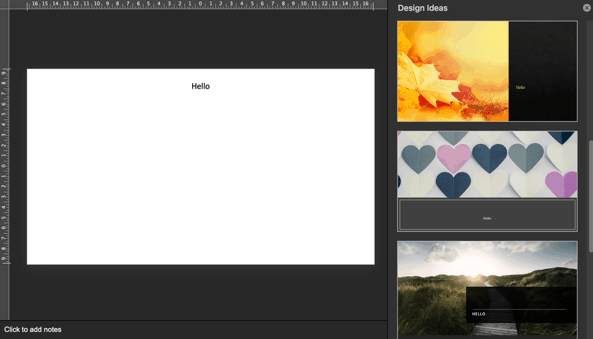 This is on PowerPoint (Windows):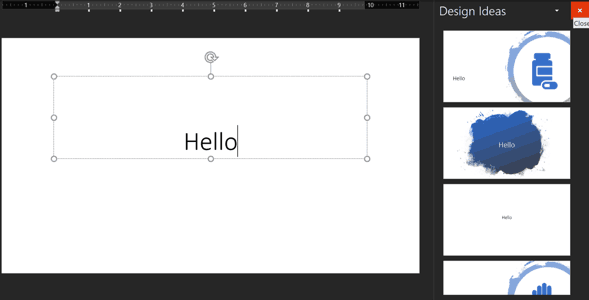 As you can see, the same text (Hello) generated vastly different design ideas. On Mac, the suggestions were visually captivating, with beautiful imagery used as background. On Windows, the suggestions were a bit basic, to be honest.

For the next example, I deleted a couple of characters from the 'Hello' text, and then retyped them again. I got the following design ideas: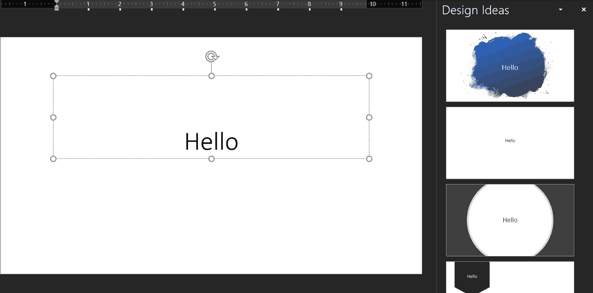 As you can see, it's still the same text, but different design suggestions. This is the beauty of Design Ideas – the suggestions appear to be random. So, if you're not happy with any of the suggestions, you can give it another try, and you'll get a bunch of new ideas.
This can even be your starting point to building amazing presentations as the professionals do: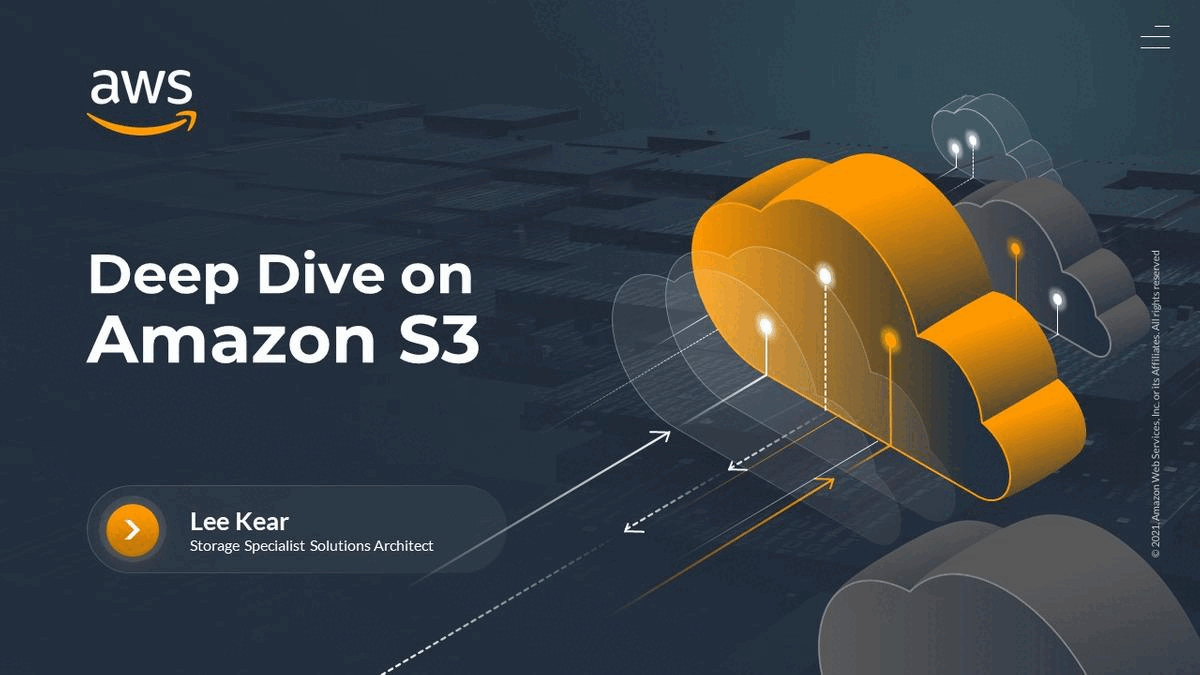 What are the requirements for PowerPoint Designer?
If you don't see the Design Ideas tab in your copy of PowerPoint, then you probably don't meet the following requirements:
PowerPoint on Windows/Mac – an active Office 365 subscription
PowerPoint Online (web version) – you don't need an Office 365 subscription, but you need a OneDrive or SharePoint Online account
iOS – you need an iPad. This feature isn't available on iPhones.
Android – you need an Android tablet. This feature is missing on Android smartphones.
Windows mobile – you need a Windows tablet to access PowerPoint Designer. This feature is not available on Windows smartphones.
Don't have an Office 365 subscription but want to use PowerPoint Design Ideas?
An Office 365 subscription can go as low as $6.99 per month (or $69.99 per year) for the Office 365 Personal plan. Whether you want to invest the money or not is up to you.
Personally, I think the subscription is worth it because, in addition to PowerPoint, you do have access to the entire Microsoft Office suite. Plus, you also get 1TB of storage on OneDrive. However, if you're only going to be subscribing just so you can use the Designer tool, then I suggest you follow this tip below instead.
Here's a workaround if you don't have a subscription but really really want to use the Design Ideas tool (I don't blame you, it's a useful feature!):
1.- Sign up for a free Microsoft account, which automatically comes with 5GB OneDrive storage.
2.- You can then go to Office.com and log in using your account credentials.
3.- Click on the PowerPoint icon to open the app on your browser.
4.- You'll notice that when you go to the Design tab, you'll see the Design Ideas button in there!
Here's a screenshot: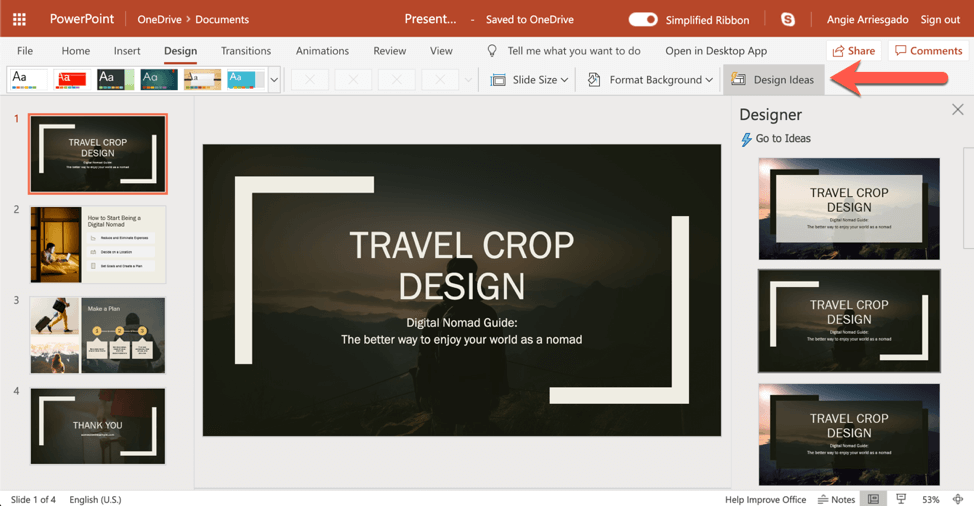 And what's really cool about using PowerPoint Online is that you get 10 design suggestions as opposed to the 8 on either Windows or Mac desktop app.
Here are a couple of ways you can go about taking advantage of the free Design Ideas tab on PowerPoint Online:
Method 1: You can design your slides on PowerPoint desktop. Then upload your presentation file to PowerPoint Online and edit it using the Design Ideas feature.
Method 2: Just go directly to PowerPoint Online and work on your slides there. The downside to this method is that the web app is not as robust or as full-featured as the desktop version (specifically, PowerPoint for Windows). But if you just want a simple presentation without putting too much effort into the design, then this method is a great workaround.
How to activate or enable PowerPoint Design Ideas on your computer?
If you have an Office 365 subscription, but your Design Ideas button is missing in the Design tab, then it's probably not activated. Here's how you do it:
PowerPoint Windows: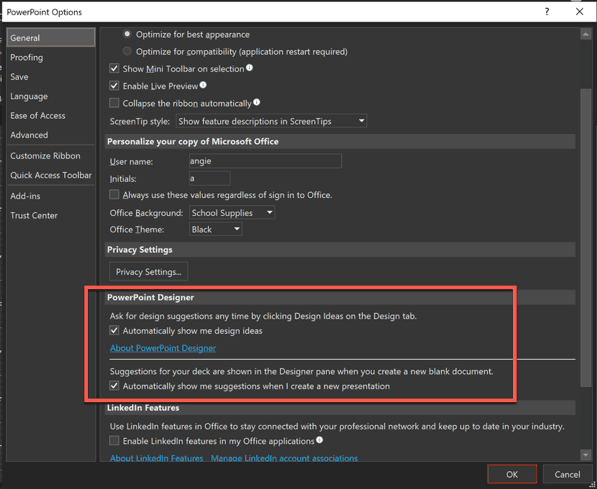 Go to File > Options. In the General tab, you'll see the options for PowerPoint Designer. There are a couple of choices for you:
If you want to automatically show design ideas every time you click on Design Ideas, then you should tick the option that says 'Automatically show me design ideas.'
If you want PowerPoint to automatically show you suggestions every time you open a new blank document, then you should tick the option that says 'Automatically show me suggestions when I create a new presentation.'
PowerPoint Mac: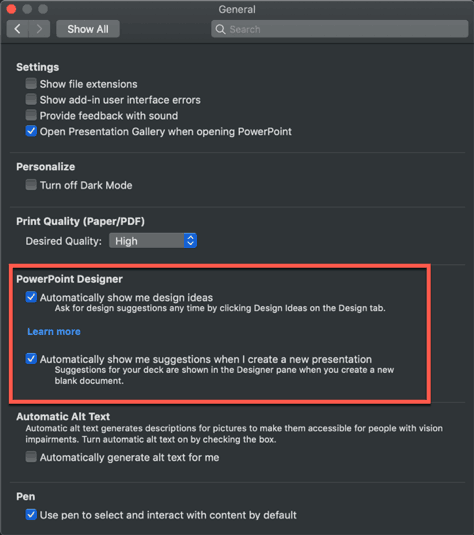 First, go to PowerPoint Preferences or press the command and comma keys simultaneously (command + ,). In Authoring and Proofing Tools, click on General. You'll then see the options for PowerPoint Designer. Just like the Windows version, make sure you tick on the two options (see the above screenshot for guidance).
Still don't see PowerPoint Designer? Try these fixes.
If you know for a fact that you have an active Office 365 subscription but still don't see the Designer button in your copy of PowerPoint, then you should try these possible solutions:
If you're coming from a standalone copy of Microsoft Office (not Office 365) and have recently subscribed to the service, you will need to uninstall your old copy. Then, you'll need to install Office 365.
Check with your IT department if they've turned off the Designer feature (apparently, some organizations aren't fans).
Restart your copy of PowerPoint. If this doesn't work, try restarting your computer.
Check if you have the latest version of PowerPoint. With an active Office 365 subscription, you should receive the latest versions automatically. Unless, of course, you choose to manually disable updates for some reason.
Check your PowerPoint Windows version:
To turn on automatic updates for PowerPoint, go to File > Account. On the right side of the screen, you should see Office Updates. Click on Update Options, then select Update Now.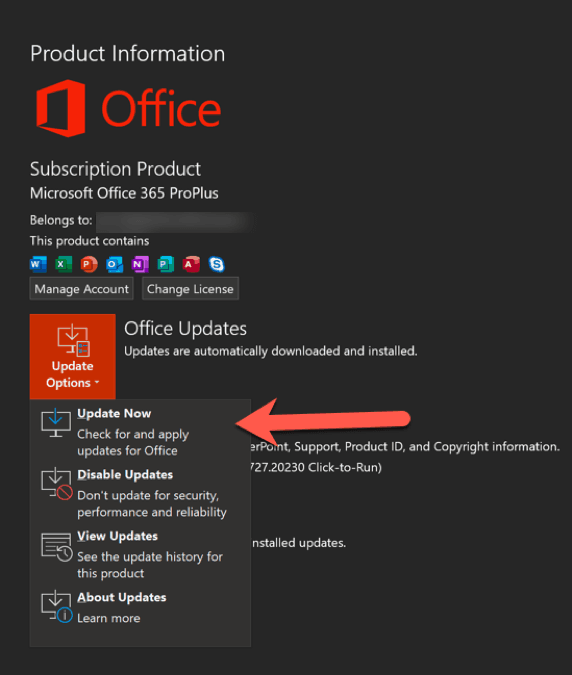 If you're running the latest version, you'll get this message on your screen:
Now that you have the latest version of PowerPoint, you should be able to access the latest features.
If, for some reason, the Designer button is still missing, check your version and build number. You can see this info in About PowerPoint, just below the Office Updates button.
Here's a screenshot:
As you can see, I am on the monthly channel and have version 1906.
If you no longer have an active subscription and can't update PowerPoint anymore, you can check PowerPoint Designer's requirements for Windows. Perhaps your version still gives you limited access to some designer features. Just scroll down the web page, and you'll see a section for Requirements.
Here's a screenshot of the page: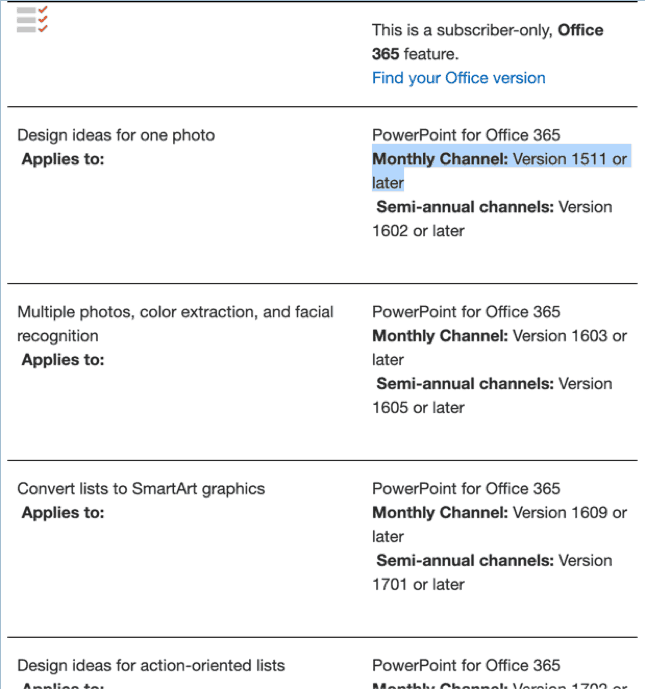 You can check your version and see what kind of design options are available for your copy of PowerPoint. For instance, if you only have Version 1511, you'll get design ideas for a single photo only. You won't get design suggestions if you have multiple photos. Neither can you convert your lists to SmartArt graphics.
If you have version 1603, you'll get design ideas for a single photo as well as multiple photos. But it's not going to convert your lists to SmartArt graphics. The requirements list is frequently updated, so make sure you visit that page regularly.
Alternatively, you can always upload your PPT file to PowerPoint Online. The web app has all the latest Design Ideas features, so if your desktop PowerPoint is outdated, try going online!
Check your PowerPoint for Mac version:
For Mac users, you can check for updates by going to the Help tab. Then click on Check for Updates. If your software is updated, you'll see this message: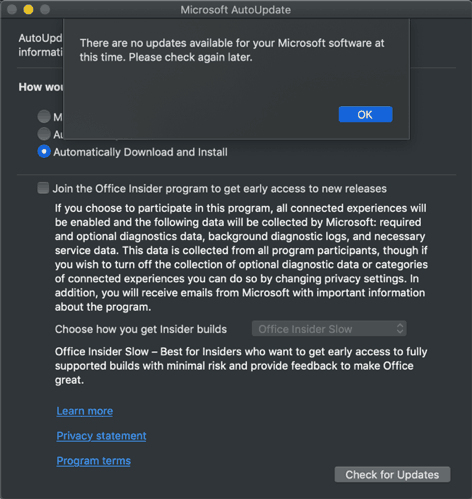 I also recommend that you tick the 'Automatically Download and Install' button, so you get all the latest features from PowerPoint.
There are not a lot of version requirements for Mac users. If you check the Requirements for MacOS, you'll see this on your screen: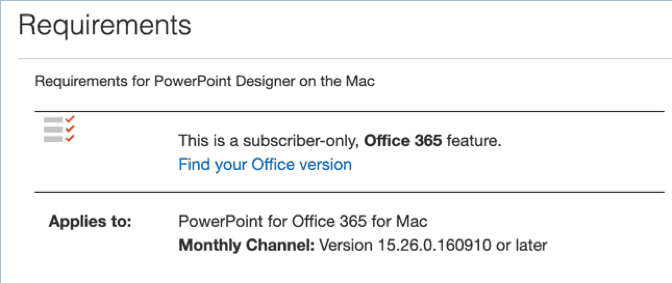 According to Microsoft, PowerPoint Designer is available on Version 15.26.0.160910 or later for Mac users. You can check your PowerPoint for Mac version by going to PowerPoint > About PowerPoint.
Here's a screenshot of my PPT version: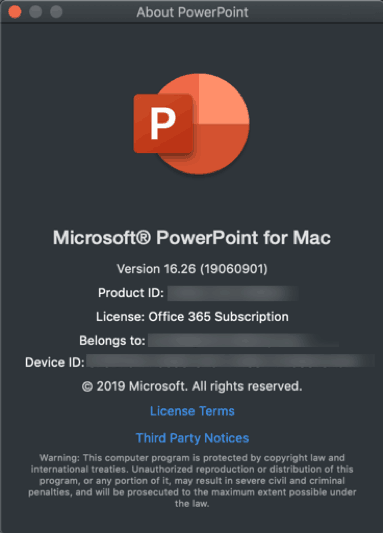 I have version 16.26, which means I should have access to all Designer features for PowerPoint Mac.
Design Ideas button is grayed out, what to do?
Sometimes you do see the Design Ideas button, but it's grayed out, then you may need to check your Internet connection.
Now, if you're online and the button remains grayed out, then double-check that you've selected a single slide. Whenever you're in between slides, your Design Ideas button will be grayed out.
Here's an example: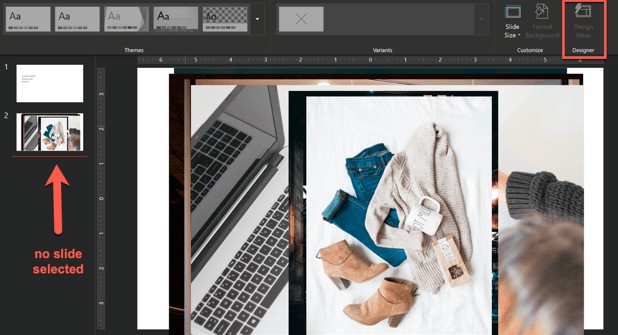 Have PowerPoint Designer button, but no design ideas generated?
It can be quite frustrating to add content to your slides, click on Design Ideas, and see nothing but a blank panel. And, of course, the message "Sorry, no design ideas for this slide." Try the tips below to see if any of these will solve your problem:
The most likely culprit for this scenario is actually your Internet connection. PowerPoint Designer needs a stable connection to the web to function properly.
Use a default PowerPoint theme, not one that you downloaded elsewhere. You can choose your theme by going to Design > Themes. Choose from any of the available themes that show up in the Office section. Here's a screenshot: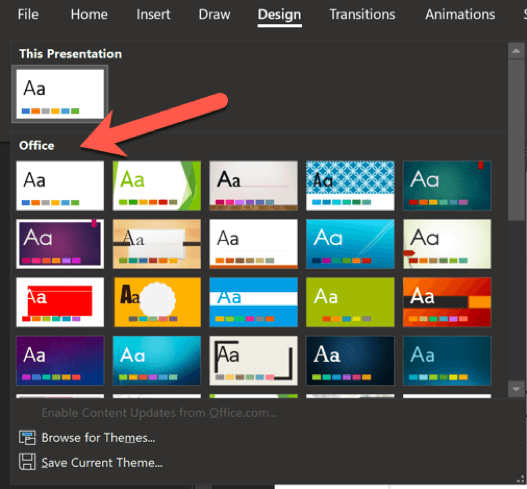 Perhaps someone else is editing the slide you're working on. You can either wait for that person to finish or ask them to go work on another slide (this works if you're the boss).
If there's no content on the slide. Add some text or photo, and let Designer do its magic!
Maybe you've drawn a shape on the slide. As of this time, Designer (Windows/Mac/Online) doesn't support shapes. But you can insert icons, SmartArt graphics, tables, and charts, and the PowerPoint Designer tool will give you several design ideas!
Pro Tip: If you absolutely must use a shape on the slide, I would suggest removing the shape first. Then select a new layout from the Designer panel. Afterward, you can insert your shape anywhere you want on the slide!
There are too many images on the slide. Currently, Designer can only accommodate up to 6 images. If you insert 7 images, Designer will let you know there are too many images.
I find this is a super cool way to get your photos resized into several different layouts. You can do it with SmartArt too, but with Designer, there are no extra text boxes added. Just images. Check out this example: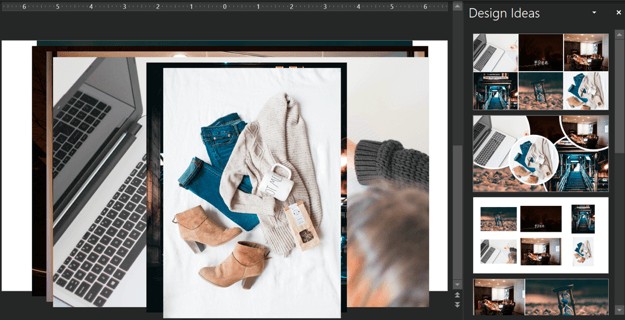 Another pro is that you can insert all images into the slide all at once. No need to rearrange anything. The PowerPoint Designer tool will automatically do it for you!
If you want to add more images, I recommend inserting 6 images first. Then select the Designer layout you want to use. And finally, add all the other images you need to show on the slide.
This may take some maneuvering, but at least Designer gets you halfway there. You just need to make a few extra clicks depending on how many images you want to add! If you're still unsure of how to do it, check out our guide for working with multiple images in PowerPoint.
Maybe you've got too many charts on the slide. As of now, the Design Ideas feature can only generate ideas if you've only got a single chart on the slide. Otherwise, you'll get the message, "Having multiple charts isn't supported right now. Design Ideas will appear here when you're working on a slide without multiple charts."
If there are too many elements on the slide, PowerPoint Designer isn't going to work. Keep your slide simple at first, and once you've selected a layout, feel free to add more elements to the slide.
How to disable PowerPoint Designer?
The answer is you can't. But turning off automatic Designer suggestions will do. Just head over to PowerPoint Options (on either PC or Mac) and untick the boxes in the PowerPoint Designer section.
You're not going to get automatic suggestions, but you can still view the Design Ideas in the Design tab. You're just going to manually click on the button to get some design suggestions.
How do you edit design ideas in PowerPoint?
So, you want to make changes to a Design idea, but PowerPoint doesn't let you select any element in the slide? I got you!
Many users report this as an issue when working with Design Ideas, but here's how to do it right:
1.- Select your Design Idea slide
2.- Go to the Home tab > Select
3.- Click on "Selection Pane"

Once you open the Selection Pane, you'll see your slide elements as individual layers, and this makes it so much easier to manage them all. Now you can select, edit or delete them as you wish.
How to change the color of suggested design ideas?

Here's where things get tricky. You might not be able to change the element colors of your Design ideas, but you can work your way through with these two methods:
Method 1: Change the Background color of your Design Ideas
If you want to modify the colors of your Design ideas, changing the background can make a huge difference to the overall appearance of your slides. Just follow these steps:
1.- Make sure your Design Idea slide is selected
2.- Go to the Design tab > Background
3.- Choose between a Solid color or a Picture

Voilá! Now, if you want all your slides with the same background, return to the "Background" option and click on "Apply to all"

Method 2 - Redraw the elements of your Design Ideas
Sadly, we cannot change the colors of each element directly. However, you can still have some kind of control over how your Design Ideas turn out. The easiest way is to redraw the shapes and use the colors you want. Here's the step-by-step:
1.- Select your Slide
2.- Open the Selection Pane
3.- Delete or Hide the element you want to change
4.- Insert your shape
5.- Fill it with your favorite color
How do you change icons of suggested design ideas?

The Designer tool recognizes when you use lists on your slides, and it will create at least one Design idea with icons.


But if you're not happy with the icons, you can change them very easily. Just click any icon, and a "Replace your icon" tag will appear. Open it so you can get multiple icon suggestions, then select the one you like the most.
How to apply the same design idea to all slides in PowerPoint?

Wish I could tell you there's a specific button for that, but as of now, PowerPoint doesn't offer that option. However, we can always rely on one of my favorite features. If you want to repeat a design idea on several slides, here's what you need to do:
1.- Select your design idea slide
2.- Right-click on the slide and select Duplicate
3.- Repeat as many times as you need
Looking for more? Get a Fully Customized Presentation
The Design Ideas tool can speed up your workflow by not letting you worry too much about the design process. Sure, it's not perfect by any means, but you can get inspiration to take your design game to greater heights!
However, there's a downside to this when working with company presentations. Don't get me wrong - I'm a big fan of Design ideas, but in the end, you're giving up control over what you communicate visually.
Let me break it down: If you rely on presentations to bring value to the business, then you need slides that convey what your brand stands for. I'm talking about slides that make you memorable and help your brand get a top position in the minds of your prospective clients.

Chances are your business already has a brand style guide for client-facing collateral, or at least a logo and colors that identify it. Here's where the "Design Ideas" falls short. As a tool, it can't understand that your brand colors and elements should be applied in a certain way so that your work looks more professional - and distinguishes you from competitors!
Design Ideas might not help you with that, but professional presentation designers surely can. At 24Slides, we inject your brand's visual identity seamlessly into any presentation. Whether it's a stand-alone PowerPoint or several company decks that require a visual update, rest assured the 24Slides designers will get you impactful on-brand slides.
If you've noticed "Design ideas" can only get you so far, learn more about our custom presentation design service - or even better: Redeem this $1 try-out offer and send your first slide today!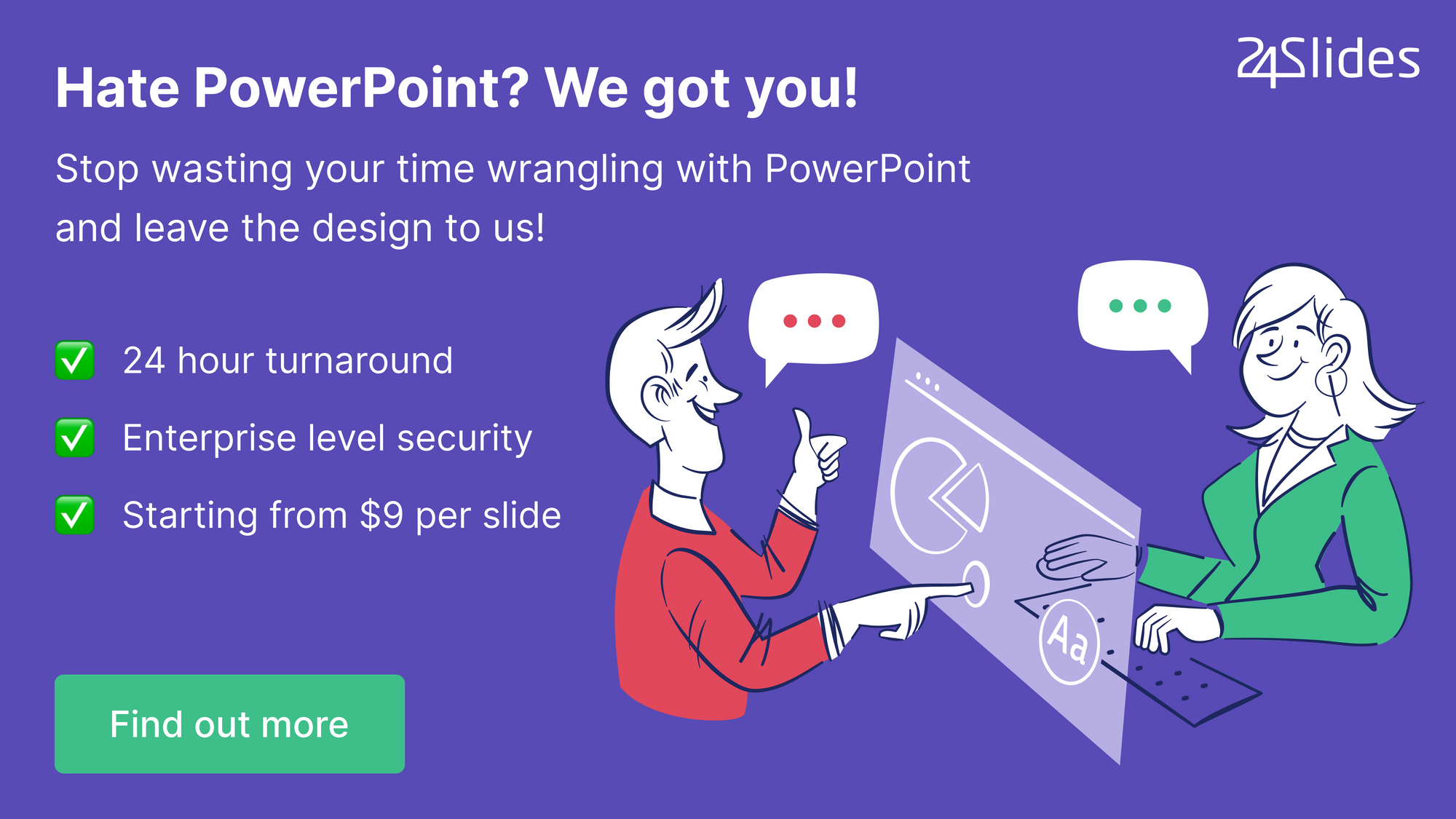 Frequent Customer Questions
How many suggested Design Ideas will I get?

On PowerPoint for Windows and Mac, the PowerPoint Designer tool gives you 8 design layouts to choose from. However, on PowerPoint Online (the browser-based version of PowerPoint), you can have up to 10 design ideas. In case you're wondering, the most common layouts suggested will include a graphic, an image, or an icon, even if there's just text on the slide. So, if you have no time to look for images, just type your text on the slide, and see what PowerPoint Designer gives you!
How to make icons appear in my Design ideas?

If you type in a word or phrase that matches an icon from the Office 365 icons library, then Designer will add that icon to your slide. Say, for example, your topic is about computers. You can just type the word 'computer' on the slide, click on Design Ideas, and PowerPoint will suggest some layouts with a computer icon on it.
How many times can I use the Design Ideas feature?

PowePoint Designer is an AI feature, so it can come up with many different variations. Once you select a design idea, you can then use it to re-generate a new batch of design ideas! No one has come to a number yet, but I think is safe to say you can use it as many times as you need.