Powering Up Your Brand: Guide to a Successful Brand Refresh Implementation in PowerPoint
A brand refresh is crucial for staying relevant and competitive in today's ever-evolving market. If you're working on a refresh (or planning one), congratulations on taking a vital step toward keeping your brand fresh, engaging, and aligned with your business goals!
Now, it's time to shift your focus to the implementation phase, which is no easy task, as it requires consistency across all your materials, including brochures, websites, and, most importantly, PowerPoint presentations. Here's why PowerPoint presentations are essential in this process:
They serve as the backbone of a powerful brand, forming the basis of a significant proportion of internal and external documents.
Updating them first allows you to test your new visual identity internally before it goes public, enabling you to make any necessary adjustments.
They are easily editable and reusable. So, by incorporating your new brand elements into your presentations, you establish a foundation for consistent branding across all other materials.
To assist you in this process, with the help of our in-house designers, we've created a comprehensive guide that will teach you how to implement your brand refresh in PowerPoint effectively.
These are the topics we'll cover:
Feel free to dive into the basics - or jump right to your favorite section using the list above. Let's get started!
What is a brand refresh?
A brand refresh is a strategic set of changes made to a brand's identity to realign with current marketplace trends. It is an opportunity to stay relevant and competitive in a dynamic marketplace.
Businesses looking to refresh their identity would change elements such as:
Logo
Font
Color palette
Visual style
Writing style
Messages

One defining characteristic of a brand refresh is its subtlety. It's like a "sharpening up" of the brand: making small changes while focusing on existing visual elements.
The result? A brand that looks fresh and sharp while maintaining the essence and familiarity that customers associate with the brand. Take a look at some successful brand refresh examples:

These examples retain familiar elements and can be easily recognizable to the audience, but they have evolved to align with market changes. This helps them continue to position themselves in the market.
However, sometimes we need more than just a brand refresh. There are instances when a more powerful change is required, and that's when a rebrand comes into play.
Understanding the difference: Brand refresh vs. rebrand
A brand refresh revitalizes your brand without making radical changes to it, being more an evolution than a revolution. It acknowledges some aspects that need improvement but does them in a way that the brand maintains its essence and familiarity without transforming it entirely.

On the other hand, a rebrand makes profound changes to the brand on a foundational level, creating an entirely new brand identity. It goes beyond making some adjustments to your logo, revitalizing marketing materials, or changing your color palette a little. It can change core elements of the business, including:

Brand positioning
Brand values
Brand guidelines
Mission and vision

A successful rebrand example is the transformation of McDonald's McCafé: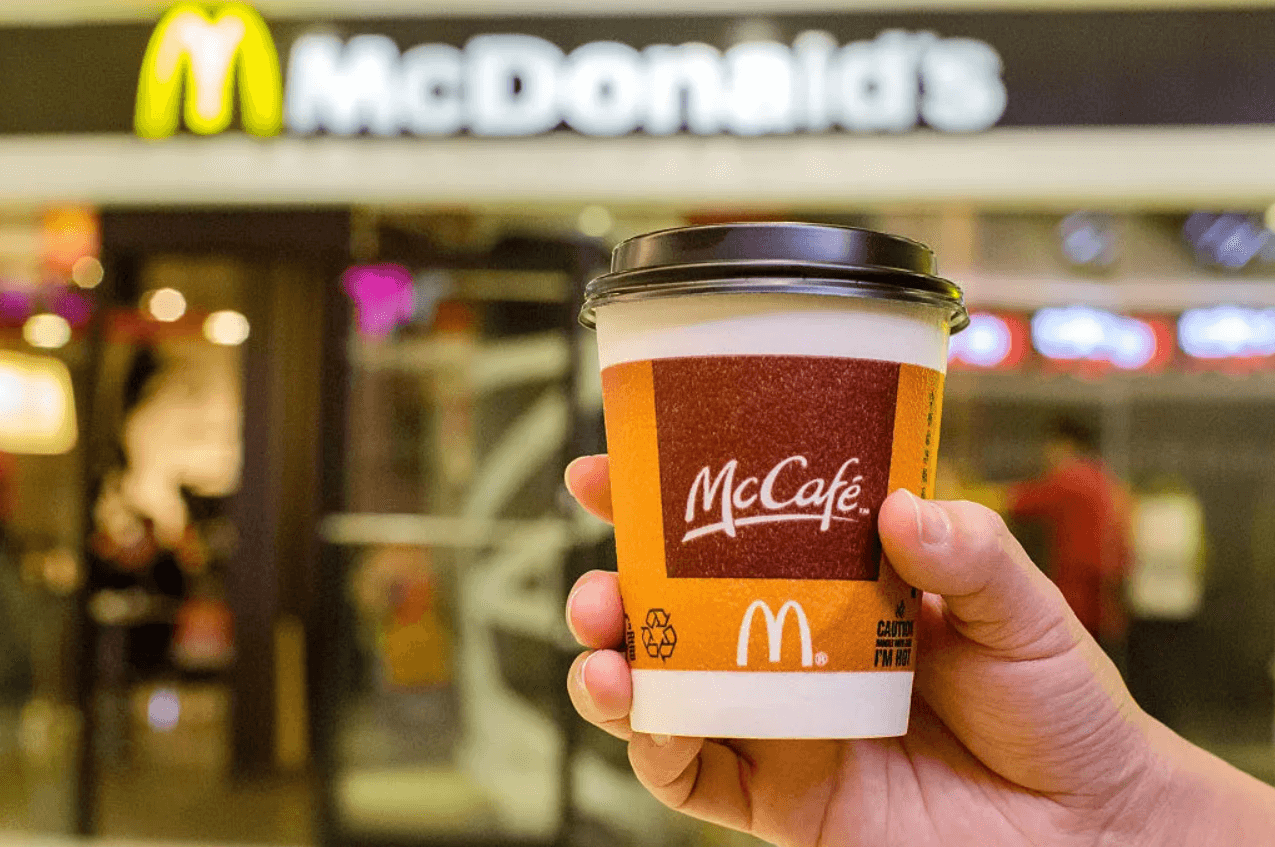 In 2009, McDonald's saw a chance to improve its image and attract more people by changing its coffee brand called McCafé. They updated the look of McCafé stores, hired baristas, and added more types of high-quality coffee. The goal was to make McCafé known for good coffee, appealing to a wider range of customers beyond just fast-food lovers.

These are some key differences between a Brand Refresh vs. Rebrand: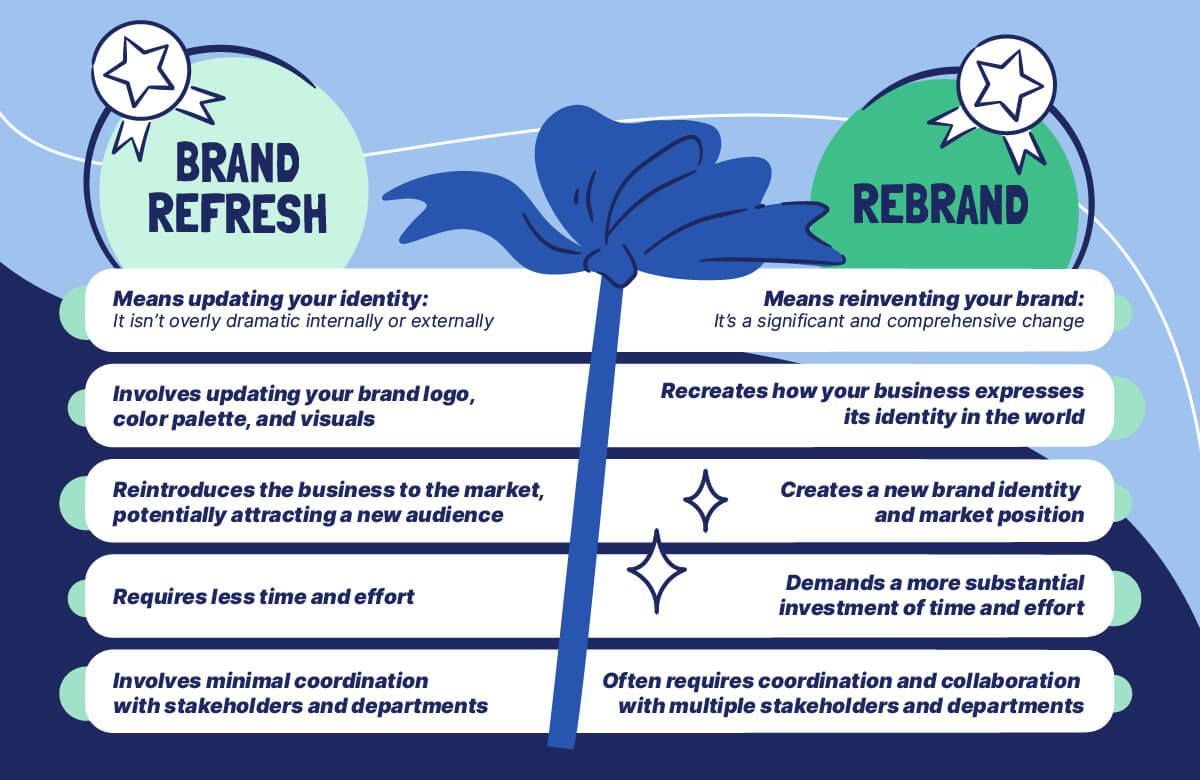 How do you implement a brand refresh?
Congratulations on completing your brand refresh! Now it's time to start implementing the changes across your materials, such as brochures, websites, and, most importantly, PowerPoint presentations.
Elevating your PowerPoint presentations: Upgrading existing slides to align with the brand refresh
Upgrading your existing slides to align with the brand refresh is important in ensuring consistent and impactful communication. Fortunately, implementing a PPT refresh is easier than you might think. Follow these steps to learn how to do it effectively and even discover a shortcut along the way:
Step 1: Gather branding assets
Collect all the necessary branding assets that will be used in your refreshed PowerPoint presentations:

Obtain the brand color palette: Once you have agreed on the colors, write down their code (the 6-symbol code starting with a hashtag) so you can manually add them to your PowerPoint template's palette.
Collect updated logo files: Locate your brand's logo versions. Ensure you have high-quality versions in appropriate file formats, such as PNG or SVG, to ensure optimal resolution and flexibility.
Confirm approved fonts: Take note of the specific font names and variants (e.g., regular, bold, italic) that have been approved.
Gather additional visual elements: Collect any other graphic elements that represent your brand, such as icons, illustrations, or imagery.
Create a branding assets folder: Create a folder on your computer or cloud storage platform to consolidate all the branding assets. This is what it should look like:

Step 2: Create a branded template
The easiest way to adapt all your presentations and ensure a consistent brand identity is by creating a versatile branded template encompassing various content types.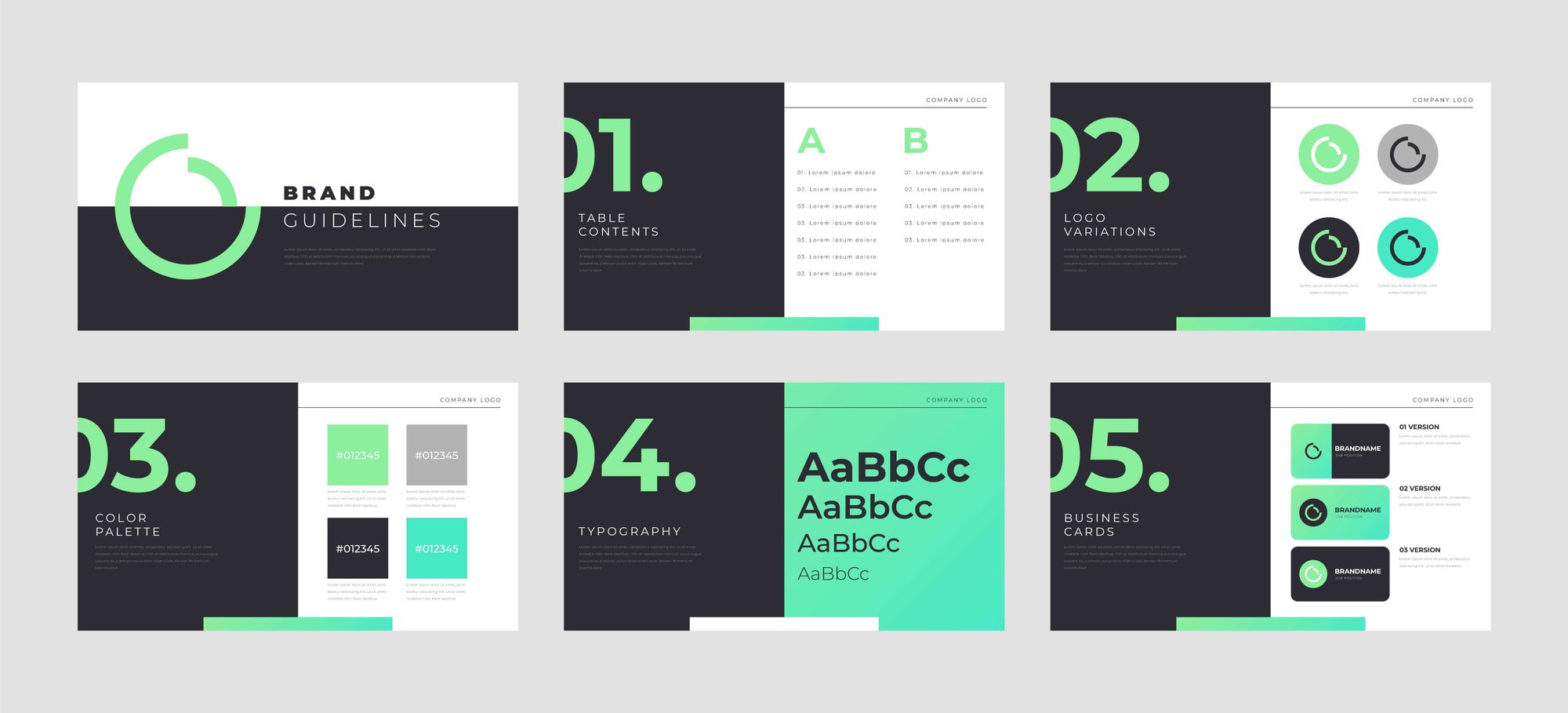 Determine the number and types of slides
Start by deciding the total number of slides needed for your presentation and identify the different types of slides required. Consider the content you want to present and categorize it into sections or topics, for example:

Title Slide
Content Slide
Graph or Chart Slide
Quote Slide
Image Slide
Comparison Slide
Agenda Slide
Conclusion Slide
Testimonial Slide
Infographic Slide

And any other slide types that are relevant to your business.
Set up placeholders
Determine how each slide will look and what elements it will include. Plan the visual structure and design for each slide type to maintain consistency throughout the presentation.
This includes defining the desired appearance of headings, subheadings, bullet points, and image captions placeholders, ensuring that these styles align with your brand aesthetic and improve readability.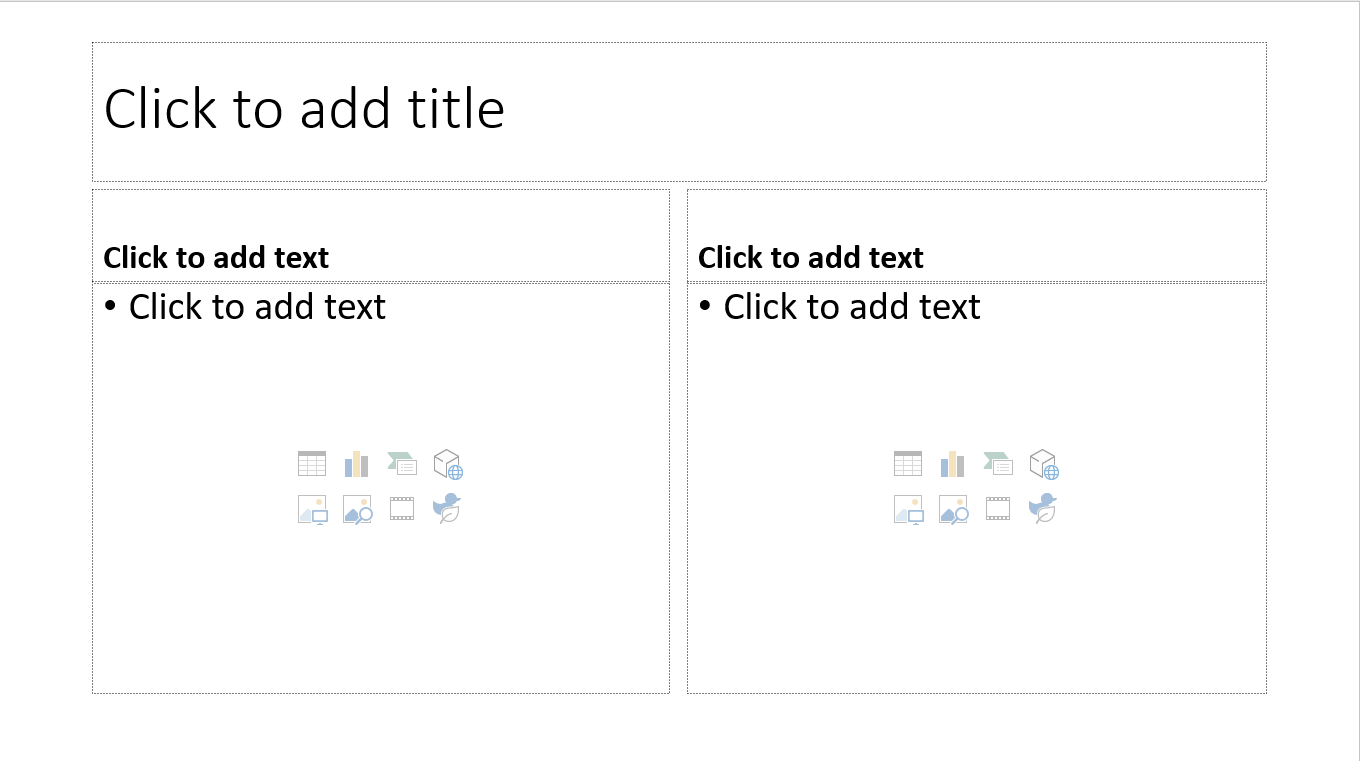 Add your brand's colors, theme and typography
Add your brand's colors: Use the brand color palette to add the brand's colors to your template. Apply these colors to the slide background, text boxes, shapes, and other design elements.
Apply the brand theme: Go to the Design tab and select the "Themes" dropdown menu. Choose the appropriate theme that aligns with your brand refresh.
Use the approved fonts: Use the confirmed font names and variants for headings, subheadings, and body text. Remember that consistency in font selection creates a professional look and reinforces brand recognition.
Incorporate graphical elements
Insert brand logos: Insert the updated brand logo onto the slides. Place it consistently, like in the top or bottom corner.
Add visual elements: Use the additional visual elements you gathered, such as icons, illustrations, or imagery, to enhance your slides.
Step 3: Adapt existing presentations to the branded template

Adapt existing presentations: Gather and update all relevant presentations to adhere to the new branded template.
Share the branded template: Ensure all relevant team members can access the new template for adapting their presentations.
Communicate the changes: Send a clear and concise communication explaining the importance of using the new branded template to maintain a consistent brand identity.
Provide training and resources: Conduct training sessions and create instructional materials (step-by-step instructions, video tutorials, or live demonstrations) to guide team members in adapting their presentations.
Set a deadline: Establish a deadline for adapting all presentations to the new template, ensuring a timely transition and consistent brand identity.
Regularly reinforce brand consistency: Emphasize the importance of maintaining consistent brand identity in presentations.

And that's it! By following these steps, you will successfully adapt your presentations to the new branded template, ensuring a consistent and professional brand identity throughout your materials.
Expert insights for a successful brand refresh in PowerPoint
If you're considering updating your brand's presentation in PowerPoint, we've got you covered. Our in-house design experts have shared their valuable insights to help you succeed.
Meet Reinald Victorio Valentine, Rengga Zulkarnaen, and Muhammad Zaenuri, design managers from 24 Slides, ready to guide you through the process. Let's explore their expert tips and make your brand refresh a success.
Understand your brand: Lay the foundation
The first insight is to start from scratch. As Muhammad suggests:
"Like all branding initiatives, the most successful begin with thorough research to gain a better understanding of your business and the specific needs of your customers."
So, start by conducting thorough research to deeply understand your brand's identity and your customers' needs. This knowledge will serve as a solid foundation for when you're actually doing the presentation. As Reinald reminds us:
"Understand the brand's traits like photos, colors, fonts, shapes, and icons. This is crucial for a brand refresh as it helps determine the next steps to update the presentation according to our needs. This will allow us to play,  be creative and explore with the design elements we have."
Know your target audience: Design with precision
To create a compelling presentation, you need to understand your target audience. Consider the industry, demographics, and professional background of your audience. While being flexible, ensure your design aligns with your brand's identity. As Reinald and Rengga emphasize:
"Knowing our target audience is essential to address them effectively. By understanding our audience, we can design the presentation appropriately. For instance, if we are presenting to health professionals in a healthcare company, we should opt for clear colors, legible fonts, and maintain a professional tone while staying true to the brand's characteristics."
Consistency is key: Maintain brand cohesion
A point everyone agrees on is that consistency is crucial during a brand refresh. While exploring design possibilities, stick to your brand's identity. As Reinald advises:
"Keep your design consistent with your brand's characteristics. Play with colors, fonts, and images while maintaining a consistent and professional look that aligns with the established brand's identity."
And as Muhammad highlights, it's crucial to ensure that everyone in your business is aligned and informed about the brand refresh and how to apply it to presentations:
"Introduce your teammates to the brand refresh, provide them with necessary assets like new fonts, elements, and photographic files. Maintain consistency by using the updated presentation templates when communicating with everyone."
Get expert assistance for your brand refresh implementation in PowerPoint
Are you planning a brand refresh for your business? Translating your brand refresh into impactful presentations that captivate your audience and convey your brand's new direction is crucial. And it's no easy task! There are a lot of tough questions that need to be answered and plenty of big decisions that need to be made. That's where 24Slides has got you covered.

Our specialty is crafting top-notch PowerPoint presentations that align with your brand's refresh goals. Our experienced designers are well-versed in transforming complex ideas and concepts into visually stunning slides. Give us a try and experience the difference for yourself.
Customer Frequently Asked Questions
How to do a brand refresh?
Is your brand in need of a makeover? Follow these steps to execute a successful brand refresh that captivates your audience and makes you stand out.

Pause and reflect: Consider if your brand effectively conveys your message and aligns with your vision. Determine the desired change and understand your target audience's preferences.
Research: It's essential to understand the current market landscape and analyze what other brands are doing.  So, it's time to study your competitors and identify how you can sharpen your branding to gain a competitive edge and stand out.
Get to work: Determine the specific elements you want to focus on, such as the logo, colors, typography, messaging, and more. It's time to organize the process, assign responsibilities to each team member, and establish realistic deadlines.
Prepare for launch: Consider how you want to communicate your brand refresh and start by involving your team members within your company. Remember to proceed gradually, incrementally make changes, and listen to your audience's feedback. Measure the impact and adjust as needed.

Wondering what should be included in a brand refresh? Check out the brand refresh checklist for success!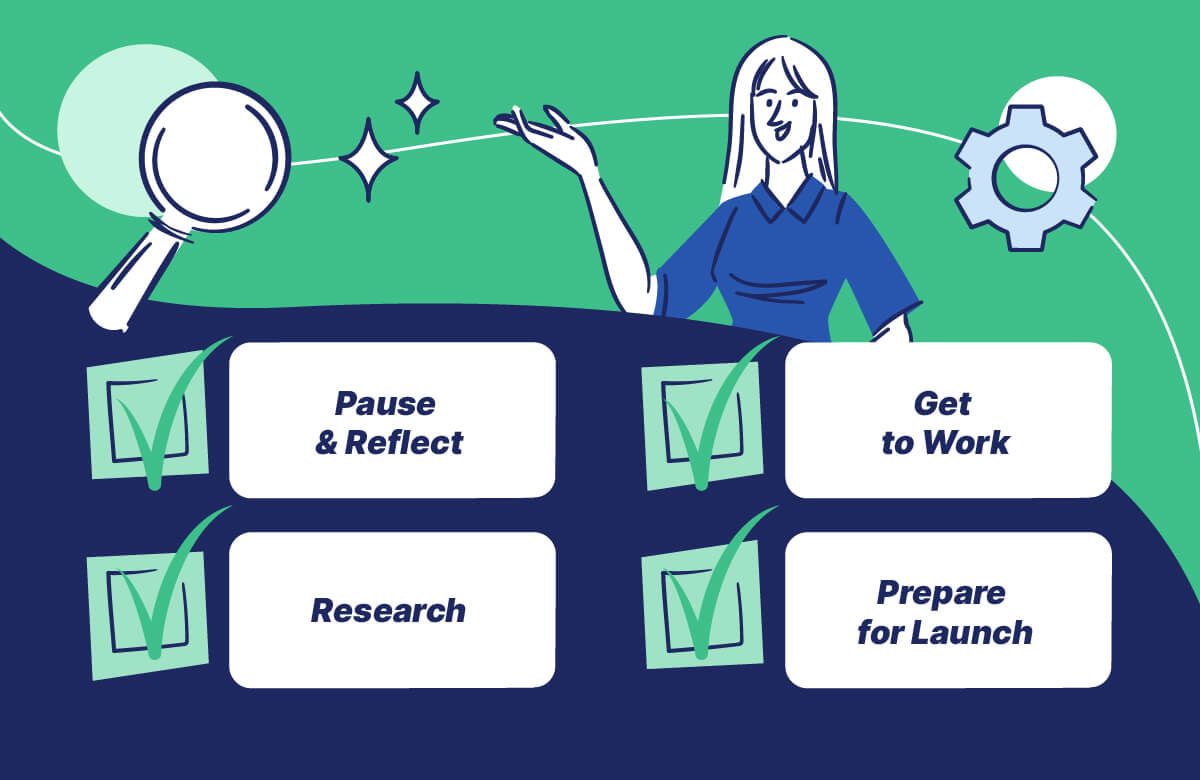 Pause and Reflect:
Evaluate current brand messaging and alignment with vision and values.
Understand the desired level of change and target audience preferences.
Consider past feedback and challenges with the current brand identity.
Research:
Analyze the competitive landscape and study branding strategies.
Identify opportunities to differentiate your brand.
Gather insights from market research and customer feedback.
Get to Work:
Define focus areas: logo, colors, typography, messaging, etc.
Collaborate with the design team for creative concepts.
Assign responsibilities and establish a timeline.
Prepare for Launch:
Communicate internally to engage and align team members.
Gradually roll out changes, starting internally.
Collect feedback to ensure resonance with stakeholders.
Measure impact on key performance indicators.
Why is brand refresh important?
Branding is an ongoing process; it involves change from time to time. Why? Because it aims to resonate with people, and as individuals continuously evolve, so should the brand.
It is vital to adapt and grow; otherwise, there is a risk of becoming irrelevant - a refresh prevents that from happening. Some of the most popular brands of today would not have achieved what they have unless they had undergone refreshes.
Having a brand refresh will reflect a new, current, and up-to-date image of your company, which is reassuring to existing customers and attractive to new ones.
What is brand refresh vs. redesign?
A brand refresh is a subtle set of changes in a brand's identity to stay pertinent in a changing marketplace while keeping its essence and familiarity. It encompasses the "sharpening up" of various components, including visual elements, messages, and writing style.
On the other hand, a brand redesign primarily focuses on updating the visual aspects of the brand: color palette, logo, typography, etc. It can be a part of a more comprehensive rebranding or brand refresh process, or it can be done independently to refresh its image and make it more appealing to the target audience.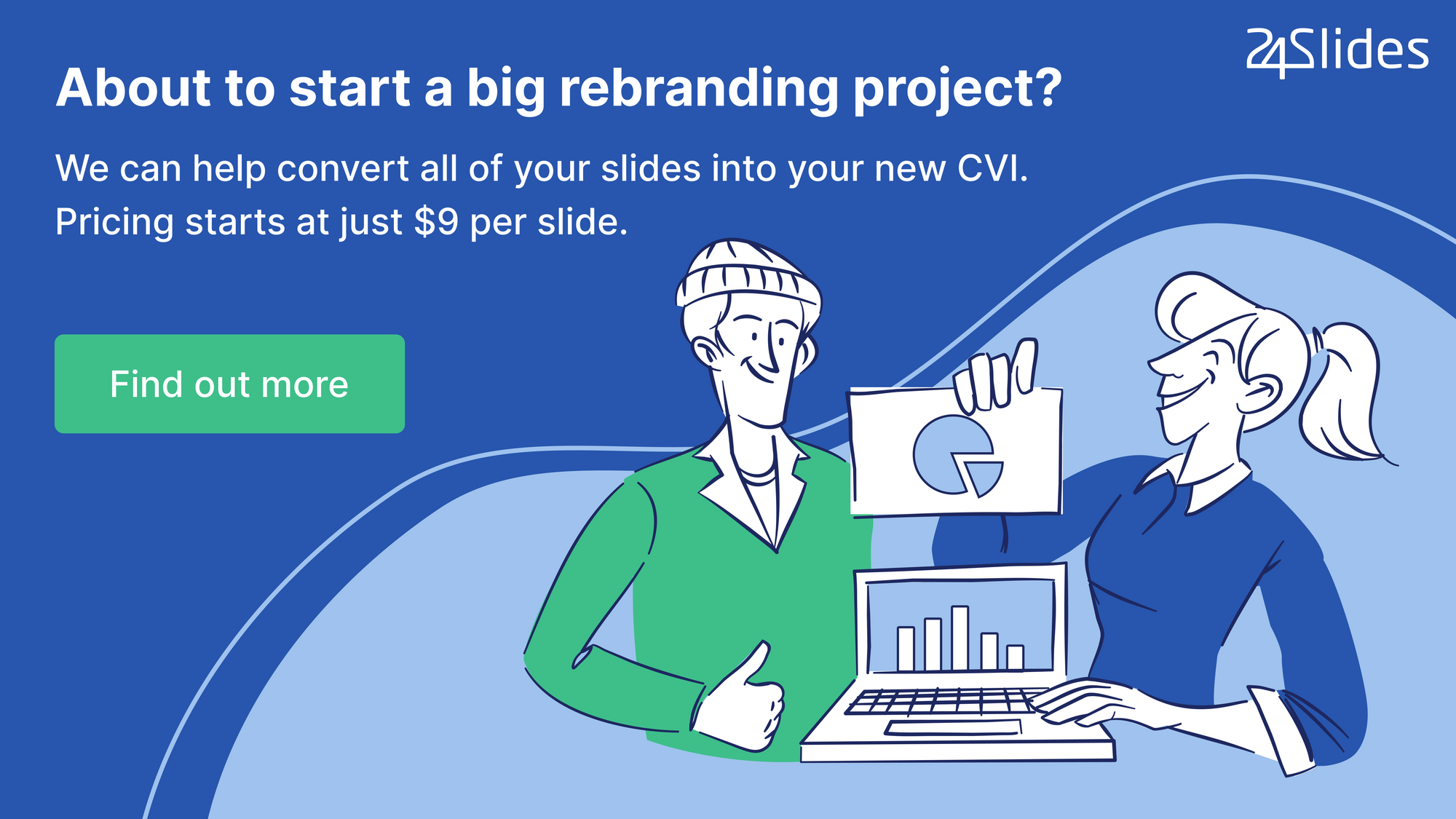 You might also like these articles: