Ensuring Brand Consistency: How to Make a Successful Brand Implementation Strategy
So you've just created your brand and are excited to show it to the world. Where to begin? Well, it has a very clear answer: It's time for a brand implementation plan!
To make sure your business makes an impact on your potential customers, brand consistency is key. Making your brand easily recognizable, whether from social media, your website, printed materials, or even presentations, will take you one step closer to making a lasting impression on your audience —  and making them more likely to buy your product.
How do you begin working on brand consistency? Easy! It just takes two steps:
1. Create a powerful brand voice and visual identity
2. Work on a brand implementation strategy to show it off!
In this 101 guide, we'll give you a complete overview of what it means to create a brand implementation plan that will guarantee you consistency across all your channels and will make your brand a success.
You'll find answers to questions like,
You'll also find insights from our amazing team of designers here at 24Slides on what makes brand guidelines truly useful in their experience of creating outstanding presentations that fit each customer's branding.
And in the end, we have included some brand implementation best practices to help you jump-start your branding strategy.
So let's begin straight away with your 101 guide to brand consistency!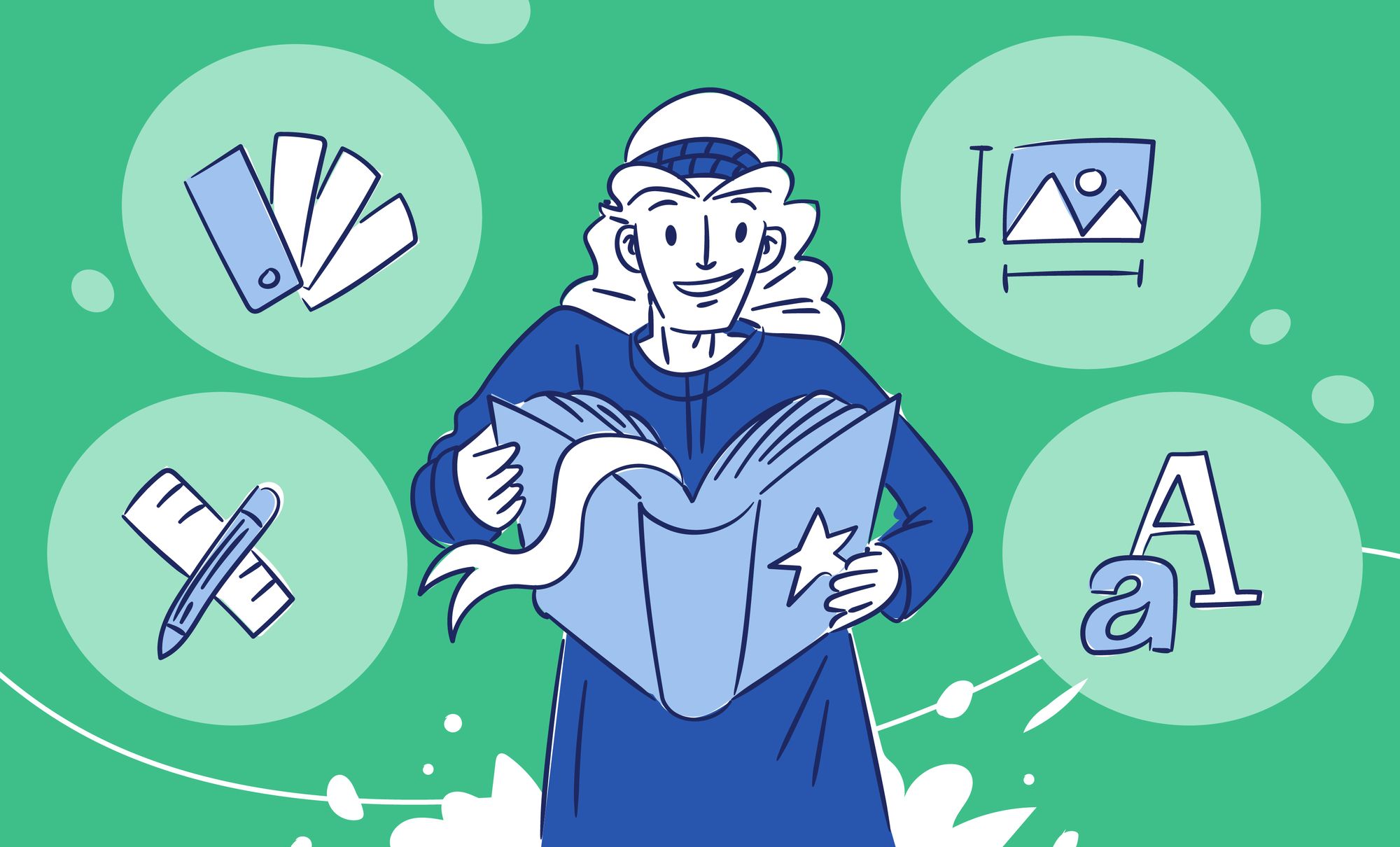 What is brand consistency?
In a nutshell, brand consistency is the strategic alignment of every facet of your brand's visual and verbal elements. It's the art of maintaining a uniform and cohesive presence to create a memorable identity for your brand in the minds of your target audience.
Brand consistency takes into account visual elements like your logo, color palette, and typography choices. But it also includes aspects of your message like tone and style.
For example, Nike's tagline "Just Do It" is an essential part of their brand identity, that helps reflect their bold and empowering message, and makes it more memorable in the audience's minds. This message is also reflected in its visual identity, like the logo, which references both the wings of the goddess of victory Nike, and the checkmark of a work well done.

In short, all of Nike's brand is aligned to showcase a message of empowerment. From the athletes they hire to be their brand ambassadors, to a minimalistic and bold web design, Nike pushes over and over the message to achieve your goals. And, it also makes anything Nike-related easy to recognize at first look. A perfect example of brand consistency!

Why is brand consistency important?
You might think this is all about just looking good, but it goes way beyond that. Brand consistency ensures that every interaction with your brand reflects the same essence, values, and promise, and helps create a sense of trust and reliability in your customers.
In a world with so many options, having a unified identity makes it easier for consumers to recall and choose your brand amidst a sea of competitors.
Brand consistency can go even beyond consumer perception – it can also give your internal team a shared purpose and direction.
Implementing brand consistency is important not just for new business. It's also a must for organizations going through a rebranding process or even those who have just done just a little cleanup of their materials if you want your business to be ever sharp and on point.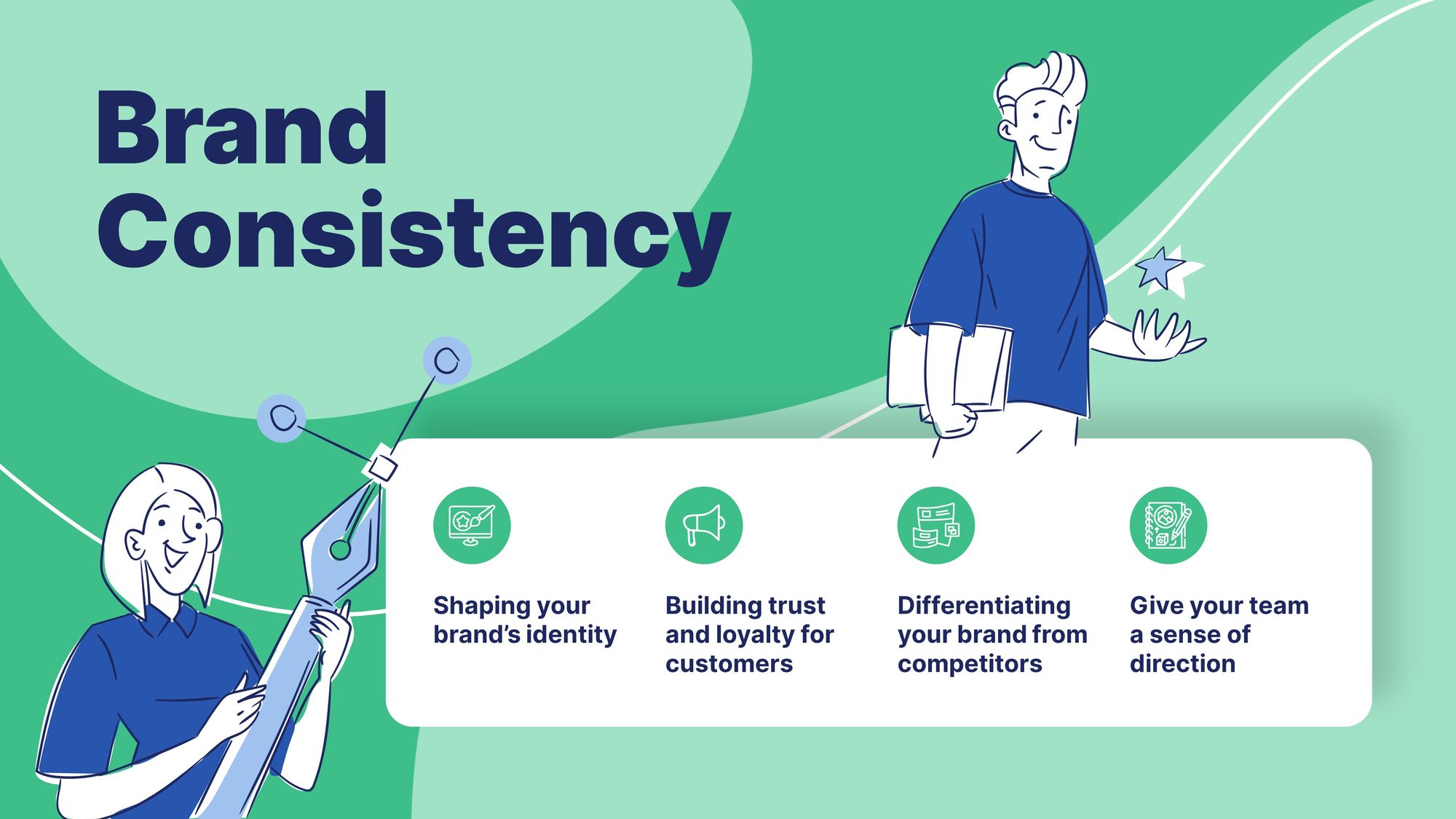 Two Examples of Brand Consistency that Will Blow Your Mind
Are you still unsure what brand consistency is or why it is important? A little bit of visual aid can go a long way. Hopefully, these brand consistency examples will make it all clearer!
Duolingo
You've probably heard of Duolingo, one of the most well-known language-learning apps worldwide. Aside from its outstanding learning app, Duolingo has become increasingly recognizable for its unique, irreverent approach to social media. But how does all this enhance brand consistency and makes it more memorable for their audiences?
Duolingo is extremely careful with its brand identity. It's so dedicated to its brand, that it even has a website dedicated to the guidelines needed to convey it perfectly in every possible aspect. From their bespoke typography, colors, logo, personality, tone, illustration lines, use of emojis, and even punctuation style, everything in Duolingo's brand is strategically decided to showcase their brand's message: Everyone can Duolingo.
Every change done in Duolingo's brand has been made to convey the message that learning is easy and fun. Just look at its logo evolution!
2019's brand refresh has worked wonders to represent a more playful, quirky side of Duolingo. With its bold colors, flat illustrations, and recognizable mascot, you can spot Duolingo's related content from the get-go, whether it is their app icon on your phone, a street ad, or a social media post.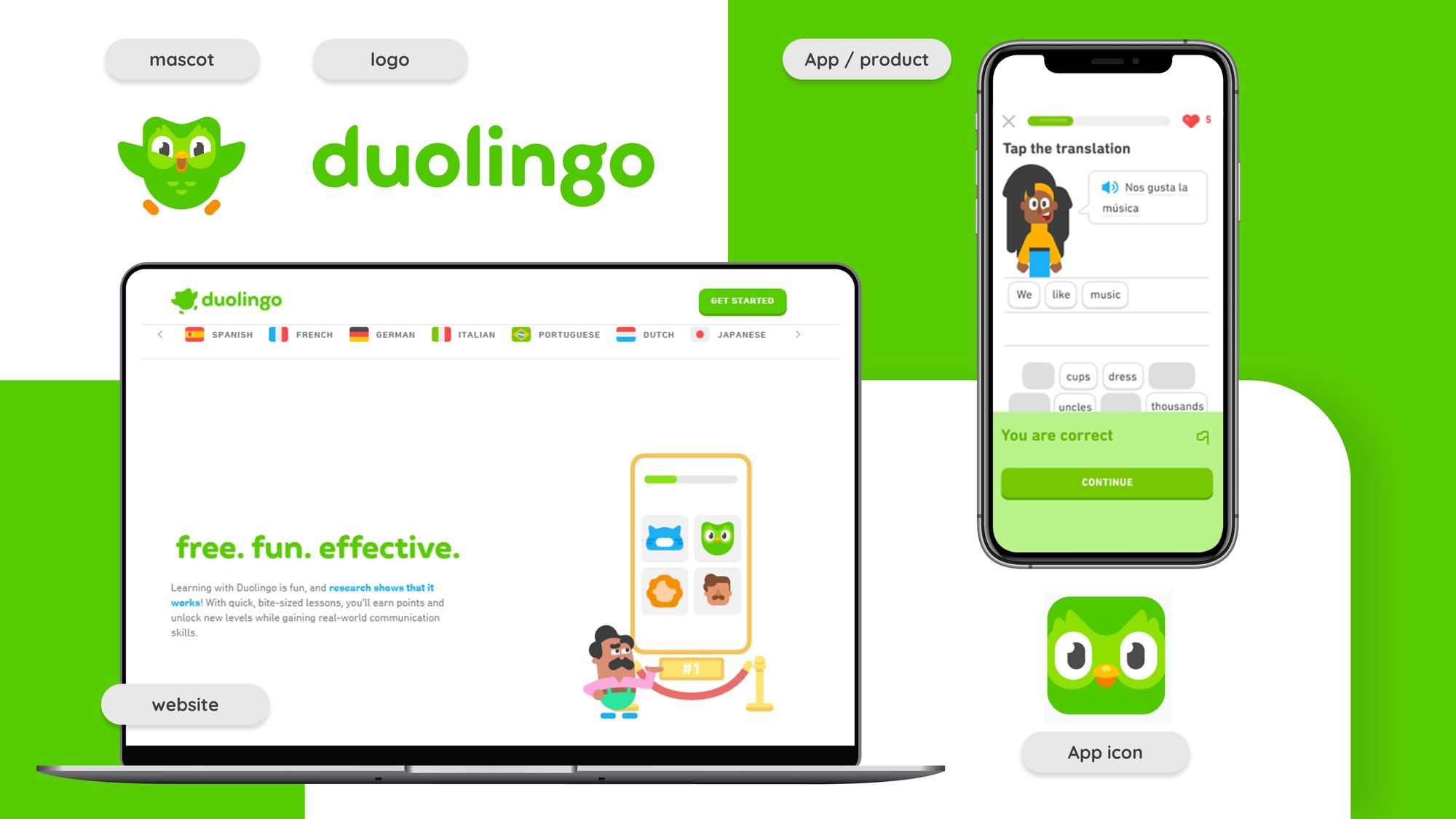 The brand's mascot, the Owl Duo, has been invaluable for social media, as it allows the brand to embrace memes and create a sense of community for its audience. You might think that transforming the Duolingo owl into a "threatening" presence would be counterproductive. However, doesn't only give potential customers a sense of a shared inside joke, it also double downs on a core aspect of Duolingo's brand: persevering!
In short, Duolingo is the perfect example of implementing brand consistency across its channels by creating a unique connection between education and entertainment.
If you still don't know why brand consistency is important, have a look at these two language-learning presentations.

If you were a potential Duolingo investor, which one would look more professional and committed to you? Both presentations are professionally designed. But as you can see, implementing brand consistency can make all the difference!

Airbnb
As an online platform connecting travelers with hosts offering lodging and experiences, Airbnb knows the importance of branding to differentiate itself from the many other hotel alternatives in the market. That's why in 2014, the company did a bold rebranding project and completely transformed its brand identity to fit its message.
Airbnb's rebranding not only revitalized its identity but also seamlessly translated across its diverse channels, transforming it into a perfect example of brand consistency and an immersive brand experience.
Airbnb directors realized that the message behind the company was much more than just "traveling." It was about people and belonging. So they created a new brand identity that could convey this.
The transformation of their logo is the perfect example of this. The old blue "airy" logo was replaced by the Bélo symbol — a logo meant to convey community and love. Similarly, all of their branding transformed into a red color palette, that highlighted passion and excitement.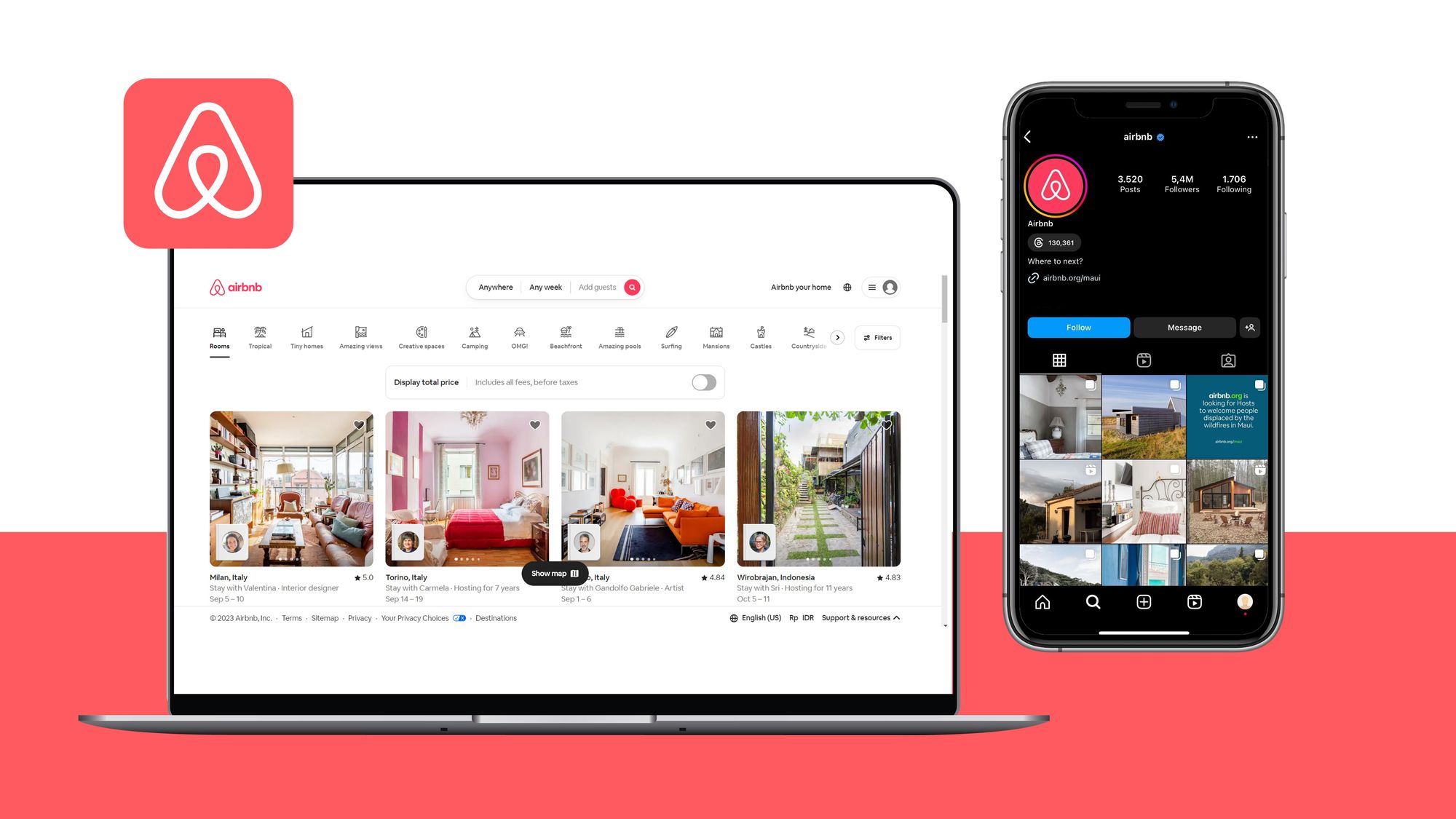 Even if the red color isn't the main character in Airbnb's different channels, like in the case of Duolingo, you can still find brand consistency everywhere. The idea of real people with real experiences and stories is what guides their social media presence. Their new website and app embraced a clean and user-centric approach, highlighting immersive visuals of destinations to focus on the brand's promise of unique and enriching travel experiences.
Hosts even received welcome kits with the redesigned Bélo logo, reinforcing the sense of community and partnership, incorporating the brand's story into the physical realm beyond just online presence — a key aspect to promoting real experiences for real people.
As you can see, Airbnb's brand is consistent through all its channels to convey a single unified message — even if it is not as over the top as other businesses!

You might also like: What is the difference between rebranding and a brand refresh?

How to Ensure Brand Consistency
Now that we're all clear about the importance of brand consistency, you might be wondering, 'That's great, but how do I manage to apply it in my business?'
Well, the answer is both easy and difficult at the same time. You'll need to create a brand identity to be consistent with so you can define where and how you're going to showcase it. This means it's time for a brand implementation plan!

Developing your Brand Implementation Strategy
Now that we've gone in-depth about what brand consistency truly is and its importance, it's time to create a brand implementation plan to achieve it.
Brand implementation refers to the process of applying a physical representation of your brand identity across different channels and materials to make it easily recognizable and cohesive. Brand implementation is a continuous process, that requires staying on top of what your brand represents and how you want people to perceive it.
There's no one-fits-it-all brand implementation process. Rather, it depends on the brand and type of service that your organization provides, as this will condition the channels and materials you'll need.
Brand implementation strategy can also change depending on the stage your business is in. A brand implementation process is a must when launching a new brand, but it's also part of a rebranding strategy. Even brands that have decided to go through a soft brand refresh instead of a full rebranding will also need a brand implementation strategy to get all their materials in line and updated.
Here you'll find an overview of a typical brand implementation process, but keep in mind that it's up to you to make it fit your brand's needs!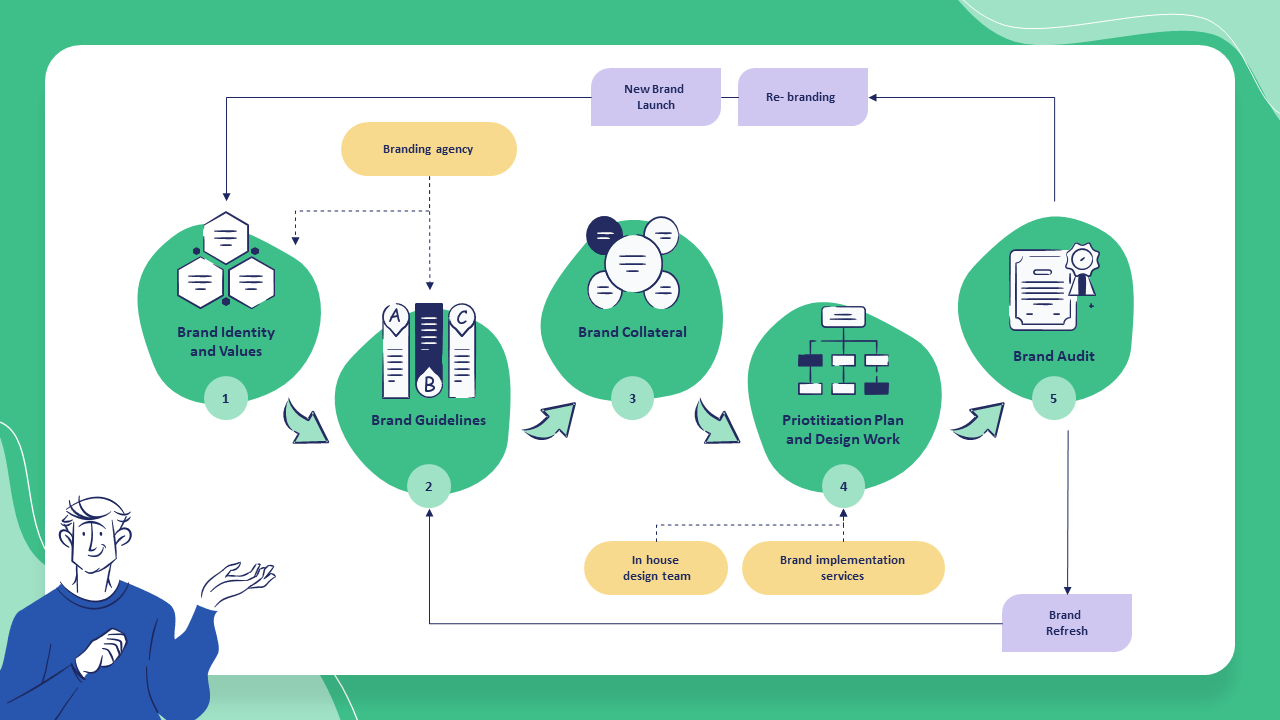 1. Defining your Brand Identity and Values
This is the "strategic" part of a brand implementation process. Thinking about consistency will not take you very far if you don't have a baseline of what to be consistent with!
Your brand identity is the consolidation of all your brand embodies and how it is represented to reach potential customers. It is the promise you give your customers what they'll get beyond just the practical aspect. It includes things like:
Mission
Vision
Purpose
Brand values
Personality

So, in the previous examples, Duolingo's brand is consistent with its identity of making learning fun and available to all, while Airbnb's vision of belonging and new experiences is what creates brand consistency across its multiple channels.
You can check out our free Brand Identity presentation template here

To craft your brand identity, you need to be clear on your value proposition and target audience. SWOT and other market analysis tools can be useful to define your brand's unique edge and what you want to accomplish with it.
Many marketing agencies specialize in Branding. Depending on their services, they can help you create your brand from scratch, develop a brand strategy, or work on your brand positioning. A good branding agency can make all the difference in developing a brand that will make an impact on your audience.
Branding agencies can also help out with the next step of your brand implementation plan:

2. Establishing brand guidelines
To have a successful brand implementation plan, you'll need detailed and practical instructions on how this brand identity will be conveyed visually.
Brand guidelines are the set of rules that help standardize the look and feel of a brand.  They usually work as a manual that can guide every aspect of how you communicate your brand. These guidelines usually include elements such as
Voice and tone
Logo
Typography
Color palette
Imagery (photos, illustrations, and icons)

As you can see, brand guidelines include both visual and non-visual elements. Good brand guidelines are strategically developed to convey the brand's identity and message perfectly.
As part of branding agency services, you can usually get brand guidelines strategically developed to showcase your brand's personality.
24Slides designers are used to working with different brand guidelines from companies worldwide. According to our designers, the most important aspect of a brand guideline to make it functional is to be as detailed and thorough as possible.
Don't limit yourself to a color palette and a logo. To make a brand guideline truly useful, 24Slides designers recommend adding details like logo variants, both in color and greyscale, aspect ratio and sizes, and examples of good and bad uses. Things like graphic style, instructions about the preferences of illustrations or photos, and even acceptable typography combinations must be considered when creating functional brand guidelines.
According to our expert designers, these are the types of details that will take your brand guidelines from good to great and will make your brand implementation process more efficient.

Whether done by yourself or a third-party provider, this brand manual will guide the rest of your brand implementation process.

3. Selecting your brand collateral
Now that you've defined your brand's identity and guidelines, the next step in a brand implementation plan is to decide which channels you'll use so you can infuse them with your brand identity.
Brand collateral is usually the term used to describe the collection of materials used to promote a brand. These can be printed, digital, or any other physical asset meant to help highlight your brand. Brand collateral is sometimes also called 'sales collateral' or 'marketing collateral' depending on the use you'll give to these.
Depending on the product or service provided, different brands need different collateral materials. For example, if part of your brand is physical products, then possible collateral might be packaging that aligns with your brand's identity. However, if your brand works with abstract services or digital products, investing in packing design will not be worth it for your brand implementation plan.

Brand collateral checklist
So, what collateral to add to your brand implementation strategy? Well, it all depends on what you'll use. Some common materials that can demand brand implementation are
Website and landing pages
Product design
Social media presence and ads
Physical advertising
Presentations
Printed materials (flyers, brochures, etc.)
Stationary (business cards, office supplies, etc.)
Digital materials (eBooks, whitepapers, newsletters, reports, infographics)
Catalogues and magazines
Packaging

Of course, you can be as creative as you want when defining your brand's collateral. Just make sure to pick materials that will be an asset for your brand to make sure you're strategic with your brand implementation plan instead of just wasting resources, as you'll see in the next step.

4. Prioritizing branded assets
While it would be nice to have all the brand collateral in the world, the reality is that resources are limited. Designing and implementing your brand into different types of collateral will take money and time.
Even with an in-house team of designers, a brand implementation project means time and effort taken off from other tasks!
Recognizing what brand collateral is essential and what is not is crucial for a successful brand implementation process.
Usually, brand collateral that should be #1 in your brand implementation list are those materials that support your business development. Things like product and website design, or even sales and investor presentations are critical to be able to launch your brand and sell.
Ask yourself what brand collateral is a must and which materials are only a fun extra. Then create an attack plan with your graphic team to define how long it will take them to implement the new brand guidelines into all their materials.

5. Recruiting brand implementation services
While branding agencies can help you with the most strategic part of a brand implementation plan, like building your brand's identity, you can also recruit help for implementing your brand's guidelines into the specific materials.
Brand implementation agencies tend to be less costly, and are usually willing to work with brand guidelines that are not created by their own team, unlike big-name brand agencies.
For a brand refresh or a rebranding project, brand implementation services can be a lifesaver when it comes to marketing and in-house design teams.
Hiring a third-party provider to do all the heavy lifting while your team focuses on the most strategic aspects can be the perfect solution for those businesses struggling to work on a rebranding process without neglecting their usual tasks.
Companies all over the world trust 24Slides with their brand implementation processes. They can easily upload their brand guidelines, and 24Slides expert designers work on the brand implementation aspect for their presentations, infographics, and whitepapers. It's the easiest, most efficient way to get branded assets without spending all your resources on it!
6. Assessing results
Finally, no brand implementation strategy is complete without a final evaluation of the results. Conducting a brand audit will help you define if your brand is successfully conveying its identity and personality.
As we said before, brand implementation is a process. Assessing the results will let you define if you need to keep polishing your brand's guidelines and if there's more work needed in your brand consistency efforts!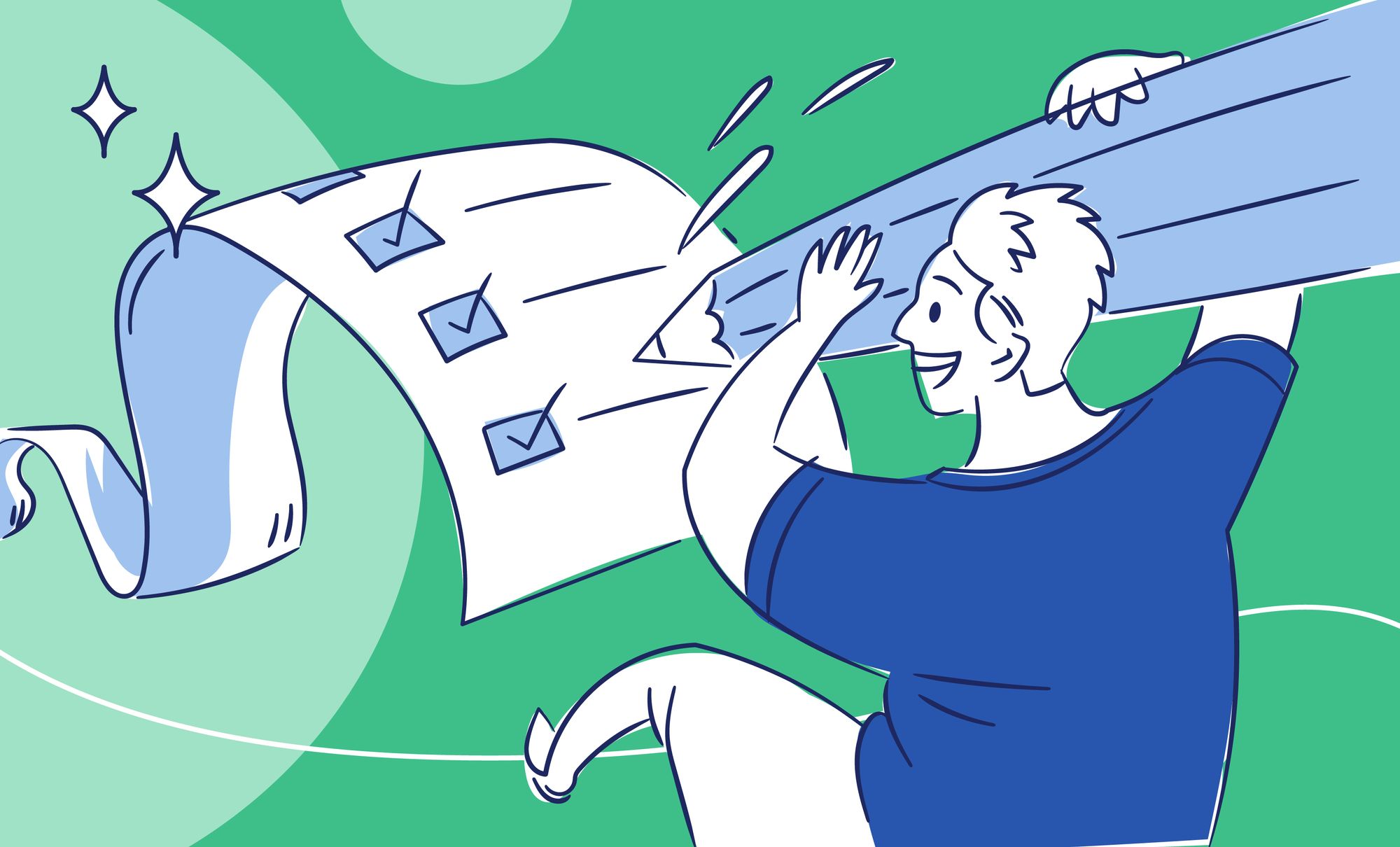 5 Brand Implementation Best Practices You Can Begin with Right Now
Beginning your brand implementation process can be a bit daunting. Here are some pointers that will help you make your process more efficient.
24Slides designers also shared some of their insights on what makes brand guidelines functional and what works the best in their experience to make a brand implementation as easy as possible!  
Keep your brand guidelines up to date
The easiest way to make your brand implementation easies is to keep your brand guidelines updated and ready to go. This means that any little changes you make in your brand image should be taken into account.
According to our designers, the best rebranding implementation works best when brand guidelines are as detailed as possible. For many 24Slides customers, this means having specialized brand guidelines for specific purposes, like a different style between sales presentations and social media content, or internal communication documents.
Consider that you'll always get new documents to get in line, and even if you're not thinking about it right now, you can always have a rebranding or a brand refresh in the future. So keep your brand guidelines clear and up to date!
A brand implementation process is a team effort. So ensure your brand identity and guidelines are clear for all, not just your design team. By making sure that your whole organization is aware of your brand identity and values, the easier it'll be to convey it visually.
It will also help you ensure that no one asks for content that goes against your brand guidelines!

Develop reusable templates
For our designers, the easiest way to save time and make brand implementation processes more effective is to identify the elements that will have a recurrent use. Whether it's a presentation template or headers and footers for other documents, having these elements clearly defined will make it easier to standardize them during your brand implementation process.
Be realistic with your capabilities
A brand implementation plan can be a long, harsh process. It doesn't only require a lot of planning and strategy, it's also an all-hands-on-deck sort of project for design teams when it means creating or updating high amounts of collateral documents.
According to our survey, marketing teams can often invest around 4 to 5 hours per week just working on presentation design and ensuring they are correctly updated and following brand guidelines.
Considering all the work that goes into designing different types of brand collateral, you'll realize how much work it can mean for a design team to manage a brand implementation plan from start to finish. So make sure you're optimizing your resources as much as possible.
This brings us to our next point:
While it might seem like an overkill, you might be surprised to realize how much of a good investment it can be to hire a third-party provider to help your in-house team with a brand implementation process.
In-house design teams can easily become overworked when managing their usual workload while also developing a brand implementation process all on their own.
That's why services such as 24Slides are game-changing options for organizations worldwide. By leaving their more repetitive, burdensome task to our expert team of designers, they can ensure all their documentation perfectly aligns with their brand guidelines and keep the most strategic and creative part of the work for themselves.
Learn more about 24Slides services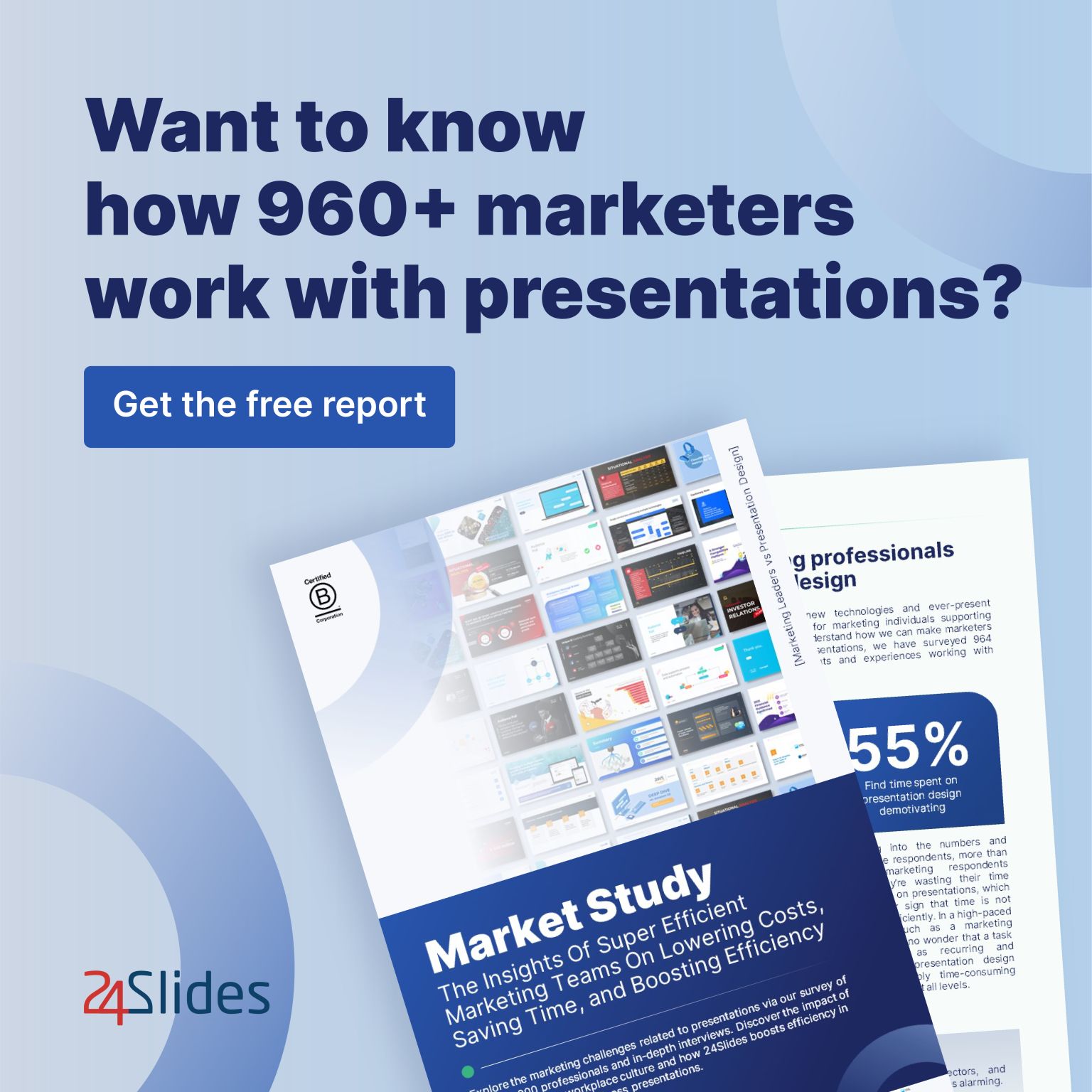 You might also like these articles: